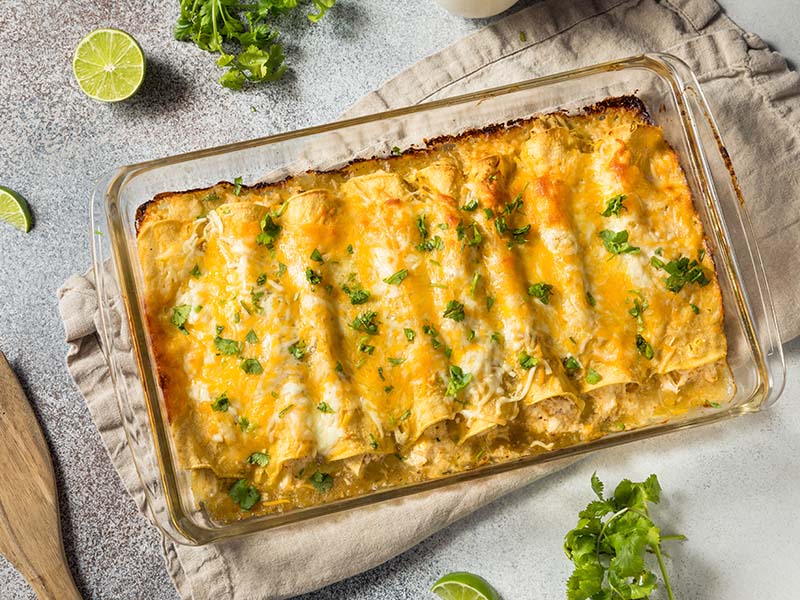 The best tomatillo recipes are among the most fun things you can make in the kitchen. This tangy green fruit is not only tasty but also versatile, you can make so many foods and drinks with it: from salad to Middle East dishes.
Small yet pack a punch, the tomatillo is the little addition that makes your whole meal nicer. It is low in carbohydrates and fat; thus, this Mexican fruit is healthy and hearty. Incorporating tomatillo into your diet also brings many benefits like reducing cancer risk, supporting weight loss, etc.
I've made a short list of extraordinary recipes for you below. You'll come across many delicious dishes in many different styles and techniques. Wait no more and scroll down to learn the best the tomatillo offers.
The Best Tomatillo Recipes Are Easier To Make Than You Think
This Mexico-originated fruit has been around for a long time. Thanks to their disease-resistant characteristics, the tomatillo is now cultivated in the US. There are many more delicious ways to enjoy this fruit than eating it raw.
Total time: 10 minutes.
This recipe is the first thing most people would think of when anyone mentions tomatillo, and not without good reasons. You can easily make this tangy goodness from scratch. That's the beauty of it.
All you need is a food processor, an oven, some herbs, and a batch of this green fruit. To pick the freshest tomatillos, look for those firm to the touch, with a vivid green husk wrapping tightly around the fruit.
Here's one more tip: if you can't use all of the tomatillos, freeze them in an airtight container. Remember not to peel back the husk if you are not using them right away.
After choosing the best tomatillos, toss them all along with other ingredients into the food processor and let this machine work its magic. Within 5 minutes, you'll get a great serving of Salsa Verde with any food.
You can recreate this Mexican-inspired Salsa Verde in a snap.
Total time: 1 hour.
Creamy cilantro tomatillo soup has a balanced taste of tart, lemony tomatillos, and creamy half and half or evaporated milk. It makes for a warm evening meal to enjoy on any chilly or cold day. The depth from roasted tomatillos will surely get to anyone.
The cooking steps are quite simple. First, roast the tomatillos for about 20-30 minutes in an oven and let them cool. Next, prepare the onion and garlic. Lastly, put the roasted tomatillos, sauteed onions, garlic, and broth into the blender. Let the machine handle the rest.
While pulsing, remember to add cumin, red pepper flakes, half and half, and cilantro. Keep blending until the whole thing is smooth and the fruits are turned into little pieces. If you want a more creamy soup, consider throwing in some cream cheese.
Total time: 3 hours 15 minutes (Including 2 hours 55 minutes of slow-cooking time).
If you want to taste a tomatillo-based Mexican dish, then you should look at Chile Verde. To summarize, it's tender chunks of pork slow-cooked in a roasted tomatillo and chile broth goodness.
Some recipes tell you to puree the raw tomatillos before cooking them with the pork. In this recipe, you roast the green fruit with peppers to bring out a smoky flavor. Then you simmer the Chile Verde sauce with seared meat for about 2-3 hours.
For a true Mexican experience, serve the dish in a bowl or alongside rice, tacos, Mexican rice, or burritos. What's more, it's also low carb, gluten-free, and paleo-friendly.
Total time: 1 hour 5 minutes.
What is a Shakshuka? In Arabic, Shakshuka" means "a mixture". The dish is a one-skillet recipe of egg poached in garlic, olive oil, Aleppo pepper, and tomato sauce. The traditional version uses tomatoes, while the variant here uses tomatillos.
People in Israel and other regions of the Middle East and North Africa eat Shakshuka as breakfast or a midday meal. Having said that, you can eat it at any time of the day.
The recipe is simple yet provides bold and spicy flavors. Honey, ground cumin, and dried mint add many flavors to the overall recipe. The whole dish is especially delicious when consumed with warm Pita bread.
Total time: 15 minutes.
When you want to eat something quick to make and easy to digest, you should consider making avocado tomatillo Tacos as breakfast. Simply put, the recipe combines scrambled eggs with sautéed avocado, spinach, and fresh tomatillo Salsa topped on tortillas.
Within less than 20 minutes of cooking and preparing, anyone can have a bite of the delicious Tacos. The tomatillo Salsa introduces a flavor punch to the dish. You can make the Salsa from scratch (refer to the first recipe on this list) and store it for up to one week in the fridge.
Total time: About 35 minutes.
Sopa De Fideo Verde may sound mysterious, but it's just a delightful, budget-friendly soup. The main components are pasta stirred in safflower oil and a mildly spicy Salsa Verde broth. Sopa De Fideo Verde is a perfect soup for warming up the winter nights.
To whip up this Mexican recipe, you need to roast the Poblano peppers and boil the tomatillo. The important step here is to puree the other ingredients in the water you have from cooking the green fruit.
For the next step, stir the Fideo pasta in safflower oil over medium-high heat until golden. Then pour the Poblano-tomatillo puree and the broth into the same pot. Lastly, boil and simmer the whole dish for about 15 minutes, and you are all set!
Total time: 35 minutes.
Sometimes you are busy and want to eat a healthy meal. That's when Salsa Verde chicken bake comes to the rescue. It's a hearty and easy dish anyone can make in a snap. All you need are boneless chicken breasts, tomatillo Salsa Verde, and oozy Jack cheese.
You bake the chicken breasts topped with plenty of Salsa Verde. Then sprinkle it with cheese and bake once more to get that creamy coating. And that's it! The only thing left to do is serve the final product with chopped fresh cilantro and tortilla chips.
Here's a tip: the recipe will likely produce a high amount of sauce, so you may want to prepare rice or quinoa to serve alongside the dish. You can substitute the chicken breasts with chicken thigh or tenders as well, and the baking time will be longer or shorter, respectively.
Learn how to cook baked Salsa Verde chicken now.
Total time: 1 hour 15 minutes.
This recipe is for when you crave something colorful and full of many ingredients. The dish is a big bowl of tomatillo sauce, tortilla strips, and chicken with rice. You prepare every part separately, then assemble them to make a yummy and complete bowl.
After preparing the tomatillo sauce, you use it to coat the cooked chicken. In this step, you can put in sour cream for extra flavors.
When the crispy fried tortilla strips are ready, you serve them along with the chicken and sauce on a fluffy rice bed with cilantro, sour cream, and lime juice on top.
The results are a nice blend of savory, creamy, and tangy flavors that will give your taste buds one of the most amazing experiences ever.
Total time: 2 hours 55 minutes.
Everyone is familiar with cornbread, but what about green cornbreads? The recipe is a Tex-Mex take on a Southern classic. The sweet cornbread now has a wonderful and complex taste, thanks to the introduction of fresh pureed Poblanos and tomatillos.
What's more, the roasted Poblano, Jalapeno peppers, buttermilk, butter, and honey bring forth a sweet-spicy balance you rarely find in cornbread. But that's not all, there's the grated Monterey Jack cheese that brings a tanginess to the whole package.
The cooking time may be long, but in the end, this snack with an appealing green appearance is all worth it. The best way to consume green chile and tomatillo cornbreads is to smooth them in pepper jelly.
Total time: 25 minutes.
The following recipe is a healthy and great lunch sandwich with a little twist. Specifically, you take slices of bread and stuff them with tomatillo, spinach, alfalfa sprouts, and different cheese, then cook the whole thing in a pan with butter. That's it, easy-peasy, right?
Sink your teeth into the finished product, and you can taste the combination of creamy cheese and mild, sweet flavors of the greens. You can also swap out bread, cheese, and veggies with anything of your choice. What a highly customizable recipe!
One thing to note is that it's impossible to freeze this grilled cheese sandwich, you can only store any leftovers in the fridge for up to 3 days. Should you leave them for any longer, the cream will turn all slimy, and the bread will become a soggy mess.
Anyone can whip up a delicious serving of Mexican-style grilled cheese with tomatillo Salsa.
Total time: 1 hour.
This is a freshly roasted beet and tomatillo tart with Feta cheese on a bed of puff pastry. The tart and tomatillo work surprisingly well together, bringing many tastes and nutritional benefits to the whole recipe.
The cooking steps are pretty fool-proof. You only have to put all the greens, beets, and tomatillos onto the puff pastry, brush them with olive oil, and start baking. Once the dish emerges from the oven, simply top it off with a balsamic vinaigrette reduction and enjoy.
Total time: 1 hour.
The delicious roasted tomatillo Salsa is once put to good use again with the green chile crab cakes. I'm sure anyone can appreciate this Mexican take on the classic crab cakes. You will soon realize that the chile and crab flavors are enhanced further thanks to this addition.
There are two main parts: the Salsa and the crab cakes. You can make the former 2-3 days ahead of time if you store them in a sealed jar in the refrigerator.
As for the latter, don't make the whole thing too far ahead of time, or you risk having a soggy mess. You should make it as far as the patties step, don't coat them in panko breadcrumbs.
Once the cakes are done, top them off with the prepared sauce, and you can dig into that flavorful goodness.
Total time: 45 minutes.
Are you looking for a tomatillo recipe with meat? Don't worry, I got you covered. Roasted Green tomatillo Pozole with chicken is a great recipe you want to cook almost daily. It's just that good.
Pozole is a traditional Mexican-style soup or stew with hominy, meat, spices, herbs, and veggies. The green Pozole here includes cumin seeds, pepitas, tomatillos, dried oregano, etc. They all create a nice depth of flavors you want to discover yourself.
The finished product you have will be more stew-like than soup. Stir in the items and cook them nicely until they become puree. It's possible to adjust the thickness of the dish by adding more stock. The charred, caramelized veggies and chicken make for a great combo.
Explore how you can make the best green tomatillo Pozole now.
Total time: 10 minutes.
If the above meat recipe doesn't sound appealing to you, then check out this vegan and gluten-free salad. The colorful and refreshing strawberry, tomatillo, and watermelon salad is an excellent treat to enjoy in summer.
This dish has everything: the sweetness from the strawberries and melon, the lingering cool from mint leaves, and the tanginess from tomatillo. There's also the sweetness and acidity of the fruit dressing. It's like a flavor party on its own.
You can purchase premade fruit dressing. However, nine out of ten times, something homemade is better than their store-bought variant. Making a salad dressing will take you a few minutes at best.
Total time: 2 hours 30 minutes (Including 2 hours of chilling time).
Chilled soup may be the next best thing to enjoy in summer, just after ice cream. It also works great as a spring treat. With one spoon, you can feel the brightness and multi-layered flavors of the soup.
As you can see, the creamy avocado, cucumbers, and tomatillos give the whole dish an appealing green color. There's also an array of flavors from fresh lime juice, Kosher salt, shallots, and cilantro. The best thing is that they don't drown out each other.
Overall, it's not only chilled but also a creamy dish you want to enjoy when winding down. The actual waiting time is about 2 hours, but everything is worth it in the end.
You should start making chilled tomatillo avocado soup to cool down on hot days.
Total time: About 3 hours 10 minutes.
Let's get one thing out of the way first, what is Focaccia? To sum it up, this Italian-originated oven-baked bread is very similar to pizza in terms of texture and cooking approach. What sets it apart from pizza is the higher number of yeast used to rise.
You may have already noticed that the cooking time is quite long. This is due to the number of veggie fillings and toppings as well as yeasting rising time. Be patient, and you will be rewarded with a hot and great serving of Focaccia.
Once you finish baking the Focaccia at 400℉ for about 50 minutes, you can serve it immediately or freeze it for up to 2 months!
Total time: 55 minutes.
Some people may feel off-putting by the strange color combination: orangey shrimp on a bed of light yellow tomatillos with some green from cilantro. Despite how it looks, you will be surprised by what this dish entails.
All different ingredients with distinct tastes will explode in your mouth: the sweet shrimp, the acid tomatillos, and the bitter parsley. And don't forget about the gooey Cotija cheese with Jalapenos and their spicy kick.
In this dish, you saute the onions and Jalapenos, then do the same for tomatillos. Next, add clam juice and cook until it reduces in half.
The final step is to add cheese and shrimp, then bake the whole thing in an oven. All you have to do now is sprinkle the finished dish with lime juice and black pepper and enjoy.
If you don't mind taking the shells off shrimps while eating, then I recommend cooking them with shells intact for better flavors. On another note, it's important to use an oven-safe pan as the recipe has a pan-to-oven cooking process.
Total time: 25 minutes.
Not all salad consists of only veggies. The broiled salmon filet adds a nice touch of seafood flavor to the heap of veggies. What's special about this dish is adding fresh tomatoes to the usual tomatillo Salsa topped on a veggies salad.
Within 30 minutes, you will have healthy and mouth-watering salmon with tomatillo salad on your plates. First, bake the fish with sprinkles of salt, pepper, and ground cumin. In the meantime, make the salad by mixing tomatillos, tomato, Jalapeno, lime juice, etc. with oil.
And for the final part, serve them alongside each other on one plate or bowl. That's it, plain and simple, right? Everything is so quick and straightforward that you can't believe the final result can be such a juicy and tasty meal.
Total time: 30 minutes.
Chimichangas are a popular Mexican-American fusion in Tex-Mex and Southern US cuisine. In summary, the dish is a deep-fried Burrito with meat, veggies, and spices. In this case, it's a combination of chicken, tomatillos, beans, and spices.
This recipe is quick and easy, thanks to canned whole tomatillos and pinto beans. They are ready as open and save you the hassle of making everything from scratch. Furthermore, the canned goods still taste as good as the real things.
The chicken and tomatillos are a duo you don't see often. But they are worth trying due to the unique tastes and twists they bring. Plus, the final touch of adding Pico De Gallo, Guacamole, Queso Fresco, cilantro, and fresh limes offers a greater dining experience.
Total time: 30 minutes.
Fried green tomatillo is as delightful as its close cousin, fried green tomatoes. But the former has a lemony and crunchy kick that the latter lacks. Preparing the green fruit this way helps strip the tomatillo of some of its tanginess.
The green tomatillo and carom seeds take the spotlight here. They come together and bring a balanced flavor to the patties. Cajun seasoning is also another noteworthy item that helps enhance the meal further.
There are many ways to enjoy the final product. The simplest is to eat them as-is. Alternatively, you can incorporate the fried green tomatillo into a veggie burger or sandwich as fillings.
Let's make and enjoy fried green tomatillo the Southern way.
Total time: 1 hour 5 minutes.
Enchiladas usually have a red sauce as their accompaniment, but not today. Here's another recipe for you to enjoy with the green tomatillo sauce. The result will be a spicy, creamy, and cheesy offering of tortillas goodness.
You can make a batch of tomatillo sauce ahead and refrigerate it. When the Enchilada is ready, reheat the sauce, and you are ready. Alternatively, you can buy premade sauce at the stores.
Explore the most efficient way to cook chicken Enchiladas with tomatillo sauce here.
Total time: 55 minutes.
Judging from the name, anyone can tell this is a combination of sweet and spicy tomatillo-pineapple pickle relish with black sesame buns. There are also the pickled red onions and grilled hot dogs, which bring so much more flavors to the meal.
The components seem to be many, but making each of those and assembling them is a breeze. The whole thing won't take more than 1 hour to make, after all. The cooking procedure for the four main parts takes no more than three steps.
For instance, the pickled red onions require you to pour a hot mixture of sugar, vinegar, water, and salt over the sliced red onions and cool them. Then you just need to cover and refrigerate the whole thing for up to 3 days.
Total time: 2 hours.
Be careful with this recipe, or else you will make tomatillo Turkey chili daily before realizing it. The savory chili with deep flavors and subtle spices can become your family's new favorite with little time.
Simple Turkey chili with tomatillos has many layers of spiciness. And the good news is you can adjust the heat entirely to your preferences. For instance, remove the Chipotle pepper and adobo to reduce the heat of the tomatillo sauce.
The great thing about this recipe is that it produces many chilies without having to simmer all day. So rest assured you can feed a crowd within 2 hours of cooking. Isn't that the best for a fun gathering dinner?
Did Any Of The Best Tomatillo Recipes Catch Your Interest?
I hope this article has provided excellent additions to your cooking arsenal. There are detailed cooking steps for your ease of convenience so that you or anyone you share this article with can follow and whip up the best tomatillo recipes effortlessly.
On that note, don't hesitate to tell everybody about these recipes so they can see the beauty of enjoying cooked tomatillos in as many ways as possible.
Do you think all of the listed tomatillos recipes are up to par with your excellent standard? If not, please comment below to share your thoughts on the better ways and improvements everyone should do to enjoy the best tomatillo recipes to the fullest.