Does the huge number of tofu dessert recipes overwhelm you? This article will come to the rescue by presenting you with numerous options for afters, from pastry to custard desserts, from America and far beyond.
Not only do you gain the cooking instructions, but you also get a lot of useful tips from this article. Moreover, these recipes have many variations, so the number of desserts will increase even more than what the title says. Stay and keep reading to get the most out of the post!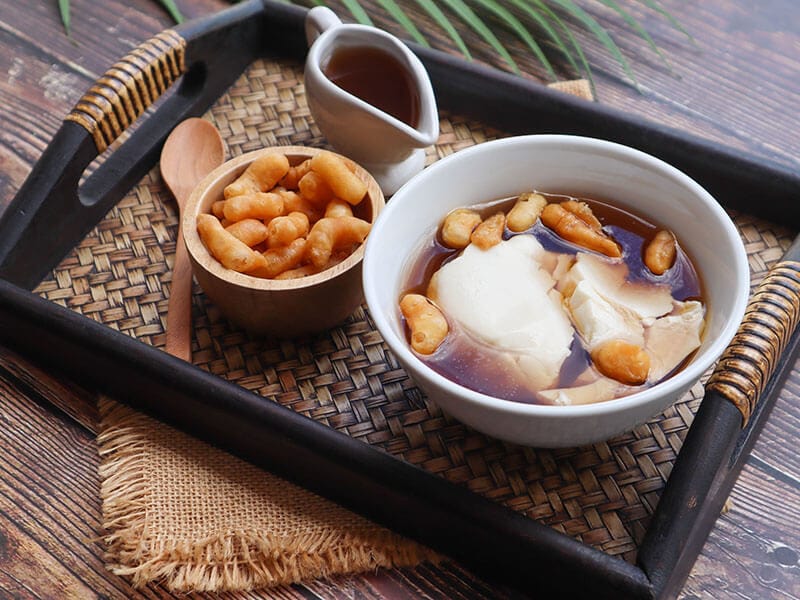 22 Greatest Tofu Sweet Treats To Liven Up Your Lovely Party
The show is about to begin! In this section, you will go through dozens of the leading tofu dessert recipes. Not only is their texture pleasant to eat, but their flavor is insanely delicious. So jump in for more!
Total Time: 40 minutes
A perfect Italian-style dinner should end with tiramisu! That's what my mother told me when I was a kid. And my vegan friends always love it when I prepare this healthy version of the iconic Italian dessert, so trust me on this one.
The key to this delightful tiramisu lies in mascarpone made of lemon, heavy cream, and milk. To change into a vegan recipe, you swap heavy cream for tofu and almond milk for dairy. After blending, your vegan mascarpone will have the same consistency as a real one.
The rest of the making process is easy as a piece of cake. You only need to assemble layers of dipped wafers, mascarpone filling, and cacao powder until you reach the top.
For the best experience, I always chill my tiramisu in the refrigerator for a couple of hours. Once they get out, the dessert cups are creamy and full of coffee and chocolate flavor. If you add rum to the liquid, you should also find a hint of reinvigorating alcohol in each bite.
Learn how to make healthy vegan tofu tiramisu cups (oat version) from Japanese!
Total Time: 1 hour
Frankly, this next dessert is a show stopper for chocolate lovers. The cake involves no flour, cream, or butter. All it needs is silken tofu and eggs to bind this dessert – hence a budget-friendly solution!
To start, you beat the egg whites with sugar until they are stiff peaks. Meanwhile, mix other ingredients in another bowl.
Once the preparation is done, fold them all together, pour the mixture into the pan, and bake. Your final baked goods will be dense and moist with a kick of deep chocolate flavor.
Slice and serve it alone if you want to keep things simple. Or you can fancy it up with a dollop of whipped cream or a sprinkle of powdered sugar. Some berries on top should also be a great option.
Total Time: 40 minutes
Inspired by French toast, these tofu sticks are mouth-watering yet healthful. With cinnamon, tofu, and sugar-free syrup, they offer a gluten-free, low-carb, and vegan dessert for everyone.
The making process is straightforward: Drain, cut, and pan fry tofu. Under low heat, the toppings melt and cover the sticks nicely. Cinnamon and sugar coat a sweet and woody caramel layer outside your finger-licking zero-sugar dessert.
However, the game changer in this recipe is chocolate syrup made from maple syrup, cacao powder, and coconut oil. Drizzle some on top, and your keto sticks will be more finger-licking with bittersweet and aromatic in taste.
Total Time: 55 minutes
I always love Italian desserts and want to make some, including cannoli bites. But since they are full of dairy, I have to seek a vegan version for my vegan family. Fortunately, this recipe is there to satisfy my needs.
To create a creamy filling, combine cashew, tofu, and milk. The lemon juice and vanilla present a pleasantly sour and aromatic flavor to your dessert. Then, add sweet powdered sugar to balance out the tartness. Put in more sugar if you want to gain a thicker filling.
The good news is you can scale down the serving size. But for the result, keep the same ingredient ratio for the filling. If there is leftover filling, you can freeze it for later, so rest assured there is nothing to waste!
Total Time: 2 hours 30 minutes (including 2 hours of refrigerating time)
If you need a sweet to impress your vegan friends, you should try this one. The panna cotta boasts a smooth and creamy texture infused with a homemade jam. It is rich enough that your friends will doubt whether your dessert is vegan.
Don't forget to choose the right type of tofu for the best texture. Your tofu should be fresh and ideally firm. The mixture tends to set immediately after being heated with agar-agar powder, so a quick pouring is required.
Moreover, you should spend time cooking the liquid thoroughly or your panna cotta will be grainy and unset. The rest of the process is straightforward; only making jams and assembling the layers remain.
The raspberry and rhubarb jam will add a balance of sweetness and sourness to your whole dish. For the best experience, chill your dessert in the refrigerator for at least one hour. The custard and jam will be pleasantly thick and delicious.
Total Time: 1 hour 15 minutes
Taho is the signature sweet course of the Philippines. Besides soft tofu and arnibal (simple syrup), this sweet treat also includes sago (tapioca balls). These starchy, chewy balls make your eating experience more compelling to enjoy.
For a light dessert, soft silken tofu is the best option as it is creamy in both taste and texture. But less smooth tofu can also work for the same result. Remember to parboil your tofu first for safe consumption.
Aside from tofu, the syrup is an essential ingredient in Taho, which gives your dessert a sweet tone. But if you love an extra hint of aroma, vanilla extract or pandan leaves are two excellent choices.
When ready, you scoop tofu into glasses, add some spoonfuls of syrup and tapioca balls, and serve. Everyone will love you for this hearty sweet!
Check out how to make a simple Taho in two ways and its name story!
Total Time: 35 minutes (including 5 minutes of cooling time)
If crispy cookies are not your liking, Okara coconut cookies are the ones for you. Instead of toughness, they are cake-like and full of coconut flavor that pleases you with every bite.
To get the toothsome dessert, mix coconut with dry ingredients before adding a secret element – drained tofu. It is a perfect substitute for okara (soy pulp) to add texture and fibers to your cookies.
Once these delicacies are perfect, they should have golden edges and soft middles. Finish with a sprinkle of sugar on top, and your dessert is ready to go.
Total Time: 2 hours (including 1 hour 30 minutes of refrigerating time)
You should try this Vietnamese custard once in your lifetime. Each bite of it is super sweet and creamy with a kick of coffee aroma.
For everyone to enjoy this crazily delicious Vietnamese dessert, I bring a vegan and dairy-free version to the table. Vegan gelatin, silken tofu, and almond milk are all it needs. Just blend and bring the mixture to a boil, and then you will have a smooth and jelly-like custard.
Moreover, the surprising element in this recipe is date syrup, which makes your flan free from refined sugar as well. Simmer syrup and instant coffee to achieve coffee caramel. This combination will give your flan a coffee- and honey-like sweetness.
Total Time: 1 hour (including 10 minutes of setting time)
The name of Ukrainian cheesecake is hard to read (neither can I), but the taste is so divine that you can resist. The creaminess and vanilla flavor will make your taste buds sing with joy.
Usually, people make this delicacy from cottage cheese, eggs, and sugar. But for this vegan cake, firm tofu is in place of cottage cheese, which creates a light and airy texture for the dessert.
To make this delicacy a cheesecake, you may want to hide the bean flavor of tofu. Any flavorings should be a great help. Specifically, my recipe calls for lime and vanilla. They provide zesty sourness and a pleasing aromatic hint.
With a glaze of melted dark chocolate and vegan butter, your vegan syrnyk is gorgeous in appearance and balanced in flavor. For the best slice of cheesecake, divide your dessert with a heated knife, which gives your cake a clean cut.
Total Time: 2 hours 15 minutes (including 2 hours of refrigerating time)
Thanks to the graham cracker pie crust, this chocolate raspberry tofu pie is no bake and no fuss. All you need to do is blend all ingredients in the food processor. In no time, you will have a magnificent raspberry dessert to escape the summer heat.
Firm silken tofu is the secret behind the dense and moist filling texture. To boost the flavor, you put in many things at once: pleasantly bitter chocolate chips, sweet maple syrup, and brightly sweet-tart raspberries. Together with a crispy crust, your pie has no weak points.
If you have an upcoming party, feel free to make this sweet ahead. Wrap it loosely with cling film, and your dessert will retain its goodness for up to three days in the refrigerator.
Total Time: 30 minutes
Without an oven required, this fulfilling green tea flavor treat will bring out the best in tofu and its graham crust within a short blending time. Indeed, it is one of the most effortless cheesecakes, especially suitable for a lazy cook like me.
The spotlight of this dessert is the Japanese green tea powder – matcha. The culinary grade matcha is flavorful enough in this recipe. Thanks to the notes of sweetness and umami, it will add a bright taste to your dessert.
One thing to notice before following this recipe is to pick the exact type of tofu. With less moisture, the firmest one is the best. It gives a stable and dense texture and also a toothsome nuttiness.
Also, you can use a sieve to burst open the bubbles after blending. This extra step will help you gain the perfect smoothness of the delicacy.
Let's explore this no-bake and egg-free tofu cheesecake recipe!
Total Time: 40 minutes (including 5 minutes of cooling time)
No egg, butter, or oil is needed since tofu is the star of these delicious golden chocolate brownies. The creaminess and moisture of tofu offer a light and moist texture. Also, it supplies a rich source of protein to your brownies.
Like other tasty brownie mix delights, cocoa powder and vanilla extract come into this dessert to present a deep chocolate taste. Plus some chopped walnuts, every bite you take is extra nutty and crunchy.
So where is the golden part? It lies in the shiny glaze you brush on these sweet cubes. Simply combine gold sugar and water to make a shiny appearance for your brownies. With a sprinkle of crushed candy cane and cake glitters, your dish will be the most fabulous dessert on the table.
Total Time: 10 minutes
Do you know how to turn a smoothie into a mousse? Add tofu into the mixture and blend to get a smooth cream. The red and tart taste of strawberries plus the tropical sweetness of mangoes makes this delightful delicacy special on the dessert table.
The maple syrup and vanilla extract will perfect your mixture with more sweetness and aroma. Silken or soft tofu is best in this case, as it makes your mousse moist and creamy. Garnish with some berries on top, and your dessert will be really eye-catching.
Total Time: 25 minutes
Creme brulee never goes wrong in both texture and flavor. True to its other name (burnt cream), this dessert has a rich custard base and a burnt caramel layer on top. A sweet spoonful of it will take you to heaven!
How about fancying it up a bit? The grapefruit juice lends your custard a citrusy note, while the addition of vanilla beans balances out all the flavors. Your delicacy is sweet, tart, and aromatic at once, but it does not end there.
You will be surprised by how this creamy fruit dessert is 100% vegan. The soaked cashew and tofu are used in place of eggs and cream to create a dense and moist base filling. Its super delicious taste will charm any picky eater out there!
Total Time: 1 hour 10 minutes (including 1 hour of refrigerating time)
You should never miss this coconut lime tofu pudding – the summer queen of dessert! It is smooth and silky in texture and toothsome in flavor.
In this easy dessert recipe for puddings, coconut-flavored tofu is the key. It not only offers a smooth pudding but also gives a delightful nuttiness. With zesty lime, your dessert is more pleasing and refreshing to enjoy.
If you are fond of other flavors, change your coconut tofu to them. Peach mango or banana-flavored tofu should be a great option.
Total Time: 15 minutes
Douhua, also known as tofu pudding, is a classic dessert in Chinese cuisine. Although the title only mentions pudding, it can't be complete without sugar water.
Like soft tofu, the prominent texture of douhua is silky and smooth. With a spoonful, you can feel it almost melt in your mouth at the first touch.
But since douhua itself is somewhat bland, you should serve it with sugar water to feel the goodness of dessert. The hint of ginger in the sweet sauce makes every bite warmer and more addictive.
For the best texture, you should not add gelatin when the liquid is warm or hot since it causes a lumpy appearance. Also, use a spoon or strainer to eliminate excess bubbles on the liquid surface. That way, your tofu custard will be pleasantly smooth when firmer.
Let's make this easy Chinese tofu pudding dessert douhua from scratch!
Total Time: 4 hours 30 minutes (including 4 hours of chilling time)
Do you love the aftertaste of margarita lingering on your tongue every time you enjoy this refreshing cocktail? You will find the same mouthfeel in this vegan margarita cheesecake.
The tequila and fresh lime present an unmistakable margarita flavor: floral sourness and a hint of sweetness. With a salty buttery crust on the bottom, this treat is perfect for out in the summertime.
The thing you will love about this dessert more is its no-bake quality. Silken tofu, agar-agar powder, and coconut cream come together to create a silky smooth filling of cheesecake. It is luscious enough to win your heart.
Remember that silken tofu is a must-have ingredient to get that perfect smoothness. Never swap to other types if you do not want to have an unsatisfied mouthful.
Total Time: 35 minutes
Do your kids need some gluten-free sweet treats for camping? Nothing serious! With only a few easy-to-find ingredients, these S'mores bars will please them in only minutes.
Oats, maple syrup, and coconut create a sweet and crunchy crust. Above, the luscious layer adds chocolatey flavor and a balance of firm and gooey texture to your buttery base. With vegan marshmallows, you can enjoy your palate-pleasing dessert perfectly.
If your kids crave more, do not hesitate but make some for them. Your sweet bars can stay up to 4 days in the airtight container and, most impressively, at room temperature.
Total Time: 10 minutes
Believe it or not, you can make a mouth-watering pudding with only two ingredients: silken tofu and sweetened mango pulp. Just blend them, and you will have the quickest yet yummiest pudding for dessert.
For an Indian flavor, sprinkle some cardamom powder and add chopped pistachios. Everyone loves the sweetness it brings, adults and kids alike. If you prefer a more tropical taste, add more mango pulp.
In addition, you can make ice cream from this recipe by freezing pudding in a container with a lid. After about 5 hours, it is solid enough to scoop into a dessert cup. However, you may need extra sugar or mango pulp to sweeten your ice cream to taste.
Total Time: 15 minutes
In this section, you use tofu to make a silky texture that pleases the crowd every time it melts in the mouth – an unforgettable experience!
To recreate this fancy cream, put tofu, honey, lemon zest, and juice in the blender and process until smooth. Use a spatula to scrape the mixture off the sides of the blender if needed. This extra effort ensures your cream is perfectly smooth.
Serve the zesty cream with a few blackberries and lemon zest to add bright freshness and decoration. Then you can dish up your food immediately, but for me, it is best to serve cold. So make it in advance and refrigerate it. Your luscious cream will keep for up to 3 days.
Total Time: 15 minutes
Do you love Douhua but are scared to count the calories taken in the body? This chocolate tofu pudding is a solution for your sweet tooth.
The delicacy has the same smooth and wobbly texture as you expect from a pudding. But instead of a bean flavor, you have a chocolate flavor and a pleasant hint of bitterness of the espresso. All the tastes introduce an inviting flavor to your mouth, making you ask for more.
For decoration ideas, there are many concepts you should try, such as Christmas, Black Forest (chocolate shavings), or fresh berries. Simply choose one that pleases you most.
Total Time: 45 minutes
If you think tofu dessert only has a creamy and silky texture, you have underestimated this ingredient. This Japanese tofu-based mochi will blow your mind with its chewiness.
Glutinous flour, coconut flour, tofu, and eggs combine to give this fancy donut a tender and chewy texture. While the coconut flour highlights a nutty flavor in pastry, sugar lends it the sweetness a dessert should have. Together they create an out-of-this-world mochi donut.
The most loved part of making this delicacy is its variations. You can fancy it by adding chocolate chips (I bet your kids will love it!). Or you can twist it a bit with vanilla bean, maple, or lemon extracts. Whichever you add, your donut will surely soak up that flavor.
Let's say yes to this egg-free tofu-based donut!
Wholesome Tofu Desserts Are Great To Impress Your Guests
Now you know tofu is not just food for vegans. Instead, it is also a hit to end your party. The creaminess and bean flavor this ingredient brings to each dessert recipe above seems too good to be true. But I assure you it is real: make these desserts at home to see for yourself.
Surprise your guests with these treats; everyone will give you a round of applause. But don't forget to leave your thoughts on my recipes. I would love to hear about your experience. Also, you can be my huge motivation by giving me a like and share. Thank you, and enjoy your meal!
Nutrition Facts
8 servings per container
---
Amount Per ServingCalories188
% Daily Value *
Total Fat 8.9g

14

%
Cholesterol 62mg

21

%
Sodium 39mg

2

%
Potassium 170mg

5

%
Total Carbohydrate 27.8g

10

%

Dietary Fiber 2.5g

10

%
Sugars 23.9g

Protein 4.7g

10

%
---
* The % Daily Value tells you how much a nutrient in a serving of food contributes to a daily diet. 2,000 calories a day is used for general nutrition advice.