Everyone loves enjoying the best Thanksgiving desserts to make the holiday season a blast. So if you love sweet treats like me, read this article to expand your dessert knowledge for this year's Thanksgiving.
These lovely treats will make your Thanksgiving more lovely around the family. In addition, you may find some new sparks to twist these desserts according to your will. Let your imagination fly when it comes to sweet treats.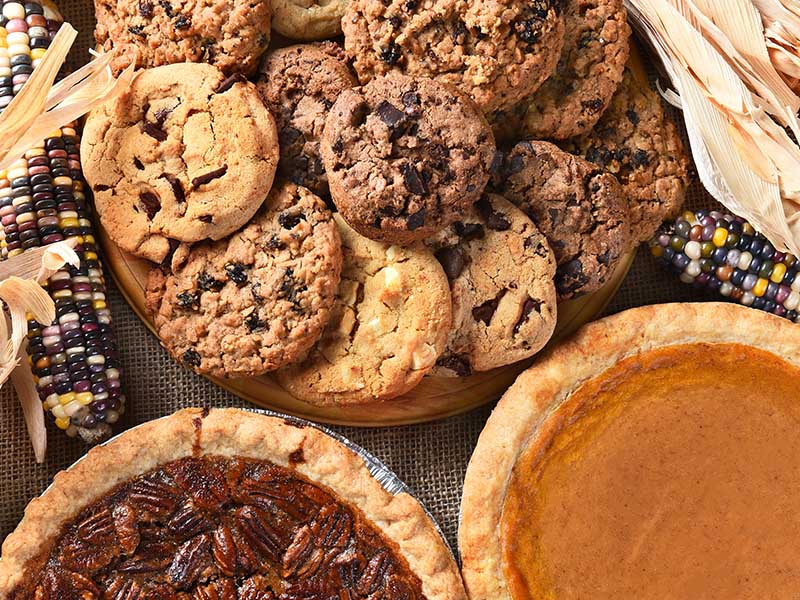 Spice Up Your Thanksgiving With These Sweet Desserts
This year's Thanksgiving, your holiday is going to be a blast with these beautiful treats for family and friends. No matter the ingredients and time you have in your hand, I'm sure you will come up with something nice from this collection of desserts.
Total time: 2 hours.
Turkey is a staple symbol of the Thanksgiving occasion. However, it's rather challenging to incorporate this tasty protein into a dessert. Therefore, I'd like to utilize some cupcakes to embody the holiday spirits by decorating the dessert with a turkey shape.
Typically, the cupcake combines cake mix with eggs and oil to create a fluffy texture. In addition, people introduce peanut butter to the cupcake batter for a fragrant smell after baking. The cupcake is not complete without having a creamy chocolate frosting over the surface.
I suggest melting the chocolate to a smooth consistency and pouring it into little turkey feather shapes on a thin layer of wax paper. Once cool, you need to snip the chocolate feathers to place over the cupcake and use a whole chocolate chip as the head of the turkey.
Total time: 1 hour 10 minutes.
Pie is a typical representative of many holiday events, so you shouldn't miss trying out an incredible pecan pie. I suggest infusing the pie with a fantastic chocolate taste to enhance your experience.
It's best to use a pre-made crust as a base for the pecan pie to cut some slacks in the preparation step. Next, melt a mixture of butter with chocolate to a smooth consistency. Whisk the mix with sugar, eggs, and salt to create the pie filling.
Top the filling with pecan halves and cover the surface using a thin aluminum foil. Bake until you get a jiggly center in the pie. Remember to rest the pecan pie so the filling can stabilize its texture. The pie is a great treat with a nutty buttery taste and an explosion of chocolate profile.
Enhance your chocolate pecan pie by infusing it with tasty chocolate flavor.
Total time: 55 minutes.
Baking is an beloved way for making a mesmerizing after-dinner apple treat. Interestingly, baked apples offer an intriguing soft texture and mild sweetness. Each of these apples is full of cinnamon taste and looks fancy when served at the dinner table.
First, remove the apples' inner part to make room for the other fillings. Traditionally, you want to incorporate cinnamon with raisins, nuts, and oats. In addition, I enjoy infusing the filling with a touch of maple syrup for sweetness.
After filling the apples, top them with butter and let the oven finish the cooking process. Commonly, you will get a nice brown color on the apples. Serve your fruity baked apples with a dollop of vanilla ice cream for a beautiful creamy taste.
Total time: 45 minutes.
Pumpkin pie is undoubtedly an iconic option to materialize during the Thanksgiving occasion. The pie provides a terrific explosion of pumpkin spices and a mild sweet taste. Better yet, you may adapt this recipe to create miniature pumpkin pies.
These little pumpkin treats are ideal for a vegan diet as they utilize plant-based ingredients. The essential point of the pie is a dark brown crust consisting of almond flour, water, and maple syrup. Ideally, the batter should be crumbly and stick together when pressed.
As for the filling, you want to use pumpkin puree with mashed sweet potatoes, pumpkin pie spice, and maple syrup. Commonly, you should whisk the filling until it's smooth and creamy. Finally, bake and chill the mini pumpkin pies before enjoying your delicious creations.
Total time: 1 hour.
Here's another pumpkin creation for your lovely kitchen in the form of beautiful brown and soft bread. Similar to the mini pumpkin pies, this loaf of bread is perfect for playing a part in your dessert menu with a tasty pumpkin taste.
Typically, this fragrant bread has eggs with oil and sugar to pair with the flour mixture. Don't forget to include some cinnamon and pumpkin spice in the batter to create a signature taste for the bread.
When baked, the bread should have a crunchy texture on the surface while the inner is soft and explodes with tasty pumpkin essence. If you crave extra sweetness, lightly dust the bread with powdered sugar before serving.
Making pumpkin bread is perfect for a light meal after the main course.
Total time: 1 hour 15 minutes.
After a hearty and decadent meal with the family, it's time for a buttermilk pie to satisfy everyone's sweet tooth. The pie takes buttermilk as the center of attention to deliver a flavor that resembles yogurt.
You should take advantage of store-bought deep crust dough to save time preparing. As for the filing, infuse buttermilk, vanilla, and nutmeg for a fluffy butter concoction. Adding a few eggs in the mixing process will help bind the ingredients.
Pop the pie into the oven until the filling becomes slightly yellowy and the crust possesses a dark brown color. If the filling is still too liquidy, you must bake the pie for extra time to achieve a jiggly texture.
Total time: 45 minutes.
Cobbler is a pie dish that originated in the British American colonies. Initially, British people were trying to recreate suet puddings, but there was a lack of ingredients and cooking utensils. Therefore, people put all the available elements in a deep baking dish to create a cobbler.
For this recipe, I like using pear as the pie filling to incorporate cane sugar, lemon juice, and cornstarch. Usually, the filling has a thick consistency after mixing thoroughly.
Combine the flour with butter and coconut cream to create a crumbly topping for your cobbler. When your pear filling is ready, top it with the flour concoction and leave the rest of the cooking in the oven. A classic cobbler should have a crunchy top while the pear pieces are soft and sweet.
Total time: 15 minutes.
Chocolate lava cake is a heavenly creation for enjoying cake and chocolate at their peak. Each time you cut open the cake, it's like a magic trick as the smooth and shiny chocolate filling starts to flow everywhere.
Just because the lava cake looks like a piece of art doesn't mean it's complicated to create at home. People often rely on a mix of flour, eggs, and cocoa powder to make the cake layer. Once baked, the cake should have a mesmerizing dark color with a fragrant chocolate smell.
Of course, you can't call it a lava cake without featuring the melted chocolate. I commonly like mixing dark chocolate into the batter for its robust flavor. Watch the cake closely during baking so you may remove it from the oven in time.
Lightly dust the cake with powdered sugar and serve immediately for the best lava effect from the melted chocolate. Furthermore, I suggest having the lava cake with either a dollop of ice cream or a sprinkle of fresh raspberry.
Mesmerize everyone with this incredible chocolate lava cake.
Total time: 1 hour 35 minutes.
Applesauce is delicious with various delicacies, but I'd love to infuse it into a bread recipe to enjoy the sweet apple taste and soft bun texture simultaneously. So make use of your leftover applesauce and make an exquisite bread dessert for this Thanksgiving.
Traditionally, you can materialize the bread using a blend of all-purpose flour with applesauce, cinnamon, and egg. In addition, people include sugar to elevate the overall sweetness. Remember to add sour cream and butter to the bread to achieve an airy and fluffy texture.
On average, it takes around 60 minutes to bake applesauce bread thoroughly. For serving, I like to cut the bread into slices and enjoy them with a simple spread of butter.
Total time: 1 hour 45 minutes.
No matter what eventful occasion or holiday you have in mind, bread is always a solid choice to treat everyone. For that, you may want to infuse your bread specialty with some special flavors to bring a unique experience to your guest.
Instead of using conventional ingredients like pumpkin or apples, I like to settle this bread with a nice yogurt and dried fruits aroma. Typically, you can go for raisins, pine nuts, and dried cranberries to make each bread bite have a signature taste.
Thanks to yogurt in the bread, the dough gets a smooth and creamy texture. Since the bread receives most of its taste from dried fruits and sugar, you want to use plain yogurt to avoid over-saturating the bread with sweetness.
Total time: 40 minutes.
I'm sure many people grow up having brownies as one of their best treats. These fudgy brownies' rich and decadent tastes are hard to decline, even for adults. In addition, the recipe is easy to handle as you only require simple baking tools to nail this chocolate brownie.
With a basic blend of eggs and flour, people often whisk in cocoa powder to give the brownie its signature brown color. Furthermore, the batter is infused with chocolate chunks to give the brownie an extra kick of chocolate taste.
Before transferring the batter into the oven, top the surface with some chocolate chips for a melted chocolate texture afterward. It usually takes around 30 minutes for the center of the brownies to set completely.
Brownie is a must-have for any dessert lovers to try at home.
Total time: 1 hour.
Is there a dessert that makes you feel like a wealthy individual? I'd like to introduce you to the millionaire bars to satisfy that question. Although the sweet doesn't make you a rich person, the decadence and richness make you feel like you're enjoying a fancy delicacy.
The best thing about this recipe is that you don't have to fire up the oven for baking. Typically, a standard millionaire bar consists of three parts: the crust, caramel layer, and chocolate layer. Making the crust is easy as you only need a layer of shortbread cookies and pretzels at the bottom.
Follow that up with a thick concoction of brown sugar, butter, and sweetened condensed milk for the caramel. For the final layer, you want to use melted chocolate chips with butter for a smooth topping over the bar. Cut the bar into bite-sized pieces for serving when the chocolate is set.
Total time: 15 minutes.
Similar to the melt-in-your-mouth texture, these crinkle cookies are perfect for whipping up in your kitchen in no time. In addition, the cookies usually have cracks running along the surface, making for a unique decoration pattern.
People often mix cake mix with eggs and vegetable oil for the base blend of the crinkle cookie batter. Don't worry if the batter has a thick consistency because that's how it's supposed to be.
Proceed to divide the dough into even balls for baking. Dust the cookies with powdered sugar before popping them into the oven. You should start to see the crack forming on the cookies after around 10 minutes of baking.
Total time: 58 minutes.
Strudel is a type of pastry dessert coming from Hungarian cuisine. The dish can have a lot of variations with many sweet or savory filling options. For newcomers to Strudel, I suggest making an apple filling as the ingredients are widely available and easy to handle.
To create a tasty pastry layer, people use Filo dough, which provides a mild flavor with an incredible crunchy texture when baked. As for the apple slices, you should toss them thoroughly with sea salt, sugar, and butter.
People usually fold the dough a couple of times before including the apple filling in the middle of the pastry. Don't forget to brush the Strudel surface with butter to get a beautiful golden brown after baking.
Try out apple Strudel for a unique dessert experience this Thanksgiving.
Total time: 2 hours 15 minutes.
Whenever Thanksgiving and Christmas are approaching, you will undoubtedly see gingerbread and pumpkin pie featured on the dinner table. They are simple desserts that people can't get enough of and always come back for more.
Since this cake includes ground ginger, it gives the dish a spicy scent and peppery zing in every bite. I enjoy a smoky sweetness from adding molasses to the dough mixture. For a taste of coffee, I love sprinkling some espresso powder in the gingerbread mix.
Furthermore, the cake has a creamy and herbaceous scent from the pumpkin puree to create the pie filling. For serving, you can pair the cake with whipped cream or confectioner's sugar to enhance the overall sweetness.
Total time: 12 hours 30 minutes (including 12 hours of chilling).
Cheesecake is a creamy creation everyone loves to stuff their tummy after a hearty meal. This no-bake version of cheesecake with a note of lemon taste is perfect for freshening up your menu during the upcoming Thanksgiving.
I love this lemon cheesecake as you only need to use crushed Graham crack with some butter and sugar to form the base. Of course, the filling is the main star of any cheesecake specialty, so I recommend mixing double cream with cream cheese for a smooth consistency.
Remember to infuse the cream filling with a splash of lemon juice and zest to a refreshing note. Once you get all the crust pressed into a mold, proceed to transfer the lemon filling over it. Top the cheesecake with some whipped cream to complete your rich dessert creation.
Total time: 20 minutes.
Apples are a crunchy and tasty fruit by themselves, but they can be better when fried into a fritter. If you're new to the concept of fried apples, you should give this specialty a try to not miss out on this wonderful experience.
You often want to utilize applesauce to combine with flour, eggs, and milk. Whisk the concoction until it becomes smooth, and fold the apple pieces for frying. Each fritter side should take around 2 minutes to become golden brown with a delicious crunchiness on the outside.
While you let the fritters cool down, bring together milk, powdered sugar, and a small splash of vanilla to make the glaze mixture. Make sure to give the fritters a good dunk through the sweet glaze to enhance the overall sweetness of the dish.
Fried apple fritters are easy to create in a hurry to enjoy a fantastic night.
Total time: 30 minutes.
If you don't want to go through all the hectic steps to preparing a dessert, I have the perfect candidate for you to try in the form of candied apples. The dish is a fun twist to enjoying apples and looks appealing because of the vibrant candy color.
I know you're excited to try this recipe but remember to prepare some skewers to stick them into the apple stem. This step makes it easier to manipulate the apples for later processes. For the candy blend, you should simmer corn syrup with sugar and water.
When the sweet liquid begins to boil, add red food coloring to infuse a beautiful color. Turn off the heat and work fast to coat the apples with the warm candy layer. Allow the candy to set, and you're good to serve a sweet and crunchy apple treat.
Total time: 1 hour 5 minutes.
Oreo is an iconic snack for adults and children, but it can be much better when mixed with a decadent cheesecake. Better yet, these Oreo desserts come in little cubes so that you may share them with your loved ones during Thanksgiving.
First, I suggest crushing some Oreos to form a nice cookie bed at the bottom of the baking pan. Proceed to mix cream cheese with sugar, eggs, and crumbled Oreos to pour over the crust. Pop the cheesecake into the oven to cook for around 45 minutes.
The result you get is a soft cheesecake spiked with mesmerizing Oreo taste. While the cheesecake cools off, melt some chocolate to drizzle over the cake. Refrigerate your Oreos cheesecake and cut it into bite-sized cubes for serving.
Total time: 2 hours 15 minutes.
Hazelnut and chocolate make an addicting combo with a touch of sea salt. The chocolate bar is a top choice to sweeten your taste buds while enjoying the holiday season with your family and friends.
To bring this chocolate bark to life, you usually need to melt some chocolate chips with butter to get a smooth consistency. Continue to fold in hazelnut with a touch of vanilla for extra fragrance. Spread the chocolate mixture over a baking sheet to the desired thickness.
Sprinkle some sea salt and chill it in the refrigerator. With the hazelnut, your chocolate bark gets a signature earthy and musty taste to pair with sweet chocolate.
Chocolate bark is an effortless treat for a homemade recipe.
Total time: 50 minutes.
It's time to bring an earthquake of flavors into your house in the form of a decadent cake. This earthquake cake is bursting with incredible coconut taste and a hint of pecan nuttiness. However, the main selling point lies in the delicious ooey and gooey chocolate cake.
Instead of making the cake from scratch, I recommend grabbing a cake mix package to combine with eggs, chocolate chips, and some oil. Before transferring the batter to a baking tray, you want to sprinkle the bottom with some pecan seeds and coconut flakes.
Furthermore, you should prepare a smooth blend of cream cheese and butter to drop it over the cake batter randomly. Top it with remaining chocolate chips and bake for around 40 minutes. The result may look like a mess, but the rich chocolate taste is irresistible.
Total time: 1 hour 15 minutes (including 1 hour of chilling).
When it comes to the patty, many often think about juicy beef or pork slices between two burger buns. However, you may surprise everyone with a sweet, crispy rice peppermint patty. Aside from Thanksgiving, these dessert patties are ideal for the Christmas occasion.
The peppermint treat combines melted marshmallow, peppermint extract, and butter to incorporate with the crunchy rice cereal. You must keep folding the concoction at this stage to distribute the ingredients evenly.
Depending on your liking, you may include the chocolate chip while mixing the rice cereal or simply sprinkle them over the flattened patty at the end. Allow the temperature of the patties to cool off to harden the texture before serving the treats to everyone.
Total time: 6 hours 15 minutes (including 6 hours of chilling).
Chocolate truffles are a simple must-have dessert to wrap up your night on a high note. These little balls of chocolate are great at attracting the crowd's attention and deliver an addicting sweet flavor.
To keep everything simple, you only need four ingredients to materialize these truffles at home. First, you want to heat the heavy whipping cream with a few vanilla drops to whisk with some chopped chocolate. Keep mixing the concoction until it becomes silky and smooth.
Refrigerate the chocolate until you can scoop it into little balls. Finally, toss the truffles with cocoa powder for the final preparation step.
These chocolate truffles are a beauty to wrap up a hearty homemade meal.
Total time: 35 minutes (excluding 1 hour of chilling).
A pumpkin roll is a decadent dessert with a spongy cake texture wrapping around creamy frosting. The dish usually appears during Thanksgiving to deliver an excellent pumpkin taste after a hearty meal.
Typically, people infuse the flour blend with a mix of pumpkin pie spices to give the cake a signature profile. In addition, pumpkin puree is the key to bringing out the pumpkin taste in the cake recipe. Once baked, the cake has a mesmerizing dark brown color.
As for the filling, you can spread a combination of cream cheese, butter, and powdered sugar over the cake batter. You can adjust the consistency by the amount of powdered sugar when the cream filling is too thick or thin. Tightly roll the cake and refrigerate it to secure its shape.
Total time: 30 minutes.
If you're running low on time and ingredients, creating a decadent dessert with only four elements is a suitable choice. It may sound impossible, but cherry hand pies are the perfect answer for making in a rush.
For starters, I recommend getting some pie dough to cut into a few circular shapes. You want to include a decent amount of cherry pie filling for each circular dough piece. Apply some water to the edge of the dough to stick the two edges together.
Now comes the easy part, set up your air fryer and allow the machine to cook the pies to a golden crisp. Remember to coat the dough with a thin layer of sugar to enhance the color effect. One bite into the pastry instantly hits you with the sweet and tart tastes of the cherry filling.
Total time: 13 minutes.
Red velvet cake is a guilty pleasure for many people, but I enjoy it in the form of little cookies, so I can keep reaching for more on the table. At first glance, these velvet cookies are super appealing with their brilliant bright red color.
Making these delicious treats is surprisingly easy with a pre-made velvet cake mix. There's nothing to be ashamed of about using store-bought ingredients, as it helps you cut down significant time.
After mixing the velvet cake mix with eggs and a splash of oil, I recommend scooping it into small balls and laying them over a baking sheet. In addition, you should include a couple of chocolate chips over the cookies to bring an extra cocoa taste.
Ideally, the red velvet cookies should be soft in the center while the edge is crumbly. Dip the treat in a glass of milk, and you have the perfect combo for this year's holiday.
Impress everyone at the dinner table by serving red velvet cookies.
Total time: 27 minutes.
To wrap up this Thanksgiving dessert compilation, let's go for simple sugar cookies that will surely get the crowd cheering. Despite their plain appearance, the cookies have an intriguing soft and chewy or crispy texture, depending on how you bake them.
The cornerstone of sugar cookies is based on a concoction of flour, salt, and baking powder. Next, whisk butter and sugar to incorporate with a cream mixture. Stir all the elements to finish the process of preparing the batter.
Bake the cookies to a golden brown color for the best of both texture and flavor. Sometimes, I like infusing the dough with some lemon zest for a refreshing take on the sugar cookies.
Desserts Are Incredible At Elevating Your Thanksgiving Experience This Season
I hope your upcoming Thanksgiving is a blast by sharing these treats with your family. In addition, these treats will help your holiday be much more memorable when people ask you to remake them for other eventful occasions.
Let everyone know which dessert triggers your taste buds by sharing your idea in the comment section. I love reading about everyone's experiences. If you're not good at cooking, you may share this article with your close ones so they can whip up a wonderful treat just for you.