Thai recipes are very diverse and rich because Thailand is a cuisine with a long tradition and unique dishes. Therefore, it is not an exaggeration to say that Thailand is the culinary paradise of Southeast Asia.
Because of the uniqueness and fun of Thai cuisine, I have spent a lot of time and effort researching, learning, and experiencing amazing Thai recipes. I have compiled a list of 39 Thai recipes, and I will give you all of these fantastic recipes right away.
I hope these Thai-style recipes will make you have more choices for meals as well as learn and know more about a new cuisine in the world. So, do not miss a moment, read the article carefully and enjoy the culinary paradise together!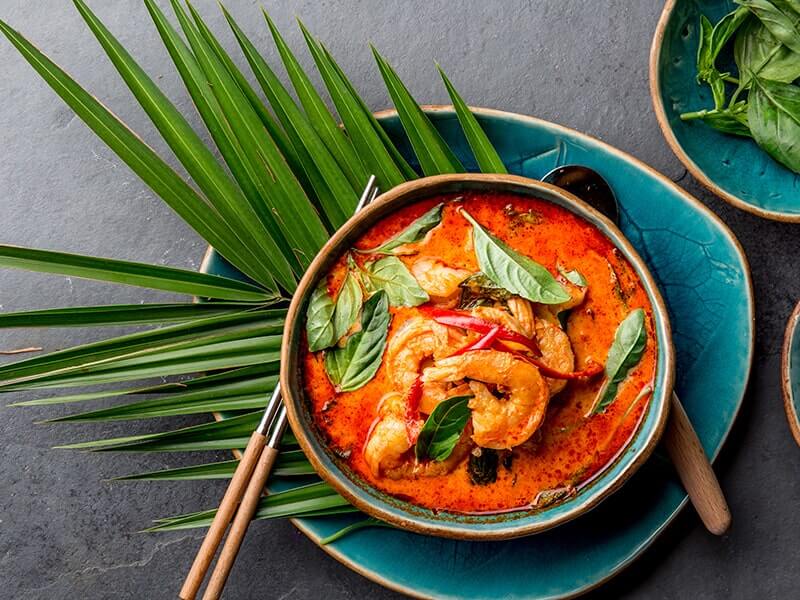 A Fantastic List Of 35+ Thai Recipes To Boost Your Culinary Treasure.
When traveling in Thailand, you will be attracted and immersed in street food spaces, food fairs, or enjoy delicious foods at luxurious restaurants. I will divide this list into groups of appetizers, main dishes, side dishes, and desserts.
Starting your party with some fantastic Thai appetizer recipes
Spring rolls
Thai chicken lettuce wraps
Chicken satay with peanut dipping sauce
Thai peanut salad wonton cups
Miang kham (leaf wrapped salad bites)
Yummy Thai main dishes will fill your stomach
Enjoying some amazing main dishes with chicken
Thai chicken
Thai chicken tacos
Thai chicken soup
Thai pineapple chicken curry
Do not miss the incredible Thai main course with pork.
Mae pranom – Thai Panang pork
Crispy rice larb pork
Thai style sweet chili ribs
Main dishes with rice or noodles
Thai fried rice
Spicy Thai noodles
Pineapple fried rice
Pad Thai
Main dishes with vegetables
Thai pumpkin soup
Thai baby corn stir fry
Thai green eggplant curry
Thai salad side dishes are the perfect accompaniment
Thai mango salad
Thai noodles salad
Thai quinoa salad
Thai crunch salad
Green papaya salad
Thai cucumber salad with peanuts
Thai fruit salad
Other Yummy Thai Side Dishes For Your Loved Ones
Stir-fried water spinach
Thai peanut sauce
Thai coconut curry
Thai peanut cauliflower wings
Ending your meal with excellent Thai dessert recipes
Thai tea
Rolled ice cream
Thai fried banana
Thai grilled pineapple
Coconut mango tapioca pudding
Bua loy – glutinous rice balls in coconut milk
Coconut pumpkin pie
Thai sweet potato balls
Thai black sticky rice dessert
Discovering Yummy Thai Recipes To Blow Your Mind
It is time to blow your mind with this list of 30+ delicious and fantastic Thai recipes. These are all dishes that can make you salivate, so you should fill your stomach before reading. I hope this list will make you feel satisfied.
Kick-Off The Party With These Wonderful Thai Appetizers
Appetizers always play an essential role in every party because they affect the first impression of diners. Thai cuisine has a lot of delicious appetizers. In this article, I will give you 4 popular appetizers that I know.
Spring rolls are a popular appetizer not only in Thailand but also in many countries in the Asian region. Thanks to its delicious and characteristic flavor and short preparation time, spring rolls are an option that you can consider adding to your appetizer list.
When you take a bite of the whole spring rolls with the sauce, you will feel the crispiness, sweetness, and sourness of carrots, mango, along with the flavor of shrimp and rice noodles. All blended with the flavor of the spicy and sweet peanut dipping sauce.
If you are looking for a healthy appetizer, Thai chicken lettuce wraps cannot be missed. This appetizer is suitable for people who are following a diet rich in vegetables. Kicking off the party with a plate of Thai chicken lettuce wraps is just fantastic.
Small pieces of chicken mixed with spices and sauces will stimulate your taste buds to start enjoying the next dishes. Adding lettuce to the dish as a way to harmonize the flavor more, and helps you not to feel bored by chicken.
Let's jump into the kitchen to learn these instructions to make Thai chicken lettuce wraps!
Another chicken appetizer that is combined with peanut sauce is chicken satay. This dish is popular in every party as well as it is made for those who both love chicken and the fatty taste of peanut sauce.
You can not sit still when starting the meal with the salty and spicy taste of well-seasoned chicken mixed with the creamy and mild spicy peanut chili dipping sauce. You should learn this recipe right now to enjoy this fantastic dish.
If you are looking for an appetizer salad for lunch, you should choose Thai peanut salad wonton cups. This is a Thai-style salad that is beautifully presented and tastes amazing. This dish is a perfect choice to start the party.
Peanut butter dressing has a strong Thai culinary flavor and is evenly spread over chopped vegetables to create a taste that goes into people's hearts. A few crushed peanuts add to the rich aromatic flavor of this wonderful salad.
A Fantastic salad for you and the whole family on the weekend is Miang Kham. Miang Kham is also known as Thai betel leaf salad. This is a convenient and easy appetizer to make when you do not need to cook anything.
You will fully enjoy the characteristic and natural flavor of betel leaves. Besides, the crispy and chewy shrimps will stimulate your taste buds before enjoying the wonderful dishes afterwards.
Fill Your Stomach With Yummy Main Dishes
After kicking off with some fantastic Thai appetizer recipes, you and I will enter the world of mouthwatering authentic Thai dishes to fill your stomach. Keep reading so you do not miss out on these scrumptious dishes.
UniqueThai Main Dishes With Chicken
Chicken is a common ingredient in almost every cuisine in the world. In Thailand, chicken is also an essential ingredient to make great dishes. Let's learn the Thai main dish recipes with chicken.
Start your main meal with a chicken dish. Thai chicken is a popular dish in Thailand, and you only need to spend less than 40 minutes to prepare this dish. The dish promises to bring you a delicious feeling.
This recipe makes for a wonderfully delicious chicken that is tender and has a distinctive caramel flavor. Sweet and sour chili sauce is the ingredient that creates a particular highlight for this recipe. In addition, you will also feel the slightly sour taste of lemon juice.
Another chicken dish, Thai chicken tacos will be an excellent choice for your family and friends. The dish is a unique combination of chicken and other ingredients to create a recipe imbued with Thai cuisine.
The grilled chicken pieces are carefully marinated with rich spices that will make you fall in love with chicken more than ever when eating this dish. The secret to this dish is the perfect peanut butter sauce. Some fresh vegetables will increase the Thai flavor.
If you want to enjoy a Thai-flavored soup that only takes about 25 minutes to prepare, you should learn the Thai chicken soup recipe. The dish is the perfect combination of rice noodles and chicken.
The presence of fish sauce, Thai green curry paste, and coconut milk will bring out the authentic taste of Thai cuisine. Most Thai-style dishes have a characteristic spicy taste, so sriracha sauce is indispensable for this recipe.
This is a traditional recipe of Thai cuisine. Thai chicken pineapple curry will be a fantastic choice for your main course if you are a lover of Thai food but not good at spicy food. Do not hesitate any longer. Go to the kitchen and show off your cooking talent now.
Thai chicken pineapple curry is a savory but less spicy dish. In addition, the appearance of pineapple will give a natural and gentle sweetness to this curry. The secret of this recipe is the combination of coconut milk and red curry paste.
Exploring Thai Main Dishes With Meat
If you have mentioned the Thai main dishes made from chicken, it is impossible not to mention the wonderful main dishes made from meat. You will not be able to resist the attractiveness of these dishes. Keep following the article to blow your mind!
Thai panang pork, also known as "mae pranom", is a popular dish in Thailand, and is loved by many tourists when traveling in Thailand. This is a recipe often used to add to the menu of main meals.
The pieces of pork belly are selected, preliminarily processed, and seasoned with a Thai flavor. However, to make this dish successful, cooking the sauce from Panang curry paste is extremely essential because the dose needs to be reasonable to bring a harmonious taste.
If you are a huge fan of Thai cuisine, you can not help but know the scrumptious crispy rice larb pork. The combination of crispy rice, pork, and other ingredients will create a perfect whole for this fantastic dish.
How can you resist the perfect crunch of crispy rice mixed with the soft and creamy texture of larb pork? A few cucumbers were served to make the dish more full of flavor. This fantastic recipe will wake up your taste buds immediately.
Ribs are an ingredient that is used a lot in cooking. You can make appetizers with ribs as well as make Thai style sweet chili ribs as a main dish. The dish has the style and taste of Thai cuisine. The dish will be an excellent start to your party.
The ribs are quite tender and flavorful because they are cooked in a slow cooker. In addition, the dish becomes richer with the signature sauce that is combined with the ribs. The aroma of chili and the characteristic flavor of fish sauce will make you not want to stop.
Thai Fantastic Main Dish That Created From Rice And Noodles
Rice and noodles are the essential ingredients of Asians. They help you add energy for working and studying. This section will show you some incredible Thai main dishes containing rice and noodles.
Are you a fried rice fanatic? If so, you should learn the Thai fried rice recipe right away. The dish will help you fill your hungry stomach. This is a popular dish in Thailand, and it is quite simple to make.
To create a fried rice dish with Thai style and flavor. The secret lies in the combination of fish sauce, soy sauce, and chili peppers; all must blend and must be seasoned with reasonable precision. An egg will help add flavor to the fantastic dish.
Referring to the recipes of Thai cuisine without mentioning spicy Thai noodles is a mistake. The good news is that you do not have to spend an hour in the kitchen to make it because it is so easy to make. This recipe is usually served last on the main course list.
Linguine noodles are the key ingredient of this recipe, combined with some mushrooms and zucchini to bring out the vegetable flavor. The characteristic spicy flavor of Thailand is reflected in the sriracha sauce. Add some chicken for extra protein.
This recipe is very helpful for dealing with leftover rice in your home. The dish has a classic Thai flavor thanks to the ability of Thai people to combine ingredients and spices properly. So try making it now to treat your family.
This recipe will bring you a spicy and sweet fried rice dish that is extremely appealing to the taste buds – the natural sweetness of pineapple and the typical spicy taste of Thai sauces. The dish will be more delicious and healthy if you add eggs and some vegetables.
A delectable wok recipe with noodles combined with many other attractive ingredients that have created the trademark of Thai cuisine is pad Thai. If you go to Thailand, you must definitely enjoy this dish. Or you can do it at home because it is pretty easy.
The noodles are hand-stir fried with fish sauce, tamarind paste, so the noodles will be quite full of flavor combined with a little dried shrimp to make the dish more stimulating. You will be hard-pressed to forget the tangy, sweet, and salty flavors of pad Thai.
Moving to Thailand to watch the ways that Thai people use to make fantastic pad Thai!
Refresh Your Body With Vegetable Thai Main Dishes
If you are a vegetable lover, and want to lose weight, this part is for you. You will have the opportunity to experience, enjoy, and make the amazing Thai vegetable main dishes. So, keep reading carefully to gain everything you need.
Pumpkin is an ingredient that is used a lot to make sauces or soups. Thai pumpkin soup is a typical Thai dish made from pumpkin. The dish will bring nutrition to your main meal. This recipe is also very suitable for your kids.
This recipe will yield a bowl of Thai pumpkin soup with a beautiful color and characteristic pumpkin aroma combined with a bit of cilantro and chili that will be very suitable for cold winter days. A cup of grease and full of nutrition Thai pumpkin soup is very fantastic.
Thai baby corn stir fry is a suitable recipe for those who like to eat foods high in plant fiber. Baby corn is a common ingredient all over the world. They can be used to make soups, sauces, or stir-fried, all of which have fantastic taste.
The baby corn when stir-fried will become crispy and bring out the full flavor. You should season the dish appropriately to make the dish more flavorful. The natural sweetness of baby corn goes well with meat or beef and adding some chili for a flavorful Thai dish.
A great curry for today's main meal is Thai green eggplant curry. The dish will warm your stomach on cold rainy days. What could be better than enjoying a bowl of hot curry with some bean sprouts and some lime juice to spice it up?
This recipe will become more attractive and wonderful when adding some caramelized eggplant. If you want to add more flavor to the dish and bring out the Thai flavor, you should add peas and red peppers.
Aside from these authentic Thai main dish recipes, there are also countless wonderful side dishes that you can serve with your meal. I will give you a list of 12 delicious, popular, and easy-to-make side dishes of Thai cuisine.
Enjoying Fantastic Salad Side Dishes
Salad is always a popular and excellent accompaniment at every party. Salads both add flavor to dishes and help you feel less bored when eating too much meat or seafood dishes. Let's discover fantastic Thai salad recipes together.
If you love salads with a natural sour taste, you should try applying the Thai mango salad recipe to create an excellent accompaniment for you and your family. Mango is a typical ingredient often used to make salads in Thai cuisine.
This recipe will bring out the naturally sweet and sour taste of mango. You should add some vegetables and herbs to diversify the flavor of this mango salad. In addition, this is also a good side dish for your health.
Have you ever tried making a salad with noodles? If not, you should refer to the Thai noodles salad recipe. This is a dish that combines the harmonious flavors of dipping sauce as well as other accompanying ingredients.
Noodles salad is covered with loads of chopped vegetables that give the dish great colors. Besides, the combination with peanut sauce makes the taste of the dish enhanced. You should add scallions, chili, and cilantro to enhance the aroma of this dish.
Thai quinoa salad is one of the attractive Thai salads that you should try. This is a very healthy salad, thanks to the vegetable ingredients in this salad. Not only that, its taste is also very delicious.
This is a straight-toward Thai salad recipe to make; you only need to spend about 30 minutes to have a great salad to treat your loved ones. The ingredients of this dish are also very easy to find in your kitchen.
The importance of salads for your health cannot be denied. Thai crunch salad is a plant-based dish; you should add it to your menu if you want to lose weight. It is tempting to enjoy this salad with the main dishes of the meal.
The highlight of this salad is the great taste of salad dressing combined with the fatty, aromatic taste of peanut butter, spices, and the characteristic aroma of herbs. You will be conquered by the crispiness of cabbages, cucumbers, and the unique flavor of bell peppers.
A salad that perhaps when you hear its name you will immediately think of Thailand is green papaya salad. The dish can be used as an accompaniment to a meal as well as a snack that is popularly served on the streets or at Thai food fairs.
The aroma and crunch of papaya will be a great addition to a party filled with meat, seafood, and starchy dishes. Not only papayas, for extra flavor, carrots and cucumbers are also added. The sauce made from rice vinegar with a bit of chili has created a pure Thai taste.
You'll love these detailed directions of Thai people to make an excellent green papaya salad!
Cool and purify your body with a plate of Thai fruit salad. This recipe will help you to diversify your recipes with fruits. Besides enjoying organic fruit or making desserts with fruits, you can create a side salad that is both delicious and healthy.
The preparation of this salad is up to your taste, and you can choose the fruits that you like and combine them together. The signature flavor of this wonderful salad is also created from the coconut lime dressing.
Thai cucumber salad with peanuts is a great choice to pair with grilled meat or seafood in your meal. This is a very easy dish to prepare when you just need to go through a few basic steps to enjoy this wonderful salad.
The juice from the cucumber mixed with the salty, sweet, and tangy taste of the salad dressing will create an unforgettable feeling for you. In addition, to diversify the flavor of this salad, you should add some peanuts.
Other Yummy Thai Side Dishes Will Wake Up Your Taste Buds
Besides the side salads, Thai cuisine also has countless other yummy side dishes. Let's collect more Thai side dish recipes in this section together! Continue reading carefully so that you do not miss any excellent recipes.
Stir-fried water spinach is an accompaniment that will replenish you with nutrients, and its taste is easy to pair with other main dishes. This is a vegetable side dish, so it is perfect for your health. But the taste of the food is also excellent.
To make this dish fragrant, you should add a little garlic. A little chili pepper will make the taste of the dish more like Thai style. The key to good stir-fried water spinach depends a lot on seasoning and stir-fry technique.
A famous sauce used to accompany many Thai dishes is Thai peanut sauce. The appearance of peanut sauce will increase the taste and quality of the main dish. Moreover, the preparation of this peanut sauce is also quite simple and does not take much time.
The fatty flavor and characteristic aroma of peanuts will awaken your taste buds immediately. In addition, you can also feel the mildly sour taste of lemon and tamarind juice as well as the specific spicy and aromatic taste of Thai chili garlic sauce.
Thai coconut curry is a Thai recipe that is delicious, easy-to-make, and healthy for you too. When you come to Thailand, you definitely have to enjoy this yummy and perfect curry. Or you can make your own at home, rest assured because it is not difficult at all.
The curry has a salty, fatty flavor and a little natural sweetness from coconut milk and carrots. To create a standard Thai curry, red curry paste is indispensable, and this ingredient will help create the overall flavor of the dish.
You feel the dishes made from vegetables are too bland and nothing special. Perhaps you will change your mind when enjoying the crispy, delicious, and fragrant cauliflower wings of Thai peanut cauliflower wings.
The dish is a great choice to accompany at parties or can be used as a snack. Fresh cauliflower wings are soaked in peanut butter dough combined with some bread crumbs topped with and carefully toasted. You will fall for the first time you eat it.
Enjoy The Perfect Ending Of The Thai Party With Fantastic Thai Dessert Recipe
Let's wrap up a sumptuous Thai food party with a list of mouthwatering Thai dessert recipes. T hope this dessert recipes list will make it easier and more comfortable to choose a dessert for your meal.
Let's start this list of Thai desserts with light Thai tea. This is a popular dessert used by Thai people in their meals because you do not have to spend a lot of time making this amazing dessert.
This is not an ordinary tea, but it is also combined with a layer of cream and vanilla. You will feel the slight bitterness of the tea blended with the fatty, aromatic, and spongy taste of the cream, as well as the characteristic flavor and aroma of vanilla.
Desserts with ice cream always have an extremely strong appeal, and so does rolled ice cream. This is a pretty common dessert in Thailand. It is not only delicious but also simple to make when you only need 2 main ingredients.
This is a suitable dessert for those who have a sweet tooth because the combination of cream and condensed milk will provide an enchanting sweetness. Alternatively, you can also add some toppings like chocolate or strawberry to your liking.
Learn how to make rolled ice cream at home to treat your family in the summer days!
A delicious and healthy banana dessert that everyone loves is Thai fried banana. This is a common dessert that you can see in the menus of Thai restaurants as well as street food stalls in Thailand.
The fragrant, delicious, and crispy fried bananas will make you unable to refuse to enjoy them. You will be even more fascinated by this dish when enjoying fried bananas with coconut cream.
One of the simplest Thai dessert recipes is Thai grilled pineapple. Most of the ingredients you need to make this dish are very simple and nothing special, and the time to prepare this delicious dessert is also quite short.
A dessert that brings out the natural sweetness of pineapple. In addition, you can also feel the aroma and fat of butter spread evenly on the surface of the pineapple slices. Add some yogurt and fresh coconut on top to make the dish more eye-catching and delicious.
If you are looking for a delicious, vegan, and especially healthy dessert, coconut mango tapioca pudding is an affordable choice. The special thing about this dessert is that it is not sweetened with dairy milk.
However, do not worry about this dessert not being sweet. Ripe mangoes will bring out the full and natural sweetness of this wonderful dessert. The recipe becomes even richer and creamier thanks to coconut milk.
Bua loy is a traditional and famous Thai dessert. The dish is the perfect combination of rice balls and coconut milk to create a unique and attractive overall taste. You will hardly be able to resist its attractive sweetness.
Beautifully colored rice balls soaked in white coconut milk will create an eye-catching appearance for the dish. The fatty and aromatic taste of coconut milk along with the sweetness of the rice balls will knock you out instantly.
Coconut pumpkin pie is a dessert that is not only delicious but also full of nutrients for you. Pureed pumpkins give a wonderful color. The scent of the cake is something that you can hardly stand.
A coconut pumpkin pie for today's party is too perfect. The gentle sweetness of pumpkin mixed with the characteristic fat of coconut is something that you will easily notice when consuming this dish.
Having finished a main meal at a Thai restaurant but not having dessert with fried Thai sweet potato balls is a mistake. This is a dish that you can easily find in stores as well as in Thai food markets.
The natural sweetness from sweet potatoes along with a little sugar will create an attractive sweetness for fried Thai sweet potato balls. Coconut milk is an essential ingredient to create fat and add flavor to dishes.
A glass of Thai black sticky rice dessert will make your summer coolier. The ingredients are harmoniously combined, so when you enjoy them, you will feel like their flavors are blending into one.
The layer of cream on top brings a cool and pleasant feeling when enjoying Thai black sticky rice dessert. Condensed milk will create an irresistible sweetness for this dessert. A little fruit will make the taste of the dish more balanced.
What Wonderful Food Are You Going To Enjoy When You Come To Thailand?
Have you chosen any fantastic Thai recipes for yourself yet? Thai cuisine is a very diverse and rich cuisine, so the list of Thai dishes is endless. However, I hope the list of 33+ Thai recipes that I provide will be useful in your life.
Please constantly update and learn more new, strange, and delicious recipes to bring quality and complete meals to your family. Family meals are extremely important because it helps family members understand each other better and bond more.
If you like and are impressed with this article, please like and share the article. This will help more people learn these delicious recipes and make life better. If you know of any other fantastic Thai recipes, feel free to share them in the comments. Thanks for reading!