Thailand is a paradise for any Thai fruit lover as the country offers an endless variety of fruits to enjoy every day. Whether you want to use these fruits to make decadent Thai dishes or have them as a snack, I'm sure you will be satisfied with the flavors.
If you want more diverse fruit choices, you can quickly get to Thai markets where everything is fresh and straight from the local gardens. In Thailand, you will find a fruit suitable for your taste bud.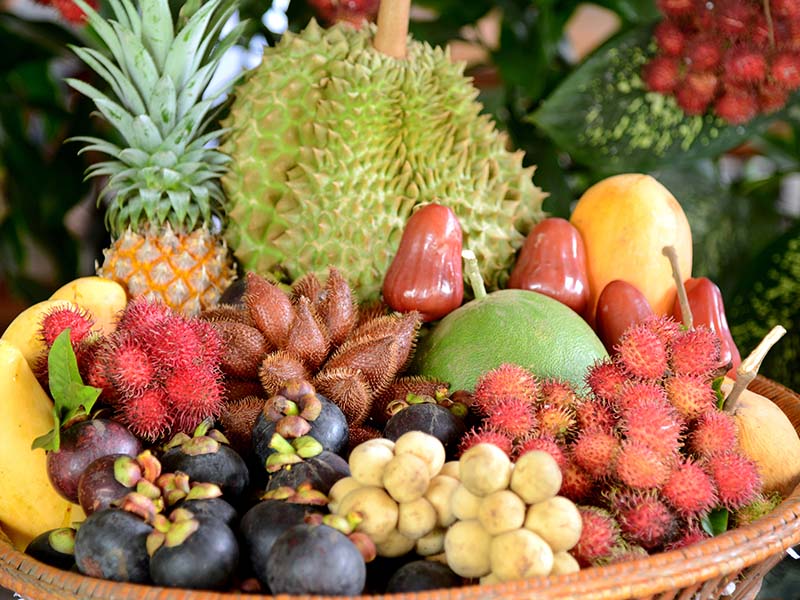 8 Thai Drupe Fruits You Need To Know
To give you further information about the drupe category, it is essentially fruits with a single seed in the middle with fleshy meat surrounding. Based on those characteristics, allow me to bring you some Thai fruits from the drupe group.
1. Salak (Snake Fruit)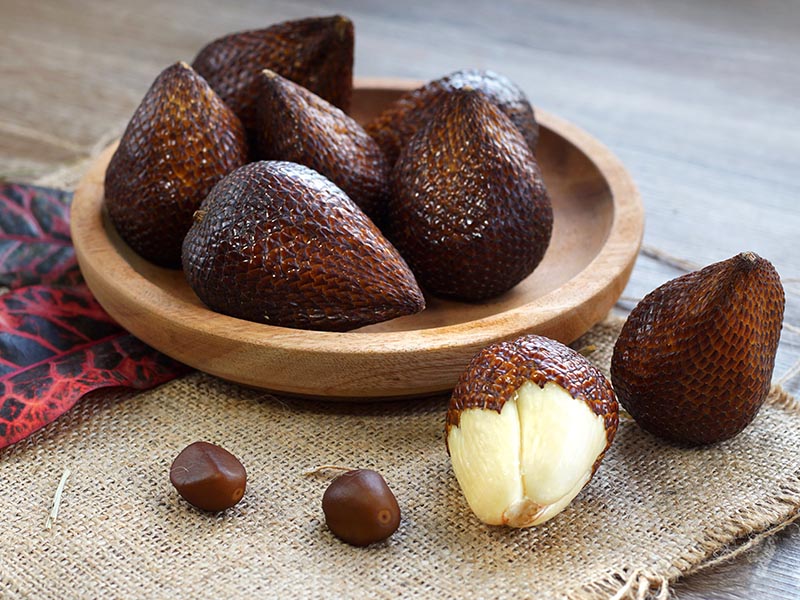 Salak is a fruit of a type of palm tree native to Indonesia. The fruit gets its name from the scaly brownish skin resembling a snakeskin pattern. Salak mainly appears in Thailand's southern and eastern regions, where people most cultivate the snake fruit tree.
You can easily punch through the hard skin of salad with your fingers to get to the white fleshy interior. Salak carries a sweet and sour taste that leans more on the acidic side for many people.
Within the white flesh of Salak, you may want to spit out the seeds, although many say that it is edible. The simplest way to eat Salak is to enjoy the fresh fruit after peeling it. Many tourists often consider Salak an exotic gift to bring home for friends and family.
Nutrients: Salak is a solid option to provide protein, vitamin C, and minerals.
Season: The fruit is available year-round, but it is most plentiful from late spring to summer.
How to eat: Peel off the skin and enjoy the white flesh.
The snake fruit is fascinating for you to learn more about it.
2. Ngoh (Rambutan)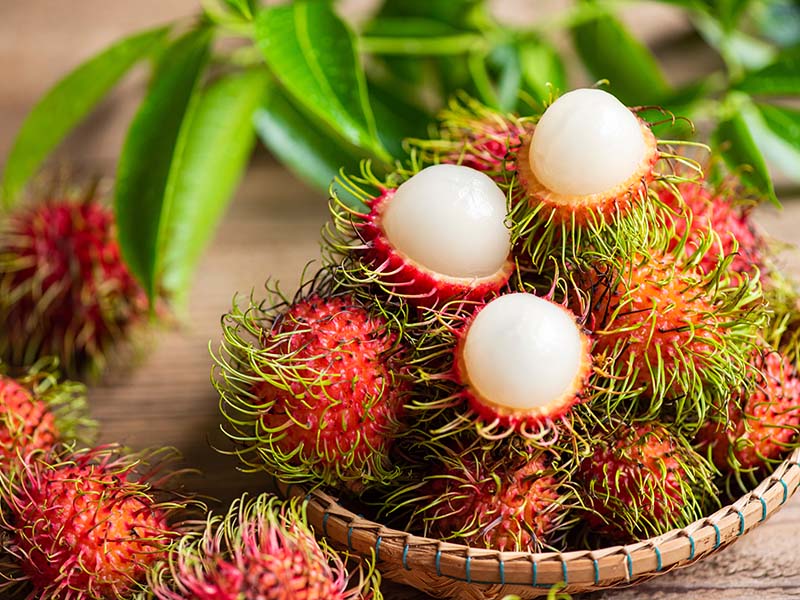 Rambutan is a fruit native to the Southeast region. It has bright red skin when ripe with little hair over it. Rambutans also belong to a larger group of fruit from the tropical climate. The fruit has white meat with a flavor ranging from sour to sweet.
The fruit's name derives from the Malaysian word "rambut," meaning hair. Typically, you can easily find rambutan in Thailand as the trees bear fruits year-round. Each rambutan can grow up to 5 cm in diameter.
Whenever you want to eat rambutan, be sure to spit out the oval seed as it is inedible and has an uncomfortable tartness. Rambutans usually appear as a gift between Thai family members or simply a refreshing sweet snack.
Nutrients: Rambutan is an excellent source of Vitamin A, B, and C.
Season: The best season is in the summer.
How to eat: Simply remove the skin and munch away the meat while discarding the seed.
3. Luk Nam Nom (Cainito/Caimito)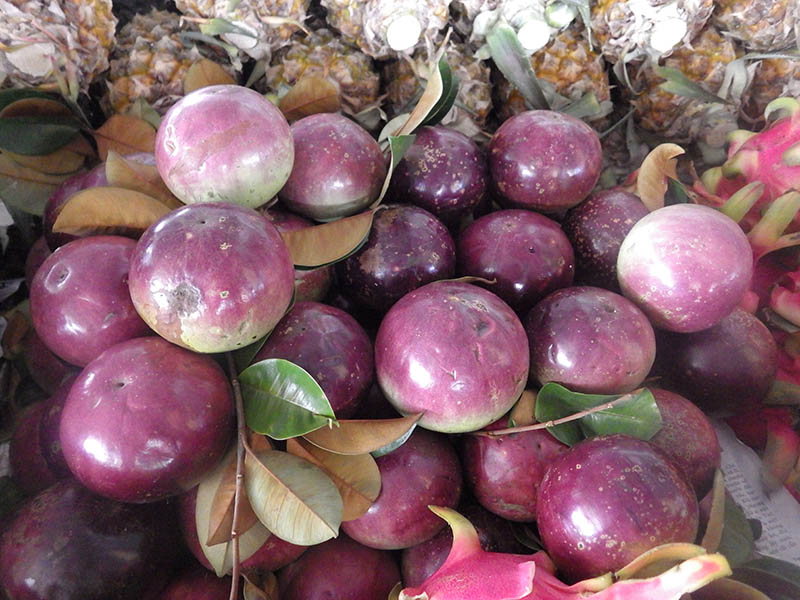 Luk Nam Nom, or caimito, may look deceptive because the fruit is similar to a purple or green apple. However, the fruit will amaze you with a white or sometimes purple-ish flesh that has a sweetness resembling milk.
Caimito is a species of the Isthmus of Panama that appears widely in the Southeast Asian region. The fruit is bigger than a tennis ball and usually has smooth skin. Once ripe, the fruit may have an additional purple color on the skin, but the key characteristic is its softness.
In the middle of the fruit usually lie one or two inedible seeds covered in translucent milky and tender flesh that resembles jelly. Aside from the natural sweetness, cainito also delivers a hint of pineapple flavor that may remind you of caramel flan. The fruit is best enjoyed fresh.
Nutrients: Caimito is excellent for aiding the digestive system. The fruit also possesses a high amount of vitamin C and antioxidants.
Season: From late autumn to summer.
How to eat: Simply slice the Caimito in half, remove the seeds and enjoy.
4. Mamuang (Mango)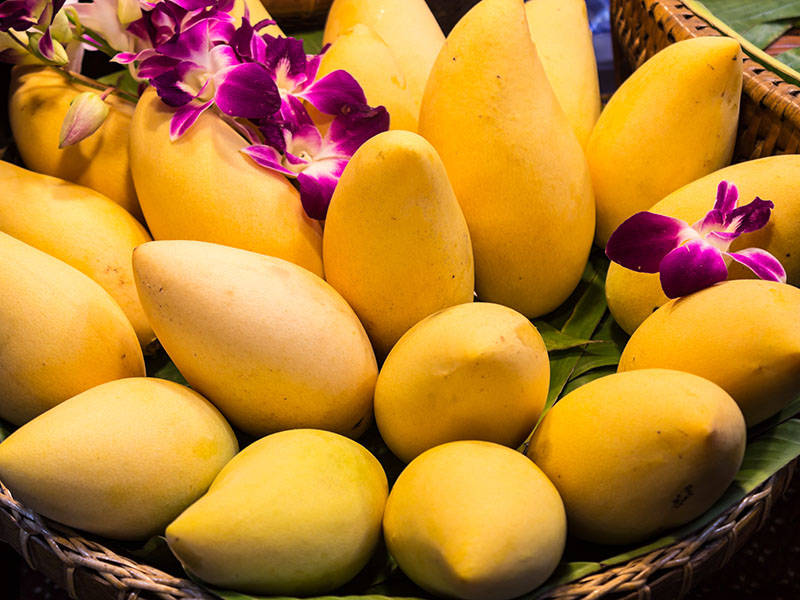 Mango is an edible tropical fruit with a fantastic flavor in both ripe and unripe conditions. The fruits are widely available in Thailand, but some regions like Chachoengsao, Nonthaburi, and Ratchaburi cultivate the best mangoes.
To give you more information, all mangoes have a big pit in the middle of the fruit. In many traditional Thai side dishes, people often use the sourness of green mangoes to make a salad with various condiments and ingredients.
Most often, mango is a popular ingredient that demonstrates the similarities between Thai and Vietnamese dishes. Both cuisines usually feature young mango to make a flavorful salad.
Furthermore, you may even know Khao Niaow Ma Muang, one of the most famous Thai treats that feature a combination of sticky rice with creamy coconut milk and ripe mango. Surprisingly, locals usually enjoy unripe mangoes more than the ripe ones.
For many Thai locals, the ultimate mango variety has to be Nam Dok Mai, which has bright yellow skin and meat when ripe. This unique mango cultivar satisfies consumers thanks to its sweet taste and a pleasant aroma.
Nutrients: Mangoes provide you with a lot of calories with vitamin A and C.
Season: Ranging from March to July.
How to eat: You can simply have ripe or unripe mangoes as it is or with some dipping sauces. Another way is to turn unripe mango into a savory salad.
Discover what dish you can cook in your kitchen using Thai mango.
5. Linjee (Lychee)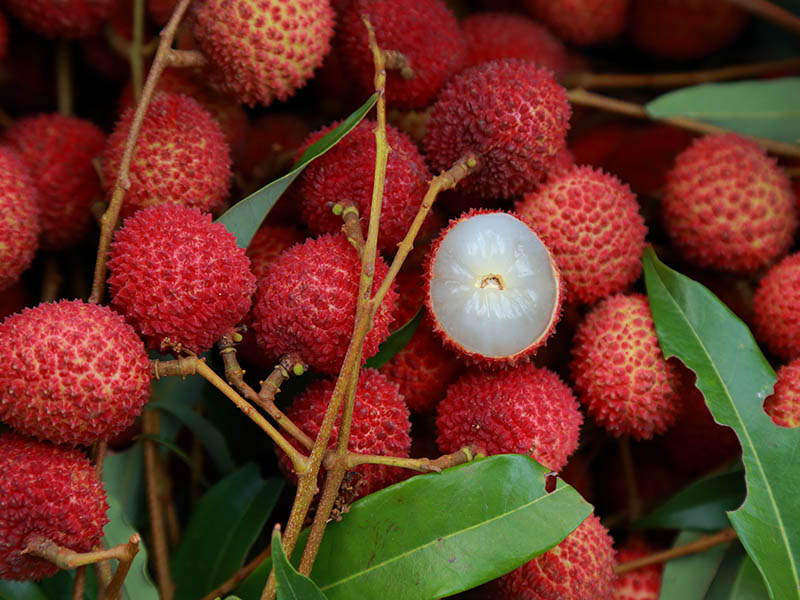 Linjee, commonly known as lychee, is a native fruit from the Southeast Asian region with a pink-reddish color on the skin and white meat on the inside. With that description, many may think lychee is a variation of the rambutan, but lychee doesn't have the signature hair strains.
In addition, the skin of lychee is much dryer compared to rambutan. However, the key difference lies in the scaly skin of lychee. Interestingly, the Chinese used to consider lychee a high-class delicacy that only the rich and powerful could enjoy.
Individual lychee tends to have the size of a regular ping pong ball. The white flesh of lychee has a sweet taste with a touch of acidic flavor. Remember that you want to spit out the seed in the middle of the meat.
Nutrients: Lychee provides your body with a solid amount of vitamin C.
Season: From mid-March to mid-June.
How to eat: Peel off the scaly skin to enjoy the white meat, but you need to spit out the seed.
6. Lamyai (Longan)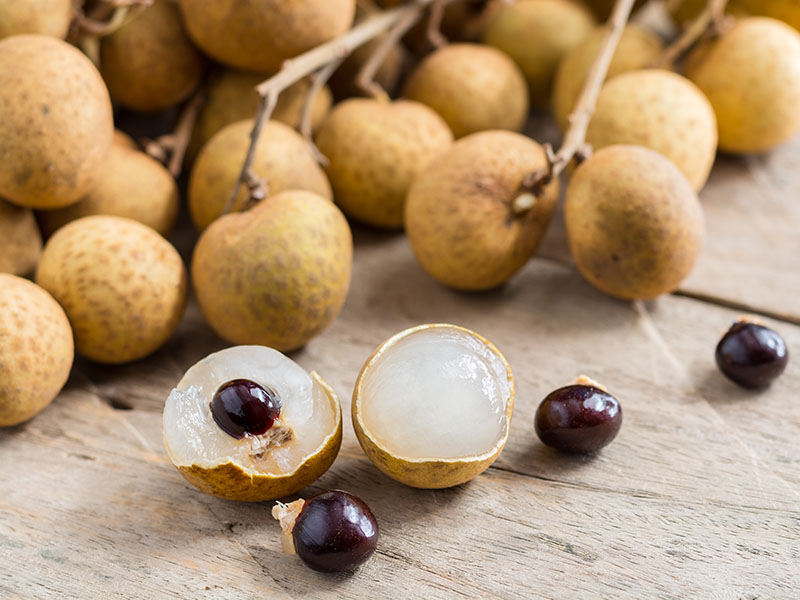 Longan is a less popular version of fruits like lychee and rambutan in many Western countries. However, it boasts numerous outstanding features that set it apart from the other two mentioned fruits.
First, almost every longan has light brown skin with a smooth surface. In addition, longan peel is much softer than rambutan and lychee. Thai locals consume fresh longan as a sweet snack right after peeling the skin.
Instead of having white meat, longan usually possesses translucent flesh with a relatively large pit in the middle. If you intend to enjoy the fruit, I suggest heading to Northern Thailand to enjoy the best musky and sweet longan.
Nutrients: Longans provide a solid amount of vitamin C with Potassium and vitamin B2.
Season: Ranging from June to August.
How to eat: Similar to how you eat rambutan and lychee.
Explore how people harvest longan in one of the biggest plantations in Thailand.
7. Ma Yong Chit (Plum Mango)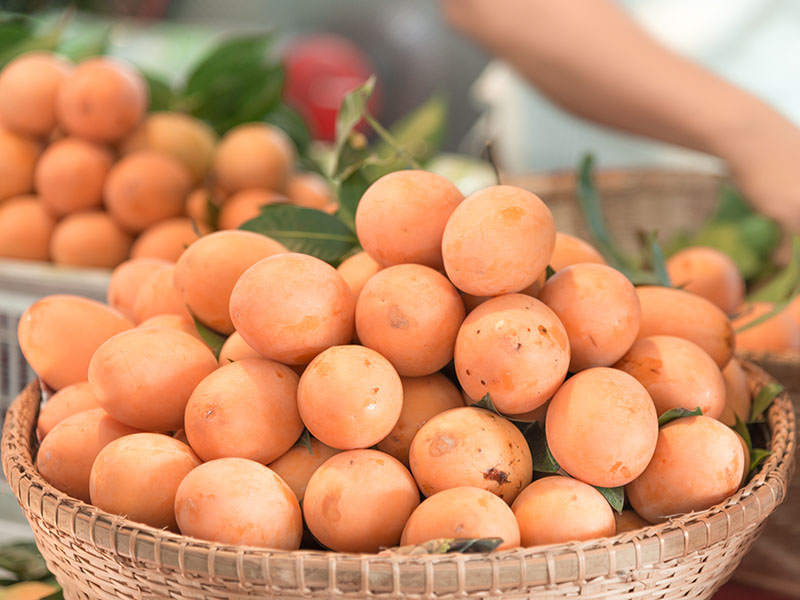 I know the moment I bring Ma Yong Chit to the conversation, many people will immediately say this is simply another type of mango. But let me give you a more in-depth look into the fruit as it has a similar shape and texture to mango.
The key difference lies in the taste when Ma Yong Chit illustrates a cross flavor between mango and plum. In addition, the Ma Yong Chit also has a slightly acidic taste similar to mango. Of course, it still carries the signature feature of a drupe by having a decent size seed.
In terms of color, Ma Yong Chit's skin is relatively smooth and has an orange-ish color when ripe. In Thailand, Ma Yong Chit, which locals call Maprang, is more expensive than other types of fruit. Furthermore, you can eat Ma Yong Chit raw or use it in making pickles and desserts.
Nutrients: The fruit has a substantial amount of vitamin C, fiber, and water content.
Season: From February to April.
How to eat: Locals usually remove the skin and enjoy it fresh.
8. Phutsa (Jujube)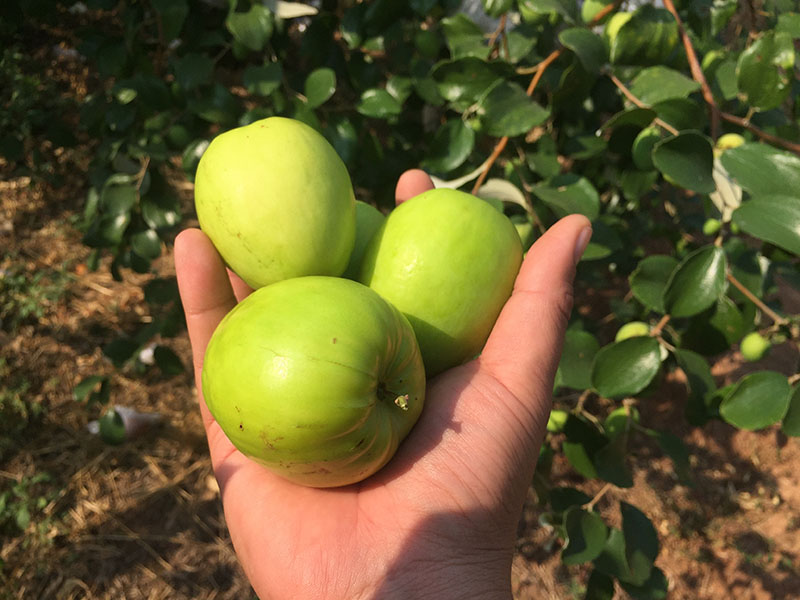 Phutsa is essentially Jujube, a Chinese date that originates from the Yellow River. The fruit has been an essential part of the country's history, appearing in various myths and legends.
The Thai variety of Jujube has bright green skin with an average size of 5 centimeters in diameter. In many local markets, Thai locals sell green or yellow Jujube to serve for many cooking processes.
Typically, Jujubes have a crunchy and crispy texture. Furthermore, the fruit also possesses a sweet and subtle tart flavor. In some cases, locals utilize dried Jujube as an additive for many Thai treats to enhance the overall taste.
Nutrients: Jujube is rich in antioxidants and a high level of vitamin C.
Season: Any time of the year.
How to eat: You can eat Jujube fresh or use it as an additive to many Thai dishes.
This review will help you understand more about jujube.
Thai Fruits From The Berry Category To Explore
When it comes to Berry, you may instantly think about a red fruit with tiny seeds covering the outside. However, the concept is much wider with any type of thin skin, small fleshy fruits belonging to the category. With that in mind, let's check out the Berry type of Thai fruits.
9. Noina (Custard Apple)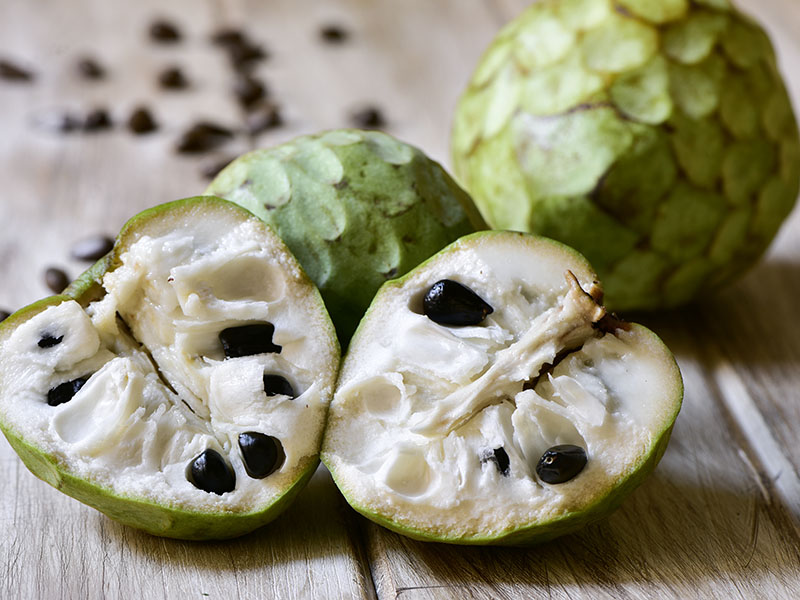 Custard apple or sugar apple is a spherical fruit of the Southeast Asian area. Many people believe that the custard apple came to Asia first in the Philippines from Spanish traders. The skin of the custard apple is also strange, with a composition of knobby segments.
The interior is usually soft and followed by a mild sweet flavor. The meat becomes mushy and loses its slightly chewy texture if the custard apple is overripe. You want to take it easy on the custard apple as it contains numerous inedible hard seeds.
Although Noina (Thai for custard apple) is not a popular choice even for the locals, you should still give it a try to experience the strange flavor of the fruit. Commonly, custard apples have a size of around a tennis ball.
Nutrients: High in vitamin C, various B vitamins, and manganese.
Season: Ranging from June to September.
How to eat: Simply peel off the skin and enjoy it fresh.
10. Farang (Guava)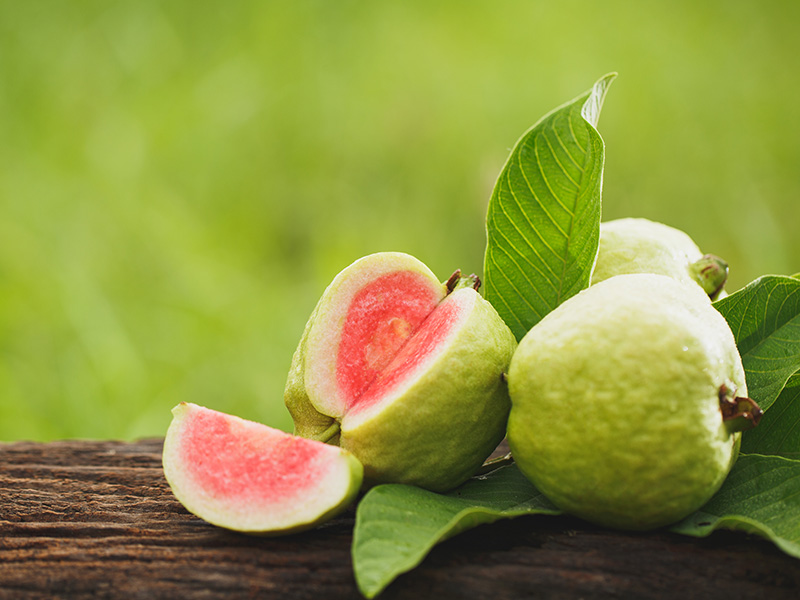 Although many people think guava is a native fruit of Thailand, the truth is far from it. Guava first came to Thailand a long time ago from Central America. The best thing is that you can find guava available year-round at any market in Thailand.
Commonly, guava has bright green skin with a creamy interior similar to pear flesh. Surprisingly, Thai guava often comes in two signature colors: white or red-hued meat. The middle part of guava has numerous tiny hard seeds that people sometimes consume along with the fruit.
Guava alone has a taste similar to a hybrid of strawberry and pear. Locals cut guava into sizable pieces and dip it with chili salt, sugar, or regular salt to enhance the taste. In Thailand, the name of guava is "Farang," which is the same word that locals use to refer to foreigners.
Nutrients: Guava contains more vitamin C than orange and provides you with many antioxidants.
Season: Year-round.
How to eat: Enjoy guava fresh with a dip of your choice.
11. Kaeo Mangkon (Dragon Fruit)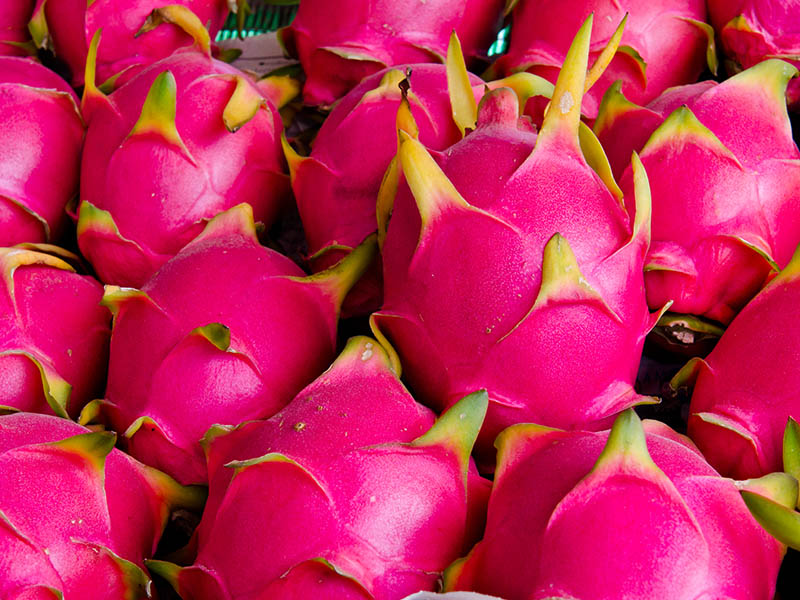 Before you say that dragon fruit is from Asia, allow me to enlighten you because this fruit originates from Central and South America. The fruit is about the size of a baseball, with a few soft green scales protruding from the pink skin.
Interestingly, the dragon fruit plant is more related to the cacti family. Locals cultivate dragon fruits in sunny areas like the north or the east of the country. In Thailand, people have diverse options for dragon fruit when choosing between deep purple meat or conventional white color.
Furthermore, Thailand also has bright yellow skin dragon fruit with a white interior. No matter the dragon fruit variety, you will always encounter the tiny edible seed in the meat. Dragon fruits usually have a texture that resembles kiwi with a more robust sweetness.
Nutrients: Dragon fruits have low calories but provide a substantial amount of fiber, minerals, and vitamins.
Season: Ranging from April to October.
How to eat: Cut the fruit into sizable pieces and enjoy. Better yet, you can use dragon fruit to make a salad.
Learn more about people's opinions on Thai dragon fruit.
12. Ma Fuang (Star Fruit)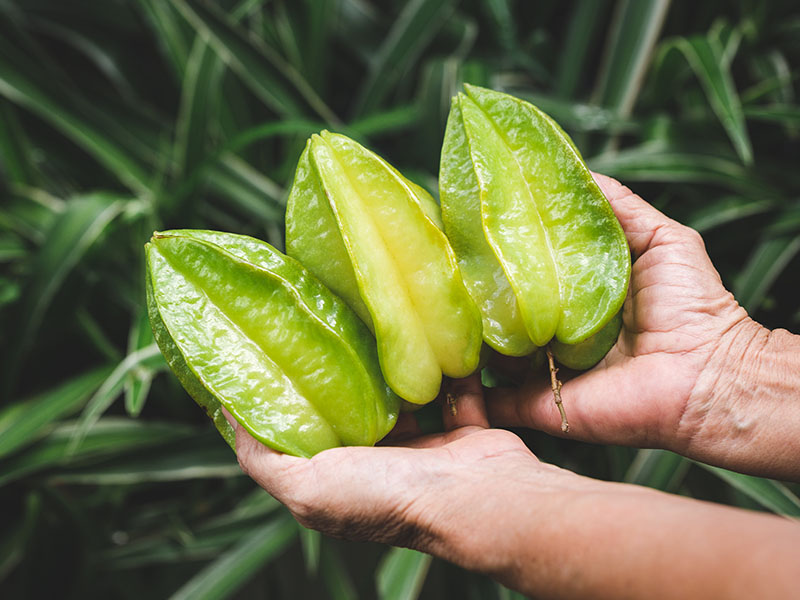 Star fruit may sound like a strange name to give to a fruit. However, upon closer inspection, you will soon realize that the fruit has a star shape when sliced diagonally. This Southeast Asian fruit is also popular with another name, Carambola.
When ripe, most star fruits turn into a yellow color with a touch of green on the skin. In terms of nutrients, star fruits have a low level of sugar and are rich in antioxidants. Thai people usually take advantage of the sour nature of star fruit to substitute for tamarind in cooking.
Due to the relatively tart flavor, star fruits are not a popular choice to consume fresh for Thai locals. The best usage of starfruit is to turn it into a garnish because of its star shape or cook it in other dishes.
Nutrients: Rich in antioxidants and has a low amount of sugar.
Season: From October to December.
How to eat: You can have it fresh with some dipping condiments like guava. Better yet, you can turn starfruit into a delicious juice.
13. Longkon (Langsat)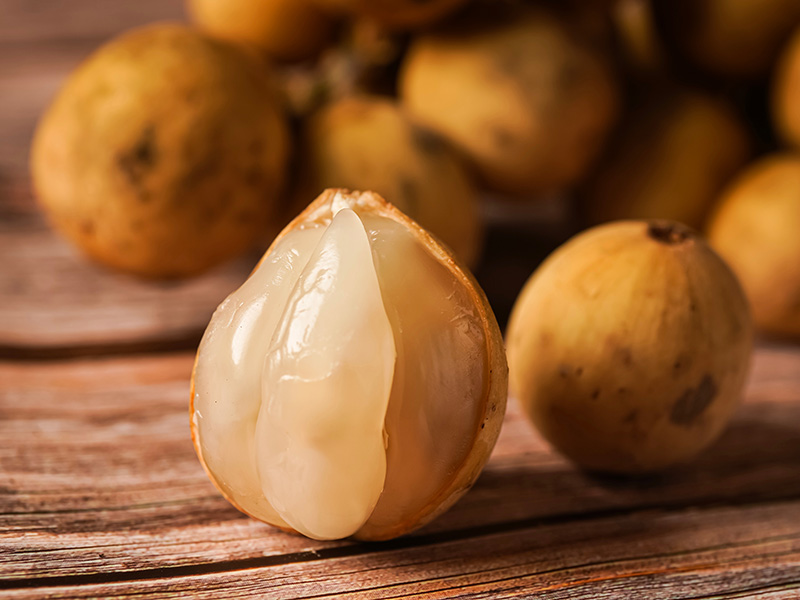 Don't let langsat (or Longkon in Thai) intimidate you at first sight because of its brown and smooth skin, similar to longan. The fruit origin can be traced back to western Malaysia, where people cultivate the tree to harvest the edible sour fruits.
In Thailand, the locals usually cultivate langsat in the southern part of the country because of the high humidity condition. If you have the chance to handle langsat, you will realize its skin is much smoother and softer than longan.
Another key difference is in the flesh of langsat when it displays clear individual segments. Plus, the seeds from langsat are entirely edible with a slightly chewy texture. Some even say that the fruit has a tangy flavor that closely resembles grapes.
Nutrients: Langsats carry vital elements like carbohydrates, proteins, and viable vitamins.
Season: June to July and December to February.
How to eat: Consume fresh after peeling the skin.
14. Saowarot (Passionfruit)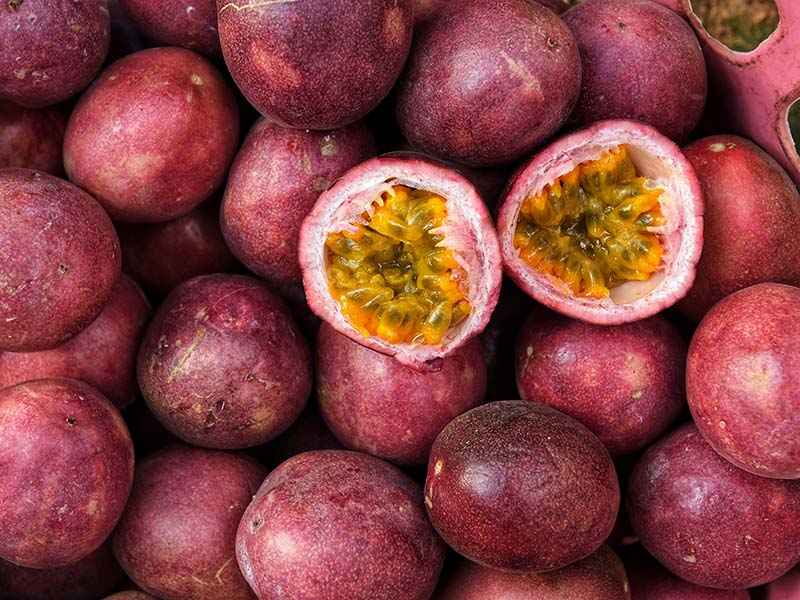 Passionfruit has been a part of human history for a long time. From South America, the fruit first made its way to Europe in around the mid-16th century. Saowarot is another name for passionfruit in Thai.
The passionfruit plant is a vine that produces a round and oval-shaped fruit. In addition, Saowarot has a purple color that locals harvest when ripe. Sometimes, Thai people even let the fruit dry a little bit on the vine to let the fruit develop more flavor.
Once you crack open a passionfruit, the inner part consists of numerous edible seeds and tart juice that locals usually turn into refreshing Thai beverages. The seeds are slightly crunchy and have a black color. A simple way of fixing the drink is to add sugar to adjust the flavor.
Nutrients: A decent choice to provide you with fiber, vitamin C, and vitamin A.
Season: All-year-round fruit.
How to eat: Cut the passion fruit in half and scrape off the yellowy interior to fix an easy drink with sugar and water.
Explore how Thailand cultivates Saowarot.
15. Lamut (Sapodilla)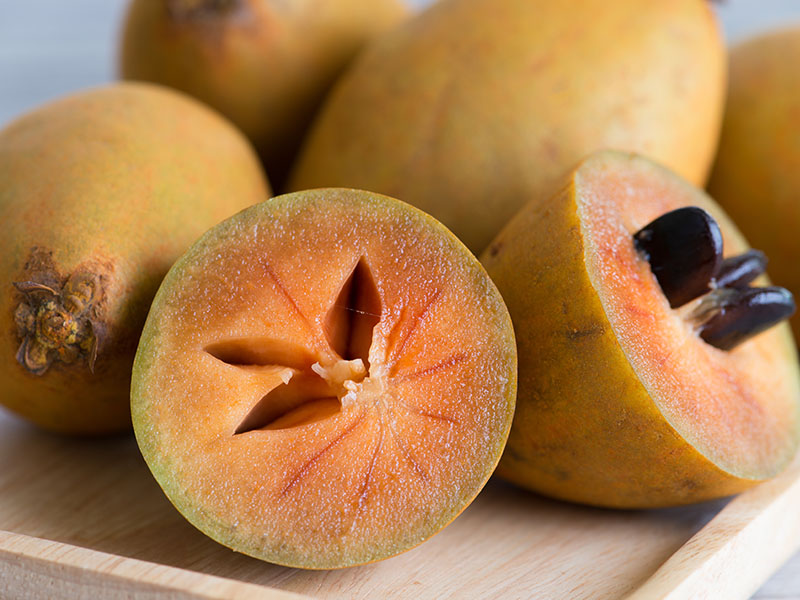 Sapodilla, or Lamut in Thai, is a tree native to the south of Mexico and northeastern Guatemala. On average, the sapodilla fruit is about the size of a baseball with a rusty brown color. Commonly, the fruit only bears a single seed that is encapsulated in slightly soft flesh.
Thai farmers love cultivating sapodilla because of the plant's hardy nature that allows it to withstand any soil condition. Another feature to note about sapodilla is the intense sweetness that can easily convince anyone to return for a second bite.
If you want to look for sapodilla in Thailand, you want to travel to traditional markets and supermarkets where the fruit is usually on display. Anyone who wants to indulge their sweet tooth should try it.
Nutrients: Sapodilla offers a considerable amount of fiber with low calories and serves as a decent vitamin C source.
Season: From September to December.
How to eat: Simply split the fruit in half and scoop up the flesh using a spoon.
16. Malako (Papaya)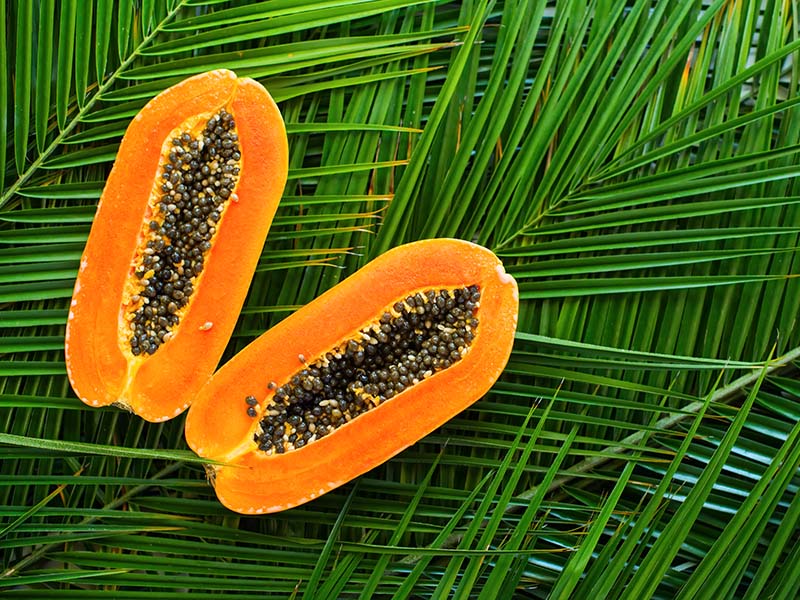 If you are ever going to Thailand or any Southeast Asian country, there's a high chance that you have encountered papaya or Malako (its local name). The fruit has an oval shape that possesses a green and yellow color when ripe.
In Thailand, people use ripe and young papaya for different cooking purposes. Most often, ripe papaya has striking orange color meat and a soft texture suitable for consuming fresh. With its crunchy meat, the young papaya is more useful for making into a salad.
A little warning for you, papayas contain hundreds of little seeds in the middle that you need to remove before enjoying the fruit. I know they may look like caviar, but believe me when I say the seeds leave a horrible bitterness in your mouth.
Ripe papaya often tastes similar to cantaloupe with a much lighter sweetness. Thanks to a soft texture, ripe papaya almost instantly melts in your mouth like butter.
Nutrients: Papaya is a brilliant source of proteins that also help lower the risk of heart disease.
Season: All-year-round fruit.
How to eat: Cut the ripe papaya into bite-sized pieces and enjoy after discarding the seeds. Local people also use young papaya to make Som Tum, a popular Thai papaya salad.
With this simple guide, the secret of making Thai papaya salad is now in your hand.
Tropical Fruits You Can Find In Thailand
The adventure is not over yet. With a tropical climate, Thailand possesses a diverse amount of tropical fruits. Allow me to navigate you through some of the common tropical fruits in Thailand. Note that these fruits may be available in neighboring countries to Thailand.
17. Mangkut (Mangosteen)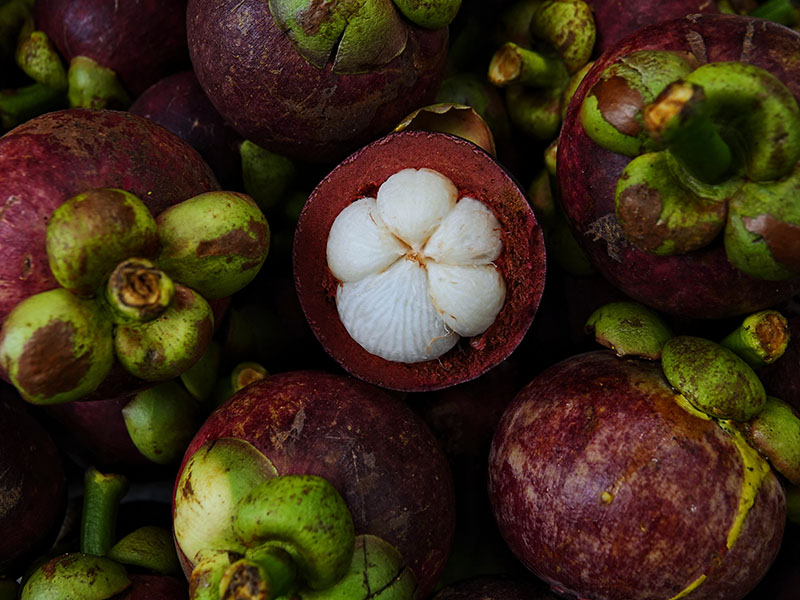 Mangosteen is a tropical fruit from Indonesia, but it has spread across Southeast Asian countries. Mangosteen often has a thick rind that is inedible and possesses a vivid purple.
A fun trick you can do with mangosteen is to challenge your friends to guess the number of the meat segments inside of the fruit. I'll let you in on a little secret; simply peek at the bottom of the mangosteen and count the petals to know the exact segments.
Typically, mangosteen meat is purely white and has a pit in each segment. The flesh is lightly sweet and accompanied by a tangy taste. It is rather challenging to find mangosteen in Western countries, but you can try your luck in Asian supermarkets.
Nutrients: Mangosteen has many antioxidants, vitamins B1, B2, and minerals.
Season: July to October and April to June.
How to eat: Grab your knife and cut through the skin. You can enjoy the meat fresh or mix it with other fruits to make a fruit salad.
Aside from eating fresh mangosteen, you can also make decadent curry from the fruit.
18. Ma Prow (Coconut)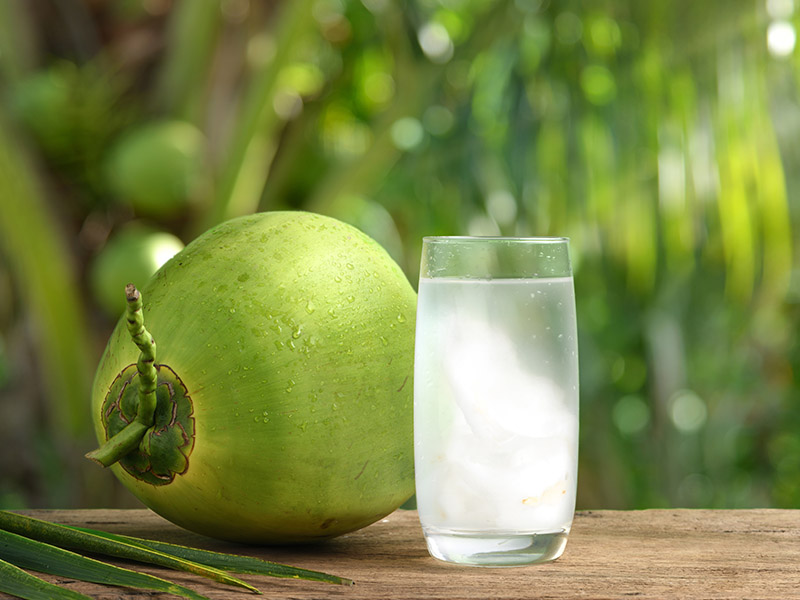 Everyone knows what a coconut looks like, but you may not know that coconut plays a considerable role in shaping Thailand culture. The creamy coconut milk is a must-have in many Thai curry delicacies to help create the signature taste.
Furthermore, coconut meat is super versatile when it can appear like a snack or garnish on many dishes. Locals usually pick young coconut with a shiny green on the skin for a source of sweet, refreshing water. However, the best coconut meat texture has to come from old ones.
Ideally, Southeast Asian people prefer soft coconut meat that may resemble raw fish to some. The coconut husk may be useless for many, but locals also utilize it as fuel. Meanwhile, roofs made from coconut leaves are a common sight in the region.
Another interesting fact is that some areas in Thailand train pig-tailed macaques to collect coconuts for them. It is also a popular way of collecting coconut in Malaysia. However, this controversial method has been replaced by using other methods to pick coconuts.
Nutrients: The water is full of valuable minerals with decent carbs and sugar.
Season: All year long.
How to eat: Cut off the top of the coconut to extract the water. Then, slice the fruit in half and scoop out the meat.
19. Sapparot (Pineapple)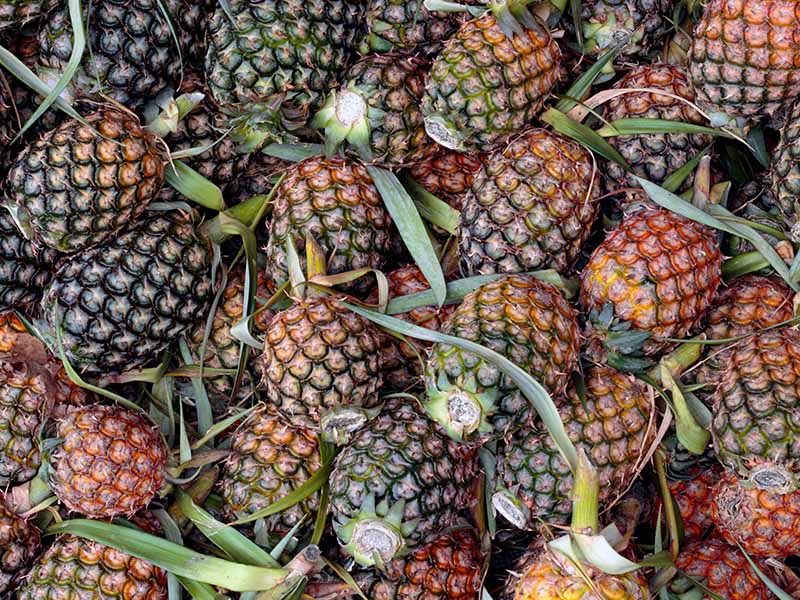 If you don't know, Sapparot or pineapple is one of the biggest export products of Thailand. The fruit is widely available across the countries, with Ratchaburi province being the biggest pineapple producer.
If you're unfamiliar with pineapple, the fruit usually has small dots after peeling off the outer skin. Many say that these dots look like eyes, explaining why people have the phrase "eyes like a pineapple."
Surprisingly, Thai pineapples taste sweeter than other varieties, thanks to a rich sugar pineapple base. I suggest looking for the Siratcha pineapple as it has the best texture and flavor. Aside from enjoying fresh pineapple, Thai inhabitants also use it as an ingredient to add sweetness.
Nutrients: Pineapples provide a substantial amount of vitamin C and manganese.
Season: Thailand's peak for harvesting pineapples is between June and July.
How to eat: Locals often remove the skin and dip the fruit with condiments similar to guava. Another option is to incorporate the pineapple pieces with cooking for additional sweetness.
20. Thurian (Durian)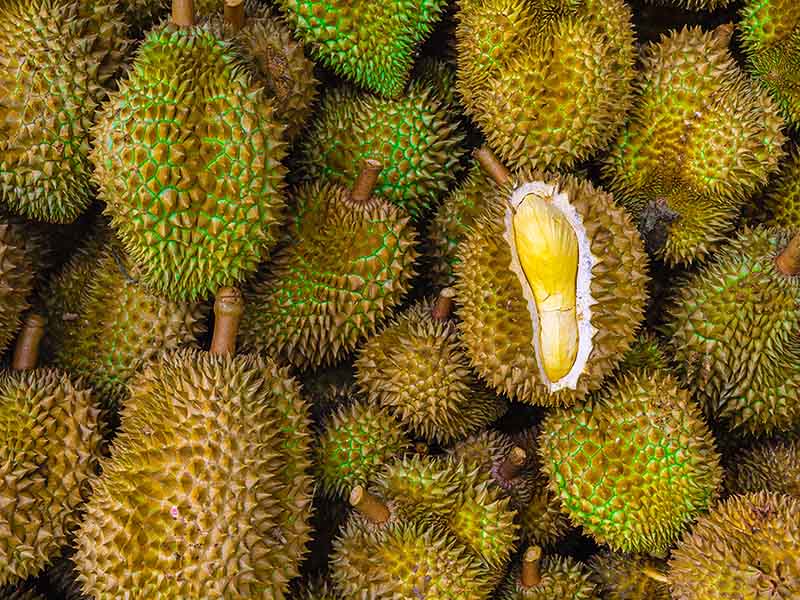 If you want to dismiss a crowd quickly and cost-efficiently, may I suggest bringing out a durian? Of course, that is only a joke, as Thurian (Thai for durian) is the "king of fruit" in many Southeast Asian countries. The best durian to look for in Thailand is the Nonthaburi variety.
The fruit is generally round, but you want to be extra careful while handling durian because the skin is full of sharp spiky thorns. Once you crack open a durian, the atmosphere surrounding you fills with a smell that can compare to rotten meat, smelly sock, or sewage.
But for many Asians, the soft yellow custard of durian is worth all of the trouble. Durian flesh is soft and quite foamy with an intense sweetness. Interestingly, many airlines and hotels worldwide even prohibit customers from carrying any durian in their luggage.
Nutrients: Durian offers a wide range of nutrition, including fiber, vitamin C, and B vitamins.
Season: Begin in March and spans to December.
How to eat: Simply crack open the thick skin and enjoy the durian fresh. Some locals even incorporate durian meat into drinks or dishes.
Uncover what makes the Nonthaburi durian unique and expensive.
21. Chomphu (Rose Apple)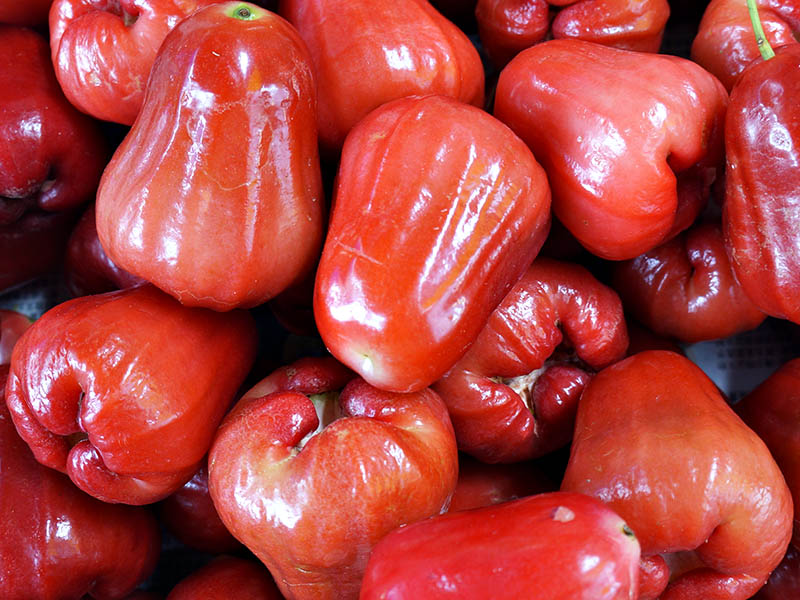 Chomphu is essentially a rose apple, a fruit that stems from India and Malaya. Thai locals often harvest these rose apples when they either have a red-pink color or green. The easiest recognizable feature of the rose apple is the natural bell shape of the fruit.
Rose apples tend to have a texture similar to apples, hence why people use the word "apple" in the name of the fruit. However, locals say rose apples tend to have a light sweetness with a floral scent and a crispy texture.
The simplest way of eating rose apple is to crack it in half using your hands so you can remove a couple of seeds in the hollowed center. Another popular option is to consume the fruit with Nam Pla Prik, a mixture of fish sauce, sugar, and lime juice.
Nutrients: Chomphu provides fiber and a decent amount of vitamins A and C.
Season: Spanning from October to March.
How to eat: It's best to enjoy Chomphu fresh or dip it with Nam pla sauce.
22. Manao (Lime)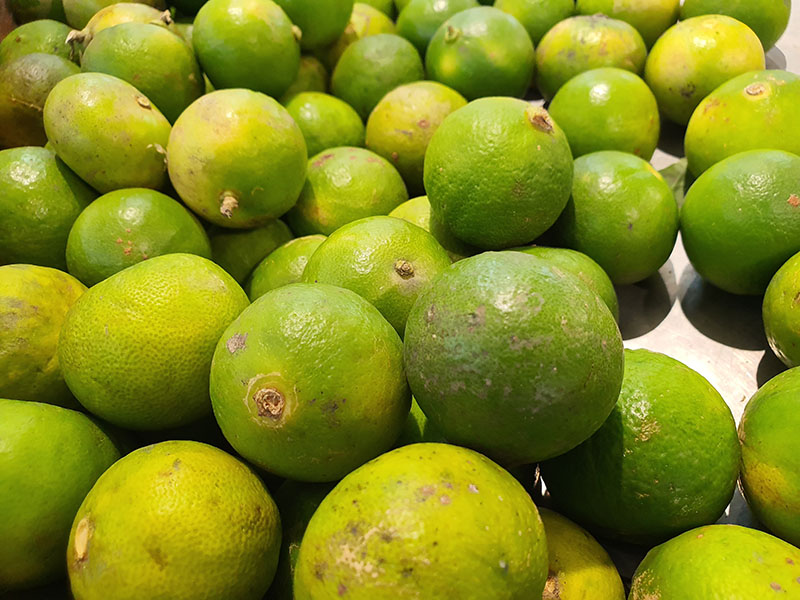 I know lime is not something new to everyone, but Thailand considers the fruit an essential part of their cuisine. Most Thai delicacies have a high demand for lime juice or lime leaves to infuse the dishes with a refreshing taste.
Thai lime usually has a smaller size than the American variety. However, these little Manao often possess more juice and a more intense flavor.
You need to be careful if you're looking to harvest lime, as typical lime plants have sharp thorns running across the bark. Regular lime contains a high level of vitamin C with excellent antioxidant substances. Lime juice also makes for a refreshing drink on hot days.
Nutrients: Lime has a high level of vitamin C that helps your body fight infection and reduce inflammation.
Season: All-year-round.
How to eat: Cut the lime into pieces and squeeze for the juice to make drinks or incorporate it into cooking.
23. Som O (Pomelo)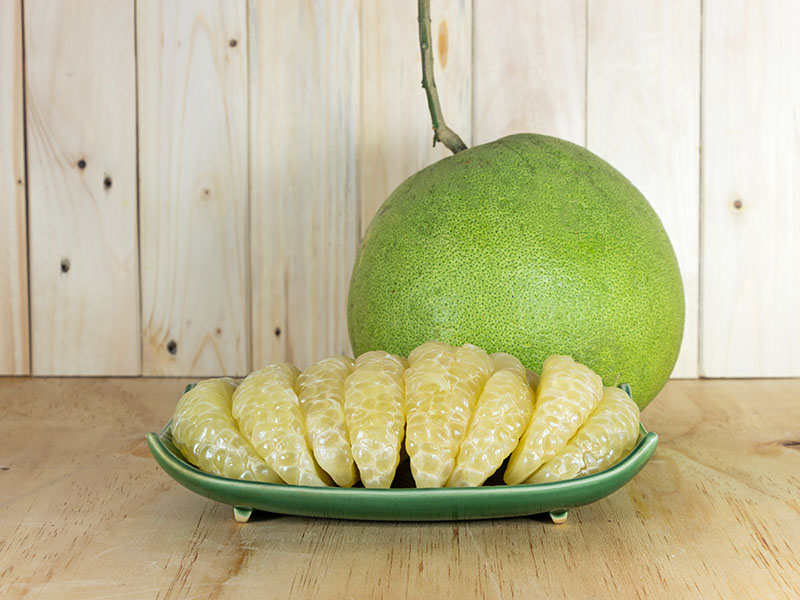 Pomelo is a native Asian fruit from China, Malaysia, and Thailand. Most pomelos belong to the citrus family. The fruit usually comes in a lot of varieties, but they tend to have some standard features like a pale green rind and thick peel.
Surprisingly, it's entirely possible to consume the whole pomelo, from the pulps to the skin. The former is juicy and perfect for consuming fresh. Since pomelo is rich in vitamin C, health experts sometimes recommend eating it to enhance the immune system.
Some pomelo varieties have beautiful red pulps that are sweeter than the usual ones. Others usually have light yellow pulps. Another thing to remember: locals tend to incorporate the pulps with savory ingredients for a decadent pomelo salad.
As for the peel, locals often turn the chewy white part into a delicious Thai candied treat. One of the best locations to enjoy pomelos is in the Nakhon Chai Si district in the central of Thailand.
Nutrients: Pomelo ishighly rich in Vitamin C and antioxidants. It is perfectly healthy to consume pomelo every day.
Season: The best time to enjoy pomelo is from August to October.
How to eat: The best and simplest way is to enjoy the pulp fresh. Other solutions are making a sweet treat or a savory salad.
Pomelo salad is a Thai specialty that you make to treat your family.
24. Tailingping (Bilimbi)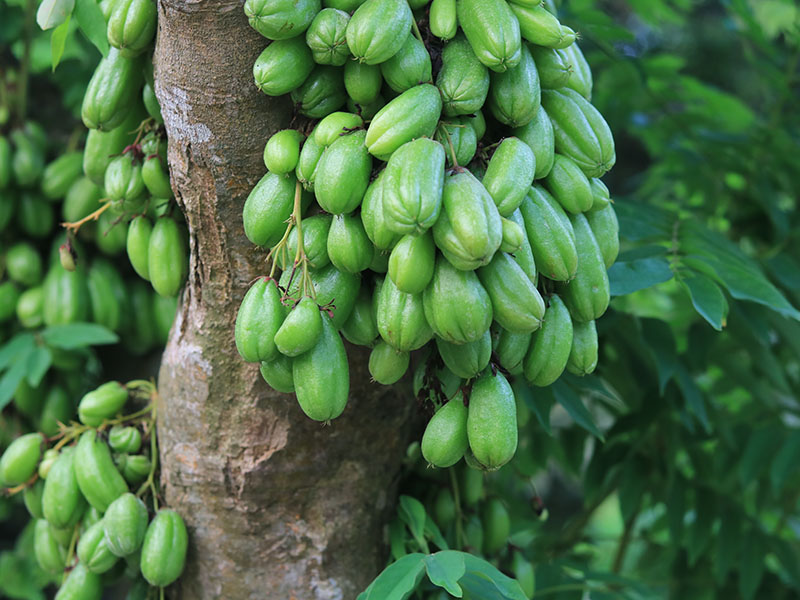 Bilimbi is a tropical tree that bears sour fruits with green skin. Many Asian countries like Malaysia and Indonesia are home to the fruit. In Thailand, people tend to use bilimbi fruits interchangeably with tamarind or lime juice if they need to add a sour additive to the cooking process.
Another method of eating bilimbi by the locals is to dip the oval-shaped fruit into Nam Pla Wan, a thick gooey sauce that consists of fermented shrimp paste, sugar, and fish sauce. Young bilimbis are often the first choice for locals because of their crunchy and crispy texture.
Turning the fruit into pickles, candies, or jams is another appealing choice. The bilimbi tree can't handle cold weather and strong wind. The nice thing about bilimbi is that you can find it all year round in outstanding quality and quantities.
Nutrients: Bilimbi provides you with a lot of Vitamin C, fiber, and calcium. It works well in managing diabetes.
Season: All-year-round.
How to eat: Dip the fruit with Nam Pla Wan sauce or use it as an additive in cooking.
25. Kanoon (Jackfruit)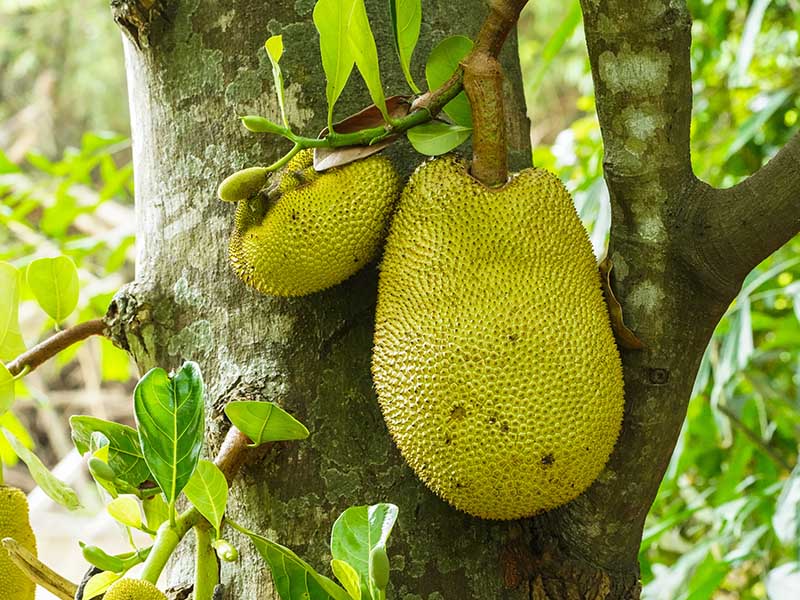 Kanoon is the traditional Thai name for jackfruit, a relatively big fruit with green skin covered with tiny spikes. But you don't have to worry as these little thorns are blunt and only make it uncomfortable to hold at worst.
When Thai people harvest jackfruit, they tend to cut an opening on the fruit to remove the white, sticky sap. Typically, I suggest rubbing some oil on your knife to make cutting open a jackfruit easier. Remember, the inner jackfruit may be sticky, but you can easily handle this by using a towel.
The interior of jackfruit is full of yellow bulbs with a sweet taste and a seed in the middle of each one. They have a fantastic taste and smell. However, Thai locals still use unripe jackfruit to make many savory dishes, thanks to the bulbs' meat-like textures.
Nutrients: Jackfruit provides an outstanding source of calories and carbohydrates.
Season: From October to May.
How to eat: It's best to enjoy jackfruit bulbs fresh or turn them into delicious savory delicacies.
26. Kraton (Santol)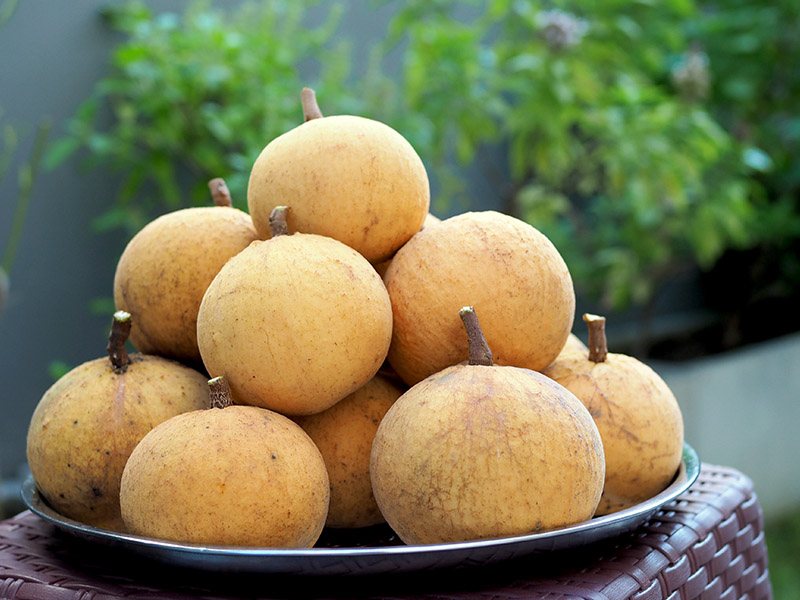 Many people speculate that santol originates from the former Indochina region. The fruit later makes its way across Southeast Asia and even to India. In Thailand, locals refer to santol as Kraton, but you can call it cotton fruit, which is easier to remember.
Santol fruits have a round shape with a diameter of approximately 4 – 7 centimeters. The skin of santol displays a golden yellow color and has a relatively leathery texture when ripe. The trees usually bear fruit during the summertime.
You may be surprised because santol's interior is similar to mangosteens with white and segmented meat. Commonly, the fuzzy meat of santol can have a sour or sweet flavor that reminds you of peach or apple.
Nutrients: Santol is ideal for boosting the immune system because of the high amount of fiber.
Season: Spanning from May to July.
How to eat: Split the peel to reveal the white fuzzy flesh and enjoy it fresh.
27. Fahk Khao (Gac)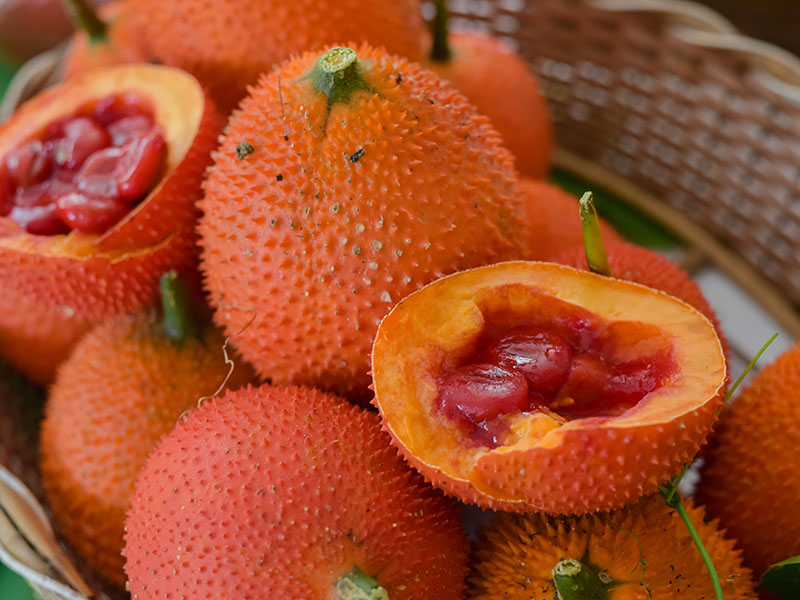 I'm ready to bet that you have never seen gac fruit before because of its rarity in Western countries. The gac is a vine that produces fruits as big as a small watermelon. The fruit is most popular in Vietnam, but it has also made its way into Thai cuisine.
Gac has a spherical shape with numerous tiny spikes on the skin surface. However, locals don't eat the flesh or the seeds of the fruit. People mainly aim for the strikingly red seeds of gac, which work amazingly as a natural food dye.
In Vietnam, people mainly utilize the seed to dye sticky rice with a beautiful orange color. As for Thailand, the locals of Chiang Mai put gac in juice because of its natural antioxidant substances. The gac plant is resilient and can handle a variety of soil conditions.
Nutrients: Gac is rich in antioxidants and has some health benefits.
Season: Ranging from October to January.
How to eat: You canharvest the seeds to use as a natural food coloring.
Which Thai Fruit Has Your Attention?
Many of these fruits are available throughout the season in Thailand, making them the perfect options to diversify your snacking list. Better yet, you can easily find Thai fruits from supermarkets around you as these treats are famous for exporting worldwide.
Comment below about your favorite fruits and let everyone learn more about the experience. If you know anyone traveling to Thailand for their vacation, share this article with them so they can freely explore the fabulous tropical fruit varieties. Thank you for spending time with me.