Thai foods are full of unexpected flavors for anyone looking to add Asian meals to their diet. The sweet and sour tastes are an instant favorite for any newcomers to Thai cuisine. Moreover, Thai dishes are a solid choice for learning more about Asian cuisine.
You can easily pick out any Thai recipe online, but this compilation helps you waste little time. These Thai specialties are famous representatives that embody the spirit of Thai cooking and culture. So without further ado, allow me to diversify your options.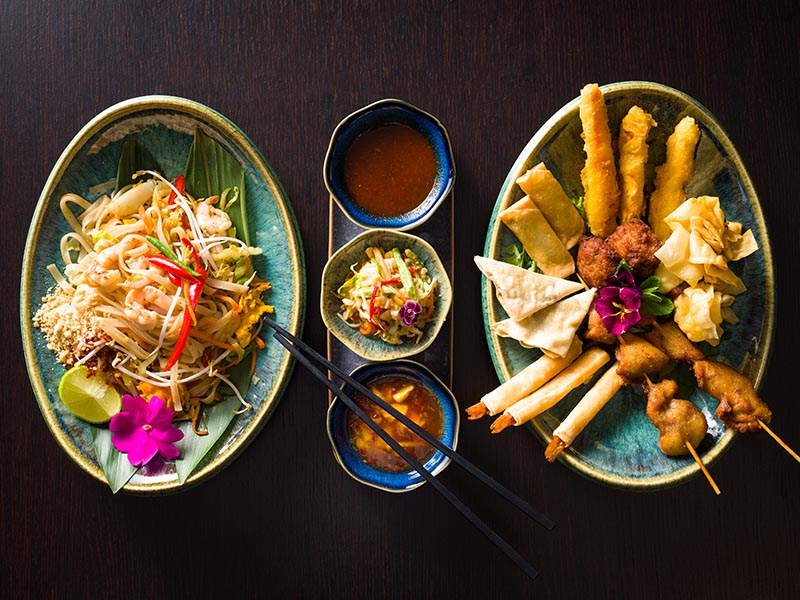 7 Decadent Thai Northern Delicacies You Have To Try
People worldwide tend to refer to Northern Thai cooking as Lanna cuisine. It characterizes a great contrast between the flavor and texture of curry broth. In addition, the region is also the home of various flavorful Thai noodles.
The Northern Thai cooking practice also shares some similarities with the country's northern neighbor, Laos. And here are some classic foods that you should try once in your life.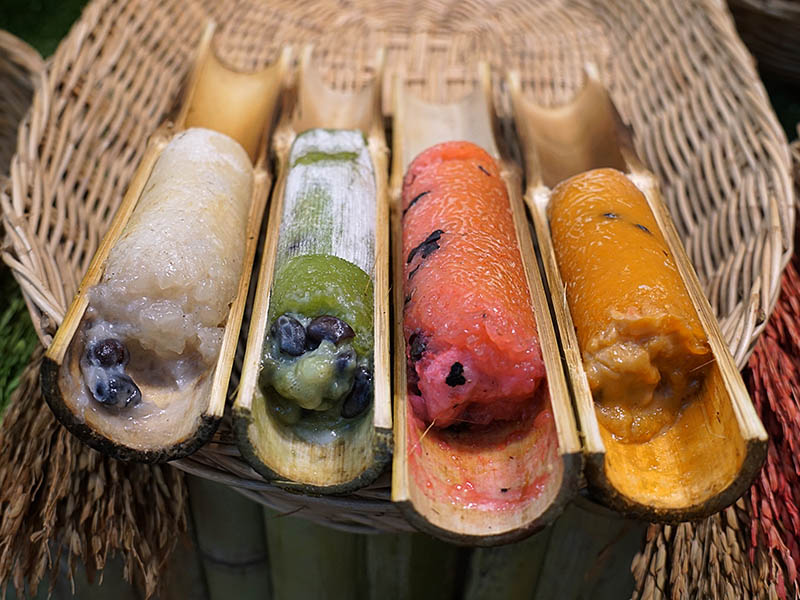 Khao Lam is a traditional rice dish from Thailand that people usually cook inside bamboo tubes. The dish is also an iconic dessert in Southeast Asian countries with a soft texture and a sweet taste of coconut milk. Commonly, locals will toss the bamboo tubes directly over the fire to cook.
Each bamboo tube is packed with sticky rice and topped off with viscous coconut milk. There are many variations of Khao Lam that combine with other ingredients like beans, durian, or taro root to produce a wide range of flavors.
In addition, the sticky rice can have various colors to make the dessert more appealing to everyone. The long cooking process of Khao Lam gradually turns the sticky rice into a rich creation with a texture similar to what you can find in rice pudding or custard.
Uncover the tradition of making Khao Lam through the eyes of Thai locals.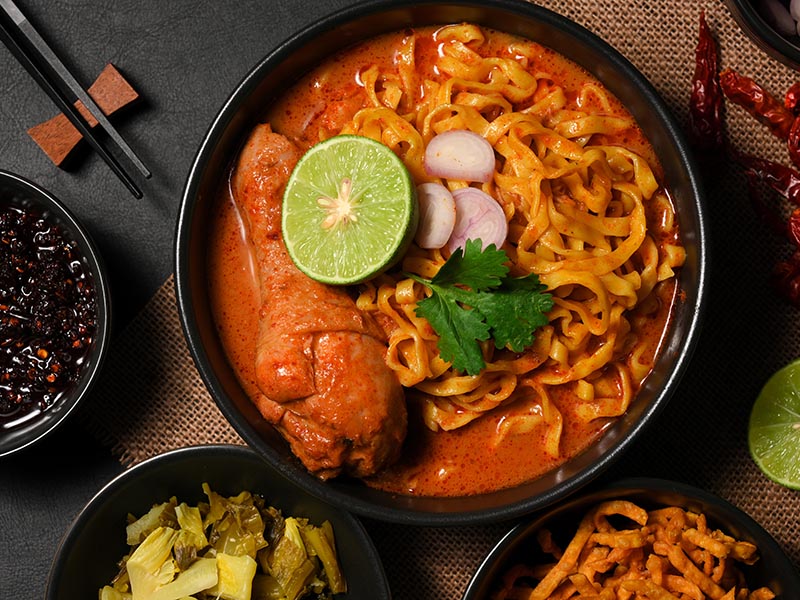 The Northern part of Thailand can offer excellent noodle dishes in the form of Khao Soi Gai with a savory curry broth. Interestingly, Khao Soi Gai also appears in Laos, a neighboring country that shares its border with Thailand in the North.
The most recognizable feature of any Khao Soi Gai lies in the usage of lemongrass with a diverse range of condiments like lemon zest, turmeric, and shrimp paste. However, the broth has a relatively mild taste thanks to the addition of coconut milk to ease down the heat.
Khao Soi Gai often relies on a basic curry recipe that produces a light yellow color broth to accompany the egg noodle. Furthermore, the recipe also requires additional protein like chicken thighs to provide you with a boost in energy.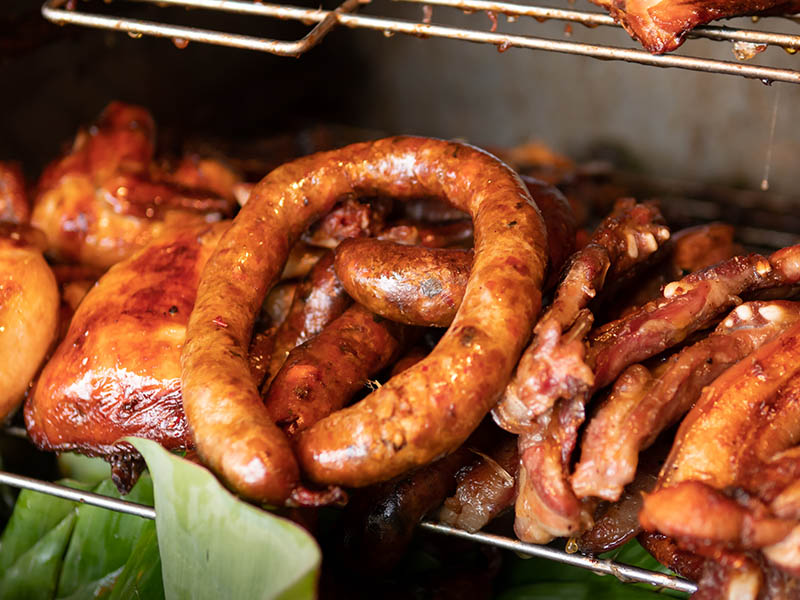 Sai Oua is a traditional option for Thai Northerners when it comes to sausages. The meat is an explosion of curry paste with a hint of smokiness from the grilling process. People often pair Sai Oua with sticky rice or fresh vegetables to make an ideal bar snack.
Sai means "intestine" in Thai, while Oua refers to "stuffing." As you can probably guess, the sausage mainly consists of minced pork meat with a generous amount of herbs, spices, and curry paste to spice up the overall flavor.
Sai Oua is slightly different from Sai Krok Isan (which I will explain in detail in the next part) because this Northern sausage doesn't go through the fermentation process.
Overall, this delicacy is often a solid choice for a homemade sausage in Thailand; however, you can also encounter this sausage in many local Thai stores.
Take a closer look into the different stages of creating Sai Oua.
4. Khao Phan Phak (Thai Flour Sheet With Fillings)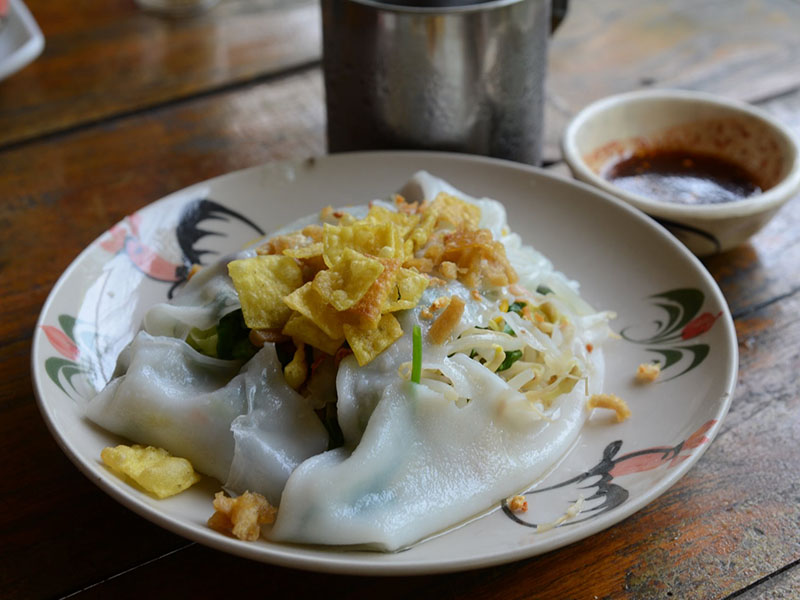 At first sight, many often think about Khao Phan Phak as a soft white pancake, but this rice flour dish is more than that. Khao Phan Phak is a flat and smooth rice sheet that can hold a diverse range of fillings.
In reality, you might find a similar version in Vietnam, which is called Bánh Cuốn. But of course, Thai and Vietnamese cuisine are distinctive so there will be some differences between the ingredients.
Back to Khao Phan Phak, the dish is a rarity in Thailand as it's exclusive to the Laplae district of Uttaradit province. To cook this food, the locals take a decent amount of rice batter and pour it over a sheet cloth with boiling water at the bottom of the pot.
The intense steam from the water will quickly cook through the thin rice dough. Since the rice sheet is relatively bland by itself, the Laplae's indigenous tend to accompany Khao Phan Phak with an array of condiments to customize and improve the taste.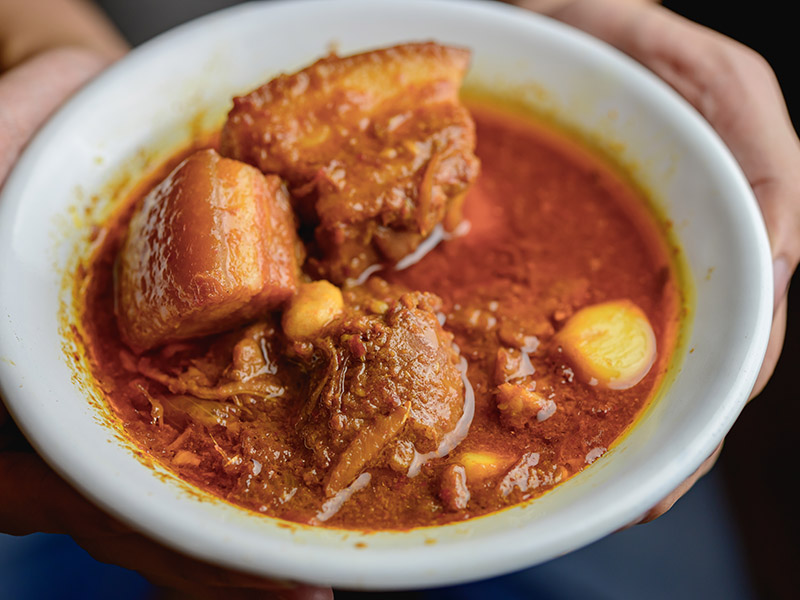 Another popular curry for tourists in the North of Thailand to discover is Kaeng Hang Le, a recipe that stems from Myanmar cuisine. Hang Lay curry is a harmonious combination of spicy, salty, and sour tastes in the same broth.
Typically, the Northerners utilize pork belly as the main ingredient for Kaeng Hang Le, but each province has its takes on the recipe by using seafood, chicken, or beef. To infuse the broth with a sour taste, the best choice is to use tamarind extract with some gingers.
The curry paste combines galangal (a type of Southeast Asian condiment) with lemongrass stalks and a generous amount of red chilies. Kaeng Hang Le tends to have a tender meat texture that almost evaporates in your mouth after the first bite.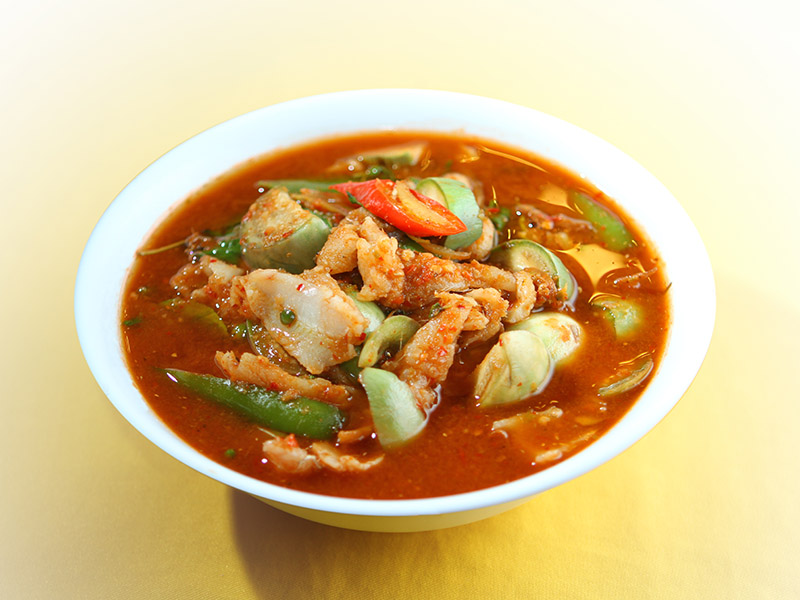 The North of Thailand is proud to be an area of lush forests with a dense population of vegetation and wild animals. Kaeng Pa, or jungle curry, is a recipe that embodies the spirit of the North with the incorporation of a wide range of vegetables.
Unlike other Thai curries, Kaeng Pa excludes coconut water from its ingredient list, resulting in a more watery broth. The base of jungle curry usually consists of lemongrass, ginger, and shallot for a fragrant scent.
As for the vegetables, Thai Northerners take advantage of the various options, but the most common is eggplant to complement succulent shrimps. Kaeng Pa also works amazingly with other poultry meat, beef, or pork. The simplest way to enjoy Kaeng Pa is to pair it with rice.
When it comes to Thai curry, Kaeng Pa is worth it for you to give it a shot.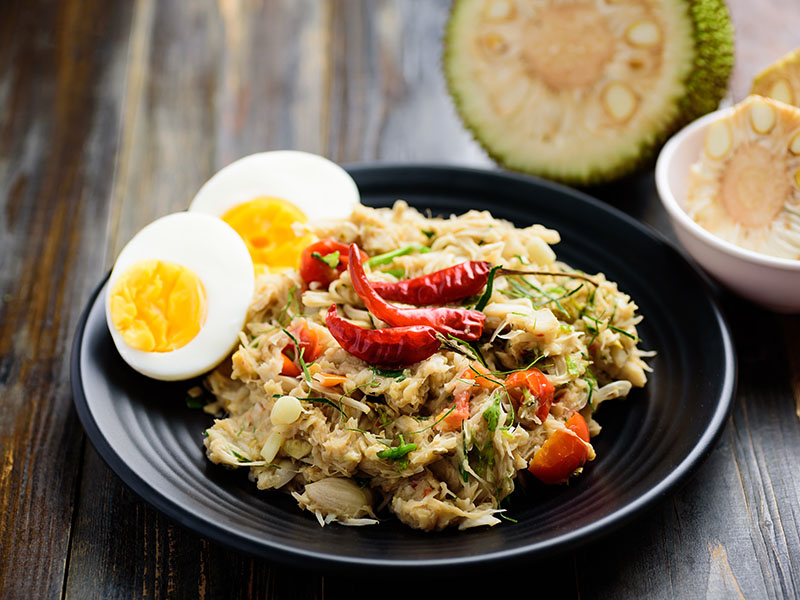 Not many people are familiar with jackfruit since it's a relatively hard-to-find fruit in many Western countries. The jackfruit is a well-loved fruit in Thailand which can weigh around 45 kg on average when fully ripe with beautiful bright yellow arils and a sweet taste.
However, Tam Khanun requires young jackfruits with mild flavor arils and a firm meat texture. Locals often boil the unripe jackfruit arils until tender before pounding the meat with various condiments. In addition, the inclusion of chewy pork belly pieces helps diversify the texture.
As a salad, Tam Khanun explodes in your mouth with a sweet and savory taste from the shrimp paste. During the pounding process, the jackfruit texture will become stringy, allowing it to soak up all the goodness from the dressing seasonings.
8 Spectacular Thai Northeast Region Specialties
The Northeast region of Thailand is more familiar with people in the cuisine world as the Isan culinary culture. The area is renowned for the grilled meat with sticky rice and spicy salad. Typically, Isan cuisine displays a sweet and sour taste in many dishes.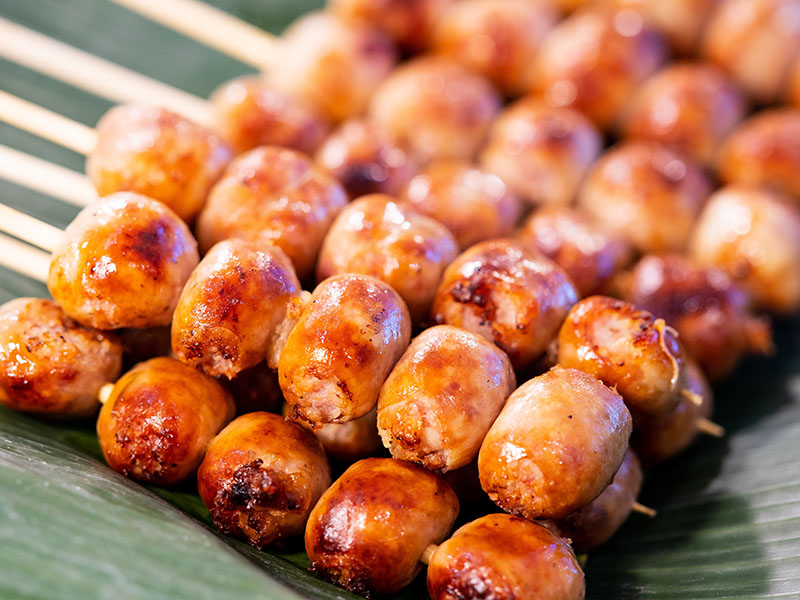 Sai Krok Isan is a type of fermented sausage native to the Northeastern area of Thailand. Commonly, the delicacy is more related to Isan cuisine, with the main ingredients being ground pork with sticky rice and simple seasoning (salt + pepper).
Typically, the Thai indigenous hang Sai Krok Isan for a couple of days under the sun to extract most of the moisture from the meat. Thanks to the fermentation process, the sausage will get its signature sourness during this drying stage.
The sausage often displays a salty taste with a touch of sourness. People usually fry or grill Sai Krok Isan before serving it with an array of fresh vegetables. You can easily find Sai Krok Isan at local food stalls as a simple snack to give you an instant protein boost.
Learn more about the composition of Sai Krok Isan and a foolproof method of fermenting the sausage.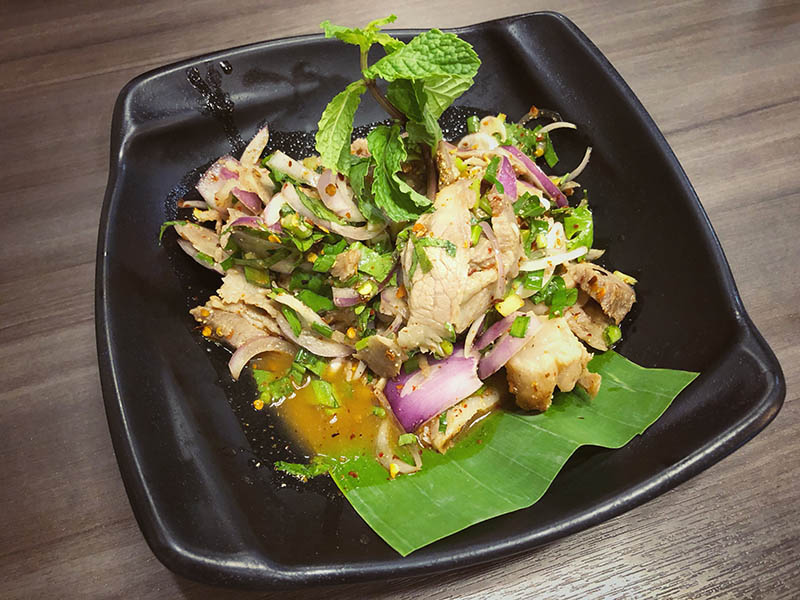 Mu Nam Tok or Nam Tok Mu is a type of salad that originates from the Northeastern cuisine of Thailand. The dish is not only delicious for its fresh vegetables but also for the savory grilled pork. Locals usually pair Mu Nam Tok with glutinous rice as a main dish.
Before grilling the pork, you may want to marinate the meat in black pepper, sugar, and fish sauce. As for the vegetables, the best choice is to combine onion with cabbage, coriander, and mint.
Like any other salad recipe, Mu Nam Tok also calls for a flavorful dressing of lime juice with chili flakes, brown sugar, and fish sauce. People toss the ingredients thoroughly so the dressing can coat the meat and vegetables.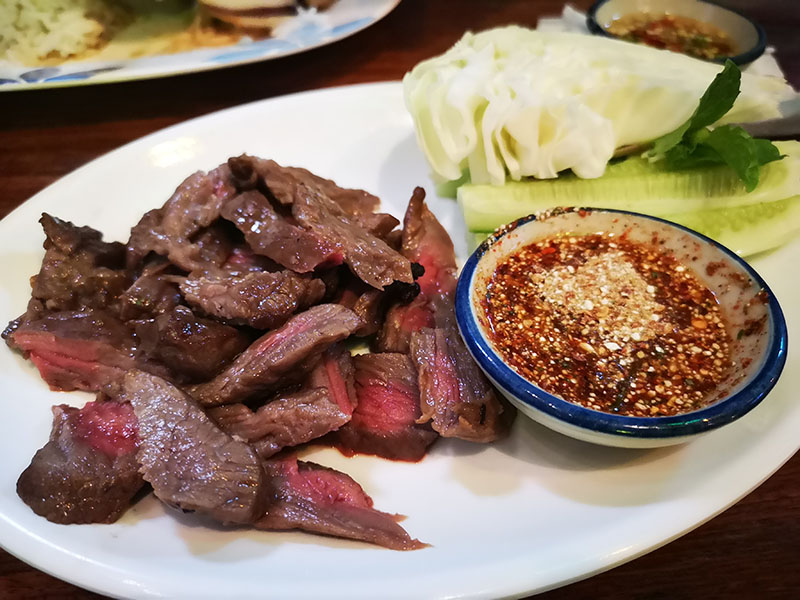 A more common name for this dish is crying tiger or weeping tiger, but the delicacy has nothing to do with tiger meat. Suea Rong Hai is how Thai people usually enjoy beef brisket with various condiments for marinating.
The origin of "crying tiger" mainly comes from a myth where tigers often leave the cow's brisket untouched after hunting down the animal.
And people believe that tigers also have feelings, which they would cry after killing a cow so they leave the brisket cut without eating it. As brisket is the main ingredient in this dish, hence the name.
Suea Rong Hai is best to enjoy immediately after grilling to experience the full beef flavor and soft texture. A basic Suea Rong Hai marinating concoction usually consists of fish sauce, soy sauce, and brown sugar with a splash of lemon juice.
Discover how Suea Rong Hai gets its name and a simple method to make the recipe right at home.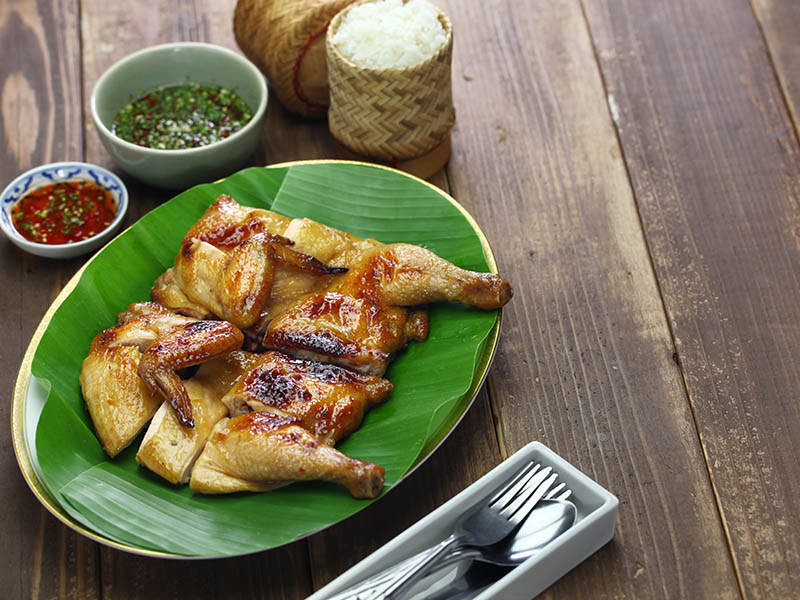 When it comes to grilled dishes, you can't overlook Gai Yang, a Thai chicken delicacy with its root in Lao cuisine. However, the Northeastern region of Thailand also adopted the recipe and spread Gai Yang around the country as one of the most beloved dishes.
Gai Yang gradually works its way across Thailand, and now it is at almost every food stall across the country. The best way to enjoy this distinct grilled chicken is to accompany it with rice and a unique sauce mixture.
For the Northeast area, the indigenous like to pair the grilled chicken with a sour sauce, while the central region prefers a sweet dip. Gai Yang sets it apart from regular grilled chicken recipes in the marinating blend of fish sauce with lime juice, cooking wine, and lemongrass.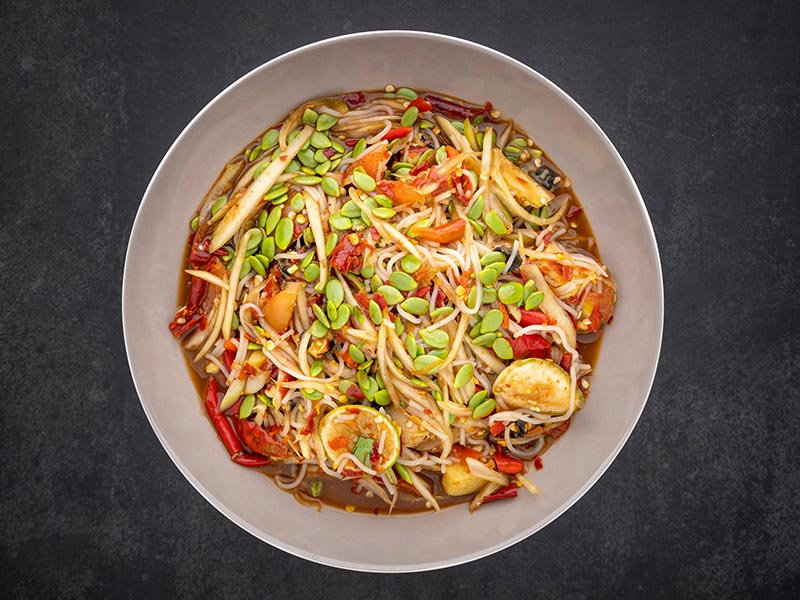 A salad usually treats you with a sweet and sour taste; however, Som Tum is entirely different with an intense heat that attacks your mouth. Some people speculate that Som Tum first came to Thai cuisine through an ethnic group of Chinese and Laos.
Initially, researchers believe Som Tum derives from ethnic Chinese–Lao community living in the Central area of Thailand, which has been known as Som Tam.
Then, the delicacy made its way to the Northeastern region and became a staple in the 19th – 20th century. Besides Thailand, papaya salad is also a popular option in other Southeast Asian nations.
The papaya for Som Tum must always be young and julienned to ensure its crunchiness. Overall, young papayas possess a bland taste, perfect for accompanying a mixture of fish sauce, tamarind juice, and lime juice. For some protein, many even throw in dried shrimps.
Som Tum is unskippable for any salad lovers.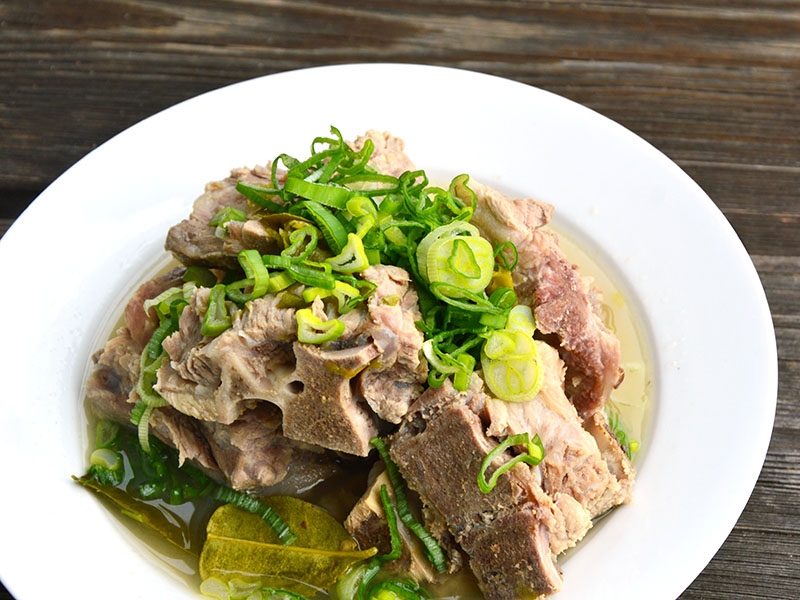 Tom Saep is a simple way to enjoy pork ribs with a fragrant flavor and sour broth. People usually dub Tom Saep as the Northern kind of the famous Tom Yum (another spicy and sour soup). Because of the lime leaves, the broth of Tom Saep gets a robust refreshing taste.
This spicy soup is a part of the Isan cuisine that receives significant influence from the Laos cooking techniques. Aside from pork ribs, the broth displays a bold depth in flavor thanks to the inclusion of galangal, lemongrass, and lime leaves in the final 10 minutes of cooking.
Furthermore, you get to freely customize the outcome of your broth by utilizing a variety of condiments like fish sauce, lime juice, or chili powder. Most often, the rich broth of Tom Saep is the result of using a pork stock, while a water-based broth produces a lighter taste.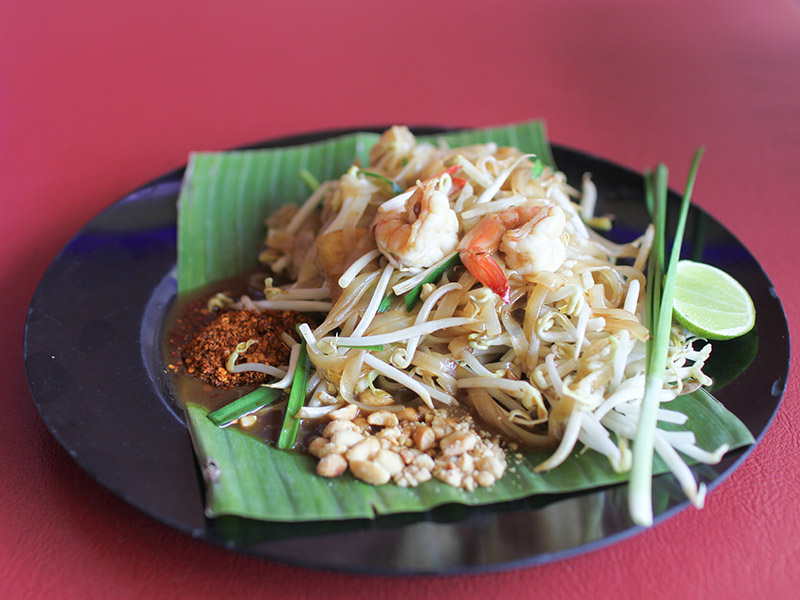 The final representative of Northeastern Thai cuisine is a dish that goes by the name of Pad Mee Korat. Many believe that the stir-fried noodle dish comes from the Nakhon Ratchasima province of Thailand.
Traditionally, the locals of Nakhon province tend to pair Pad Mee Korat with Som Tum for an explosion of flavor, but you can enjoy the stir-fried noodle alone. The key to success at Pad Mee Korat lies in the sauce, where you have to combine fish sauce, soy sauce, and tamarind.
In addition, locals incorporate a copious amount of herb condiments to help improve the overall flavor. While you're stir-frying the dried rice noodle, include the sauce with some scrambled eggs and cooked pork to bring additional textures to the dish.
Of course, you also have to throw in a generous amount of chili during the stir-frying process to build up that spicy flavor. The sweet and tangy sauce keeps everyone coming back for another round at Pad Mee Korat.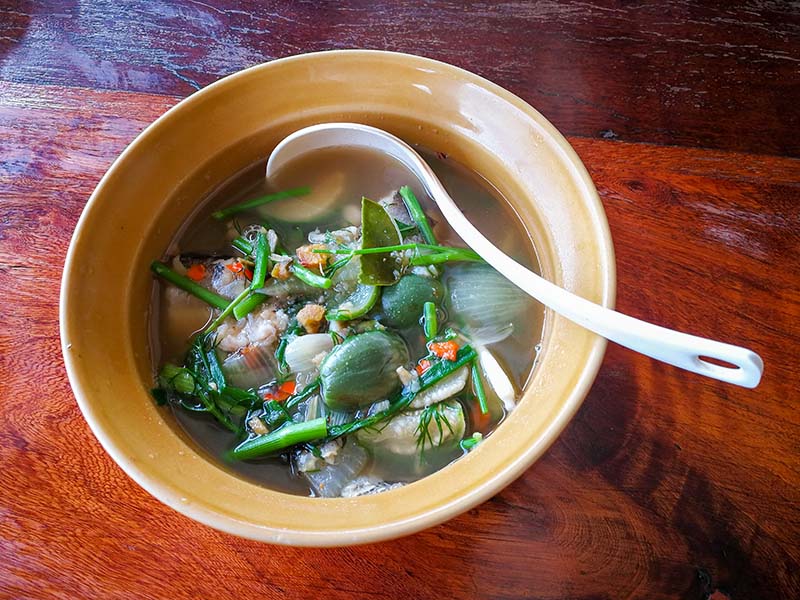 If you're already familiar with the intense heat and bold flavor of Thai curry, Gaeng Om may boggle your mind for lacking all the mentioned features. In Thailand, Gaeng Om is a one-of-a-kind type of curry originating from the Northeast because of the herbal taste.
Another unique point of Gaeng Om lies in the paste, as it only requires a couple of simple condiments like galangal with garlic, chilies, and lemongrass stalks. As for the broth, the locals utilize a base of chicken stock with cabbage and your choice of mushroom.
For any newcomers to Gaeng Om, the curry is a fantastic remedy to provide you with various nutrients. A traditional way of serving Gaeng Om is to sprinkle in a reasonable amount of dill and Thai basil to make the curry more fragrant and tasty.
Uncover more about the secret of executing a traditional Gaeng Om.
10 Astounding Thai Central Area Dishes
When it comes to Thai foods, various specialties are from the Central site of Thailand. Many dishes often have shrimp paste to elevate the overall pungent taste. In addition, Central Thailand is also where you can find quality jasmine rice in everyday meals.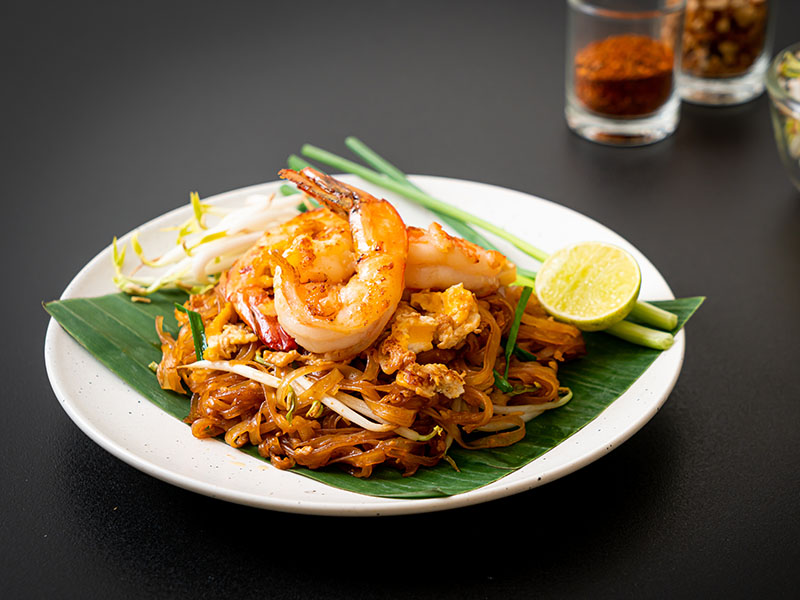 Pad Thai is a flavor-packed stir-fried noodle specialty that has gained popularity as one of the best street foods. Although stir-fried noodles already appeared in Thai cuisine from China a couple of centuries ago, Pad Thai only came to the country in the mid-20th century.
A popular way of making Pad Thai is to stir fry any kind of Thai noodles and ingredients in a wok (Chinese deep pan) with high heat to infuse the dish with a smokiness flavor. Thai locals cook Pad Thai using rice noodles as the center of attention with shrimp, eggs, and bean sprouts.
Of course, the recipe is not complete without adding a savory sauce to spice up the flavor. The sauce usually brings a harmonious sweet and sour taste from the inclusion of fish sauce with vinegar.
The origin of Pad Thai may leave your mind boggled with some interesting facts.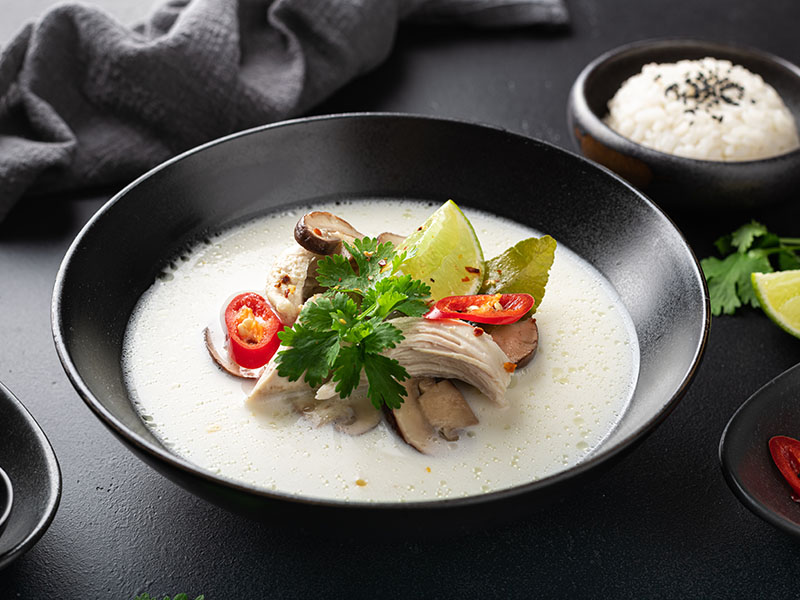 Chicken and coconut milk in a savory Thai soup recipe may sound like a strange concept, but Tom Kha Gai is a big hit with many Thai people. The recipe takes coconut milk as the center of attention, giving the broth a pure milky white color with a creamy coconut taste.
Aside from the Thai version of Tom Kha Gai, the Laos variety also displays the same color, with the only difference being the inclusion of dill. You want to cook the chicken pieces with coconut milk and spices until the heat completely penetrates the meat.
Sometimes, you can even substitute the chicken with shrimp to switch up the flavor. When cooking Tom Kha Gai, the locals love to utilize galangal (a southeast Asian spice) to direct the base flavor of the soup.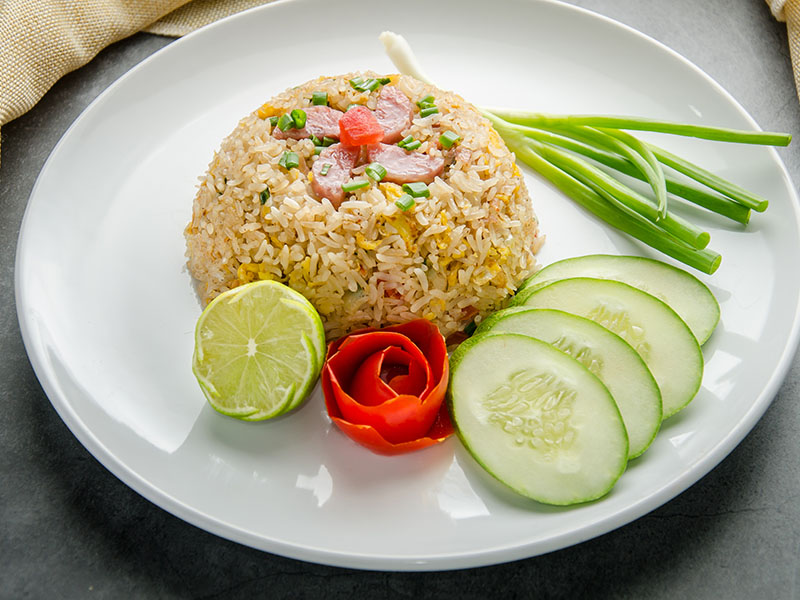 In Thai, the word "Pad" refers to any stir-fried dish. Instead of stir-frying noodles like Pad Thai, Khao Pad utilizes rice to accompany other ingredients in this Central Thai cuisine creation.
There are differences between Thai food and Chinese food, and Khao Pad is also different from Chinese fried rice when it uses short rice grains to make.
Commonly, people take advantage of leftover rice to create Khao Pad. Furthermore, the rice grains become crunchier after a couple of minutes in the wok. Aside from rice, the recipe calls for eggs with tomatoes, ginger, and garlic to enhance the aromatic scent.
The nice thing about Khao Pad is the recipe has no limit to how you can customize it. Therefore, it's up to you to decide the outcome of your Khao Pad. Although the dish may be a humble meal, it allows you to put your creativity into the cooking process.
If you're curious about Khao Pad? Check out this easy guide.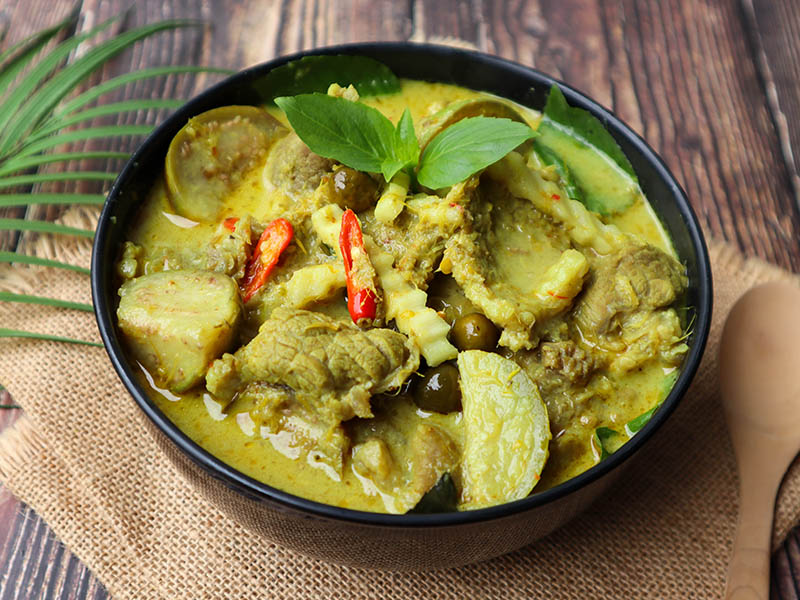 Green curry is a variation of Thailand's staple curry delicacy. The color of Gaeng Keow Wan Gai mainly comes from the usage of green chili, which sets this Central curry different from other regions. Thai curry is also renowned for its yellow and red broth varieties.
Although the list of condiments and spices may vary between each household, the overall flavor is more intense than the famous Thai red curry. Typically, the curry paste often consists of shrimp paste with aromatic herbs and spices.
For the best result in Gaeng Keow Wan Gai, locals tend to fry the curry paste with coconut milk to extract the aromatic oil first. Then, continue to pour in various condiments like fish sauce, lime leaves, and red chilies.
Let the mixture cook the chicken breast until you get a tenderized meat texture and your Thai green curry is ready for serving. Some even add holy basil to achieve a more robust flavor of green curry.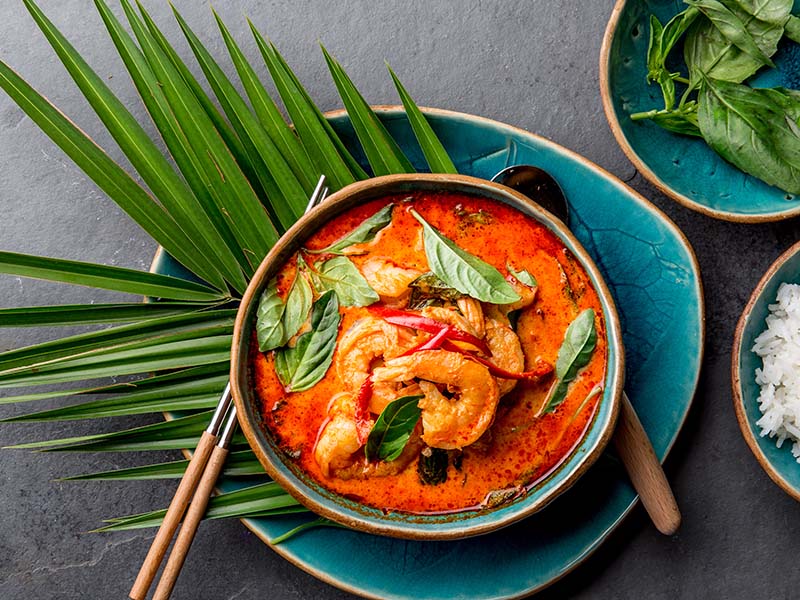 Gaeng Daeng is a unique red curry that tailors to Central Thailand cuisine. Similar to the Thai green curry, the broth color of Gaeng Daeng is the result of the red curry paste. To be more specific, people simply swap out the green chili with the red variety to get the desired color.
Gaeng Daeng has the same cooking process as Gaeng Keow Wan Gai. The red paste usually possesses more moisture than the green one. Despite the bright color, Gaeng Daeng flavor is mild and often has a mesmerizing creamy taste.
However, the vegetable option is slightly different as you want to use bamboo shoots with chopped courgettes and lime leaves. As for protein, the most reliable choice is chicken breast for the convenience and soft meat texture.
21. Khanom Farang Kutti Chin (Thai Muffin)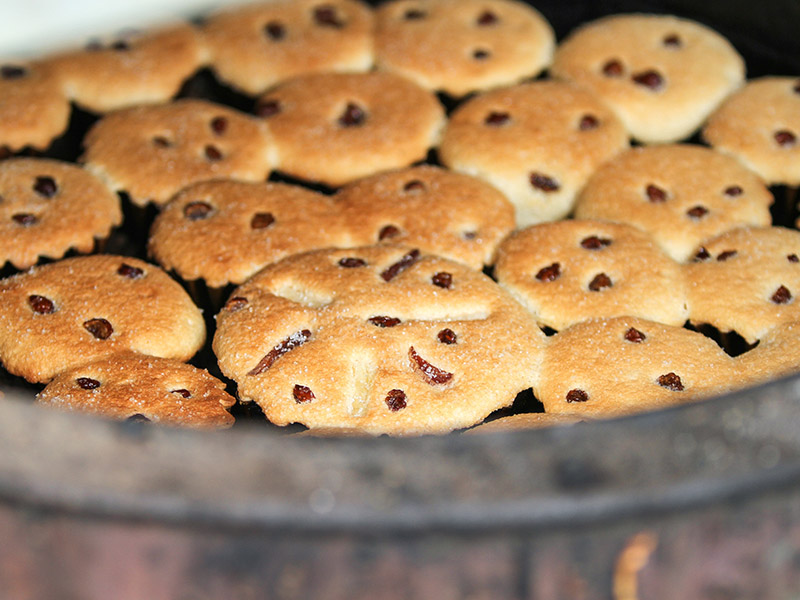 The dessert of Central Thailand is a massive highlight with Khanom Farang Kutti Chin, a cake recipe that has a lot of influence from Portuguese and Chinese cuisine. Many individuals assume that the dessert first appeared in the Kudi community in Bangkok, Thailand.
Interestingly, Khanom Farang Kutti Chin doesn't contain a single drop of milk in its recipe. The dessert requires a simple concoction of duck eggs, flour, and sugar to materialize. Once the cakes finish baking, it's a staple to serve the dessert with a sprinkle of raisins.
Khanom Farang Kutti Chin even receives recognition from Bangkok's City Hall as one of the traditional specialties of the region. The cake has a unique fluffiness that deserves for you to give a try in your lifetime.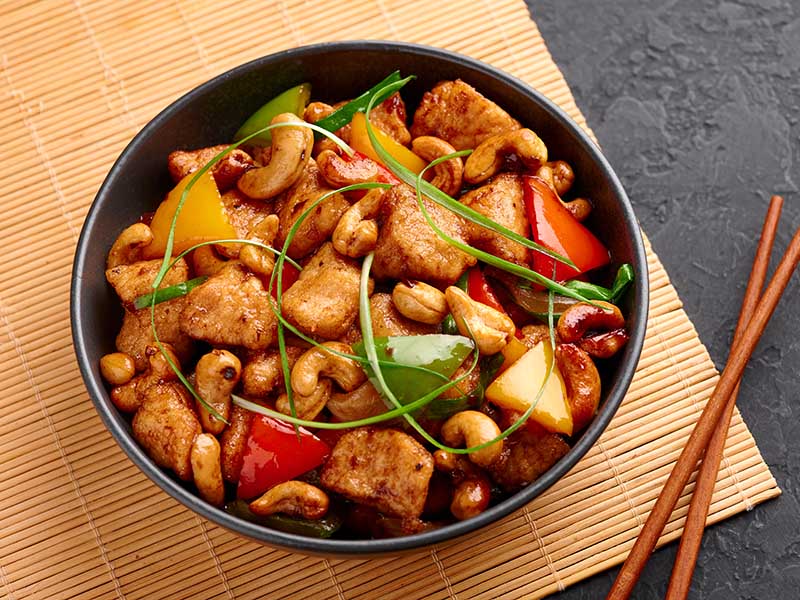 Here's another stir-fried recipe with chicken and cashew as the main ingredients. Gai Med Mamuang incorporates a contradictory texture of crunchy and nutty cashews with soft chicken meat. In Thai, the phrase "Med Mamuang" mainly refers to cashew.
To give you more information about the dish, Thai locals feature this stir-fried dish with a bowl of hot rice during the day. The chicken tastes much better by infusing it with a marinating concoction of simple salt and pepper, for starters.
In most cases, the recipe also calls for cabbage to add an extra layer of texture to the chicken and cashew. The critical point to a successful Gai Med Mamuang is to coat all the ingredients with an addicting combination of oyster sauce and soy sauce.
Chicken with cashew nuts makes for an addictive Gai Med Mamuang to treat everyone in the family.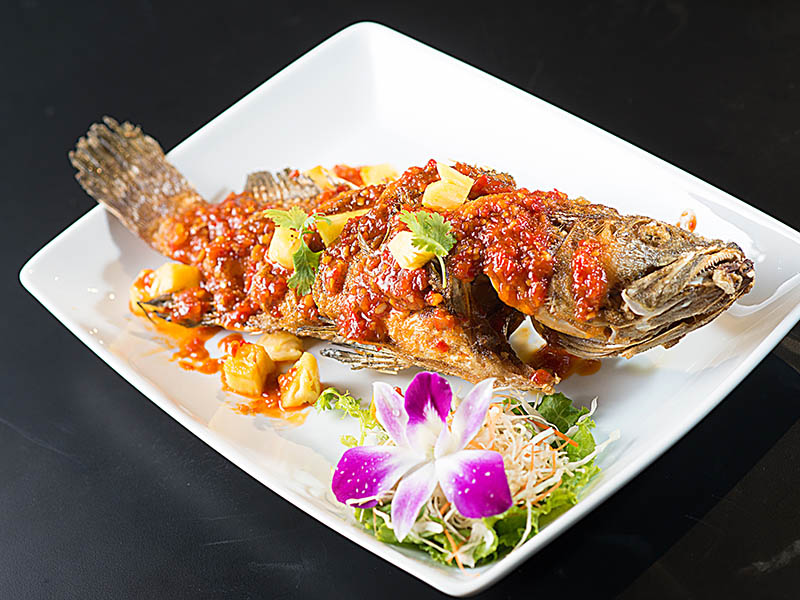 Fish is not an uncommon source of protein for many people. Therefore, you may want to enrich your menu with a Pla Sam Rot, a Thai fried-fish recipe that offers three flavors on one plate. Pla Sam Rot often displays three distinct tangy, sweet, and sour tastes thanks to the sauce.
Since there's no limit to what type of fish is suitable for Pla Sam Rot, you can pick whatever river fish suits your taste bud. As for the sauce, locals prioritize the combination of tamarind concentrate, fish sauce, and palm sugar.
Furthermore, you may sprinkle in a generous amount of chili to spice up the mixture. After deep-frying the fish to get a crispy texture, people top it with sauce, and some basil leaves to wrap up the preparation process of Pla Sam Rot.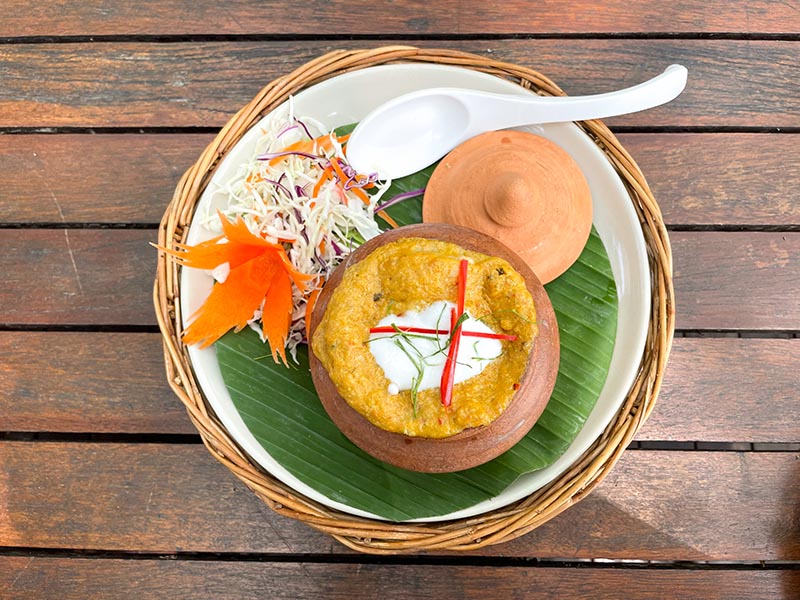 If Thai curry is not enough to impress you, allow me to boggle you with Ho Mak Pla, a steamed curry dish of central Thai cuisine. The delicacy is also a specialty of neighboring countries like Laos and Cambodia, with each nation having a slight twist to the recipe.
Ho Mok Pla is mainly characterized by an explosion of taste from a curry paste base and flavorful fish. The traditional method to make the base is to combine the curry paste with coconut milk until you get a smooth consistency.
Then, follow it up with lime leaves, basils, and fish. Don't forget to add the holy grail of Asian condiment; in this case, I mean the fish sauce. Steam the mixture until the surface hardens. Finally, sprinkle in a few basil leaves, and Ho Mok Pla is ready to impress you.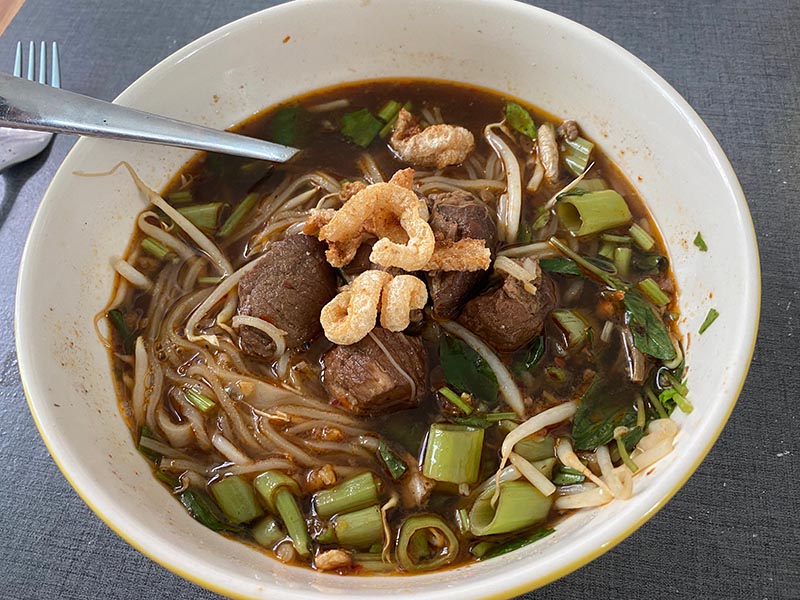 Many people wonder why Kuay Tiaw Ruea gets the name "boat noodles." It is mainly because Thai merchants first served the dish on Bangkok's canal in small bowls to avoid spilling over the boat. Many speculate that Kuay Tiaw Ruea has existed since 1942.
The recipe of Kuway Tiaw Ruea works wonderfully with either pork or beef. The broth instantly hit you with an intense flavor of soy sauce. Thanks to the addition of rice vinegar, the broth gets a hint of sweetness with a strong acidic taste.
Furthermore, some locals even customize the recipe by adding pig or cow blood to thicken up the broth consistency. Another distinct feature of Kuay Tiaw Ruea is the decadent meatballs that consist of minced pork, bread, and milk.
6 Amazing Southern And Other Thai Delicacies
The South of Thailand may have the least attention when there are not many dishes that represent the area.
Thanks to a shared border with Malaysia and Indonesia, many delicacies usually carry a certain spiciness and sharpness, which is perfect to consume with various refreshing Thai beverages.
In fact, the Muslim and fishermen population are the main driving force that dictates the signature Southern cuisine taste. On the other hand, you can also find some other Thai specialties from other parts of the country. So keep reading for more insights.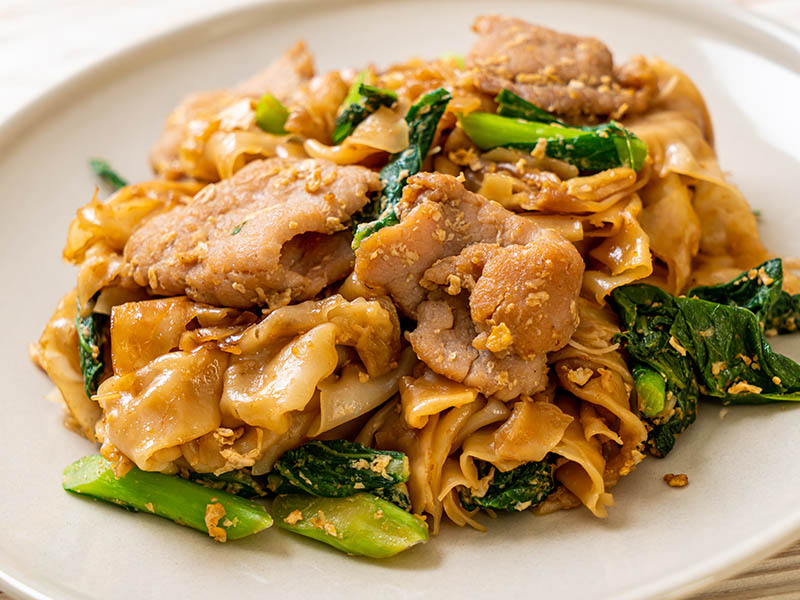 At first glance, Pad See Ew may look like another Pad Thai recipe, but the dish has its differences from other noodle dishes. The most obvious thing is in the type of rice noodles; Pad See Ew's noodles are bigger than conventional varieties.
You can easily come across Pad See Ew at any food stall in Thailand. The most iconic feature of the dish is the fragrant aroma of fried soy sauce, which consists of dark soy sauce, oyster sauce, and white vinegar.
Besides the aromatic sauce and special noodles, people may use a diverse range of proteins to accompany the recipe, like chicken, beef, or pork. However, chicken is the most popular choice as it's a relatively cheap ingredient.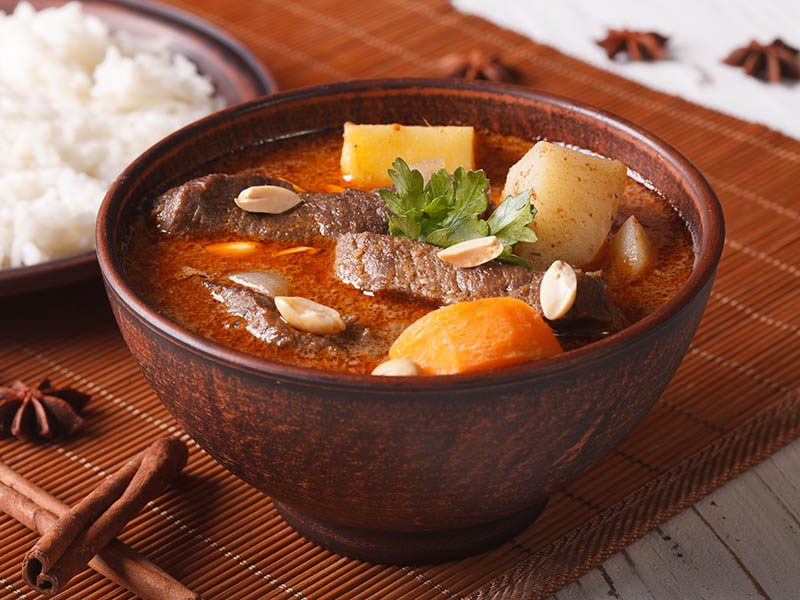 Massaman curry is a fusion of various cuisines. Some theories say Massaman curry came to Thai around the 17th century through Persian merchants. However, some people suggest that curry originates from the influence of Malaysian and Indian cuisine in the South.
Typically, Massaman has a mild flavor soup with a relatively thick consistency thanks to the addition of coconut milk and Massaman curry paste. This southern curry specialty works wonderfully with various meat options, but the most popular are beef and chicken.
Furthermore, locals infuse the broth with spices like cinnamon, star anise, and tons of shallots. The result is a mesmerizing brown broth with a harmonious sweet and spicy flavor. A secret for cooking Massaman curry is to simmer the ingredients until tender.
Discover the simple solution to create a Massaman paste from your home.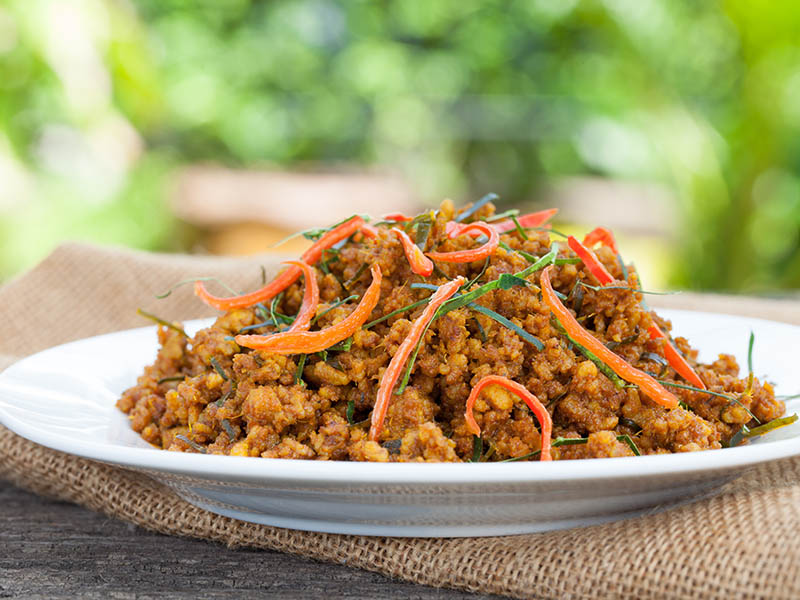 At first glance, many may mistake Kua Kling as a stir-fried minced meat recipe, but people in the south of Thailand consider it a regional curry delicacy. Kua Kling still bursts with a pungent curry aroma despite the lack of broth.
This Southern dry curry recipe is versatile, as it can incorporate minced meat of chicken, pork, or beef. To bring out more flavor, Thai locals stir fry the curry paste in a wok first before adding chicken along with various condiments such as lemongrass, lime leaves, and fish sauce.
Ideally, Kua Kling should be dry and infused with the curry paste flavor. A standard method of enjoying Kua Kling is to consume it with a bowl of hot jasmine rice to experience the slight kick of heat in every bite.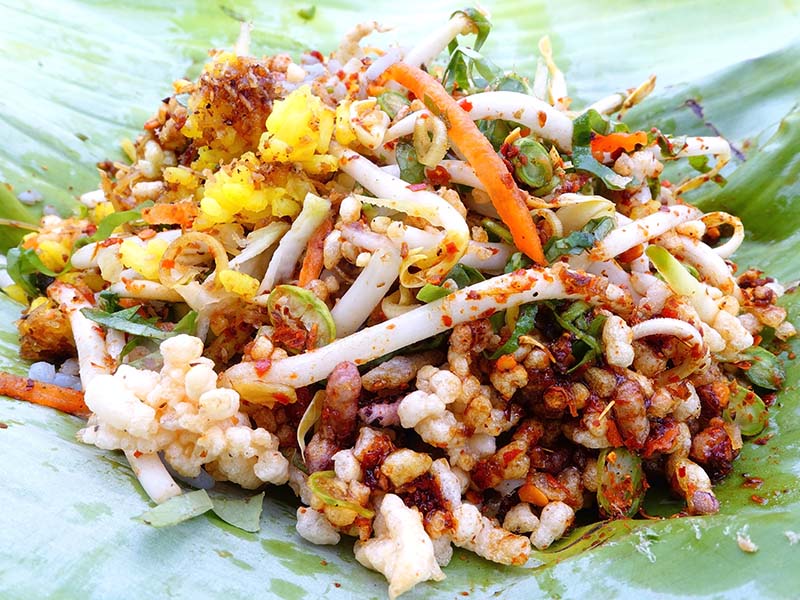 Khao Yam is a weird combination of rice and fresh vegetables in Southern Thai cuisine. You may think that the salad is light on flavor, but contrary to that, the dish packs a rich herbal flavor from the roots and spices.
Many speculate that Khao Yam may come from Malaysian cuisine as the Southern part of Thailand also shares its border with Malaysia. In addition to the rice, Southerners use diced pineapple, cabbage, and mung bean sprouts to enhance the overall texture.
The dressing combines lime juice with galangal, Thai basils, and soy sauce. I suggest using brown rice for a healthy Khao Yam recipe. Once the locals wrap up the mixing process, they tend to decorate Khao Yam with a few slices of toasted coconut.
Rice is the soul of Thai cuisine, and Khao Yam takes the ingredient to a whole new level.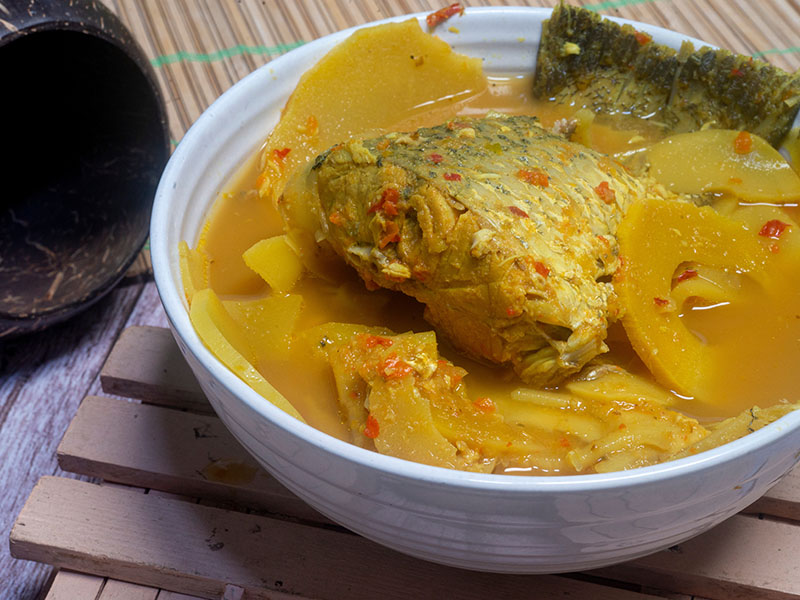 Kaeng Som or Gaeng Som has to be one of the most iconic Thai soup cooking ideas that stun everyone with a delicate sourness. People often whip up a shrimp-based Kaeng Som or use fish as an alternate way to execute the recipe.
Aside from Thailand, this type of sour soup is also a fan favorite in Laos and Malaysia. The broth of Kaeng Som has a bright red color thanks to the addition of the curry paste condiments.
People tend to resolve to lime juice for the sour taste as it is more accessible. In addition, the Southerners include papaya in the soup to provide more texture and flavor. As for the curry paste, a simple combination of chilies with garlic, shallot, and turmeric should work wonderfully.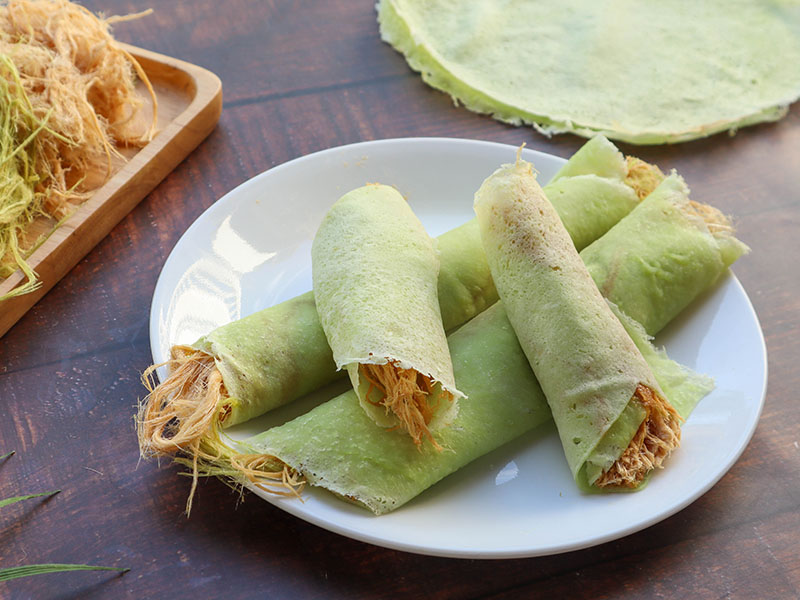 Roti Sai Mai is an addictive sweet Thai treat that features a thin layer of flour pancake as the wrapper for the sugary floss. The dessert originates from today's Phra Nakhon Si Ayutthaya city of Thailand as a staple dessert and street food.
Thai locals tend to incorporate flour with a wide range of flavors like pandan, strawberry, or banana. Next, they place the sugar floss or cotton in the middle of the pancake and start rolling it into a cylindrical shape.
Once you take a bite of Roti Sai Mai, the floss instantly vanishes in your mouth, leaving behind an extreme sweetness with a flavor from the pancake. This type of cotton candy often appears in areas with a dense concentration of tourists or at local stores of Ayutthaya.
The more you know about Roti Sai Mai, the more you want to take a bite at the dessert.
Thai Foods Are Beyond Amazing!
With a pool of ingredients to pick from, you never run out of ideas to customize these Thai dishes. Furthermore, the flavors are diverse because each dish has its signature taste. Only a slight change in spices can result in an entirely new creation.
If you think this article is helpful, please spread it to everyone you know. I hope your first experience with Asian cuisine is delightful, with wonderful Thai delicacies to treat your family. Let me know what your favorite Thai meal is in the comment section.