Tempeh recipes are not a popular topic. However, tempeh deserves to be one of the best foods because of its deliciously nutty flavor and various impressive health benefits? Another characteristic of tempeh is that it can be cooked in a lot of ways, more than what you imagine.
To show what you can do with tempeh, I decided to make a list of 25 tastiest tempeh recipes for you so that you will realize that it is worthwhile to try. I won't let you wait anymore. Let's get straight into them.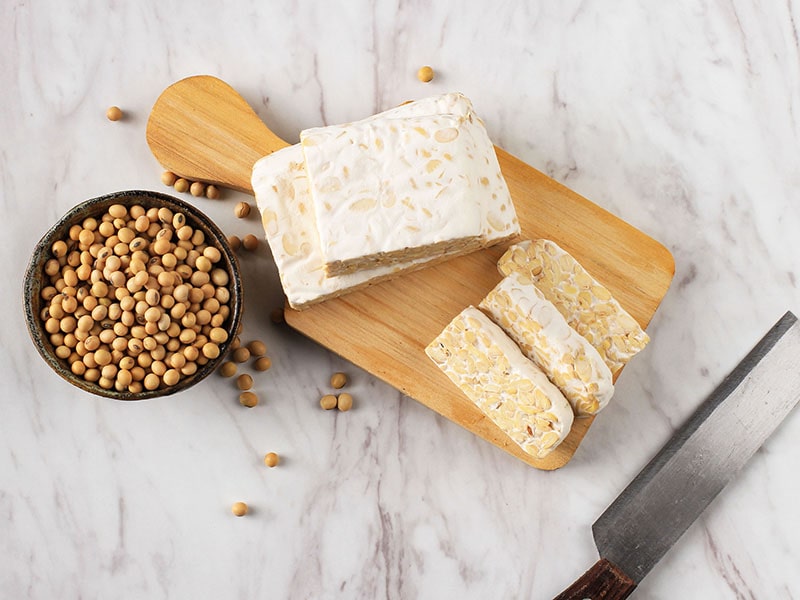 Brighten Up Your Day With These 25 Delectable Tempeh Dishes
Check what you have in the kitchen and get ready to explore numerous delicious tempeh recipes. Don't miss any dish.
If you get bored with meat tacos, why not try a new taco recipe? This tempeh taco recipe is also suitable for those who are vegetarians because tempeh has a meaty texture that can perfectly replace meat. It is a good source of protein as well.
Tempeh tacos are flavorful, depending on which ingredients you put in. Its basic texture is crunchy on the outside and both chewy and crispy on the inside. Thanks to the blend of jalapeno and various spices, tempeh tacos can offer an enticing peppery flavor burst.
BBQ tempeh is a wonderful dish for parties. You can grill tempeh that has been marinated with BBQ sauce. It tastes salty, tangy, nutty, and sweet. Its crispy texture is another thing that will make you fall in love with it.
A vegan party cannot be completed without BB tempeh. You can also serve it in everyday meals as well.
Follow this instruction to make a delicious tempeh BBQ dish.
Marinated with tamari and maple syrup, baked tempeh gains an alluring umami note and a tender sweetness. With a touch of vinegar, this dish gains a gentle sour flavor that will surely make you reach for another bite.
Remember to serve marinated baked tempeh with some side dishes to balance its overpowering flavor. White rice and salads are the best.
Teriyaki sauce lovers will love this recipe. Its sweet and sour taste combined with the earthy flavor and chewy texture of tempeh cannot be more delicious. I am sure that the Japanese way of cooking tempeh will not disappoint you.
Teriyaki tempeh looks attractive as well. It is garnished with sesame seeds, which make the dish brown and white in color. You will surely crave teriyaki tempeh when looking at it.
This is one of the easiest tempeh recipes to make. You just need to stir everything in the pan. You can serve it in everyday meals.
Stir-fried tempeh tastes salty. It has a very good aroma from ginger, garlic, and sesame. Some beans (or peas) make the dish more balanced and nutritious. You should serve it while it is still hot. Never eat it by itself. Some rice will pair well with its savory flavor.
Roasted tempeh tastes amazing. Its golden brown color and crispy texture make it a perfect appetizer.
One of the recipes I introduce to you uses a special ingredient to cook tempeh, that is tamarind paste. It has a sour taste that brings a more distinctive taste to tempeh. Make sure you add sugar to reduce the strong tanginess.
Tempeh pasta, why not? Seeing how versatile tempeh is, tempeh pasta is absolutely possible. It makes an ideal vegan choice. The name bolognese comes from Italia, meaning sauce. You can serve this versatile sauce with any kind of pasta you like.
This pasta sauce is savory and flavourful with plenty of ingredients. You can't imagine how delicious it is until you try it.
Making tempeh bolognese is not as complicated as it seems to be. Try now!
What else can you do with roasted and baked tempeh? Of course, stuff it in sandwiches. It cannot taste better. Tempeh makes sandwiches more unique and remarkable.
Tempeh sandwiches perfectly serve as a quick meal, but you can serve it at parties as well. It is so tasty and versatile. Loaded with protein, veggies, and starch, it is a healthy and nutritious choice.
This is a vegan soup that is full of essential protein. You can't imagine how healthy it is. Tempeh soup is rich and hearty. It is best to enjoy it on a cold winter day. A hot and spicy soup is everything that you could ask for.
Tempeh has a meaty flavor. Therefore, you will feel like you are eating ground meat. Such a perfect replacement!
This is another warm and hearty vegan dish to warm up your stomach. Tempeh can never go wrong with chili. This creamy chili is very nutritious and filling. I promise that it is one of the most delicious tempeh recipes.
What to serve with this delicate tempeh chili? Potato fries, cornbread, tacos, go for starchy dishes.
This tempeh burger is full of flavors and textures. It has a soft, crunchy, saucy texture. The taste cannot be more mouth-watering. It is spicy, garlicky, and smokey. To get the best result, you should use a non-stick frying pan.
This wholesome and easy burger perfectly serves as a quick meal for you to take out on picnics. Try making it today!
Sweet and sour tempeh is a Chinese dish. As the name suggests, it tastes sweet and sour. Pineapple and coconut sugar provide the sweetness. Tomato sauce and apple cider vinegar create an acidic flavor.
This dish is best served with white wine. And this combination tastes heavenly, especially when it is still hot.
Do you know what pad thai is? It is a stir-fried noodle dish that belongs to Thai cuisine. Vegetarian pad thai is often made with tofu, but tempeh is a more meaty alternative.
Pad thai includes the sauce and the pad thai. The sauce is salty and savory with soy sauce, lime juice, and some other ingredients. The pad thai is made of rice noodles, tempeh, and veggies.
Enjoying some crispy, thin and browny tempeh bacon strips. Mouth-watering! The meaty flavor of tempeh is perfect for making bacon.
After being marinated and fried, tempeh tastes salty and saucy. To make it healthier, you can use low-sodium or gluten-free soy sauce. I would highly recommend that.
Tempeh bacon is easier to make with this detail instruction:
Stuffed peppers are a classic dish that is typical of Spanish, Mexican, and Mediterranean cuisine. And tempeh stuffed peppers is a healthier version that is uniquely tasty and flavorsome.
Do you find these colorful and filling peppers eye-catching? They definitely are. But they are not only beautiful but also delicious. It is hard to describe its taste in a single word, but I will say that they are very flavorful.
Sweet and sour tempeh is delicious. But sweet and spicy tempeh is more special. The flavor is created with just the right amount of sweet sauce and spicy sauce. And soy sauce is used to balance the flavor.
White rice or noodles is the go-to starchy source for this dish. It cannot taste better. So remember to add it to your dinner menu.
What do you often serve in the summertime? Definitely salads. Tempeh salad is full of protein and veggies, making it a super healthy and tasty dish. Give it a try! And you will want to taste it the second and the third time as well.
Tempeh salad is acidic, nutty, saucy, and crispy. You can serve it along with sandwiches and tacos.
Watch this video to know more:
This custard tempeh recipe gives you a lot of flavors. It is sweet, spicy, briny, pungy, tangy, and roasty. Its texture is crunchy because of kale and apple and creamy because of potatoes and avocado.
Go for it! You can't find its unique flavor elsewhere else. It is suitable to serve in all seasons.
Have you ever tried bao, a traditional Chinese dish? If you have, I bet that you're impressed by how tasty it is. Tempeh bao is its vegan version, and it is no less delicious. Trust me!
The bao is soft, fluffy, and starchy. The stuffing, made from tempeh and veggies, is fresh, spicy, salty, nutty, and sweet. How flavorful it is! This homemade tempeh bao is unbeatable.
Try making these adorable tempeh bao buns, the video below should be able to help you:
This Korean-style tempeh bibimbap recipe will satisfy any fan of Korean cuisine. Bibimbap is so popular in Korea. And a meat-free alternative is also worth trying. If you are a vegetarian, there is no reason not to try it.
Besides tempeh, gojuchang sauce is the star of this dish. Its spicy flavor, along with the nutty, tangy, and sweet taste of other ingredients, makes tempeh bibimbap flavorful and wholesome.
Are you going home after a stressful day? A bowl of tempeh curry and white rice will comfort and warm you up. Tempeh curry is hot, earthy, nutty, spicy, and creamy. All flavors are well-balanced. There are not any overpowering tastes in this dish.
Don't hesitate to try it! You can also store it as leftovers. When you reheat it, it will taste just as delicious as it should be.
Sesame has a fantastic fragrant and nutty aroma. It also has a crunchy texture that will make each bite a delightful experience. Adding some sesame to a tempeh rice bowl is always a good decision to make.
Sesame tempeh has a salty, nutty, and sweet taste. The crispy and saucy texture perfectly teams up with white rice and veggies, making sesame tempeh rice bowl a fulfilling and nutritious dish to serve in daily meals.
Lemony and garlicky flavors are among the best flavors in the world. They are loved by everyone. If you love to enjoy these two flavors in a new way, try lemon garlic tempeh.
The crispy and nutty tempeh is marinated with lime juice, garlic, and some other ingredients. Then it is combined with veggies, quinoa, and turmeric hemp dressing, creating a burst of flavors. How delicious it is!
If you are a fan of quinoa, don't miss this tempeh quinoa recipe. It is even more nutritious than ordinary starchy dishes because of the high protein and fiber content of tempeh and quinoa.
Tempeh quinoa bowl is fresh, nutty, mild sweet, and savory. It is full of veggies and essential protein. I can hardly find anything that is more nutritious than it.
With the meaty tempeh, why not make some vegan ranch wraps? The spicy, crispy, meaty, savory, and starchy of tempeh ranch wraps is enough to make you crave.
Ranch wraps are a great alternative if you are bored of rice bowls. This dish serves best at lunch time. Add it to your menu today.
As Long As You Cook Tempeh The Right Way, It Tastes Delectable
There are a lot of tempeh recipes that you can make. These recipes are the game-changing opportunity that will change your mind about how delicious and versalite tempeh is.
When being on its own, tempeh has a special nutty taste, which can perfectly combine with other ingredients to create various flavorful dishes for your weekday meals. If you are a vegetarian, there is nothing better than that.
What is your favorite tempeh recipe? What do you think about tempeh's taste? If you have made these recipes, don't forget to take pictures and share them with me in the comment box below.