For me, one of the best taco recipes ever is the Thai chicken taco because I love trying to combine different cuisines. However, besides main-course recipes, I enjoy filling my day with lovely dessert tacos made from fruit and cream.
In this post, you will find all of these fantastic options. I made sure it delivers diversity so that everyone will find something they can rely on for a delectable culinary experience. If you are wondering what type of tacos to make for your next meal, read on.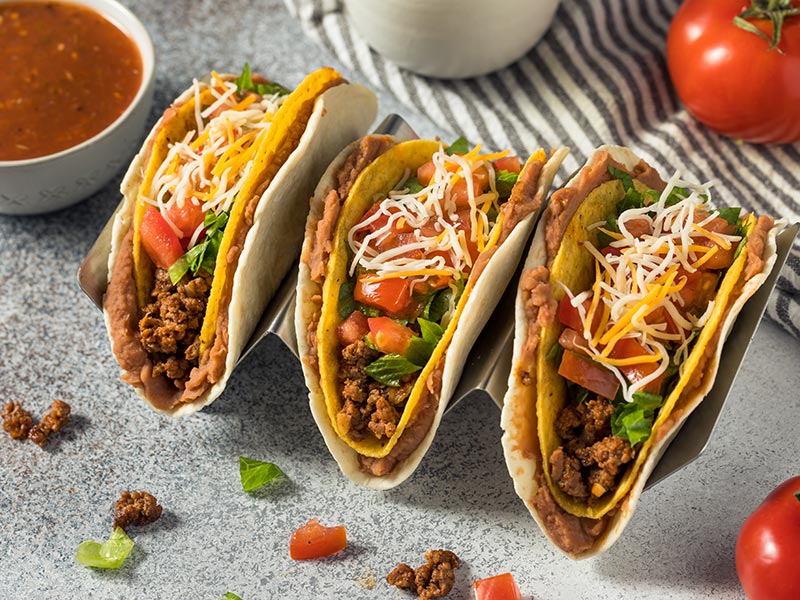 Put On Your Apron And Dig In These Recipes
You can do most of the following dishes in half an hour or less. That said, some recipes take hours to complete because you have to slow cook meat, so pay attention to the total time before making your choice.
Total time: 4 hours and 51 minutes
Birria is a Mexican stew that made its way through America and Europe. It's mostly made with goat meat, but beef is also a common ingredient in this dish. While birria contains two types of chiles, it has a mild spiciness that doesn't affect children.
Birria tacos are so delicious that they have won the hearts of all my family members and guests. On the outside, they feature a crispy tortilla layer. On the inside, you can taste the juicy, tender, intensely flavorful beef with tangy onions.
Birria is undeniably one of the best varieties of traditional tacos. They are perfect for dinners on any day for any crowd.
Here's how to make birria tacos from scratch, including processing the dried chiles.
Total time: 30 minutes
Compared with birria tacos, these turkey tacos are much easier and quicker to make. You can put them together in half an hour, and they remain tasty for an entire day. It's the basic taco version with only seven ingredients and is a total crowd pleaser.
This recipe calls for corn tortillas, which produce the best crispness. However, if you only have flour tortillas on hand, they are good, too. The taco seasoning ensures the cheesy turkey filling is loaded with Mexican flavors.
Crispy turkey tacos are simple bites for a quick meal on weekdays. You can even make the filling ahead and assemble the tacos before serving.
Total time: 20 minutes
These colorful fruit tacos make a yummy kid-friendly breakfast, but they are also great for a dessert or snack. They are mouthwatering and nutritious. Most importantly, fruit salad tacos are so cool and refreshing that you can rely on them in the summer.
The key to the best dish is using cottage cheese mixed with orange zest. The cheese is slightly tart, which is balanced by sweet honey. Meanwhile, the latter adds a citrus scent, and vanilla extract elevates the whole thing.
In fruit salad tacos, the tortillas are soft instead of crispy, so they pair well with whipped cheese and fresh fruits. If you have kids or like to be creative with tacos, don't miss out on these lovely treats.
Total time: 8 hours and 10 minutes
Carnitas means "little meats", a popular Mexican dish made with pork braised or simmered until tender. Slow cookers produce the tenderest texture, offering a high-quality ingredient for your tacos, though it takes several hours.
Each carnitas taco comprises delectable pulled pork filling, a scoop of guacamole (avocado mix), and a tortilla. Top it off with your favorite toppings, such as sour cream, salsa, cilantro, or lime juice.
Carnita tacos are impressive by themselves, but you can serve them alongside spicy Mexican rice, Mexican nacho fries, corn dip, or avocado dipping sauce.
This video provides detailed instructions on making carnitas tacos with homemade tortillas.
Total time: 45 minutes
If you have watched iCarly, you will easily imagine this dish. The show is about two teenage best friends who do a lot of fun things together, including this odd spaghetti taco. Silly as they may seem, iCarly's spaghetti tacos are fun to eat.
To put this dish together, you only have to make the meatball spaghetti sauce, cook the pasta, and assemble the treats. Depending on your preferences, these tacos can pair with garlic bread, salad, or fries.
Between you and me, iCarly's spaghetti tacos are not for everyone. However, it's an excellent idea to experiment with when you are tired of conventional recipes.
Total time: 35 minutes
I love combining different cuisines. So the next taco recipe I'm introducing offers a great idea to blend Korean and Mexican. It consists of Korean-style beef wrapped in traditional tortillas, while caramelized kimchi completes the flavor complex.
To create these yummy treats, you need to make three separate parts. The first is the beef, which you simply cook with Korean seasonings and condiments. As for the second part, you also have to cook the kimchi until caramelized over medium-high heat.
Lastly, work on the sriracha mayonnaise by whisking the required ingredients in a small bowl. After that, the only thing left to do is assemble the tacos.
Total time: 45 minutes
Bang Bang shrimp tacos present a perfect mix of creaminess and crispness along with a colorful appearance to switch on your guests' appetite.
The crispness comes from deep-frying the shrimp in hot oil at a high temperature. To ensure the crispiest shrimps, use a cast iron pan and fry them in batches to retain heat better. Only coat the shrimps right before frying. If you coat them too soon, the outer layer will be too soggy.
The coleslaw balances the crispy, flavorful shrimps with its incredible creaminess and fresh cabbage's crunchy texture. In terms of taste, this lovely salad is sour, savory, and slightly sweet, with a strong lime scent.
This dish works perfectly as an appetizer or a main course at your parties. In the latter case, you should enjoy it with taco salads and their usual accompanying dishes. Your shrimp tacos will taste much more wonderful with some greens as the blank canvas.
Total time: 40 minutes
Baja fish tacos are my go-to choice when I'm in the mood for a vacation. The dish goes well with margaritas and always makes me feel like I'm sunbathing by a luxurious pool in the summer. It's probably because of the citrus slaw with fresh lime juice.
You can use leftover fish to make these delish treats whenever you like. But Baja fish is usually crispy beer-battered cod slices that are crispy on the outside and tender and juicy on the inside.
This recipe creates a flavorful sauce with a light spiciness. For hotter tacos, add more spice to the ingredient list. If you are giving these Baja fish tacos to children, I recommend you stick to the instructions.
Total time: 40 minutes
This dish can be the best salmon tacos you have ever tasted. It's a nice way to make use of your leftover salmon. Each piece is loaded with sweet and smoky salmon, creamy avocado crema, and crunchy slaw.
The avocado crema is the key to a remarkable blend of flavor and texture. This Mexican condiment is thick, featuring the signature tang of sour cream, an avocado hint, and other ingredients.
After about 40 minutes, you will have enough salmon tacos for four people. Scale up the recipe for a larger crowd. I'm sure they will enjoy the dish as much as you.
Total time: 20 minutes
Here's another combination of Asian and Mexican cuisines. This taco recipe brings rotisserie chicken, peanut sauce, and tortillas together, forming a delectable treat for those who fancy creative tacos.
My favorite thing about these Thai chicken tacos is that I can use leftover chicken and turn it into a main course dish in less than half an hour. The recipe is so easy anyone can succeed on the first try.
These quick tacos make a great meal any day, whether you are busy or not. Refer to this recipe when you want to tweak conventional tacos with some Thai flavors.
If you like another version of Thai chicken tacos, refer to this guide.
Total time: 40 minutes
Vegan tacos don't taste like meat-filled tacos because vegetables and meats are very different. Yet, that doesn't mean they aren't yummy, especially with these roasted veggies.
This roasted veggie taco recipe is healthy, straightforward, and unbelievably cheap. There are three layers: veggies, smashed avocado, and chipotle lime cashew crema.
Cauliflower, sweet potatoes, and black beans are roasted until they have a nice char and the best flavors. Meanwhile, the avocado balances the deep sweetness of the veggies, and the lime crema offers a creamy, smoky taste to the dish.
These treats are most suitable for vegan diners, but anyone can happily enjoy them. If you know someone who thinks little of vegan tacos, change their mind with this recipe!
Total time: 6 hours and 15 minutes
Barbacoa is when you slow-cook meat until it's very tender. This cooking method often comes in handy for making fillings for tacos, burritos, and other dishes. It not only tenderizes the meat but also allows it to absorb seasonings thoroughly.
To make barbacoa beef tacos, you first need to cook the chuck roast in a slow cooker with all the ingredients except for the accompaniments. This step should take five hours. Next, shred the cooked beef before cooking for another hour on low.
Once the barbacoa beef is done, assemble your tacos and enjoy. This recipe produces eight to ten servings. If you serve fewer people, freeze the meat and reheat it when needed.
Total time: 45 minutes
The next recipe requires frying tofu cubes until they have a crispy outer layer while the center remains soft. They are also full of honey and sriracha flavors. The result is a delicious taco filling for vegetarians who avoid meat but still consume cheese.
Like other taco variations, you need a thick sauce to complete your tacos. In this case, the sauce consists of yogurt and several herbs, contributing creaminess, additional flavors, and a refreshing green hue to the dish.
If you want to reduce the meat intake in your diet, these loaded crispy tofu tacos are a great start.
Those who don't want to fry tofu can follow this loaded crispy tofu tacos guide.
Total time: 30 minutes
Dessert tacos are my favorite variations, such as these blueberry cheesecake tacos. Instead of savory, they deliver a sweet-tart flavor of the fruit. The cream cheese and heavy cream create a creaminess and thickness for the filling.
At the same time, the tortillas are coated with Graham cracker crumbs and baked to obtain a crispy outer layer. It enriches the overall texture of the treat while retaining an essential part of the conventional version.
However, due to this, it's best to serve these tacos right after making them and finish them within the day. Otherwise, they will go stale.
Total time: 25 minutes
With rotisserie chicken, it should take you only 25 minutes to put together a tasty taco meal. It allows for quick meal preparation, which can take even less time if you make the filling ahead and assemble the tacos right before serving.
Making the rotisserie chicken filling is painless. First, saute the onion over medium heat. Then, add chicken along with other ingredients and cook for three minutes. Next, add the tomato paste and broth, and simmer until the meat absorbs the liquid.
To serve these tacos, add black beans and cheddar cheese, or use your favorite toppings.
Total time: 10 minutes
Mango and black bean tacos are one of the most wonderful inventions in the taco world. They contain two of my favorite fruits (mango and avocado), take little effort to make, and taste like heaven. They are also light, healthy, and 100% vegan.
Mango gives this dish a tropical vibe, while avocado is smooth and black bean serves as a protein source. You can make these tacos in the kitchen for lunch or a snack during the summer without sweating, which is why I always keep this recipe up my sleeves.
If you don't mind a bit of heat, char your tortillas on the stovetop before assembling the dish. Or, you can warm them up in the oven to keep this dish hassle-free.
Quickly assemble your mango and black bean tacos with this straightforward recipe.
Total time: 2 hours and 30 minutes (including 2 hours of marinating)
When you have a few hours to spare, try this taco recipe. It shows you how to make carne asada, or grilled marinated meat, from scratch and to apply it to tacos. Carne asada is at the top of the taco filling list for me, and you will love it too.
This Mexican meat is not tricky to make. That said, remember to marinate your steak for two hours and not more than eight hours. If you marinate it for any longer, its texture will change.
As for the tacos, the traditional toppings include cilantro, onions, cheese, and lime juice. I often add avocado for extra creaminess, but you can add anything you like.
Total time: 1 hour
The Navajo are a Native American people in the US, and Navajo tacos have been their traditional meal since the 1800s. Instead of tortillas, this dish uses Indian fry bread, which is soft, fluffy, and yellow.
Besides the fry bread, Navajo is very similar to the other conventional tacos. Top the bread with your favorite meat and veggies. Some shredded cheese will also enhance the texture and flavor of your dish.
This amount of ingredients can serve six people, two tacos each. Feel free to increase or decrease the ingredients based on how many people will join you.
Total time: 30 minutes
Most Greek-inspired recipes take advantage of Greek yogurt, a creamy dairy product. This recipe is no exception as it includes this ingredient in the taco filling besides lamb and vegetables.
When you cook the lamb, don't stir it constantly. Let its surface sit on the pan for a little while before stirring. This way, the meat's surface will get browned with a nice char. It gives the dish an additional smoky smell and flavor.
The recipe produces delectable tacos featuring vivid colors, diverse textures, and a delectable flavor complex. Best of all, these Greek lamb tacos come together within 30 minutes or so, suitable for weeknight dinners.
Total time: 25 minutes
Chimichurri sauce sets this taco recipe apart from the other names on this list. It's a green sauce from Argentina and Uruguay, consisting of parsley, garlic, olive oil, vinegar, and oregano. It's flavorful, herby and pairs well with grilled meat.
Regular taco sauces are smooth, but that's not the case with chimichurri. You can see all ingredients in the sauce and even feel the herb leaf's texture when chewing. This distinct feature makes chimichurri steak tacos an exciting option when you seek a new taco flavor.
Plus, the sauce is easy to make. All you have to do is toss all ingredients in the blender, let the machine work for a few minutes, and it's ready!
Total time: 20 minutes
Strawberry and blueberry cheesecake tacos have some similarities, but their tortillas are processed differently. In this recipe, you need to coat the tortillas with sugar and cinnamon before baking them.
This mixture results in a sweet, aromatic outer layer for your dessert tacos. You can adjust the sugar-cinnamon ratio to your liking. Toasted coconut adds a lovely, breezy smell and taste, so you should not omit it.
All in all, strawberry cheesecake tacos are effortless sweet fruity treats you can serve for anyone from small kids to adults. Your guests will love them, too.
Making strawberry cheesecake tacos is breezy if you follow these instructions.
Total time: 30 minutes
This Spanish tacos gobernador was created in the 1990s to serve Sinaloa's governor. Since then, it has gained popularity in Mexico and the US and earned a place on my list of the best taco recipes.
A friendly reminder, these delectable treats are pretty messy to eat. So roll up your sleeves before getting your hands on these savory, cheesy seafood tacos. This is also a delectable recipe to cook with leftover lobster or white fish.
For those who crave spicy food, you should use jalapeno peppers instead of mild poblano peppers. Lastly, if you don't like tomatoes, leave them out.
Total time: 45 minutes
These butternut squash tacos are hard proof that vegan tacos taste as great as meat tacos. The dish is best to enjoy in the fall when it's peak butternut squash season. Serve these tacos hot, and you will get one of the best vegan meals of your life!
When you work with a sweet vegetable like butternut squash, you have to pay extra attention to the flavor balance. In this recipe, sweetness is paired with chipotle and taco seasonings, adding savory and spicy flavors.
Lastly, the avocado sauce melds all the ingredients to complete the treat and offer extra zing.
Total time: 25 minutes
I can have banana pudding any day, and I still feel like the first time I tried it. This dessert is delectable, creamy, refreshing, and available regardless of the season. Turning it into lovely tacos will be an interesting dish to experiment with.
By wrapping the smooth, slightly chewy filling in baked tortillas, you will add crispness to the dish. Banana pudding filling is flexible, so you can adjust the ingredients by leaving out the fruit or using mini wafers instead of regular wafers.
Here's a pro tip. Rim the tortillas with melted chocolate. It goes well with bananas, ensuring an enhanced flavor. I even dip the whole tortilla in chocolate sometimes because I love chocolate so much. However, remember to use dark chocolate, or it will be too sweet.
Check out this banana pudding taco recipe for different ingredient suggestions.
Total time: 15 minutes
These tacos scream Hawaii. Aside from Huli Huli Hawaiian chicken, these treats contain pineapple salsa made with fresh pineapple. This fruit is a signature ingredient of Hawaiian-style food, so it's inevitable for this recipe.
To make the best pineapple salsa, dice the ingredients and transfer them to a bowl. Mix well with olive oil and lemon juice. After that, add seasonings to your liking. When stirring the ingredients, remember to be gentle, or you will accidentally smash them.
Note that this recipe is the most suitable for when you have leftover Huli Huli Hawaiian chicken. Otherwise, you will have to make it from scratch, which takes several hours.
Total time: 1 hour 10 minutes (excluding marinating time)
Al pastor is a cooking method originating in Mexico, based on the Lebanese version. The key to perfect al pastor meat is marinating. You must let it sit in marinade from one hour to overnight; the longer, the better.
In case you end up with too much liquid in your filling, doubling the tortillas will help. This may happen when you use pork shoulder, so you can pick a leaner part to avoid the risk. If you like spicy food, add some cayenne pepper to the dish.
One last important note: Always use fresh pineapples. They taste better, have a better texture, and are not overly sweet like canned products.
Total time: 45 minutes
These mini wonton tacos are a modern dish using ground pork, so you can try them for a change. Each piece consists of a wonton wrapper, a thin dough sheet used in Chinese dumplings. It's much smaller than tortillas.
Meanwhile, the pickled cucumber and carrot in the filling set this dish apart from every other taco you have eaten. Vinegar gives these veggies a nice, refreshing tang but maintains their crunchy texture. Mini bánh mì wonton tacos surely deserve a place in your cookbook.
Total time: 3 hours and 5 minutes (including freezing time)
While this recipe takes a lot of time, the steps are very easy, and freezing accounts for most of the total time. So don't worry. You don't have to bury yourself in the kitchen to make these delicious dessert tacos.
Basically, you need to make U-shaped waffles using a waffle iron and follow the package's instructions. Then, spoon frozen custard to fill your tacos, then dip their open edges in melted chocolate. Freezing is involved after you spoon the filling and dip the tacos.
You can replace frozen custard with ice cream if you like, but it melts faster than frozen custard, so be careful. Mini choco tacos are amazing any time, especially on hot days though I occasionally enjoy them in the winter, too.
If you can't imagine how mini choco tacos come together, this step-by-step visual guide will help.
Total time: 20 minutes
If you like seafood and effortless recipes, look no further than this scalliorito dish. It's a taco with scallops and shredded cabbage filling. In contrast to the soft tortillas, cooked scallops are slightly firm and chewy, while the vegetable is crunchy.
This recipe has only nine ingredients, including seasonings, and it should take less than 30 minutes to bring them together. Now, regarding pesto sauce, you can use mayonnaise or Greek yogurt.
Mayonnaise is a more popular ingredient, but I prefer Greek yogurt as it is creamy but doesn't taste fatty. You can make two versions if you want to compare their flavors before finalizing.
Total time: 35 minutes
Double-decker tacos live up to their name. These fun treats feature two layers of shells, one of which is a soft tortilla, and the other is a crunchy corn tortilla. The soft shell must wrap the whole thing because the crunchy one breaks easily, causing the bean paste to drop out.
A double-decker taco is interesting. It has the same filling as the conventional version, but the double shells allow you to taste two textures in one bite. The dish is the best of both worlds for those trying to choose between two options.
It's better to drain the beef before assembling the tacos. However, you can make a saucy version by adding cornstarch and water to the meat. It will give you a thick sauce in the end.
Total time: 25 minutes
I have introduced some vegan taco recipes in this article, and here's another easy, quick one for you. Jackfruit is among the most widely used ingredients to replace meat, so it makes sense to create some tacos out of it.
Cooked jackfruit is dense, fibrous, and absorbs taco seasonings deeply. This recipe is also highly convenient. You can make the filling ahead, store it in the freezer for up to a month, and defrost it whenever you are in the mood for vegan tacos.
Total time: 22 minutes (including 15 minutes of marinating)
Ahi tuna has an exquisite red hue and texture. It's often present raw in sushi, among several other delectable dishes. For these tacos, you need to sear the fish a little, so it's cooked and white on the outside. It ensures the best flavor for your dish.
I have many topping ideas if you need suggestions. You can try pineapple poblano salsa, cucumber cantaloupe salsa, sweet mango salsa. Otherwise, wasabi cream and guacamole (Mexican avocado sauce) work, too.
If you end up with more tacos than you can eat, store the leftover pieces in an airtight container in your fridge. Your tacos will be good for two days.
These Tacos Will Make Your Lick Your Fingers
Each dish has a unique flavor and some special features to set it apart from the others. Therefore, if you love tacos enough to go through this post, I strongly recommend you try every recipe I introduced.
Those who are not risk takers can start with recipes you find familiar. Start with small changes and proceed to more creative dishes. Don't forget the dessert tacos. They are strange at first, but they are worth it.
As soon as you try your first taco from this post, let me know how it turns out by leaving a comment here. It would also be great to spread these recipes to more taco lovers. Let's grow our love for this superb Mexican food.
Nutrition Facts
10 servings per container
---
Amount Per ServingCalories370
% Daily Value *
Total Fat 15.9g

25

%
Cholesterol 104mg

35

%
Sodium 451mg

19

%
Potassium 718mg

21

%
Total Carbohydrate 18.7g

7

%

Dietary Fiber 5.3g

22

%
Sugars 3.8g

Protein 38.3g

77

%
---
* The % Daily Value tells you how much a nutrient in a serving of food contributes to a daily diet. 2,000 calories a day is used for general nutrition advice.