Do you seek the best sweet potato desserts? Please be assured that this post has all you need – from elegant to fancy dishes! What's better, you can make these yummy dishes from leftover sweet potatoes, not only fresh and canned ones. Very convenient, isn't it?
Most specifically, the article will give you not only the basic information of the recipe, such as the name, ingredient list, and cooking instructions. Instead, it will also show you a detailed description of taste and texture.
Best of all, you will gain some tricks and tips to level up your desserts as well. All in just one post!
Too many benefits to consider, right? Thus, let's jump right into this article and begin your cooking journey with me!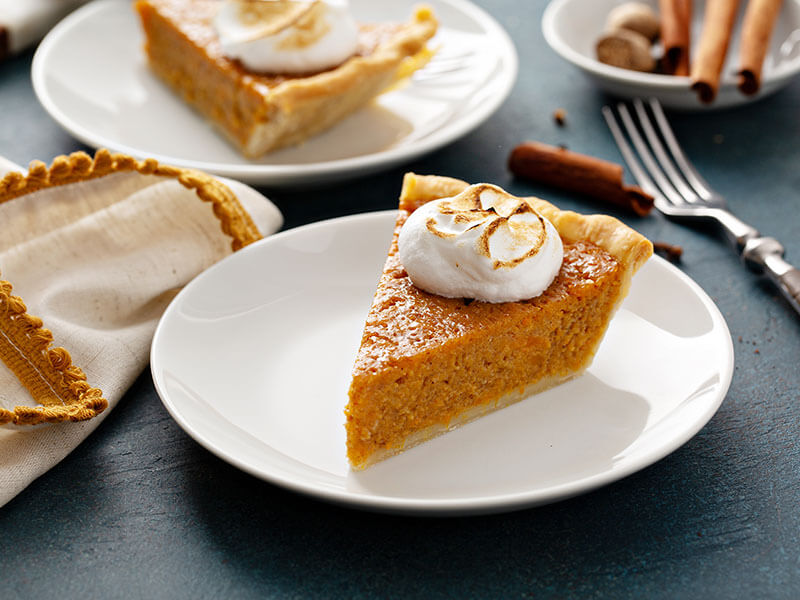 Conquer 27 Best Sweet Potato Recipes To Perfect Your Last Course
If you desire to learn more about sweet potatoes and their adaptation to making desserts, you are on the right track. The content below will introduce 27 sweet potato desserts varying from quick and simple cooks to luxurious ones. So just keep reading!
Total Time: 1 hour 55 minutes
Sweet potato haupia pie is a Hawaiian dessert that will bring a tropical feeling into your house with the scent of coconuts and sweet potatoes.
It has marvelous layers of texture: crunchy macadamia nut shortbread, chunky potato filling, and creamy haupia (coconut pudding), respectively.
With only these main ingredients and seasonings, this refreshing coconut dessert features a flavorful, sweet, buttery treat with a tropical hint of coconut. All layers blend so perfectly to create the pie goodness in every bite.
Want to make the Hawaiian sweet potato haupia pie for friends? Check how!
Total Time: 1 hour 7 minutes
Sweet potato marshmallow pie bars are an insanely delicious dessert for Thanksgiving. They have a flaky pie crust and a warm sweet potato filling toasted with marshmallows. The beauty and sweetness are all you can expect from it for ideal family gatherings.
Not only that, this dessert should be easy as a piece of cake. Bake the crust and make the filling. Then assemble the filling over the crust before baking for 25-30 minutes. Finally, sprinkle toasted marshmallows on top when serving.
Like other pies, you can make this delight in advance for three days under refrigerated conditions. But be sure not to toast marshmallows in advance. You should only do it before serving since they can lose flavor and texture in the fridge.
Total Time: 45 minutes (including 5 to 10 minutes of resting time)
Sweet potato Norwegian lefse is a potato flatbread made of flour, cream, and butter. Usually, people top it with sugar or fill it with jam to add more flavors.
Notably, this recipe is a variation of the Paleo diet (fewer carbs, sugars, and salt). So if you are searching for a cooking idea for this diet, feel free to try this one.
Plus another reason to make the dessert is its ease of handling. You will conquer this delicacy with only five ingredients and three main steps.
First, boil the sweet potatoes until fork tender and rice them into a mixing bowl. Then stir the remaining ingredients to form dough and prepare it into flatbreads. After that, fry them in a deep pan with avocado oil. Once done, roll these fried goods with coconut sugar or jam and serve.
Total Time: 1 hour
Who does not love the scent of pancakes? Indeed, the stack of hot and fluffy pancakes emits the rich aroma of pecan praline syrup, which melts down from top to bottom, creating a fancy visual for a dessert plate.
When you enjoy a piece of this delicacy, you will feel the bright flavor of sweet potato harmonized with the comfy autumn spices and the sweetness of brown sugar. All ingredients fuse into the heaven-sent dessert that no one can deny its goodness.
Let's make your sweet potato pancakes at home!
Total Time: 1 hour 45 minutes
Sweet potato casserole is a beloved holiday dish, especially on Thanksgiving or Christmas. This delight highlights a creamy sweet potato base filled with a crunchy brown sugar streusel and pecan, creating a heaven-sent scoop to treat your family's sweet tooth.
To make the dessert, blend roasted sweet potatoes with butter, sugar, milk, and eggs until velvety smooth. Then pour into the baking pan. After that, you can prepare the streusel topping by mixing sugar and chopped pecans. Finally, bake until golden brown.
The best color of this dessert is golden brown on the top. When it is about to be overly brown, you should cover the casserole with foil before continuously baking. That will help keep the moisture inside and prevent your baked goods from being burnt.
If you want some bright flavor add-in, orange zest and juice should fit. The addition will bring a citrusy and lovely taste to your sweet, but do not be afraid they alter the dessert. Instead, they will upgrade your casserole to the next level.
Total Time: 27 minutes
Sweet potato cookies are a perfect dessert to share with everyone after meals. They are fluffy and airy with the taste of mild sweetness, just like you have a sweet potato pie but in the form of a cookie – so convenient and yummy to consume!
Besides, these tiny delicacies are so simple to handle that your kids can even lend you a hand. Just mix all the ingredients and scoop several cookies onto the baking sheets to bake. Then after thirteen minutes, you will have a beautiful golden batch for dessert.
The dough can be too sticky sometimes, but do not let it annoy you. Just refrigerate it for thirty minutes until firm, and then everything seems easier to handle.
Plus, you should brush your fresh cookies with egg wash before baking for an extra glossy. And feel free to add some nuts and chocolate chips to increase the sweet and nutty taste. Those tips will make your cookies look fancier on the dessert plate.
Total Time: 30 minutes
Dark chocolate chipotle sweet potato fudge is the weirdest dessert you have ever eaten. While it has a chocolate cube appearance, this dessert tastes different and strange. It has hints of cinnamon, chipotle chile (smoke-dried ripe jalapeno), and red pepper flakes.
Although it seems not to match, you will think otherwise when enjoying this fudge. The chipotle and red pepper spicy and smoky flavor will stimulate your taste buds and soften fatty and bitter dark chocolate with their sweet afternote.
Another noticeable advantage of this dish is its ease of cooking. Blending all ingredients in the food processor and refrigerating is all you need to do to create this delicacy. But make sure to toss in the right amount of chocolate for the best texture.
Total Time: 1 hour 55 minutes
The sweet potato pie is an old-fashioned yet flavorful type of sweet treat. Uniquely, this dessert features crispy edges and a somewhat firm texture with a beautiful orange-brownish color and pumpkin pie-like flavor.
When you slice the delicacy, the interior looks super-rich and creamy. That is all thanks to the secret ingredient – evaporated milk. Unlike other types, this canned milk has a denser and creamier texture.
It especially tastes slightly caramelized without any extra sugar. Thus, it is worth using compared to other sweet condensed milk. But if you cannot get one, heavy cream should be the best substitute.
Besides, a highlight of this recipe is using roasted potatoes instead of boiled ones. This method adds a smoky flavor to your dish, which creates a special afternote when biting. Then along with whipped cream, the pie will burst full of taste in your mouth.
Check out how to make the old-fashioned sweet potato pie!
Total Time: 40 minutes
This easy vegan dessert recipe will undoubtedly charm your kids, thanks to its sweetness and tenderness. Also, it is super straightforward to make. With a few actions like blending and baking, your muffins will be ready without any difficulty.
Just blend all the ingredients until well mixed and pour the mixture into muffin tins, then let the oven do the work. After about 30 minutes, your kids will have a batch of yummy muffins to enjoy.
To check the doneness, you can use a toothpick or sharp knife. Simply poke it into one muffin, and if it comes out clean, your muffins are ready to go.
Also, if you want to fancy your muffins, let your creativity fly by adding any topping you like. These toppings can be seeds, nuts, chocolate chips, dried fruit, or even coconut. They all work for the same fancy quality of your batch.
Total Time: 1 hour 30 minutes
A sweet potato souffle is an elegant dessert crossing between a sweet potato pie and a sweet potato casserole. While it has a tender and creamy texture like pie, the crunchy top contains cinnamon sugar and roasted pecans, almost like the casserole.
If you are not a big fan of pecans, you can always change them to other toppings like crunchy nuts and berry sauce topping. Or, you can alter it with streusel topping. They should be great to top on your souffle.
Notably, you can make this dessert the day ahead if you feel pressure to prepare tons of dishes for tomorrow's big party. Just cover it tightly with plastic wrap and bake whenever ready. Specifically, bake twice every 30 minutes, one covered and the other uncovered.
Total Time: 10 minutes
Sweet potato pudding is a light and sweet dessert to end your everyday meals. With seven ingredients and minutes of preparation, your family's jaws will drop with this flavorful dessert full of ginger, cinnamon, and other warm spice flavors.
This dish is especially perfect for a vegan diet as it contains no eggs, oil, dairy, or gluten-related products. Instead, it uses sweet potatoes as a binder and non-dairy milk in substitution with regular dairy one.
For the best visual, pour the sweet potato pudding into jars and refrigerate before serving to get a firm texture. Besides, you can also top pudding jars with coconut cream and cinnamon sprinkles or roasted nuts and seeds. These garnishes will produce just like coffee shop pudding.
Total Time: 40 minutes
Japanese sweet potato blondies are famous for their attractive golden brown color and insanely perfect texture. They have a fudgy and super moist quality packed with many gluey chocolate chunks. That's why you will find yourself enjoying this interesting Japanese dessert again and again.
Let's talk about their taste. These blondies are prominently sweet and creamy, followed by earthy chocolate and aromatic vanilla hints. Therein, most of the sweetness comes from the Japanese sweet potatoes, which are known for the sweeter taste than their other orange counterparts.
When serving, waiting for the whole cake to cool is a small tip to cut it into pieces easier. Indeed, the cooling time also makes your blondies tastier than warm ones. So put them in the fridge for a few hours to serve cold or store them in an airtight container for 4-5 days.
Total Time: 55 minutes (including 10 minutes of resting time)
Sweet potato cobbler is a traditional dish of the festive season. You may have seen your mother, even your grandmother, making it for every holiday. This dessert accents a buttery and flakey crust in companion with sweet potato soaked in a rich sauce of spices.
Plus, it is easy to discover a spice aroma when out of the oven. After scooping it into a plate, you will see the crust and sweet potato chunks coated with brownish liquid. These all create a glossy appearance and attractive scent to the whole dish.
Let's figure out how to have a sweet potato cobbler in just a couple of hours!
Total Time: 2 hours
Sweet potato cheesecake is a divine and classic dessert. It has the goodness of sweet potato loaded with a creamy cheesecake filling and a combination of nutmeg, cinnamon, and ginger. These things bring a warm fall feeling to your family's dinner table.
This food is truly out-of-this-world. When you eat the cake, you will feel the silky texture melting in your mouth with the sweet potato, cinnamon, and nutmeg afternote lingering on your tongue till the end. The incredibly sweet, woody, nutty, and spicy flavors are all in one taste.
However, this cheesecake is easy to have a crack in the middle during or after baking. That is because your cake is overbaked and becomes puffy. So be sure you watch it close to prevent this condition.
Also, generously greasing the baking pan before pouring the batter is a helpful tip for easy cake removal, which will keep the physical actions from destroying your dessert shape. All this care is for preserving the beauty of your dessert from oven to table.
Total Time: 1 hour 10 minutes
Sweet potato ice cream is such an ambrosial homemade treat for children. This vegan version is remarkably healthier and less fat than regular ice cream, with almond milk and cashews as the main ingredients.
Thus, you will not need to be afraid of your child getting a lot of saturated fat. Instead, nutrients found in nuts and sweet potatoes are what ice cream can offer.
Plus, making sweet potato ice cream is simple with just a few steps. Begin with roasting your sweet potatoes, letting them cool, and after that, use a blender to mix them with other components.
Once well mixed, chill the mixture in the fridge before placing it in the ice cream machine. That will result in the creamiest texture an ice cream should have.
Total Time: 1 hour 5 minutes
Sweet potato pocket pies are a portable version of regular pie, thanks to their handheld size. These mini pies bring a cozy sweet potato and flavorful chai spices in filling, all folded by a flaky dough sprinkled with turbinado sugar.
With their proper size, you can serve them at a crowded party so that everyone can enjoy their dessert without sweating. Plus, this finger food is also easy to reheat in batches. Thus, you can also treat its leftovers as a quick breakfast or snack when in a rush.
Notably, having an egg wash is a crucial step before baking if you love the golden brown color of pie. Specifically, the right mixture proportion should be one whole egg with a tablespoon of water. Just make it as directed, and your pocket pie will be glossy.
Total Time: 50 minutes
With the presence of sweet potatoes, this banana bread is a healthier recipe than other regular ones. The delight is a moist and fluffy bread loaded with chocolate chips, which makes a balance of sweetness and bitter earthiness.
A big plus for this sweet bread recipe is that it is effortless to make. All you have to do is mix the wet ingredients and dump the mixture into the dry, then bake. Just simple like that! And you have the yummy bread ever to satisfy everybody in the family, even the pickiest.
But, you must work on the following tricks to have the best version. First, get the ripe banana, the one that has brown and spotty skin. It is sweeter and softer, which is suitable to make into a baked good. Also, let the bread stay still for 20 minutes to keep the beautiful loaf shape.
Total Time: 20 minutes
Sweet potato fries are an incredible dish to treat as a dessert for dinner or snack for night movie weekend. Not only are they delicious, but these fries are also simple to make. Cutting, butter coating, frying, and coating with spices are all you do to prepare this sweet treat.
Unlike regular potatoes, you do not need to soak or rinse sweet potatoes since there is not much difference between them. Instead, you should notice the frying step to gain the perfect result, a crispy texture, and a quick cooking time.
Specifically, an air fryer preheating is a must to get your fries cooked evenly. If you do not preheat, you may mess up your recipe time and pay for even more effort to fix things.
Also, you should not fill more than half of your air fryer with fries. Although these fries can overlap with others in the fryer basket, they still need space to let the temperature cook through. So you need to bake the fries batch by batch in case of many fries.
If you do not have an air fryer, you can try these healthy sweet potato fries baked in the oven!
Total Time: 1 day 1 hour 10 minutes (including one day of resting time)
Sweet potato rum pound cake is similar to Southern baked goods with fall spices but more special with the sweet potato and rum flavor. Besides, the velvety texture with delicious moistness, all combined into a dessert, could not be more beautiful to lay on an after-meal table.
Also, the presence of rum has helped this delicacy keep longer at room temperature than other cakes. In particular, if you store it covered with plastic wrap, your cake will remain moist for up to five days. But just to be sure, keep an eye on it often.
And if you want to save them for lengthy storage, you should freeze them. The correct way of freezing would be two layers of covers, one with plastic wrap and the other with foil. This way, your cake will keep for up to three months.
Total Time: 1 hour 15 minutes
Sweet potato chocolate cake is a luxurious dessert that is free of gluten and dairy. Instead of milk or store-bought dough, sweet potatoes are the soul of this recipe. Not only does its starch content help the base firmly, but it also contributes to the frost texture.
Specifically, when cutting through the cake, you will see two beautiful layers: the bottom layer is tender and chocolatey, and the top frost is creamy and full of peanut butter. Therefore, I am sure the sweet potato ingredient in the cake will be a real eye-opener for everyone.
So with the importance of sweet potatoes, spending time on their preparation is a must. After mashing, you should pat them dry with a paper towel since the less moisture retained, the firmer the cake base.
But if you want to make this delish recipe with canned sweet potatoes, add a couple of tablespoons of coconut flour to compensate for their high moisture content, or the cake may be soggy.
Total Time: 1 hour 40 minutes
These twice-baked sweet potatoes are super mouth-watering and trouble-free to create. The food includes sweet potato flesh seasoned with butter, cinnamon, cream cheese, pecans, and brown sugar.
Plus, the top of a marshmallow makes them like an individual version of sweet potato casserole. So you should serve these bakes at Thanksgiving or any special occasion. I am sure that it is fancy enough to impress everyone.
First, you need to bake sweet potatoes until they are soft. After they are cool, scoop their flesh out and mix with other ingredients before baking for 15 minutes. Then top with marshmallows, bake for an extra time until golden brown, and serve.
Total Time: 1 hour 5 minutes
Sweet potato chocolate mousse is another healthy and vegan recipe to treat as a dessert. It has an airy and light texture with a nice brown color.
Once having a heaping spoon, you will be surprised with the balanced flavor of chocolate and sweet potato – bitter and sweet, yummy taste!
And do not let the total time scare you because you need only five minutes to complete this dessert once the baked sweet potatoes are ready. Just place these sweet potatoes and the rest ingredients into the food processor and blend them well. Then chill and wait to serve.
Total Time: 38 minutes
Sweet potato brownies are an amazingly delightful combination of sweet potatoes and chocolate (if you are a chocolate addict like me). They have perfect moisture and tenderness followed by a slightly sweet yet bitter and earthy flavor.
Besides, this recipe is vegan-friendly with sweet potatoes, maple syrup, almond butter, and other plant-based products. So you can comfortably entertain any of your friends with this. Simply dump everything and bake for a quick and comforting dessert!
If there is any leftover, you should put it in the airtight container in the fridge. It can keep the quality for about one week. Indeed, one-to-two-day refrigerated brownies taste best with their dense and fudgy texture. So it is worth a try!
How to make vegan-friendly sweet potato brownies? Here is the answer!
Total Time: 60 minutes
Sweet potato cupcakes should be your next favorite dessert on upcoming occasions, especially for a birthday party. Not only do they look gorgeous, but they also have the perfect size to decorate and serve. Your kids will surely love seeing the cake tower with these cuties.
While they may not be as fluffy as the vanilla cupcakes, they still satisfy sweet tooth lovers with extra-sweet, thanks to the showing of sweet potatoes. Besides, this delicacy also has a loaded fall flavor of crunchy pecans and cinnamon.
Besides a caramel note of maple syrup and coconut sugar, all ingredients harmonize into a warm sweet taste. What's more, the creamy frost on top made from coconut oil and almond milk will elevate the sweetness and aroma of the cupcake to a new level.
Total Time: 25 minutes
Sweet potato snickerdoodles are a special type of cookie. Besides containing similar ingredients as sugar cookie dough, they also have the cream of tartar. That's why they have an iconic tangy taste and stand out in the cookies.
Plus, sweet potato snickerdoodles also have an impressive appearance. While on the outside, it coats on the attractive golden brown color with a nice crunch of cinnamon sugar, its interior has a chewy and soft texture, thanks to the brown sugar's existence.
If you let the cookies stay on the counter at room temperature, they will keep up for five to six days in an airtight container. Or you can store them in the freezer. They will remain unchanged for up to three months.
Total Time: 1 hour
Mini sweet potato pecan pies are the smaller version of everyone's favorite Southern staple, sweet potato pie. With its ideal bite-size, this dessert is suitable to serve as finger food at big parties or family dinners.
This recipe is dairy-free and gluten-free with all vegan ingredients. So if you have a dairy or gluten allergy, you will be safe eating this one.
Notably, the delicacy is full of aromatic flavors. Before serving, the sweet and spicy cinnamon mixed with the aroma of potato has already warmed your whole house with a lovely scent. Then you take a bite and find its magical texture and flavor.
They are crispy top to bottom but with a tender and chewy center of sweet potato and sugar cut through, which creates a strange feeling of eating. Meanwhile, sweet potato and pecan flavors make up a naturally sweet yet smoky flavor that will satisfy all sweets.
Total Time: 30 minutes
Sweet potato donuts are luscious baked goods to serve as dessert. They have both advantages of flavor and appearance that lead to a win-win situation. Not only do you win the taste of sweet potato cake, but you also win the texture of a donut.
In particular, the delight has a soft and super moist yet slightly chewy texture, which is just like how a donut should be. Meanwhile, the dessert flavor has a warm tone of nutmeg and cinnamon in combination with the sweetness of a brown sugar glaze.
Let's jump in this healthier version of baked sweet potato donuts!
How Many Dessert Recipes Did You Pick From The List?
You did it! You have been through the 27 best sweet potato desserts and their most important information. Now you can take some sweet potatoes and make several mouth-watering sweets to treat your beloved family.
So how many recipes did you pick? Let me know your thoughts in the comment box! I would love to know what you think about the list.
Plus, please do not hesitate to click like and share this post with everyone on your friend list if you are fond of my sweet potato dessert list. Thank you, and I wish you all the best!