What are the best sweet bread recipes? For all enthusiastic sweet lovers, life would be so boring without the sugary and tasty sweet treats. But you have gotten fed up with the store-bought sweet bread with similar flavors and textures.
Therefore, I have compiled the most delicious and easy-to-prepare sweet bread recipes to diversify your meals. They involve various ingredients like fruits, candies, and even chocolate, creating distinct and tasty flavors that will amaze you.
In addition, these recipes are also simple to make with familiar ingredients and tools, suitable for people who are short on time or don't have a lot of cooking skills. These fabulous desserts and snacks will add more fun and pleasure to your day.
No further ado! Keep scrolling down, and I will walk you through a paradise of sweet bread.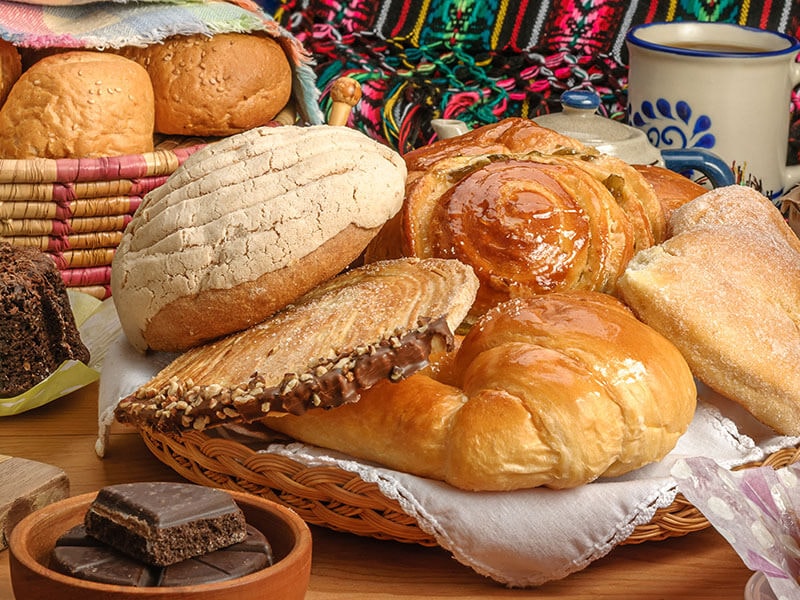 These 25+ Best Sweet Bread Recipes Will Blow Your Mind
From the sugary taste of sugar and honey to the sour undertone of lemon or the mild bitterness of chocolate, this list contains all the flavors and textures you crave. Each dish has a unique taste, texture, and appealing appearance that no one can resist.
Just pick the dish that suits your taste and available time. If possible, I recommend you try all these recipes to discover their fabulous flavors. It would be an amazing cooking and culinary experience. Now let's jump straight in.
Total time: 1 hour and 30 minutes
Cream cheese-filled banana bread is among the best homemade sweet dishes with bananas due to its simple preparation and flavorful taste. It features a super moist and tender texture and a creamy cheese layer. It's a perfect dish for cheesecake and banana lovers.
I didn't exaggerate when saying this dish is among the easiest stuffed bread recipes since it requires only familiar and easy-to-find ingredients: cream cheese and ripe bananas. The cheese flavor and the pleasant sweetness of ripe bananas are just irresistible.
To prepare this dish, you will need eggs, sour cream, ripe bananas, oil, and sweeteners for the batter. For the cream cheese layer, prepare some additional eggs with cream cheese, and that's it.
For the best banana bread batter, I recommend using the brick-style cream cheese with high-fat content. The ones with low fat are also compatible, but they don't work as well. The baked cheese-filling bread can last for a whole week in the pantry, so don't refrigerate it.
Learn to make the tasty cream cheese-filled banana bread through this short tutorial!
Total time: 1 hour and 15 minutes
Look at this exotic red velvet banana bread crust glazed with cream cheese icing. Its appealing appearance brings so much vitality and joy to your day, not to mention the filling full of chocolate and sweet banana flavor. This dish is simply a must-try.
Making this chocolate banana bread is just child's play. Start with mixing the mashed banana and sugar with butter and vanilla using a hand mixer. Add two eggs (one at a time) and keep mixing until you get a smooth texture. Finally, pour in sour cream and mix until it fully combines.
Then switch to making the bread batter by blending baking soda, cocoa powder, salt, and flour in another bowl. You will need the food coloring to create the vibrant reddish color of the bread batter.
Finally, add chocolate chips and bake the mixture for approximately one hour. Let the baked bread rest for a while and move on to make the cream cheese icing (a mixture of milk, powdered sugar, and vanilla). Glaze the creamy icing on the finely-baked bread to serve!
Total time: 1 hour and 20 minutes
Here comes another yummy cream cheese banana bread filled with everyone's favorite fruit: strawberry. The cream cheese and ripe banana duo never get obsolete. When complemented with fresh strawberries, it becomes a fabulous combination.
It's an excellent dessert packed with strawberries to end your meal or a light snack in the early morning. The refreshing strawberries dice infused in the crispy golden brown bread make this dish look like a little heaven in your kitchen.
This strawberry banana bread tastes somewhat like a pound cake with a tart and filling flavor. Try cutting the baked bread into thin slices, and you will see a moist and tender texture emitting a fabulous aroma.
Total time: 28 minutes
Imagine the beautiful crispy yellow Danishes with the runny cream cheese glazing on top. Each bite gives a cheesy and sugary flavor from cream cheese and vanilla extract, with a mild buttery undertone. This dish is the real heaven for treat lovers.
As its name suggests, preparing these cheese Danishes is just a cup of tea. It uses all store-bought ingredients like butter, sugar, milk, cheese, and crescent rolls. The critical thing is combining the components in the proper ratio.
The first step is making the Danish batter. Mix the softened cheese with sweeteners until they fully combine. Then spread your crescent rolls into several rectangles and brush them with butter. Each rectangle takes up two rolls, so prepare the amount you prefer.
Then, roll up each rectangle from its long side and shape it into a swirl Danish shape. Use your finger to press and create a space at the Danish's top, then pour the prepared dough into that spot. Bake until they turn golden brown, and serve hot!
This is the only guide you need for making easy cheese Danishes!
Total time: 43 minutes
Your kids will surely love this colorful dessert made with ice cream and Funfetti, which requires only several minutes to prepare. Yes, you didn't hear it wrong. All this bread takes is store-bought self-rising flour, vanilla ice cream, and rainbow sprinkles.
The rainbow sprinkles are the soul of this bread, giving it a colorful and festive appearance. They also add a pleasant yet not-so-powerful sweetness to the dish. If the vanilla ice cream is insufficient, you can glaze the bread with additional sweeteners to enrich its flavor.
Fruit toppings like lemon, strawberry, or whatever you have on hand can work well with this recipe. The flavors and components combine together magically, creating a heavenly dish that can satisfy any sweet tooth.
Total time: 1 hour and 25 minutes
Chocolate and raspberry are perhaps the best sweet treats in the world. By combining these two fabulous ingredients, this chocolate chip raspberry will put a cheerful smile on your face. Let me walk you through the quick steps to prepare this delicious bread.
Firstly, mix together the milk, sugar, egg, vanilla, and oil in a medium-sized bowl. Find another bowl and combine baking soda with flour and salt. Mix the two textures and add chocolate chips, then pour the batter on a greased pan to bake.
Since the raspberry doesn't taste so sweet after baking, you should let the bread rest for a while, and the flavors will start to add up. You can prepare the bread a few days ahead and enjoy it later. Remember to cover it tightly before refrigerating.
Total time: 1 hour and 15 minutes
Did the Starbucks pumpkin bread hook you up? Thanks to this simple copycat pumpkin bread, you may never need to attend a Starbucks store again. Preparing a homemade version of this delicious dessert with pumpkin will save you a lot of money and time.
With the available ingredients in the pantry like sugar, eggs, pumpkin puree, and baking materials, this pumpkin bread brings a similar flavor at a relatively lower price. It features a moist and tender crust with a hearty sweetness of pumpkin puree.
In addition, you can garnish the bread with more pumpkin seeds to enhance its filling flavor and aroma. Remember to choose the pepitas, the green and smaller pumpkin seeds. You can also freeze the bread in whole or slices to enjoy it later.
The copycat Starbucks pumpkin bread is even better than its original version. This guide will show you why.
Total time: 1 hour
I'm glad to bring you a delicious bread recipe with the classic banana and chocolate flavor. Their natural sweetness and bitter taste combine so well, giving you a satisfying burst of flavor in each bite.
Another thing I love about this bread is its dark brown texture. The batter is super moist and tasty, with beautiful chocolate chips on top. It's also more than easy to make with only 15 minutes to prepare.
Whether you use available bananas in the pantry or purchase from the store, ensure to select the overripe ones (with black spots). They give a more powerful sweetness and a richer flavor, not to mention their abundant source of antioxidants.
This double chocolate banana bread can be frozen or left at room temperature, covered in a bag. Serve the bread with a yummy cup of tea or coffee. It's an ideal breakfast or afternoon snack for busy people.
Total time: 1 hour
If you have gotten fed up with the banana bread, try this tasty cinnamon swirl buttermilk loaf. The filling sweetness of the vanilla glaze is good enough, but the real highlight of this bread is its delicious cinnamon sugar swirl.
Obviously, the ingredients needed for this recipe are flour, baking soda, butter, egg, and seasoning materials. After baking the bread, don't rush to enjoy it yet. The buttermilk loaf gives a better flavor when it's cool, so you can prepare it ahead of time for the morning.
Since buttermilk is quite hard to find, you can use a mixture of white vinegar or lemon juice and milk as a substitute. Also, mix the bread batter gently and stop when all the components are fully combined to avoid lumps or a thick texture.
Preparing this cinnamon swirl buttermilk loaf is much easier than you think. Follow this instruction to find out!
Total time: 25 hours (including time for soaking dried fruits)
Everyone knows and loves famous German sweet treats and drinks made of yeast. If Christmas is coming, why not prepare this German Stollen yeast bread to make your holiday more special? Its nutty and fruity flavors and cookie-like brown color will surely satisfy you!
Making the German Stollen bread is very straightforward. Start by mixing rum with dried fruits and prepare the candied zest. Then make the bread dough and combine it with almonds, dried fruits, and candied zest.
Finally, garnish the baked bread with a layer of powdered sugar and melted butter to serve. You can prepare one large or many mini-sized Stollen bread bites. This recipe involves many steps, but the tasty final result is a worthy trade-off for your time and effort.
Total time: 55 minutes
A soft pumpkin bread filled with chai spices and maple syrup is the best treat you can have in the fall season. Its caramel yellow color reminds me of the peaceful autumn leaves and atmosphere.
This pumpkin bread is a perfect blend of maple syrup's sweetness and rich flavors of chai spices. Despite its exquisite taste, this tasty bread is very simple to prepare. The pumpkin puree is mixed with Greek yogurt, creating a super soft and creamy bread batter.
The pure white glaze of milk and maple syrup adds more beauty to the bread. Drizzle it on the stack of bread slices generously and serve with a cup of hot tea. Put a thick and whole bread slice in your mouth to sense autumn goodness.
Making pumpkin bread with maple chai frosting is more like a leisure act!
Total time: 1 hour and 5 minutes
Here comes another yummy dessert for people loving cranberries, pecans, and a chocolate glaze. Its hearty and filling flavor, combined with the stunning look, will impress everyone at the table.
You may wonder why chocolate glaze has that runny texture. This recipe uses heavy cream mixed with white chocolate for its glaze, creating that creamy goodness. This cranberry pecan cake is full of warmth and vitality, making it a great dessert for Christmas.
First, mix the baking soda, salt, and flour in a large bowl. Then, combine butter, sugar, eggs, and vanilla in a separate bowl until you get a fluffy and tender texture. Alternatively, blend the two prepared mixtures with additional buttermilk until they fully combine.
Finally, add cranberries and pecans into the mixture. Bake on a hot pan for around 1 hour before drizzling it with chocolate glaze. Add more pecans or any fruits you prefer to enjoy!
Total time: 1 hour and 10 minutes
This lemon poppy seed bread gives a tangy and mild sweetness with a pleasant sour undertone. The shiny and mood-enlightening texture with a vibrant orange crust will instantly cheer you up at first glance.
It's hard to find any recipe with simple preparation, delicious flavors, and healthy nutrition like this lemon poppy bread. You need to use a lot of lemon juice and zest to highlight its distinct sour taste.
Use new and fresh lemon juice instead of the store-bought to avoid tartness. Though you need 3 tablespoons of lemon zest and more than one cup of lemon juice, you can reduce the amount depending on your taste. You should also be careful with the baking process.
Ensure that the ingredients are fresh and stored at normal temperature so they can combine well. Patiently bake the bread, or it will get overbaked on the outside while the inner filling isn't done yet.
What creates a good lemon poppy seed bread? Let this guidance enlighten you!
Total time: 1 hour and 10 minutes
As its name suggests, Hawaiian banana bread is a fabulous tropical dessert with familiar fruits like banana, coconut, and pineapple. They bring to this dish a refreshing texture with a pleasant sweetness and fruity taste.
This bread's light golden brown crust looks like sunshine, which will instantly brighten your mood. The first time I encountered this treat, its fabulous aroma made me feel like enjoying the early sunrise on the beautiful Hawaii island.
Obviously, all you need to do is combine all the ingredients and bake the batter. This bread is much simpler to make since it doesn't take time to rise. You can use the unsweetened coconut flake, but the sugary one will add more flavor to the dish.
Total time: 3 hours
Christmas is not only about Santa Claus, gifts, and family gatherings. It's also about the yummy sweet treads like this tasty Christmas star bread, an easy but not less flavorful dessert to celebrate the occasion.
The staple ingredient for this bread is Nutella. Besides the nutty and sweet taste of cinnamon sugar, this bread possesses a star-shaped appearance with beautiful decorations. Preparing this appealing star bread will challenge even the most adept bread makers.
You should use a little salt in this recipe. Though it may sound weird, salt will make the flavors of the bread better. If you can't find Nutella, other fillings like cinnamon sugar or jam can apply to this bread.
Even people with moderate bread-making skills can create the Christmas star bread, thanks to this guide!
Total time: 50 minutes
I still remember the orange yogurt bread my grandmother made in the old days. Its tangy and naturally sweet flavors are among the most beautiful memories of my childhood. This recipe doesn't involve any refined sugars or artificial sweeteners, yet its yummy flavor will stun you.
The orange yogurt bread is also suitable for people on diets. The orange juice and honey duo are also healthier than the commercial sweeteners, giving you a satisfying sugary taste without gaining weight. It also contains minimal protein with no egg yolks used.
Like the other quick bread, this orange yogurt bread features a super soft and fluffy texture. If the fresh orange juice is sour, you can add more honey to give it a richer flavor. Just bake the bread for around 30 minutes until it turns into a nice golden color.
Total time: 40 minutes
The good old pumpkin bread never gets obsolete as one of the best sweet bread recipes. Its vintage golden brown texture, combined with the beautiful maple glaze layer, reminds me of old memories of my childhood.
There are numerous pumpkin bread variations, but this recipe is a bit more special. It contains minimal dairy products and sugar suitable for people following a healthy diet. Nevertheless, this bread tastes more delicious than any store-bought sweet treat.
To make the bread more healthy, I recommend you use low-fat buttermilk. You can blend milk with half a teaspoon of vinegar to make the homemade buttermilk, which makes the bread rise as desired. You can also use non-fat milk for making the maple glaze.
Total time: 1 hour and 30 minutes
Apple is everyone's favorite fruit, which is prevalent in juice, smoothies, and desserts. The apple fritter bread is a brilliant way to enjoy the satisfying sugary taste and freshness this fruit brings.
To prepare the most delicious dessert with apples, you first have to mix the ingredients in three bowls. Start with mixing fresh chopped apples with cinnamon in the first bowl, then combine cinnamon with sugar in another one.
Mix eggs and sugar with oil, vanilla, and sour cream in the third large bowl until the ingredients are well-combined to make the bread batter. Choose a medium-size loaf pan and bake the batter for half an hour until the crust turns golden brown.
You should cover the bread with foil when the bread is nearly done to avoid overbaking its crust. The bread can last up to 6 days in the pantry or 6 months in the fridge. But freezing it will drain all the moisture and dry the texture.
How to create the most authentic apple fritter bread? Let this guide show you!
Total time: 1 hour
Here comes another delicious lemon poppy seed bread filled with lemon and Chamomile tea. If you are bored with oily and protein-packed dishes in the morning, this bread is a healthy and simple breakfast to start your day.
A great thing about this bread is that it incorporates Chamomile tea, a natural ingredient made from Chamomile flowers. It not only gives the bread a distinct and gentle fruity note but also brings tremendous health benefits.
With this recipe, you can freely indulge your sweet tooth without worrying about gaining weight. Its super tender and moist texture is also a plus point to this bread. Serving the Chamomile seed bread with a cup of hot tea on a cold morning brings you real satisfaction.
Total time: 20 hours and 30 minutes (including 19 hours of fermenting)
While regular bread requires commercial yeast, these sourdough Danish pastries are naturally leavened. They use the sourdough dough made of sourdough starter mixed with butter. It brings a distinct flavor and contains many beneficial bacteria.
The texture of these sourdough pastries is a bit chewier than the other bread, but it still retains the tenderness of a delicious treat. They have a tangy and oddly satisfying flavor, making you hook up at the first bite.
Inside these appealing pastries are the thin butter layers blended with the dough, giving a yummy buttery taste and fabulous scent. Try serving the Danish pastries with a cup of coffee in the morning. I guarantee that you'll have an unforgettable culinary experience.
Total time: 1 hour and 10 minutes
Peanut butter mixed with bananas and chocolate is a fabulous trio that can satisfy any sweet tooth. Imagine a pleasant sweetness combined with a buttery and bitter undertone melting softly in your mouth! The flavors of this quick bread just come out so well.
The finely baked golden brown crust topped with appetizing chocolate chips makes the peanut butter banana bread so appealing. Its texture is like traditional banana bread but slightly denser and drier.
Before adding peanut butter to the bread batter, you should beat it in advance. Doing this will soften the butter and help it incorporate the other ingredients better, creating a creamy and smooth bread batter.
All kinds of chocolate chips work with this recipe, so use the one you have on your hands. But I would not recommend topping bar chocolates before baking, as they can melt and burn the bread's crust. Just add them after the bread is done.
Have fun preparing the peanut butter banana bread with chocolate chips with this help!
Total time: 1 hour and 10 minutes
Strawberry is like a magical ingredient with its fruity sweet taste and appealing, vibrant red appearance. Adding this fruit to any sweet dish or drink always comes out so tasty. If you are a life-long strawberry addict, don't skip this delicious strawberry sour cream bread.
This recipe is all about strawberries, from fresh strawberries incorporated in the batter to the creamy strawberry glaze. The balance between wet and dry ingredients results in a moist and irresistible bread texture.
You can garnish the bread glaze with more mashed strawberries and powdered sugar to enhance its sweetness. It also gives the bread an exotic reddish appearance that can easily impress everyone at the table.
Total time: 25 minutes
Not long after you have had a full meal, the craving for sweet treats starts to kick in. Don't miss your chance to recreate a loveable caramel apple treat with this recipe. Not having a delicious treat at hand to indulge your sweet tooth is a real nightmare.
That's why I want to introduce you to this easy and delicious canned biscuit recipe. The name monkey bread may sound daunting, but it's just baked biscuit dough chopped into small bites.
Before baking, the biscuit bites are mixed with sugar and apple pie spice in a Ziploc bag. Making this apple monkey bread is very simple using the store-bought canned biscuit.
This bread's vintage and classy golden texture makes it perfect for the fall season and Christmas.
What makes a good caramel apple monkey bread? Follow this guide to find out!
Total time: 1 hour and 15 minutes
No dish can surpass this oatmeal pumpkin bread for a peaceful fall morning. Its fall-inspired texture topped with apple cider sauce and pecans is simple yet appealing. This bread is a comforting dish that will make you forget all the hustle and bustle of life.
There's a simple trick to help you check the bread batter's center. When its crust turns brown in the oven, insert a knife into the batter. If the knife comes out clean, the batter is finely baked. You should cover the bread's top with foil to avoid overbaking after thirty minutes.
Also, ensure that you use the pure pumpkin puree in this recipe to achieve the most delicious taste. It's best to serve and store the oatmeal bread at room temperature, keeping it good for two days. Enjoy it with a cup of coffee, and you're good to go!
Total time: 1 hour and 5 minutes
Greek yogurt gives the baking goods a tender and moist texture that melt softly in the mouth. That's why I always love sweet bread using Greek yogurt. If you have some left-over ripened bananas in the pantry, don't hesitate to try out this Greek yogurt banana bread.
The selling points of this recipe lie in its simple preparation and flexible choice of ingredients. You can add your favorite toppings like chocolate chips, fruits, or walnuts. They combine so well with the sweet banana, creating a satisfying and heavenly flavor.
All types of yogurt like vanilla sour cream, flavored and traditional yogurt are applicable. But the plain and unsweetened Greek yogurt is the best since it balances the powerful sweetness of the bread and adds more moisture.
It also contains less fat than the other products, which is ideal for diet followers. Don't worry if you don't have fresh and ripened bananas. The frozen ones work with this recipe, but remember to mash them thoroughly before mixing them in the batter.
This instruction for making Greek yogurt banana bread is so simple that even beginners can follow it.
Total time: 3 hours and 10 minutes (including 2 hours of rising)
Instead of the fresh apple, this recipe uses apple butter, which adds a delicious fruity flavor and buttery undertone to the bread. The gooey caramel glaze spreading on the crispy and finely baked crust will amaze you.
To prepare the bread dough, mix sugar, flour, yeast, and salt in a large bowl. Combine the ingredients in a stand mixer at low speed, then gradually add liquid components like milk, eggs, vanilla, and water.
Adjust the amount of water so the batter becomes moist and smooth. Then cover and let it rise for an hour in a greased bowl. Finally, roll and divide the dough into equal rectangular pieces (about 12×20-inch large).
The last step is cutting and assembling the batter before baking. Let the baked batter rest for a few minutes, and spread the caramel glaze (a mixture of butter, brown sugar, and heavy cream) on it. This recipe takes time and patience, but the result will satisfy you.
Stop Your Crave With These Delicious Sweet Bread Recipes Now!
I would like to give an immense appreciation to the creators of these best sweet bread recipes, who put their whole soul and heart into these exquisite delicacies. As a sweet treat lover, you deserve the yummiest desserts like these sweet bread.
Besides the satisfying taste, they are simple to make and involve mainly store-bought ingredients. You can choose a recipe matching your personal preferences and available components, though I recommend you try all the listed recipes.
Whether it's an occasional snack or a light breakfast, these sweet bread dishes can surely meet all your requirements. I hope that you had a pleasant time reading this post. If possible, comment and tell me which recipe you like best.
And lastly, don't forget to share the post if you find the information provided interesting. I'm really thankful for spending your precious time reading it!
Nutrition Facts
10 servings per container
---
Amount Per ServingCalories210
% Daily Value *
Total Fat 10.9g

17

%
Cholesterol 65mg

22

%
Sodium 147mg

7

%
Potassium 152mg

5

%
Total Carbohydrate 27g

9

%

Dietary Fiber 0.7g

3

%
Sugars 21.2g

Protein 3g

6

%
---
Calcium

35

%
Iron

1

%
Vitamin D

7

%
* The % Daily Value tells you how much a nutrient in a serving of food contributes to a daily diet. 2,000 calories a day is used for general nutrition advice.