As you already know, Swedish foods are more than just meatballs. It is one of the most diverse cuisines, as the Swedes combine both the element of sweetness and savory in their foods. From topping toast with lingonberries to filling dumplings with blueberries, you name it.
Like any other country, food plays a big part in enhancing Sweden's national identity. Take some time to read my suggestions and, who knows, you might even find some new favorite dishes to enjoy with exotic Swedish drinks. Keep on reading to find out more!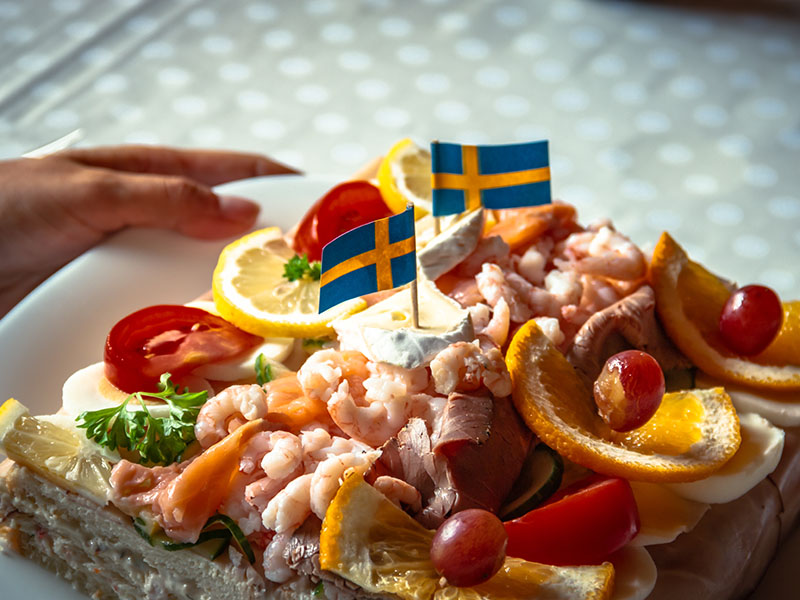 Breakfast is indeed the most important meal of the day. And the Swedish people don't take their first meal of the day lightly. These dishes below are some of the most typical Swedish breakfast menus you can easily make at home. Let's dive in!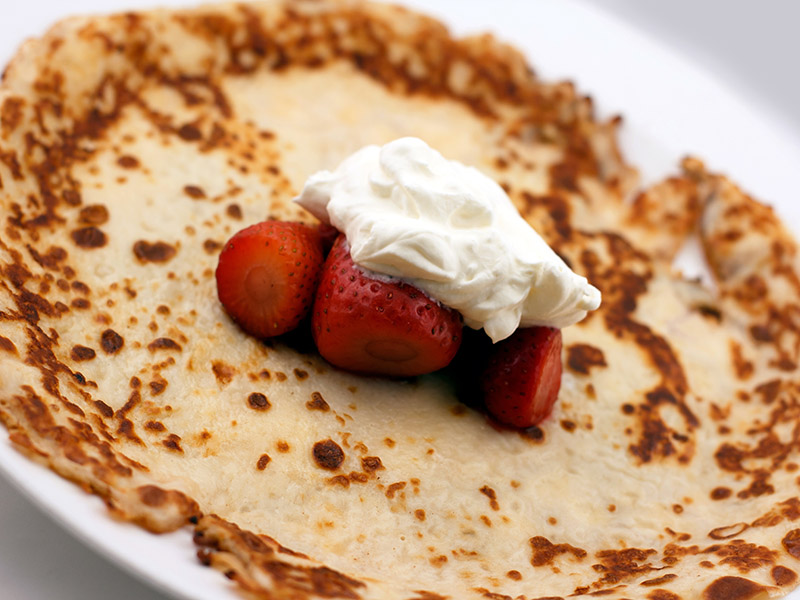 I have to mention pancakes when talking about breakfast. In today's situation, I'm talking about Swedish pancakes. And no, they're not the regular kind of pancake you have with maple syrup. These are much better!
At first sight, it might be a challenge for you to differentiate between crepes and Swedish pancakes. But you will know once you take a bite, as crepes are usually chewy and thick thanks to the flour. As for Swedish pancakes, they are much lighter since they use more eggs and butter.
However, try not to be deceived by the light texture, as Swedish pancakes are very buttery and fluffy. Make sure you can find premium butter for your Swedish pancakes as this ingredient will give the dish a rich flavor.
Swedish people have a tradition of having pancakes together with soup on Thursdays. This custom is believed to have started in Catholic churches in Sweden back in the 15th century. These churches used to serve big meals on Thursday for the forthcoming Friday fast.
This act, later on, became a well-loved tradition for almost every Swedish person. In school, there are times when they serve Pannakakor with jam instead of pea soup since children dislike this type of soup.
This is how you make pancake the Swedish way, quick and delicious!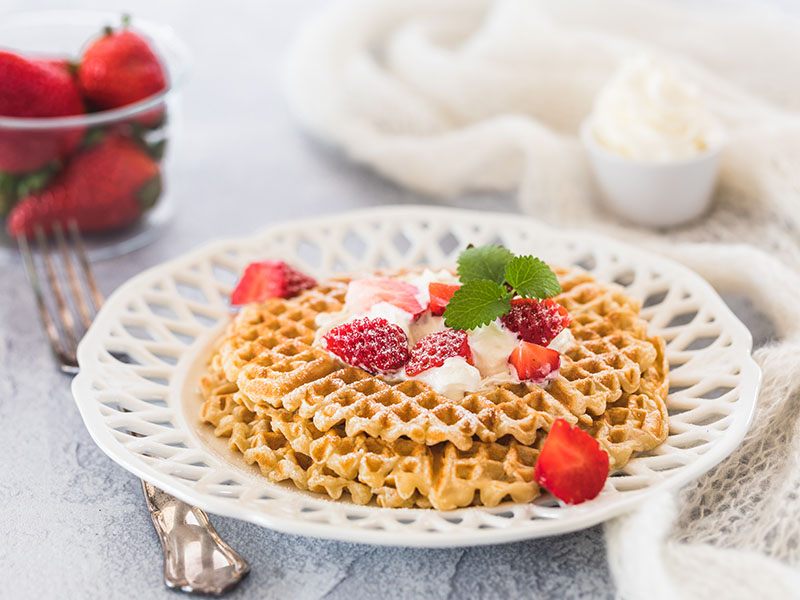 I bet you are no strangers to waffles, your good old breakfast menu. And, I can guarantee you're not going to love this version of Swedish waffles any less.
Unlike the American or Belgium versions of waffles, Swedish waffles are slightly thinner and crispier. Another difference is that they don't contain any yeast in the recipe. This feature makes the texture somewhat similar to your regular pancakes.
Back in the day, Swedish waffles used to come in square pieces. Now, they boast the famous heart shape and other patterns. And they can also go with jam and ice cream as a dessert dish.
Like their love for pancakes, the Swedes also established a day when they especially enjoy eating waffles, which is May 25th. This day has a very fitting name: Våffeldagen – Waffle Day.
It might be a surprise to learn that Våffledagen used to be a significant event in the past. As waffles contain eggs and milk, the Swedish farmers considered Våffledagen a time to celebrate a new farming season and an enlarged amount of eggs and milk.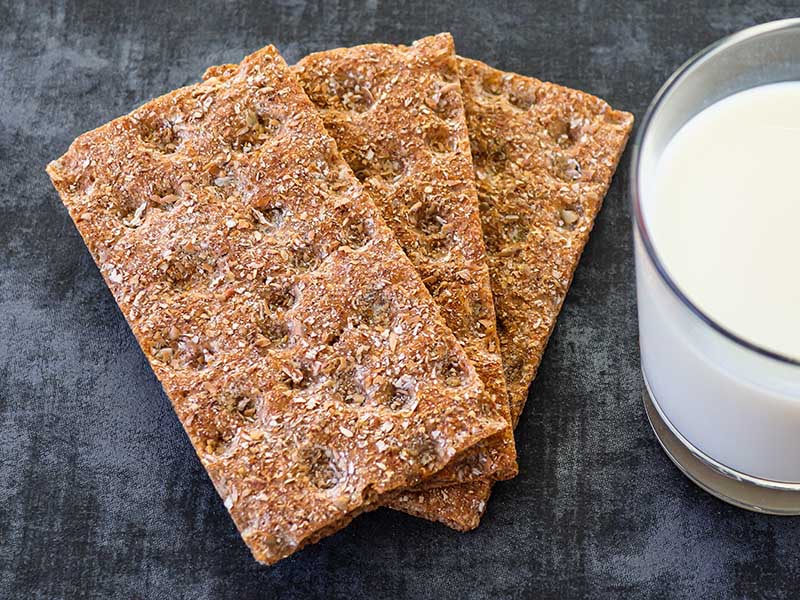 Knäckebröd, or crispbread, is a Swedish original type of bread that's unique in both taste and appearance.
Crispy bread originally consisted of yeast, wholemeal rye flour, salt, and water. These days, people also add different grains and seeds like sunflower or sesame seeds into their recipes. Some recipes may include milk as well.
In terms of shapes, knäckebröd usually are circular with a hole in the middle. This hole made it easy to store these loaves of bread in the kitchen on long poles. One fun fact about making Knäckebröd is people used to add snow or ice into the dough that evaporates in the baking process.
Since this crispy bread is somewhat plain and slightly salty, they taste best with a few spreads of butter or jam. If you want to turn your Knäckebröd into a meal for lunch, try adding a slice of cheese with some eggs and tomatoes.
But, if you're like me and prefer the authentic Swedish experience, I have something in store for you. Simply spreading some butter on top of your Knäckebröd will do perfectly fine!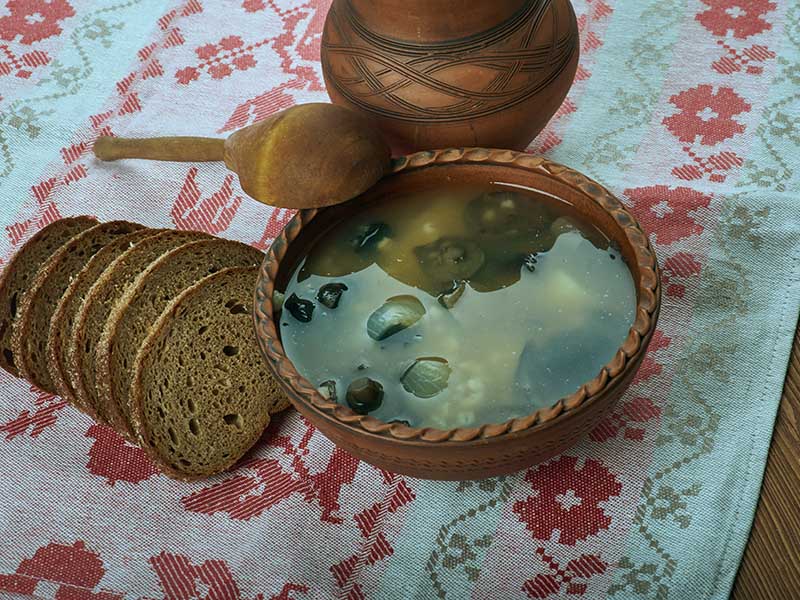 There's no need to beat around the bush with mushroom soup. It's everyone's favorite comfort food. And the Swedish strongly agree!
The Swedish people take great pride in their mushrooms, especially golden chanterelle. It's a mushroom that grows everywhere in Sweden from July to September. And, when traveling to Sweden, you will find that most Swedish people consider this the best kind of mushroom.
Because of the bright color and delicate aroma, golden chanterelles are perfect for this soup. When cooked, they will create this melty texture with a light fruity note, making it a fresh twist on the mushroom soup.
Since Sweden's landscape is 70% forest, surrounding the Swedish people is an abundant ecosystem of plants and trees. Every fall, almost every Swede enjoys picking mushrooms. It's a long-established custom that everyone in Sweden looks forward to doing.
Nettle soup may not be a popular dish for everyone, but it's a different story for the Swedish. A bowl of nettle soup is the best way to tell whether spring is coming in Sweden.
Nettle soup comes from young nettle buds that especially grow in springtime. The Swedish people love this dish as it's tasty and nutritious. A bowl of nettle soup can supply you with an abundance of iron, calcium, and vitamin A.
The full name of this kind of leaf in the soup is stinging nettle. The reason is because of the tiny hairs that can irritate your skin. But worry not since these hairs disappear once you start boiling the nettle leaves in water.
The best way to enjoy this dish, according to the Swedish, is to top the soup with some creme fraiche. It's even better if you can serve it with a side of croutons.
Bring the spring breeze into your kitchen with this tasty nettle soup.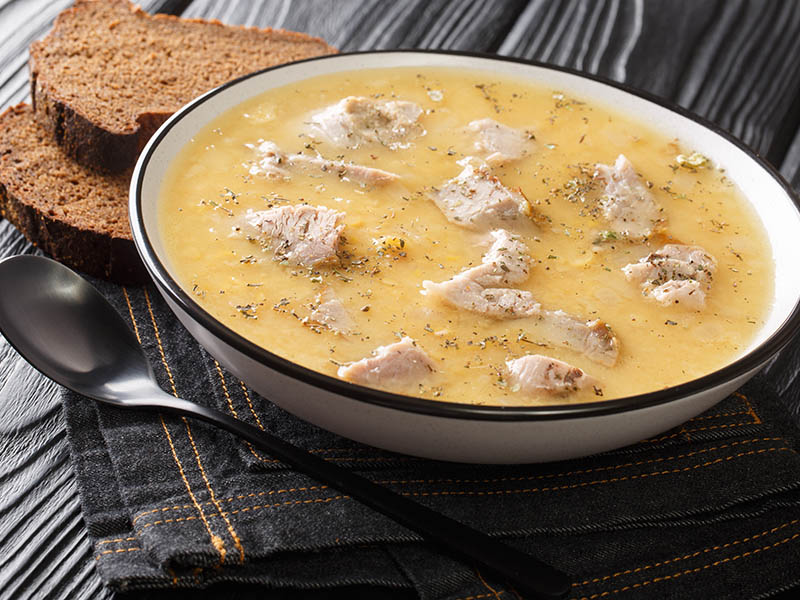 Alongside the aforementioned Swedish pancake, yellow pea soup is another dish the Swedish traditionally enjoy on Thursdays. This specialty is a Swedish cuisine staple that has been around ever since the Middle Ages.
It is amazing how this dish is still an ongoing custom up until now. A typical bowl of yellow pea soup contains the main ingredient of yellow peas, some ham, and vegetables like celery and onions.
For Swedish people, their yellow peas mostly come from Öland island. This island is the second-largest island in Sweden. It is famous for growing yellow peas and other crops like strawberries, corn, garlic, etc.
The Baltic Sea has so much to offer to the Swedes in terms of its fish and other coastal delights. Thus, Swedish people have countless ways to prepare their exquisite seafood, from brining to frying. So, it's time I went into detail about these amazing traditional Swedish seafood dishes.
Skagenröra is a type of seafood spread in Sweden. Unlike regular toast spreads, this one is extra chunky because of the little shrimps or crayfish.
This dish is a perfect fit for you if you prefer something creamy yet fresh and light. The mayo will create a smooth mouthfeel against your taste buds. At the same time, a squeeze of fresh lemon will balance out the creaminess perfectly with its sour taste.
Skagenröra usually goes on top of either toast or demi baguettes. The spread is also great on its own or with some shredded lettuce as a salad.
Walking through the cafes by the harbors of Sweden, you will see that the Swedes love to munch on Skagenrora on toast while chatting with their friends and loved ones.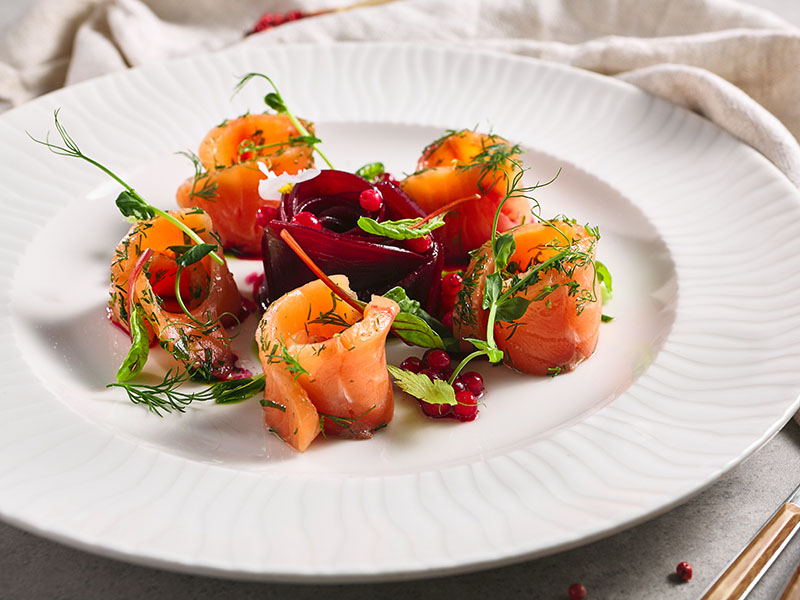 Gravad Lax, or graved salmon, is an appetizer dish in Sweden. Gravad Lax is cured with sugar and salt, and it always has a beautiful top layer of dill. The founding fathers of this popular seafood delight were the fishermen of the Middle Ages.
Back then, they used to salt and bury the salmon in the sand so that the fish could ferment itself. Today, this method is no longer in use, replaced by more modern and sanitary curing processes.
One indispensable element that completes a serving of Gravlax is Gravlaxsås, a mixture of mustard and dill. Boiled potatoes and bread are also common side dish menus for this dish. Swedish people also sometimes pair Gravlax with berries and lingonberry sauce.
Gravlax is surely an addictive dish because of its harmonious flavors. A bit of Gravlaxsås will enhance the elegantly salty flavor of the fish with its powerful taste. And the combination of the tender and creamy texture of the fish and the sauce will give you a fantastic feast.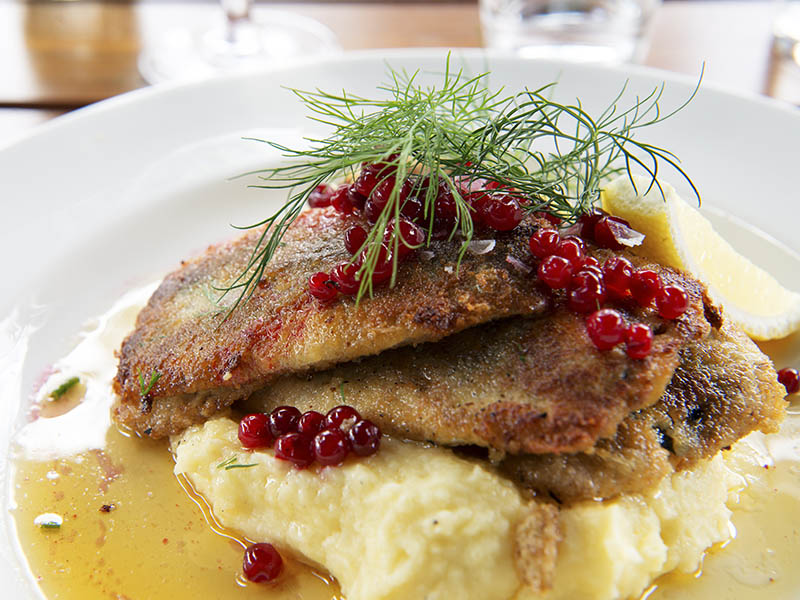 Herring, or strömming as the Swedes call it, is a fish that appears in numerous dishes in Sweden cuisine. The first dish I'm walking you through in this post is Stekt Strömming – fried herring.
Fried herring is a popular street food menu in Sweden. It's yet another dish that's simple in the making but unforgettable in taste. The Swedish people only require flour, breadcrumbs, and some seasonings to turn herring into an enjoyable, crusty treat.
In the form of street food, people in Sweden will serve fried herring on top of some butter Knäckebröd. There are, of course, a few other variations like herring rolls or herring burgers.
As a meal, the Swedish like their fried herring best on a bed of mashed potatoes, with their signature lingonberry jam. The sweet and savory combination is surely something you would never want to skip.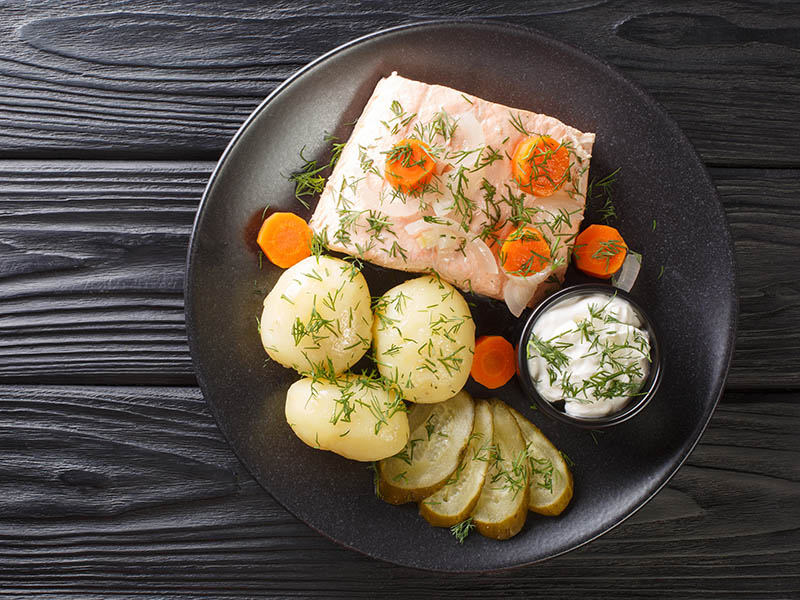 Inkokt Lax is one of the dishes that prove how creative the Swedes are with their food. Cold poached salmon is the Swedish way of cooking and preserving the fish in a marinade made from vinegar.
This dish requires gentle hands and delicate skills while cooking. What I mean by that is you have to be careful when handling the salmon in and out of the marinade, as they tend to break down easily.
The Swedes usually accompany their cold poached salmon with some mayonnaise with dill. And this is a great dish during the summertime in Sweden. In addition to that, if you're feeling extra fancy, I suggest whipping up some hollandaise sauce for a new taste.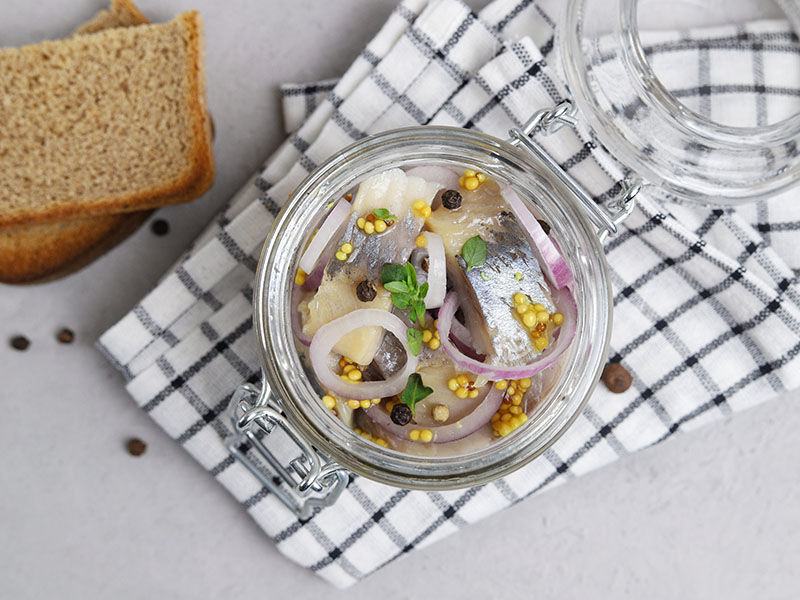 You've probably heard of Smörgåsbord, a Swedish buffet-type board full of cold cuts and other types of foods. For your information, pickled herring is always the superstar of every Smörgåsbord.
Pickled herring usually comes in many flavors, with a few being onion, garlic, or dill. At first, around the 16th century, pickled herring was just a way to utilize the abundant resource of herring in Sweden. Later, it became an indispensable delight in every Swedish family's meal.
Now, you might hesitate to try this Swedish delight due to the strange concept of pickled fish. But, the thing is, if your herring has been sitting in a good brining solution, it will come out much less fishy in the smell and taste.
Back to the Smörgåsbord, pickled herring is a must-have. It's also interesting to know that the Swedes are extra enthusiastic about serving their guests with pickled herring. This is when they will bring out all the available flavors of Surströmming for their guests to choose from.
Turn into Swedish for a day by learning how to make a jar of pickled herring.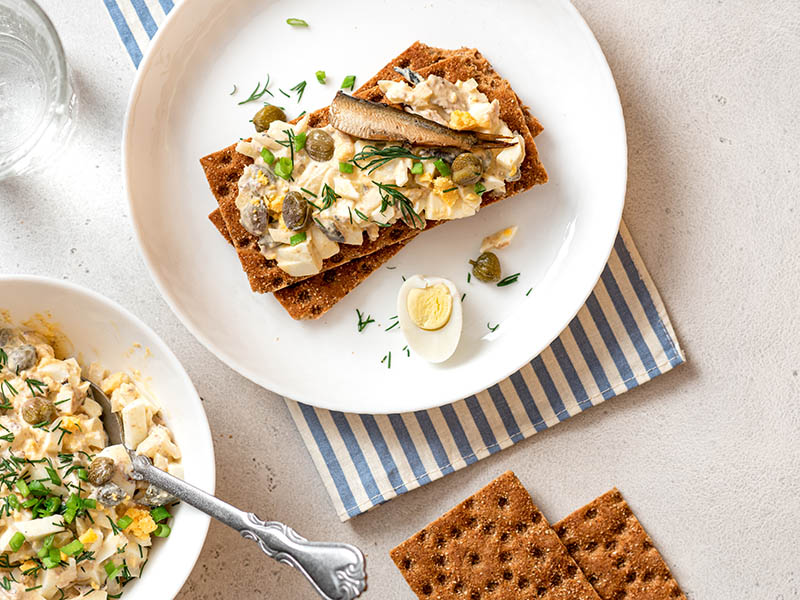 Gubbröra in Swedish means "old man's mix" or "gentleman's delight". It's a dish consisting of boiled eggs, Swedish anchovies, and assorted herbs.
There doesn't seem to be a clear back story for the name of this dish. However, what is obvious is that you will grow to love gubbröra once you have a taste of it.
This rustic salad offers every taste in one single bite. First are the creamy egg yolks together with the powerful onions and aromatic herbs. Then, Swedish anchovies are the final element that welcomes you with perfect harmony.
Just like pickled herring, Gubbröra is another dish that Swedish people often serve on their Smörgåsbord. Aside from a toast topping, this goes extremely well with Knäckebröd, just like any other Swedish culinary delight would.
Cod is another type of fish that Swedish people love to eat. A typical way of preparing this fish in Sweden is to serve it with some horseradish and browned butter. It is perfect for many methods of cooking.
This is due to its firm flesh and plain taste, making it compatible with almost any other ingredients. In this dish, the Swedes have managed to combine the cod with a note of tanginess from horseradish and the smooth taste from the browned butter.
Traditionally, the Swedish people poach their cod in a type of flavored stock. But this approach usually requires patience and time. Therefore, there are innovative ways that the Swedes have come up with to cook cod with less effort and time.
In Sweden, it is extremely popular to pair cod with horseradish. The condiment is such a common side dish for cod that people even sell fresh horseradish right where they sell their cod.
This dish only tastes nice with the freshly grated horseradish, as this paste tends to change in color vastly. But if there's no fresh horseradish around to use, it's also possible to use store-bought horseradish sauce.
Other than seafood, the Swedish also consume a large number of different proteins like beef, pork, and venison. And their way of rustling up these proteins is undeniably mouth-watering. The best part? Most of the dishes are extremely nutritious and low in fat.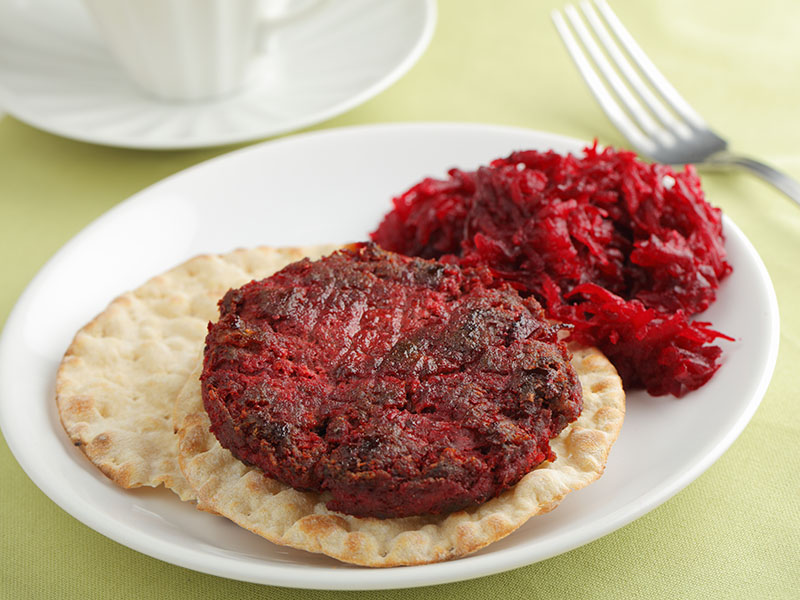 Say goodbye to your conventional burgers and make way for these beautiful beef patties from Sweden. Biff à la Lindström is an invention by Henrick Lindström. He was a famous 19th-century Swedish businessman who spent the early days of his life in Russia.
Back then, when he traveled back to Sweden on vacation, he taught the chefs working at his hotel how to make this beef dish with capers and pickled beet.
Despite the unusual appearance of capers and pickled roots in the burgers, this dish became a big success throughout Sweden. A patty of Beef Lindström is usually luscious in flavor and super juicy.
Normally, the Swedes don't pair their beef patties with buns of any sort. Instead, they will top the beef with a sunny-side-up, together with a side of potatoes.
This tutorial for Biff à la Lindström is something you have to try for your next meal.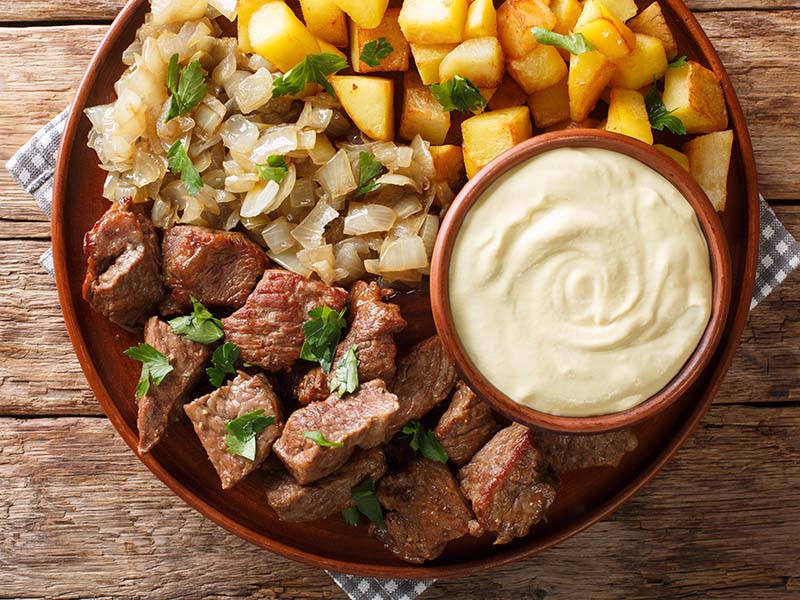 Pytt I Panna is a menu of bite-sized meat, potatoes, and onions. The name means "small pieces in a pan". Pytt I Panna is one of the dishes that fall under the category of "Biksemad", meaning mixed food.
Also present in other Nordic countries, Pytt I Panna was originally a clean-out-your-fridge dish. Nowadays, it's normal for the Swedish to make this with new and fresh ingredients.
For an authentic recipe of Pytt I Panna, people usually use sausages or meatballs, as they tend to be leftover foods. But, there are also a large number of Swedes who use steak instead of minced meat, resulting in the enhanced aroma of the dish.
It's an interesting fact these cabbage rolls have an entire day dedicated to them. Kåldomens dag is an event on every November 10th. This event was a celebration of the demise of King Karl XII in 1718, who introduced this specialty to the country.
The dish first made its debut in Sweden after Karl XII returned from the Ottoman Empire. His troops brought home stuffed vine leaves that were later on replaced by cabbage leaves.
Kåldomar usually goes with gravy. Since kåldomar also contains rice in its filling, you won't feel too heavy in the stomach after eating. It's great to have at any time of the week. But it's especially enjoyable at the Christmas dinner table.
Another interesting fact is that Kåldomar often freezes so well that Swedish people usually make big batches for upcoming meals.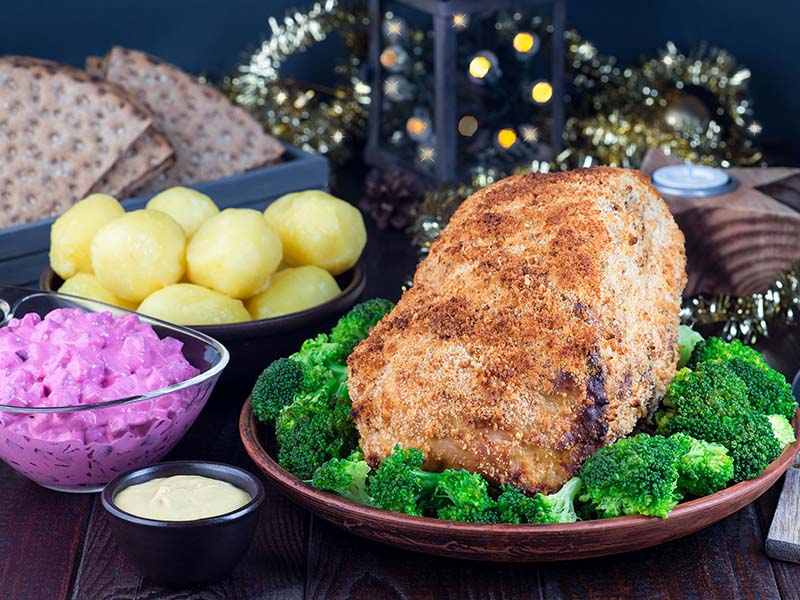 Julskinka is a famous dish that Swedish people eat on Christmas Eve. However, before the 12th century, Catholic Swedish people weren't allowed to eat meat until the morning of Christmas. Therefore, it wasn't until then that Christmas ham became a thing among Swedish people.
The process of making Julskinka is a fun observation. You will be able to notice how the Swedish put their heart and soul into the ham, looking out for the quality of their Christmas delight.
The Swedes would start by boiling their ham and let it cool. After cooling the ham, they will proceed with brushing it with a layer or two of mustard glaze. The most interesting step is storing the ham somewhere cold to preserve the moisture inside, and it's usually out in the snow.
Swedish people always serve Julskinka on their Julbord (literally "Christmas table"), a type of meal at Christmas time with many different dishes. During it, Swedish people will serve typical Christmas menus, including Julskinka and Ribbe (pork ribs),
Amaze your friends and family next Christmas with this recipe for Swedish Christmas ham.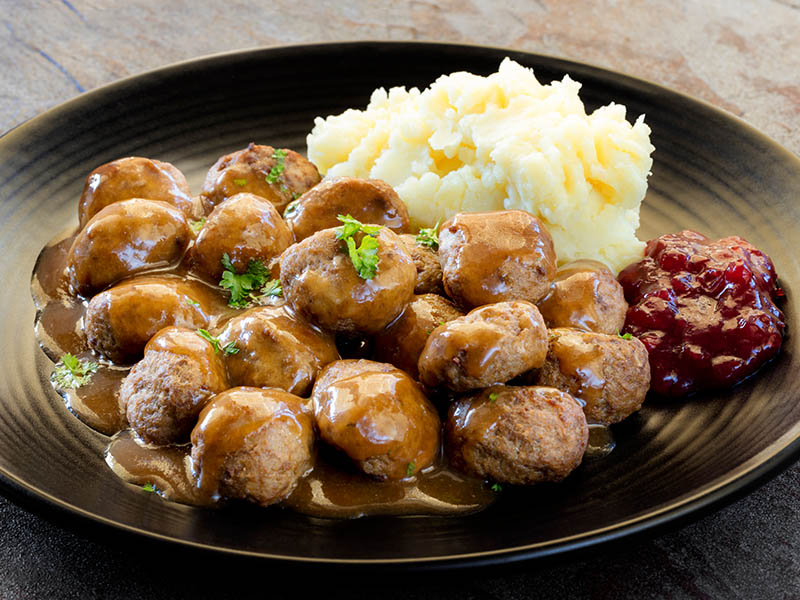 Let's talk about this international top favorite dish. Swedish meatballs, or Kottbullar, are a staple no matter the form they're in. Whether it's homemade or frozen meatballs, Swedish people have no problem enjoying them.
Swedish meatballs, despite the name, didn't come from Sweden. The appearance of this dish was another piece of work by King Karl XII. The king returned from his exile in Turkey with a dish he enjoyed so much, whose recipe turned into modern Swedish meatballs.
Swedish meatballs' popularity reached its peak in the 18th century when people started to employ meat grinders and wood stoves in preparing the dish.
To experience this menu to the fullest, pair your Kottbullar with some mashed potatoes and gravy. And, you cannot forget a spoonful of lingonberry jam as this completes the genuine Swedish sensation.
Sweden is one of the many countries that have a wide range of foods using venison. It's a cut from deer meat. Locals usually roast a fine cut of venison with a fruity dressing of blackberries.
It's very common for Swedish people to combine berry sauces with their meat. And for this dish, I think doing so is a great method of elevating the taste of the venison, and it's also great to use up wild berries.
This dish is usually reserved for special meals, especially during fall in Sweden. However, Swedes can fix themselves a plate on any given day of the week.
One thing about this menu is that Swedish people tend to be extra careful when it comes to making this dish and cooking venison in general. This type of meat often contains very little fat, making it prone to getting dry and chewy. Thus, venison requires extra care to prevent overcooking.
Swedish Scrumptious Side Dishes To Amp Up Your Main Meal
Swedish people indeed love their berry sauces as a side accompaniment. But of course, there is so much more than just that in terms of Swedish side dishes. Some of these are recipes you can easily make and store for a long period.
It is not a complete meal in Sweden without a side of pickled red beetroot. Aside from their refreshing taste, these beetroot bites also add a layer of color to the main dish.
Naturally sweet, the beetroots only age well with an acidic brining solution. The most common kind of vinegar for pickling these is Ättikspirit, which is a type of Swedish vinegar diluted with water until it reaches the acidity of 12%.
Moreover, since there's sugar in the beetroot, the Swedish usually use less sugar when pickling it. Swedish pickled beetroot tastes best with menus like Pytt I Panna or Biff à la Lindström.
You may have been accustomed to sauerkraut from Germany. Rödkål, on the other hand, is a sweeter version that is not any less pleasant in taste. It's a side dish that people put on their julbord alongside the Julskinka.
The dish is also compatible with meats like goose and duck. Rödkål gains its popularity from the tender texture and the rosy color. The best Rödkål depends on the process of slowly braising it as well as seasoning the brining solution.
The Swedes' secret to best-tasting Rödkål is to make it a few days in advance. Then, you have to let it sit for a while to bring out the best flavor.
Add one more recipe of side dishes to your list with this recipe of braised red cabbage.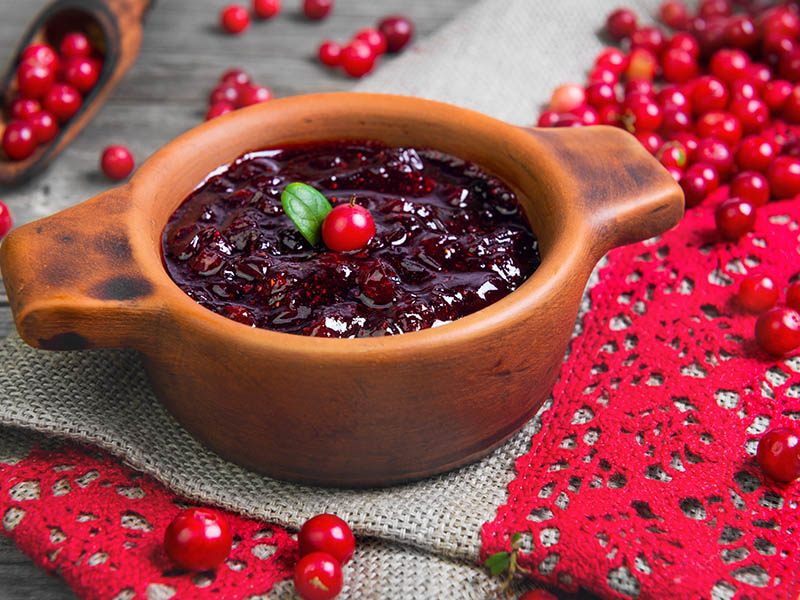 As I have mentioned several times in this post, lingonberry sauce or jam is a staple in numerous Swedish menus. This particular type of sauce goes well with both desserts and savory meals thanks to its well-balanced sweet and sour taste.
The Swedish people have unrestricted access to lingonberries. Thus, you will see that it's super easy to buy lingonberries anywhere in Sweden. Most places even sell these berries in bulk packages like bags of 5kg.
Unlike cranberries, lingonberries are slightly bitter. So when making this kind of sauce, it's generally acceptable to go generous with sugar to rid the sauce of the bitter taste.
The most amazing part about this sauce is that it goes well with literally every dish mentioned in this post. That's how universal and compatible this condiment is with other Swedish foods.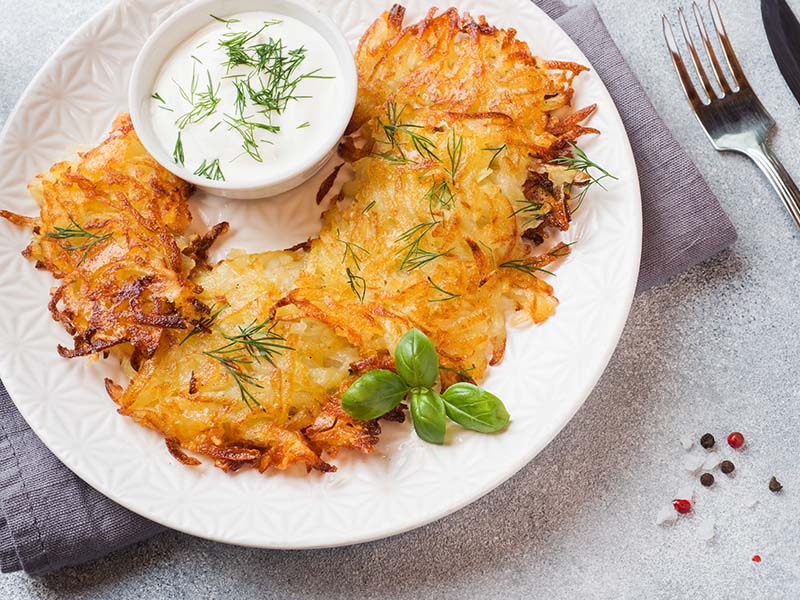 For some people, the idea of turning potatoes into pancakes doesn't sound so appealing. But the Swedes are here to prove you wrong. These tasty potato pancakes are a classic treat that's been around in Sweden ever since the 20th century.
This is a simple side dish with the base of potatoes. Swedish people would grate or shred potatoes into fine pieces and mix them with a mixture of eggs, milk, and flour. Although the ingredients are simple, they produce an excellent dish with a fragrant taste and crusty texture.
The best way to serve these potato pancakes is with some fried salted pork. Serving these two foods together will help complement each other's tastes to the fullest. And of course, what's a Swedish meal without some lingonberry sauce?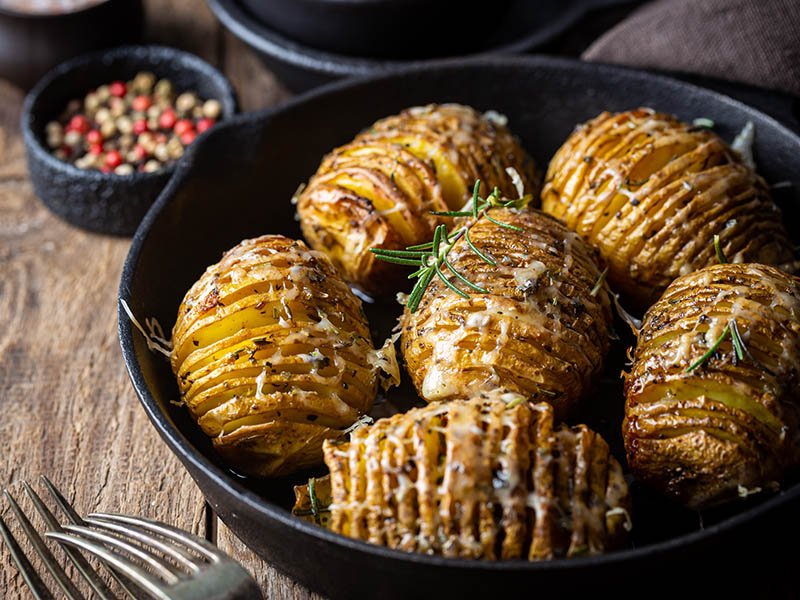 Hasselback potatoes are a Swedish roast dish made from thinly sliced potatoes. The dish got its name from the Hasselbacken restaurant in Djugåeden, Stockholm. This is where the trainee chef Leif Elisson first came up with the dish in the 1950s.
Ever since the creation of the dish, Swedish people have been enjoying these potatoes for their flavorful goodness and steezy appearance. These potatoes are a great side dish, especially when the Swedes are having a roast feast of pork, chicken, and other types of meat.
You can make finger-licking Hasselback potatoes in no time with this instruction.
Decadent Swedish Desserts To End Your Meal On A Pleasant Note
Do you still want to munch on something sweet after your Swedish dinner? Then these recipes are a must for you to try in your kitchen next. Don't worry: I've picked out only the best of the best recipes for you.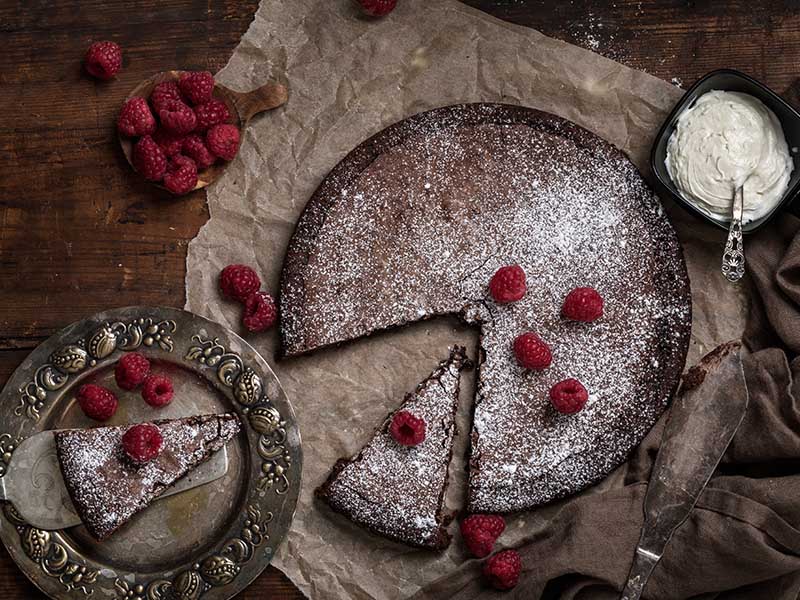 Kladdkaka, literally translated into "sticky cake" from Swedish, is one of the most preferred desserts in this Scandinavian country. And I can see why this is the case.
Unlike regular chocolate cake, Kladdkaka offers a smooth and gooey texture. This texture will only feel like silk in your mouth. And, it's a once-in-a-lifetime experience if you get the chance to try kladdkaka at different cafes since each cafe has its recipe for this cake.
Swedish people have their way of creating the perfect soft and sticky texture for their Kladdkaka. And the secret is to purposely underbake your cake just a little so that it can attain that required consistency of a standard Kladdkaka.
You may think that this is no different from brownies, but I can assure you that each type is a gem on its own. While brownies are also great, they are dryer and slightly more dense. By contrast, Kladdkaka is usually softer and smoother in texture.
Making Swedish sticky chocolate cake has never been this easy.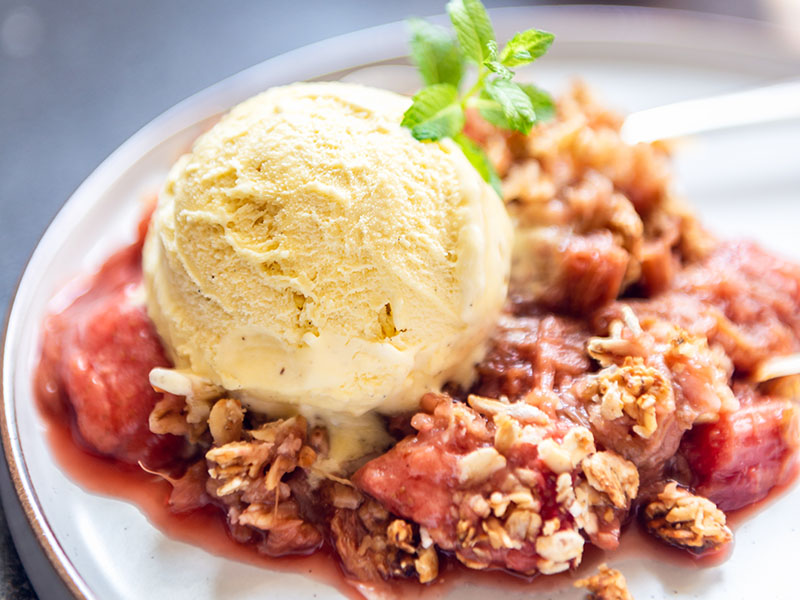 I'm not even exaggerating when I say the Swedes have such a brilliant way of combining different elements in their dishes. These rhubarb crumble with a hint of cinnamon is a perfect harmony of sweet and piquant heaven.
This dessert is my personal favorite as it welcomes my eyes with the bright red color every time. In addition to that, the Swedish people always know just what to do when they add oats and cinnamon on top of the crumble to balance out the rhubarb's sourness with the spiced taste.
A menu of rhubarb crumble is perfect for dinner parties as Swedish people usually serve them in singular servings, with whipped cream or vanilla sauce on top.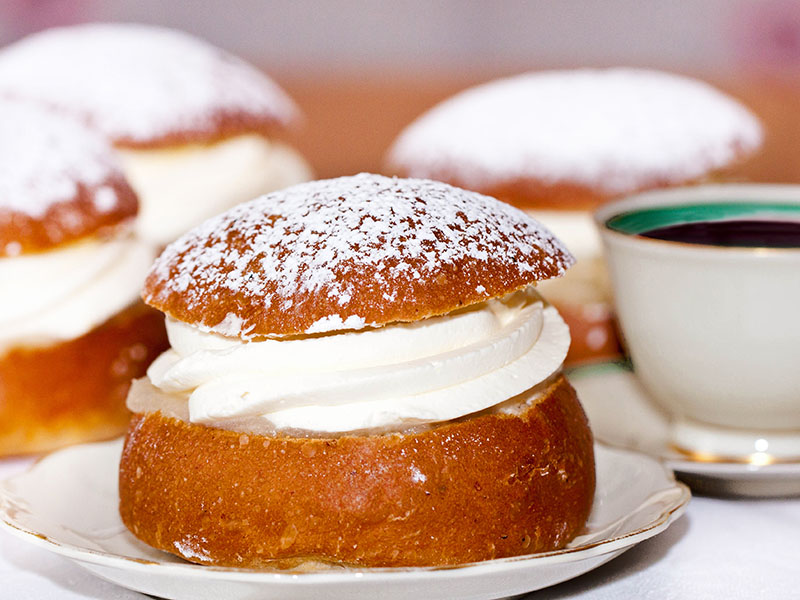 One of Swedish people's favorite baked goods has to be Semla (plural form: Semlor), which is a type of wheat flour bun with an almond paste and whipped cream filling. It is different from regular buns thanks to the herbal taste of cardamom in the dough.
Initially, Semla was something the Swedish people ate on Fettisdag, which means Shrove Tuesday or Fat Tuesday. These buns were the last meal before a fasting period for Christian people (the Lent).
At first, people in Sweden ate Hetvägg, plain buns with hot milk in a bowl. But then they added almond paste and cream into the buns as a treat since they were frustrated with the strict observation of Lent.
Such addition gave birth to the wonderful cream-filled buns of Semla that the Swedes adore today.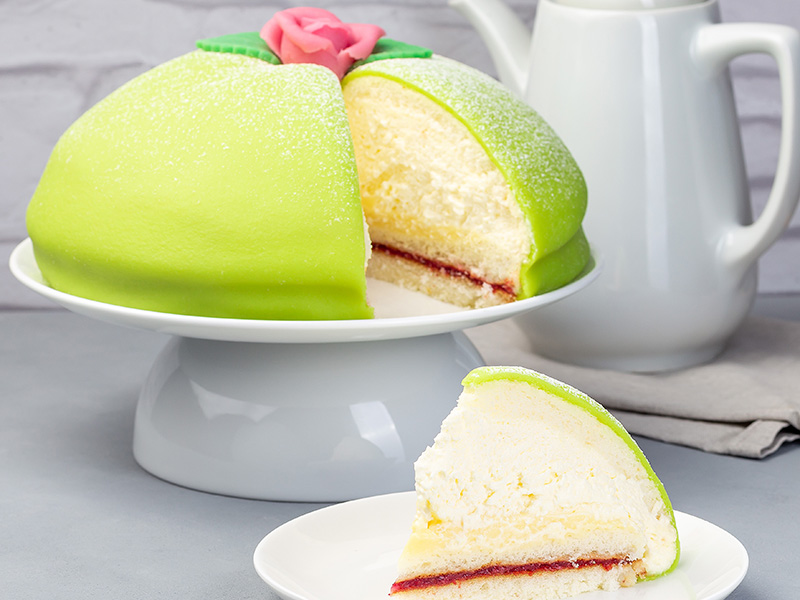 Prinsesstårta is a sponge cake that was a creation in the early 20th century by Jenny Åkerström, a food writer and royal teacher. This cake got its name because three of Jenny's students, who happened to be Sweden's princesses loved it dearly.
This cake consists of layers of sponge cake, pastry cream, and thick cream. What goes on top of these layers is a sheet of green or pink marzipan, honey, and almond meal. The green layer of marzipan is also what gives Prinsesstårta its signature appearance.
What you would see these days in a slice of Prinsesstårta is an additional layer of bright pink. The color comes from fresh berries or jam, usually raspberry jam. This is a modern addition, as the original Prinsesstårta only includes layers of cake and cream in between.
This is how Swedish people make their famous luscious Prinsesstårta.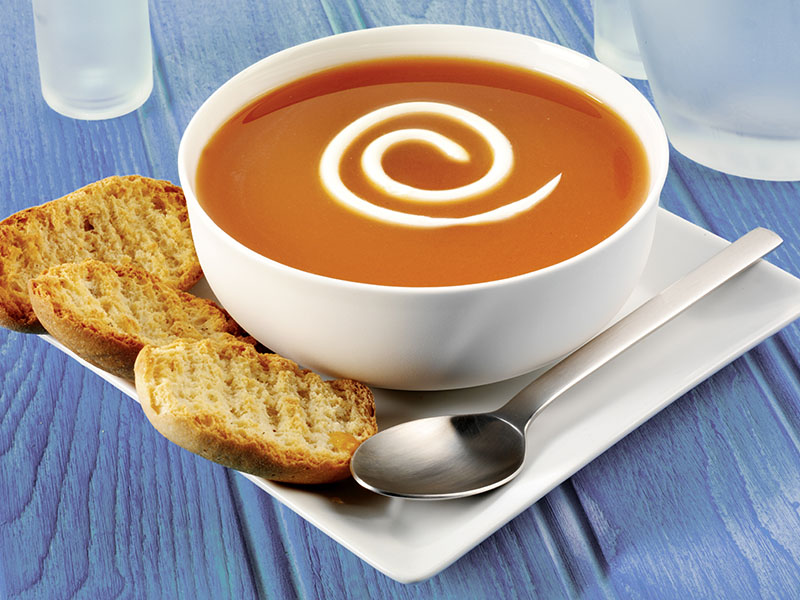 This Swedish authentic dish soup is not too common outside its country. However, people, especially older generations, are extremely fond of rosehip soup.
Nyponsoppa used to be an essential part of Swedish cuisine. This is because of its nutritional value. A bowl of rosehip soup contains vitamins and calcium, making it a highly consumed dish in the wintertime in Sweden.
In the past, foraging for rosehips, which grew abundantly in the winter, was a very common activity. Despite it being a dessert menu, rosehip soup also works as a starter in some meals. For children, it's sometimes an after-school snack that's both healthy and tasty.
After going through these dishes, I bet you can already see the beautiful land of Sweden in clear pictures right in front of you. And I'm sure it's even clearer to you how delicious Swedish food is. Therefore I highly suggest cooking up one of those recipes for your loved ones right now.
And it would be a great pleasure to hear about your first impression of the wonderful Swedish cuisine if you could share it with other readers and me in the comment section below. Until next time, ha det bra!