During summer, you may not think of the best summer soup recipes because you feel like soups are meant for cold seasons. However, savory soups aren't necessarily too hot to enjoy, not to mention that there are numerous delicious chilled soups.
Summer soups are usually loaded with various veggies, which contain plenty of nutrients such as dietary fiber, folate, potassium, and vitamins. Enjoying nourishing soups is good for your health and satisfies your soup cravings.
My post today presents many perfect recipes to make tasty summer soup. Most ingredients are available and easy to find during this season. Without further ado, it's time to cook and enjoy the best summer soups now!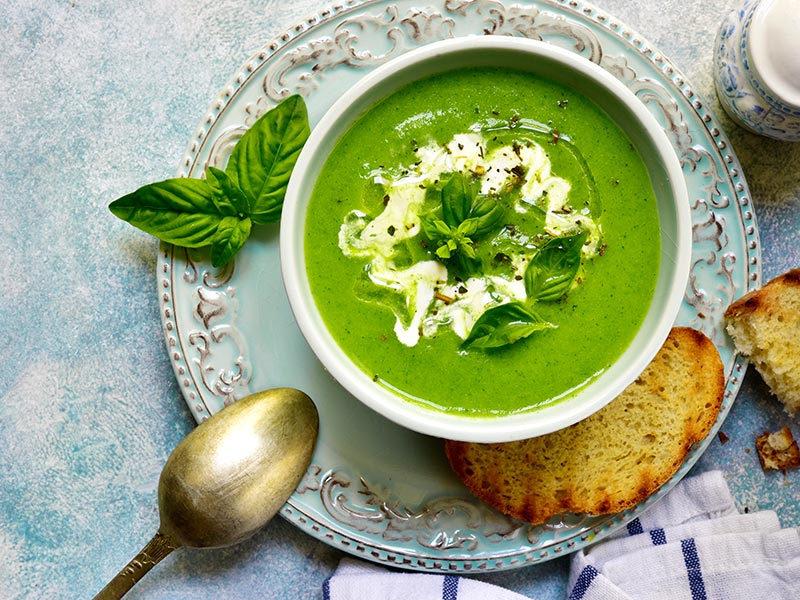 Summer Soups Are Tasty And Satisfying!
Eating the right type of soup, depending on meals and the weather, eating the right type of soup makes you feel satisfied. So keep scrolling to pick up some fantastic soup recipes for your summer meals!
Total time: 35 minutes
Green borscht is a soup usually made with sorrel, a common leaf vegetable or herb in the country. The plants have a naturally sour taste. The soup is popular in Ukraine and Russia and also has many variations in some Eastern European countries.
Because sorrel is quite hard to find outside the region, you can use spinach as a substitute. Carrots and celery are the main aromatics in the soup. Besides, parsnips, celeriac roots, and fresh parsley intensify the flavors of your soup.
Garnish the soup with sliced eggs to make it more colorful and heartier, suitable for a summer-themed party. For serving, you can add some sour cream and fresh dill and then pair the soup with some yeast bread.
Total time: 50 minutes
If you want a flavorful soup to cook with your instant pot, this recipe meets all those requirements. With fresh veggies, the soup is an excellent summer soup. Also, you can easily replace farro with gluten-free options if you have gluten intolerance.
The main ingredients include farro, chicken breasts, and veggies such as zucchini, corn, and celery. Nevertheless, the recipe is highly customizable to your taste or your availability of veggies. Simply switch the veggies to what you have in your fridge.
It may sound strange to include yogurt in such a soup, but doing so actually helps to create a creamy texture and tangy flavor to the soup. An instant pot is the best way to cook this soup quickly, though a slow cooker or stovetop can also work.
Total time: 25 minutes
Apart from summertime, this easy British soup classic is enjoyable in any season. It's most delicious when served cold after refrigerating for some time in the fridge. But enjoying it as a hot soup is also a popular option.
The recipe calls for baby peas because they have soft pods and guarantee a creamier soup. If you find it a hassle dealing with fresh peas, use frozen peas instead. The recipe can feed up to 4 people, but it only takes 25 minutes to prepare.
A blender will help you make a smooth soup quickly. You should blend hot ingredients in small amounts and cover the blender top tightly with a kitchen towel to prevent the contents from splattering or causing burns.
Refresh your day with an easy-peasy pea and mint soup recipe now!
Total time: 1 hour 20 minutes (with 1 hour of chilling time)
This soup brings a vivid summer vibe to your home because fresh peaches are a wonderful summer staple, being at their best during the season. The soup also has a splash of basil oil and some cucumber and peach slices on top.
Compared to the regular choice of chopped basil, the basil oil makes the soup look appealing and maintains its smoothness. Alternately, you can use mint or basil-mint oil to add a refreshing minty flavor to your peach soup.
With the natural sweetness of peaches, you don't need to add too much sugar. However, you can use honey or a little coconut sugar to sweeten the soup to your taste.
Total time: 30 minutes
Summer harvest soup is a delicious way to use up the overstock of summer produce. The highlight of this wickedly delicious dish comes from its light, clean and sunshiny flavor.
Simmer zucchini, tomatoes, corn, green beans, and asparagus together to create a light yet tasty broth. You can add some grains and cereals for a more filling dish, but leave them out in case you wish for a light appetizer.
Because the recipe is loaded with various veggies, it is rich in antioxidants, minerals, and plant compounds. Therefore, it offers some notable health benefits, ranging from improved digestion to a lower risk of heart disease.
Total time: 2 hours 15 minutes (with 2 hours of chilling time)
Gazpacho, a cold tomato-based soup of Spanish cuisine, is a must-have for summertime. Besides, when tomatoes are in peak season, why not grab an extra touch of Vitamin C and Vitamin A?
The texture varies depending on how finely you chop the veggies. You can add either chopped or blended veggies to the soup. Also, the texture comes from other ingredients like jalapeño, mascarpone cheese, and creme fraiche, a thick cultured cream.
Don't forget to top with some shrimp, croutons, or toasted bread! Alternatively, feel free to pair it with grilled cheese or a flavorsome panini treat for an easy and complete summer meal. Since the soup is fridge-friendly, you can make a big batch and keep it for days.
Total time: 30 minutes
For people who only have under half an hour to cook but still need a protein-packed dish, this soup will help them. This red lentil-based recipe gives you plenty of protein. It can be served as either a full meal or with a side salad just to give a touch of freshness to it.
One big thing to remember about lentils is that they cook very quickly, so there is no need to soak them. The veggies will add better flavors if you keep the original form when you add them to the soup.
Interestingly, you won't need any special kitchen tools except for a blender to process it. But a food processor still does the trick if you don't have a blender. The soup can be stored in the freezer for one month and five days in the fridge.
Enjoy a summer freshness with an easy recipe for red lentil and carrot soup.
Total time: 50 minutes
Summer vegetable chowder is another hearty soup you should save for these long, sunny days. The chowder has a delicate flavor and refreshing aroma with quality ingredients.
You can easily put it together with vegetables like zucchini, corn, and potatoes, plus some dairy products (but without any heavy cream). If you're a vegan, simply replace the butter and milk with your plant-based ingredients, and you're good to go.
Now, let's choose the right accompanying dishes. I recommend some buttermilk cornbread, crackers, or crunchy parmesan-crusted croutons. They are the best options to pair with potato soups, corn chowders, gazpacho, or anything you want to enjoy in summer.
Total time: 40 minutes
If you are a lover of both meatballs and soups, you will never go wrong with this recipe! The hearty Italian vegetable soup was traditionally made to use up leftover vegetables, so feel free to use any vegetables and greens you have on hand.
Making homemade meatballs can take a while. However, it's worth it when you slurp spoonfuls of the aromatic and savory soup filled with rich, spice-stuffed meatballs in a cozy evening beside your loved ones.
You can serve it immediately or keep the summer for a considerable time in the freezer. Then, when you want to serve, the summer goodness returns as you reheat it.
Total time: 30 minutes
A creamy, silky soup with tender squashes will make your summer meals something to remember. In addition, the soup is vegan and suitable for many kinds of diets. Non-vegans can add some heavy cream or Greek yogurt to boost the soup's creaminess.
You can puree either slightly over- or under-ripe squashes for the soup. If you want to use your homegrown produce, don't wait until they get too big and loaded with seeds. In case you cook with store-bought squash, go for firm ones.
The variations of the soup are a real excitement. You can change up with some seasonings. They can easily become Thai or spicy versions of squash soup.
Total time: 2 hours 15 minutes (with 2 hours of chilling time)
You won't believe how simple it is to make this beautiful dish with a blender! Just blend everything and chill for a couple of hours, and then you have a fantastic soup.
It is a low-calorie, creamy soup that uses fresh strawberries and yogurt. One tiny strawberry is packed with vitamin C, fiber, and antioxidants which can help protect your heart and boost your brain health.
Feel free to top it with a dollop of whipped topping and garnish with mint if desired. Finally, serve it cold and experience the ultimate satisfaction from a spoonful of cold freshness in the middle of a hot summer.
Make this refreshing strawberry soup with simple ingredients at home!
Total time: 30 minutes
This soup is a cooling mixture of chicken, vegetables, and a lemony broth that tastes just right in the heat of the summer. In addition, the soup uses orzo, also known as risoni, a chewy short-cut pasta.
Both chicken breasts and chicken thighs work well in this recipe. Nevertheless, go for the breasts if you prefer a soup that is slightly lower in fat and higher in protein.
If you use fresh chicken, season and cook it until tender before adding it to the chicken broth. Then, add the chicken and the orzo into the chicken broth simultaneously. Doing so helps both get the right degree of doneness when you finish simmering.
Some bread should be enough to accompany the savory soup. Or, if you're into something refreshing and rich in fiber, serve the soup with a green salad. You can store the soup in your fridge for several days. Then, add more chicken broth when reheating.
Total time: 30 minutes
If you find a great deal of leftover grilled corn from your summer picnic, this recipe will make good use of it. But, of course, the soup can also be made from fresh, frozen, or canned corn whenever you're craving a summer bowl of vegetable goodies!
You can describe this meal as nutritious, healthy, and delicious. A stick blender will be needed to blend the soup roughly, leaving large chunks of carrots and potatoes for a pleasant texture. It combines well with the sweetness of corn kernels for an amazing dish.
It can never go wrong when served with parsley and a piece of toasted bread in the summer months. Some garlic croutons and vegan yogurt also work well.
Total time: 1 hour 5 minutes
Chilled gazpacho contains beets, which are well-known for their high nutritional profile. They are rich in essential vitamins and minerals yet low in calories. Therefore, you should add this recipe to your summer soup list.
The boiling and simmering of the beets accounts for most of the cooking time. Once the beets are cooked, you can easily blend ingredients into a gazpacho with a blender or food processor.
Finally, you can round out the gazpacho with plenty of garnishes such as avocado, diced veggies, and olive oil or yogurt. It's enough to enjoy the dish itself, but it's also good to serve the soup with croutons (toasted or fried bread) or tapas (Spanish appetizer).
Total time: 2 hours (excluding 12 hours of optional soaking time)
Pistou sauce (made from garlic, fresh basil, and olive oil) is the French answer to pesto, but without pine nuts! Soupe au pistou is a classic soup made of summer vegetables and topped with pistou.
Dry navy beans are preferred over canned beans as they provide a better texture to the soup. But if you forget to soak the dry beans overnight, you can apply this quick method of rinsing, boiling them for a minute, then letting them rest for an hour.
A food processor will come in handy to chop and blend the veggies well. You can store the pistou in a jar, but don't forget to cover the top of the pistou with olive oil to prevent the sauce from going brown.
To make dairy-free, vegan pistou, use vegetable broth and replace cheese with nutritional yeast. Besides, you can select gluten-free pasta to cut down on the amount of gluten.
Bring a French vibe to your kitchen with a soupe au pistou!
Total time: 1 hour
This recipe can take a break from the traditional thick and cream-based chowders. Corn and zucchini chowder is a gluten-free version, so save it now if you are struggling with gluten intolerance.
Add some shredded chicken for more protein, or omit all the bacon and chicken for a vegetarian option. It's all up to you! For serving, some buttery bread, a side salad, and a fruit salad for dessert will give you a full meal.
Please note that milky and creamy soups like chowders shouldn't be stored in the freezer. That's because they would form a coarse texture that isn't pleasant to enjoy. So instead, you can keep them in a fridge for up to 4 days.
Total time: 20 minutes
The traditional tomato Gazpacho version is delicious. Yet, adding some watermelon for a spicy watermelon gazpacho is a splendid cold appetizer for summer.
While this recipe takes only a food processor or a blender and 15 minutes, the hardest thing you'll have to do is be patient enough to wait for it to cool! The longer it cools, the more the flavors will be enhanced.
Spicy watermelon gazpacho is a perfect soup to use whatever veggies are in your fridge, provided the key ingredients are watermelon and tomatoes. It's best to use seedless watermelon to help with the pureeing.
Total time: 50 minutes
This soup recipe is ideal for beginning your meal with asparagus in a heartwarming way. You need eight ingredients for the soup, which are very easy to find. The recipe doesn't contain cream, so you can freeze it and eat it later if you like.
The soup can be served either hot or cold. But once you've decided to freeze it, ensure you only add the parmesan after defrosting and reheating it. That helps preserve the flavor tremendously.
Asparagus soup with lemon and parmesan is a versatile dish. To adjust the flavor, you can customize it with your favorite herbs and vegetables.
Total time: 1 hour 10 minutes (with 1 hour of chilling time)
You don't have to turn on the oven, the stove, or the grill to make a cold cucumber soup. That is because all you need to do is to puree everything!
Cucumbers contain 96% water, which is ideal for detoxification and preventing dehydration in the hot summer. With about 10 minutes from start to finish, a cold cucumber soup is a wonderful appetizer, with a fresh starter leading to the main dish later.
Feel free to use sour cream or buttermilk if you run out of yogurt. It will taste better with good crusty bread, focaccia, a slice of avocado toast, or a simple sandwich. Pour the soup into a bowl and top with a drizzle of olive oil and some dill, then enjoy!
Total time: 30 minutes
Okroshka is a classic Russian food with chopped vegetables and cooked meats in a base of kvass (a fermented beverage made from cereals). But if you're not lucky enough to have any kvass around, turn to this flexible recipe.
This version of Russian Okroshka substitutes kvass with a mixture of sour cream, egg yolks, vinegar, and water. The sour cream mixture takes on a tangy, tart taste similar to that of the distinct Russian drink.
The soup is loaded with plenty of veggies. The creaminess from the eggs and sour cream is also irresistible. Remember that the soup must be kept in the refrigerator and served cold to give its best taste.
Gear up and make a Russian Okroshka loaded with fresh veggies in a sour cream mixture.
Total time: 30 minutes
Your kids will love a chilled blueberry soup since it's so beautiful. But there's so much more to it than just the gorgeous color! The bright and creamy flavor with a surprising pop of cinnamon and ginger is what keeps people going back for one more.
Besides being packed with antioxidants, blueberries are also high in potassium and vitamin C, a top choice of doctors and nutritionists. In addition, the soup is made extra wholesome by using nonfat yogurt instead of cream and sugar.
Chilled blueberry soup is the perfect cool-down for a long summer day when blueberries are at their best. You can serve it in a bowl or a fancy glass to add an extra character.
Total time: 1 hour 20 minutes
Creamy roasted poblano corn soup comes in gluten-free, nut-free, and vegetarian options for everyone looking for an addition to the summer's robustness. It's got fiery roasted poblano peppers for a spicy kick and a smooth, creamy, milky base.
If you love a super hearty soup, feel free to include some shredded chicken or potatoes in it. You can also substitute canned coconut milk for regular milk to make it a healthy vegan dish. Given any version, the soup can be served either hot or cold.
This Mexican cuisine can take up to 1 hour and 20 minutes from scratch. Most of that time is dedicated to roasting the poblano and simmering the veggies. It is quite a long time, but doing so is the best way to bring out the delicious vegetable flavors.
Total time: 15 minutes
To create this beauty, you don't need to turn on the stove at all. In just 15 minutes, you'll taste a velvety, creamy avocado soup. However, keeping it in the fridge for another 30 minutes allows the flavors to meld and offer a better taste.
The ingredients are kept simple. Haas avocados are recommended because they are exceptionally creamy and not as watery or fibrous as some other varieties. Yet, other varieties of avocado in your fridge will work just fine.
You can remove gluten from the recipe by using broth and bacon brands known to be gluten-free. Another tip is that you can add more broth to have a thinner consistency and serve with crostini or croutons if desired.
Enjoy Summer Soups: Enjoy Life!
There's no reason to resist these refreshing and tasty summer soups now. So grab the necessary ingredients and convert them into unforgettable soups to treat your beloved. Surely they will always want more!
If you find these recipes fantastic, don't forget to share them with your cooking companion as soon as possible. Also, if you have made one of those recipes I share above, let me know the results in the comment section. Thank you, and let's meet again in my next recipe list!
Nutrition Facts
8 servings per container
---
Amount Per ServingCalories148
% Daily Value *
Total Fat 4.5g

7

%
Cholesterol 61mg

21

%
Sodium 1981mg

83

%
Potassium 536mg

16

%
Total Carbohydrate 23.3g

8

%

Dietary Fiber 4.6g

19

%
Sugars 6.1g

Protein 6.3g

13

%
---
Calcium

147

%
Iron

3

%
Vitamin D

6

%
* The % Daily Value tells you how much a nutrient in a serving of food contributes to a daily diet. 2,000 calories a day is used for general nutrition advice.