I bet these best summer pasta recipes are going to be crowd-pleasers. They are often praised as the best relaxing treats when summer is approaching. These dishes are capable of shining with or without any main dish.
When you've lost your appetite in warm weather, it's time to put aside the heavy dishes and welcome the light, refreshing pasta. This Italian symbol can pair with many types of vegetables and protein to create delightful dishes that will make you happy.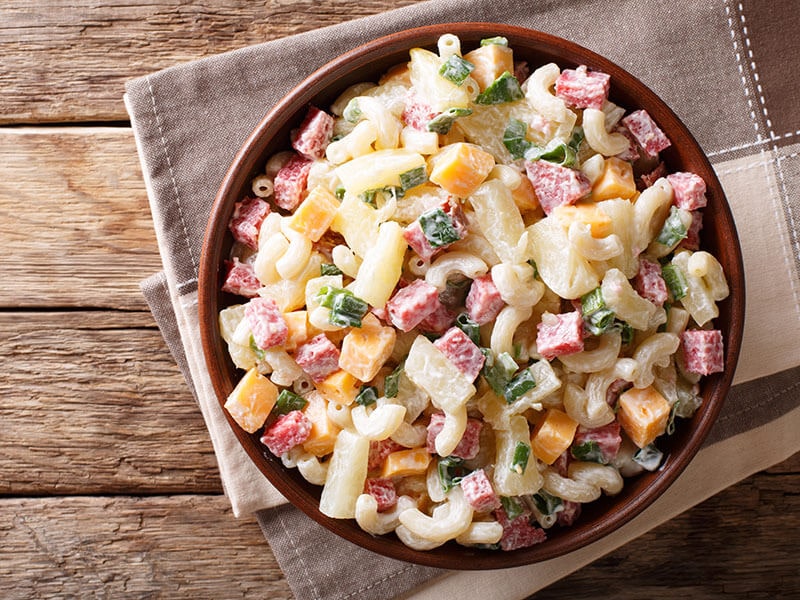 These Vibrant Pasta Delicacies Will Make Your Summer Joyful
If you have some pasta in your cupboard and a summer garden full of greens, don't wait any longer. Get all your tools ready and start making the best pasta dishes.
Total time: 25 minutes
Brighten up your summertime with this cucumber pasta salad. This creamy treat consists of crunchy cucumber, plump tomatoes, and pasta that come together nicely, thanks to the lemon dill dressing.
What makes this cold dish with pasta special lies in the refreshing veggies. Chopped cucumber, tomatoes, and red onions contribute great flavor and a crunchy mouthfeel to the salad. Additionally, the creamy dressing made of mayo, lemon juice, and dill makes the dish more appealing.
You can cook the pasta, chop the veggies, make the dressing beforehand, and store them separately. They can stay good in the refrigerator for 24 hours. If you have leftover salad, an airtight container will help you preserve it for up to 3 or 4 days.
You can recreate cucumber pasta salad with this simple recipe.
Total time: 25 minutes
Nothing screams summer louder than this berry pesto pasta salad. This salad combines two types of berries, arugula, mozzarella cheese balls, and pasta. This delight is going to steal the spotlight at any summer potluck or BBQ cookout.
Strawberries and blackberries are the perfect partners for pesto and mozzarella cheese. Their sweetness and sourness balance the salty and creamy of the latter. Apart from that, the arugula with a pepper kick contrasts with all the sweetness and cheesiness.
The pesto dressing is the key ingredient to bring everything together. You can whip it up by combining pesto, vinegar, and honey. The salad is well-complemented by the flavorful dressing, which has notes of sweetness, sourness, and nuttiness.
Total time: 28 minutes
Switch up your side dish game with this summer pasta with zucchini, squash, and corn. This salad is super easy to pull off and is full of nutrients. The refreshing vegetables meet a savory white wine lemon butter sauce in this delicacy.
The salad includes zucchini, yellow squash, corn kernels, and basil. They are sauteed in olive oil and butter along with garlic and shallot. The fragrance from garlic and shallot shall make your taste sense tickle. You have to give the mixture some good stirs.
Once the veggies start to turn brown, it is time to pour in the lemon juice and white wine. Toss the cooked pasta in to complete this dish. It is a perfect side that complements other dishes beautifully. You can serve this pasta treat with grilled chicken, fish, or even tofu.
Total time: 1 hour
This dump-and-bake summer pasta is the perfect dish to celebrate the summer season. In this recipe, zucchini, corn, tomatoes, basil, and cooked chicken assemble to create a delightful pasta on all fronts.
This pasta is truly a comfort food with melted mozzarella cheese on top of warm baked chicken and veggies. The best part about this recipe is that you don't have to boil the pasta beforehand as it is cooked along with other ingredients in the oven.
Due to the short time in the oven, the vegetables can retain their freshness and crunchiness. Once it finishes baking, you can garnish it with basil leaves and herbs for the extra aroma.
Total time: 30 minutes
This Greek pasta salad is one of these perfect side dishes for your summer meal. This specialty is made with fresh vegetables, feta cheese, and kalamata olives and is completed with Greek-style dressing. It overflows with the freshness and vibrant colors of the ingredients.
Similar to other salad recipes, the first thing you have to do is to chop the veggies. After that, you can make the dressing by mixing olive oil, red wine vinegar, lemon juice, minced garlic, and dried oregano. The zesty sauce will undoubtedly stimulate your taste bud.
When preparing the pasta, you should add salt. Doing so will prevent the pasta flavor from being bland. The boiling time is crucial since your pasta can be soggy if cooked too long. You would want your pasta to have that firmness. When everything is ready, toss the mixture.
You can try making Greek pasta salad for your family by following this easy guideline.
Total time: 25 minutes
You will fall in love with this vegan southwest pasta salad. This delight has a southwest twist which showcases through the zippy vegan dressing. The combination of peppers, tomatoes, black beans, and corn is the main ingredient of this dish.
The star of this dish is the cashew-based vegan southwest dressing. This sauce consists of cashew, lime juice, and some staple flavorings. The tanginess of the lime juice is balanced by the nutty flavor of the cashew in this sauce.
It is straightforward to assemble this dish. When the veggies are ready, pour in the special dressing and toss until everything is combined. You can serve this delicacy immediately, but I suggest letting it rest for a few hours for the flavors to melt better.
Total time: 25 minutes
This pesto pasta salad is one of those dishes that shouts summer. This dish is an interesting spin on Italian cuisine as most of the ingredients are presentative of this country. Go for this delightsome pasta if you have family gatherings or cookouts.
Artichoke hearts, baby arugula, Kalamata olives, and sun-dried tomatoes make up the salad base. The fresh basil pesto will be responsible for blending all the ingredients. This pasta salad is so flexible that you can customize it to your liking.
In this recipe, you will coat the pasta with pesto sauce before mixing it with the vegetables, and the outcome is flavorful pasta. This recipe can remain tasty in the refrigerator for a few days; therefore, you can prepare it before any gathering.
Total time: 1 hour 5 minutes (including 30 minutes of clam cleaning time)
This linguine is an iconic specialty with clams from the Neapolitan region of Italian cuisine. You can easily whip up this elegant delight by following this recipe. Don't be surprised if your pasta tastes like it is from an Italian restaurant.
This recipe doesn't require too many ingredients, so you might want to focus on the quality of each component. I advise using the fresh Littleneck or Manila clams since they have a sweet taste and more meat. Cleaning them is the most important part of making this pasta salad.
You will saute garlic with seasonings before adding white wine and lemon juice to boil the clams. When the clams are ready, you will toss your pasta in this liquid with butter. The pasta will absorb all the sweetness and flavors from the clam juice.
This linguine with clams is going to be your family's new favorite pasta.
Total time: 20 minutes
This simple 20-minute tomato, basil, and mozzarella pasta salad will be your newest summer staple. You can whip this pasta salad in no time with basic ingredients. Bring this to any potluck or picnic; you will be surprised at how fast they disappear.
For the pasta salad, you will need cherry tomatoes, sliced red onion, marinated mozzarella balls, and farfalle pasta. Farfalle pasta has the shape of a butterfly, which adds to the attractiveness of the dish. Just like other pasta, a pinch of salt is a must when boiling farfalle.
You can eat this tasty farfalle recipe right away. However, it tastes best after a day in the refrigerator as all the flavors have more time to blend and grow. It holds up well in the fridge for up to 5 days.
Total time: 25 minutes
This summery pasta with grilled chicken and asparagus pesto has a magical pull. You cannot resist the temptation of this delicacy. It is a perfect combination of tasty grilled chicken, crunchy asparagus, and light lemon pesto dressing.
You don't need to marinate the chicken; just some basic spice will work. You can sprinkle some salt, pepper, and Italian seasoning for a great improvement in flavor. For the asparagus, it will need some salt, pepper, and olive oil before grilling.
The dressing is effortless to make with pesto, lemon juice, and shredded romano cheese. Toss it with grilled chicken, asparagus, and pasta until combined. The pasta has bursting flavors of smoky asparagus, which pairs nicely with a zesty kick of pesto lemon dressing.
Total time: 15 minutes
The next specialty has a lot of Thai influences. This spicy Thai spaghetti salad is an excellent fusion of Eastern and Western flavors. This dish uses your uneaten spaghetti that pairs perfectly with the refreshing ingredients of Thai cuisine.
The peanut butter dressing and fresh veggies take this Thai spaghetti salad over the top. In addition, chopped cabbage and carrots pair perfectly with the Thai culinary trinity of roasted peanuts, cilantro, and basil.
For the dressing, you will need to mix rice vinegar, peanut butter, garlic, and cayenne pepper for an amazing creamy sauce. No one can resist a refreshing, sweet, and sour dressing with a hint of nutty flavor. Besides the flavor, this dish's vibrant presentation is also appealing.
Total time: 20 minutes
Summertime is all about pasta salad. This strawberry Caprese salad is one of the best ways to put your favorite strawberries to good use. You can make this salad without breaking a sweat for your parties or picnics.
The ingredients required to make this pasta are strawberries, basil, mozzarella cheese, and pasta. Very simple, right? Making it is as easy as that. All you need to do is toss strawberries and mozzarella with cooked pasta, and garnish with basil leaves.
The sweet and tangy strawberries will tickle your taste sense. In addition, the mozzarella cheese adds that cheesy, dairy taste to balance everything nicely. If you are lucky to have some leftovers, store them in an airtight container for up to 3 days in the refrigerator.
Total time: 20 minutes
Bucatini Amatriciana is a special pasta that originates in Italy. This specialty consists of unique Italian ingredients, like dried bucatini pasta and guanciale, cured meat from pork jowl or cheek. Try making Bucatini Amatriciana to up your pasta game.
The star of this dish is guanciale; it provides saltiness and richness to the flavor palette of the meal. You will sear guanciale until it turns crispy and the fat starts melting. The melted fat is the essence of this dish, and you can complete it with rosemary and red pepper flakes.
If you cannot find guanciale, go for unsmoked bacon or pancetta (unsmoked bacon or pork belly). I also suggest using high-quality San Marzano cherry tomatoes. It will result in savory, delicious pasta with a sweet and sour flavor and a refreshing tomato feeling.
No one can resist the deliciousness of Bucatini Amatriciana.
Total time: 25 minutes
You can't say no to this chicken dish for your summer days. It is packed with a sweet and sour taste from the savory teriyaki chicken with summer fruit and veggies.
Making this dish is one of the best ways to utilize your leftover teriyaki chicken, or you can buy premade chicken to create this pasta salad. You can feel the summer presence in this recipe with sweet and sour mandarin oranges accompanied by many refreshing veggies.
This one-bowl meal of teriyaki chicken pasta salad gives you all types of nutrients, from carbs and proteins to fiber and vitamins. Not to mention, it is extremely flavorful with a sweet and sour taste that will tickle your taste sense.
Total time: 35 minutes
This chicken Caesar pasta salad should be on the top list of pasta to impress guests at potlucks or cookouts. This delicacy takes regular Caesar salad up a notch with the protein from bacon and chicken.
This treat is full of delicious filling, besides the protein base I mentioned. On the veggie side, there are tomatoes and Romaine lettuce. Not only do they contribute freshness and fiber, but they also team up with croutons to give a crunchy mouthfeel to the pasta.
You can prepare this pasta salad beforehand but make sure to toss the lettuce, dressing, and croutons just before you serve them. It's because these ingredients can turn soggy if you leave them together for too long.
Total time: 20 minutes
I hope you are not tired of Italian-inspired pasta salad yet because I want to introduce a specialty beaming with Italian flavor. The vibrant appearance of the creamy and delicious garlic parmesan tortellini salad will attract your guests.
Tortellini, bacon, and peas team up to create such a decadent pasta dish. The garlic parmesan sauce plays an essential role in combining these ingredients perfectly. If you have never tasted tortellini, it's a kind of pasta with melted cheese inside.
The peas and salty bacon add an astonishing taste to the cheesy tortellini. They also help balance the cheesiness from the sauce that may cause you bored. This warm and comforting side dish will steal the spotlight at any BBQ or potluck.
Total time: 45 minutes
Pasta Primavera, or spring pasta, is an American dish made from vegetables and served with lemon or butter sauce. This dish is a combination of various types of vegetables and Penne pasta.
Zucchini, yellow squash, bell peppers, and asparagus are what you need for the salad. However, you can replace many of them with anything to your preference. Simply slice everything into evenly bite-sized pieces, then they are ready for the sauce.
While boiling the pasta, you can start making the sauce. Always remember to reserve a cup of pasta water for later use. You need to cook the butter, lemon, and crushed garlic together for the sauce. Add the reserved water when mixing so that everything blends easier.
Anyone can make pasta Primavera with this informative tutorial.
Total time: 20 minutes
Just like its name, this fresh summer spaghetti will bring the whole summer to your bowl. The savory sauteed cherry tomatoes meet pasta and sweet balsamic sauce in this recipe. This summer delicacy has a robust and appealing presentation.
You will sautee the tomatoes with olive oil and garlic until they wilt and start to release juice. At first, this flavorful pasta sauce might not seem like summertime food. However, it has a tangy, refreshing taste, best suited when it's scorching hot out.
A big piece of burrata cheese is always a welcome addition. It adds a milk taste that pairs beautifully with the sweet and sour taste of the balsamic sauce. In addition, the tomatoes contribute a popping texture and refreshing feeling to this dish.
Total time: 2 hours 35 minutes (including 2 hours of chilling time)
Let me see the hands of the macaroni lovers. This best-ever classic macaroni salad will surely satisfy your craving for macaroni. The best part? You can prepare this dish ahead with tons of healthy veggies.
Chopped red onions, peas, and eggs are the major components of this delicacy. They partner up with lovely macaroni and a creamy mayonnaise-based dressing.
Once you have finished tossing all the ingredients, you will be surprised at how vibrant your salad bowl is. It has all the lively, tempting colors from the veggies and cheddar cheese. The earthy, refreshing flavor also blends wonderfully with the dressing's rich taste.
Total time: 15 minutes
If you are feeling fatigued and losing your appetite, don't hesitate to try this easy lemon basil pasta salad. This summer treat will boost your mood with its strong lemon flavor. You can prepare this side dish in a blink of an eye with only a handful of ingredients.
The essence of this recipe is the zesty dressing that consists of lemon juice, olive oil, and garlic. Let these ingredients enjoy a blending trip in the food processor. Although this lemon basil vinaigrette is simple, it will amaze you with ultimate refreshing flavors.
A touch of parmesan cheese highlights the flavor of lemon wonderfully. Fresh basil, the last component, gives the pasta its color and freshness. You can turn this pasta into a complete dinner by including grilled chicken or shrimp for additional protein.
You can pull off this super easy tutorial for lemon basil pasta.
Total time: 35 minutes
This pasta salad is going to be your new favorite vegetarian dish using pasta in summer. It contains no mayo and is full of protein. You can prepare this healthy meal ahead of time for a perfect picnic or cookout dish.
You only need five ingredients to pull off this refreshing treat. Pasta, cherry tomatoes, chickpeas, and feta cheese combine nicely, thanks to the pesto. You don't have to worry about the lack of protein since chickpeas add a great amount of protein to your diet.
Turning this dish gluten-free is possible if you replace pasta with brown rice or lentils. A vegan option is also available by switching feta cheese with a vegan alternative. Additionally, dairy-free pesto is a must if you want this pasta to be vegan.
Total time: 35 minutes
Here comes another unique, fresh pasta for the summer days. This vegan lemon orzo pasta is so simple yet delicious and nutritious. Who doesn't love a refreshing side dish with pasta for a cookout or gathering?
In case you don't know what orzo is, it is a type of short-cut pasta that looks like a large grain of rice. In addition, you will need asparagus, zucchini, arugula, and lemon juice to prepare this treat. Some lemon zest and seasonings will finish it off beautifully.
The asparagus has to be chopped and baked before combining with the orzo and other veggies. You can also toast the zucchini, but the dish will miss a crunchy mouthfeel. Take a spoonful and feel the summer flavors popping in your mouth.
Total time: 30 minutes
The summer months are here, so a delicious dish with penne pasta is a must. This Penne Pomodoro, or tomato basil pasta, checks all of the boxes. This pasta is a combination of fresh basil, Penne pasta, and burrata cheese that is spiced up with Pomodoro sauce.
The Pomodoro sauce is made in two steps, starting with the tomato paste base and completing with various seasonings and herbs. Afterward, you can start boiling the Penne pasta in salted water until al dente.
Add the Penne pasta to Pomodoro sauce and cook them on medium heat for the sauce to coat the pasta evenly. Don't forget to top the pasta with a chunk of burrata, fresh basil, and the trio of salt, pepper, and olive oil for the extra flavors.
You can effortlessly whip up this Penne Pomodoro for lazy weeknights.
Total time: About 30 minutes
Attention, eggplant lovers! This charred eggplant pasta with tomatoes and goat cheese is here to please your appetite. "Decadent" doesn't usually come to mind when you think of summer pasta, but this delicacy has a hearty and appealing presentation.
This pasta lets eggplant take the center stage. The first thing you want to do is to give eggplant a trip on the grill until it is charred. You will only use its smoky flesh with other ingredients to create a sweet and sour sauce.
Goat cheese and toasted pecans are the garnish of this pasta. Pecans offer a crunchy mouthfeel, and the goat cheese blends into the pasta to create a delightfully creamy texture. Their tanginess and nuttiness complement the sweet, smoky taste of eggplant beautifully.
Total time: 30 minutes (excluding 2 to 4 hours of resting time)
Without a doubt, this Italian pasta is one of the most recommended dishes to make with cherry tomatoes when the summer is approaching. It meets all the standards of summer comfort food: minimum cooking required, fresh ingredients, and extremely refreshing.
To make the marinade for the tomatoes, you have to pour olive oil, lemon, shallots, garlic, and pepper flakes into a bowl and cover it. Your biggest obstacle when making this pasta will be waiting for the tomatoes to rest and absorb all the flavor.
This pasta salad has a variety of flavors owing to the plump marinated tomatoes, fresh basil, and Parmesan cheese. It tastes amazing when served warm with freshly boiled spaghetti. This pasta holds up well in the fridge for 2 to 3 days.
Total time: 30 minutes
Believe me, this sweet, juicy roasted tomato basil and feta orzo is going to be a crowd pleaser. It has roasted tomatoes, herbs, pine nuts, and prosciutto (dry-cured Italian ham). This pasta is simple, so it only takes a snap to make.
While roasting the tomatoes with basic flavorings and honey, you will boil the pasta and make the vinaigrette. This dressing consists of olive oil, red wine vinegar, and shallot, giving the orzo a vinegary flavor.
Combine the orzo with vinaigrette and fresh herbs; you will instantly feel the aroma of every ingredient combined.
Burrata and prosciutto as garnish will complete this pasta wonderfully. Not only does the rich, creamy burrata complement the salty, crunchy prosciutto excellently, but these two also contribute tons of flavor and texture to the pasta.
Total time: 10 minutes
If you are looking for a new pasta salad to serve up, this tuna bucatini dish is an excellent way to utilize your canned tuna. Bucatini is similar to spaghetti with a hole running through the middle. You can try this type of pasta for a new mouthfeel experience.
You will need a can of tuna with olive oil, cherry tomatoes, anchovy filets, and bucatini. While you boil the bucatini, you can fry the anchovy filets with tomatoes and garlic. Take advantage of the oil from the tuna tin for the extra flavors.
Once the bucatini is al dente, combine the ingredients with it and toss until glossy. Next, you can add tuna, lemon juice, and wild rockets to warm them up. A tangy kick from the lemon juice will balance the strong flavor of anchovy and canned tuna.
Total time: 1 hour 40 minutes (including 1 hour of chilling time)
BLT stands for bacon, lettuce, and tomato. This trio represents the famous sandwich, and I bet many of you are big fans of it. Don't hesitate to try this BLT pasta salad; it is going to satisfy your sandwich longing.
The name of this pasta salad says it all. The three ingredients you need are bacon, lettuce, and tomato. However, some ranch dressing allows all the ingredients to combine smoothly. It also helps to give the pasta a creamy mouthfeel.
This pasta salad will blow your mind with one bite. You can feel the saltiness from the bacon cuts through the natural sourness of the tomatoes and pairs nicely with the crispy lettuce. You can refrigerate it for at least one to two hours and overnight for the best flavor.
This BLT pasta salad is the perfect comfort food for the summer.
Total time: 50 minutes
Maybe you have had enough pasta dishes with veggies. Therefore, the specialty I am about to introduce will have a fresh twist from the ocean. Nothing is better than savoring seafood pasta when summer is in full force.
This delicacy contains a variety of seafood, including mussels, shrimp, squid tentacles, and baby scallops. They are all fresh and delicious. However, this all-star group of ingredients wouldn't come together perfectly without a delicious sauce to blend them in.
Sugo al Pomodoro is an Italian classic tomato sauce made from onion, olive oil, canned tomatoes, and basil. The sauce partners up with all the seafood and pasta in this recipe to create your family's new favorite.
Total time: About 25 minutes
Aglio E Olio is an Italian phrase that means garlic and olive. This Aglio E Olio with fresh tomatoes also makes for an ideal pairing with chicken parmesan to create a wholesome dish. A touch of fresh tomatoes and lemon juice brightens this pasta for hot summer days.
You will need spaghetti, garlic, olive oil, and tomatoes to make this pasta. For this dish, the only crucial step is to saute the garlic and remove it from the heat as soon as it gets golden to prevent burning.
There is no specific requirement for which type of tomato to use in this dish, but you should avoid using sweet tomatoes. If you want to achieve the best flavor, go for those that have a balance between sweetness and sourness.
Total time: 30 minutes
This shrimp pasta with corn and tomatoes is going to be your new go-to recipe for all your summer celebrations. Tender shrimps come together with sweet corn and plump tomatoes to awaken your palate. Of course, how can you forget a garlicky dressing to mix them up?
The star of this delicacy is the fresh shrimps. They are already tasty and refreshing on their own, but you will take them up a notch. Sauteing the shrimps with garlic and butter and simmering them in a savory sauce allows the shrimps to have an amazing taste.
A little tip: you can quicken the cooking process by using frozen corn or canned corn, but fresh corn has a distinctive sweetness that contributes to the flavor profile of this dish. However, with or without fresh corn, a mouthful of this delight will make you crave more.
Total time: 27 minutes
This grilled vegetable sun-dried tomato pesto pasta takes veggie pasta to the next level. In this recipe, roasted vegetables team up with pasta and sun-dried tomato pesto to form an extraordinary side dish. You can serve this pasta at cookouts, picnics, or family gatherings.
What makes this pasta special is how you prepare the bell pepper. You will need to grill the whole peppers until they are charred and cover them in a bowl. Only remove the burnt skin and the seeds when they have cooled down. Consequently, the peppers have an aromatic, smokey flavor.
To assemble, toss the roasted zucchini, asparagus, and bell peppers with pasta and finish with some sun-dried pesto sauce. For this dish, I don't recommend using flat-shaped pasta as they are less attractive and absorb less flavor.
Pasta Is A Year-Round Favorite, But Summertime Pasta Is Especially Bussin!
When the weather is cool, there are countless delicious and tempting pasta dishes you can make. However, deciding which pasta to prepare might be a challenge in the hot summer.
If you serve your loved ones baked or fried pasta dishes with excessive amounts of dairy-product and seasonings, your family will feel sluggish and lose their appetite. So, I hope you have some inspiration for the summer with this list of 30+ summer pasta recipes.
If you found this post helpful and informative, click the "like" button. You can also leave a comment below. Don't forget to send this article to your family and friends, so they have more choices for summer pasta dishes. Thank you for reading, and enjoy your meal!