There are many easy summer chicken recipes that you can choose to make. That is because chicken is versatile and widely used in many different cuisines. There are many culinary fusions between Western and Asian cuisines on this list of summer chicken recipes.
People often lose their appetite on hot days because the body tries to lower its temperature by reducing heat-generating processes like food digestion. For that reason, you will need dishes that have strong, refreshing flavors to stimulate your taste buds.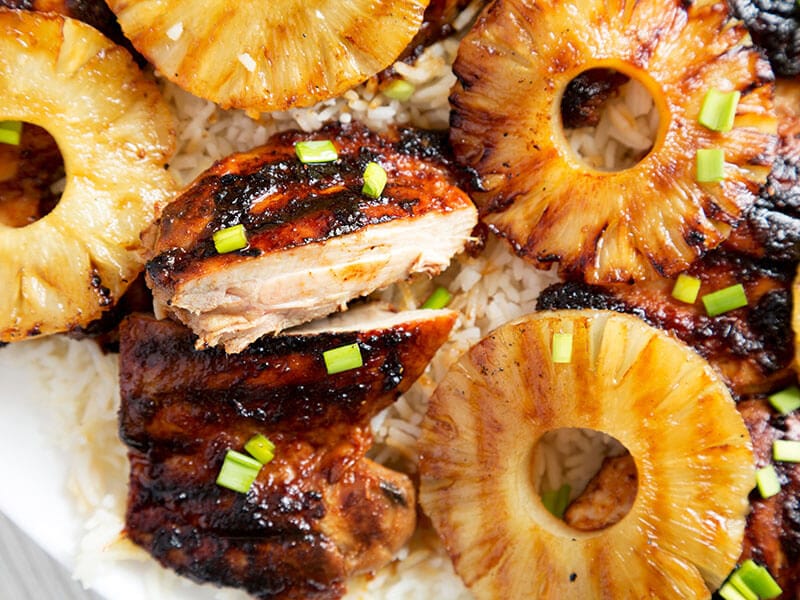 Summer Chicken Dishes Are The Savior On Hot Summer Days
Take advantage of the lean white protein in chicken by combining it with your favorite summer fruits and vegetables. These foods are delightful in every way.
Total time: 2 hours 50 minutes (including 2 hours of marinating time)
Have you ever heard of kabob? It is skewered and grilled meats that originate from the Middle East. This honey garlic chicken kabobs delicacy has an Asian twist to it. Marinade the chicken overnight so that it can absorb all the flavor of garlic and honey.
The secret to this dish lies in the marinade. It is a complex mixture of oyster sauce, honey, chili garlic sauce, and Dijon. Take just one bite, and you can feel the bursting of sweetness and spiciness from honey and chili sauce, with a hint of peppery taste.
These skewers go hand in hand with a cup of beer. This combo is the ultimate treat for hot summer days. These bad boys are so saucy and delicious that you can never stop at just one skewer.
Total time: 45 minutes
Chicken skewers are the staple of summer days, so I would like to bring in this bourbon maple BBQ chicken skewers recipe. It is super convenient that these skewers do not have to swim in the sauce before grilling.
To prepare this barbecue sauce, you can start by boiling and combining spices with bourbon, maple syrup, and other seasonings. Brushing this mixture on the skewers while grilling will guarantee you deliciousness.
What makes this recipe stand out is the bourbon liquor. The bourbon is undoubtedly robust; however, you can barely taste it as it is more about the aroma. If you are not into alcoholic ingredients, feel free to reduce the amount of bourbon in the sauce.
Your bourbon maple BBQ skewers will look stunning with this tutorial.
Total time: 1 hour
As its name suggests, this salad has a strong Thai culinary influence, as you can notice common Thai ingredients used in this recipe. The shredded chicken meets green papaya in this delightsome appetizer. This salad is perfect for kicking off a meal in the summertime.
The flavor palette is sour, sweet, and spicy, just like many other Thai dishes. Green papaya, lime juice, and vinegar provide sourness. It complements other ingredients' sweetness and spice nicely. You can notice the nutty notes from the peanut as well.
You can feel the tenderness of shredded chicken paired perfectly with the crunchiness of papaya and cabbage. If green papaya is hard to find where you live, you can substitute it with green mango. It will add extra tanginess but won't make much of an impact on your salad.
Total time: 20 minutes
The Thai peanut chicken crunch slaw salad is another Thai-inspired specialty on the list I want to suggest. 'Crunchiness' is the most appropriate word to describe this dish. Various fresh vegetables and chicken are blended perfectly with Thai peanut sauce.
The soul of this vibrant salad is the Thai peanut sauce. This sauce is rich and packed with nutty flavor peanuts. Not only does it create a flavor palate for the whole dish, but it is also a source of protein that fulfills the nutrients of the dish.
To recreate this recipe, combine Thai peanut sauce, lime juice, and all the vegetables in a large bowl and toss to coat evenly. Some peanuts as garnish will add an extra crunchy mouthfeel to this appetizer.
Total time: 20 minutes
Vietnamese cuisine puts a lot of emphasis on the use of vegetables in traditional dishes. It is the same for these Vietnamese summer rolls. These rolls are made with chicken, vermicelli, fresh vegetables, and herbs with a peanut dipping sauce.
They are extremely simple to prepare, yet their flavor will blow your mind. You must wrap these rolls first. To do so, place every ingredient on soft rice paper, and roll gently. Once you finish wrapping, you can start making the peanut sauce.
You cannot miss out on the peanut sauce, as it is where all the flavor comes from. This sauce has a sweet, buttery taste with a hint of nutty flavor that is perfect for dipping. These delightful and refreshing rolls are best suited for hot days.
Vietnamese summer rolls with chicken are so delicious and simple with this guideline.
Total time: 1 hour 30 minutes (including 30 minutes of marinating time)
Here comes another chicken skewers recipe for the sunny season. The famous Japanese sauce – teriyaki- coats the chicken skewers nicely in this recipe. They are marinated in teriyaki sauce and grilled to perfection.
The teriyaki sauce is what makes this dish special. This iconic sauce is a combination of various ingredients usually used in Asian cuisines, like soy sauce and sesame oil. It has a complex flavor, and its acidic ingredients will tenderize the chicken nicely.
It is recommended that the chicken should rest in the marinade for at least 30 minutes for the best flavor outcome. To complete a meal, you can serve these vibrant, savory skewers with white rice, sesame seeds, and green onions.
Total time: 55 minutes (including 30 minutes of chilling time)
The list of summer chicken dishes would be incomplete without mentioning pineapple. The tender chicken thighs combined with freshly sliced pineapple; result in a delicious yet healthy summer delicacy.
You will need pineapple juice, coconut aminos, tomato paste, and other herbs for the marinade. It will have the sweetness and sourness of pineapple, along with tangy notes from tomato paste. With this marinade, you will be able to yield the most flavorful grilled chicken.
Waiting for the chicken to be well grilled and charred will be your hardest challenge while preparing this dish. This grilled chicken is the showstopper; with every bite, you can feel the tropical taste linger around.
Total time: 50 minutes (including 30 minutes of chilling time)
Chicken satay is another Asian traditional delicacy that I want to introduce to you guys. Satay is seasoned, skewered, and grilled meat served with peanut sauce. This Thai satay will turn your chicken into the perfect meal for summertime.
It is straightforward to prepare with a focus on the satay marinade. The marinade includes lime juice, soy sauce, coconut milk, brown sugar, and other spices. Let your chicken submerge in this glory so it tenderizes and absorbs all the richness of the ingredients.
The peanut sauce takes this satay chicken over the top. With just one dip into this magical indulgence, you can feel the nutty flavor blend wonderfully with the fragrance of the herbs, not to mention the complex taste of curry powder and a spicy sriracha kick.
With this video, you can make chicken satay with peanut sauce with ease.
Total time: 25 minutes
If you are a big fan of mango, don't miss out on this grilled chicken mango salad. This incredible treat combines grilled chicken, cucumbers, peppers, and avocado with a special mango salad dressing. This bright and fresh salad will wow a crowd once you serve it.
The mango cilantro dressing is unquestionably the champion of this salad. It is also utilized as a marinade for chicken. The dressing is fresh and creamy with a mild mango flavor. It adds an extra sour kick to the chicken and the salad.
The salad will brighten your day with tons of freshness from cucumbers, peppers, and avocado. You can replace grilled chicken with vegetables if you are a vegetarian. However, ensure that you keep other veggies, as they are packed with nutrients.
Total time: 10 minutes
You can never go wrong with a refreshing salad for sunny summer days. This recipe combines cucumber dill and rotisserie chicken with Greek yogurt as a dressing. People will crave more and more of this salad at any potluck or BBQ party.
Apart from the mentioned ingredients, dill, celery, dijon mustard, and peppers contribute greatly to the flavor palette of this salad. The Greek yogurt gives it a creamy and cold texture that makes you feel refreshed with every mouthful.
This salad is full of protein from both the chicken and the Greek yogurt. You can serve it as a filling for hamburgers, bread, or vegetables. You can store the remaining salad in the refrigerator within an airtight container.
Total time: 22 minutes
Chicken on the grill is best to enjoy in the summertime. Here, I serve it with a marvelous side dish for grilled chicken: avocado salsa. This combination is full of protein and super low-carb; it is the finest for your health.
There are two steps involved in making this dish: preparing the salsa and grilling the chicken. To make the salsa, you will need chopped avocado, red onion, cherry tomato, and cilantro. After that, blend the mixture with salt, pepper, and lime juice.
The key to a juicy and savory chicken is the pounding and seasoning. You will need a wooden pin to pound the chicken evenly. The seasoning is simple, with garlic powder, onion powder, salt, and pepper. Give it a good brush of olive oil, and it is ready for a trip on the grill.
Follow this recipe for the perfect avocado salsa over grilled chicken.
Total time: 30 minutes
Asian BBQ is special, and one of the prominent names is Korean. With this spicy Korean BBQ chicken recipe, you will be creating a flavorful rice bowl dish that tastes like summer in your bowl. This delicacy has a stunning and tempting presentation.
This dish perfectly balances the robust chicken flavor and refreshing veggies. For the marinade, besides the common ingredients, you will need some Korean fermented red pepper paste and flakes. Without these two, the flavor profile will be incomplete.
For this recipe, you can customize it to your preference by replacing the vegetables, meat, or rice with anything you like. However, ensure that the Korean BBQ sauce remains, as it is the spotlight of all the flavors in this specialty.
Total time: 2 hours 35 minutes (including 2 hours of marinating time)
These tangy chicken thighs are the perfect dish with lime for the summer. Tender and juicy chicken is bathed in a super sour marinade with aromatic herbs to give you that refreshing feeling. This main dish is bound to steal the show with its tempting fragrance and flavor.
The marinade is what transforms plain chicken thighs into an appealing, tasty delicacy. Cilantro, olive oil, lime zest, and chili powder come together in a freshening sauce.
The cilantro and lime duo gives the juicy, tender chicken that zesty kick to awaken your taste sense. You should marinate the chicken for at least 2 hours or overnight for the best flavor. This dish is so versatile that it can go beautifully with rice, veggie bowls, or tacos.
With this tutorial, you are ready to serve your family these cilantro lime chicken thighs.
Total time: 35 minutes
This peach Caprese grilled chicken is the summer variation of the iconic Caprese salad from Italian cuisine. This specialty has more protein owing to the grilled chicken, plus a creative spin on the peaches instead of tomatoes.
There is no need to marinate the chicken; simply toss some pepper, salt, and olive oil on it, then it is ready to go on a grilling trip. The topping of thinly sliced peaches, mozzarella cheese, and basil distinguishes this dish.
Balsamic is essential in this recipe. You must boil the balsamic first so that it achieves a syrup-like texture. To assemble this dish, the grilled chicken will be the base, followed by the Caprese topping, drizzles of balsamic glaze, and garnished with chopped fresh basil.
Total time: 1 hour 40 minutes (including 1 hour of marinating time)
Summer is making its presence in these colorful Luau finger treats! No one can resist the temptation of flavorful chicken, fresh pineapple, bell peppers, and red onions on skewers.
Small cubes of chicken breast are soaked in pineapple juice-based marinade. The best part? It only needs an hour in the marinade to yield the best flavor. In addition to savory marinated chicken is the coconut cilantro rice, which is full of nutty flavor and super aromatic.
I suggest using canned apple juice in this recipe, as the enzyme bromelain in fresh apple juice will cook the chicken during the marinating. The chicken will come out mushy and inedible. There is no bromelain in the canned apple juice, so a nice texture is guaranteed.
Total time: 40 minutes
When summer is in full force, there is nothing better than a light, refreshing lunch. Look no further because these rotisserie chicken summer rolls will brighten all your days. Vietnamese translucent rice paper wraps all healthy vegetables and chicken up nicely.
What fill up these rolls are julienned vegetables, chicken, and herbs that you can pull off without breaking a sweat. The key to flawless rolls is properly arranging all the components before carefully rolling until they are closed and fit closely.
In addition to wrapping, rice paper also contributes to a chewy mouthfeel to these rolls. However, you need to soften it first. To do so, put it in warm water for 10 to 15 seconds and place it on a towel on your cutting board. The towel will prevent it from sticking.
Total time: 35 minutes
This spin on a traditional chicken salad can potentially become a crowd pleaser. The main ingredients of this salad are poblano, sweet corn, and chicken which are served nicely in lettuce cups. This salad is even more appealing, thanks to the creative presentation.
With this delightful recipe using shredded chicken, you can put your sweet corn to good use. Sweet corn and seeded poblano are roasted, then mixed with the chicken. A touch of Greek yogurt and mayonnaise dressing completes the dish beautifully. You can feel refreshing notes from lime juice as well.
This lighten-up salad is more than enough for warm weather. I suggest letting it chill in the refrigerator for an hour before serving. It pairs excellently with butter lettuce or bread.
Total time: 20 minutes
The first things that come to mind when you think of summer cuisine are tropical dishes with light, sweet, and sour flavors. This tropical chicken slaw with pineapple vinaigrette is all about the crunchiness of fresh veggies and the tangy kick of pineapple vinaigrette.
Shredded chicken breast is no longer plain in this recipe, as amazingly crunchy cabbage, carrot, green onion, and sliced almond accompany it so well. Other ingredients like sesame seeds and pineapple chunks also add subtle notes of flavor.
Coleslaw has always been a healful salad, but this dish is super nutrient dense with a tropical twist. You can make it in advance but ensure to only sprinkle almond and sesame seeds just before serving.
Total time: 8 hours 30 minutes (including 8 hours of marinating time)
Huli Huli chicken comes from the tropical land of Hawaii, and the word Huli means "turn" in Hawaiian. This Huli Huli chicken is an awesome option if you can't bear the idea of heating up the oil and frying some chicken on hot days.
What makes this Huli Huli chicken distinctive is the Huli Huli sauce. It has a savory and sweet flavor from pineapple juice, soy sauce, ginger, brown sugar, and garlic. Marinate your chicken in this glory for 8 hours for the tenderest texture and the most delicious taste.
The Huli Huli sauce is similar to teriyaki sauce regarding the flavor and ingredients. It is simple to present this dish; chicken is served on a large platter with grilled pineapple and topped with spring onions. The spring onions make the dish more vibrant and appealing.
This guideline makes Huli Huli chicken appealing and easy to make.
Total time: 45 minutes
Salad is just a perfect summertime food. This Greek chicken chopped salad with lemon tahini vinaigrette is an amazing combination of appealing presentation, delectable flavor, and nutritional value.
Pan-seared Greek chicken and tahini vinaigrette are the two essential components of this salad. The chicken is marinated in Greek style resulting in tender chicken with a hint of tanginess. It also has a spicy kick from the paprika.
For the tahini vinaigrette dressing, the sour taste is dominant. The sourness of both the chicken and the dressing will awaken your taste sense. You also will feel refreshed by the deliciously crunchy texture of the fresh lettuce and cucumber in your mouth.
Total time: 30 minutes
In case you don't have time to grill a summer chicken recipe, this easy chicken zucchini stir fry will work wonders for you. It is straightforward to make, and there is no marinating or grilling required.
All the flavor of this dish is from the sauce. It is a mixture of coconut aminos, toasted sesame oil, and red pepper flakes. The sauce is simple, so you don't have to spend too much time working on this dish on weeknights.
For the making process, you must brown the chicken first and then remove it from the pan. After that, saute the garlic, onions, and gingers before adding the zucchini; you can immediately smell the aroma of this trio. Once you add chicken and sauce, toss to combine.
Chicken zucchini stir fry is bursting with flavor if you follow this recipe.
Total time: 30 minutes
When you think about salad, the word "decadent" rarely comes to mind. However, this summer chicken salad with hot bacon dressing fits every sense of the word. While it consists of veggies and grilled or roasted chicken, you can prepare this yummy dish with canned chicken for more convenience.
Once you have gathered all the ingredients, focus more on the dressing, which is the star of this appetizer. You will toss the salty bacon with olive oil, vinegar, shallots, garlic, and thyme.
Don't miss out on fig preserves in your dressing. The sweet preserves balance out the salty bacon's saltiness. The torn Italian Ciabatta bread is filled with garlic flavor and adds a crunchy texture that ensures each mouthful is astonishing.
Total time: 55 minutes
The next delight that I want to introduce is the grilled lemon chicken. The chicken is marinated in a lemony sauce for extra flavor and tenderness in this recipe. You can pull off this impressive chicken in no time.
This grilled chicken recipe lets the marinade take center stage. Making this sauce is effortless since you only need to combine lemon juice, olive oil, garlic, and oregano. You can feel the bursting of sour flavor as well as Mediterranean taste in every bite you take
There are two things you must notice while recreating this recipe. Marinating chicken for too long will result in an unpleasant texture. Additionally, you should pay attention to the grill's temperature since overdone chicken is less appetizing.
You can recreate savory grilled lemon chicken with this guideline.
Total time: 30 minutes
Chicken and blueberry may be a weird combination, but feta cheese and blueberry are a perfect pair. The chicken has a great source of protein that complements the freshness and cheesiness of blueberry and feta cheese.
Everything comes together nicely with a touch of balsamic vinaigrette. To make this delightful dressing, you need olive oil as the base, balsamic vinegar, garlic, honey, salt, and pepper. Honey helps balance out the tangy taste of the vinegar.
Besides chicken and regular veggies, dried cranberries, blueberries, and crumbled feta cheese are what make this salad stand out. These berries add a zip of flavor and a crispy mouthfeel to the salad.
Total time: 20 minutes
These honey chipotle grilled chicken skewers will steal the spotlight at any summer cookout or campout. Its robust and shiny appearance is undoubtedly tempting. Apart from the presentation, it is also a flavor bomb, thanks to the addicting honey-chipotle sauce.
The honey and chipotle sauce is, without a doubt, the dish's heart. Honey, chipotle peppers and adobo sauce are the main ingredients in this sauce. After marinating, your chicken will burst with sweet, tangy, spicy, and salty tastes.
You only need to use half of the sauce for marinating; you can serve the other half as a side or brush directly on the chicken while grilling. Other serving suggestions for these skewers include pairing them with tacos, salad, or sandwiches.
Total time: 55 minutes
This teriyaki chicken salad has been taken up a notch from the regular teriyaki chicken. This salad has an Asian influence with the use of mandarin oranges and edamame. This vibrant, refreshing salad is ideal when it is scorching hot out.
It includes mandarin oranges, toasted almonds, edamame, and a creamy honey mustard dressing accompanied by delicious teriyaki chicken. The major contributors of sweetness are the mandarin oranges and the teriyaki chicken.
The honey mustard dressing is also sweet and tangy, which wraps up the salad beautifully. Moreover, the colorful mandarin oranges and zingy vegetables give this summer delight a tropical appearance that will stimulate your palate.
This teriyaki chicken salad brings out the best flavor of the chicken.
Total time: 30 minutes
One of the best ways to prepare chicken in hot weather is to wrap them in refreshing veggies. These delicious wraps with chicken are effortless to combine, but they are undoubtedly delicious and healthy.
The lettuce wraps the spiced, barbecued, and sliced chicken thighs; it is tossed with bruschetta cheese and garnished with reduced balsamic vinegar. What's more, the filling also includes other healthy ingredients, namely peppers, red cabbage, and red onions.
The grilled chicken doesn't need a complicated marinade; it will turn out fine with essential pantry spices. Take a bite, and all sources of flavors, from the juicy, tender chicken to the crunchy, fresh veggies, will explode to the inside of your mouth.
Chicken Is The Game-Changer For The Summertime
When summertime comes, you and your family deserve freshening meals that bring happiness and pleasure. One of the most popular options is chicken since it can partner with various ingredients to create incredible dishes, ranging from hot to cold.
However, deciding what to make in the hot weather is challenging and time-consuming as people's appetite decreases. That is why with the list of 25+ delicacies, I will save your time by suggesting some summertime inspiration on what to prepare.
If you find the information above useful, please click the like button and share your thoughts in the comments below. Don't hesitate to share this article on your social media, so people have more options for summer chicken treats. Thank you, and enjoy your meal!