Easy sugar-free desserts are a healthy choice for diabetic individuals. However, other people with no illness also think about cutting down their sugar consumption. Thus, I hope this article provides some great ideas to whip up in the kitchen.
Let's face it; you can never avoid sugar in any cooking recipe. Since most fruits or dairy products contain a small sugar content, the best thing to do is lower the sugar additive in your cooking. Therefore, these treats should not put you over the limit of daily sugar consumption.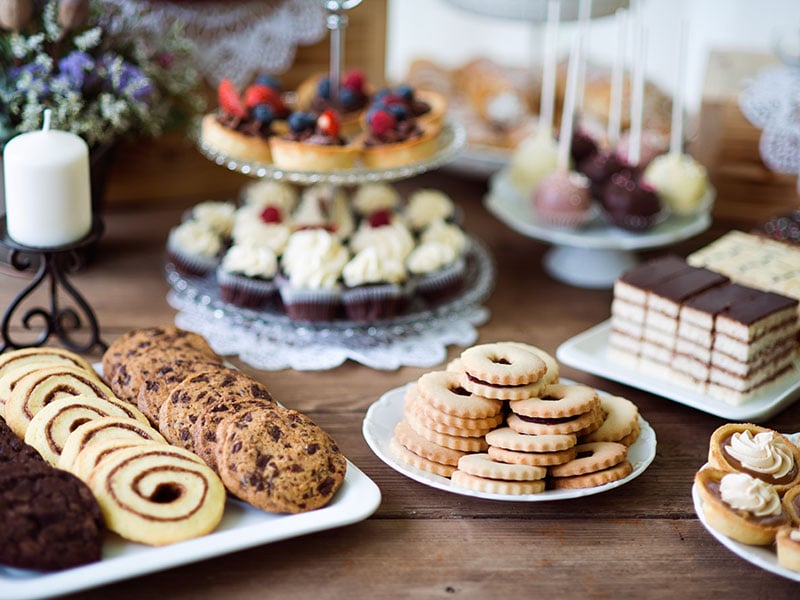 Jaw-Dropping No Sugar Desserts To Test Out At Home
Here are some sugar-free desserts to start whipping up in your lovely home. Note that you can always use artificial sweeteners to help make the treats more enjoyable. In addition, you should pay extra attention to picking sugar-free ingredients at the store.
Total time: 10 minutes.
Who says you can never enjoy a delicious dessert on a keto diet? Better yet, I'm offering you a sugar-free treat to eliminate most of the pesky carbs from your diet. I'm sure you will find the jello yogurt whips a lovely and tasty dessert.
People often utilize a non-sugar jello variety to dissolve with boiling water. I prefer stirring the liquid with some ice cubes to bring the mixture to a cooler temperature. Transfer the jello to a blender with plain Greek yogurt.
Fire up the blender until all the elements are mixed thoroughly. Chill the jello yogurt before serving it to your family. The flavor of the jello yogurt whips depends heavily on the type of jello flavor you pick.
Total time: 1 hour 10 minutes (including 1 hour of chilling).
Pudding is everyone's favorite dessert with an explosion of rich chocolate flavor. Surprisingly, the recipe is highly adaptable for a sugar-free requirement. The only difference is that the no-sugar pudding is less sweet than the traditional version.
Since the centerpiece of the pudding is a batter mixture, I suggest taking your time to combine cocoa powder with smooth cream cheese, heavy cream, and monk fruit sweetener. Let the pudding chill in the refrigerator before enjoying your creation.
Discover the intriguing way to recreate creamy, delicious chocolate pudding without sugar.
Total time: 15 minutes.
Originating from French cuisine in the 18th century, mousse has taken over dessert-lovers worldwide with its airy, fluffy texture. It's hard to say no to a mousse as its rich and velvety taste is highly addicting.
Nailing mousse on the first try is no easy task, but I got your back with a cheesecake sugar-free version of this French dessert. Instead of using milk, I recommend putting your hands on cream cheese to pair with canned pumpkin, Stevia, and pumpkin spices.
Gradually whisk the mixture until you achieve a smooth consistency. Gently fold in whipped cream with the pumpkin filling. In your glass, fill the bottom with sugar-free cinnamon and banana granola. Top the dessert off with a generous piping of the pumpkin mousse.
Total time: 1 hour 10 minutes (including 1 hour of chilling).
Strawberry fluff is a heavenly creation with only a handful of ingredients. The pink treat is ideal for Valentine's occasion or for children to enjoy a low-sugar dessert. The strawberry fluff contains low calories, making it perfect for people on a diet.
First, you should whisk heavy whipping cream to get a thick consistency. I suggest beating cream cheese in another bowl to achieve a smooth texture before infusing it with whipped cream. Gradually pour in the gelatin until you see the mixture thickens.
Proceed to fold in chopped pieces of strawberries. Chill in the refrigerator until the strawberry fluff is set and ready for serving. In terms of flavor, this fluff has a light sweet flavor but packs a massive hit in strawberry taste.
Total time: 20 minutes.
Chocolate cookies are an instant hit with everyone in the family with their soft textures and irresistible chocolate flavor. The cookie is a childhood classic you should always enjoy by dunking into a warm cup of milk.
To make the cookies a sugar-free experience, I prioritize erythritol (artificial sweetener) instead of conventional sugar. Whisk until the butter and sugar become fluffy to incorporate eggs. The sugar-free chocolate chips should come in last after mixing in the flour.
Place the cookie batter onto the baking sheet with some space between them. Bake in the oven until the edge becomes golden brown and crispy. A little secret: the cookies taste best after a couple of minutes to cool down.
Chocolate cookies still taste incredible even when you don't add sugar to the recipe.
Total time: 13 minutes.
Chocolate-covered strawberry is a simple yet beloved treat for everyone. People often make these chocolate strawberries during Valentine's to show their partner some love. Interestingly, chocolate-covered strawberries are highly adaptable to a sugarless recipe.
Instead of using conventional chocolate chips, I suggest switching to a sugar-free variety. For your information, these chocolate chips will still have a mild sweetness, but your body only absorbs a low amount of sugar.
After melting the chocolate with shortening (room-temperature fat) for a shiny look, you want to proceed with dipping the strawberries into the concoction. Place the strawberry over a baking sheet and let the chocolate layer cool down before serving.
Total time: 20 minutes.
People love the nutty and buttery taste of peanut butter cookies. Therefore, I'd like to introduce you to a healthier version of the treat by excluding sugar from the mix. It's also the perfect time for you to practice making cookies with almond flour.
Since it's acceptable to use sugar substitutes in a sugar-free diet, I recommend utilizing maple syrup to incorporate peanut butter and vanilla extract to a smooth consistency. Proceed to include almond flour and baking powder into the peanut butter mixture.
People often use a fork to create some indentations over the cookies for decoration. On average, these peanut butter cookies take 10 – 12 minutes to cook up and have a nice golden brown color.
Total time: 30 minutes.
Whether you're preparing a quick healthy breakfast or dessert, muffins are a solid choice you can always nail in the kitchen. Thanks to the versatility of muffins, I love infusing them with bananas for a light aromatic fruit scent.
Of course, I'll keep this dessert healthy with no sugar involved. For the bananas, mash them to mix with almond milk and coconut oil. Once the mixture is ready, you may advance to mixing it with the flour.
The muffin batter should be slightly runny and less sticky than cookie dough. Bake in the oven until the surface has a nice yellow color. These sugarless muffins commonly have a light sweetness from the addition of bananas.
Vegan banana muffin without sugar has never been this easy to make for your healthy diet.
Total time: 8 hours 10 minutes (including 8 hours of chilling).
No matter what diet you're on, ice cream is a hard-to-resist dessert. Interestingly, the coconut oil from the ice cream improves your metabolism and cognitive function. The keto version of coconut ice cream is a must-try for people on a low-sugar diet.
Beat egg yolks and erythritol (artificial sweetener) for the base mixture until it becomes creamy. Pour the yolk blend into a heated creamy mixture to cook all the elements. Once the cream bubbles, fold in the coconut cream to get a custard-like texture.
You may include some shredded coconut meat if you like some chewing experience in your ice cream. Finally, chill your coconut ice cream creation in the refrigerator until you're ready to serve it. The strong coconut note makes a great combo with creamy chilled cream.
Total time: 45 minutes (excluding 15 minutes of resting time).
Brownie is a guilty pleasure for many people, but some have difficulty enjoying the dessert because of their strict refined sugar diet. Not worry because this life-changing brownie is here to save you from all the trouble.
I know coconut sugar may sound scary, but it's the same as other sweet substitutes. Furthermore, coconut sugar possesses some minor nutrients that your body needs. Now, all you need is to whisk up the batter according to the recipe.
Don't forget to include cocoa powder and paleo chocolate chips. Ideally, the brownie should have a firm texture and a chocolate taste. In addition, you may even feel a coconut hint from the coconut flour.
Total time: 20 minutes.
Here's another coconut treat to whip up while you're free; the coconut truffles are little chocolate balls packed with shredded coconut meat. People even serve these truffles during the Christmas occasion for a decadent treat.
To cut you some slacks, I recommend grabbing canned coconut milk to work on this recipe. Typically, you want to combine coconut cream with shredded coconut, maple syrup, and vanilla extract until the mixture becomes firm enough to form into a ball.
In addition, people include some rum and almond extract to add another layer of flavor to the filing. Roll the coconut balls in the melted chocolate and let them cool completely. Garnish each truffle with a pinch of shredded coconut to wrap up the preparation steps.
This guide makes these non-sugar coconut truffles a breeze in the kitchen.
Total time: 1 hour 10 minutes.
Pumpkin pie is another classic option in the long list of desserts you can create without sugar. Instead of making a full-sized version, I prefer a miniature and crustless pumpkin pie to enjoy by myself.
The essential point to succeed in a pumpkin pie recipe lies in your ingredients. I prefer settling with eggs before mixing with almond milk, pumpkin puree, and some spices. The result should be a smooth pumpkin pie mixture ready for baking in the oven.
While baking the pie, make you check it frequently since the batter is easy to burn accidentally. I almost forgot to mention you can replace sugar by using Swerve as a sweetener for the pie. Add whipped cream, and your fluffy pumpkin pie is ready for serving.
Total time: 10 minutes.
Wedding cookies are a staple treat in many countries worldwide. This keto version of the cookie shows how you can still enjoy a good snowball cookie without introducing sugar into the recipe.
The best thing about these snowballs is you only require five elements to create them. In a mixing bowl, combine almond flour with unsweetened coconut, sugar-free maple syrup, and vanilla extract. Work the dough around thoroughly before dividing it into little balls.
Pop the cookies into the oven until the surface slightly turns yellow. Roll the cookies through the powdered sweetener for garnish. Typically, these sugarless snowball cookies still have a signature butter taste with a beautiful chewy texture to mesmerize everyone.
Total time: 1 hour 5 minutes.
There's no limit to what you can do with bananas, from banana muffins to bread. So let's spice up your bland bread with an incredible banana flavor. I'm confident you will always get a surprise reaction from everyone when you serve them banana bread.
To substitute the sugar, I love going for monk fruit baking sweetener to form a creamy mix with butter. After combining the cream with eggs and sour cream, you need to introduce the flour mix to the concoction. Don't forget to mash some bananas into the bread batter.
Bake in an oven until the bread surface gets a magnificent golden brown color. Preferably, the batter should not stick to the toothpick when you poke the bread to check for its doneness. Furthermore, people sprinkle the bread with some nuts to enhance the overall flavor profile.
Bananas are ideal for spicing your sugar-free bread with an excellent fruity taste.
Total time: 50 minutes.
Creamy and soft are the key selling points of a flan. The delicious treat has a long history dating back to Rome. In some way, cutting out the sugar from a flan recipe won't affect the final texture and taste of the dessert too much.
I recommend using allulose sweetener for both the topping and flan. Complete the topping first because it's a simple combination of water and allulose. Simmer the water and allulose until you get a caramelized brown color.
As for the flan, you may whisk the egg yolks before transferring the concoction to a mixture of allulose and heavy cream. Remember, you need to keep whisking the flan until the liquid becomes uniform. Transfer the flan to your containers and bake in the oven.
The ideal custard structure should be jiggly and has a vibrant yellow color after 25 minutes of baking. Drizzle the caramel sauce over the flan for serving. You will hardly notice the difference from a traditional flan.
Total time: 4 hours 10 minutes (including 4 hours of chilling).
If summer is upon you, or it's simply too hot outside, it's time to bust out a fun chocolate pudding protein pop. They are popsicle sticks with rich chocolate pudding flavor but contain healthy ingredients.
You often want to combine the almond milk with heavy cream, Torani (sugar-free syrup), and chocolate protein powder in a mixing bowl. Don't forget the chocolate pudding mix to give these popsicles a distinct taste. Let the mixture freeze, and you have refreshing popsicles in no time.
Total time: 5 minutes (excluding 1 – 2 hours of freezing).
It's always pleasant to have a chilling dessert after having a wonderful meal on a hot day. Therefore, I want to offer you a non-sugar, naturally sweet sorbet to whip up in no time. Remember, all the sweetness you taste in this recipe comes from the fruits themselves.
For the best result, you should freeze the watermelon and bananas prior to making the sorbet. Typically, the sorbet comes together quicker using a blender to incorporate watermelon and banana.
After freezing the sorbet, you will get a vibrant red color sorbet from the watermelon. In addition, the silky texture of bananas helps the sorbet become soft and smooth.
Uncover a quick way to enjoy chilling sugarless watermelon sorbet right at home.
Total time: 2 hours.
Cheesecake has endless variations for you to adapt. For many, a simple tangy and refreshing key lime cheesecake can satisfy your craving for sweetness after a hearty meal. The cheesecake is also fit to serve a crowd waiting to enjoy a decadent dessert.
To keep it simple, I prioritize a crust made of cracker crumble with a pinch of salt and almond milk to bind the ingredients. As for the filling, key lime zest with juice is essential to deliver a tart and sweet taste to the cream cheese blend.
The cheesecake's crust should be thin while the filling is fluffy and creamy. A small note for you: using plain Greek yogurt for the cream filling will help you cut down the sugar level for this cheesecake recipe.
Total time: 1 hour.
I always love a good blueberry pie to comfort myself after a wholesome meal with the family. If you think sugar-free blueberry pie is too good to be true, you must give this recipe a go in your lovely kitchen.
Like sugar-free recipes, the cheat code through a blueberry pie is to use your favorite artificial sweetener. The pie crust is a straightforward mix of almond flour with eggs and coconut oil. The oven should help you get a nice crunchy texture on the crust.
The cornerstone of the pie lies in the filling consisting of sweetener with fresh blueberries, lemon juice, and cornstarch to help thicken the concoction. Typically, the naturally sweet taste of blueberry with a hint of acidity goes perfect with the mildly crunchy pie crust.
Total time: 47 minutes.
People always seem to have room in their tummies whenever you decide to serve a chocolate cake. There's no doubt that the dessert is an addicting soft cake texture combined with rich chocolate flavor, but you can make it healthy by excluding sugar from the mix.
To materialize the cake, people often use flour, cocoa powder, and buttermilk as the base. Make sure you utilize Splenda to sweeten the cake without needing sugar. Adding a couple of eggs also helps bind all the elements better.
While you let the oven bake the chocolate cake, I want you to whip up the frosting by incorporating soft cream cheese with chocolate pudding mix, whipped cream, and milk. Finally, cut the cake into two pieces to fill the frosting between the cake's layer and exterior.
Sugar-free chocolate cake is a must-have for ending a meal on a high note.
Total time: 27 minutes.
Cinnamon rolls remind me of quality time spent with the family after dinner. Even when you have family members stuck with a strict diet, I believe these vegan rolls are still a solid choice to satisfy their sweet tooth.
The essential part of cinnamon rolls depends on how you create the dough. In this case, start working the flour with baking powder, applesauce, and monk fruit sweetener. Make sure you flatten the dough into one big sheet to spread the cinnamon sugar filling.
I suggest sticking to monk fruit sweetener to pair with cinnamon for a natural sweet filling. Roll the dough with the filling into one big log and begin to dissect the dough into even pieces with a knife.
You can simply combine artificial sweetener with water and plant-based butter for a sugar-free frosting over the cinnamon rolls. Although vegan, these cinnamon rolls have the same buttery taste as traditional ones.
Total time: 30 minutes.
A lot of people often mistake custard and flan. While both dishes are custard, the main difference is in the caramel sauce of flan. Like flan, it's easy to materialize custard without using a single grain of sugar.
In addition to eliminating sugar from the recipe, I suggest using low-fat milk to keep the custard healthy when combined with Stevia. While whisking egg yolks with cornflour, gradually pour in the warm milk blend. Bring the custard over low heat until you reach the desired thickness.
Total time: 30 minutes.
Jam may be the last thing people think about regarding sugar-free desserts. It's true because jam is rather complicated to create without including a massive amount of sugar. However, I'd like to introduce you to a non-sugar strawberry jam to materialize at home.
Aside from the must-have strawberries, you should lay hands on pectin powder and calcium water. I know these components sound weird, but let me break it up for you. First, calcium water is a solution that often goes along with the pectin powder.
As for the pectin powder, it's a type of starch used in jam-making or gummy candy. Creating sugar-free jam only requires you to simmer the strawberry to combine with the pectin and calcium water. Blend the strawberry mix to a smooth consistency afterward.
As you can see, this jam has no sugar and only utilizes the natural strawberry taste. Chill and spread the jam over bread to enjoy a simple dessert.
Sugarless strawberry jam has to be one of the easiest treats you've ever created in the kitchen.
Total time: 45 minutes.
Pineapple lush cake is a refreshing take to treat your family with a decadent yet healthy treat. The only sugar source in this cake recipe comes from the pineapple, a natural sweetener that your body can process.
For the base of the cake, you should use a sugar-free yellow cake with eggs and oil. Bake the cake according to the instructions for the perfect result. You want to whisk together a pudding mix with pineapple juice and whipped cream in a bowl.
Spread your pineapple cream over the cake and chill in the refrigerator for at least an hour.
Total time: 30 minutes (20 minutes of chilling).
Chewy and sweet with colorful appearances are what people love about gummy bears. These candies are perfect for treating your kids with light sweetness after a meal. Don't bother using a tremendous amount of sugar because the gummy bear still tastes fantastic.
To keep everything simple, you want to utilize unflavored gelatin to combine with your choice of sugar-free drink mix. After dissolving the gelatine in water, reheat it before pouring the gummy into a mold for chilling in the refrigerator.
Total time: 1 hour.
Tiramisu is a fan-favorite Italian dessert with a strong coffee taste to give everyone an instant kick of caffeine. While Tiramisu is creamy and delicious, you should pay attention if you want to serve this treat to diabetic individuals.
This healthy Tiramisu version should help recreate the Italian treat in a breeze without worrying about overloading your body with sugar. Simply swap out traditional sugar for any artificial sweetener of your choosing.
Ladyfingers are the centerpiece of any Tiramisu recipe. These spongy cake-like biscuits are often covered in a layer of pastry cream using Greek yogurt and egg yolk. Typically, people dunk individual ladyfinger through a mix of espresso and gold rum before assembling the Tiramisu.
For a final touch, a light dusting of cocoa powder will give the Tiramisu a hint of chocolate.
You don't always have to include sugar to enjoy a decadent Tiramisu after dinner.
Total time: 25 minutes.
To finish this compilation on a high note, I want to offer you a healthy sugar-free cupcake recipe to whip up from your lovely kitchen. The best thing is that you have the option to customize the flavor of these wonderful cupcakes.
The cupcakes start with utilizing an all-purpose flour base with baking soda, eggs, and buttermilk. Sweetness is an inseparable part of dessert; therefore, I suggest using an alternative sweetener like monk fruit to replace ordinary sugar.
At this stage, you can either bake the batter plain or include some fruit puree in the mix. Grab your cupcake mold and divide the batter into even portions. After spending some time in the oven, the cupcakes should have a fluffy texture to pair with a refreshing layer of frosting.
Sugar-Free Desserts Are Nothing Short Than Their Traditional Counterparts
With these treats in mind, I hope you will soon discover that no-sugar desserts are amazing like conventional recipes. Thanks to reduced sugar consumption, your body will have less opportunity to process the glucose into fat.
If you know people with diabetes, sharing this post will help them learn more about the kind of desserts they may consume. As for you, tell people about your experience with sugar-free food in the comment section.