Stuffed bread recipes are a beauty. The light and fluffy outside is a delight to enjoy. With the right fillings, you can elevate everything about bread to another level. Plus, you get to be creative with deciding what to put into the pastry.
What's more, they are easier to make than they look. Just follow the instructions, and with little cooking skills, anyone can whip up the most delicious stuffed bread. They are also flavorsome choices to revive your leftover stuffing.
Let's dig in what are the best options for bread fillings. Aside from the familiar sweet bread recipes, you also have many choices, from potatoes to veggies and cheese. So you can satisfy the demands of every family member. Start making the most awesome stuffed bread now!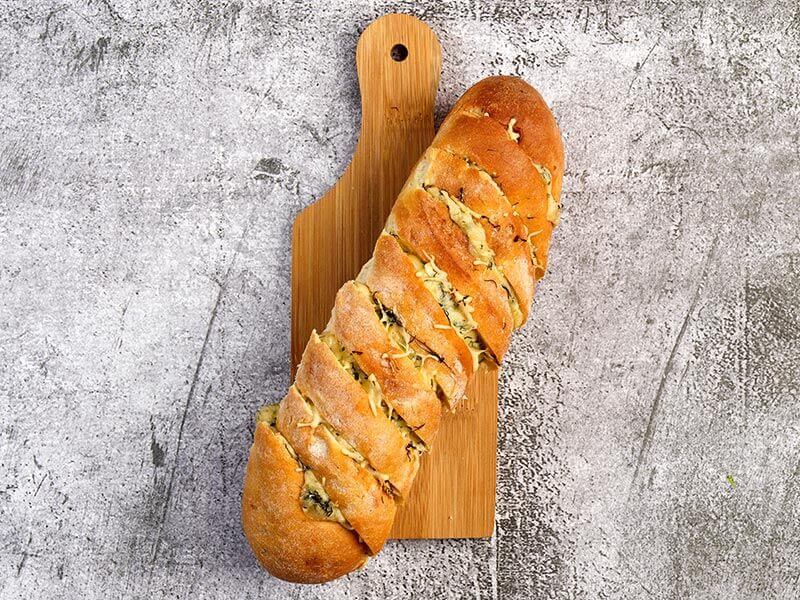 The Best Stuffed Bread Recipes You Have To Try Now
Everyone knows what stuffed bread is. You can find it anywhere, from grocery stores to restaurants, even at gas stations. But everything homemade is 100% better than anything store-bought, especially when you have a say in choosing the fillings.
Total time: 40 minutes
Be careful, or you may become obsessed with this simple appetizer. The gooey and cheesy bacon ranch bread consists of just 5 easy ingredients: bread, unsalted butter, bacon bits, ranch seasoning, and cheese – which holds the whole dish together.
One of the greatest things about this recipe is you can customize the taste by changing the cheese. The recipe calls for cheddar and mozzarella cheese due to their sharp taste, but feel free to put in any of your choices. Use jalapeno cheddar cheese if you want a spicier kick.
How you cut the bread impacts how easy it is to pull apart the final product. First, place the bread securely on an aluminum foil sheet. Then make a diagonally cut through the bread, remember not to cut to the bottom. Next, make another diagonally cut in the opposite direction.
No one will believe how easy it is to make the flavorsome bacon ranch pull-apart bread.
Total time: 45 minutes
The recipe is a street food fusion of Vada Pav, a deep-fried potato dumpling sandwiched between buns with chutney. If you are looking for a vegetarian stuffed bread recipe that can feed a crowd, you can't go wrong with stuffed potato French loaves.
This dish uses various spices, a signature move of Indian cooking. The filling is combines russet potatoes, green peas, and 3 kinds of cheese. You bet that the bread is anything but boring. The final product will be heavenly flavorful.
For an authentic Indian dining experience, serve the warm (not hot) bread alongside spicy green chutney, ketchup, and dry garlic powder. You can eat the dish as an entree during festive/holiday events. Alternative, it is also great as breakfast, snacks, or lunches.
Total time: 20 minutes
With loads of cheese, sour cream, cream cheese, and mayo, creamy garlic mushroom-stuffed bread is the recipe for anyone looking for something extra cheesy and creamy. But that's not all. The parsley, mushroom, herbs, and spices add a nice deep layer of flavor to the whole bread.
The making is straightforward: cut a hollow-out part of the loaf, make the filling by combining the required ingredients, assemble the mixture into the bread, then bake and broil. Remember to garnish the finished product with parsley.
Total time: 1 hour 10 minutes
It's time to make tender rolls filled with rich olives. Better yet, the whole thing is yeast-free and dairy-free (sadly, it's not gluten-free). The rolls are still soft and pillowy at the end using baking powder.
There are 3 components: bread dough pastry, filling, and topping. The dough in this recipe is one of a kind since there's olive oil and orange juice mixed into it. The orange juice is not overwhelming in terms of flavor, but it gives the meal a brilliant orange appearance.
As for the fillings, you can choose either olive or chocolate, depending on your preferences. Artichokes and roasted red peppers, garlic, pine nuts, etc. are good choices. Just have fun and experiment until you find the one filling that checks your tickbox.
Total time: 35 minutes
Here's a dish with some meat and heat, all the while still being cheesy. Besides the stretching cheese, you will find the bacon dip and mild jalapeno giving an unforgettable time. If that's not enough for you, it's possible to swap the jalapeno bacon for bacon ranch, cheesy corn, etc.
The baguette is very easy to make ahead. You can freeze it wrapped in foil or put it in large ziplock bags. To reheat, simply defrost the bread and pop them into the oven. Baking it from frozen is not a good idea as the cream cheese filling and crust won't be warmed evenly.
Total time: 20 minutes
You can stuff almost anything into bread, even pizza. Yes, I'm not kidding. This dish will surely satisfy your love for cheese, bread, and pepperoni. Everyone loves pizza, so they have no reason to resist such decadent bread with pizza stuffing.
The making couldn't be easier. It involves filling the hollowed-out French bread with cheese and pizza sauce, then topping them with pepperoni slices and seasonings, and baking at 400℉ for 10 minutes.
Everything is simple and can be ready within less than an hour. The result is wonderful and will be a hit with everybody. You can eat stuffed pepperoni pizza bread as a snack, appetizer, etc. Truly the perfect comfort food for every day!
Get into the kitchen and make the delicious pepperoni pizza bread with this detailed cooking guide.
Total time: 10 minutes
You have stuffed bread with pizza, now it's spaghetti's turn. The recipe is a great and simple way to use leftover spaghetti. When you are in a hurry for lunch, dinner, or appetizer, spaghetti stuffed bread won't disappoint. Plus, it's a full meal in itself.
The soft and fluffy bread base and hot spaghetti noodles play so well together. It makes you wonder why you haven't thought of this pairing before. The recipe calls for cheese and parsley topping, but feel free to add more toppings like pepperoni, ham, ricotta, etc.
You can use a large Italian loaf for standard-sized spaghetti stuffed bread or kaiser rolls for smaller bread bowls. You can reuse the carved-out parts of the loaf, so don't throw them away. It's possible to eat them toasted or with some seasonings.
Total time: About 35 minutes
In case you want something simple yet nutritious at the same time, you should take a look at eggs and veggie stuffed bread. As the name implies, this comfort food consists of broccoli, pepper, leeks, eggs, etc. They are all healthy ingredients!
But that doesn't mean it lacks tastiness. Wait until you bite into the crispy exterior and savory interior. Then you can indulge yourself in the crunchy vegetables-eggs mixture and gooey cheese filling.
What's more, the dish has only 154 calories, 19 g of carbohydrate, and is also close to being low-fat. Thus, you can say egg and veggie stuffed bread is a relatively guilt-free meal to enjoy. Plus, the making is easy and simple.
Total time: 30 minutes
I know this recipe will capture the hearts of meat lovers and even pro-veggies folks. With a knife and a few simple steps, anyone can create a base from a loaf of French bread. Remember to opt for sturdy ones so they won't collapse when you put in the filling.
Next, cook the steak in a skillet over medium-high heat until browned, then drain any moisture to keep the steak dry. Afterward, cook and simmer the meat with other items for about 5 minutes and 30 seconds.
Lastly, assemble the stuffing and the bread, then pop them into the oven. The delicious French bread stuffed with tender steak will be ready on your plates in half an hour. It's best to serve the dish warm and hot to enjoy all of the best it has to offer.
Total time: 1 hour 15 minutes
This mozzarella-based delight is an even healthier recipe for people wanting to keep themselves healthy while munching something delicious. Gluten-free, low FODMAP, vegetarian, etc., this dish has it all!
To make sure the dish is 100% without gluten, opt for certified gluten-free yeast and flour mix. As for the low FODMAP property, pay attention to the products' labels, especially store-bought ones.
Besides the health benefits, this stuffed bread is also a decadent offering. You will love how pillowy soft, cheesy, and flavorful it is with the cheese, pesto, herbs, and spices you put in. Trust me, the dish is guaranteed to be a hit with everyone.
Total time: 52 minutes
After veggies, steak, and pizza, now is time for seafood to shine. The dish is a New Orleans-inspired French bread stuffed with crawfish, garlic, and cheese. This may be one of the best ways to start the Louisiana seafood exploring journey.
The highlight here is the crawfish filling. You saute the seafood and then combine it with a mayo-cheese mixture. For the next step, you bake the foil-wrapped French bread with crawfish combination filling. Voilà! You can now taste the cheesy and wonderful crawfish bread!
Total time: 2 hours 10 minutes
You know what they say about apples (hint: "An apple a day…"). So, it makes sense why you should incorporate this red fruit more into your daily meal, and this apple cinnamon spiral bread with caramel cream cheese frosting is a perfect way to do that.
Besides apples, this dish is chock-full of various tastes like caramel cream cheese frosting, sweet butter along with vanilla extract, and warm spices such as cinnamon. Who knows that one bread could stuff so many amazing ingredients at the same time?
Total time: 30 minutes
This is a refreshing take on challah, a traditional Jewish braided bread served as desserts for Hanukkah and other special occasions. Besides a strawberry and whipped cream cheese combination, it also has fresh berries and maple syrup topping.
The delicious sweet bread makes for a perfect brunch with how light and delightful it is. Stuffed challah French toast is thoroughly rich when drenched in custard and perfectly cooked. However, to get the right balance, make the filling less sweet if you plan to drizzle the maple syrup.
This meal has 3 main parts: French toast, whipped cream cheese filling, and topping. You can customize it to your liking. For instance, swap out challah for brioche bread or replace strawberries with raspberries or blueberries.
Total time: 1 hour 5 minutes
There's nothing like eating the warming, fulfilling, and comforting stuffed pumpkin bread to satisfy that unknown craving you get in the fall season. Plus, you can fully use the abundant pumpkin in this chilly season.
Having said that, this recipe works all year round, too. But the bread doesn't stop with this fruit only, there's cheesecake in the stuffing! The cream cheese cheesecake filling is easy as a piece to make, yet it adds so much flavor depth to the whole thing.
The ingredients list is fairly long, but every item matters. Each of them contributes a part to the final complex taste. Moreover, half the work involves whisking and combining, so rest assured the process is easy.
Learn how to make cream cheese filled pumpkin bread the best way possible without much effort.
Total time: 30 minutes
The classic combination of mozzarella cheese, garlic, butter, and parsley is a crowd-pleasure. The best part is how the butter and cheese drip when you take the bites out of the bread with your fingers. A wonderful cheesy pull is a signature of any pull-apart bread.
The bread is already amazing on its own. But here are some accompaniment ideas: a simple salad or a dipping sauce like Marinara. Serving the cheesy garlic bread besides soup, chili, or stew is also a good idea.
The cheesy garlic pull-apart bread is cheesier than your regular garlic bread and more fun to boot. You can make the dish in advance and reheat it with a microwave. If you want to pull this off, remember to use crusty sourdough.
Total time: About 33 minutes
Among the list of fruits to stuff into bread, I believe avocado is the prominent choice. Not only does this green fruit taste awesome, but it also provides you with a good source of vitamin C, E, K, fiber, and more.
Chicken avocado stuffed garlic bread could be a complete meal for the whole family. When together, cream cheese, chicken, and diced avocado are anything but plain. Having said that, you can also enjoy it as a light meal or appetizer.
The bread is perfectly fine when you use cooked or baked chicken. This recipe is also an excellent dish to use up your leftover chicken. It's fine to use boneless skinless chicken breast. But that will take another 15 minutes of your time as you need to grill them in the pan.
Total time: 25 minutes
Here's one suggestion for what to bring to your next taco Tuesday gathering. Everyone will be amazed by this twist on their beloved tacos. To summarize, the tasty taco recipe is a collection of ground beef, cheese, tomatoes, and taco seasoning filling sitting on top of French bread.
You can make the beef filling ahead to save time. Don't assemble it with the bread until ready to serve. Prepare the filling and store it in a sealable bag or container in a refrigerator. When freezing, it could last 2 months at max.
Eating the dish plain is fine, but you can serve it alongside a green salad for better enjoyment. Quick, easy, and tasty, is there any reason to say no to the Mexican-style taco stuffed bread?
Surprise everyone at your next Mexican-style meal with taco-stuffed bread.
Total time: 45 minutes
What is Hasselback? The term refers to the technique where baked potatoes are sliced halfway through into thin wedges. You can thank a Swedish restaurant called Hasselbacken, which first served this dish in 1953, for this method.
You apply the same technique to French bread instead of potatoes. With just a few cuts, you have more surface area to introduce more flavors and depth to the bread. It's important not to cut all the way through and leave the layers joined together at the bottom part.
The cheesy and flavorful Hasselback bread is even more delightful when you serve it with all kinds of spaghetti and pasta. For instance, Fettuccine Alfredo and cheese Ravioli are great choices. Trying this bread with some soup is not a bad idea, either.
Total time: 45 minutes
Here comes an expected yummy bread recipe for your keto needs. Furthermore, it's a newbie-friendly dish that anyone can throw together. It only takes less than an hour, a few assembling steps, and baking.
Similar to most stuffed bread recipes, keto Stromboli is highly customizable. Instead of the standard Italian cured deli meats the instructions tell you to use, almost any deli meat works and will give you the same results. The same is true for cheese, choose any combination that you like.
Eating hot or cold, you can taste the meaty, tangy, and cheesy flavor. Do you want to be daring? Then don't be shy and try adding some fresh basil, pepperoncini, onions, etc. to spice things up. You can do it!
Total time: 1 hour 50 minutes
Now let's explore an offering from South East Asia. Murtabak is a Malaysian stuffed pancake or pan-fried bread often made with egg, veggie, and meat filling. In its homeland, Murtabak's filling can range from sweet to savory. The dish here is the latter with ground lamb meat stuffing.
To summarize, the final product is fluffy bread brushed with eggs and pan-fried to brown perfection. Traditionally, people fold and cut this street food into squares. But you can make it in any shape you like, rectangle or square.
Besides lamb meat, this recipe includes gooey melted cheese, beaten eggs, and various flavorful spices. For an authentic experience, you should serve Murtabak with a curry sauce or chutney.
You can recreate Murtabak at your home with a few simple steps.
Total time: About 1 hour 52 minutes (Excluding about 1 hour 30 minutes of yeasting time)
Tsoureki is a traditional Greek Easter bread made with flour, milk, butter, etc. What sets these Tsoureki minis apart is the filling you are making today. You can eat them plain without any filling, but where is the fun in that?
Like brioche and challah, the bread is at its best when using bread flour. However, you can substitute it with all-purpose flour in case you can't get your hand on one. Remember to knead the dough longer for the best results.
You can stuff many things into Tsoureki: chocolate hazelnut, frangipane (traditional Tsoureki fillings made of butter egg, almond flour, etc.), cream cheese, jam, etc. You should try them all to find out which one is the tastiest!
Total time: 30 minutes
Here's a delicious way to incorporate some veggies into your diet. Spinach, cheese, and chicken blend nicely together and are drenched in an extraordinary Alfredo sauce. The bread becomes better with every bite you take.
All ingredients are widely available, you can easily purchase them at the nearest stores. Since most items are Italian-originated, you may have better luck with Italian sections at the markets or stores. Using jarred Alfredo sauce can save you so much time.
With 20 minutes of baking at 350℉, you can make up to 8 servings with one whole loaf of Italian or French bread. You can prepare the meal ahead of time, remember not to assemble the filling and the bread before baking and serving.
Enrich Your Meals With These Delightful Stuffed Bread Recipes
Stuffed bread recipes are simple, but they are so much more than a plain treat you eat without any unique twists. The best part about them is the crazy customization you can pull on these pastries.
Share this article so that more people get the chance to be creative with their bread stuffing game. Plus, it's great to pay it forward if you find these recipes helpful and tasty. I'm sure others will appreciate you for introducing these mouth-watering offerings to them.
Do you have any bread-filling ideas of your own that you want to share? If the answer is yes, don't hesitate to share your thoughts and suggestions in the comment section below. I and others are more than willing to hear them.
Nutrition Facts
25 servings per container
---
Amount Per ServingCalories133
% Daily Value *
Total Fat 9.3g

15

%
Cholesterol 26mg

9

%
Sodium 336mg

15

%
Potassium 75mg

3

%
Total Carbohydrate 6.1g

3

%

Dietary Fiber 0.3g

2

%
Sugars 0.1g

Protein 6.3g

13

%
---
* The % Daily Value tells you how much a nutrient in a serving of food contributes to a daily diet. 2,000 calories a day is used for general nutrition advice.