There are numerous easy street food recipes to explore worldwide. Some delicacies are from beloved America, some are from far in Europe, and some impressive ones in Asia. Needless to say, these foods enrich the street cuisine.
In the article, you will gain the food names, flavors, and textures. Besides, some tricks and tips are available to conquer the perfect recipes. So there is nothing to stop you from making these street foods. Start reading now!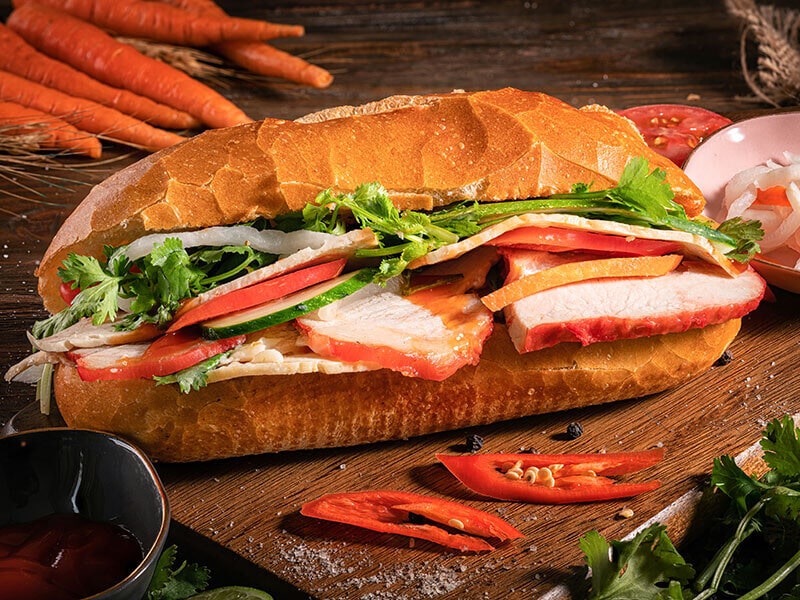 27 Effortless Dishes To Bring Streets Cuisine To Your Kitchen
Street foods can fill your stomach as well as be a symbol of the regional culture. Through more than a dozen recipes below, you will discover different cultures besides their delicious taste. Scroll down to get started!
Total Time: 20 minutes
I will open the list by introducing you to Takoyaki, the famous octopus ball from Japan's culinary culture. You can find these cuties in every street food stall and taste their best when served immediately after making. Plus, no professional technique is required, so go ahead and make some for yourself!
There are two elements in Takoyaki: the golden crispy batter and Tako (octopus) filling. The cornstarch is a secret to getting that crispy outer layer. Inside, pickled ginger, spring onion, and Tenkasu (tempura batter) add flavors to your balls besides crunchy salty octopus pieces.
For me, the fun part comes from the toppings. You can make them traditional with mayonnaise, takoyaki sauce, and seaweed flakes, or omit takoyaki sauce to get a Hyuga-style one. Whichever you top, serve hot to achieve the best flavor.
Find out how to recreate Takoyaki (Octopus balls) from a Japanese cook!
Total Time: 40 minutes
The next stop is Korean hot dogs. I'm not talking about the one people used to clamp between bread. This Korean version features a thick panko batter outside, making every bite crispy.
Moreover, the sausage and sticky cheese inside create a perfect combination of chewiness and crunchiness. While the hotdog presents a fatty and salty flavor, the Mozzarella cheese lends milky and floral notes.
And do not skip the condiments. Sour ketchup, spicy mustard, and creamy mayonnaise will give your delicacy an attractive appearance and inviting mouthfeel.
Total Time: 30 minutes
Here comes a signature dish of Korean cuisine. You can encounter Tteokbokki in any Korean movie (if you watch some). But if you have never heard of it, Tteokbokki is a Korean hot rice cake with a vibrant red sauce that will instantly grab your attention.
When eating, you find many textures at once: chewy rice cake, tender fish cake, and hard-boiled eggs. As its color implies, the decadent is super spicy. Thanks to the addition of sugar, the authentic spiciness of hot pepper is lighter and more pleasant to taste.
Aside from these ingredients, anchovies are the secret component of the whole dish. Without them, your delicacy will lack the extra salty and rich flavor. So remember to get some if you attempt to cook Tteokbokki properly.
Total Time: 50 minutes
Gozleme is a famous type of flatbread in Turkey. Not only do the Turkish residents consume it, but the tourists are also fans of them.
In my recipe, the selling point is creamy cheese and mildly sweet spinach stuffed in the light crust. But if you seek a new experience, you can try other filling variations. Ground meat, potato, or cheese also tastes great.
For leftovers, store them in an airtight container in the refrigerator. They will keep for up to one day. When you are ready to enjoy them, reheat them in a pan or oven before serving.
Total Time: 25 minutes
Tonkatsu (cutlet) is one of the yummiest foods I have experienced in Japan. It has all the characteristics you can expect from street food: flavorful, oily, and piping hot.
Season a pinch of salt and pepper to elevate the pork taste. The panko crumbs and eggs provide a super crisp on the outside. Your Tonkatsu takes only 6-8 minutes of frying to get a beautifully golden crust and tender meat inside.
For a quick snack, you can serve Tonkatsu sauce consisting of vegetables and fruits on the side. Or, you can eat these cutlets alongside white rice if you need a filling meal.
You will go crazy for this crumbly and delicious Japanese Tonkatsu!
Total Time: 30 minutes
Kathi roll is a popular food in India. Due to its convenience and deliciousness, people usually grab one for a quick lunch. The beauty of this dish is its spice aroma that attracts many eaters on the road.
When eating, you can feel this delicacy batter is as light as Turkish Gozleme. However, when it comes to the taste, the flavorful Kathi roll blows my mind. The cumin is earthy and warm, the asafoetida (gum resin of west Asian plant root) is burnt garlicky, and the ginger is spicy.
To me, those flavors are sharp enough to stimulate your taste buds, like any true Indian dish. Also, you can find green chutney spread in this recipe. But if you hate the extra herby mouthfeel, switch to mayo, cream cheese, or any sauce that fits your taste.
Total Time: 20 minutes
Another Japanese street food for you is Okonomiyaki, a savory pancake made of cabbage and other ingredients. Traditionally, there are two concepts of Okonomiyaki named after their region of origin: Osaka and Hiroshima.
In this recipe, you will make the Osaka one since it's easier and quicker. You only need to make a batter with Chinese yam and your favorite components and cook it on a griddle. The heat of a pan will bring the aromatic flavor and chewy yet fluffy texture.
With the addition of Okonomiyaki sauce and mayonnaise, your dish is out of this world. While the sauce adds sweet and smoky flavor, the sourness of mayonnaise cuts through to bring out the balance. In the end, your food is truly a pack of flavors.
Total Time: 32 minutes
Elotes is simply grilled corn, but you'll love it as one of the most flavorful side dishes to prepare for a picnic because of its sweet and creamy profile. The tangy and salty Tajin seasonings add more flavors to this Mexican food, making it the tastiest corn delicacy you have ever tried.
Grill your corn for a charred appearance. If no grill is available, you can heat these corn ears in the oven. Whichever method, remember to brush them with oil or melted butter to add more flavor and save cooking time.
Creamy spread is a real revolution of this decadent beginning with E. Sour cream, chili powder, lime juice, and mayonnaise create a tart and spicy taste. Sprinkle some chile and Tajin, and your corn brings a hit of Mexican cuisine into the kitchen.
Total Time: 30 minutes (including 15 minutes of setting time)
If you need an impressive snack to feed the crowd, Fafda from India is a great option. These chickpea bites are crispy and savory. Several spices make every mouthful promisingly flavorful and aromatic.
This Fafda's making process is a breeze. You only need to mix, knead, and fry the batter. Among these steps, pay attention to the kneading process since it is the most crucial step in trapping air and gaining a better texture.
For a filling snack, serve Fafda alongside jalebi (sweet snack) and roasted chili. Or you can dish up Fafda chutney on the side.
This easiest Indian snack, Fafda, will amuse your kids to no end!
Total Time: 45 minutes
This tasty food from the Philippines is the most convenient frozen food you can make. Take a little ingenuity and a few minutes, and you can easily have a tasty Kikiam.
Combine minced shrimp, ground pork, veggies, and five-spice powder for your fancy filling. After steaming, these ingredients lend an intense, umami, and slightly sweet flavor.
Once your logs of Kikiam cool down thoroughly, fry them over medium heat to get a crispy and golden brown look. Alternatively, you can save the delicacy for later by wrapping it in foil. These logs will keep up to 3 days in the refrigerator and 3 months in the freezer.
Total Time: 8 minutes (including 5 minutes of resting time)
Daifuku mochi is a Japanese sweet rice cake. Traditionally, you'll need a wooden hammer and several hours to make this classic Japanese dessert. But with this recipe, the whole process only takes a few minutes, thanks to the glutinous rice flour.
While handling rice flour, sugar, and water, you should look for a color change. The perfect mochi is somewhat translucent and cream in appearance.
Cover the batter with cornstarch to prevent stickiness. Stretch it and fill in the red bean paste, then your mochi has creamy and earthy notes in the center.
This delicacy tastes best in 24 hours, so calculate to make a fit batch for your family. But if you need to store some, keep them in a sealed plastic bag for one night in the fridge or one month in the freezer.
Total Time: 15 minutes
No one can deny the charm of Mozzarella, and I am sure neither do you. But aside from that gooey cheese, you also find the salty ham and mint hint of basil leaves, which lighten up your entire dish.
With only seven pantry ingredients, it is my favorite snack during every lazy time. Just layer ham, cheese, and basil between bread slices, then apply the milk-egg mixture to seal them. Once fried, your sandwiches are beautifully golden.
Slice them into individual serving portions, and your family will be impressed by the melting cheese.
Total Time: 1 hour 13 minutes (including 1 hour of resting time)
How can a bland waffle become street food? Do not blame me yet because you will explore the uniqueness of this Vietnamese waffle after reading.
Instead of using only one flour, the recipe calls for tapioca, rice, and all-purpose flour to create crispy edges and an extra chewy center. The coconut cream adds a delightful nuttiness.
The star of the dish is pandan leaves since they lend a pretty green color and aroma of sweetness to your delight. For the best flavor, you should use the real pandan leaves. But if you can't find them, pandan extract is just fine.
What makes you love this recipe is its lengthy storing time. You can make the batter in advance and store it in the fridge for about one week. Anytime your kids ask for snacks, you can quickly make some out of the refrigerator.
Fast making of Bánh Kẹp Lá Dứa (Pandan waffle) by using only a blender!
Total Time: 15 minutes
If you love corn on the cob, you should put these Mexican street corn fritters on the list. They share the same deliciousness but are more pleasing to eat since you can enjoy all of the flavors in just one bite.
Fry the batter on a hot pan to achieve a crunchy on the outside and moist on the inside. Sour cream, zesty lime juice, and cilantro make a wonderful combination to enhance your fritters.
Sprinkle on top some corn kernels and more queso frescos (white cheese), and your street food is full of sweet and creamy goodness.
Fresh corn is the best in town, so try to get some for this yummy snack. But if it is not available, swap for canned or frozen ones.
Total Time: 35 minutes (including 10 minutes of resting time)
Walk along the street in Taiwan in the morning and see a line of people? That should be a Dan Bing (egg crepe) stall. Fast and convenient to carry, this Taiwanese breakfast is ideal for working people. Therefore, this tasty and savory crepe recipe is ideal for days that you're in a rush.
Once the batter is ready, you only need to do some cooking and rolling. Thanks to sesame oil and chopped scallions, your egg crepes are full of nutty and peppery flavors. Soy paste and sweet chili sauce also help make your dish the talk of the town.
If you are not into scallions, you can freely switch to other fillings. Shredded cheese, bacon, ham, or corn should be a familiar choice.
Total Time: 1 hour
Dadar Gulung is a famous delicacy in Indonesia that has gained its reputation in neighboring countries like Singapore and Malaysia. People often describe this delicacy as sweet and attractive.
While the food colorings vary your snack appearance from color to color, the grated coconut and palm sugar combine to bring on the nutty sweetness of unti (coconut filling). Thanks to the pandan leaves, your filling is a burst of Asian flavors and aromatics.
Since the goodness of unti lies in its moisture, you should not overcook it. In case of dry filling, add some water and simmer it to bring back the juiciness.
Total Time: 30 minutes
Instead of soupy wontons, this recipe is more suitable as a snack. The heated oil brings out crunchy golden brown outer pastry while cooking the meat filling inside. So rest assured, it takes you only minutes to make these cuties.
Blended pork and prawn are added to the filling for a pleasant mouthfeel. The ginger and spring onions provide spicy and sweet hints to your wontons, making your bites more flavorful.
Remember to turn off the heat after placing wontons into a wok. That way, your bites are cooked thoroughly on the inside but not burnt outside.
Enjoy the Chinese New Year fried wontons in your kitchen in just moments!
Total Time: 5 minutes
Vasos De Fruta is a healthy snack from Mexico. Fresh fruits and a sprinkle of tart and salty condiments combine to create this refreshing snack or appetizer. That's why you can recreate it on any hot day.
My recipe calls for watermelon, mango, and pineapple. These sweet tropical fruits and tangy Tajin (Mexican seasonings) are a perfect pair. When you bite, the sourness and heat marry well to the sweet juice of fruits, creating a lingering taste sensation on the tip of your tongue.
Though the recipe cuts fruits lengthwise for finger food, you can freely cut them into cubes and use a spoon to eat them for a fancy treat.
Total Time: 50 minutes (including 30 minutes of setting time)
Kwek Kwek is famous street food in the Philippines. Though its name is funny to read, its taste is no joke. The vinegar is pleasantly tangy, and the chili is spicy. Plus a crispy coating, your creamy eggs are super inviting.
Thanks to the annatto powder, your fried quail eggs are vibrant orange, attracting many eyes when you place them on the table.
To boost the flavors, serve spiced vinegar or gravy sauce on the side of these quail eggs. Either way, your street food will vanish in no time.
Total Time: 45 minutes
For me, Xi'an is more than just a pancake. Instead of buttermilk flavor and fluffy texture, these Chinese pancakes are crispy and full of spiced flavor. When you sink your teeth into one, you know it's a recipe that represents Chinese cuisine.
Warm, savory pork filling with crunchy cabbage brings a delightful treat to your dinner table. Under the heat, the crust gains an attractive golden brown color. Plus some sesame seeds and chopped scallions, your food will hold everyone's attraction.
For the best taste, you should serve the delicacy immediately after frying. Otherwise, you can also refrigerate or freeze it if needed. When it is time to eat, reheat these fried pancakes in the oven to get warm food.
Total Time: 7 minutes
If you travel to Vietnam, you can find Bánh Mì on every street and at any time. This Vietnamese delicacy has a variety of styles depending on available ingredients. Still, pickled vegetables, cucumber, and cilantro are a must since they supply brightness to the entire Bánh Mì.
With pork pate and mayo mix, your bread is a burst of creamy and spicy flavors in every bite. Or drizzle soy sauce to add extra saltiness and bean flavor.
Best of all, the meat is the beauty of this delight. Though my recipe uses cold cuts for quick and convenient making, you can switch to your favorite one. Roasted pork belly is a good choice if you love umami and fatty flavor.
As a Bánh Mì lover, a small tip is to heat your bread in the oven in advance while making the filling. This extra step makes your baguette warm and pleasantly crispier to enjoy.
Accompany professional chef, Andrea Nguyen, and cook Bánh Mì (Vietnamese sandwich) from scratch!
Total Time: 2 hours
You must try Turkish Lahmacun at least once. It is a famous fast food in Armenian and Turkish food culture (due to the reign of the Ottoman Empire in the past). Even though some people call it pizza, its round shape is more like a flatbread.
The crust is thin and crispy, while the beef filling is full of nutrients. Besides, greens and lemon juice give a bright flavor to your delicacy, making you feel content after every bite.
To get the best flatbread, you should cut vegetables as small as possible. Use a food processor for a quick and effortless process. That way, the thin dough won't tear while still containing them entirely.
Eat your Lahmacun with onion or tomato salad for more brightness and fiber. Also, it is customary to serve your guests ayran (a traditional drink in Turkey made of yogurt) next to the flatbread. Its pleasant sourness will balance out your dish's greasiness.
Total Time: 1 hour 30 minutes (including 1 hour of marinating time)
These Mexican street tacos are top-notch American street food. It is not surprising if you run into a tacos stall on the way to work, where a long line of people is waiting. Fortunately, you can now enjoy them right at home.
Though the cooking time is more than an hour, you can always reduce it to minutes by doing the marinade ahead. The soy sauce, lime juice, and spices will add saltiness and sourness to your steak.
After cooking your steak, put it in tacos. Diced onion, cilantro, and a squeeze of lime will take your decadent to another level. Trust me, you will find this taco even more delicious than the ones Mexican food vendors sell.
Total Time: 1 hour 25 minutes (including 1 hour of rising time)
These steamed buns are inspired by the Chinese mantou (Chinese buns). Usually, Japanese people make this dish from pork rather than beef, hence the word "Buta" in the name, which means pork or pig in Japanese.
However, the Japanese have customized it to suit their taste. So this dish will have a lighter flavor. Aside from minced pork, the filling also has salty soy sauce, nutty sesame oil, and grassy green onions. Together, they create tasty, fluffy buns to serve any time of day.
The notable thing about my recipe is its adaptability. You can make it traditionally in a bamboo steamer or use any steamer on hand. But if you have none, a frying pan or instant pot also works.
Total Time: 38 minutes
If you need divine food to wow everyone, make har gow. These dumplings have impressive translucent skin and undeniable toothsome flavor.
To start, use wheat, tapioca starch, and boiling water to form a dough. The great thing here is no resting step, hence the short time requirement. You can use the dough to make dumplings right away.
The bamboo shoots, water chestnut, sesame oil, and ginger make the soul of the delicacy. While two formers give a crunchy texture and nuttiness, the rest ingredients come to reduce the fishy taste of shrimp and add a nice flavor to your har gow.
For a special treat, you should put whole shrimps in dumplings. That way, your har gow looks more beautiful, and your guests will feel more satisfied when they get to eat a whole shrimp.
Total Time: 15 minutes
Do not let the word pizza fool you! This Vietnamese pizza is a whole new world. Instead of dough, it consists of eggs, scallions, and any of your favorite toppings topped on grilled rice paper. That's why you will find it crunchy and delicious in every bite.
The heated eggs and scallions on the rice paper make the creamy base for a whole dish, while tuna provides a rich and fishy flavor. To elevate the taste, swirl sriracha and mayonnaise on top for tanginess and spiciness.
Though my recipe calls for tuna, you can swap it for other options of your preference. Some great suggestions are dried shrimp, spam, quail eggs, or cheese. Try different toppings and let your taste guide you to the best one.
You can make this Bánh Tráng Nướng (Vietnamese pizza) in just 5 minutes!
Total Time: 10 minutes
Last but not least, the most aromatic street food of the day is onion pakoda. In India, you can find onion pakoda stalls and a large skillet of oil everywhere. Stand near them, and you will feel the heat and onion fragrance.
For a homemade version, my recipe is less oily but promisingly crispier yet soft enough to sink your teeth in. You only need to combine dry ingredients, sliced onion, and curry leaves together, then fry them until golden brown. Super easy to do!
However, there are some notes to get the perfect patties. While the rice flour gives crispness, the hot oil is the secret to getting a soft bit. Besides, you should not overmix the batter, or your delight will become hard in texture.
Make A Feast Of Delicious Street Food To Excite Everyone
Nice work! You have gone through many street food recipes. Now it is time to make some and impress your family. Not only do you treat their satiety, but you also open their minds to diverse cuisines. There is no need to go anywhere since you bring all the world into your home!
Make one with any ingredient you have. And tell me how things are going in the comment box below. I would be happy to learn more from your knowledge.
Moreover, give this post a like to support my work. And do not delay but share and tag anyone who needs the post. You are an essential person to spread this helpful information to the community. I wish you a good appetite!
Nutrition Facts
6 servings per container
---
Amount Per ServingCalories120
% Daily Value *
Total Fat 4.5g

7

%
Cholesterol 33mg

11

%
Sodium 210mg

9

%
Potassium 219mg

7

%
Total Carbohydrate 14.9g

5

%

Dietary Fiber 0.4g

2

%
Sugars 4.5g

Protein 4.9g

10

%
---
Calcium

88

%
Iron

1

%
Vitamin D

2

%
* The % Daily Value tells you how much a nutrient in a serving of food contributes to a daily diet. 2,000 calories a day is used for general nutrition advice.