These best strawberry desserts have a natural balance between acidity and sweetness that no sweet treat can replicate. As a strawberry lover, I can testify that it is the most delicious fruit in the world.
It's not strange that millions of strawberries are consumed every year in the US alone. However, you need an excellent recipe to derive the most of this fruit's delicious taste and heavenly texture.
The strawberry season is near, and the market is filled with the freshest fruits, so don't hesitate to follow these recipes and create the tastiest strawberry desserts. Their soft and juicy texture, combined with the filling sweetness, will make your day.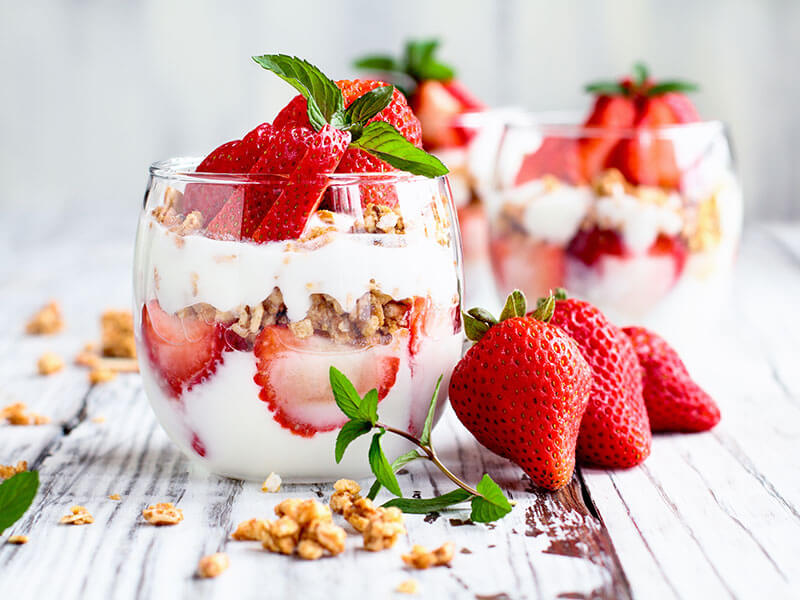 These Best Strawberry Desserts Will Bring Your Meal To Another Level
One thing I particularly love about strawberries is that they are very simple to prepare and can be eaten fresh. The iconic and lingering strawberry smell is another plus point to this exotic plus.
From the baking dishes and ice cream to candies, you will never have enough of these yummy strawberry desserts. They are delightful, healthy, and very simple to prepare, making a perfect dish to finish your filling meal. Now let's discover the recipes.
Total time: 15 minutes
Chocolate is the most delicious flavor in life, and it gets even better when combined with strawberry in these chunk brownies. Their sweet and fruity strawberry flavor mixed with the tart and mild bitterness of dark chocolate will melt your heart.
Of course, a delicious brownie recipe cannot lack the classic chocolatey flavor. This delightful chocolate dessert recipe uses unsweetened cocoa powder, milk chocolate bar, and dark chocolate bar to give the brownies a powerful chocolate taste and beautiful brown texture.
You can also substitute vanilla extract for the coffee extract to enhance the fabulous cocoa aroma in these brownies. To achieve a perfect balance of sweet and bitter tastes, the fresh strawberries slices and granulated sugar should do the trick.
The chocolate fans should not miss this instruction for making the strawberry chocolate chunk brownies.
Total time: 6 hours (including freezing time)
A delicious ice cream dessert filled with salted pretzel, ginger cookies, and fresh strawberry topping is a great star for this list. The creamy and fluffy texture combined with the sweet and fruity taste makes this cake a fabulous summer dessert.
The cake crust is made of salty pretzels mixed with butter and gingersnap cookies. It features a classic cracker-like flavor from pretzels and the fragrant, spicy undertone of ginger cookies.
There's no need for baking. All you have to do is blend these ingredients using a food processor. The last step is to lay the mixture on a baking pan and spread it on the creamy vanilla and strawberry ice cream layer to serve.
Total time: 40 minutes (excluding 12 hours of chilling time)
One small bite is never enough with this strawberry bavarian mousse cake. Its vibrant and pink texture, combined with the delicious strawberry's sweetness, will instantly light up your mood.
This mousse cake was invented by a French baker who prepared the cake for his client – Bavarian, hence the origin of its name. The cake's pure pinky texture comes from the Bavarian mousse (a mix of strawberries, yolks, sugar, cream, and lemon juice).
The creamy Bavarian mousse layer brings a light and airy sweetness filled with fruity strawberry flavors. You can use either fresh, frozen, or thawed strawberries for this recipe. Remember to reserve some fresh strawberry slices for the toppings.
Total time: 35 minutes
No dessert can match these hearty and delicious frozen strawberry lemonade cupcakes. With mostly store-bought ingredients and 35 minutes, you can prepare a tasty and nutritious dessert for the busy weekends.
These lemon-based sweet treats look like a treat from heaven with their colorful layers of caramel-like box cake mix and creamy strawberry frosting. Each cupcake is topped with a fresh strawberry and airy lime slice for extra fanciness.
The tangy and acidic flavor of lemon juice mixed with the filling sweetness of strawberry and boxed cake mix makes an exotic duo in this dessert. The strawberry frosting adds more tastiness to the cupcake with its fruity and sweet flavor.
Here is the easiest guide for making frozen strawberry lemonade!
Total time: 39 minutes (excluding 4-5 hours of chilling time)
Whether you serve it as a main dish or dessert, this layered no-bake strawberry cheesecake can fill your stomach for the whole day. It's full of sweet and fruity strawberry flavor complemented with a light and creamy cheesecake layer.
Believe me, the beautiful colors and delightful taste of this cheesecake all come from fresh and natural ingredients. The brown batter comes from the golden Oreo crust topped with an airy white layer of heavy whipped cream.
You don't need to bake the cheesecake, thus saving tremendous time preparing it. Also, baking will reduce the fluffiness and lightness of the cake batter. Instead, this recipe uses gelatin to shape and firm up the cake.
Total time: 1 hour and 20 minutes (including 1 hour of chilling time)
I don't see any reason to skip this strawberry fool. Its creamy and cool texture combined with the buttery and sweet taste is all you need for a delicious summer dessert. The dish is also super easy to make with only six ingredients.
You should choose the freshest and juiciest strawberries for this recipe since it combines strawberries in both the puree and macerating. If you use frozen strawberries, remember to thaw the fruits first.
Start with mixing strawberry with lemon juice and sugar in the blender for the puree. Then macerate the strawberry chunks with granulated sugar to bring out their juice and sweet taste.
Finally, combine the puree with strawberry macerating and fool whipped cream to serve! Wait for the mixture to set in for one hour, and top it with crumble cookies to serve!
Total time: 1 hour and 10 minutes (include 1 hour of macerating time)
This strawberry milkshake will stimulate your appetite with its milky texture and beautiful pinky color. Vanilla ice cream mixed with fresh and tasty strawberries adds more creaminess to the milkshake. It's a perfect dessert to enjoy after having a hearty meal.
The unique blend of sour and sweet taste in this milkshake fascinated me at the first sip. You will add a little sugar and vanilla extract to balance its sweetness. Ensure that you choose really high-quality ice cream to get that creamy texture.
Both frozen and fresh berries work with this recipe. Before blending the strawberries, you can mix them with sugar and cool them in the fridge for one hour. This step makes the strawberries more juicy and delicious.
Learn how to make the most delicious strawberry milkshake ever through this simple instruction.
Total time: 1 hour and 20 minutes (excluding 3 hours of cooling time)
Look at those sweet and colorful strawberry shortcake cheesecake bars. Their stunning appearance and yummy taste can easily impress everyone at the table. Follow the recipe, and you will be amazed at their beautiful texture.
The cheesecake bars are filled with strawberries, eggs, and cream cheese for a moist and creamy texture. If that isn't enough, the golden strawberry shortcake oreo cookies topping will add more classiness to the bars.
For the fans of yummy Oreo sweet treats, consider mixing Oreo crust with strawberries to make the batter. These cheesecake bars bring a rich blend of cookie and fruity flavor that every kid will love. You can prepare a generous batch to enjoy on the weekends and camping trips.
Total time: 22 minutes (excluding 2 hours of setting time)
I frequently load up my fridge with cool and healthy snacks to keep me fueled all week. If you're like me, these strawberry white chocolate truffles are a true blessing. 4 ingredients and 22 minutes are all it takes to make this delicious treat.
These white chocolate truffles are indispensable dishes to add to your eggless treat list to make at home. The chocolate batter is mixed with extra-thickened cream to add more creaminess to the truffles.
With the crushed strawberries toppings, each bite is a satisfying burst of flavors that will melt your soul. After preparing the truffle balls, don't forget to freeze them in the fridge for thirty minutes to achieve a refreshing and fluffy texture.
Total time: 2 hours and 15 minutes
The delightful balance of sour and sweetness in this dessert makes me feel like frozen yogurt and strawberries are born for each other. These simple and delicious yogurt sweet delights are the ultimate snack for summer days.
This recipe is more than simple as it requires only two ingredients: strawberries and yogurt. You can use whatever type of yogurt you like, such as Greek, flavored, or regular yogurt. Its sweet and tangy taste will bring the fruity strawberry flavor to another level.
I usually go for Greek yogurt since it gives me more energy for the morning workout. If you prefer a more elegant look, then use plain yogurt. Skewing these yogurt berries for the BBQ parties is also a brilliant idea.
Here is how you prepare quick, healthy, and delicious frozen yogurt-covered strawberries for a morning snack.
Total time: 30 minutes
These moist cream scones studded with butter and fresh strawberries are sufficient for a healthy and nutritious breakfast. This recipe brings you all the strawberries and cream goodness in each bite.
The scones look really stunning with the beautiful golden butter garnished with vibrant strawberry slices and airy vanilla cream glazing. They are a perfect snack to enjoy with your morning coffee or tea.
Making the cream scones dough is the funniest part. You first throw all the ingredients onto the table and slowly knead them into a pizza shape. Then, cut the "pizza" into 8 equal triangles and bake to serve!
Total time: 20 minutes
No ice cream or cake can taste good without delicious toppings. This homemade strawberry topping is a must-try for dessert addicts. You can glaze it on any dish; the flavors will come together like magic.
The strawberry topping features a vibrant reddish color that can easily drive your appetite. Its powerful sweetness from fresh strawberries mixed with vanilla and quite a sugar can satisfy any sweet taste.
This recipe adds a little red food coloring to give it a more passionate reddish color, but you can choose not to use it. Blend the strawberry topping in a blender if you prefer a smooth sauce-like texture.
What are the secret ingredients of a delicious strawberry topping? Follow this video to find out!
Total time: 25 minutes (excluding 2 hours of resting time)
I have tried a bunch of vegan strawberry desserts, but there's hardly any dish that can be compared with this vegan strawberry trifle. It looks so gorgeous with layers of fresh strawberries, ground graham crackers, and chilled coconut cream custard.
The crushed vegan biscuit layer adds more sweetness and flavors to the trifle, while the coconut cream custard provides a creamy and fluffy texture. When mixed with strawberries, they create an irresistible trifle.
By using soy milk to replace regular cow milk, this is a vegetarian-friendly and delicious gluten-free dessert recipe. It's a healthy no-bake dessert to celebrate the special holidays and family gatherings with your loved ones.
Total time: 1 hour and 5 minutes
This Nutella chocolate cake is so easy to prepare, but its flavors are out of this world. The exotic combination of Nutella, cocoa powder, and fresh strawberries are simply irresistible. This dessert will make any party and special occasion more memorable.
The rich and dense chocolatey taste combines so well with strawberry filling sweetness in this cake. Meanwhile, Nutella brings a mildly bitter undertone, which tastes like a mix of hazelnut and chocolate.
Strawberry is already sweet and delicious, but its mild sugary taste can hardly indulge the ardent sweet tooth. To enhance its sweetness, macerate strawberry in the vanilla and sugar mixture for 15 minutes before assembling.
Total time: 50 minutes (including 30 minutes of freezing time)
A refreshing and smooth ice cream bursting with delicious strawberry flavor is the best dessert you will ever have. Its dreamy pinky color will bring more joy to your day. If the spring is near, don't hesitate to feast your loved ones with this yummy dessert.
Obviously, you will need eggs, heavy whipping cream, strawberries, and whole milk for this recipe. You also need an ice cream maker to churn the mixed ingredients. After churning, freeze the ice cream for a few hours and serve when it's hardened.
Both frozen and fresh berries work well with this recipe, but ensure they are ripe and delicious. If you don't have strawberries, the other types like blackberries, marionberries, or blueberries are an excellent substitute.
It's effortless to make fresh strawberry ice cream. This video will tell you why!
Total time: 40 minutes
Strawberry and Pimm's cobbler is my favorite dessert, with easy preparation and a comforting taste. It involves ripe strawberry mixed with cobbler batter, combined with whole almonds, butter, and sugar for the toppings.
Cobbler is a classic American dessert of fruits covered in batter, dumplings, or biscuits. The pleasant sweetness and tender texture of the ripe strawberry make it a perfect filling for this cobbler recipe.
You can put on the strawberry cobbler chunks of vanilla ice cream to serve. The recipe also uses Pimm's – a gin-based liqueur sold in many grocery stores. Its fruity and spiced flavors cannot go wrong with this dessert.
Total time: 45 minutes
Imagine a cream cake covered with an airy white chocolate layer and topped with fresh strawberries. Every bite of this strawberries and cream cake tastes like heaven, giving a satisfying burst of fruity, sour, and sweet taste.
The thing I love about this recipe lies in its simplicity. It uses the store-bought white chocolate pudding mix and white cake mix for making the batter. The frosting layer is also simple yet delicious with a mix of vanilla, almond extract, and powdered sugar.
You can use more fresh strawberries to garnish the cream cake. Don't forget to let the cake chill in the fridge before serving. Its beautiful appearance makes this cake a great gift for your loved one on Valentine's day.
Total time: 3 hours and 30 minutes
The crumbly layers and the beautiful pinky color of this cake bring me a nostalgic feeling and solace. Try cutting it into slices, and the nicely assembled layers of vanilla frosting, fresh strawberries, and crunchies will look like heaven.
However, the real star of this layer cake is the vanilla buttercream frosting with an airy caramel texture and filling strawberry's sweet taste. It's a mix of salted butter, vanilla extract, strawberries, and all-purpose flour.
Cover the cake batter with vanilla frosting to hold the strawberries and vanilla crunchies. After assembling the cake's layers, top it with vanilla buttercream frosting swirls and more fresh strawberries to serve.
Is making the strawberry crunchy layer cake too challenging? This step-by-step instruction will help you out!
Total time: 5 minutes
There can't be an easier dessert than this strawberry oatmeal smoothie bowl with simple and no-cooked ingredients. If you are looking for a quick, healthy, and delicious oatmeal sweet treat for breakfast, this recipe is a must-try.
I'm not exaggerating when saying that this dessert is effortless to prepare. You just need to mix the strawberries, banana, almond milk, rolled oats, and sweeteners in a blender. Add extra toppings like berries, seeds, and oats for the toppings, and the dish is ready.
The frozen berries are not as juicy as the fresh ones, so you need to blend the fruits with more liquid. To keep the smoothie bowl healthy and low-carb, use natural sweeteners of your choice and unsweetened milk for the flavorings.
Total time: 15 minutes
This strawberry-sharing sundae is a brand new culinary experience with its gorgeous decoration and yummy flavors. It consists of fresh strawberries layering up with vanilla ice cream and exotic strawberry sauce.
The strawberry sundae is served in a tall glass and topped with mint sprigs and chopped mixed nuts for the garnishing. The mildly sweet and tangy flavors of the strawberry sauce paired with filling vanilla ice cream create a heavenly taste.
Blend fresh strawberries with icing sugar in the blender until smooth to make the strawberry sauce. You can prepare the sauce in advance and let it chill in the fridge for later use. Don't forget to top the sundae with more wafers and strawberries halves to serve.
Total time: 8 hours and 15 minutes
With an eye-catching reddish skin and filling sweet taste, these skinny strawberries and cream popsicles are a perfect summer snack for the kids. They are healthy and delicious, with no refined sugar used.
These cream popsicles are filled with fresh strawberries, Greek yogurt, and vanilla extract. Some flavor options are honey and maple syrup, or you can mix them together to enhance the popsicles' sweetness.
A popsicle mold will make it easier to shape and prepare the cream popsicles. The popsicles require 8 hours in the fridge to harden, so you should prepare them one night before the parties. Loosen them in warm water for 20 minutes to serve!
Have fun with this strawberries and cream popsicles instruction!
Total time: 2 hours and 57 minutes (including 2 hours of chilling time)
It's hard to point out the best quality of this strawberry delight since it's too perfect. This dessert possesses a creamy layer of heavy cream topped with extra chopped pecans and fresh mint leaves.
The flavor of the strawberry pie filling mixed with cream cheese, heavy cream, and powdered sugar is just gorgeous. The delight batter also features a mild buttery and fruity undertone using unsalted butter and chopped pecans.
This recipe replaces fresh strawberries with instant strawberries pie filling to save time. Though the strawberry flavor is the best match, you can use the other pie filling like apple or blueberry for this dessert.
Total time: 30 minutes (Excluding 2 hours of resting time)
Tiramisu is a traditional Italian dessert consisting of mascarpone cheese, eggs, and sugar with a classic coffee flavor. This limoncello Tiramisu substitutes coffee with strawberry for an even more exotic taste while keeping the traditional mascarpone cream flavor.
Obviously, eggs, sugar, and mascarpone cheese are indispensable ingredients for this Tiramisu. Instead of cocoa powder and coffee, the main flavors come from fresh strawberries and limoncello liqueur.
The liqueur gives an intense lemon taste and a powerful sweetness that combines excellently with the fresh strawberries. Since the frozen strawberries are too mushy for Tiramisu, you should use only fresh fruits.
This amazing mascarpone treat cannot taste good without enough resting time, so you should prepare it one day or at least a few hours in advance. An authentic tiramisu should have a soft and moist texture with an evenly blended taste from all the components.
Total time: 50 minutes
These strawberry Napoleons are a brilliant way to make the dining parties more memorable! Their crispy layers of pastry cream, fresh strawberry, and puff pastry give a classy and appetizing texture.
The strawberry napoleons feature a satisfying sweetness from fresh strawberries and powdered sugar. The melted chocolate drizzling on top also brings a pleasant hint of the sweet and bitter taste.
Garnish the pies with an airy layer of whipped cream, and you'll get a fancy puff pastry dessert to impress everyone at the table. If you're short on time, make ahead the puff pastries and assemble the napoleons pie right before serving.
Learn to make the strawberry Napoleons in just two minutes!
Total time: 40 minutes
Making the cream cupcakes is quite tricky since it's hard to bring out a tender and fluffy texture. With this strawberry and cream cupcakes recipe, you can prepare a super soft and creamy treat that tastes better than any store-bought dessert.
The shiny yellow cupcake batter is filled with a yummy filling of cream cheese mixed with whipped cream and vanilla extract. It's also topped with a pinky strawberry frosting and finished off with a half strawberry slice for a more splendid look.
The thing I like best about this recipe lies in its creamy strawberry frosting, which is a mix of strawberries, butter, milk, and seasoning materials. The freeze and dried strawberries give the frosting a tender and thick consistency with extra strawberry flavor.
The Best Fruit Desserts In The World Always Involve Strawberries
To be honest, it's not hard to create these best strawberry desserts. Strawberry is inherently everyone's favorite fruit with its wonderful sweet flavor and crunchy texture. It's also highly versatile, which can be used for making various dishes like juice, ice cream, and salad,
To me, there can't be a complete and filling meal without a delicious and fresh dessert. These recipes are the best meal's companion with their simple preparations and delicious taste. Just pick one random dish, and its flavor won't disappoint you.
So, those are the best strawberry desserts you can jump to the kitchen and prepare in minutes. I hope that you had a great time reading this post. If you enjoy making these recipes, don't hesitate to give me a like and share the post.