Make great use of the hard-rock bread with these stale bread recipes. There are more than ten ways to use up your day-old loaves, and you're welcome to try all of them. Don't throw out old bread immediately. Imagine how delicious and appealing they turn out with some effort.
Of course, everyone will love fresh bread, but not so much once it's two or three days old. But much to your surprise, the plain old bread has its beauty and deliciousness in some dishes. And you will discover these hidden gems in the recipes below.
From easy bread pudding and crunchy croutons to delicate Italian soup, look at these fantastic results to make with old leftover bread and some pantry items. Let's turn your stale bread into a delicious meal.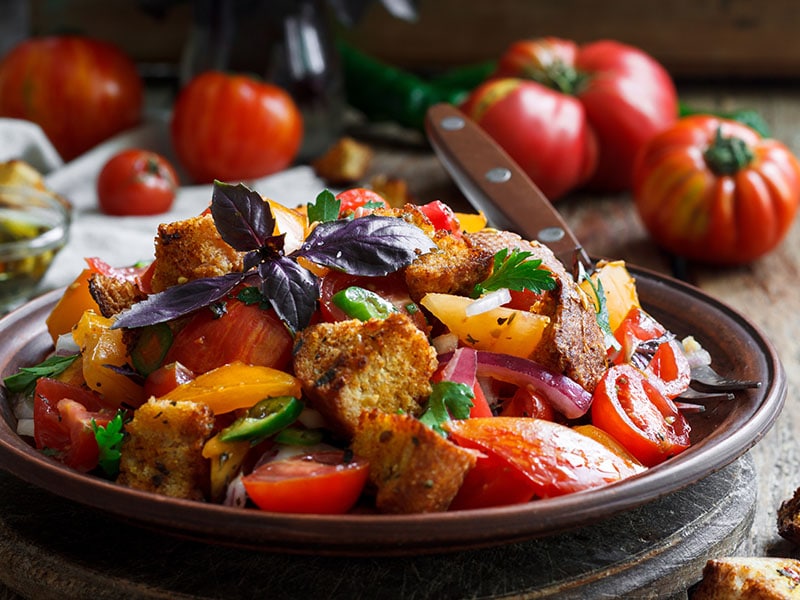 Eliminate Waste With These Stale Bread Recipes
The original purpose of these recipes is to make the most of leftover ingredients in your kitchen. Therefore, adding them to your menu is wise to reduce waste and have delicious yet economical meals.
Total time: 1 hour and 50 minutes
Turning your plain old bread into a comforting pudding sweet treat is an excellent way to clean up your leftovers. This simple bread pudding will be a subtle kickstart for this list. You won't be able to resist the sweet and creamy dessert steeped in vanilla sauce.
The stale bread is beautifully spiced with warm and spicy cinnamon and nutmeg. The silky vanilla sauce is necessary to add more sweet notes to the fluffy bread. Also, it creates moisture and balances the flavors. Prepare the vanilla sauce over low heat to prevent burnt sauce.
The key to this recipe is stale bread. But if you only have fresh bread, bake it at 200°F for 15 minutes for a firmer texture.
Check out this easy bread pudding to use up all your pantry items.
Total time: 1 hour and 5 minutes
Sometimes, your bread loaves may go stale a bit faster than you imagine. Discard them? No, I got you a solution. How about turning the leftovers into classic vegetarian bread dumplings with a few more pantry items? They are super tasty and guarantee nothing left for the trash.
Bread dumplings are a side dish known as Semmelknödel in German and Canederli in Italian. Large dumplings are made with stale bread, milk, eggs, and flour. This recipe is for vegetarians, so plant-based unsweetened milk is preferred.
After more than an hour, you will get the airy and tender dumplings with delicious taste. It is a healthy and savory dish that is filling enough to be a one-plate meal or a side dish to accompany meats.
Total time: 40 minutes (including 10 minutes of chilling time)
These leftover bread pudding muffins are the perfect way to satisfy your sweet tooth and leave zero waste in the kitchen. Combine your stale bread with raisins, eggs, milk, and some spices, and voila, your muffins are ready in about 30 minutes.
A few slices of your old bread may not be enough for the bread pudding recipes but are sufficient for these lovely muffins. And you're free to customize the remaining ingredients. Replacing raisins with other nuts or switching regular milk to almond milk is acceptable.
Two cups of stale bread cubes will be enough for eight servings. If you don't have enough stale bread at a time, freeze the bread cubes until ready to make this recipe.
These muffins alone are undoubtedly tasty, but maple syrup or some fresh fruit is a stellar addition to complement their deliciousness. Also, this sweet treat is equally yummy when served warm or cold.
Total time: 1 hour and 30 minutes
This caramelized French onion soup stuffing brings a new life to the old bread. With its intensely savory ingredients and loads of Swiss cheese, this mouthwatering dish will make everyone love it immediately.
This recipe includes all the basic steps to make the classic French onion soup, such as caramelizing the onion, adding wine, or simmering the mixture. So the secret to turning a soup into stuffing lies in the final steps.
After giving the onion mixture a light simmer, combine it with bread cubes, eggs, and other seasonings. Toss them in the oven and then top the mix with Swiss cheese.
If you're familiar with the original French soup, you may love this stuffing version too. Caramelized onions are savory and rich, with a balance of sweetness and bitterness. Meanwhile, the nutty Swiss cheese and Marsala wine are a game changer.
Total time: 55 minutes
Bread pudding is a traditional way to use hard-rock bread, and here comes another greatness with the chocolate twist. Every crave-worthy bread pudding should meet two criteria: flavors and texture. Sweet and fluffy, this chocolate chip bread pudding delivers both.
Stale bread is crucial in this recipe due to its leathery and hard texture. If your bread is soft, this dish can be a bit mushy. Turn the old bread into something delicious and beautiful with brown sugar, Kahlua, egg mixture, and chocolate chips.
Your kid may say no to the classic bread pudding, but I'm not sure about this chocolate chip version. The chocolate chips have a semi-sweet flavor, so they are more adored by the kids.
Variations are possible with added nuts, coconut, and berries. And any chocolate type will be delicious. Freeze the unused bread cubes and save them for later use to reduce waste.
Sweet and tasty; this chocolate chip bread pudding deserves to be on your dessert menu.
Total time: About 23 minutes
Let's say hi to my personal favorite: Romesco, a Spanish red pepper sauce. The huge bonus of this sauce is that you completely control its consistency, whether you want it thin and smooth or thick and chunky. And it tastes great with anything.
Romesco is a spicy Spanish sauce with stale bread, nuts, vegetables, and olive oil. The sauce's heat comes from smoked paprika and red pepper flakes. And this recipe calls for both almonds and hazelnuts to thicken the sauce.
Moreover, this flexible sauce works well with grilled fish, roasted meat, or vegetables. It can be spread on sandwiches too. Otherwise, consider it a dressing for your salad or top the sauce on a hot rice bowl. Save the leftover sauce in the fridge, which can last for about a week.
Total time: 4 minutes
What is a better way than turning stale bread into your favorite coating item: panko bread crumbs? Of course, store-bought panko is easy to find and affordable. But the homemade version is fun and a great excuse to experiment with your leftover loaves.
Panko bread crumbs are famous in almost any dish from Asian cuisine. They have a crunchy, light, and airy texture that will make a crispier outer layer for your fries.
White bread is usually the main ingredient of panko, so this recipe is good news for vegan fellows. Furthermore, these tasty crumbs have many health benefits. They are low in calories, fat, and sodium, making them a healthier choice than regular bread crumbs.
The homemade panko is done within 5 minutes with a few ingredients, such as red pepper, oregano, and parsley. With a food processor, things get done quickly. But If you don't have one, put the bread in a ziplock bag and use a rolling pin to grind it.
Total time: 35 minutes
Ribollita is a delicious recipe to use up any bread that has passed its prime. Loaded with hearty greens, salty bacon, umami-rich tomatoes, and fruity Parmesan, this Tuscan bread soup is comfort food when winter bites hard.
There are many variations of this classic Tuscan dish, but you should stick with diced tomatoes, leftover bread, carrots, and onions. Bacon adds a savory note to the dish, but you can eliminate it for a vegan soup. Also, this recipe uses lentils as a new change for white beans.
With a long list of vegetable items, this dish benefits your health. High-fiber foods such as carrots and lentils help regulate blood sugar levels and reduce constipation. Meanwhile, spinach boosts hydration and improves eye health. Delicious and healthy, this dish wins both!
Total time: 13 hours (including 12 hours of soaking time)
Don't you think the cinnamon roll bread pudding will be a sweet way to start the day? This sweet treat is about stale bread cubes with milk, egg, brown sugar, and cinnamon.
This recipe stands out from other bread puddings because of its similar taste to cinnamon buns. But the cooking time for it is much shorter.
This cinnamon roll bread pudding only takes about 1 hour for prep work and cooking time. However, soaking the dough requires a longer time than that.
Remember to prepare the dough the night before and let it soak for 12 hours in the fridge before baking it the following day. To check its doneness, ensure it has an evenly golden brown exterior.
Of course, freezing bread pudding is not encouraged, but refrigerating is acceptable. Bread pudding can stay refrigerated for three days after being baked and cooled to room temperature. When ready to use it, cover the bread pudding in foil and reheat in the oven at 350°F.
Total time: 26 minutes
Croutons are another great option to make use of your hard-as-rock bread loaves. And I'm not talking about a safe game since you will go extra with the Italian seasonings to turn these homemade croutons into an irresistible snack. Moreover, they can be gluten-free if you want.
A quick word for croutons: Coming from France, they are cubed and seasoned baked bread, adding more textures and flavors to a salad or other dishes.
In addition to bread and olive oil, this recipe lets you go all the way with other elements, such as garlic powder, Italian seasonings, and Parmesan cheese.
With croutons, size matters, so it's best to cut your stale bread into ¾-inch cubes. Moreover, I suggest baking them for about 16 minutes for a perfect crunch bite.
Why bother buying store-bought versions when you can have a batch of homemade croutons?
Total time: 3 hours and 5 minutes (including 10 minutes of cooling time and 2 hours of refrigerating time)
What if you have a loaf of bread going stale in the pantry? Then, make it into this special stuffed bread. This bread could be my go-to item when it is full of my favorite ingredients, such as spinach, mushrooms, cheese, and sausage.
This dish is a strata, similar to layered casserole dishes in the US, made with bread and other fillings. The stale bread needs time to mingle with the liquid, so you need to prepare the strata in advance.
Every bite is loaded with tangy, umami, and savory flavors. The contrast between the crispy, crunchy outside and the soft, eggy inside is satisfying. To add more kick, cayenne and other herbs will do.
This stuffed bread is super hot when fresh off the oven, so allow it to sit for 10 minutes before serving.
Total time: 1 hour and 17 minutes
This easy turkey meatloaf is quick and easy to make, using day-old bread. This turkey meatloaf will be a quick and delicious main entree on your table, perfect for any busy weeknight or last-minute party. To elevate your meal, don't forget to prepare some tasty side dishes that go well with meatloaf.
Rather than ground beef, this recipe uses ground turkey as a healthier alternative. Another surprise element is the presence of taco seasoning. Combine it with corn and chopped onions for extra flavors and textures. Go for yellow onions for their natural sweetness.
Whole milk is recommended, but any milk is possible. Remember to adjust the amount of milk according to how stale your bread is. Most importantly, make sure to check your meatloaf's doneness. The ideal internal temperature is 165°F to get rid of any dangerous bacteria.
Total time: About 45 minutes
When the season changes and the temperatures start to drop, nothing will beat a hot bowl of Pancotto, a traditional Tuscan bread soup. This soup is thickened thanks to stale bread cubes. It's seasoned with garlic and fresh herbs, such as oregano or parsley.
Interestingly enough, you don't need cornstarch or flour to thicken soups. Stale bread is a much simpler solution. However, if the old bread is unreachable, use fresh ones and cut them into thick slices. Don't toast but dry them in the oven over low heat for a firmer texture.
Your homemade Pancotto delivers nothing but a delicious taste. The soup is already flavorful with veggie broth and seasonings. Dried chiles add more heat, whereas Pecorino Romano gives a more grassy and earthy flavor.
Total time: 15 minutes
If you want to level up the stale bread, these cinnamon French toast sticks are for you. This French toast recipe brings together bread, milk, and a unique twist from cinnamon powder.
To your surprise, stale bread is a secret key to a fluffy and delicious French sweet. The French toast is traditionally designed to use up the leftover bread.
The beauty of day-old loaves is that they don't go soggy when absorbing egg mixture due to their rock-hard texture. Cut your old loaf into thick slices. For the breadsticks, remember that the thicker, the better. If you don't have stale bread, try pre-sliced sandwich bread.
After about 15 minutes, a satisfying result with souffle-like inside and crispy outside is waiting for you. Serve hot with maple syrup on the side as a dipping sauce.
Make some crunchy snacks for your kids with these cinnamon French toast sticks.
Total time: 1 hour and 20 minutes (including 30 minutes of resting time)
These Chester squares are easy to make from scratch. These sweets are a classic dessert that everyone will devour and a great way to clear your pantry items.
Chester squares are an Irish-originated dish with the name Gur cake. Like French toast or bread pudding, this recipe is about giving a new life to the leftover loaves.
The filling is rich, dark, and moist, using leftover stale bread, sultanas (dried seedless grapes), golden syrup, and mixed spice. Be flexible and customize the ingredients for your convenience.
Replace sultanas with currants, raisins, or mixed fruit. Moreover, leave the sultanas out and use red and green frosting at Christmas. Instead of golden syrup, try molasses, honey, or brown sugar. You can dust a light icing sugar layer or glaze to balance the cake's richness.
Total time: 10 minutes
What to do with just a few slices of old, stale bread? Instead of letting them go to waste, turn them into these cinnamon sugar bread crusts for a cozy night. You don't need many ingredients. Only butter, sugar, and cinnamon are enough, so I'm sure you will rock it.
Fresh bread is my favorite ingredient, but stale bread works better in this recipe. It doesn't go soggy quickly after absorbing the melted butter. Cinnamon and sugar are a dynamic combo with these breadsticks. They add a mildly sweet and slightly bitter flavor to the crusts.
A sweet and intrinsically autumnal scent will fill the air when the fresh crust is out of the oven.
These bread crusts are an upgraded version of cinnamon doughnuts. The taste is the same, but they are more crunchy, healthier, and faster to make. Consider using olive oil instead of butter if you want your crusts to contain less saturated fat.
Total time: 30 minutes
This vibrant Panzanella salad will be a total makeover for your old bread. Featured with stale bread and numerous summer components, this salad will bring a fresh breeze to your table. Not to mention, this is a one-bowl recipe, so no pile of dishes is waiting for you.
Panzanella may be an alien concept to you, but it is a classic bread salad from Italy. A traditional Panzanella dish includes tomatoes, stale bread, some herbs, and a simple tangy dressing. Yet, your version has extra peaches, corn, and chickpeas for more bright colors and flavors.
This salad's taste is already a 10-point with tons of flavors. But the layer of textures will keep you coming back for more. This salad has many hidden treasures to unveil with crispy tomatoes, buttery peaches, soft bread cubes, and creamy corn kernels.
Turn whatever ingredients you have on hand into this delicious Panzanella salad.
Total time: 50 minutes
Since the original point of Pappa al Pomodoro is to use up stale bread, there's no way you don't give it a try. And there are more than just tomatoes and bread in this dish. Look closely, and you will see pancetta (Italian salt-cured pork slices), red onions, carrots, and many more.
While Panzanella is a suitable accompaniment for hot summer, Pappa al Pomodoro is a perfect soup for cold seasons. It is seasoned with a few more pantry staples: olive oil, Kosher salt, red pepper flakes, and basils. This combo is perfect for both lunch and dinner.
The base begins with stale bread as a thickening agent, adding more textures and bulk. On the other hand, Parmigiano Reggiano is a fantastic flavor booster with its salty-sweet flavor and a powerful kick of umami. A hint of pancetta adds a more salty taste to the soup.
Clear Out Your Stale Bread In The Smartest Ways
It's a pity that the bread loaves you just bought have gone stale. But throwing the bread away instead of turning it into a delicious dish will leave you full of regret. With these fantastic recipes, you will feel that stale bread is no longer a bad sight in your pantry.
The plain old bread can be a sweet dessert, a colorful salad, or a warm soup that is possible for you to enjoy all day long. Giving them a new life means giving you a new cooking joy too.
Please remember that your likes, comments, and sharing about my article on social media greatly support the website. I appreciate every act, and thank you for reading. Goodbye and see you next time.
Nutrition Facts
9 servings per container
---
Amount Per ServingCalories408
% Daily Value *
Total Fat 18g

28

%
Cholesterol 109mg

37

%
Sodium 229mg

10

%
Potassium 117mg

4

%
Total Carbohydrate 55.7g

19

%

Dietary Fiber 0.7g

3

%
Sugars 42.4g

Protein 7.7g

16

%
---
Calcium

105

%
Iron

1

%
Vitamin D

11

%
* The % Daily Value tells you how much a nutrient in a serving of food contributes to a daily diet. 2,000 calories a day is used for general nutrition advice.