From heart-warming soups to flavorful rice, Spanish recipes are known for their colorful and festive dishes that no one can turn away from. Whether you're having a huge feast or just a family dinner, there's always a dish you can whip up that everybody will love.
Spanish cuisine is all about the bold and intense flavors. Even by using simple ingredients, you can still make some truly extraordinary dishes thanks to the seasonings and spices. Keep reading this list to find out what amazing foods you can include in your next meal.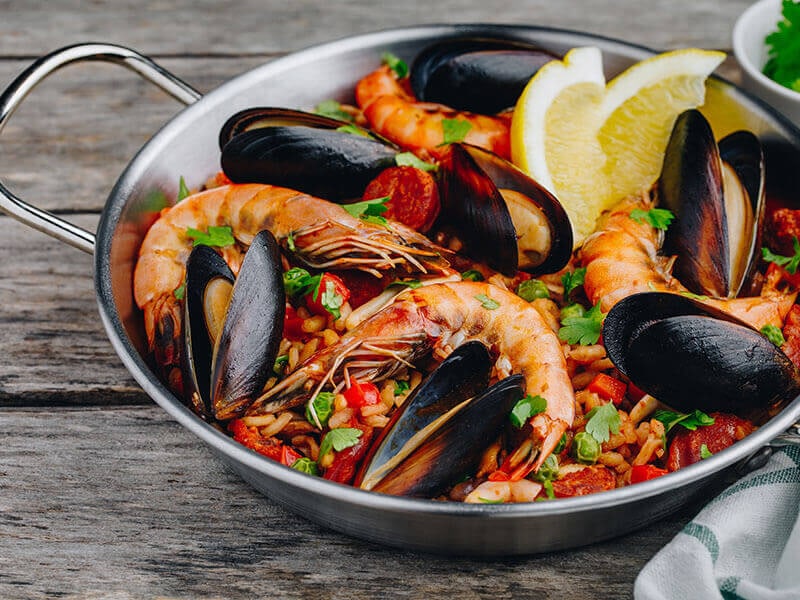 Top 29 Best Spanish Recipes You Should Try
Spanish food is just as diverse as its culture. For your convenience, the dishes on this list have been divided into six categories based on the courses: Soup, Tapas, Main Dishes, Side Dishes, Pastries, and Drinks.
Spanish Appetizers
Watermelon Mint Gazpacho
Ajo Blanco (Spanish Almond Soup)
Beetroot Salmorejo (Cold Beet Soup)
Sopa de Ajo (Spanish Garlic Soup)
Escalivada (Catalan Roasted Vegetables)
Catalan Coca (Spanish Pizza)
Calamares a La Romana (Spanish Fried Calamari)
Migas Con Chorizo (Scrambled Eggs With Chorizo)
Spanish Main Courses
Sopa de Fideo (Spanish Chicken Noodle Soup)
Spanish Fish And Chorizo Stew
Spanish Chicken Traybake
Dorada Al Horno (Baked Gilt Head Bream)
Arroz Al Horno (Spanish Baked Rice)
Seafood Paella
Spanish Chicken And Rice
Spanish Side Dishes
Pimientos De Padrón (Spanish Fried Padron Peppers)
Espinacas A La Catalana (Spinach With Pine Nuts And Raisins)
Patatas a lo Pobre (Poor Man's Potatoes)
Spanish Desserts
Tarta De Santiago (Spanish Almond Cake)
Spanish Empanadas
Tarta De Queso (Burnt Basque Cheesecake)
Miguelito (Spanish Cream-Filled Pastry)
Tarta De Manzana (Spanish Apple Tart)
Churros
Spanish Drinks
Classic Sangria
Spanish Horchata
Kalimotxo Cocktail
Aigua De València
Spanish Hot Chocolate
8 Spanish Appetizers That Are Just As Easy As They Are Delicious
Tapas is one of the Spanish cuisine's highlights. They often include dishes that you can eat as appetizers or snacks. They are effortless, simple, and you can make a bunch in just one go. Take a look and see what you can try out.
Gazpacho is a traditional appetizer made with tomatoes. However, if you're looking for a refreshing way to cool off this summer, use watermelon and mint instead. You can make it in just twenty minutes with no trouble at all.
This soup is just a simple blend of fresh fruits and herbs, giving it a perfect balance of sweet and savory with an aromatic aftertaste. Serve it with bread or a salad, and you can have a light appetizer everyone will enjoy.
Ajo Blanco is a deliciously chilled soup with almond and garlic as the main ingredients, with green grapes as an optional add-on. If you love the nutty sweetness of almond milk, you will surely fall in love with this soup.
You will be surprised to find out that the creamy consistency of this soup doesn't come from any dairy product but from whisking up almonds with water instead. This also gives it a delicate yet filling taste that will perfectly accompany any main dish.
Everything you need to know to make a perfect bowl of Ajo Blanco. Watch this video:
Salmorejo is also a cold tomato soup like gazpacho, but it's thicker and contains fewer vegetables. Using the same cooking method as the traditional recipe, this dish adds some beet to enhance the color and flavor.
Having beetroots as the main ingredient, this soup carries an incredibly eye-catching magenta color and creamy consistency. Their earthy taste pairs perfectly with the bright sweetness of tomatoes, giving you an unexpectedly refreshing soup for all your summer dinners.
Packed with flavorful garlic and smoky paprika, this soup is a wonderful addition to all your cold days. It's also filled with day-old bread, which helps thicken the texture and makes the soup so much more filling to enjoy.
This wonderful bowl of warmth is usually eaten with a poached egg. However, if you want a fully vegan recipe, you can replace the egg with any other chunky vegetable, such as potatoes, broccoli, or cauliflowers.
These colorful roasted veggies are the perfect starter for your summer meals. It consists mainly of eggplants, bell peppers, tomatoes, and various fresh herbs. The vegetables are seasoned and then roasted, so they carry a very intensified and smoky flavor.
The versatile taste of this dish makes it the perfect companion for all your grilled meat meals. When you want something other than a salad for an appetizer, it would also be a great choice.
You can find this colorful flatbread in a lot of bakeries in Mallorca. They are usually topped with sausage and vegetables, much like regular pizza. However, cocas are a lot simpler and usually just stick to one or two main toppings.
There are many variants of coca for you to choose from. Even though the savory versions are more common, you can also eat them sweet with marzipan and nuts or fruits. Serve them at parties as a quick appetizer or even as a main course for your casual dinner nights.
These fried squid rings are some of the most well-loved appetizers in Spain. They are deep-fried to golden perfection, so the outside is nice and crispy, while the squids are still so tender and juicy.
This recipe is also very quick to put together since it uses the deep-fry method. You only need around two to three minutes to have a tasty batch of crunchy fried squids. It's a restaurant-worthy dish that you can whip up at any moment.
Take full advantage of your stale bread for this classic comfort food from Spain. This dish is made by frying leftover bread with sausage, garlic, and sometimes eggs. It's a very simple recipe that can be eaten both as breakfast and dinner.
Don't be too worried about how the bread could be dry or dull. It's thoroughly seasoned with paprika and fried over olive oil, so you can expect a dish that is rich in both flavor and texture. Just give it a try, and you will be amazed.
Top 7 Quick And Easy Spanish Main Dishes
Who says you can't have good food on busy days? These main dishes can be made in just a blink of an eye, but they are some of the best things you will ever eat. From chicken soup to baked chicken dishes, this list has everything you need to make a quick and tasty meal.
Nothing warms you up quicker than a bowl of hot and steamy soup on fall nights. This Spanish chicken noodle soup is still as simple as can be, using only familiar ingredients, but with the additional herbs and spices that will load it up with incredible toasty flavors.
One of the best things about this soup is how adjustable it is. You can always make some changes to fit your personal preference. From the veggies to the noodles, just use whatever you like to make your own version of Sopa de Fideo.
Chorizo is a Spanish pork sausage seasoned with garlic and smoked paprika. It has a salty and smoky taste with a hint of sweetness hidden underneath. Combining it with seafood and warming seasonings will give you a hearty and savory soup to enjoy on all the cold nights.
This soup can be eaten in many ways. It works great on its own as a light dish to warm you up but also as an appetizer in a major savory meal. Better yet, serve it with some rice, and you can have a deliciously wholesome main course.
Your weeknight dinners will not get any better than this juicy dish of Spanish-baked chicken. It has a complex taste but very simple cooking methods; just toss everything onto a pan and let the oven do the work.
There are many things you can use to bring flavors to this dish; however, the recommended main ingredients are chorizo and paprika. Their savory and subtly spicy scent will melt into the entire pan when baked, soaking everything in your dish with a gorgeous mixture of flavors.
Gilthead bream is a very common type of fish in Spain. It has a very soft texture and mildly sweet taste. This fish can be cooked in multiple ways, but baking is perhaps the easiest and also most flavorful one.
This recipe appears in a lot of Spanish households because of how healthy and simple it is. It pairs the fish with loads of veggies and herbs, giving you a deliciously filling and aromatic dish to eat with the whole family.
Eat rice in a brand new way by infusing it with incredible tastes and aromas. This method of cooking rice involves baking it in the oven after simmering with other vegetables and sauces to give it a crunchy texture and intense flavors.
This dish is quite multi-purpose. You can top it off with some chorizo, chicken, or fried eggs to eat as a main dish or serve plain as a side along with other grilled foods. Since it is usually made in large portions, you can save some leftovers for the next day as well.
Step-by-step guide for a mouth-watering dish of vegetable baked rice:
Paella is a savory Spanish rice dish eaten with many different foods like chicken, vegetables, and most notably, seafood. It started out as a quick and easy way to make the most of leftovers, then eventually turned into one of the most widely eaten dishes in Spain.
Studded with various types of seafood like fish, shrimps, and clams, this dish will be the star of every meal it appears in. As it is already overloaded with flavors, you don't need much else to eat with it, just some light salad and a glass of wine for a delightful dinner.
Detailed instruction on how to make an amazing Seafood Paella with this video:
This recipe will give you a quick dinner with complex flavors and great nutrition. It's the perfect solution for your busy Monday dinners. Just take some chicken and rice, toss them in a pan, and flavor them with bold Spanish seasonings.
Packed with vibrant flavors and wonderful textures, this wholesome dish will be loved by your entire family. It also has everything you need to stay healthy: protein, grains, and fibers. What better ways to end your day than with a steamy, flavorful dish of rice and chicken?
3 Spanish Side Dishes That Will Complement Any Main Course
These famous side dishes in Spain are flavorful and delicious enough on their own. However, they will also make great companies for all your main dishes, whatever they may be. Take a look to see how you can quickly make all your meals a bit more exciting.
Pimientos are small peppers that are very sweet and mildly spicy. This recipe simply takes loads of these tiny juicy peppers and fry them up. It gives you a rustic and flavorful dish of peppers that are incredibly entertaining to munch on.
These are most often served as tapas at parties for guests to munch on. There's no denying that they make an unforgettable starter. Serve them with some fresh bread or alongside a tasty bowl of patatas bravas to kick off your meal the right way.
This classic recipe offers you a simple yet delicious way to eat spinach. Sauteing this veggie with rich pine nuts and sweet raisins gives you a surprisingly flavorful dish in just under twenty minutes.
This dish will marvelously complement any dish it is served with. This recipe is originally vegetarian; however, you can also add some bacon for a special savory kick if you want.
True to its name, this recipe contains all the ingredients that are extremely affordable, like potatoes, onions, peppers, and garlic. They are all simply fried in olive oil then covered with a lid to steam to deepen the vegetables' flavors.
You can find this dish almost anywhere in Spain, from fancy restaurants to cozy home kitchens, simply because of how delicious and easy it is to make. This dish is entirely vegan, so even though it's a fried dish, you can still stay healthy while eating it.
Brighten Up Your Day With These 6 Spanish Pastries
Spanish cuisine is full of hidden gems. From snack foods like empanadas and churros to grand dessert cakes, there's always a delicious pastry for you to try out.
Gluten-free, dense, and unbelievably moist, this recipe is a perfect Spanish sweet treat you have been waiting for. It uses almond and lemon as the main ingredients, so you can expect a deliciously nutty cake with a bright, zesty undertone.
You can eat this cake on any occasion. Mainly because of its simplicity, both in ingredients and the baking process. It makes a great casual pastry alongside a classic cup of milky coffee but can also be served as a finale to a grand and festive meal.
Empanadas are little dough-shell pastries filled with meat and simple vegetables like onions and garlic. The seasoned minced meat gives them a savory taste that's quite subtle but also very filling. They are usually made in big batches so you can eat them for several meals.
The process of making empanada may take some time and practice to get right, but it's a journey worth taking. As soon as you pull these warm dough pockets out of the oven, it's a guarantee you will fall in love with them before you even taste them.
Characterized by the iconic dark burnt top, this cheesecake has become a culinary phenomenon in the last few years. Unlike traditional cheesecakes, this one is cooked at a high temperature for a short time to achieve that perfect scorned exterior and creamy insides.
Flavor-wise, this cake has a very vibrant custard-like sweetness even though the outer parts are slightly bittersweet. Complicated in taste, but its cooking methods are still relatively straightforward. You can even make it with an air-fryer.
Let's make Tarta De Queso in the chef level with this video:
Miguelitos are a light and bite-sized dessert with buttery-smooth cream fillings. They are made from typical baking ingredients and take almost no time at all. They are the perfect candidate for a Cinco de Mayo dessert but would also work great on any other occasion.
The stuffed and fluffy inside will completely melt in your mouth the second you bite into these pastries. It completely contrasts with the flaky exterior, which is why they are so much fun to eat. If you want it to be more intense and rich, you can use dark chocolate for fillings instead.
These delicious golden brown apple tarts are a dessert full of fall spirit. They are a baked pastry dish covered in thinly sliced apples and sometimes glazed with fruit jam or syrup.
These pastries come in several different versions. They can be made as a large dessert pie to eat at the end of a meal. You can also bake them in smaller versions to eat as light snacks alongside some coffee, tea, or a scoop of ice cream.
Everybody who adores street snacks knows all about these delicious deep-fried pastries. These tube-shaped dough sticks are loved worldwide for their irresistible cinnamon taste. Texture-wise, they are crispy on the outside but very tender and fluffy on the inside.
Churros themselves are pretty good, but no good snack is complete without a creamy dip. The most classic choice is melted chocolate, but you can also try some newer options like mango sauce, dulce de leche sauce, or various fruit jams for a fun flavor twist.
5 Classic Spanish Drinks You Shouldn't Miss Out On
This list includes drinks for all occasions. There are amazing fruity cocktails for your parties and get-togethers but also simple hot drinks to accompany you on cold nights. Expand your beverage horizon with these delightful suggestions.
Hot summer nights are always a whole lot better when accompanied by a cold glass of sangria. It's a cocktail infusion of Spanish red wine and fresh fruits. It's an entirely adaptable recipe, so you can tweak it to your preference as much as you like.
This boozy fruit punch is the perfect drink to serve at your party, alongside some simple appetizers. It's festive, fancy, and doesn't require any unusual ingredients to put together. Just leave a large pitcher by the table, and your guests will have the time of their lives with it.
Spanish Horchata is made with tiger nuts, which are actually edible root vegetables with fantastic health benefits. This creamy drink is naturally sweet and nutty, like a richer version of almond milk.
This drink is gluten-free, dairy-free, and also nut-free since tiger nuts are technically not nuts. Anyone can drink this and thoroughly enjoy it because of how delicious it is. If you are afraid it might be too bland, sprinkle a little cinnamon over the top for a little extra spice.
This refreshing drink is a simple combination of red wine and cola. The idea may sound strange at first, but you will be blown away by how delicious it is. It has similar fruity notes to Sangria, but with a light hint of caffeine hidden underneath.
This cocktail is relatively light and low in alcohol, so you don't have to worry too much about getting drunk while consuming it. It's also quite inexpensive, so it makes a great laid-back drink for all your casual summer get-togethers.
If you love a good glass of mimosa, you will absolutely adore this cocktail. It's a mixture of champagne, orange juice, vodka, and gin. Originating from Valencia, a region known for its oranges, this cocktail bubbles with a sweet citrus taste no one can resist.
One sip of this fruity cocktail, and you will feel as if you are walking on the streets of Spain in the springtime. It's a great fit for brunches to serve alongside some simple breakfast foods, but you can also put it in pitchers to make a delightful party drink.
You will forget all about regular hot chocolate once you have tasted this Spanish version. It's made of the same typical ingredients but with the additional cornstarch that significantly thickens it.
Wonderfully dark and rich, this hot chocolate makes a delectable beverage on its own. However, many like to use it as a dip for some freshly made churros. You can also bring some warmth to its bittersweet flavor with some with cinnamon or cayenne pepper.
Warm yourself right up with an instant cup of Spanish hot chocolate with this video:
Bring The Spanish Flavor Right Into Your Kitchen!
Traditional Spanish cuisine is a flavorful mixture of familiar ingredients and straightforward cooking methods. Even so, the dishes still manage to carry an incredibly bright and addicting taste.
Don't wait around until your traveling days to taste Spanish food. If anything on this list caught your attention, make some for yourself and your loved ones right now. Let me know what you made and how it turned out. See you soon!
Nutrition Facts
4 servings per container
---
Amount Per ServingCalories349
% Daily Value *
Total Fat 26.6g

41

%
Sodium 353mg

15

%
Potassium 590mg

17

%
Total Carbohydrate 26.9g

9

%

Dietary Fiber 4g

16

%
Sugars 10.7g

Protein 5g

10

%
---
* The % Daily Value tells you how much a nutrient in a serving of food contributes to a daily diet. 2,000 calories a day is used for general nutrition advice.