Do you want to try something different after a meal? Well, Spanish desserts might be the things you need. These mouth-watering dishes are not only here to satisfy your taste bud, but they can also help you understand a bit more about Spain.
Spain is a very diverse country, with so many different regional cultures. Each culture has its own unique cuisine. From the north with Catalonia to the south with Murcia, you will be surprised that none of these places have the same dessert.
Sounds interesting? Then you might as well check out the list below. I also include the recipes of these fantastic but quite easy desserts if you want to test out your culinary skill. Without any further delay, let's jump right into this.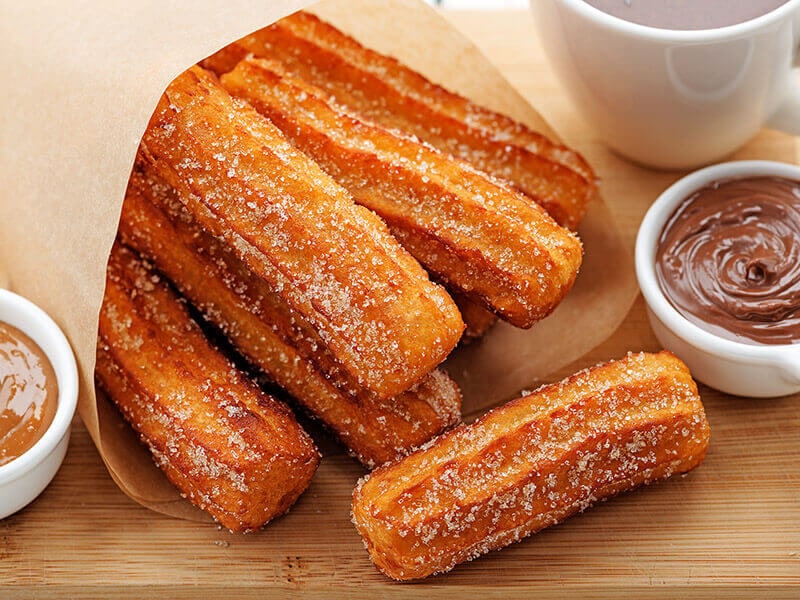 Spanish Desserts To Kickstart Your Love Of Spain
No one can deny the diversity of Spanish foods, especially desserts. You can find many different types with this list right here, including refreshing Flan, crunchy Panellets, and even the famous Churros. Let's start this list off with the first dish:
Tarta de Queso, or Basque Cheese Cake to many non-Spaniards, is a type of fluffy cake that requires almost no flour to make. The dessert originates from San Sebastian, Basque Country, which is an autonomous region north of Span, in the 1990s.
One of the best Spanish chefs, Mr. Santiego Rivera, created this dessert. He has shared the original Spanish recipe for the world to see. However, Chef Rivera highly encourages people to add bits of their own personalities to this dessert.
Similar to a modern cheesecake, the main ingredients for this dish are cream cheese, sugar, and eggs. However, the biggest difference in this version is the crust that forms during the baking process. You can add more crunchiness by baking the dessert for longer.
Since the recipe is rather easy, you don't have to waste a lot of time. Once you finish your dinner, the dessert will be ready. You can now get a taste of what many Basque locals have been experiencing for 30 years.
This tutorial will teach you how to make a Basque Cheesecake.
Have you ever had a Swiss roll cake before? If you have, then the Gypsy's Arm will definitely be a bit more familiar to you. Appearance-wise, Gypsy's Arm looks no different from a normal roll cake. So why does it have such an interesting name?
Well, the origin of its name could come from Gypsies, a group of nomadic people in Central Europe. Gypsies used to sell their merchandise to bakeries, so the bakers paid them back with this cake. Gypsies draped the cake around their arms, so that's where the cake got its name.
The main ingredients for Gypsy's Arm are flour, eggs, and sugar. In most recipes, pastry chefs tend to add fruit paste as filling, giving this delicious after-meal Spanish snack a hint of fruitiness. Another version, Brazo de Reina, has fresh fruits instead.
So the next time you want to put a new healthier spin on the regular roll cake, you know what to make.
This Brazo Gitano recipe can take you to new heights.
Bunuelos is a very popular treat during many Spanish regional holidays like Lent or Festival Of Saints. Different communities will have their own unique recipes. However, the common method of making this dish is still rolling up dough balls and deep-frying them.
The origin of this dish dates back to the Muslim occupation of Spain during the 8th century. The Moors, Muslim inhabitants of that time, created the dish as a type of street food. After the Moors were gone, the Spaniards adopted this dish as their own.
Bunuelos can be sweet or savory, depending on what sort of filling you want. There are also different kinds of topping you can choose from. You can also find other versions of Bunuelos in Colombia, Israel, and the Philippines.
Alongside Churros, Bunuelos are becoming more popular thanks to social media. If you ever want to quick after-dinner dessert or a snack to munch on, the Bunuelos is the one for you.
This Bunuelos recipe adds a pumpkin flavor to your usual dish.
The shape of this dessert will remind you of an oversized ice-cream cone. From the white of the cream to the glossy chocolate coating and rich egg custard, everything blends perfectly to create this magnificent dessert.
The dessert first appeared in a book from Marquess of Parabere in the 1930s. In this book, the Marquess said that a chef from Bilbao, a North-Western Spanish city, had invented the original recipe because his daughter loved meringue, a whipped egg dessert.
She loved it so much the chef decided to name the dish after his daughter, Carolina. The dish consists of mostly egg, sugar, and puff pastry. The crunchy puff pastry acts as a dish for the white creamy meringue. Carolinas usually has both chocolate and custard toppings.
There are many ways you have this dessert. You can make it for dinner, or it can be a good tea-time snack.
Biscotti is a traditional Italian dish, but the Spaniards have made a version to call their own. This delicious type of Spanish bread is a popular dessert dish in Catalonia and other Catalan-speaking regions across Spain.
Similar to other Biscotti versions, it consists of both bread and nuts. For the Carquinyolis, the nuts are mostly almonds. This gives the treat a fluffy and rich outer shell. But when you get to the core, you can taste that nutty and earthy flavor.
The Carquinyolis can be a good replacement for your regular dessert if you're on a diet since the recipe uses no oil or butter. And the almonds pack a lot of proteins. When you order this treat in most Catalan cities, you will also get a glass of sweet wine.
Fun fact, "Carquinyolis" is also the name of the person who organizes an annual summer festival for Saint Albert of Sicily in Catalan.
Now, you will know how to make Carqunyolis with this recipe.
Let me introduce you to another dessert from the North-Western part of Spain. The Casadielles, or Casadiella, is very popular in both Asturias and Galicia. Due to both regions' mountainous geography, nuts and dried fruits have become a big part of their diet.
This dessert consists of a dough shell, sugar, and nuts as its filling. The filling can be from either roasted walnuts or hazelnuts.
In most Casadielles recipes, you will have to add a bit of wine to the dough. However, since it's a dish for all ages, you can omit the wine. Based on your preference, you can also replace the sugar with other natural sweeteners like syrup or honey.
In Spain, Casadielles is available as a dish for Christmas or festivals. However, most Asturias families prefer to have homemade Casadielles after a meal.
Churro will probably stay at the top if Spanish desserts have a popularity scale. Originating from the Iberian peninsula, Churro has spread its influence across the entire globe. Nowadays, you can find a Churros stand in the US, Latin America, and even as far as Korea.
Churro is very similar to another popular fried dough dish from China called Youtiao. Some say that Portuguese explorers brought the recipe from China to both Spain and Portugal in the 16th century.
While Youtiao often goes with other savory food, Churro is entirely a sweet snack with the presence of cinnamon. There are many versions of the Churro you can find these days, but the most common is still the Churro with powdered sugar topping.
So what is it that makes Churro so popular? There are probably two reasons for this. Number one, Spanish colonialism helped spread their culture all over the world. Thanks to this, former Spanish colonies like South America and the Philippines have their version of Churro.
And reason number two is that the snack is very convenient to eat. You only need a napkin to hold onto the Churro. That's why you can see many amusement parks selling this treat worldwide.
Churro is an easy snack to make. You only need to deep fry the dough. Aside from sugar topping, you can dip Churro in hot chocolate or ice cream.
Churros are quick to make and easy to eat.
In Spain, you can call this dish either Crema Catalana (Catalan Cream) or Crema Cremada (Burnt Cream). This dessert is very similar to a French dessert called Creme Brulee. However, the biggest difference is that Crema Catalana uses milk instead of cream.
Other than that, the main ingredients of Creme Catalana are still egg yolks, sugar, and flour. The bakers will use a small torch to create a light crust on top of the dessert at the end. The dessert is very creamy, but the crust adds a bit of roasted flavor to the taste.
The original recipe for Creme Catalana has existed for over 700 years. It first appeared in a cookbook named Llibre de Sent Soví (Book of Sent Sovi). This means Creme Catalana is older than its French counterpart, which came out in the 17th century.
The original recipe included custard cream. And since people back then didn't have a blowtorch, they opted to use a hot iron rod to make the crust. Spaniards often have this dish on March 19th or St.Joseph's Day.
It takes you no effort to make Crema Catalana.
Despite the fact that this dish is similar to French Toast, the Spanish version adds its own unique flair that you cannot find anywhere else.
No one knows exactly who created Torrija. The earliest mention of this dish was from a Spanish composer named Juan del Encina in 1496.
You can use any type of Spanish bread for this recipe, from simple sandwich bread to a baguette. Once the bread absorbs the milk mixture, you will have a very crunchy and flavorful toast. It's still one of the go-to meals for a Spanish breakfast.
Much like other desserts, Torrija often appears during religious holidays. During both Lent and Holy Week, people make this dessert by soaking bread in milk or wine. Due to Spain's history with the Middle East, the milk has a lot of different spices as well.
Torrija often goes with cinnamon sprinkles and a glass of milk.
Bored of French Toast? Make this Spanish Toast instead.
Fartons is a popular snack in Valencia, in particular, in the town of Alboraya. The snack consists of a long bread-like stick. You will often see this dish accompany Horchata, a nut-based beverage from Valencia.
In the 1960s, the Polo family created the dish because they wanted something to eat with the Horchata. The shape of Fartons is long, so the snack can easily reach into the Horchata glass. That's why in some communities, people call this Fartons Polo to honor the family.
Like most snacks with a dough shell, the snack is very crunchy when it comes out of the oven. The inside of the bread-like stick is very spongy and chewy. The sugar adds a lot of sweetness that goes well with a cup of Horchata.
If you do not have access to Hortacha, you can dip the stick in other hot drinks such as coffee or hot chocolate. Fartons will still go well with those drinks.
A few sticks of Fartons will go well with a cup of Horchata.
Andalusia is the gift that keeps on giving when it comes to dessert. In this next entry, I will be introducing the Polvoron, another staple of the Andalusia region during the Christmas season. This dessert is a variant of Mantecandos, a type of Spanish cookie.
The main ingredients for both Polvoron and Mantecandos are flour, milk, and sugar. Polvoron, in particular, also has almonds in its filling. Pastry chefs would use pig fat, or lard, to fry the treat in the old days. That tradition is slowly changing thanks to the introduction of vegetable oil.
Polvoron is very firm on the inside. The almonds provide a nutty texture to the overall taste. You can eat it with powdered sugar glazing or any type of fruit jam.
Nowadays, around 70 factories are producing this dessert treat in Andalusia alone. Due to the spread of Spanish culture to their colonies, Polvoron is also a popular snack in Hispanic America and the Philippines.
Interesting fact, during a time when the Inquisitors, a religious police force, used to rule Spain, they required all chefs to use pork fat to make Polvoron and Mantecandos. This rule would help these Christian police spot potential Muslims or Jews.
Polvoron is a gluten-free alternative for your pastry craving.
If you prefer a lighter dessert compared to pastries, you can try making Flan. In most Spanish-speaking countries, Flan is the name they most use. On the other hand, France calls it Creme Caramel. Flan used to be a popular dessert in Europe during the early 20th century.
Despite having different names, the core recipe for this dessert stays the same. The main ingredients for this dish are still milk, sugar, and eggs.
If you follow this dessert recipe correctly, what you will have is a very silky smooth Flan. The dish is often the dessert after you have a very protein-heavy meal. This is because custard from the Flan helps to reduce any greasiness from your last dish.
In many countries, you can see Flan with a layer of dark coffee on top. This will add a bit of bitterness to the whole dish.
The Spanish Flan variant contains a lot of milky goodness.
If France has the world-renowned Crepe, Spain also has its own version called Frixuelos. The Frixuelos is another typical snack from Galicia and Asturias regions. In Galicia, many people call it Filloas.
Most Asturians and Galicians don't know when and where this snack came from, but they know different regions have different Frixuelos recipes. Sometimes, you will find wheat Frixuelos, while other times, you can find cornflour Frixuelos.
The filling of Frixuelos can change according to regions as well. People usually have it as a type of dessert, so fresh fruits, cream, and chocolate are common. Aside from the sweet filling, there's also a layer of powdered sugar on top of the Frixuelos.
Like most French Crepe, the outer layer of Frixuelos is the crunchiest. A single bite consisting of Frixuelos shell and sweet filling will leave you in heaven. This snack is most popular during an Asturian Carnival called Antroxu.
Making Frixuelos, a Spanish version of Crepe, will be much easier now.
This is one of the most well-known comfort foods in Spain. Natillas looks like a mix between a tasty type of Spanish soup and hot milk, thanks to its texture and ingredients.
Nattlias, alongside Flan and Crema Catalana, have a big part in the lives of most Spaniards today. Speaking to an overseas Spaniard about Natillas will conjure up some of the most amazing childhood memories.
So what makes this dish so popular in the first place? Well, it all boils down to how easy it is to make. In Spain, Nattilas is just another version of the egg custard. The main ingredients are just milk, sugar, and eggs.
However, the texture is the main difference between Natillas and other versions of egg custard. Natillas have a soupy appearance, making them easier to eat. That's why it's a popular sweet treat for children in Spain.
The overall taste of Natillas is very rich and silky. It has a hint similar to condensed milk and caramel. Most people have Natillas with cinnamon powder, giving the dish a mild earthy flavor as well.
Natillas is a perfect light custard dessert after a heavy dinner.
According to Spanish tradition, Huesos De Santo is a particular dessert treat that you will find on Easter and All Saints' Day, which is a day for Christians to celebrate all of their saints. On that day, many Spaniards will visit their loved ones' graves.
Due to the cylindrical nature of this dish, many people think it looks like human bones. That's how Hueso De Santo got its name, Saint's Bones.
The most important part of the dish is Marzipan, which is the spongy white shell that wraps around the filling. Marzipan is a type of confection that comes from mixing sugar, honey, and almond powder.
Hueso De Santo has a very nutty and sweet flavor, thanks to the Marzipan. On top of that, you can customize your own filling. The most common filling for dish dessert is egg custard, but a simple chocolate sauce can be a good replacement.
The original purpose of this dessert is to honor the saints. However, since All Saints' Day coincides with Halloween in many places, you can make a very good Halloween treat.
Celebrating your Halloween with Saint's Bone.
Another well-known Christmas food from Spain that will make your eyes pop out is the Roscon De Reyes, otherwise known as the King's Cake. So why does it have such an interesting name?
Traditionally, bakeries would make this cake on Three Kings' Day, January 6th. On this day, Spaniards celebrate Epiphany, when the Three Kings visited Jesus of Bethlehem. Some people in Spain also consider January 6th as the true Christmas instead of December 24th.
In order to honor the Three Kings, bakers would make the cake into the shape of a crown. The "jewels" on top of the crown are nuts and dried fruits. Most Spaniards have this cake during the winter months, which means it will go well with a glass of hot chocolate.
The cake is very soft, very spongy. It is very light so you can eat it comfortably after a heavy Christmas feast.
Fun fact, there is an interesting tradition about this cake: If you find a hidden porcelain figure of baby Jesus Christ inside of the cake, you will receive good luck for a whole year. However, if you happen to bite a dried fava bean, you will be the one to buy the cake next year.
Make yourself another Spanish Christmas dish, Roscon De Reyes.
Do you ever get tired of drinking milk? Do you want to change the way you consume dairy? Well, Spaniards have thought about this problem, and the way they solved this was near genius. Introducing the Leche Frita, or Fried Milk in English.
This unique little treat is one of the best inventions from Spain. No one knows the exact origin of this dish, but many people believed it came from around the Palencia Province, which is north of Spain.
The main ingredients for every Leche Frita are the same. You need sugar, milk, and flour. The sugar makes the milk sweet, while the flour acts as a thickener. The treat has a crunchy outer layer that comes from an egg batter.
Since you only need to deep-fry the dish for a short time, the milk inside will stay very soft and chewy. One bite of this dessert can bring an explosion from creamy goodness. The crunch from the batter adds a bit of fun when you eat it. You can have Fried Milk alone, or with ice cream.
Fried Milk is a comforting dessert that reminds you of home. Many still think Leche Frita is only a simple homemade dessert despite its popularity. However, since the recipe is rather simple, I doubt you will not be able to recreate this magnificent treat.
Why do you have to drink milk when you can fry it?
If you might have tasted pudding, then this dessert treat might be a bit more familiar to you. Blancmange is a very common treat you might see in across Europe, with each country making its own version. Spain is not an exception.
Nobody knows the exact history of Blancmange. Many people think that this dessert was created due to the Arabs introducing rice and almonds to Europe. In the Middle Ages, Blancmange used to be a savory dish. In modern times, it's mainly a dessert.
Unlike other European countries, when you order this dish in Spain, you might want to check out its correct name. In Catalan, people call this dessert "Manjar Blanco". On the other hand, "Blancmange" seems to be what locals of Andalusia prefer to use.
No matter what different names Spaniards use, the dish is still the same. The main ingredients are still milk, sugar, and gelatin as a thickener. It looks similar to Flan, but it's somewhat thicker due to the gelatin.
Blancmange tastes very milky, very sweet with a hint of almond. You can also add fresh fruits or some kind of fruity syrup to the dessert to make it more interesting.
Have a taste of your own Blancmange with this recipe.
This lovely dessert using puff pastry (a native type in Spain called Miguelito) was created by Manuel Blanco during his stay in Pamplona, a city in Basque Country. This dish was a way for him to connect with his birthplace, La Ronda.
When he first made a prototype for the dish, he gave it to his friend for a taste test. His friend, Miguel, liked it so much that Manuel decided to name this dish after his friend. That's why the dessert got its name, Miguelito.
The most important factor that makes a Miguelito taste go good is its dough. The dough of most puff pastry comes from a combination of flour and cold butter. Bakers usually fold the dough many times to create that light and flakey texture.
When you take a bite out of Miguelito, the airiness of the shell is just heavenly. The slight buttery flavor gives the dish a richer experience. On top of that, you can either dip the dessert in a honey glaze or create a chocolate cream filling to the puff pastry.
In the town of Castilla–La Mancha, you can have Miguelito with a cup of café con leche, which is a Spanish milk coffee. This dish is a perfect small dessert for an after-meal snack or a small gathering of family.
The puffiness of Miguelitos will leave you wanting more.
In this next entry, I will talk about another cake from the Basque Country. Baque Cake, or Pastel Vasco, is a type of cake that exists in both Basque regions of Frace and Spain. And since this is Spanish themed article, we will go further into the Spanish version of this dessert.
The cake consists of a crusty outer layer and a filling of your choice. People use puff pastry to create the outer layer so it is crunchy and buttery. Thanks to the outer layer, the cake tastes rather different compared to most "soft" cakes. It is kind of a mix between a cake and a pie.
For the filling, the Spanish Basque version uses a type of vanilla cream, while the French Basque version has a mixture of fruit jam. However, you can also find the fruit version in a few Spanish bakeries.
Basque Cake mostly goes with a cup of hot coffee for an after-meal dessert or an afternoon snack.
This recipe will help you recreate the rich Pastel Vasco.
Another entry to the Catalan's menu of delicious desserts; this time, I will introduce the Pastissets to you. Pastissets will be a great sweet treat for people on gluten-free diets since there's another version that uses almond flour instead of wheat flour.
The dish consists of a dough shell and a filling. In most recipes, wheat flour is the common component of the shell. However, other recipes also suggest using almond flour as a replacement. Almond dough is more delicate, but it tastes better.
When it comes to the filling, different areas will have different ingredients. You will find people stuffing the dough with fruit jam in some places. In other places, you can see a type of filling called Quince Cheese, which is a jelly made from the Quince fruit.
You can find a version of this treat in Amposta with Catalan Moscatel grapes filling. Another popular ingredient in this region is Anissette, a type of Mediterranean liqueur.
Pastissets are also popular in Terres de l'Ebre and Valencia. On the island of Mallorca, locals know this dish as Rubiol. Pastissets are popular as a Christmas pastry in Spain.
You can always experience what a Spanish Christmas feels like with this Pastissets recipe.
Aside from the Huesos De Santo I talked about above, we have another traditional snack that's mostly available during All Saints' Day. The Panellets are popular in many Catalonia, Ibiza, and Valencia. Panellets mean "Little Bread" in the Catalonian language.
The history of this snack dates back to the 18th century. People made Panellets back then to eat during religious celebrations, with the most notable versions being Panellets de Sant Marc and Panellets de la Santa Creu. In Sevilla, the dish has another name, Empinonados.
Similar to Huesos De Santo, the base of this pastry comes from Marzipan, a type of almond-sugar paste. The patissier would roll the Marzipan into a ball and then dip it into a mixture of pinenuts and egg wash. Sometimes, you can see a bit of cocoa powder on top.
Panellets usually go well with coffee, or Cava, which is a type of Spanish sparkling wine. Even outside of Spain, this dessert is famous. Both the EU and UK designate its status as "Traditional Speciality Guaranteed", which gives Spain the exclusive rights to use Panellets' name.
The Little Bread is such a perfect treat if you want a small snack.
Another traditional snack from Spain that you might be interested in is Pestinos. Like many other types of snacks I mentioned above, Pestinos are mostly available during a religious celebration.
This type of snack has its roots in the Andalusia region of Southern Spain. The snack is typically a Christmas treat in Medina-Sidonia, Cádiz, and Chiclana de la Frontera. However, for the rest of Andalusia, people enjoy Pestinos all year round for the rest of Andalusia.
Aside from being a Christmas snack, Pestinos are also a traditional dessert for Easter in the city of Seville.
Like other snacks of Southern Spain, Pestinos have a lot of Middle Eastern influence thanks to the Muslim inhabitants of the past. The main ingredients are dough, anise seeds, sweet white wine, and sugar.
The cook would deep-fry the dough to get get a crunchy outer shell. The topping varies between regions, but it has to be something sweet like honey or powdered sugar. You can also get a version with cinnamon on top. This gives the dish a more Middle Eastern flavor.
There's nothing better than a tray of Pestinos to munch on in the afternoon.
With the help of Spanish colonialism, this dish I'm talking about right now has a lot of variants in many countries. However, those other versions will not be my focus because this entry will be solely on the Pionono of the Granada region of Spain.
According to the most popular belief, the term "Pionono" comes from the Spanish name of Pope Pius IX. The birthplace of this dessert is Santa Fe, a town located in Granada, Spain. The creator of this treat is Ceferino Isla, a master pastry chef and owner of Casa Ysla bakery.
Ceferino introduced the dish in 1897 in Granada region to honor Pope Pius IX, the last Pope King of Italy. He modeled the shape of this pastry after the Pope: It is round, stands on a white cupcake liner, and has a crown of cream.
When the pastry first came out, it attracted a lot of positive attention. It came to a point where even the King Alfonso XIII of Spain decided to make Casa Ysla the official supplier of the treat in 1916.
For most Santa Fe residents, this dish is also a connection to their Muslim heritage since the ingredients utilize a lot of different spices. Other ingredients include flour, eggs, and syrup.
The Pionono usually comes with a heavy topping of cream. The patissier fills the inside of Pionono with a mixture of syrup and cinnamon for that sweet and earthy flavor. The dish is done in just two bites, but these two bites will bring you closer to where pastry paradise is.
Pionono is famous for its fluffiness.
In this entry, I will be talking about a treat from a new Spanish region. The Quesada Pasiega is a well-known dessert from the Cantabria region, West of Basque Country. Both Vegas De Pas and Selaya within Cantabria are where this dessert originates from.
Like most desserts, the main ingredients for this dish consists of milk, flour, and sugar. You can consider these three as the "Trinity" of Spanish desserts. Quesada Pasiega also has fresh Pasiego cheese, but a few modern recipes tend to omit this ingredient.
The consistency of this dessert is somewhere between a light cheesecake and a very thick Flan. The top of the Quesada Pasiega gets toasted to give the dish a mild caramelization. It adds depth to the whole dessert.
So if you or your family ever get tired of the same old cheesecake, you know which dessert treat to make instead.
Quesada Pasiega is a nice dessert to wash down your dinner.
This is another Spanish cake that has its roots in religion. The cake gets its name due to the imprint of the Cross of Saint James on top. The Spanish name of the Cross is Cruz De Santiago.
The exact origin of the cake is quite unclear. Some said that the earliest mention of Tarta De Santiago was from 1577, but the exact recipe only came out in 1838. Others believe that Christian pilgrims were the ones who brought this cake into existence.
However, the current version with the cross on top started appearing in cake shops around Santiago de Compostela, the capital city of Galicia, in 1924.
This cake is typically gluten-free, which means it has no flour at all. Instead of flour, bakers use almond powder for Tarta De Santiago. Other ingredients still include eggs and milk. You can also find lemon zest or wine as a flavoring agent in some recipes.
The cake is very quick to make, and the result will leave you impressed with a very rich filling. There is a layer of powdered sugar on top that adds a bit of sweetness to the whole dish.
Tarta De Santiago is such a fascinating dessert.
This type of confection is very popular with many countries surrounding the Mediterranean and the Phillippines. In this entry, I will exclusively talk about the Spanish version.
The original recipe for Turron possibly came from a Muslim dessert with a similar name called Turun. Despite the slightly murky history of the dessert, many references to the dish appeared as far as the 15th century in the town of Xixona, Eastern Spain.
The most common ingredients for Turron are egg white, sugar, and honey. There are two variants of this dessert in Spain:
Alacant Turron: This hard Turron comes from coating almonds in honey and sugar. It's brittle if you bite on it.
Xixona Turron: This version of Turron is chewier and softer. People use ground almonds instead of whole almonds to make this treat.
Like other nut-based confections, Turron has a sweet flavor from both sugar and honey. It also has a lot of nuttiness from the almonds. Since the snack is very sweet, you would often have dark coffee to offset the sweetness.
During Spanish Christmas, you will see dessert on the shelves of many confectionary stores.
Preparing a Spanish holiday treat with Turron.
I will bring you to a region that I have not talked about for the final entry. Yemas De Santa Teresa hails from the region of Avila, part of the autonomous community of Castille and Leon.
There are several theories about the origin of this dessert. One of the theories said that the recipe came from a bakery in Andalusia in the Middle Ages. Another theory stated that monks from the convent of Saint Teresa of Avilla created this dish.
However, no matter it came from, the recipe is still the same. The main ingredients are egg yolk and granulated sugar. These ingredients usually have to be mixed before a baker rolls the mixture into balls.
The popularity of this dish outside of Spain has caused Availla to develop a new type of packaging, so they can ship Yemas De Santa Teresa to other countries.
Why don't you try to make Yemas De Santa Teresa, a rising Spanish confection?
Appreciating The Diversity Of Spanish Desserts
Spain is a very big country that has multiple unique and independent cultures. Each of the cultures contributes its part of cuisine to diversify the gastronomy of Spain. That is why you will find so many interesting desserts whenever you go to a new Spanish region.
However, it is the diversity that makes Spain unique. And that's why I came up with this list to help you appreciate the richness of Spanish culture. Hopefully, one day you will be able to taste the authentic side of Spanish desserts aside from knowing how to make them.
Don't forget to leave a like and share this post on your social media accounts if you like what you read. As always, have a great meal!
Nutrition Facts
12 servings per container
---
Amount Per ServingCalories400
% Daily Value *
Total Fat 28.2g

44

%
Cholesterol 135mg

45

%
Sodium 1257mg

53

%
Potassium 39mg

2

%
Total Carbohydrate 28.3g

10

%

Dietary Fiber 1.5g

6

%
Sugars 25.5g

Protein 12.9g

26

%
---
* The % Daily Value tells you how much a nutrient in a serving of food contributes to a daily diet. 2,000 calories a day is used for general nutrition advice.