Authentic soul food recipes are a variety of luscious dishes with a rich background. The cuisine originated in the southern region of the United States and has been a staple cuisine within the African American community since the 1960s.
The cuisine has many comforting dishes, from appetizers to desserts, each with its appealing flavors. The most common theme throughout these recipes is how soothing it is for you to enjoy them.
Below are some recipes that I think best represent soul cuisine in terms of culture and flavors. The best thing is, all of them are easy to make and tasty to eat. Keep on reading to understand what soul food is all about.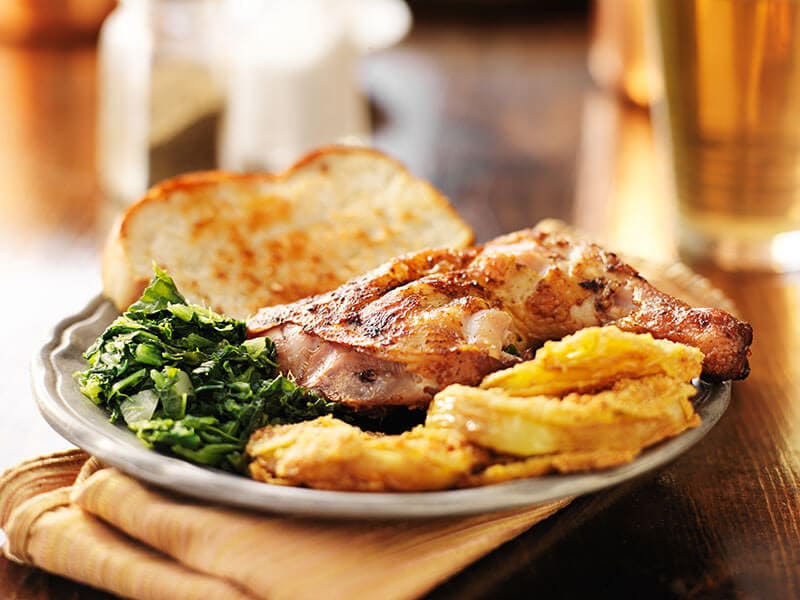 8 Soul Food Side Dishes And Starters To Kickstart Your Appetite
What better to prep your taste buds and palate than trying out these delectable appetizers. There are also side dishes you can pair with your main meal for extra flavors. Let's dive right in!
Total time: 27 minutes
Deviled eggs are a famous summer appetizer with their roots in ancient Rome, where they first appeared as boiled eggs with spicy sauce. In the past, people usually referred to spicy foods as deviled foods, hence the name.
In the late 19th century, deviled eggs made their way to the United States, especially in the northern and southern regions. Here, it's a dish consisting of boiled egg whites with a topping of egg yolks and spices.
People usually prepare the dish by boiling the eggs and cutting them into halves. Then, they separate the yolk and mix it with mayonnaise, mustard, and some herbs. This mixture will go into the blender before being added on top of the egg whites along with a dusting of paprika powder.
Deviled eggs are a simple yet tasty appetizer that you can easily prepare in no time. The creamy yolk full of flavors will complement the egg whites so well that you will want to take some more bites. They will make great Easter eggs, don't you think?
Total time: 35 minutes
Macaroni salad is a yummy cold pasta dish that people usually serve as a side dish in the southern US. This dish is famous in the United States and other countries like Australia and New Zealand.
This creamy salad is just the refreshing factor you need for your meal. Whether with steaks, BBQ ribs, or chicken, the dish will taste just right. The sauce for macaroni salad usually consists of mayonnaise and vegetables like celery or onions, but you can also use mustard.
This dish is perfect for vegetarian and non-vegetarian people as the ingredients accommodate both diets very well. This creamy and cold pasta salad is something you wouldn't want to miss out on, especially during the summer.
Total time: 45 minutes
Cornbread is a famous accompaniment to almost all soul foods. You will often see a plate of fresh-from-the-oven cornbreads on the dinner table on any given day of the week. And you can also use the uneaten cornbread for various dishes.
Cornbread is a batter bread that African Americans and people in the southern US prepare from cornmeal. It is one of the most common variations of batter bread you can find in the US.
This recipe will give you moist and fluffy cornbread that you can eat alone or with other dishes. There are many variations of cornbreads like baked cornbread, crackling bread (cornbread with pork cracklings), or hot water cornbreads where the battery consists of boiling water and cornmeal.
This tutorial will show you how to make the best cornbread.
Total time: 1 hour 45 minutes
If you are looking for a pleasant side dish, baked beans are the perfect answer for you. Originating in Native American cuisine, the dish consists of white beans that people cook with a sauce into a stew.
Although this delicacy is traditionally made of white beans, people now make baked beans with different types of beans like black beans or navy beans. These beans will then go into a pot with brown sugar, or corn syrup sauce, with an optional addition of tomatoes.
This bean stew is perfect for BBQ dishes due to its earthy flavor and warming sensation. The beans are tender and smooth since they have been through hours of slow cooking on the stovetop. This is one of the must-try dishes in soul food cuisine.
Total time: 25 minutes
Forget about the canned creamed corn. If you haven't tried this dish before, you will find that it is nothing compared to this wonderful recipe for authentic Southern creamed corn.
Among African Americans, creamed corn has got to be one of the most satisfying sides to enjoy with pork tenderloin for a wholesome meal. To prepare this dish, people start by melting some butter in a pot and cooking it with corn kernels, together with flour, cream, salt, and pepper.
For a tasty dish of soul food creamed corn, it's best to use Silver Queen corn. This type of corn is perfect as they are sweet and tender, which is also the ideal ingredient for creamy dishes like this one.
A serving of silky, smooth corn goes best with grilled tenderloin steak or BBQ ribs. So don't forget to cook up some creamy corn for your next steak dinner.
Total time: 1 hour
Collard greens are a side dish that has been around for ages. It also plays an important part in African American culture and history. During the slavery period, this type of green was one of the very few vegetables the African American families could grow, hence its importance.
Collard is a type of green originating in the Eastern Mediterranean. It has many health benefits and makes a great salad/side dish. In this recipe, this collard mix consists of collard greens that you simmer on low to medium heat with some bacon, onion, and garlic.
Collard greens have such a comforting flavor that you just can't deny. This type of vegetable tastes best between January and April. So, grab some around this time of year for the best collard greens side dish.
Total time: 30 minutes
Yet another salad dish for you to savor. Potato salad is a creamy salad consisting of cooked potato, hard-boiled eggs, and some condiments like mayonnaise, mustard, or sour cream. Some recipes even include onions and celery.
Very much like dishes like collard greens or baked beans, potato salad is a staple for many African American folks. This dish is tasty due to its creamy texture and silky potatoes. The boiled eggs are something that you must also include for the optimal flavors and texture.
This particular recipe will be your new favorite one, but there are a few special notes about the ingredients. Firstly, you don't need to use any mayonnaise for this salad, but instead yellow mustard. Secondly, you can make and refrigerate it for 3-4 days for many meals to come.
Total time: 40 minutes
You may guess what this dish has to offer by the name. Candied yams are a side dish that comprises yams cooked in a syrup sauce. This syrup contains many ingredients like brown and white sugar, cinnamon, nutmeg, and orange juice extract.
The syrup is what creates the beautiful golden brown layer for the yams. In case you think that the syrup's sweetness will overpower the taste of yams, don't worry! Thanks to the orange juice extract and spices, the syrup and yams complement each other just fine.
This side dish works especially well during the time of Thanksgiving. Together with the turkey and mashed potato, you will fall in love with the pleasantly sweet yams that are fragrant with caramel notes.
Your candied yams will taste amazing with this simple instruction.
16 The Best Soul Food Dishes You Can Ever Find Are Right Here
If you're feeling under the weather, refer to these soul food recipes. I can guarantee that these recipes will cure your cold and also soothe your soul with their comforting and filling flavors.
Total time: 30 minutes
Sausage gravy and biscuits are what people immediately think of when talking about soul food and Southern US cuisine in general. It's a famous dish that everyone loves enjoying on many occasions, sometimes even as a main meal.
This filling dish has a history that dates back to the late 1800s in the Appalachian region in Eastern US. During this time, gravy and biscuits were the perfect cheap and filling meal for workers who had to work the whole day.
Biscuits and gravy is a hearty breakfast dish that you can enjoy either on a weekday or at weekends. The gravy is creamy and savory, thanks to the sausage, while the seasonings, like salt and pepper, offer just the right amount of flavor to the dish.
The biscuits used in this dish are airy and delicate, unlike their denser counterparts in the past. This texture makes it perfect to pair with the creamy gravy since the delicate and light texture will create a more pleasant sensation while eating.
Total time: 45 minutes
Macaroni and cheese, or mac and cheese, is well-known all across the US. It's a dish as simple as pasta with cheddar cheese sauce. However, you shouldn't underestimate the flavors this dish offers.
Macaroni and cheese is usually a casserole dish, meaning people would prepare it by mixing the pasta and cheese sauce and baking them in the oven. These days, you can easily buy packaged mac and cheese and make it on stove tops at home.
The combo made its debut in the US when US president Thomas Jefferson brought the recipe back from Paris. After the 1860s, this dish became one of the iconic soul food dishes for the black community.
This recipe for baked mac and cheese will give you a cheesy and stretchy delight. The creamy texture and the filling sensation will guarantee to get you hooked on it. The dish goes especially well with BBQ meat like ribs.
Total time: 30 minutes
Normally, you would see spaghetti with beef meatballs. But this is not the case for the soul food version of spaghetti. When it comes to African American cuisine, you will see people pairing their spaghetti with chicken.
For some, the most common recipe for spaghetti uses marinara sauce. However, chicken spaghetti requires something quite different, which is cream cheese or sour cream. These two dairy products are what make the creamy and luscious sauce for the dish.
Chicken spaghetti is yet another casserole dish that African Americans love to eat. When tasting this dish, you will see that the shredded chicken and the tomatoes have done an excellent job exuding all the essence and flavors into the casserole.
You can prepare this worthwhile recipe in large batches and store them for up to 2 days. Then, all you need to do for the next meal of chicken spaghetti is to reheat them in the oven for about 8 to 10 minutes.
Total time: 1 hour
Smothered chicken is a highly featured dish in Southern cuisine. It's a dish consisting of chicken that people braise on a stovetop at low heat, usually with rice and gravy on the side.
Smothering is a cooking technique that originated in Louisiana, Southern US. It means to fry types of meat like steak or chicken in oil until they turn brown. Then the meat will go through a slow-cooking process with some water to make a gravy-like dish.
Smothered chicken is one of the most popular soul food recipes. It's a fulfilling comfort food that you can have on a rainy day. The moist chicken and the gravy go perfectly well together, and the rice is such an excellent accompaniment to bring out all the best flavors.
Try this tutorial for some amazing and moist Southern smothered chicken.
Total time: 24 minutes (+ 8 hours of marinating time)
Southern fried chicken is soul food with its roots in Scottish and West African cuisine. The dish first appeared in the 1830s under the name "fried chicken".
Southern fried chicken uses many spices, like black pepper, garlic, paprika, and chili powder. This is different from the original recipes, which include little to no spices for marinating and seasoning.
Even though the process might take some extra time to marinate the chicken, the final result won't disappoint you. Moreover, soaking your chicken in buttermilk will keep it moist and bring out all the splendid flavors.
When biting into the chicken, you will be greeted by the crispy layer of breading that packs with flavors. The chicken underneath is juicy; the flesh is tender and not chewy at all. It is best to eat your fried chicken with some waffles and maple syrup for an authentic soul food dish.
Total time: 50 minutes
Meatloaf makes a great comfort dish for many African American households, especially on a cold and chilly day. This is the perfect recipe for families with many members. Or even if you live alone, you can make this dish and use the leftover meatloaf to cook new dishes.
Southern meatloaf is a dish that brings together all the good flavors from the ingredients. This delicacy tastes exceptionally great when you serve it with a delectable side dish for meatloaf.
To make a tasty batch of Southern meatloaf, you have to mix all the components thoroughly for them to release all the essence and juice that will elevate the taste of the meatloaf.
For a no-fail meatloaf recipe, I suggest paying attention to using eggs and breadcrumbs. These two ingredients will act as a binding agent that glues everything together and holds it in place. After all, you wouldn't want a meatloaf that's falling apart as you're serving, right?
Total time: 3 hours
Corned beef and cabbage were originally a St Patrick's specialty in Ireland. Nowadays, it is a dish that people of all ages and races enjoy, with all the flavors and healthy nutrients on one plate.
When hearing the term "corned beef", you may think that the ingredients or cooking techniques have something to do with corn. However, corned beef is salted beef. Back then, people usually used the word "corned" to talk about the crystal salt used for beef.
Besides cabbage, you can also use other easy side dishes for corn beef. Some other veggies could be carrots and onions. The onions will do an amazing job releasing all the fragrance and flavors, making the dish even more palatable.
Total time: 2 hours 55 minutes
Red beans and rice is a dinner dish that requires little effort to make. It's often what African Americans enjoy eating when they're short on time since it's easy to make yet full of flavors and texture.
Red beans and rice date back to the 19th century, when African American people usually enjoyed this dish on Mondays. Back then, Mondays were laundry days, so helpers usually had no time to prepare dinner and resorted to the easy-to-cook red beans.
Refugees from Haiti brought this delicacy to South Louisiana, US. Then the dish became famous among African Americans. People also use some uneaten ham bones in this dish for extra flavor.
Red beans and rice are soothing dishes everyone can enjoy, especially little children. The tender and soft red beans that go over a bed of white rice are the best dish when you're feeling uneasy.
Total time: 30 minutes
Southern lamb chops are perfect for when you're having a dinner party with friends and family. Don't overlook the appearance and taste of this dish.
Lamb is a type of meat that goes well with almost any type of seasoning. For this recipe, you will be marinating your lamb with some rosemary and olive oil. These are the two main ingredients that will help elevate the flavor inside the lamb.
This dish is something that will fill you up just right with the tender meat that is full of herby flavors. It's also a quick and easy recipe to make as you're going to use an air fryer. This cooking technique saves time and is a much healthier option for health-conscious folks.
Total time: 50 minutes
The first ever version of pot pie in Greece was an open pie with a filling of cooked meat. Then the Romans started covering the pie with some pastry, which is today's pot pie.
This recipe calls for diced chicken, a common choice of meat. In the filling, you mix your chicken with some vegetables like carrots and peas, which add a versatile texture to the pie.
Note that it's better if your chicken filling is thick. If the filling is too loose and runny, the pie won't hold its shape when you cut into it. However, it is still possible to make the filling as runny as you want; just add some more milk to perfect your chicken pot pie.
Take a look at this no-fail instruction for chicken pot pie.
Total time: 2 hours 30 minutes
Glazed ham is a special holiday dish that shows up on every dinner table of African American families. It even tastes better when you're sharing it with your loved ones.
Christmas ham is big and consequently too dense to eat without any special seasoning. The pineapple and the glaze in this syrup add a beautiful golden brown color and a pleasant and slightly fruity flavor to the ham.
Another ingredient you should also use for a tasty and beautiful glaze is Dijon mustard. This component acts as a thickening agent for the glaze, making it less watery and runny.
Total time: 3 hours 20 minutes
Oxtail might not be a common cooking ingredient for most people. However, for African Americans, this is a great item for luscious soup and stew dishes, specifically oxtail stew.
Oxtail stew is a popular stew that people usually serve in soul food and Caribbean diners. A standard serving of oxtail consists of oxtail pieces, carrots, onions, and spices like curry powder, smoked paprika, and other exotic spices.
Since this stew is often a slow-cooked stew, the meat on the tail is so tender it can fall right off the bone. The stew sauce is also full of flavors from the spice and fatty essence from the tail, so you can pair it with some white rice for a more filling dish.
Total time: 35 minutes
This hearty dish is just the dish you need when craving some seafood but still want something fulfilling. Shrimp and grits are a signature dish of Lowcountry cuisine.
For those who are unfamiliar with this specialty, grits are a type of porridge that people make from cornmeal. This type of porridge is usually savory and is a well-loved breakfast dish. In Lowcountry cuisine, people improve it by adding some shrimp.
While the grits are sometimes plain in taste, the whole dish is flavorful due to the bacon, shrimps, cheese, and other seasonings. By cooking the shrimp and bacon in butter, garlic, salt, and pepper, everything will be fragrant and so satisfying to enjoy.
Total time: 2 hours
This roasted turkey recipe is another holiday recipe for you to try. While the name "roasted turkey" may suggest a simple dish, the Cajun spice mix will prove otherwise.
The chicken packs many layers of flavors from spices like cumin, onion, garlic, pepper, and chili. These seasonings help preserve the juice in the turkey even when it is split in half or spatchcocked.
There are many ways you can enjoy your turkey. You can eat it off the bone, savoring the meat that's full of flavor. Another way is to shred the chicken into pieces and pair it with some slaw, biscuit, and gravy.
Total time: 50 minutes
Lowcountry boil or Frogmore boil is a seafood stew that African Americans and southerners, in general, enjoy eating. This seafood dish hails from Lowcountry cuisine in the South Carolina region.
A pot of Lowcountry boil usually consists of different seafood like shrimps, crawfish, and crab. In this recipe, you will be using only shrimps as crawfish and crabs aren't always available everywhere.
This seafood stew is a perfect combination of vegetables and seafood as it can bring out the best flavors from both ingredients. While the stock is flavored with the natural sweetness from the vegetables, it also packs with the herby and filling taste coming from the seafood.
You should enjoy this dish with your bare hands. Dig right into the fresh shrimps and eat the corn right off the cob to experience the Lowcountry boil at its best.
Total time: 1 hour 30 minutes
Gumbo is a soup that people consider a significant dish in Louisiana. The soup usually consists of a concentrated stock with meat and seafood. What's special about Gumbo is that it uses the Creole cooking trinity, which are celery, onions, and bell peppers.
This trinity is a significant feature in Louisiana cuisine as people use them as a base in many dishes. In this recipe for gumbo, you're going to use ingredients with the best flavors like crabs, shrimps, and roux, a mixture of fat and flour that thickens stocks.
This seafood stew or soup is very rich in flavor, which you can always taste from the essence of the crabs, shrimp, and spices in the stock. It is also advised to pair your Gumbo with white rice so that the rice can soak up all the flavors in the stock.
This guide will give you the best pot of seafood gumbo.
5 Lip-smacking Soul Food Desserts To Serve On Your Dinner Table
What's a complete meal without some dessert? African Americans understand just how important desserts are. These recipes down here will illustrate the best features of what I just said.
Total time: 18 minutes
Teacake is a dessert that differs in texture and taste depending on the region. For instance, teacakes in England are toasted sweet buns, while Swedish tea cakes are soft wheat bread. The version I'm talking about today, Southern tea cakes, is another story.
Southern tea cakes are a variation coming from the United States where people use sugar, butter, eggs, and flour and turn them into large cookies. These cookies play a big part in the culture of African Americans.
They were part of the celebration when black people in the southern US heard about the Emancipation Proclamation. Their name originated from the local habit of having this type of cookie with afternoon tea.
Total time: 27 minutes
This scrumptious sweet potato dessert also goes by the name sweet potato casserole. African American people usually make and enjoy it on special holidays in the United States.
What distinguishes this pie from the rest is the filling that goes on top of the crust. It's a mixture of mashed sweet potatoes, eggs, milk, and spices common in making dessert dishes like cinnamon and nutmeg. The filling can also vary in texture, from dense and silky to light and airy.
This pie tastes best when you make it with fresh sweet potatoes. However, you can also turn it into a delicious canned sweet potato dish. Some people believe that Sweet potato pies were created when the African slaves tried to replace the yam from their home country with sweet potatoes.
Total time: 1 hour 25 minutes
Cobbler is a famous American dessert that has a special way of preparing. People will place fruits on a tray and top the fruits with some batter or biscuits before baking the dessert in the oven.
Peach cobbler is a tasty canned peach delight that you will find on the dinner table of almost every African American household on a weekend night. It's such a pleasant treat as the peach melts in your mouth while the pastry is fragrant, thanks to the butter.
Your peach cobbler will always turn out perfect with this instruction.
Total time: 1 hour 25 minutes
You can't talk about soul food without mentioning New Orleans, and you can't describe New Orleans cuisine without beignets. While they can be made from different types of dough and ingredients, the most common type of beignets for African Americans has to be leavened dough.
In New Orleans, you will often see cafes selling these delicious delights. The fried pastries here usually have a generous layer of powdered sugar on top. With this recipe, it's even better if you can enjoy them fresh with a cup of coffee beside.
The golden brown Beignets are crispy to the bite. When dusting the powdered sugar on top, the pastries suddenly become complete as the flavors will burst on your palate with a pleasant sensation and splendid taste.
Total time: 1 hour 15 minutes
Usually, bread isn't the type of ingredient you would use for desserts. However, this delicious, smooth-textured bread pudding will prove you wrong.
Bread pudding is a dessert dish with the main ingredient of bread that people soak in milk and butter. There are two variations where the bread pudding is either savory or sweet. For this recipe for bread pudding, you're going to make the latter version.
There are spices you can add to a pudding, such as cinnamon and nutmeg. You can also use ingredients like syrup, honey for sweetening, and dried nuts and fruits for texture.
What's special about this recipe is that there is a bourbon sauce that goes on top of the bread pudding. This sauce is quite different from the syrup and cream because it boasts a kick of flavor, giving the dish a whole new taste.
Refreshing Soul Food Drinks You Have To Try
It can be a little bland to enjoy the food alone. You may sometimes need a tasty beverage to wash everything down and refresh your throat. I have chosen these two drinks that will complement your food well and help cool you down in the summertime.
Total time: 15 minutes
Southern sweet iced tea is a common refreshing beverage you can find almost everywhere. It is especially famous in South America. The name of this drink already suggests the ingredients: tea, ice, and sugar or syrup.
As simple of a drink as it is, sweet iced tea used to be a luxurious delicacy back in the past. This was because the ice wasn't quite an accessible ingredient since it had to go through long distances to reach households in the southern region.
Sweet tea is a simple drink you can make in large batches and serve in large pitchers. It's an ideal beverage to kill the hot heat of the summer days. I have a personal tip to make this drink better: adding a squeeze or two of lemon or lime juice.
Whip up a pitcher of tasty sweet iced tea with this simple tutorial.
Total time: 18 minutes
Mint Julep is a cocktail that's famous in the southern region of the United States. This is an alcoholic drink consisting of bourbon, sugar, water, crushed ice, and mint leaves.
The word "julep" is a word people use to refer to sweet drinks. In the 18th century, this cocktail made its debut in the south with the original recipe using only four ingredients. Those ingredients were spearmint leaves, bourbon, syrup, and crushed ice.
This particular drink is an interesting beverage since it's a perfect combination of sweet tea and the cocktail itself. While savoring the sweetness of the tea, you can also feel the cooling sensation and the fragrance coming from the mint leaves.
A tip I have for you while making this drink is to smash some mint leaves and mix them into the drink to release the most flavor.
Soul Food Is All About Turning Simple Ingredients Into Good Food
After these recipes, I hope you are now left with an excellent impression of what soul food is all about. With these few examples, it is very clear that soul foods will always be more than capable of comforting your soul.
If you happen to grow fond of this exotic cuisine, let me know in the comments whether there are any other dishes that you want a recipe for. It would also be great if you could share this post should you find it helpful.
I hope you have enjoyed learning more about soul food the way I enjoyed writing about them. Enjoy your food, and thank you!
Nutrition Facts
6 servings per container
---
Amount Per ServingCalories328
% Daily Value *
Total Fat 11.8g

19

%
Cholesterol 31mg

11

%
Sodium 293mg

13

%
Potassium 1255mg

36

%
Total Carbohydrate 54.2g

19

%

Dietary Fiber 6.3g

26

%
Sugars 12.6g

Protein 2.5g

5

%
---
Calcium

40

%
Iron

1

%
Vitamin D

8

%
* The % Daily Value tells you how much a nutrient in a serving of food contributes to a daily diet. 2,000 calories a day is used for general nutrition advice.