These best slow cooker chicken recipes are a much healthier substitute for sugary snacks and fast food for a delicious and hearty meal. The slow-cooked chicken breast brings a unique hearty flavor and juicy texture that no other dish can resemble.
I prefer chicken over red meat because it contains less saturated fat. Poultry meat, especially chicken breast, is also high in nutritional value. For these reasons, these recipes can make you full the whole day while limiting cholesterol and unhealthy fat intake.
Of course, the slow-cooked dishes are not always about the stews and soups. You'll find delicious savory dishes like Teriyaki Chicken or Mexican Enchiladas. Now follow me and discover these recipes' beauty.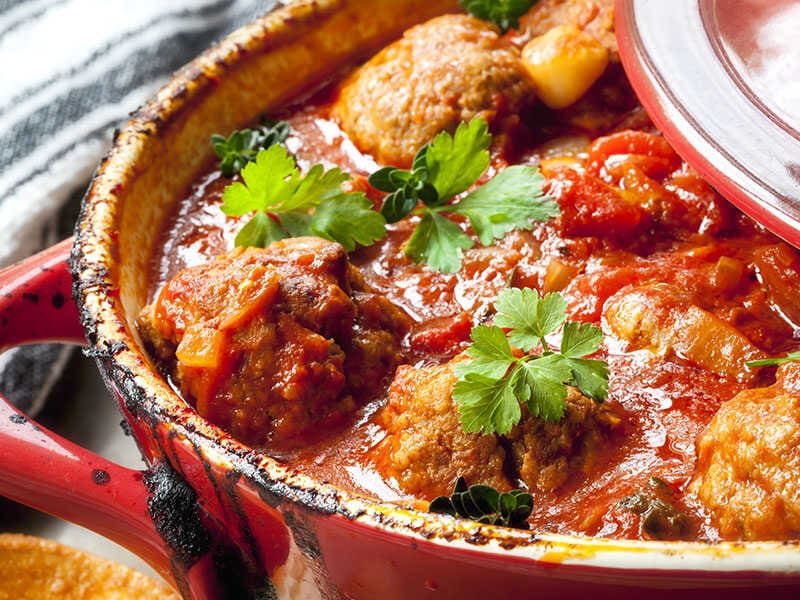 You Cannot Resist These Tasty And Warming Slow Cooker Chicken Recipes
No matter how much I love cooking, it's so hard to get yourself in the kitchen when all the energy is drained after a tiring day at work. Dining out seemed more convenient, but it was not until I discovered these fabulous recipes.
They are so simple and nearly effortless to prepare. All you need to do is throw the ingredients in the slow cooker in the morning, and a hearty dinner is ready when you get home. Now let's come to the first dish.
Total time: 4 hours
This simple recipe with flavorful Mexican spices is among the most delicious shredded chicken dishes. The chicken is super tender and savory, making it a perfect filling to enjoy with tacos, enchiladas, burritos, or white rice.
This recipe doesn't involve any refined sweeteners or sugar. All the flavors come from natural spices like chili, onion, and garlic powder. The added red pepper flakes, chili, and paprika bring the chicken a beautiful reddish color and powerful spicy taste.
You can use boneless chicken breast or chicken thighs for this recipe. However, you have to increase the simmering time if the chicken breast is frozen or comes in larger sizes. If you cannot tolerate alcohol, replace white wine vinegar with apple cider vinegar.
Here is how you make the most delicious slow cooker shredded Mexican chicken.
Total time: 4 hours and 20 minutes
Chicken Piccata is a delicious Italian dish with chicken pieces cooked in butter and tangy lemon drizzle. Made in the slow cooker, it gives a super juicy and tender texture that will melt in your mouth. This is an amazing dish to prepare with canned chicken if fresh meat isn't around.
I have to admit that the chicken breast's bland taste is not so appetizing. But when seasoned with dijon mustard and caper, it becomes so tasty with a complex sweet and spicy flavor. The boneless chicken is also seared with salt, flour, and pepper for a more filling taste.
A little cornstarch and water make the chicken broth more creamy and thick. They also bring a mild yellow texture that combines with the fresh yellow lime slice and caper garnishing.
You can serve this crockpot chicken piccata with spaghetti, plain rice, or mashed potato for a full culinary experience. If you have some leftover chicken piccata, pour it into the airtight container and put it in the fridge to store.
Total time: 6 hours and 10 minutes
This crockpot chicken tortilla soup is a great addition to your home cook's repertoire with its comforting and delicious texture. The secret to its yummy taste lies in the homemade taco seasoning, which brings a satisfying blend of salty and spicy flavors.
Of course, no slow-cooked chicken soup can lack hearty veggies like corn, black beans, and lime. However, the tortilla chips' mild sweetness and chewy texture make this soup stand out from the other recipes.
This tortilla soup calls for homemade taco seasoning, which is a mix of spices like salt, black pepper, paprika, cumin, and chili powder. Its savory and spicy taste will bring the meat-based stews and soups to another level.
Total time: 4 hours and 10 minutes
The crock pot Tuscan chicken would be ideal if you are craving a delicious dish but don't want to spend too much time in the kitchen. The dish possesses a creamy yellow soup full of classic Italian flavors.
The artichoke hearts, sun-dried tomatoes, and chicken breasts are simmered for many hours, giving a super soft and tender texture. Add some little cream mixed with parmesan cheese, and you get the airy yellow broth.
With such a thick and creamy texture, this Tuscan chicken would be perfect for cauliflower or basmati rice. I usually serve it with my favorite dishes like pasta and no yeast bread, which will soak up all the soup's delicious flavors.
This is the only guide you need for making the crock pot Tuscan chicken.
Total time: 8 hours and 10 minutes
This healthy and simple slow cooker chicken impressed me with its satisfying sweetness of honey and the pungent garlic aroma.
The flavorful chicken thighs soaked in the melting honey garlic sauce deliver a colorful and succulent texture. The black beans and gold potatoes are so tender that they will practically melt with the chicken thighs.
You can use quick-cooked veggies like cauliflower and broccoli to reduce simmering time. If you don't like chicken thighs, use the boneless chicken breast as a substitute.
Moreover, you should thaw frozen chicken before cooking or use fresh chicken to achieve the most delicious texture.
Total time: 4 hours and 13 minutes
This slow cooker BBQ chicken drumstick is a perfect meal to enjoy with your family and friends at barbecue parties. The tender and crispy chicken legs are finished with the BBQ sauce, giving a tasty, savory, and sweet flavor.
One thing I don't like about the stewed chicken breast is that they can disintegrate into the broth. These boned chicken drumsticks can hold their shape very well and give crisp skin. Plus, they can be enjoyed as a luscious chicken starter for a more authentic BBQ spirit.
Before dipping the chicken legs into BBQ sauce, you can rub them with some salt and pepper for a complex flavor base. Ensure the chicken is completely dry before putting it in the slow cooker, or their skin will get soggy.
Total time: 4 hours and 10 minutes
It's hard to find a quicker and more convenient slow cooker recipe than this chicken Enchilada soup. With only 10 minutes to prepare, you will get a hearty and nutritious dish for busy weeknights.
The soup features a vibrant reddish color from ground cumin, diced tomatoes, and especially the red enchilada sauce. The chicken breast is simmered until tender and shredded into tiny bite-sized pieces for a hearty and comforting soup texture.
This soup's savory and sweet flavors come mainly from the Enchilada sauce. You can use the store-bought enchilada sauce or make its homemade version by mixing oil, chili powder, sea salt, and chicken stock in the slow cooker.
Don't make the slow cooker chicken Enchilada soup if you haven't referred to this instruction!
Total time: 4 hours and 15 minutes
The slow cooker chicken mixed with alfredo lasagna and veggies makes up a nutritious and hearty breakfast. You cannot help but fall in love with its mildly cheesy and creamy undertone of alfredo mixed with tender chicken.
The alfredo lasagna cannot taste good without cheese. This recipe combines the tastiest cheeses like cottage, mozzarella, and parmesan for a pleasant saltiness and stringy taste. They also bring the dish a more tasty look with the gooey and airy topping layer.
You should dice the chicken breast into little chunks after cooking so they can soak up all the flavors. Around 4 hours of simmering time would be ideal, which gives the lasagna a soft but not too mushy consistency.
Total time: 6 hours and 10 minutes
This dish is an easy throw-together meal that takes only ten minutes to prepare. It features an appetizing reddish look of the rustic and runny sauce falling off the tender chicken breast.
This succulent sauce's ingredients are familiar with bone-in chicken thighs, mushrooms, crushed tomatoes, chicken broth, and spices. All the flavors slowly soak into the juicy chicken breast, giving the Cacciatore a comforting and luscious texture.
The dish originated in Italy many centuries ago and serves as a reserved food for hunting trips. Therefore, its flavor not only doesn't go bad and gets better over time. You can serve it with pasta or white rice for a full and hearty meal.
Total time: 4 hours and 8 minutes
This low-carb and ketogenic but super tasty and nutritious crock pot balsamic chicken is a dream for people following a diet. Its sour and sweet balsamic sauce and tender chicken breast are all you need for a healthy meal.
The chicken breast mixed with diced tomatoes and balsamic vinegar brings a meaty and sour taste. Besides the classic pepper and salt duo, it adds a little Italian seasoning for an extra piney and earthy undertone.
This balsamic chicken looks like chicken curry with a succulent texture and dark chicken broth. Pour it over mashed plantain, riced cauliflower, or pasta to serve. Don't forget to garnish with more fresh herbs and parmesan cheese!
Learn to make the crockpot Balsamic chicken in less than one minute through this video!
Total time: 4 hours and 5 minutes
How about a whole chicken seasoned in the rotisserie style and cooked in the crockpot? This dish will easily spotlight the dining table with its impressive and tasty appearance.
I prefer slow cooking the whole chicken due to its crispy skin and juicy boned texture. It is coated in salt, pepper, and brown for a satisfying blend of savory and sweet tastes. A little paprika also adds the spicy undertone that stimulates your appetite.
Every part is so tender and flavorful that you can shred and mix it with the other dishes to enjoy. The only problem is that the chicken may not fit into your crockpot. Therefore you should know your crockpot size before choosing the chicken.
Total time: 5 hours and 15 minutes
No one wants to stand for hours cooking over the hot stove. With this easy crockpot chicken and dumplings recipe, you cannot make an effortless dinner full of hearty and nutritious ingredients.
This stew features a comforting and creamy yellow chicken broth with small chunks of chicken thighs and veggies simmered to tender perfection. The fabulous aroma of dried parsley, rosemary, and thyme adds more beauty to this dish.
You should choose the chicken thigh for this stew because it delivers a more tender and juicier texture than the chicken breasts. Ensure that you cover the pot when adding the dumplings to give them a fluffy and light texture.
Total time: 8 hours and 10 minutes
This slow cooker chicken pot pie is perfect for an easy and healthy crockpot breakfast. It is loaded with green veggies and chicken breast, bringing a creamy and protein-packed texture that can make you full all day long.
The boneless chicken breast is shredded and nestled in a filling mixture of peas and fresh spices. This dish looks gorgeous with a powerful meaty flavor and creamy texture from the chicken condensed soup.
The soup texture will get thick and creamy with loads of fresh-cut veggies. You can consider adding less liquid for an even creamier consistency. Let the pot pie rest for 15 minutes before serving with refrigerated canned biscuits.
Total time: 6 hours and 10 minutes
Imagine serving the tender chicken breast simmered in filling gravy with white bread and mashed potatoes. It has been so long since the last time I had such a nutritious and tasty meal.
The crockpot chicken and gravy recipe require just a handful of convenient ingredients like chicken gravy mix and canned chicken broth. Both chicken breast and thigh are applicable, but you should opt for boneless meat.
Consider adding a little dijon mustard for an extra smooth and salty flavor. Its mild spiciness also compliments the filling and juicy chicken gravy. If you have some leftover soup, pack it in an airtight container and put it in the fridge to store.
Total time: 3 hours and 40 minutes
I love the traditional Mexican Fajitas with their iconic Tex-Mex flavor, but it requires too much time and effort to cook. This recipe uses the slow cooker to get rid of the hassles and bring you a full and hearty meal.
This soup combines the naturally sweet flavors of veggies and chicken breast for a hearty and savory taste. You just need to dump everything into the crockpot and let it perfectly cook the Fajitas.
You can cut the chicken breasts into small dice or shred them to serve! It would be easier to take out the whole breast and let it rest before slicing. Though olive oil provides the Fajitas with a fatty and creamy texture, you can remove it for a lower-carb meal.
Total time: 8 hours and 5 minutes
This crockpot chicken Spaghetti is every southern family's favorite dish with its creamy and cheesy texture of shredded chicken tossed with pasta. Thanks to this fabulous recipe, making a cozy and effortless spaghetti has never been easier.
Of course, it's impossible to achieve that creamy and soft consistency without using cheese. This recipe combines the heartiest kinds like pepper jack, cheddar, and cream cheese for an extra filling and savory taste.
This dish's base salty and sweet flavors come from canned Rotel tomatoes and cream of chicken soup. If you don't have much time to cook, prepare the pasta in advance and mix it in this recipe when the hunger kicks in.
This instruction shows you how to make the most authentic crockpot chicken spaghetti!
Total time: 1 hour and 40 minutes
I always choose this yummy crockpot dip recipe as an appetizer for family gatherings. The super gooey and creamy texture from cheese and slow-cooked chicken can easily impress everyone at the table.
The chicken dip brings a mildly salty and sweet flavor from blue and mozzarella cheese combined with Greek yogurt. If you don't like the sharp and distinctive taste, just use mozzarella cheese.
Top the cooked chicken dip with green onions and more blue cheese crumbles to serve. The fans of spicy food can add one-half cup of hot sauce to make the chicken dip even more flavorful.
Total time: 5 hours and 5 minutes
Among other Italian recipes, the chicken Marsala stands out as a popular dish with beautiful chicken cutlets simmered with Marsala cooking wine and mushrooms. It looks like a nostalgic dish stepping out of a fancy five-star restaurant.
An authentic chicken Marsala cannot lack the Marsala wine, which tastes like a mix of brown sugar, tamarind, and vanilla. It also gives the cutlet a beautiful dark brown coating and a thick, creamy texture.
Be careful when pouring the wine onto the chicken because it can easily catch the flame. The chicken breast is well seasoned and mixed with heavy cream, bringing a tasty blend of sweet, sour, and savory flavors.
Total time: 3 hours and 20 minutes
This recipe calls for flavorful and protein-packed ingredients like chicken breast, brown rice, and lemon for a nutritious and hearty meal. Though the ingredients are very few and easy to find, they will bring a super filling and delicious taste when prepared properly.
Brown rice and chicken make the best culinary duo with their well-blended flavors and nutrients. While the brown rice delivers an earthy and plain flavor, the slow-cooked chicken breast compliments it with a salty and creamy taste.
This crockpot chicken and rice will bulk up your body with its abundant source of protein, healthy fat, and calories. Plus, it is also low-carb and healthy, with no refined sweeteners added. That's why I usually go for this recipe after a tiring day at work.
Follow this easy instruction to make yourself a hearty crockpot chicken and rice!
Total time: 3 hours and 15 minutes
This slow cooker chicken Korma has a fancy curry-like appearance but comes with less powerful spices. Its creamy sauce and fruity flavor from milk, Greek yogurt, and chicken thigh will make you feel good.
I recommend using chicken thighs for this recipe. It's cheaper and brings a higher fat content that combines better with creamy milk and greek yogurt. Korma spice blend or tumeric is indispensable, giving this chicken Korma an airy and yellow texture.
Remember to grasp some lime and fresh corianders when shopping for the ingredients. Garnish them on the chicken Korma and drizzle on lemon zest to serve! You can enjoy the chicken Korma with Naan bread and rice for a more nutritious meal.
Total time: 4 hours and 30 minutes
The slow cooker chicken burrito bowl is my favorite Mexican dish because it's much simpler to prepare than the other recipes. Using some chicken breast, chicken broth, and chunky salsa in the pantry, you can prepare a hearty dish with mouth-watering flavors.
Though the chicken is already tasty, you can add a little salt to give it a more savory taste. When waiting for the chicken to simmer, quickly prepare the ingredients by thawing the frozen corn, cooking the rice, and cutting the veggies to save time.
You can use a pair of forks and tongs to shred the chicken easier. After everything is ready, assemble the ingredients in the burrito bowl and simmer in the slow cooker for 4 hours. Garnish the bowl with lime wedges and lime wedges to serve!
Total time: 8 hours and 45 minutes
Why not forget about the hustles and bustles of life and spend fifteen minutes making this easy pasta recipe with your slow cooker? All of its ingredients will pull out like magic, bringing you a delicious and convenient meal after a hard day at work.
The soup's taste and super tender texture from the Spaghetti noodles, chicken stock, and veggies totally convinced me. You can use any kind of pasta, but Spaghetti will bring the most classic and authentic flavor.
You should slow cook the veggies first and stir in chicken breast with pasta at the end, or they will get mushy. Add some parsley and lemon juice to the soup to give it a stronger aromatic scent.
This homemade chicken noodle soup always makes the most convenient and delicious breakfast!
Total time: 4 hours and 15 minutes
The slow cooker Greek shredded chicken packed in warm pita bread is the best dish you can serve at any party. It is full of Greek flavors with a refreshing and comforting texture mixed with the delightful taste of tzatziki sauce.
These chicken gyros can be enjoyed as a snack or whole meal, which looks like a regular burger but has a more distinctive taste. You can pair it with Greek salad and more healthy veggies to serve.
The essence of this greek chicken gyro lies in the homemade tzatziki sauce, which is a true crowd pleaser with its tangy and fresh flavor. You can prepare the sauce by blending cucumber, Greek yogurt, and lemon with spices like garlic and oregano.
The sauce can be prepared ahead and kept in the fridge for a more intensified flavor. You should use fresh minced garlic and squeezed lemon oil rather than store-bought products for the best taste.
Total time: 6 hours and 5 minutes
Peanut butter is everyone's favorite spread made from roasted ground peanuts. Its nutty and powerful roasted flavor can pair well with meat-based dishes, especially slow-cooked chicken.
This slow cooker peanut butter chicken features a slightly sweet and acidic flavor that pairs with the fabulous nutty aroma. You can shred or put the whole chicken breast in a hot rice bowl to serve!
This recipe also works with the instant pot, but remember to increase the quantity of chicken broth (about ¾ cup). If you prefer a creamier and fattier texture, consider adding ½ cup coconut milk.
Total time: 5 hours and 45 minutes
If you love Enchilada soup, this crockpot chicken Enchilada casserole won't disappoint you. It possesses a creamy and gooey texture with a bright yellow color from shredded chicken blended with enchilada sauce and Mexican cheese.
Making this casserole with your slow cooker is more than easy. Before leaving for work, shred the chicken and toss it into the slow cooker with some tortilla strips, canned corn, and black olives. Top it with Mexican cheese, and the casserole will be ready when you're home.
You don't have to layer the tortillas, just cut them into random sizes and toss them into the crockpot. This dish may look like a huge mess, but it's oddly satisfying and appetizing. It pairs well with refried black beans, Mexican rice, or Jalapeno Guacamole for a tasty superb.
Making this chicken Enchilada casserole is so relaxing. This video will show you why!
Total time: 4 hours and 20 minutes
The fans of curry should not skip this slow cooker chicken curry with coconut milk. It brings the classic Indian curry flavor with a creamy chicken broth with small chicken breasts and vegetable chunks cooked to perfect tenderness.
The recipe adds a lot of sweet potatoes and coconut milk for a pleasant sweet undertone. Both lite and full-fat coconut milk work well in this chicken curry. You can combine the two types to achieve a fatty and runny texture.
Obviously, the best way to serve this chicken curry is with white rice or naan bread. Don't forget to garnish the curry plate with green corianders for an extra nutty and earthy flavor. Adjust the amount of salt and pepper according to your favorite taste.
Total time: 4 hours and 10 minutes
The juicy and sweet Teriyaki chicken mixed with brown sugar, honey, vinegar, and soy sauce is a must-try dish on cold winter days. It melted my heart with a super filling sweetness and decadent texture.
You can blend orange blossom with honey in the Teriyaki sauce for an extra refreshing and circuitry flavor. This healthy recipe calls for low sodium soy sauce, but the regular soy sauce in your pantry will work fine.
This Teriyaki chicken's highlight is its sweet and floral honey flavor. Therefore it would be perfect if you served the chicken with pineapple rice or coconut bread. Their mild sugary taste will blend with the chicken's sweetness like magic.
Adding a little cornstarch will do the trick if you want the sauce to have a thickened and gravy-like texture. This Teriyaki chicken can last up to three days in the fridge, but remember to let it cool and store it in an airtight container.
Total time: 5 hours and 25 minutes
Imagine the succulent chicken chunks tossed in the creamy apple cider vinegar sauce and corn flour batter. Its sweet and tangy taste complimented with the hearty and spicy chili will impress you.
Slice the chicken into cubes and coat them with corn flour batter to give them a gooey and thickened texture. Apple cider vinegar is the secret ingredient for the dish's light and sour undertone. You can mix it with apple juice for a more pleasant sweet taste.
This slow cooker sweet and sour chicken would be the best match for fried or boiled rice. Garnish the chicken with spring onion, and it's ready to serve. Add more vegetable spring rolls or prawn crackers if you prefer a more diverse texture.
Why does this slow cooker's sweet and sour chicken taste so good? Follow this video to find out!
Total time: 9 hours and 15 minutes
This slow cooker chicken with red wine and mushrooms always makes its way to the top of the list with a fancy alcoholic taste and reddish texture. I guarantee that it will hold the spotlight when you feast on your friends and family members with this delicious dish.
This chicken features a super moist and juicy texture when simmered with red wine in the slow cooker. Its mushroom texture also delivers a flavorful and savory taste from the minced spices, sugar, and salt.
You should cook the mushroom mixture in the skillet before simmering it with chicken in the slow cooker. Stir the mushroom regularly until it turns brown with an aromatic and herby scent. When the chicken is thoroughly cooked and tender, top it with basil leaves to serve.
Total time: 4 hours and 10 minutes
Here comes my favorite slow-cooked chicken recipe comes with cheddar cheese, rice, broccoli, and chicken. This dish brings a comforting and cheesy texture combined with a delicious, fatty taste you cannot resist.
Broccoli brings a crunchy and vegetal taste with a distinctive bitter undertone that you cannot find in any other veggies. When added with tender chicken breast and floral rice flavors.
A mistake many beginners make is adding the broccoli into the slow cooker too soon. When the chicken is nearly done, you should only toss in broccoli to retain its nutrient and fresh texture.
If you are allergic to dairy products, select dairy-free cheese for this dish. Both brown and white rice works well with this recipe, so just go for your favorite type. If the texture is too thick when you add the broccoli, pouring in a little chicken broth will do the trick.
Total time: 5 hours and 5 minutes
This Thai chicken curry always makes its way into the most delicious crockpot recipe. It's a simple, convenient, and super delicious dish that can fill your stomach on the busiest days.
Finding another chicken recipe with such a strong nutty flavor is hard. This Thai chicken uses soy sauce, peanut butter, and natural spices for the flavorings. They bring the chicken a tasty and sweet undertone with a creamy and thick texture.
Remember to grasp some white rice or fettuccine noodles at the grocery store because they pair so well with this slow cooker Thai chicken. Garnish the plate with more cilantro and a fresh lime slice for a fancy and hearty meal.
Total time: 4 hours and 40 minutes
This homemade slow cooker healing chicken soup becomes indispensable when the cold seasoning is coming. It is delicious and healthy and helps heal your body with anti-inflammatory substances.
My heart instantly warms up when I see its mild greenish color from turnips. This soup combines the healthiest ingredients, like scallions and turnips, which bring a comforting taste with a divine and aromatic scent.
The zucchini in this soup helps cool off your body, while turnips aid digestion and reduce inflammation. The soup is also nutritious and tasty, with no sweeteners added. Most of its flavors come from green veggies and spices that blend like magic with chicken broth.
No Time To Cook, No Problem
These best slow cooker chicken recipes are a gift of life for busy people who don't have much time tomake them a nutritious and hearty meal. Why bother laboring in the kitchen when the slow cooker can help you do everything?
When do the veggies taste most delicious? If you ask me that question, the answer will always be stew and slow-cooked dishes. These recipes are a great way to incorporate healthy greens and spices into our daily diet with their savory and filling flavors.
Your body deserves healthy and more nutritious dishes than fast food and store-bought sweet treats. So, it's about time you take out the slow cooker and let it work up to its full potential. I hope the recipes can bring more joy and energy to your life.
Don't hesitate to like the post and comment if you love these recipes. I wish you a great time!