Sides for sandwiches are necessary because there are many cases when a single sandwich is not enough.
For example, if you have a small sandwich, you need an additional dish to fill your stomach. Alternatively, your sandwich may be stuffed with meat and starchy toast; you need something green to balance the flavor and nutrients.
To help you with this issue, this article is a recipe compilation of side dishes to serve with sandwiches. From light to heavy, from summer to winter, there is a recipe on this list that meets your needs. Dig in!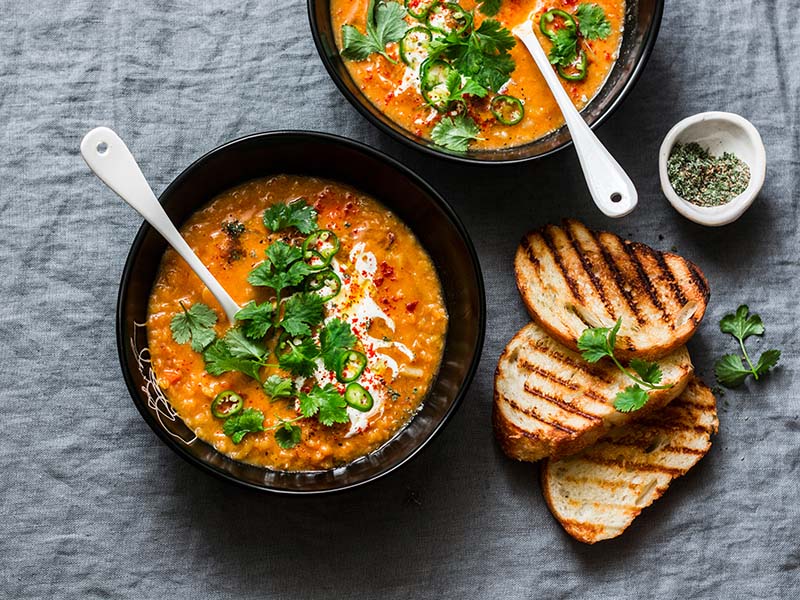 Refer To These Sides For Sandwiches To Make A Perfect Meal
The following recipes, with their description, will help you pick the right side dish for your sandwich. You should also check the total time to determine which recipe suits you the most.
Total time: 1 hour
One of the best things about making this soup is that it's so simple to make yet so delicious to taste. It's creamy, thick, and smooth. It's also healthy, containing only tomatoes, bell peppers, garlic, broth, herbs, and seasoning.
All of these ingredients are easy to find. You can use any type or size of tomatoes and bell peppers, and the soup will still turn out perfect.
You can use either vegetable broth or chicken broth for this recipe. So, if you want to make soup for a vegetarian diet, simply go with the first option.
Cooking the Roasted Red Pepper And Tomato Soup on heat is not always required, like in this instruction.
Total time: 1 hour
With an air fryer, a few potatoes, oil, and salt, you can make a few batches of potato chips to serve with your sandwiches. These basic chips are crispy, a little salty, and starchy.
While the recipe for this beloved potato side dish involves only four ingredients, it's not completely easy to make. You need to keep a few things in mind to ensure success.
First, you must not skip the soaking step as it helps make the chips crunchier and prevent them from sticking together. Secondly, let them dry thoroughly before putting them in the air fryer, ensuring crispiness. Also, cook them in single layers for an even effect.
Total time: 20 minutes
A fruit salad is the ultimate dish you can make any season; the only difference is in the types of fruits to use, depending on the specific time in the year. However, following a detailed recipe will help you ensure the right quantity of each fruit.
The secret to a perfect, tasty fruit salad is using a dressing. It adds sweetness to your side dish and blends all the fruits' flavors nicely. Without a dressing, you have a bowl of mixed fruit; with a dressing, you have a salad.
In this recipe, you will use peach pie filling as the dressing because it tastes amazing and is clear, so it doesn't ruin the original colors of the fruits.
Total time: 40 minutes (including chilling time)
Coleslaw is a well-known vegetable side dish with main ingredients like fresh green cabbage, red cabbage, and carrots. Hence, it's typically crunchy. There are two versions of this salad, creamy or vinegar. This recipe will bring the latter to you.
Featuring apple cider vinegar, this coleslaw comes with a tangy, sweet, refreshing, and light taste. It's also quick to make. But you do need to let it chill for 20 minutes, so remember this when you prepare your meal.
Total time: 10 minutes
Usually, when you have a big, fatty sandwich, you will crave something green or fruity. In such cases, quickly mixing up a bowl of berry walnut spinach salad is the best, especially in the warmer weather.
This salad is refreshing. It not only resets your appetite to help you enjoy your sandwich better but also creates a good balance for your meal. On top of that, the dish is colorful and a lively image to look at.
When it comes to serving, you can eat this salad immediately after mixing or let it chill in the fridge for a while beforehand.
Total time: 2 hours and 35 minutes
If you are serving many people, the classic macaroni salad is a great choice as you can make a big bowl in about half an hour. It has "green" ingredients, like peas and celery, and stomach-filling ones like macaroni and eggs.
This creamy salad also contains a lot of Cheddar cheese, so it will surely please cheese lovers. You should always serve this dish cold because it's more delectable and refreshing, and the chilling process will help the crunchiness of fresh veggies pop out.
Total time: 1 hour and 3 minutes
When searching for a convenient side dish made with an air fryer, French fries must be one of the first ideas for many. I also love having some French fries, but regular fries are too boring for me, so I usually add more flavors.
My favorite recipe, my no-brainer choice, is the garlic Parmesan French fries. These fries are rich in flavors. They are salty, a tad creamy, and have a great smell, thanks to the garlic mixture and Parmesan cheese.
The instruction uses an air fryer, but you can use an oven instead, your choice. Most importantly, similar to potato chips, you must soak the potatoes and then let them drain before cooking.
Total time: 17 minutes
Taking less than 20 minutes from start to end, sweet potato fries are much quicker to make than French fries. The reason is that you don't have to soak or drain the pieces. All you have to do is cut them into pieces, add seasonings, and cook them.
Compared with French fries, sweet potato fries are sweeter in flavor, thicker, and harder in texture.
Because these fries are generally harder than potato fries, you should avoid cutting them too thin, or they will be too hard to bite. The recommended thickness for one fry is ¼ to ½ inches.
Don't add corn starch to your Sweet Potato Fries. Find out why in this instruction video.
Total time: 35 minutes
If you are looking for a light soup, you can move on to the next recipe on this list. However, if it's a chilly day and you crave a warm, creamy side dish to pair with your sandwiches, this potato soup is everything you need.
It's meant to have extreme creaminess and thickness. Don't hesitate to toss in all the flour, potatoes, cheese, yogurt, cream, and butter the recipe requires. That said, if it's too thick for you, skip the flour and reduce the amount of butter.
You can make other small tweaks to this dish per your preference. For example, add some chopped broccoli for extra veggies, or add one tablespoon of Cajun seasoning for a flavor twist.
Total time: 2 hours 30 minutes (including resting time)
Back in the 19th century, the Jewish people used leftover Matzo bread crumbs to create Matzo balls, which they initially called Knoedela. The food is often served on Passover, a Jewish holiday.
In this recipe, you cook Matzo balls with chick soup, following the tradition. It takes a bit longer, but the result is well worth it. Eventually, you get a warm, comforting soup with a strong chicken flavor.
In terms of storing, you can keep the soup in the fridge for four days or freeze it for up to three months. Just reheat it on the stove or in the microwave whenever you want to eat it.
Total time: 1 hour and 5 minutes
The butternut squash season starts in fall and extends to winter, so you can say this is an iconic side dish in fall or winter. There's nothing tricky in making this soup, but taking a few notes will help you obtain a mouthwatering result.
The first note is using butter exclusively. It rounds out the soup's flavor. Don't use heavy cream because it will weigh down the dish altogether. Secondly, a stand blender is the best equipment to blend the soup to give it a certain creaminess.
Last but not least, always roast the butternut squash. It gives the ingredient a caramelized taste you can't achieve with boiling.
Total time: 45 minutes
This mac and cheese recipe is straightforward, making it perfect for a dish that goes with chicken tender or your favorite sandwich creations. There are no tricks or tweaks here, just the classic process you can easily memorize after one try.
To make mac and cheese, preheat the oven to 400 degrees F. In the meantime, boil the elbow pasta in salted water, then drain it. Next, melt the butter on medium heat, add flour, onion powder, and paprika, and whisk until the mix turns light brown.
Whisk in the evaporated milk until it's thickened. Remove the pot from heat, add cheese, Parmesan, pasta, salt, and pepper, and mix well. Place the pot in the oven and bake for 20 to 25 minutes. You can divide it into smaller portions before baking if you like.
If you are interested in a simpler Mac and Cheese recipe, here's your answer.
Total time: 15 minutes
The green Goddess salad dates back to the 1920s when it was made for George Arliss, an actor in the play "The Green Goddess". It later became popular and made its way to the hotel's menu, where the play was performed.
It has a dedicated Green Goddess dressing consisting of plain yogurt, olive oil, avocado, red wine vinegar, lime juice, veggies, garlic, etc. The dressing tastes fresh, herby, bright, tangy, and a tad creamy.
Those who are not fans of red bell peppers can replace this ingredient with diced tomatoes. Also, you can use sour cream or mayonnaise instead of yogurt for the dressing.
Total time: 35 minutes
I save this recipe for those with children. I'm sure adults will love it too, but baby carrots are so cute that you can convince your kids to try some, making them eat veggies. You can serve this side dish with any main course, including sandwiches.
In this recipe, you will season the carrots with black pepper, honey, and Kosher salt. Yet, there are variations where you can add cinnamon sugar, curry powder, coconut oil, balsamic vinegar, or herbs like rosemary, thyme, and oregano.
You can make honey-roasted baby carrots with an oven or an air fryer, depending on what you have on hand.
Total time: 50 minutes
This comforting soup is most suitable to pair with a sandwich on a cold day. It also makes a good side dish if a sandwich is insufficient to fill your stomach and you need additional food to complete your meal.
Like mac and cheese, this soup has no special tips or tricks. However, you can replace the vegetables in the instruction with any type you like. However, when you do, pay attention to the time each type takes to cook so you won't undercook or overcook it.
Total time: 40 minutes
Broccoli and cauliflower are two highly nutritious vegetables, but they are among the most underrated, especially by children, mostly because they taste plain. This soup will help you draw your kids to these beneficial veggies.
When shopping for this recipe, you can get fresh or frozen broccoli and cauliflower. I prefer fresh ingredients because they taste better, and their nutritional values are intact. That said, it's fine to use frozen veggies, just be careful not to overcook them.
Regarding broth, you can use canned chicken stock in place of chicken base and water. They are interchangeable, and the flavor won't change no matter which you use.
Broccoli, Cauliflower And Cheese Soup can be made with steamed veggies instead of sautéd ones. Here's how.
Total time: 3 hours 15 minutes
Along with French fries and chips, roasted potatoes are among the most hearty sides to serve with chicken wings or sandwiches. Garlic roasted potatoes come in bite-sized pieces, featuring a tender, fluffy texture on the inside, and crispiness on the outside, with a buttery flavor.
This recipe is easy to follow, even for beginners. If you don't believe you can cook, try this dish. It may change your mind. Just don't forget to soak the potato pieces, as it will ensure crunchiness for your dish.
Also, there's an option to top the dish with Parmesan cheese to enrich its flavor with a tangy touch.
Total time: 40 minutes
The key part of this Lebanese dish is the red lentil, which is fundamentally a skinless brown lentil. It's an appropriate addition to your sandwich meal as it's easy to digest, low in calories, and highly nutritional, comprising iron, protein, and antioxidants.
As red lentil gets cooked quickly, you don't need a pressure cooker or an instant pot to make this soup. You can soak the lentil to reduce the cooking time further.
This soup is light and yummy. You can serve it with sandwiches, toasted bread, or grilled vegetables.
Total time: 10 minutes
The Mexican Arugula salad offers a flavor blast to your sandwich meal with its refreshing dressing, consisting of lime juice, salt, pepper, cumin, and olive oil.
The tart lime juice and greens of the salad will surely sweep off any sandwich taste in your mouth, resetting your appetite so you can enjoy your food without feeling stuffed. It's an easy, quick side dish you must try whenever you can find some Arugula.
If you like cheese, you can add a larger amount than the stated in the recipe. However, I recommend you follow the instruction to keep the salad as refreshing as it should be.
Keep These Recipes Up Your Sleeves
Whenever you want to have a sandwich, take a recipe out of this diverse list and make a side dish to enrich your meal. All of the instructions are fairly easy to follow, so you don't have to be an expert to deliver a mouthwatering Matzo ball soup or coleslaw.
Whether you are looking for a soup or a salad, you'd better decide if you want a creamy dish or a light, refreshing one. Each style affects your whole meal differently, so keep that in mind.
If you have found helpful information here, please share the article with more people. I'm sure they can make good use of many of these recipes.