When it comes to delicious sides for grilled chicken, the world is your oyster. Grilled chicken has a reputation for being bland from time to time. Rather than a dull meal, this allows for endless possibilities on how a home cook prepares their meal surrounding it.
As for the culinary sidekick, you'll want something tasty that's not overly filling, which can fill you up before a second course or dessert. Some foodies love to keep it simple with a green salad or mac and cheese, while others prefer more complex courses.
Regardless of your taste and preferences, I'm sure there's at least one recipe for you in this comprehensive list. Not only treats for yourself, but these side dishes are also perfect for wowing your family and guests on special occasions!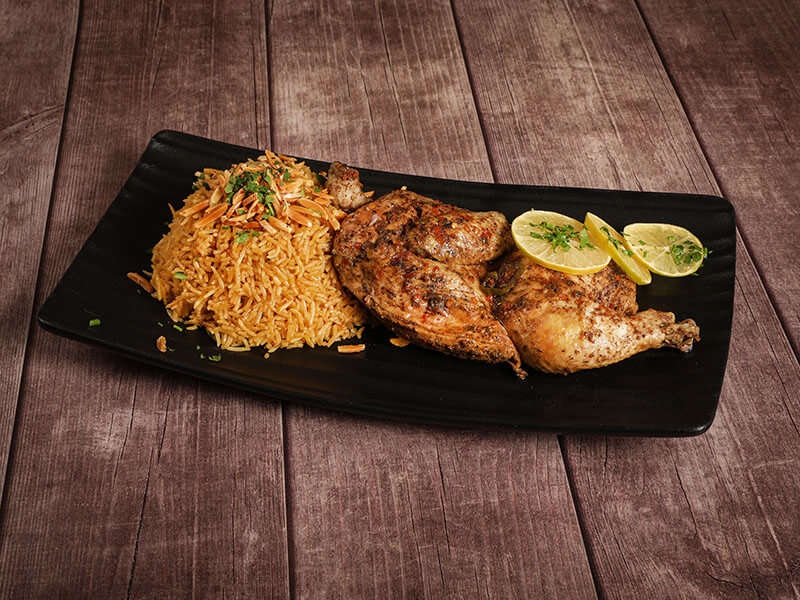 28 Perfect Pairings For Your Favorite Grilled Chicken Recipe
It's safe to say that grilled chicken is one of the most treasured main courses worldwide. There're endless ways to complement it for your dinner, be it a refreshing veggie-based side dish or a rich comfort food for rainy days. You're sure to be spoiled for choices!
Total time: 50 minutes
Meet your new favorite sweet potato recipe! This oven-baked sweet potato wedges recipe hits all the mark as a holiday-worthy dish that's easy enough for any weekday meal. It's the perfect way to cook sweet potatoes if you stick to the healthier side without skipping the taste.
In this easy vegetable side, sweet potato wedges are drenched in olive oil and a medley of spices. The presence of black pepper, garlic powder, and sugar brings out the most delightful sweet and salty flavor with just a hint of spice in every bite.
You know the potatoes are done when the outside gets crispy and brown, and the inside is fork-tender, which takes about 30 minutes. Since most of the process involves letting it bake away in the oven, this side dish is an excellent fix for busy nights when you're in no mood for fuss.
Besides its unique flavor profile, I love this dish's abundance of health benefits. Loaded with fiber, vitamins, and antioxidants, this root vegetable is world-renown for its abilities, such as boosting the digestive system and improving blood circulation.
Take your healthy diet to the next level with these satisfying oven-baked sweet potato wedges!
Total time: 21 minutes
Summer just got more delicious with a side of grilled pineapples! Next time you're grilling chickens or other favorite proteins, try this vegetable dish on the side. The perfectly smoky, juicy, and beautifully caramelized slices will become your new summer pastime.
Slices of fresh pineapples are cut into rings and brushed with a quick marinade of lime juice and chili powder. A touch of avocado oil helps create a uniform golden color on each slice while keeping it from sticking to the grill or the pan.
When it comes to serving with grilled pineapples, the world is your oyster. The tangy, sweet treat serves as a burger topping, a complementary dish to cut through rich courses, and a light dessert to round out a hefty meal.
Total time: 15 minutes
At its essence, Esquites is the salad version of Elotes, a famous street food in Mexico. This perfect side dish offers all the delights of Mexican summer. Besides working well alongside grilled chickens and tacos, it's also the true centerpiece of any weeknight and casual buffet.
The corn is cut off in this Mexican street staple and typically served in paper cups or plates. Combining herbs and spices ensures tangy, sweet, and spicy flavor in every bite. Meanwhile, a generous amount of cheese elevates the creaminess to a new level.
You needn't fire up the grill for this Mexican fare. Instead, the corn gets a nice and beautiful char on the skillet. The biggest cooking advantage that Esquites has over its cousin is that you can start with frozen corn kernels to cut the preparation time down.
The best Mexican street corn salad is at your fingertips with this expert tutorial!
Total time: 15 minutes
No need to feel guilty as you pile your plate up high with this healthy zucchini fritter recipe. While "fritter" often conjures up something heavy and deep-fried, this gluten-free dish is as light as one can be and pairs well with any Mediterranean main course.
The setup is quite simple. Grated zucchinis join forces with oat flour and baking powder in pan-fried patties. At their finest, the cakes have crunchy edges and a soft, warm middle that carries a savory taste with subtle hints of zucchini.
Overall, 15 minutes are all you need to pull this recipe to perfection, maybe even less. Better yet, these veggie pancakes work out at only 77 calories each, making them the ideal side for folks who are watching their weight.
Total time: 10 minutes
When it comes to the star of a summer feast, tomato avocado salad is one challenging fare to beat. Besides the grilled chicken, this salad creation is also a spot-on choice to pair with roasted skewered meat for its fresh, healthy, and filling to the brim with deliciousness.
At its base, this salad calls for a medley of summer produces such as tomatoes, avocados, and cilantro. You'll be amazed just how many flavors and textures a drizzle of olive oil can add to your salad. Finally, refrigerate the dish for a few hours or serve right away.
This summer, treat yourself to a different type of salad – one that causes fireworks in your mouth and has the benefits of being good for your body. Besides avocados, which provide up to 20 vitamins and minerals, other elements are also great for a healthy diet.
More than meet the eyes, this delicious tomato avocado salad will awaken your taste buds!
Total time: 45 minutes
It's not a really big stretch to say that every recipe is better with adding parmesan. Grilled or baked, it's a classic side dish to serve with salmon or grilled chicken. With a recipe, this simple tip to execute it perfectly lies in the quality and freshness of the ingredients.
There is nothing better than warm corn on the cob with parmesan chive butter. Besides lending itself to a beautiful savory flavor with delicate hints of garlicky notes, this five-minute mixture also helps round out a lovely visual appeal.
Rich, creamy, and crunchy, this special corn-on-the-cob recipe is so good that you'll want to clean the dish. Since there's only a handful of ingredients, it's a breeze to multiply this recipe and feed a hungry crowd without much hassle.
Total time: 19 minutes
Calling all mushroom lovers! Whether searching for a delicious weeknight side that comes together in less than 20 minutes or a limelight holiday dish, this sautéed mushroom will have everyone begging for the recipe.
The beauty of this restaurant-style fare comes from its simplicity. A touch of garlic, butter, and Worcestershire sauce play up the natural umami of the sliced mushrooms. Finally, some chopped parsley adds a lovely pop of color, making it the perfect final touch for your dish.
There's hardly anything that can top sautéed mushrooms hot out of the skillet. The recipe is garlicky, buttery, and umami, which gives off a fancy steakhouse vibe with minimal effort and time. Spoon the mushrooms around the grilled chickens or steaks, and enjoy your meal!
Turn the humble mushrooms into a fancy restaurant-style meal with this guideline!
Total time: 25 minutes
It's possible to prepare nutritious meals without spending hours in the kitchen. Full of fresh vegetables, this colorful rainbow carrot sesame salad is a nice way to sneak more greens into your diet. It should be an attractive accompaniment for fatty fried chicken, not just grilled meat.
This rainbow salad is infused with an incredible fusion of flavors from carrots, sesame seeds, and cilantro. As for the dressing, the sweetness from rice vinegar is perfectly balanced by the tanginess of fresh garlic and a mild umami flavor, thanks to some white miso.
Whether you're hosting a gathering or just staying home for a romantic dinner, you'll surely want your meal to look stunning with all the flavors to match up. Let some grilled chicken take center stage while this rainbow carrot salad is the ideal complement!
Total time: 2 hours 15 minutes (Excluding 10 hours overnight soaking time)
There's something about huddling over a humble and messy dish that one simply can't resist. Baked or simmered, warm or cold, baked beans are a timeless staple in American cuisine, especially as a complementary dish at cookouts and barbecue restaurants.
To prepare this made-from-scratch version, you'll start with soaking dried navy beans overnight. Theoretically, the process makes cooking faster the next day and yields a more consistently tender texture overall.
The beans are left to simmer in a sweet and savory tomato-based sauce for a classic American essence. This irresistible fare is sure to be a showstopper combo with sloppy joes or summer picnic with a smidgen of spiciness and some chopped crispy bacon on top.
One taste of this old-fashioned baked beans recipe, and you'll understand why it's been the particular soul food for generations!
Total time: 10 minutes
As the spring begins to bud, asparagus is everywhere. Low in calories while packed with nutrients, this stalky vegetable makes a fantastic green option for a balanced diet. Typically, 10 minutes are all it takes for the perfectly tender, crispy, and flavorful asparaguses.
One of the best features of an instant pot is that you don't have to babysit the pot at all. Especially for those home cooks who've had bad experiences with soggy and brown asparagus, this cooking method could be a serious gamechanger.
This recipe takes what could be a humble side to elegant new heights. A slight touch of fresh parsley or chili flakes often pretties things while offering a little flavor kick. Feel free to give the cooking time another minute or two if you prefer it softer and vice versa.
Total time: 30 minutes
A quintessential campfire treat, potatoes in foil are guaranteed to steal the whole family's heart. Since the assembly is cooked in foil packets, cleanup should be a breeze. But it best goes with practically anything, incredibly meaty fares like grilled chickens and steaks.
Potatoes in foil packets are a great indulgence with a crispy exterior and fluffy, soft center. You can infuse a buttery and savory flavor with no fancy elements other than pantry staples such as dried thyme, olive oil, and garlic. All in just 30 minutes!
Baking potatoes in foil requires more effort than simply zapping them in the microwave, but most work is hands-off. You can simply throw a batch in the oven, carry on with your basic routine, and return to the most drool-worthy potatoes.
Summertime is time to wow your picnic companies with the best potatoes in foil recipe!
Total time: 40 minutes
If you can fire up the grill this winter, this comforting grilled butternut squash will warm you inside out. Naturally sweet and nutty taste, the squash lends itself well to both savory and sweet seasonings. Plus, you can execute this recipe on the griddle pan if it's too cold outside.
Grilling the squash in slices is the ultimate way to create a crispy, crunchy shell and capture all the flavors in a shorter time. For many, the vegetable is delightful without the need for butter and salt.
However, some delicate touches of salty cheese and herbs certainly won't hurt anybody, especially with the earthy depth in flavors that they provide. Some coconut sugar and pine nuts give a warm and cozy flavor, making the dish suitable for the holiday table.
Total time: 30 minutes
Hot French fries are undoubtedly the timeless culinary sidekick to various classic All-American dishes. There's nothing quite like an indulgent piece of grilled chicken like a batch of crispy French fries fresh out of the deep fryer.
In this easy homemade recipe, potatoes are cut lengthwise into sticks and deep-fried until golden brown color. Regardless of taste and texture preferences, the most delicate French fries generally have the right balance between pillowy, chewy inner texture and a crispy exterior.
Soggy, sour, and even oily fries can bring down a whole meal. Therefore, a well-kept secret to keeping up your sleeves on achieving that ideal restaurant-style crispiness is to fry the potatoes twice at different temperatures.
Get detailed culinary instructions to make your French fries perfect every time!
Total time: 10 minutes
Homemade or store-bought, a basic jar of honey mustard is a worthy investment for your kitchen. As its name implies, honey mustard is a blend of honey and mustard, which often results in a sweeter taste than sharp.
Swapping honey mustard for the typical mayonnaise mix in coleslaw recipes will make an ideal match for mac and cheese aside from grilled chicken. The excellent balance of sweetness and tanginess add to apple cider vinegar's dry, almost woody taste in the perfect summer dressing.
In rush hours, you're pressed for dinner; you can always turn this big and satisfying salad into a whole meal by tossing in some proteins. Grilled chickens and bacon are often your best bets. If time's on your side, let the slaw chill for an hour in the fridge before serving.
Total time: Maximum 30 minutes
Beyond a regional specialty in the South, grits have been a quintessential American staple in history. Since Native Americans first introduced the food item in the 16th century, grits have been transformed into a down-home delight for all meals.
Using coarse-ground grits at its base, this recipe has a super thick, creamy, and rich texture that melts in your mouth. The old-fashioned key to achieving flawless consistency is going low and slow. Also, whisking it occasionally will prevent any lump from forming.
By themselves, grits tend to be bland, making them the ideal canvas for a cook's creativity. Of course, any melting cheese would incorporate well into a basic recipe. However, the show's center, smoked Gouda, lends a smoky and nutty taste that puts things on a different level.
Round your grilled chicken-featured meal with the most comforting smoked Gouda grits!
Total time: 15 minutes
A health-conscious vegetable dish that anyone can enjoy rather than endure? Sign me up! Besides its endless versatility, broccoli has a good reputation as a fat-free superfood, making it a brilliant addition to your weekly menu when trying to shed some pounds.
Despite its simplicity, you may level it up using some broccoli appetizer ideas. Commonly, the broccoli takes about 5-6 minutes to come out bright green and crisp-tender. A simple yet palatable dressing of olive oil, fresh lemon juice, and ground black pepper is the best choice.
With minimal effort, the result turns the humble green into a stellar company for just about anything. Give yourself a summer treat by serving grilled chickens with a side of steamed broccoli. Or, keep the recipe on hand for other seafood and fried rice occasions.
Total time: 50 minutes
The history of corn pudding is as rich as its flavor profile. As succotash fades away from the American culinary lexicon, corn pudding remains one of the most treasured delicacies in Southern cuisine. With its affordability and family-friendly tastes, it's easy to see why!
Texture-wise, the pudding has a creamy, thick, and custardy mouthfeel that doesn't fall apart as you scoop it on a plate. Executed perfectly, the dish should have a nice sweet-savory balance and an indulgent buttery aftertaste.
To put together this beloved recipe, you'll need nothing more than a handful of commonplace pantry staples. This side dish chockful of down-home goodness will be ready to feed a crowd on a weeknight supper or a Thanksgiving dinner in less than an hour.
Get a taste of the classic Southern cuisine with an easy and fulfilling corn pudding!
Total time: 20 minutes (excluding chilling time)
The crisp cucumbers, the juicy tomatoes, and the mild, sugary sweet onions all come together in this summer-ready salad. Don't hesitate to take the name to heart from this basic formula and include add-ins of your favorite spices or veggies.
It takes 20 minutes to prepare the salad itself. However, after a few hours in the fridge, this raw summer treat develops better flavors. Pair it with some juicy grilled chicken or a few slices of French bread for a peak summer meal everyone craves.
Letting summer vegetables take the lead, this recipe combines a complementary but not overpowering dressing. As a result, it simultaneously hits all the marks of sweetness, saltiness, and spiciness.
Total time: 25 minutes
Did you know that you can swap parsnips into just about anything in place of potatoes? That's right! In terms of vitamin and mineral content, parsnip wins over its fellow root vegetable cousin. Plus, that sweet heartiness will cozy you up on a cold winter day.
With ketchup or mayo on the side, these baked parsnip fries are destined to thrill snacking fanatics of all ages. However, you can typically turn this finger food into a culinary sidekick for burgers or proteins like grilled chicken, and never fail to bring joy around the house.
Baked to the ideal crisp on the outside and decadently tender on the inside, these fries are so good that you'll be scarfing them down in minutes. To maximize the crispy level as the deep-fried version, an age-old trick is to cut it very thin and bake it up in a scorching oven.
When you need a quick and nutritious side dish, baked parsnips fries are the one recipe you can rely on!
Total time: 30 minutes
Visually speaking, this Mexican-inspired dish will undeniably draw the attention of anyone walking through the door. Brussels sprouts really get a bad rap for their seemingly bitter and bland flavors. But if you love a good crunch, this cabbage-looking veggie can be a dinner winner.
With an abundance of Brussel sprouts, avocados, and sweet corns, this raw salad is truly the essence of summer produces. Prized as the parmesan of Mexico, crumbled cotija cheese provides a savory yet salty and milky taste, a combination that'll awaken your taste buds.
You'll quickly fall for the creamy tomatillo dressing if you're a huge ranch dressing fanatic. This Mexican-themed dressing is to die for, from tomatillos to tangy cilantro and rich Greek yogurt. Because this recipe goes well beyond salads, keep a jar in your fridge just in case!
Total time: 40 minutes
Despite its confusing name, which means "spring pasta" in Italian, pasta primavera is, in fact, a classic American dish. As myth has it, in the 1970s, legendary chef Sirio Maccioni got the idea of combining pasta, spring vegetables, and a creamy sauce to entertain his friends.
After its debut at Le Cirque restaurant in New York City, pasta primavera became a national sensation. The delight had a spot on the menu of every restaurant from New York to Peoria. The light evocation of sunshine and spring has continued to win the hearts of foodies ever since.
Delicate as it seems, this healthy pasta dish is relatively easy and customizable to your taste. Penne pasta gets the royal treatment with a medley of fresh veggies and is flavored with Italian seasonings. Some extra parmesan on top is indispensable for the luscious and creamy taste.
Even the simplest pasta primavera can be a nourishing and fancy dish for you and your family!
Total time: 25 minutes
The true limit is the sky for mashed potatoes, even as a brilliant pork tenderloin side course or to accompany the grilled chicken. If you have some cream cheese in the back of your pantry, don't hesitate to whip up this rich and comforting classic side. Trust me; you have nothing to regret!
Arguably the best kind among its spuds, Yukon gold potatoes have a subtle creaminess and a rich texture to meet all your mashing needs. The potatoes are boiled for 12-15 minutes. You know they're ready when a fork slides into the center and out quickly with no resistance.
The secret weapon in this recipe, cream cheese, helps thicken and make your mashed potatoes extra creamy, fluffy, and rich. Complete with a myriad of fresh garlic and chopped parsley, this go-to comfort food is the true MVP of any Thanksgiving dinner.
Total time: 15 minutes
Chinese-inspired fried rice with chopstick sticking out is pure heaven in a bowl. Taking only fifteen minutes from start to finish, this Asian comfort food has to be my favorite for a quick and satisfying side dish, especially when the time is running out.
A few recipes are made better using leftover refrigerated ingredients, and fried rice proves to be one of them. Unlike freshly cooked rice, the day-old version offers the best texture, which is not too soft to turn mushy during the frying process.
Scrambled through the rice, eggs are the key factor that brings a savory flavor and tons of protein to this ridiculously delicious rice side dish. A myriad of vegetables also adds tons of beautiful colors and nutrients. Feel free to use your favorite veggies.
This Chinese-inspired dish can act as an all-in-one-pot meal by itself. However, a primary protein source like grilled chicken or leftover beef cubes is perfect for finishing off the flavors of fried rice and has everyone's mouth-watering.
Paired with grilled chicken, the basic homemade fried rice is better than any takeout!
Total time: 40 minutes
When you thought you'd mastered your baking skills, a rainy, humid day came. This is the perfect excuse to make the fluffiest and softest cornbread muffins. Made in just 40 minutes, these baked goods are a complementary staple to any Southern-style meal.
With a delicate touch of sugar, these baked goods strike the perfect balance between sweetness and savoriness. Pleasantly cakey but still soft and moist in the center, these muffins are the perfect treat to revive the leftover cornbread.
Cornbread muffins are a relatively easy treat if you're starting your baking journey. However, there're a few tricks to ensure success even from the first batch, such as greasing the muffin tins or some sour cream that will get that tang and moisture going.
Nothing cures a rainy day like a fresh batch of cornbread muffins straight from the oven!
Total time: 35 minutes
I've found that the best way to jazz up your healthy meals is to add fun dishes with a good mouthfeel on the side, just like vegetable kabobs. Fully packed with good-for-you, delectable veggies, this vegetarian-friendly treat is so addictive that you might want to turn vegetarian.
Cooking vegetable kabobs in the oven starts with soaked skewers, so they don't burn. For a recipe so simple, a great marinade is an absolute winner. Garlicky, spicy, and savory without being overly salty, the spice blend lends itself to a flavor complexity in every bite.
What I adore about this healthy recipe is its ultimate versatility. Whether you have a summer barbecue party or an indoor weeknight meal with grilled chickens, having vegetable kabobs for a side always feels like a celebration. Soon enough, these tasty bites will become your go-to.
Put together some vegetable kabobs for a well-balanced and healthy side!
Total time: 50 minutes
Also referred to as Carolina peas and rice, Hoppin' John is old-fashioned Southern soul food. With peas representing coins and mustard greens representing dollars, this staple is traditionally consumed on New Year's Eve in hopes of luck and prosperity for the year ahead.
In this vegetarian rendition, the essence of the original remains unchanged with a completely different nutritional profile. This way, it's a breeze to fit the Southern classic into your healthy diet. It's so satisfying that many won't notice the meat missing.
To prepare this dish, black-eyed peas, oodles of colorful vegetables, and fragrant herbs are cooked in an instant pot. Complex as it seems, the assembly can hit the table in just 50 minutes. Each bite will feel like fireworks in your mouth, richly flavored, savory, and smoky.
Total time: 1 hour 10 minutes
It's no surprise that hot gooey mac and cheese tastes like a winner to many Americans and comfort food lovers worldwide. Simple enough to have on hand yet always satisfying, it's the kind of side dish that'll bring fun and gooeyness to any meal.
Executed correctly and with love, macaroni and cheese are much more than an everyday comfort-food meal. This Southern staple holds a special place on special occasions like Christmas, Thanksgiving, or family reunions and is often the first to go among leftovers.
A mix of elbow macaroni, butter, and flour make up the base of the dish, giving off a fulfilling taste in every bite. Meanwhile, the umami taste of Worcestershire sauce and the velvety goodness of cheddar cheese bind together in the ultimate soul food you can count on.
You can't go wrong with the timeless duo of macaroni and cheese, especially on a gloomy day!
Total time: 20 minutes
Eating healthy can be tricky, especially when there's rarely time to put together a healthy meal. If this is the case, a simple strawberry arugula salad might just be your gamechanger. Twenty minutes is all it takes to bring this fun and good-for-you dish to life.
Though often used in conjunction with lettuce, to many's surprise, arugula is not the same as its salad green counterpart. This vegetable is more closely related to mustard, with a spicy, peppery, and slightly tart flavor that goes down beautifully with strawberries.
Before you can have a bite, the beautiful fragrances of basil and strawberries are sure to increase your appetite. On top of that, a smooth and creamy vinaigrette dressing is perfect for drizzling over the salad. Keep the sauce separated if you plan this salad ahead of time.
Take Your Meals From Dull To Divine With The Best Grilled Chicken Sides!
Summer and grilled chickens are indeed a match made in heaven. And with the juiciest chickens on the table, it all boils down to the right complementary partner that makes everything different.
From tender and melt-in-your-mouth to crispy in every bite, there's a myriad of recipes for everyone, regardless of your taste preferences. As long as you have some commonplace pantry staples, it's a breeze to whip up dishes like corn pudding and fried rice.
On the other hand, if your first priority is a health-conscious diet, I suggest you stick to good-for-you dishes such as tomato avocado salad and steamed broccoli.
If you're happy about the selection above, please like and share it with your friends and community. Also, I'd appreciate any recipe recommendations on which sides to serve with grilled chickens. For now, enjoy your meal!
Nutrition Facts
6 servings per container
---
Amount Per ServingCalories74
% Daily Value *
Total Fat 6.6g

11

%
Cholesterol 8mg

3

%
Sodium 14mg

1

%
Potassium 249mg

8

%
Total Carbohydrate 3g

1

%

Dietary Fiber 0.8g

4

%
Sugars 1.5g

Protein 2.5g

5

%
---
Calcium

4

%
Iron

2

%
Vitamin D

272

%
* The % Daily Value tells you how much a nutrient in a serving of food contributes to a daily diet. 2,000 calories a day is used for general nutrition advice.