Side dish for salmon? Well, you should know you have a thousand good choices!
Salmon has never been outdated since this fish is sought-after year-round because of its tender, mild and delicious flavor. Salmon doesn't seem to have a fishy smell even though it has been frozen for a long time after being caught.
So, this food almost makes every American fridge its home! In this post, I will offer you various kinds of side dishes that can be the best companions for your favorite salmon. I'm sure you will never want to get rid of these beautiful salmon fillets until they are extinct.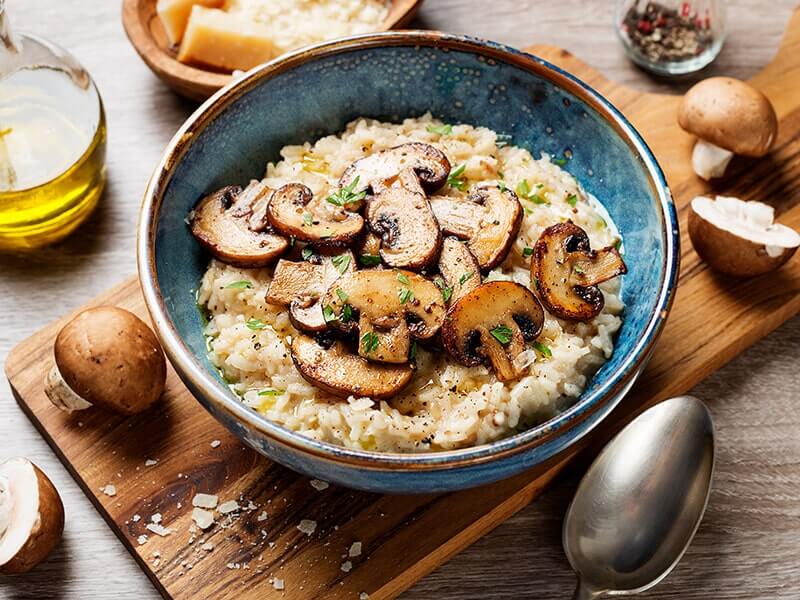 Make A Magic On Your Salmon With 30 Delicious Side Dishes
The list below has everything you need for a savory and scrumptious salmon's side dish. I even offer you more than 10 options. So, feel free to discover and pick whatever you want to!
15 Vegetable-Based Side Dishes
9 Oven-Free Vegetable Side Dishes
Stir-Fried Baby Bok Choy
Asparagus With Hollandaise Sauce
Asian Slaw
Asian Cucumber Salad
Sauteed Mushrooms
Marinated White Beans
Air Fryer Okra
Couscous And Tomato Salad
Cauliflower Rice
7 Oven-Made Vegetable Side Dishes
Roasted Brussels Sprouts
Parmesan Roasted Broccoli
Parmesan Garlic Roasted Potatoes
Roasted Sweet Potatoes
Roasted Cabbage Wedges
Grilled Zucchini
Sugar Snap Peas
7 Rice-Based Side Dishes
Cilantro Lime Rice
Mushroom Rice
Sesame Rice
Zucchini Rice Gratin (Tian De Courgettes Au Riz)
Garlic Butter Rice With Kale
Egg-Fried Rice
Mushroom Risotto
7 Pasta and Noodles-Based Dishes
Lemon Pasta
Broccoli Pasta
Spinach Pesto Pasta
Garlic Parmesan Pasta
Spinach Parmesan Orzo
Couscous Pilaf
Thai Noodle Salad
It's time for the journey!
15 Vegetable-Based Side Dishes For Salmon – Vegetable Lover's Privilege
Vegetables always make for a refreshing companion with seafood items, especially juicy salmon slices, though it will be a huge challenge to list all the veggie delicacies. However, this collection here tells my best picks! Go ahead, and you will find some ideal ones!
9 Easy Salmon's Oven-Free Vegetable Side Dishes For Workaholics
You can still have some mouth-watering vegetable-based side dishes even if you don't have an oven on hand! These 8 oven-free vegetables side dishes below will be proof.
Asian cuisine is no longer strange in America since so many Asian-rooted citizens live and work here. Let's get started with this tasty Asian-originated sauteed baby bok choy. Besides its heavenly flavorful taste, you can also expect a healthy side dish.
Baby bok choy is a package of nutrients. It is low in fat and can be the best candidate for your diet. And if you are also looking for a quick and easy recipe, don't hesitate to bring them home with your precious salmon.
How to make the most delicious baby bok choy? It's easy!
I just want to say that this dish is almost freaking me out! Do you know what? It's so divinely delicious! The simple and elegant look may make you think they are light and pale until you put them in your mouth. Boom! It's just a flavor explosion!
The freshness of the boiled asparagus especially goes well with your tender salmon. And everything just is upgraded when the hollandaise sauce participates in. This side dish is absolutely an ideal treat for your salmon.
Different from the creamy and fatty mayo dressing salad brings to you, Asian slaw is filled with refreshing condiments. Asians don't use mayo or cream to make up their slaw or salad.
Instead, rice vinegar and sesame oil are used regularly as they don't bring heaviness into the dish.
Since salmon is an oily fish, this slaw can help to balance the greasiness inside. One time I accidentally had to eat the out-of-heat salmon with this Asian-style slaw, then I found out my salmon is still incredibly good!
This Asian cucumber salad is sweet, spicy, and appetizing! Like Asian slaw, this Asian salad is also marinated with rice vinegar and sesame oil. It is just as savory as the slaw!
It is crunchy, packed with simple ingredients such as garlic, chilies, or soy sauce. Serve it with your salmon is never a wrong choice.
Note: Remember the crushed roasted peanuts. This addition helps to double the tastiness.
I have never ever forgotten my little treasure – mushrooms when it comes to side dishes for salmon. No matter whether you like button mushrooms, baby bella mushrooms, or shiitake mushrooms, they all can be sauteed.
All you need is only decent seasoning, and fire well-controlling as this dish is extremely easy to make. It will not take over 15 minutes to complete. That can be said; you don't need to worry about the resting process that can turn your salmon into overdrying.
I would rather call this dish the white bean salad because it's so quick and simple to prepare. Like most kinds of salad, you just mix the white beans with other ingredients and condiments to get it done.
Marinated white beans naturally contain a large amount of starch; serving it with salmon is the best way to have a nutritious main dish. Moreover, the cooked while beans taste similar to butter. They are creamy, moist, and good for your health too.
It will be a big mistake if you skip out on this dish. These easy-to-make okra has all things you are looking for in an excellent air fryer side dish. It's crispy, tender, and juicy. Yes! You don't get it wrong. I said juicy!
Although being cooked in the air fryer, okra still keeps its moisture as they naturally contain a lot of water. You will not be disappointed when serving okra with salmon. Somehow, they work totally fine!
This side dish uses tomatoes and couscous as the main ingredients. However, I personally love to let these vibrant red-colored tomatoes win this competition. You love couscous more? No problem. Just change their position.
And don't forget to call for the sweetness from the honey vinaigrette. It completes your salad to perfection! Don't you have it? Go to the nearby store!
"Cauliflower rice is a deceiving name" – This is what I thought after my friend made it for dinner when we were college students. Yes. This "rice" is made completely from cauliflower!
To have this "rice," put your cauliflower in a blender, take it out, and stir until tender for 3-4 minutes. What you get after cooking is a dish that has exactly the same texture as rice. That's why it is cauliflower rice.
Cauliflower rice goes really well with salmon. If you need some extra starch, roast it with steamed rice before serving.
Watch this video to know more:
7 Oven-Made Vegetable Side Dishes For Your Salmon Celebrations
I know oven-made dishes are many people's favorite. And so am I! These delicacies always know how to easily steal my heart. Now, I will tell you the top 7 oven-made vegetable side dishes for your salmon!
I bet these unwelcome mini cabbage versions can be a spectacular plot twist when combined with salmon. Everything will be in order as long as you find the right technique.
Kidnap the balsamic vinegar from the near-house store and add it to your brussels sprouts with a bit of salt, pepper, and olive oil. And honey is a must-have item as it can give your roasted brussels sprouts a look as shiny as possible!
It's a contradiction when someone loves vegetables and can't live without cheese at the same time. Yes, that "someone" is me. I always feel attracted to the idea of mixing vegetables and cheese for better eating satisfaction.
You know, the fresh taste from broccoli, the cheesy and creamy from shredded parmesan is just blooming in your mouth! When you combine it with salmon? Boom! The parade is just beginning!
If you have ever tried parmesan roasted broccoli with salmon and found it's good, then parmesan garlic roasted potatoes absolutely belong to you! The well-seasoned baked potatoes smell with the greasiness of parmesan cheese will get you "drunk" for a whole day.
You don't need to do anything, excluding marinating and putting your broccoli into the oven. What about the salmon? Well, do whatever you want to! Grilling, stir-frying, or eating raw are all the best treats. Parmesan roasted broccoli and salmon are always a perfect match!
Add this sweetness to your salmon. It is never a mistake when you give roasted sweet potatoes the permission to visit your little precious pan-seared salmon fillet.
These sweethearts help to push up your salmon flavor and bring up the feeling of fulfillment to your hungry belly. What are you waiting for? Give it a try right now!
Roasted sweet potatoes – Cooking has never been so easy!
I need to admit that all the members of the brassica oleracea family especially work well with the savory salmon. Similar to roasted brussels sprouts, roasted cabbage wedges are also a wise choice.
Their light sweet flavor and smoky smell after being taken out from the oven is something you cannot resist. Quick drive to the supermarket near your house to reach out for this delicacy!
Zucchini is always in the top priority when it comes to side this for salmon, particularly the classic grilled zucchini. It is totally worth a try in case you want a juicy, fatty side dish.
Just cut your zucchini into planks or ribbons, then season and put it in the grill (or an oven). Once you open, the smoky and fragrant smell will quickly get into your nose and stay there for a long time.
Note: An oven is also a good replacement if you don't have a grill.
Sugar snap peas may sound unfamiliar to some of you, but believe me! If your place has this green chic, just take them home right away!
What? There are a lot of sugar snap peas near your house, but you have thrown them away because you don't know how to eat them? Congratulations, you just let the treasure run away from your kitchen. Didn't you hear your salmon crying?
7 Rice-Based Side Dishes For Salmon – Complement The Nutrients
Cook rice yourself to serve with your salmon. These tiny grains are a classic treat for salmon? Don't believe me? Look at the Japanese cuisine! These salmon sushi is never enough for your craving.
Here, not only the salmon sushi, but multiple tasty rice side dishes will also be added to my list. Scroll down! I cannot wait to tell you all my secrets!
Oh yes! My favorite! Cilantro, lime, and rice – This 3-ingredients simple dish made with lime can always find its way to your salmon. It is delicious beyond your imagination.
With a hint of cilantro and light sourness from lime, cilantro lime rice is even made to perfection when merging into your grilled salmon. Plus, chopped scallions, red pepper flakes, and olive oil just triple your dish flavor.
I have told you before! Mushrooms have a magic power. They almost perfectly "play-well" with everything. When they are added to your rice, the boring world just turns into a completely different new millennium.
The meaty, oily, garlicky, all of those things are just too good to be true! Mushroom rice is a should-have side dish recipe for your salmon in every family gathering.
I had it almost every day when I was a little girl. My father, a big fan of this delicacy, usually serves it in our dinner with freshly grilled salmon. He learned this sesame rice recipe from his best friend, who runs a small but popular Asian restaurant.
This rice with salmon has now also become one of my little family traditions. I love to have it year-round, not only because of its delicious flavor but also my memorable childhood.
Watch this video to know more:
Zucchini rice gratin is a rice-based side dish for salmon you will want to make for your kids at home. It is super tender, creamy, and utterly savory! With the presence of Parmesan cheese, this dish is much greasier than the others above.
Therefore, you don't need any kind of sauce when serving it with your salmon. Remember to prepare a cup of honey lime tea after the meal. It's really good for your digestive system.
Garlic, butter, and kale are destined companions for a rice side dish. I don't know why it can be that good, but I'm sure this will quickly be an "out of stock" item on your family dinner table when it is served with salmon.
I'm a fan of garlic, so personally, I would love to add a double amount of this ingredient into my bowl. It tastes 100% better. I guarantee.
Fried rice with eggs is a traditional dish that is available all over Asian countries with different versions. Nevertheless, if you want to go for an authentic recipe, keep the soy sauce on hand.
This rice is an easy-going dish as it can be served with various kinds of food, including salmon. And it will taste even better when there is one more vegetable-based dish added. A small tip for you: egg-fried rice, salmon, sauteed baby bok choy are the ultimate combo!
How can you forget this classic mushroom risotto when preparing your salmon? This side dish is so pleasant, comfortable, and satisfying!
Mushrooms give off the earthy flavor into your risotto, which is also one reason why mushroom risotto tastes so good with salmon. This side treat is also very suitable for your kid as it is wet, creamy, and tender.
Let's jump into my most favorite section: Pasta and noodles! All of the recipes below can definitely capture your heart right once you taste them. Curious what are they? Well, here're my 7 picks of pasta and noodles-based dishes that can be an excellent pair for your salmon!
Treat your salmon well with this yummy pasta side treat! Its ingredients are easy to find. You can find them in any corner of the city. If someone tells you how boring salmon is, give them this recipe.
Salmon and lemon pasta? No one can refuse this intriguing invitation. Everything is cooked to perfection in a decent technique. And the flavor? The flavor is fascinating!
Everyone knows broccoli is luscious. Broccoli pasta is an upgraded version of lemon pasta with the participation of broccoli.
Serving it on a gloomy summer rainy day with your hot salmon will make you happier. You know delicious food is always the best solution to boosting your mood and creating energetic motivation.
With spinach pesto pasta, you can choose any kind of pasta you like. This side dish is made from pasta, pureed spinach, and pesto sauce. As spinach is a healthy ingredient, it is not necessary to worry about health problems.
I could gobble up a couple of plates of spinach pesto pasta with salmon while hungry. Believe me. It's a pleasant meal when the craving is starting to find you.
Garlic parmesan pasta is a simple side dish for your salmon that will not take so much of your time. It's easy to prepare as you don't have so many ingredients.
Additionally, it's diet-friendly. Remember to serve this side dish with pan-seared salmon. Other method-cooked salmon never can take the throne.
Watch this video to know more:
On the outside, orzo looks like a type of long-grain rice. But in fact, it is a form of short-cut pasta that originated in Italy. Orzo has a stickier texture than rice, it's quite similar to Asian sticky rice.
Spinach parmesan orzo is a good side dish for your salmon. With a combination of nutritious ingredients and fresh flavors, it will make salmon the brightest star in your family's dinner.
I know you're wondering why I put couscous pilaf in this section. Well, first, because it is also a kind of pasta; second, it is a prominent ingredient of this dish. Like orzo, conscious is also popularly served as a delicious side dish for your salmon.
Couscous pilaf is totally worth your time. It is filled with plenty of nuts and raisins. This dish is a unique recipe for those who love to explore new things.
Asian cuisine has special meaning to me because half of my blood belongs to Asians. Hence, Asian dishes are one of my top priorities, and they also really do deserve it. Thai noodle salad is not an exception.
Prepare your salmon party with Thai noodle salad as the main side dish. You will not need to serve any extra vegetables because there are already vegetables inside. You know, that's why it's called "salad"!
Treat Your Salmon Like A Queen With Tasty Side Dishes
Salmon is the world diamond that deserves all of the best treats. Don't end up this delicacy with boring cooking methods. There are plenty of wonderful side dishes for salmon, but you don't need to look any further beyond this list.
From vegetables, rice to pasta and noodle-based side dishes, you absolutely can pick any recipe that fits what you need. All of them are waiting for your visit.
Now, that's all for today. If you have any other related questions, leave the comment below! I would love to share all of my experiences and will reply as soon as possible!