Although it can be challenging to choose the best side dishes for pork chops, you will quickly be able to do so after reading this post. They are simple to make and go perfectly with your pork chops, creating hearty and wholesome meals.
Pork chops are savory and tasty food that offers a good source of protein, so you should serve it with a suitable delight to enhance your experience and upgrade your meals to a higher level. Don't skip any information in this post if you want to master making them.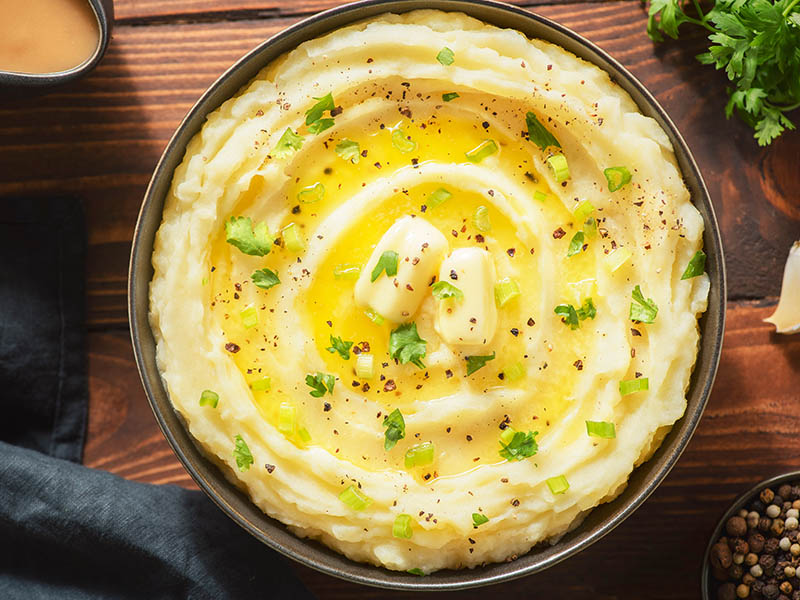 Make Pork Chops More Addictive With These Tasty Side Dishes
This section will provide you with the best side dishes to pair with pork chops. Delicious, easy to make, and flavorful, they won't disappoint your taste buds. They are also excellent side dishes to pair with ham, cured wild game, seafood, etc. Keep reading and add them to your notebook!
Total time: 30 minutes.
If you are a mushroom lover, garlic butter mushrooms will surely be your next favorite side dish. Every bite is mesmerizing, thanks to the perfect meaty texture of mushrooms. Moreover, this delicacy is bursting with flavors.
While thyme imparts your dish an earthy and slightly lemony flavor, garlic will give your meal a spicy taste. Moreover, balsamic vinegar is necessary for adding depth and complexity to your delicacy.
Although this recipe calls for cremini mushrooms, you can use baby Bella's mushrooms or even button mushrooms as many ideal replacements. This won't negatively affect the quality of your side dish.
Why don't you try making garlic butter mushrooms right now?
Total time: About 30 minutes.
You should try it once if you have never thought of pairing your pork chops with a rice-based side dish. This combination will become a grown-up combo in your meals. Basmati rice, vegetable broth, salt, and butter are all you need for this recipe.
Remember that 1:2 is the most suitable ratio between basmati rice (and most types of rice) and water. You need to check the package directions if you replace basmati rice with other kinds for the best result. Your rice will achieve a perfectly soft and fluffy texture.
Moreover, make sure to remove all dusty starch or any stray particles stuck to your rice while washing. When the water is clear, it means that your rice is ready for cooking. Besides pork chops, you can serve this simple dish with steaks or sausages. Convenient, right?
Total time: 20 minutes.
This roasted garlic mashed cauliflower recipe may be your solution if you need a healthier alternative for mashed potatoes. Smooth, creamy, and tender, this delight is an excellent partner for pork chops.
To make this treat, you need to roast garlic first. Roasted garlic is also an excellent make-ahead recipe that you can prepare in advance for up to 3 days. You can also use fresh garlic if you prefer a more pungent flavor.
All remains are to combine all the ingredients, including milk, cooked cauliflower, fresh rosemary, and thyme, until you achieve the desired consistency. Do not forget to dry your cauliflower completely after boiling.
Your result is so delectable and creamy. It's good in the fridge for 3 to 5 days. You can also extend its shelf life up to 4 to 6 months if stored in the freezer.
Total time: 1 hour 5 minutes.
How about balancing your pork chops meal with a warm and flavorful bowl of soup? Coming out with a gorgeous golden color, this keto-friendly side dish is creamy, smooth, and savory.
This soup features a spicy and earthy flavor from pepper. Moreover, the appearance of sage infuses your delicacy with a distinctive herbaceous taste. This delicious recipe is also very straightforward to prepare.
First, you must roast your veggies and bacon until they are cooked. The next step is to create the soup base with vegetable broth and other components. Finally, just add all to a pot and blend the mixture until you get a silky result.
Total time: About 20 minutes.
What could be more wonderful than pairing a savory pork chop with a sweet side dish? Applesauce is exactly what you are seeking. This recipe requires only three simple ingredients.
You just need to remove your apples' seeds and cook them with water for about 15 minutes. When your apples are soft, just eliminate the skins and combine them with cinnamon.
Applesauce is sweet enough to bring your meal to a new height. However, if it doesn't please your taste, feel free to add a little brown sugar to enhance the sweetness.
Don't miss this guide if you want to make perfect applesauce!
Total time: 30 minutes.
While deviled eggs are well-known for being the perfect appetizer, their creaminess makes them a fantastic pair for your pork chops, especially smothered pork chops.
Like other deviled eggs, you need to boil eggs and then mix the yolks with other ingredients, such as cooked bacon, mayonnaise, and yellow mustard. Then fill the mixture into the egg whites with a splash of smoked paprika, chives, and remaining bacon on the top.
If it's challenging to remove the eggs' shells after boiling, you can place them in cold water to make it easier. These bacon deviled eggs are good to make ahead for about 1 to 2 days.
Total time: 25 minutes.
Let's continue the journey today with a specialty from Southern America, fried apples. This delight has a slightly tender texture but is still crispy enough to keep your stomach happy. It is an excellent combination of ground cinnamon, unsalted sweet cream butter, and apples.
The addition of nutmeg gives this dish a nutty flavor. However, if you don't have this ingredient on hand, you can replace it with ground cloves or apple pie spice. Remember not to overcook your apples. Otherwise, the food will be mushy.
This treat features both sweet and savory flavors, making it an ideal option to serve with pork chops, especially fried pork chops and smothered pork chops.
Total time: 1 hour 10 minutes (plus 20 minutes of resting time).
If you are familiar with baking, this jalapeno cheddar cornbread can't challenge you at any step. As the name suggests, you need to prepare jalapeno pepper, cheddar cheese, and corn kernels in this recipe.
Remember that jalapeno pepper will give your dish a bit of spiciness like green bell peppers. However, if you don't prefer a strong taste, just reduce the amount of this ingredient. Moreover, your cornbread also acquires a creamy texture thanks to cheddar cheese.
Not only does it require simple ingredients, but this savory cornbread is also very easy to prepare. With a soft texture, this cornbread and pork chops make a well-balanced double.
Total time: 17 minutes.
Sweet potato fries make a perfect air fryer side dish that pairs well with any main dish. And pork chops are not an exception. Besides sweet potatoes, the main ingredient, you need to prepare olive oil, black pepper, and garlic powder.
Appearing a slightly crispy texture, these sweet potato fries are tender on the inside. For preparing even-cooked slices of potatoes, you should cut them uniformly. Moreover, turning them while cooking is essential to get the best result.
Sweet potato fries are also an ideal option for busy people. You can store them in the fridge for 3 to 4 days. Just reheat them at 360 degrees F for a few minutes, and you will have a delicious pair of pork chops.
You will learn how to cook air fryer sweet potato fries in just a few minutes.
Total time: Around 1 hour 30 minutes (plus resting time).
This scalloped potato recipe is the ideal side dish for people following a gluten-free diet. Coming out with a silky and creamy consistency, this treat will wow your friends and family thanks to its fantastic flavor.
This recipe uses whole cream, heavy cream, and an indispensable ingredient, yukon gold potatoes. I advise you not to replace yukon gold potatoes with other potatoes since they play a crucial role in helping your side dish get the best texture.
The addition of gruyere cheese adds a salty and nutty flavor to your dish. After baking, this treat will have a characteristic golden brown color, making it more visually enticing. Feel free to add crumbled bacon or ham steak to make this delicacy suit your appetite better.
Total time: 25 minutes.
This glazed honey mustard carrots delicacy goes perfectly with any rich-protein main course like pork chops. The sweetness of this treat will help balance the savoriness of pork chops, resulting in a significant hit.
This delicacy begins with cooking carrots until you get a tender texture. If you want your carrots to cook evenly, you should cut them into uniform slices before cooking. The final step is to stir your carrots with honey, vinegar, and mustard.
This treat is only lightly sweet, so you can add a little brown sugar to make it more suitable for your preference. If you don't have honey available, you can use maple or date syrup as ideal alternatives without changing the taste.
Total time: 25 minutes.
When mentioning excellent side dishes for pork chops, it is a must to learn about mac and cheese. This side dish is rich and creamy, making it an ideal accompaniment to your pork chops.
After cooking macaroni, you can make the sauce with butter, flour, and milk until you get a thick mixture. Remember to add cheddar cheese and parmesan cheese to the sauce when turning off the heat.
When everything is ready, just mix the prepared components and stir them until they combine well. This delight derives a tart and tangy flavor from yellow mustard. You can also use dijon mustard or spicy mustard to replace this ingredient.
This tutorial will give you a hand in making mac and cheese.
Total time: 45 minutes.
Mashed potatoes are a versatile potato side dish, essential in rounding out any meal. Mashed potatoes feature a perfectly creamy texture with a fantastic flavor.
While cream cheese lends your dish a sweet taste with a pleasant slight tang, garlic will add to your potato-based dish a pungent flavor. The addition of butter also makes your mashed potatoes creamier than ever.
Remember the liquid in potatoes can dramatically change your side dish' texture. Therefore, you should cut your potatoes into slices before boiling, as well as cook your boiled potatoes on low heat to remove moisture before mashing.
Total time: 1 hour 10 minutes.
Give this easy corn pudding casserole a chance to ease your headache if you have trouble deciding whether to serve a sweet or savory dish with your pork chops. Creamy, gooey, and yummy, it is hard to resist.
What you need to do is mix all the ingredients, including whole kernel corn, cream corn, eggs, and cornstarch. Bake your corn pudding at 400 degrees F for about 1 hour, and you will have an excellent pairing for pork chops.
Coming out with a characteristic light brown appearance, this delicacy notices a soft and creamy texture. Furthermore, including dry mustard adds a distinctively tangy flavor to your dish, making it more addictive.
Total time: 8 minutes.
This list will be incomplete without mentioning a healthy salad, right? This delicacy uses juicy plum potatoes as the main ingredient. However, feel free to use your favorites, such as heirloom potatoes, grapes, and cherries.
A touch of balsamic vinegar is the flavor booster of this side dish, giving your delight a tangy taste with a slight sweetness. Moreover, the pungency and sharpness of garlic bring your treat to a higher level.
After tossing, garnish your salad with fresh oregano and basil to make it more addictive. This balsamic tomato salad is also perfect for make-ahead. You can store it in the refrigerator for no more than two days.
Total time: 20 minutes.
Trust me; this oven-roasted asparagus recipe will be a match made in heaven with pork chops. Appearing to contain some simple ingredients, such as fresh asparagus, red pepper flakes, and salt, this side dish is very delectable and easy to make.
What you need to do is lay your prepared asparagus on the baking sheet and season them further. When your asparagus is ready, you can bake your meal. After 10-12 minutes of baking, add parmesan cheese to your roasted asparagus and serve.
A touch of parmesan cheese gives your dish a fruity and nutty flavor. If you prefer a fresh and slightly tart taste, don't hesitate to drizzle your dish with lemon.
Discover how to make roasted asparagus here.
Try These Side Dishes Right Now To Elevate Your Pork Chops Meals
Most of the side dishes above only require minimal effort to complete. They make an amazing match with pork chops, whether they are sweet or savory dishes. Don't miss these ideas if you want to make your meals more complete.
Do you know any other ideas to serve with pork chops? Please write your sharings and experience in the comment box to share them with me and many others. If you appreciate these delicacies, please spread this article on social media. Thanks a lot!