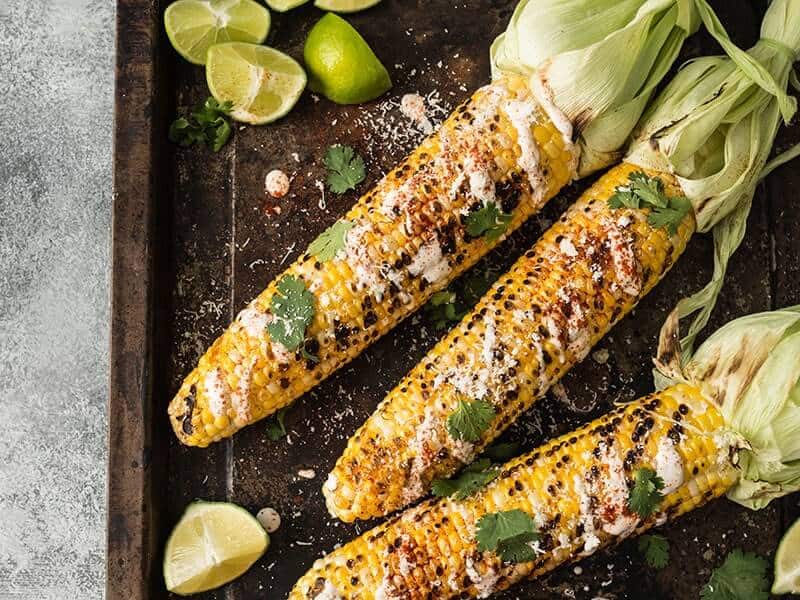 Choosing a side dish to go with meatloaf is not tricky, but opting for a suitable side dish that has a delightful taste and can stimulate meatloaf flavor actually isn't as easy as you think. Bad combinations can destroy a whole meal's flavor.
Moreover, sometimes with a particular vegetable in your fridge, you don't know how to deal with it; the reading below will tell you how to do with your available veggies and other ingredients.
Let's discover what to pair well with meatloaf!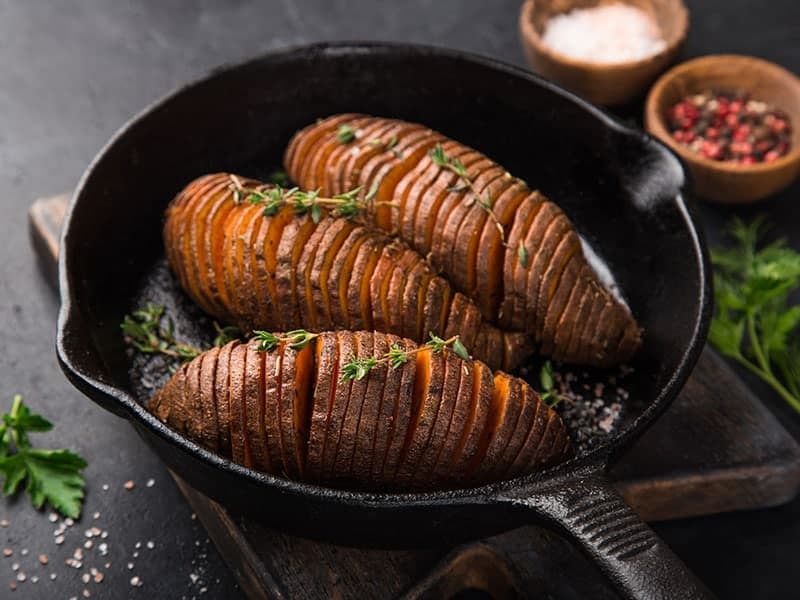 What Are Side Dishes For Meatloaf?
The list below will show you over 40 dishes that can side well to your meatloaf.
Dishes Made With Veggies
Roasted Sweet Potatoes
Baked Sweet Potato Fries
Cheese Baked Mashed Potatoes
Tex-Mex Mashed Potatoes
Roasted Garlic Butter Fingerling Potatoes
Crispy Skillet-Fried Potatoes
Whole Roasted Carrots
Maple Syrup And Mustard Brussels Sprouts
Cauliflower Tater Tots
Slow-Cooking Mashed Cauliflower
Bacon-Wrapped Asparagus
Grilled Corn With Spicy Aioli
Rainbow Roasted Vegetables
Cheesy Potato Chive Galette
Hasselback Sweet Potato With Garlic Herb Butter
Crispy Green Bean Fries
Swiss Chard Au Gratin
Carrots Stew With Parsley Yogurt
Green Goddess Wraps
Cauliflower Rice
Slow Cooker Carnival Squash
Instant Pot Butternut Squash
Sauteed Mushroom
Savory Side Dishes To Accompany Meatloaf
Dinner Rolls
Asparagus, Pea, And Ricotta Tarts
Loaded Mashed Potato Puffs
Peas And Pancetta With Lemon
Copycat Panera Bread Mac and Cheese
Roasted Broccoli Macaroni and Cheese Recipe
Toasted Garlic Bread
Wild Rice and Mushroom Pilaf
Outstanding But Easy Salad Matched With Meatloaf
Veggie Nicoise Salad
Tomato Salad
Grilled Sweet Potato And Fig Salad
Creamy Broccoli Salad
Kale Salad With Crispy Chickpeas
Strawberry Cobb Salad
Crispy Goat Cheese Salad
Sugar Snap Pea Salad
Orzo Salad with Shrimp
Super Green Salad
Top 41 Delightful Dishes To Side With Meatloaf
Now. It's time for you to take an overall look around 41 sides for meatloaf to see how wonderful they are when combined with meatloaf.
Side Food Based On Veggies
When it comes to side dishes for meat-based foods, you will think about some sides mainly made from vegetables, such as cauliflower, broccoli, carrots, green beans, potatoes, tomatoes, sweet potatoes, etc.
The first is also the easiest dish to serve with your meatloaf: roasted sweet potatoes with some other added ingredients like lime and sriracha.
To me, sweet potato, with its natural sweetness, is very versatile and healthy, and it is like eating candy for meals. Besides, its light color from the side dish makes your meals more appealing, so I think that your family members will love it.
Another way you can do with your sweet potatoes is to bake them with some added ingredients such as garlic cloves, olive oil, fresh rosemary, and some flaky sea salt. The result will be a flavorsome side dish that is vegan-friendly.
Baked in the oven for about 20 to 25 minutes, sweet potatoes are crispy on the exterior, a little bit salty, tangy, and creamy soft in the interior. So, just taste it to feel!
Finding something to go with meatloaf is sometimes stressful, now make it easy on yourself by cooking make-ahead mashed potatoes.
There is no denying that mashed potatoes with cheese are the most common dish to go with meat-based foods, and meatloaf is no exception.
Additionally, for those who love cheese, adding cheese with smashed potatoes makes your dish tangier and more delicious.
Now, it's time to blow your prejudice about mashed potatoes. You have thought that mashed potatoes are boring to eat and not colorful to lighten up your meal when they go to a meatloaf.
Thus, I will whip up tex-mex mashed potatoes that are a harmonious combination of boiled and mashed potatoes with some red and green bell peppers and onions.
If you don't like mashing potatoes, just roast potato slices with garlic and butter can promisingly get you addicted because these potato slices are versatile as you will feel crispy on the outside but soft on the inside.
To make roasted fingerling potatoes shine, you should use a mixture of olive oil and butter to give the dish a creamy and melt-in-your-mouth texture. I hope you enjoy this side dish!
If you have no oven or microwave to do roasted potatoes with cheese, the other recommendation for you is just to fry them up with a simple skillet for an easy but tasty meatloaf side dish.
If you want, you can add some butter to your dish together with some fresh herbs and nuts on the top of the potatoes to make your dish more delicious.
The next type of veggie to go with your meatloaf is carrots, but if you think carrot-based dishes are feeding up, I will blow your mind with a tasty cooking recipe with carrots, which is so amazing, fascinating, and of course, healthy but easy to make.
Roasting whole carrots will bring a smoky, flavor-packed dish as a result, and you don't need to take much time to make it—just around 40 minutes in total for preparing and baking in the oven.
You may not be surprised with this dish because brussels sprouts always is a very common side dish for just about any savory dish with meat as the main ingredient.
I promise you that maple syrup and mustard brussels sprouts are so stunning at their flavor; I always love this salty-sweet combination in the dish. And I think you too!
Have you ever heard about this side dish? To me, I tasted cauliflower tater tots many times whenever my sister asked me to eat meatloaf together. She is super into cauliflower and finds many different recipes to cook with this kind of vegetable.
Cauliflower tater tots sometimes are like your fried tofu, but actually not; let's try to enjoy it with your meatloaf to feel its wonderfulness.
If you don't have much time to cook some other complicated side dishes with your available cauliflower in your fridge, I will introduce slow-cooking mashed cauliflower to you like the easy-making with cauliflower.
The presence of some other chopped herbs, making it your favorite side dish for days to come!
I think that bacon-wrapped asparagus should be a tasty side dish for your whole family because the tender bundles of asparagus are wrapped in smoky bacon and then roasted will bring you a sense of freshness and irresistibility.
The attractiveness of the side dish will raise your meatloaf to a new level of deliciousness.
Do you love corn? If yes, make a side dish for meatloaf with your favorite. It's so wonderful to eat grilled corn with aioli instead of boiling the ears and then dousing them with salt and butter.
What you need to do is grill some corn and cover it with spicy aioli; that's all for a fabulous side dish!
Nothing to add color to your meals is better than rainbow roasted vegetables that are a fast, easy-making, and healthy veggies side dish for your meatloaf.
The incorporation of red and yellow bell peppers, carrots, green beans, Brussels, asparagus, and eggplant will bring you the natural sweetness and tanginess.
Cheesy potato chive galette burst with fresh spring herbs is the perfect side dish to go with meatloaf.
This savory galette is so incredibly easy, pretty, delightful, and appealing, thanks to fresh basil, chives, and thinly sliced baby potatoes.
One more option for you if you are into sweet potatoes like me. Hasselback sweet potatoes sprinkled with garlic herb butter are tender and melt-in-your-mouth.
Although their look is so wonderful, making doesn't matter to you even if you are not skillful at cooking skills.
Adding a crispy texture to green beans will this side dish appealing to kids, especially when you pair them with delicious meatloaf. All you need to do is toss the beans with olive oil and some parmesan cheese, a hit of paprika, and then put them into the oven.
The simpleness will make the side safe for your health, but also tasty.
Swiss chard au gratin is also a side dish to go with meatloaf.
The dish is the combination of swiss chard, butter, small sweet onion, thinly sliced garlic cloves, all-purpose flour, some heavy cream, black pepper, and some more added ingredients, making its texture creamy, tangy, and so delicious!
Another way you can make a side dish with carrots is to stew them with yogurt that brings you a sense of natural sweetness from carrots and sauce, making it a credible side dish.
Besides, it will be tangy if you top them with fresh herbs and toasted nuts if you like.
If you love greens, just use green goddess wraps as an extremely simple side dish for a plate of meatloaf.
However, sometimes, it's hard to get you excited about eating greens, so let's wrap them to make them more appealing and delightful.
What makes greens shine is the dressing that is made with sour cream, buttermilk, basil, and many other spices.
Take your cauliflowers and make a stunning side dish for meatloaf – cauliflower rice, which can be a good and healthy substitute for rice. You can make cauliflower rice with a food processor.
More importantly, you can freeze the side for subsequent use with a freezer if you make too much or just want to make a bunch at once.
Let's try making a side dish with carnival squash if you have never made it before. I don't know why but I love carnival squash so much.
Carnival squash with the slowing cooking method can create a nutty, creamy, soft, butter-like texture. And your side dish will be more delicious if you sprinkle it lightly with salt, sugar, and some maple syrup before cooking.
This butter squash finished with cinnamon, crisp slivered almonds, and brown sugar, is a perfect side dish to make in an instant pot. It has a delightful sweet flavor that no one can resist.
This side dish will satisfy your taste and benefit your health so much!
These savory sauteed mushrooms are easy-making but so good to taste as they are wonderful with grilled, baked, pan-grilled, and roasted meat.
Besides, butter, herbs, and scallions give the mushrooms a fabulous flavor. Eating mushrooms is also good for your health.
Savory Side Dish For Meatloaf
If you don't like eating veggies, here are some savory side dishes for meatloaf you can consider.
If you want to get something to feed your stomach, consider quick pieces of bread to serve with your meatloaf.
Baking some classic roll loaves of bread must be an irresistible meatloaf companion. Use the soft pieces of bread to soak up that gravy on your plate. You will be amazed at this combination.
Now, don't roast, bake, fry, or some stuff like that; it's time for you to make a healthy, tasty, tangy, delightful topping for tarts from your favorite vegetable.
You can make a lot of surprising things from puff pastry, and you will begin with store-bought dough and end with enjoying every bite of the tarts.
This video will let you know how to make the best asparagus tarts; let's check it out!
Let's try to eat loaded mashed potato puffs to go with meatloaf because these fluffy, creamy, and delicious puffs will stimulate the flavor of meatloaf.
This kind of puff is also an ideal idea for those who want to make your children love eating potatoes.
The short video will show you the best way to make delightful mashed potato puffs.
Talk about a side dish to go with your meatloaf for thanksgiving; nothing is easier than peas and pancetta (or pasta) with lemon that is made with fresh peas, pancetta, some shallots, red pepper flakes, and lemon zest.
This pea-based recipe is a great side dish on hot summer days. Don't forget it if you have a meal with meatloaf.
This copycat recipe from the Panera Bread restaurant is a perfect partner to go with meatloaf. With the cheese sauce, this mac and cheese will give your main savories a new, strange, but excellent taste.
And of course, the side is so suitable for you if your tummy is talking to you!
Together with meatloaf, one more choice for feeding your stomach is roasted broccoli macaroni and cheese.
Besides satisfying your staving, this side can bring you a sense of creamy, tangy, delicious, and so delightful texture.
Nothing is easier than making a meatloaf side dish by toasting some loaves of bread with garlic.
You know, when being roasted, your bread will be crisp and fragrant, making it suitable to go with your meatloaf.
The addition of mushrooms will give this hearty rice-based side dish a rich umami flavor that goes well with just about any meal, especially meatloaf.
The combination of brown rice, mushroom, almonds, and some essential spices makes the dish versatile and delicious.
Do Salads Go Well With Meatloaf
A colorful salad plate is a good choice to brighten the meal table and also makes it more appealing. Below are several highly recommended salads to accompany your meatloaf. Let's see what they are!
Take a first look at the salad plate; you can see the diversity of vegetables and, of course, colors for them. Do you love this salad at first sight? I did.
Since the first time I have eaten the side dish, I was addicted to it, so I often make it to serve with almost all main savories made from meat.
This salad will bring you a sense of freshness, crunch, softness, and juicy, making it the most desirable salad to try.
The name is so simple, but the dish isn't. I can imagine your excitement level when the first time you see or eat this kind of salad because it is so amazing to go with your meatloaf.
Tomato salad, combined with grilled halloumi and herbs, makes the side dish fascinating to enjoy together with your family members. Let's enjoy it!
If you are fed up with roasted and mashed sweet potatoes, but you always love them, just grill them and make a salad for a tastier side dish. The combination of grilled sweet potatoes and fresh fig season without dressing must be unforgettable for you.
However, you can add some virgin olive oil to make the side dish more flavorful.
Suppose I love the retro picnic vibes of some meatloaf and creamy broccoli salad that has crunchy broccoli, cashews, dried cranberries, cheddar cheese, and a tangy, creamy dressing. And I think you will love it!
Eating the salad brings me a sense of freshness and joyfulness because of its color.
Kale salad with crispy chickpeas might be the easiest but adorable salad to serve with your meatloaf. The salad is packed with protein but still light to make your meals more attractive.
I think that enjoying meatloaf and kale salad with chickpeas will bring you a sense of perfection!
Strawberry Cobb salad must satisfy you with the fantastic combination of many adorable ingredients, such as strawberries, avocados, tomatoes, pecans, chopped bacon, eggs, and lettuce, making it the most desirable salad to enjoy with meatloaf.
Besides, the dairy-free ranch dressing will level up the deliciousness of salad and dramatically contributes to meatloaf flavor.
One more easy making but fresh and tangy salad is the salad made with crispy goat cheese with some other greens, a side dish to go with well-prepared meatloaf.
At the first look, this salad is basically a vehicle for goat cheese because you will coat creamy goat-cheese rounds with salty pistachios, fennel, arugula, and radishes tossed with olive oil and lemon juice.
Another choice for those who are interested in eating salad is sugar snap pea salad. There are so many ingredients joining in to create this adorable salad, sugar snap peas, and many added things for making a good dressing.
There is no doubt that this salad will stimulate the delicious taste of your main meals.
The video will introduce a good way to make sugar snap pea salad to you.
This simple shrimp and orzo salad with seasonal veggies and tangy and bright dressing are so fascinating to serve with meatloaf. Besides, the salad will be tasty the next day if you have leftovers.
The salad will be more delicious if you let it chill in the fridge or at room temperature.
The video will suggest a good way to make orzo salad with shrimps!
As the name suggests, this kind of salad contains many green vegetables, such as green peas, asparagus, and fresh basil leaves.
Topping them over with the dressing made out of olive oil, almonds, garlic, herbs, and lemon zest makes the salad so amazing to enjoy.
What Else To Go With Meatloaf For A Better Taste?
I have just introduced 41 meatloaf side dishes, but these are not all things you can serve with meatloaf for raising its flavor.
You can create new side dishes for meatloaf by yourself, so if you find something new, feel free to share your ideas in the comment section below and share the post with your relatives for more outstanding ideas.