Finding the best side dishes for kabobs to throw an unforgettable BBQ party or dinner is not the most straightforward job. Worry not, because I'm sure you have more options to serve with the kabobs on the grill after checking this article.
Kabobs are grilled or roasted marinated pieces of meat with (or without) vegetables on a skewer. This type of food is well-loved for its various textures. However, I still think the eating kabob experience is not complete without some good side dishes to serve along.
There are no limits regarding kabob side dishes. You will find at least one suitable idea, from coconut rice and salad to pita bread. Let's jump right into it!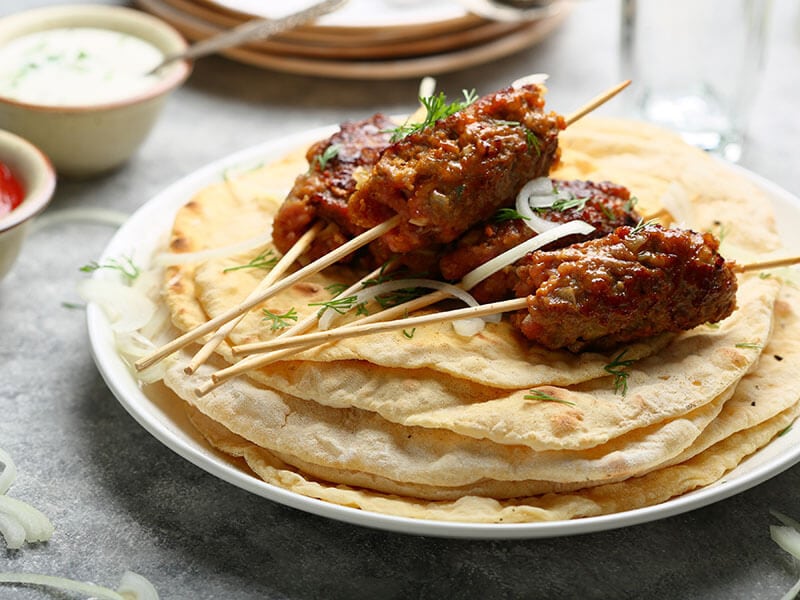 Let's Bookmark These Best Side Dishes For Kabobs
Check out the list below if you still don't know what goes great with kabobs. A common thing about these sides is that most of them are easy to make in a fraction of the time. Scroll down for a more detailed description.
Total time: 30 minutes (including 8 minutes of rest time)
Whether your kabobs contain meat, fish, shrimp, or any vegetables, rice recipes made using a rice cooker will always be a perfect side dish. As simple as the name "coconut jasmine rice" implies, you only need four ingredients: coconut milk, jasmine rice, Kosher salt, and water.
Please skip coconut cream due to its dense texture. Plus, light coconut milk is not a suitable choice as well because it lacks flavor. For the best result, Thai-styled coconut milk is preferable for a more robust coconut flavor.
Besides, if jasmine rice is not your thing, try grain rice or basmati but avoid short grain or brown rice.
There are many ways to cook this coconut jasmine rice. Although using a stovetop produces the best quality of rice, it's also possible to make this recipe in a rice cooker or an instant pot. Remember to rinse the rice before cooking to eliminate extra starch and dust.
Learn to make a bowl of coconut rice and pocket some tips!
Total time: 1 hour 25 minutes (including 1 hour of chill time)
Let's start with a light side dish: jalapeno popper potato salad. It is a spicy twist on the traditional potato salad with jalapeno, cream cheese, and crumbled bacon.
The jalapeno poppers' spiciness varies from 2,500 – 8000 on the Scoville scale, a medium heat that is not too hot for most people. And this recipe uses both pickled and fresh jalapeno to double the pepper's flavor.
Sliced fresh jalapenos add a bright finish to your salad. However, if you are not a big fan of spicy food, you can skip them.
On the other hand, leave the skin on red tomatoes for an excellent presentation look. However, you still can peel it if desired. Other great substitutions are russet potatoes and Yukon Gold. Finally, let your salad chill for the flavor to meld and blossom at least one hour before serving.
Total time: 40 minutes (including 5 minutes of resting time)
Keep things simple by making rice pilaf, a simple accompaniment that screams out summer, and let your kabobs shine. Don't worry. Its flavorful taste makes you can't stop from the first spoon.
The remarkable thing about the pilaf method is using aromatics and oils during cooking to have a smooth and flavorful finish. And the best rice option for this method is typically long grain rice (e.g., jasmine or basmati). This recipe also uses some orzo pasta for added texture and flavor.
Be flexible as you can cook rice pilaf on the stovetop or the oven. If you prefer the latter, remember to cook the rice in foil for 35 minutes at 350°F. Whatever method you choose, chilling is an unskippable step, so make sure to let your rice stand a few minutes after it's done.
Total time: about 15 minutes
Peach berry fruit salad will bring a freshness to your palate when paired with meat-heavy kabobs. Combine all your favorite fruits with the sweet-and-sour dressing, and you will have a vibrant addition to the BBQ picnic table.
The combination of peaches, strawberries, blueberries, and blackberries delivers many layers of textures and flavors. A hint of fresh mint adds a subtle and refreshing note, while the lime dressing will marry all the flavors together.
It is not compulsory to use peaches; go for nectarines if they are more convenient. Choose the ripe ones but not too soft for the best results. Moreover, orange dressing is also a good substitution for lime sauce. Add vanilla extract to the orange dressing for a creamier look.
Total time: 45 minutes
Lebanese spicy potatoes, also known as Batata Harra in Arabic, are a popular side dish in the Middle East. Of course, a protein package will go great with any kabobs, and you don't need fancy ingredients to make them.
This Mediterranean side dish is fried/roasted crispy potatoes soaked in a spicy mixture of cilantro, garlic, olive oil, and red pepper flakes. So the potato dish carries some heat yet is still acceptable for most people. But please feel free to adjust the spice amount to your preference.
There are many ways to make these pungent potatoes. However, if you roast them, do not overcrowd the pan and remember to flip the potatoes once at halfway point during cooking. By doing this, your food can brown evenly. Bake them until the edges are crispy and fork tender.
Let's try these Lebanese spicy potatoes and see how you can handle the heat!
Total time: 30 minutes
Air-fried okra fries help you enjoy a scrumptious Fall side dish with a less oily mess. Okra is easily overcooked, so air frying them is a great way to have crispy okra fries without the extra grease of deep frying.
Fresh okras or frozen ones are interchangeable in this case. However, if you use frozen okras, remember to dry them entirely after thawing. Excess moisture adds more watery to the batter.
Also, go for flour if cornmeal is not accessible. The downside is that the texture won't be the same.
The breading is where all the flavors of the dish come from. A perfect mix of garlic powder, onion powder, and a kick of heat from cayenne pepper will enhance the flavors to your okra fries. In contrast, if you are not a fan of spicy food, just leave the pepper out.
Total time: 15 minutes
A burden on your shoulder as a host will be much lighter with this no-cook side dish: Fritos corn salad. Let's beat the summer heat with the sweet-spicy combo of corn, Chili Cheese Fritos, cheese, and bell pepper. All the ingredients will blend harmoniously in a creamy dressing.
All it takes is just 15 minutes to get the job done. To begin, stir all the ingredients together and finish with fresh cilantro as garnish. Go for diced red onion if you want to skip red bell peppers. Similarly, Fritos corn chips are fine to replace the Chili Cheese Fritos.
The salad taste is at its peak right after making, but the flavor can maintain for the next 3 – 4 days. However, the Fritos will lose its crunchiness over time.
Moreover, it is acceptable to make it ahead and store the salad in the fridge until ready to serve. Note that freezing is not recommended.
Total time: 15 minutes
Nothing will beat this super easy tomato avocado salad for a quick side dish. This healthy delicacy is ideal for serving with any barbecue or kabobs with ripe avocado, red onion, fresh minced parsley, and citrus notes with lime-olive oil dressing.
Yummy and nutritious, this salad is the best of both worlds. The avocado is high in fats and proteins, while tomatoes are a great source of antioxidants. Not to mention, red onions and parsley contain high vitamin C content and many other nutrients.
If possible, try more variations like adding more greens and cheese to your salad to test your taste bud.
Total time: 1 hour (including 10 minutes of cooling time)
Add more protein to your meal while serving this loaded baked potato salad with kabobs. Indulge in this king of potato salad that contains salty crumble bacon, creamy cheddar cheese, and fresh green onion.
The potatoes taste nothing but bland as they are flavored with salt before baking. The sour cream and cheddars add a tangy taste and creaminess to the salad. Most importantly, there is no need to boil potatoes in hot water. All you have to do is toss them in the oven and wait.
Your leftovers can sit in the fridge for about 2 to 3 days. However, if the salad has stayed for hours at higher temperature, discard it immediately or refrigerate them for one more day. Also, making this side dish 1 or 2 days in advance is totally fine.
If you are a fan of both bacon and potato, don't miss this loaded baked potato salad.
Total time: 30 minutes
Grilled corn in foil makes a great pair with kabob because all you need to do is set it and forget it while taking care of the rest of the BBQ party. These butter and flavorful grilled corn deserve a try!
Grilling is one of the most hands-off methods of preparing corn. Season your corn with salt, pepper, olive oil, and butter, and wrap it in foil. Then grill it for 20 to 25 minutes, and voila, your side dish is ready. For more pop of color, add paprika or smoked paprika.
If you want a fancier touch, sprinkle toppings like fresh parsley, cilantro, or Old Bay. Surprisingly, Greek seasoning also goes well with sweet corn. This recipe is already vegetarian and gluten-free. To keep things vegan-friendly, opt for coconut oil or vegan butter.
Total time: 2 hours and 5 minutes
Your kabob eating experience is not complete without some bread on the table. Instead of dinner rolls or sliders, try pita bread this time. Taking grilled meat and veggies off the skewers and turning them into the pita bread filling wouldn't be a bad idea.
Pita bread goes with other names, such as Arabic and Syrian bread, a staple on Mediterranean and Middle Eastern tables. It is a circular flatbread made from flour, water, baker's yeast, and salt. Moreover, this bread is low in calories and loaded with many nutrients.
This recipe cooks homemade pita bread on an extremely hot pan or pizza stone. So remember to preheat your oven to 500°F. Bake until an air pocket appears and the color changes to a golden brown. Don't forget to wrap it with a clean towel to keep the baked bread warm.
Total time: 30 minutes
Another rice dish that compliments the kabobs beautifully is the lemon garlic parmesan rice. Don't miss this quick, easy, and flavorful side with fresh lemon juice, grated parmesan cheese, and butter with some Italian spices and herbs.
A secret for perfectly cooked rice is adding butter. A little fat will go a long way and add more depth of flavors to your rice. Also, it's essential to follow the package instructions. Especially with jasmine or basmati rice, you will need a little more water than usual.
This healthy side dish includes a few fresh ingredients and pantry staples such as oregano, garlic, butter, or lemon zest. But the taste and smell are fantastic. For a vegetarian version, change to veggie broth and eliminate the cheese.
Total time: 10 minutes (excluding chilling time (1 hour to overnight))
So far, kabob side dishes were all about rice and salad, so let's have some new air with this tzatziki sauce. This Greek sauce is an ideal side that goes great with any meal.
Tzatziki is a tangy and creamy Greek yogurt sauce. Its ingredients include dill, garlic, cucumber, and Greek yogurt. However, sour cream is a great option to replace Greek yogurt. Moreover, for vegan tzatziki, switch Greek yogurt with plant-based yogurt.
Ensure that the cucumbers stay dry and keep the yogurt, garlic, lemon juice, and some specific ingredients in the cold temp before mixing them with the dill and cucumber. Let the yogurt and garlic stand for at least 5 minutes, preferably 1 hour or overnight, for flavors to meld.
With some simple ingredients, you will make a hit with this tzatziki sauce!
Total times: 30 minutes
With some heavy-meat kabobs, you may not mind more fruits and greens on the side. This grilled peach salad with berries will add more variety to your BBQ meal. Moreover, the diverse texture of tender fruits, crunchy candied pecans, and creamy feta is irresistible.
This side dish is ideal for the summer when peaches are in the season. Grilling enhances the taste of peaches, strengthens the sweetness, and brings out a smoky flavor. Plus, the grill marks are a bonus point.
A tip for grilling is utilizing high heat to prevent the fruits from sticking to the grill. Make sure to choose ripe but firm fruits; the bigger the peaches, the better. Remember to minimize the times you touch them for the most excellent grill marks.
Total time: 4 hours and 10 minutes (including 4 hours of chilling time)
This vinegar coleslaw is perfect for balancing rich meat-based main courses like kabobs with fresh and primarily plant-based ingredients. Combined with the mayo-free dressing, this homemade vegetable salad is good for you, thanks to a high amount of vitamins and minerals.
Distilled white vinegar is my go-to choice, but rice vinegar or apple cider vinegar are acceptable. Also, if vegetable oil is not your preference, go for other neutral oil. A bag of coleslaw mix will be a great shortcut. However, if you are more into authenticity, feel free to shred your veggies.
All you need to do is mix the vegetables with the dressing until the veggies are completely coated. Let the coleslaw sit in the fridge for at least 4 hours so that the flavor can meld and settle. Refrigerating vinegar coleslaw will last for 3 – 5 days when kept in an airtight container.
Total time: 5 minutes
Korean cucumber salad is the English name for the Oi Muchim (오이무침) or Oi Saengche (오이생채). This salad is easy to prepare and can be table-ready in less than 10 minutes. If you want something quick to serve with kabobs, this is your recipe.
Any cucumber will do, such as Japanese, English, or Persian. In addition, this recipe will use Jin Ganjang, a famous Korean soy sauce, and Korean red chili powders. The chili won't be too spicy, so don't mind adding more based on your liking.
The best part is that 5 minutes is all the time you need to make this salad. Serve immediately or wait 10 – 15 minutes for the cucumber to marinate the dressing and become more flavorful. The salad tastes great at room and cold temperatures, so that you can refrigerate it for a few days.
Do You Know What To Serve With Kabobs Now?
Kabobs are easy to customize and cook with many veggies and meat. They are my favorite because of their smoky flavor and slightly charred ingredients. Of course, the taste is fantastic, but it's like a missing puzzle without a good side dish to serve along.
Now, do you find a satisfactory answer for your dinner night? Comment below if you have tried one of these recipes below. And introduce this article to your friends who are also fans of this fantastic skewered food.