Side dishes for ham have various paths for people to choose from, whether you want a simple or complicated delicacy. This post possesses incredible ideas for you to test at home to see which dish elevates your ham experience the most.
Even if you have less than 15 minutes before serving the ham, you can create a terrific side dish to enhance your dinner. Therefore, you should take notes on these recipes so you always come prepared for any situation.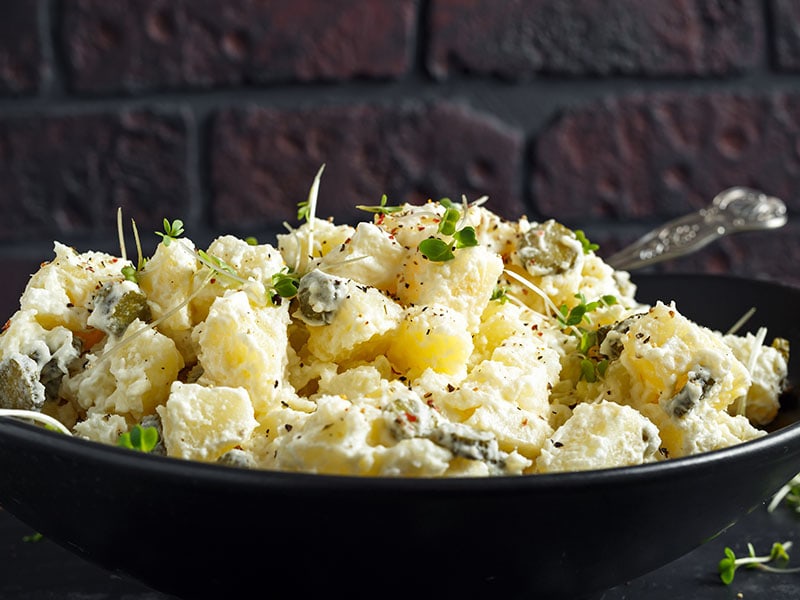 Wonderful Side Dishes To Bring A New Experience To Your Ham
Ham is not a dish you should consume by itself; the salty and subtle sweet tastes are impeccable to go with many light side dishes. I hope you will find your favorite dish in this article to treat everyone.
Total time: 45 minutes.
Spaghetti squash is ideal for treating your guests to a surprising dish. Although you may think this is a type of spaghetti made of squash, it's not the case. The spaghetti squash is purely from the shredded strains of yellow squash to give you a unique experience.
The best thing about spaghetti squash is you don't need too many elements to prepare the side dish. For the squash, I suggest choosing a decent size yellow squash to get the most meat out of the vegetable.
After carving out the inner content, drizzle the squash meat with oil and toss it in the oven for around half an hour. Typically, the squash should have a soft texture, and you can easily shred it using a fork. Top the spaghetti with pasta sauce for serving.
Total time: 12 minutes.
Asparagus is a straightforward choice to complement any dish, including ham. Commonly, people like to enjoy a simple roasted asparagus delicacy to experience the crunchy and smoky flavors. Furthermore, the asparagus can change its taste depending on the spices you use.
Roasted asparagus has to be the easiest on your cooking menu. You only need to trim the asparagus to the correct length and let the oven handle the rest. Remember to drizzle the asparagus with a generous amount of oil to prevent unwanted burns.
In addition, I enjoy roasted asparagus with a sprinkle of bagel seasoning for an extra nutty and toasty experience. The asparagus usually becomes tender after roasting, but the crunchy texture should remain.
Let's learn how to roast perfect asparagus repeatedly.
Total time: 30 minutes.
Since the ham already delivers a considerable amount of energy, you should have green beans, which are among the most wholesome veggies, to ensure a balanced nutrient intake. They are also a nutritious choice to accompany prime ribs, brisket, pulled pork, and other meaty dishes. 
I know it's challenging to have green beans alone, so I suggest combining the beans with garlic for fragrance and lemon juice for a sour flavor. In addition, I prefer introducing capers to the mix to improve the tangy aspect of the dish.
Of course, you also want to add oil to keep the ingredients moist throughout the cooking process. Once you go through half the baking procedure, shake the pan so the beans can cook evenly. Ideally, the beans should be soft and possess a slightly tangy taste.
Total time: 2 hours 50 minutes.
Dinner rolls are super versatile for any occasion, even for having alongside ham. Sometimes, I can't stop stuffing these fluffy dinner rolls with savory ham to enjoy an on-the-go meal. Better yet, you can recreate these buns right from your lovely kitchen.
Most often, people use yeast to aid in the fermentation of the dough, consisting of egg flour and milk. After kneading, the batter should have a smooth and bouncy consistency. However, you must allow the dough to rest for the yeast to work its magic.
Divide the dough into equal pieces and let the oven roast the rolls. I like brushing the rolls with a light layer of butter for a golden brown surface. Before you serve up the rolls, you may reheat them for the best experience.
Total time: 45 minutes.
Carrots are widely available throughout the season, so you can use this vegetable for an outstanding side dish alongside salty ham. The carrot specialty only requires a handful of ingredients to prepare in your kitchen.
People often lightly cook the carrot slices with butter before incorporating honey for a sweet, shiny glaze. Throw in a couple of thyme leaves to infuse the carrots with a minty and grassy flavor. Ideally, the carrots usually become tender and have a beautiful shiny orange color.
Total time: 22 minutes.
The deviled egg is a staple during the holiday season in many countries. Some people even associate the dish with the celebration of Cinco de Mayo (celebration of the Puebla victory in 1862). Deviled eggs are ideal for leveling up a meal experience with simple ingredients.
If you're unfamiliar with the concept of deviled eggs, it's essentially egg yolk mixed with various elements to serve on two halves of the boiled egg white. Commonly, people combine the egg yolk with mayonnaise and cream cheese to enhance the creaminess.
I also prefer adding a splash of vinegar to improve the slightly tangy taste. Remember, you must boil the eggs thoroughly to ensure the best result. For serving, scoop the creamy yolk over the egg white. To enjoy, you may shred ham and sprinkle it over the deviled egg.
These deviled egg treats are stupendous for holiday occasions.
Total time: 1 hour 10 minutes.
Corn pudding casserole is a blast to enjoy the wonderful corn flavor. The tiny corn kernels deliver intriguing pops full of sweetness which tingle everyone's taste buds from the first try. You only need a handful of ingredients to whip up a decadent casserole.
People often combine corn kernels with corn starch, eggs, and milk for the necessary elements. I usually enjoy adding dried mustard to bring out more flavor from the dish. At this stage, you should find a decent size baking texture to contain the casserole batter.
Allow the oven to bake the casserole mixture for around 1 hour. You will soon get a mesmerizing brown casserole surface with a texture similar to pudding. Since the casserole is relatively soft, you may have it alongside ham to complement the flavor.
Total time: 1 hour.
Collard green is a classic option for many Southerners in the US as a side dish. The recipe has an addicting smoky flavor that comes from the bacon bits. When cooked, collard greens release a subtle earthiness to accompany the bacon taste profile.
Typically, you first want to create a base note for the collard greens by browning the bacon bits with garlic and oil. After adding the collard greens, stir them around until the leaves become wilted. Next, add chicken stock to infuse the dish with a naturally sweet taste.
Furthermore, I prefer to crank up the heat by adding paprika and crushed red pepper. Simmer the mixture for around an hour to soften everything. You may place some ham slices over the collard greens to enjoy an upgraded version of the recipe in terms of flavor.
Total time: 30 minutes.
Sweet applesauce is an exciting option to enjoy with ham. This pureed apple-based dish is extremely straightforward to prepare, but its applications are endless. For example, you can easily use the condiment for cooking appealing applesauce recipes to enrich your ham. 
Depending on your preference, you may include sugar with cinnamon in the mix for a sweet and slightly spicy taste. After cutting apples into manageable pieces, you want to simmer them with sugar until softened. Blend the concoction until you get smooth applesauce, ready for serving.
Total time: 30 minutes.
Another classic choice for any meal is the iconic potato salad. The dish is highly addicting with its creamy texture and complicated layers of taste. Potato salad is perfect for whipping up to pair with ham if you have leftover potatoes around the house.
Aside from the tender potatoes, you should turn to mayonnaise, mustard, and pickle relish to create the dressing. I recommend incorporating the potato chunks with eggs, onion, and the sauce to improve the overall creaminess of the dish.
Thanks to potato salad's mild flavor and creamy texture, you may pair it with any savory dish for a hearty meal. In addition, you can also place potato salad as a starter to stir up everyone's appetite.
Discover how pros nail potato salad with fantastic variations.
Total time: 50 minutes.
For some people, the best way to enjoy ham is to pair it with smoky roasted vegetables. The nice thing about this recipe is that you can utilize a diverse range of vegetables for roasting. Let me give some examples if it's a bit difficult for you to choose.
Since there are endless options to decide, you may go down to a simple patch and pick common veggies like carrots, potatoes, and Brussel sprouts. Drizzle the vegetable combination with oil and simple seasoning before roasting in the oven.
In addition, I often include a dash of lemon juice and zest in the oil mixture to bring out more fragrance from the cooking process. Preferably, the veggies have a soft texture after roasting with their signature taste profiles.
Total time: 5 hours 25 minutes.
Baked beans are undoubtedly mesmerizing with their brown color and thick, flavorful gravy. Better yet, you can leave the long cooking process for the slow cooker to handle while you tend to more important tasks.
Of course, the beans themselves pack little punch, which is why I suggest using bacon to take the dish to another notch. After cooking the bacon strips, transfer them to the slow cooker along with the beans, barbeque sauce, and brown sugar.
Fire up the slow cooker, and don't forget to stir occasionally to prevent any burns at the bottom of the pot. If bacon is not in reach, people often substitute it with ground beef, sausage, or diced ham.
Total time: 35 minutes.
Sweet potato casserole is unlike anything you've seen before in a dish. The main part comes from the inclusion of marshmallows, an exotic yet intriguing twist to conventional casserole recipes with potatoes. If you want to impress everyone, this creative recipe is a must-try.
You didn't read it wrong; marshmallow is an essential topping for this unique delicacy. With the mashed sweet potatoes, you want to add butter, brown sugar, and eggs to complete the primary mixture of the casserole.
Aside from the marshmallow, I recommend combining pecan with a sugar mixture to form a nutty topping for the casserole. Cover the surface with marshmallows and bake the dish. As you probably guess, this casserole mainly possesses a sweet profile with soft sweet potatoes.
Total time: 1 hour 10 minutes.
An authentic garlic mashed potato is enough to handle any type of dish you have in mind. Thanks to its simple and creamy nature, mashed potatoes are always a favorite when served with savory specialties.
For the garlic cloves, I usually cut the top off and drizzle them with a generous amount of oil to roast in the oven. Once cooked, the cloves should be tender enough to mix with the soft potatoes. You commonly want to feature sour cream and milk to improve the creaminess.
Season the mixture with salt and pepper to complete your wonderful creation. Mashed potatoes are best served hot with your choice of foods like ham or other salty specialties.
Fragrant mashed potatoes are splendid to serve family members.
Total time: 30 minutes.
If you love corn like me, I want to give you another recipe in the form of cornbread. Like any corn delicacies, this cornbread has a nice corn aroma to accompany the underlying sweet and salty ham tastes.
The essential component of cornbread lies in the batter blend consisting of flour, cornmeal, and milk. In addition, people crack in an egg to help bind the ingredients better. After incorporating the dough with melted butter, pour the mixture into a skillet for baking.
Allow the oven to work its magic until you get a beautiful golden brown surface on the cornbread. Remember to rest the cornbread for a couple of minutes to stabilize its structure. While the bread is still warm, serve the dish with your main course.
Total time: 25 minutes.
Spinach is full of valuable substances to help boost your immune system. Therefore, I suggest incorporating spinach into a part of your meal with a creamy mixture to bring the best food experience to the dinner table.
Most often, you should have a lot of spinach since the leaves become wilted once cooked. Don't forget to squeeze the vegetable to remove any excess moisture. It helps prevent your creamy creation from becoming watery afterward.
As for the cream mixture, people tend to combine cream cheese and half and half (half milk and half cream). When the cream starts to bubble, add cheese and wait for the concoction to thicken before mixing in the spinach. Serve creamed spinach alongside your favorite specialty.
Total time: 25 minutes.
It's hard to say no to a hot plate of mac n cheese, especially when you have the power to customize it to your will. Since macaroni and cheese are a perfect combo, people even have it along with ham.
It's simple to whip up mac n cheese as you only need to focus on cooking the macaroni and creating the cheese blend. Since the macaroni only requires boiling to cook, you want to turn your attention to making a decadent cheese sauce.
People often heat butter with a little bit of flour until it thickens. Add milk and keep stirring until you get a smooth consistency. Finally, throw in your cheese mix and melt it completely. Remember to season the mac n cheese before serving it with your favorite main dish.
Total time: 30 minutes.
Popovers are muffin-shaped bread with tasty parmesan and herb flavors. Instead of investing hours into baking a perfect loaf of bread, you can whip up popovers that take around 30 minutes to complete. This muffin bread will surely catch everyone by surprise.
The cornerstone of any pastry lies in the dough. The popovers rely on a combination of flour, eggs, and milk for a smooth dough consistency. Don't forget to include herbs (rosemary or thymes) and cheese in the mix to finish the preparation step.
Once baked, these popovers have a savory taste and a crispy texture with a brown surface. Furthermore, the herb fragrance is infused into each bite of the popovers.
Popovers are perfect for impressing everyone at the dinner table.
Total time: 30 minutes.
Broccoli is another simple yet adequate choice to create a quick side to accompany savory ham. Commonly, I love roasting these green florets with a sprinkle of parmesan to add a cheesy touch to the vegetable.
Along with the parmesan cheese, people even combine bread crumbs for an extra crunchy sensation while eating. The broccoli florets also have a pleasant fragrance coming from the inclusion of garlic. Roasted broccoli often possesses a darker green, soft texture, and subtle sweetness.
Total time: 1 hour 5 minutes.
Gratin is a French staple with a soft layer of potatoes and usually has a rich taste. However, I prefer to introduce a new twist to the table by swapping the potatoes with cauliflowers. This gratin will bring a fresh impact to your meal.
For this recipe, you often use a cheesy mixture to incorporate with cooked cauliflower. Transfer the mixture to a baking dish and top it with a generous amount of shredded cheese. Next, melt the cheese and include breadcrumbs in the topping.
You get a soft cauliflower gratin with an addicting creamy cheese sauce. The cheesy taste is this recipe's main selling point for people to consume with ham slices.
Total time: 1 hour 15 minutes.
Everyone loves a refreshing summer salad to make their meals more nutritious and flavorful. Therefore, I want to introduce strawberries and spinach to freshen your salad recipe. Raw spinach brings an entirely different taste to the table.
Commonly, fresh spinach has a mild sweetness to go with the sourness of strawberries. In addition, I highly recommend introducing blueberries to the mix for a fruity salad. Furthermore, people even utilize almonds for a touch of nuttiness.
The dressing is the key element to making this salad a fantastic recipe. I'm sure people enjoy a mix of Worcestershire sauce, balsamic vinegar, sugar, and paprika. The sauce concoction creates multiple layers of rich and decadent tastes.
Total time: 50 minutes.
If you're looking for a side dish with less than five ingredients, this baked sweet potato perfectly matches you. Soft and tender sweet potatoes have enough flavors to complement any recipe in the meal.
Make sure you rinse the sweet potatoes carefully as you cook the potatoes whole. Drizzle some oil and simple seasonings if you want extra flavors to the potatoes. Wrap them in aluminum foil and bake in the oven for around 45 minutes.
The outcome is a crunchy skin texture, while the sweet potatoes are super fluffy on the inside. You also have an appealing, vibrant yellow from the sweet potatoes' inner content.
A simple baked sweet potato is enough to satisfy even the pickiest eater.
Total time: 1 hour 10 minutes.
A crispy texture with rich buttery flavors is what you can find in these cute Duchess potatoes. For your information, Duchess originates from French cuisine. The side dish is usually made with potatoes and has the size of a regular cookie.
Traditionally, people tend to mash the cooked potatoes with heavy cream, egg yolks, and melted butter until they achieve a smooth consistency. After transferring the potato mixture into a piping bag, people start to pump out the Duchess in a spiral pattern.
Give the individual Duchess a brush with melted butter to get a beautiful yellow surface. Serve the Duchess hot for the best experience.
Total time: 15 minutes.
A pea salad is a convenient choice that you can prepare ahead for later serving. It's straightforward to whip up as you only require pea as the centerpiece of this creation. Commonly, the salad also works wonderfully with mayonnaise and buttermilk ranch dressing.
In addition, you may dice in some ham for an added source of protein. Some onion slices are also perfect for adding a touch of freshness to the dish. Remember to dry the peas thoroughly to avoid a runny salad mix.
Total time: 1 hour 10 minutes.
Pineapple stuffing is a delicacy of the holiday menu. It surprises everyone with a fluffy texture and packs a punch full of pineapple flavor. Better yet, you don't have to use complicated kitchen utilities like a stand mixer to create this incredible stuffing.
First, you want to whisk sugar, butter, and eggs to achieve a fluffy mixture. Incorporate the pineapple into the blend. Proceed to fold the stuffing concoction with bread and transfer everything into a baking tray.
Top the surface with brown sugar and bake until it becomes golden brown. Ideally, you should have a sweet and fluffy pineapple stuffing to pair with the saltiness of the ham.
Total time: 5 minutes.
Here's another salad to freshen up your options. This spring radish salad is ideal for people looking for a new vegetable to feature on their menu. Although radish is far from a unique vegetable, you can still enjoy it raw for a different approach.
To complement the crunchy texture of radish, you should mix the vegetable with lemon juice, olive oil, and parsley to enhance the flavor. Since radish is this salad's main focus, you get a zesty or spicy profile similar to garlic.
This recipe is extremely versatile: besides ham, you can enjoy it as a yummy side with fajitas, tacos, BBQ meats, and so on. But the best thing about it is that you take only 5 minutes to prepare everything. Sometimes, I even bring the ingredients together right at the dinner table.
Radish salad is fascinating with a unique crispy texture.
Total time: 40 minutes.
Bell pepper is a common vegetable that you often encounter in many specialties. However, not many people know about roasting bell peppers as a simple yet delicious side option. It takes little effort to prepare roasted bell peppers at home.
For an appealing presentation, I prefer combining various types of bell pepper for the different colors. Don't forget to cut the bell pepper into decent-sized strips to cook evenly. The bell peppers are ready for the oven with a slight drizzle of oil and a sprinkle of oregano.
Typically, you want to char the bell pepper strips to infuse them with a smoky taste. These bell peppers also have a tender texture and fragrant smell to attract everyone's attention.
Total time: 50 minutes.
Colcannon is a traditional Irish version of the iconic mashed potatoes. The Irish often feature the Colcannon as a side dish on Saint Patrick's day (March 17th). So if you want to try an exotic approach to mashed potatoes, Colcannon should be your number one priority.
Unlike conventional mashed potatoes, people include kale leaves in this inviting Irish recipe. The rest resembles how you often create a mashed potato with milk and butter. Finally, sprinkle the Colcannon with your favorite toppings like ham to improve the overall taste.
Total time: 10 minutes.
The crunchy texture of snap peas is perfect for featuring in a salad concoction. Commonly, people describe the taste of snap peas as an impressive sweetness. This salad only requires a couple of vegetable varieties to bring out more flavors from the snap peas.
For the dressing content, a combination of vinegar, lemon juice, and oil is more than enough. Toss the snap peas with a handful of radish and baby arugula with the dressing mixture. Surprisingly, the sour taste makes for an addicting combo with the snap peas.
In addition, some crumbled feta cheese makes a fine choice to include a rich and tangy taste in the salad. The snap pea is a must-try element if you want a fresh take on your conventional salad recipe.
Total time: 45 minutes.
Beer-braised cabbage is perfect for a side dish blast on the weekend with juicy ham. People will fall in love with this cabbage recipe because you also include apple pieces for a touch of fruitiness to the recipe.
Aside from the cabbage and apple, people introduce bacon to the mixture to infuse a smoky taste. I recommend utilizing beer, vinegar, and caraway seeds for the liquid content. Make sure you saute the cabbage with apple chunks and butter.
Remember to submerge the cabbage head entirely under the beer concoction after sauteeing. Simmer uncovered for 20 to 30 minutes until the cabbage becomes tender. The beer taste is light and barely noticeable, making the dish suitable for everyone.
Total time: 55 minutes.
Let's head to Morocco to whip up a staple carrot salad. This Moroccan salad is ideal for using up carrots in your house. The best thing is that you can make this recipe with only a few ingredients.
Traditionally, locals accompany tender carrots with lemon juice, olive oil, and various spices to toss thoroughly. I almost forgot that you must drain the carrots after boiling to remove any excess water from the final salad mixture.
For serving, you may refrigerate the carrot salad to keep the ingredients fresh for everyone to enjoy. The mild sweet carrot flavor gets elevated thanks to the inclusion of sour lemon juice.
Uncover how you can recreate this iconic Moroccan salad specialty.
Total time: 55 minutes.
To wrap up this compilation, I want to introduce you to a fancy potato dish from French cuisine. Fondant is a French word for melting, but since the 19th century, people have referred to it as a roasted potato delicacy.
After peeling the raw potatoes, you want to cut both ends of the potatoes so they can stand upright. Crank the heat to fry the potatoes until you achieve a crunchy surface. Don't forget to season the potatoes before frying them.
Proceed to throw butter, rosemary, and garlic into the skillet to infuse the potatoes with a pleasant aroma. Pop the Fondant into the oven until the inside of the potatoes become tender and soft. Serve the Fondant with your favorite main course.
Ham Is An Addicting Main Course With The Right Side Dishes
There are endless combinations for you to decide; it depends on your taste buds to whip up an impeccable side dish. Furthermore, you use these recipes as a reference to come up with your very own creations for the family.
If this article has sparked you with incredible ideas, alert everyone about it by sharing it. I'm also excited to hear more from you in the comment section. It's a pleasure to make your ham dinner more beautiful with these recipes.