Sometimes it's the side dishes for fried chicken that make all the difference. Most of the fried chicken recipes are kind of samey. Maybe put in a little honey or butter here and there, or change the sauce. That's why side dishes are best for spicing things up.
I'm sure that whenever you or anybody goes into a fast-food restaurant and orders a serving of fried chicken, the place would often offer you to eat it with something else, be it gravy, chutney, or some kind of side dish. That is because it is the best way to consume these crispy chickens.
For anyone seeking something more, don't hesitate to scroll down, and you'll find what you are looking for. This article has recipes and ideas for the goodies to munch or crunch alongside the tasty chicken.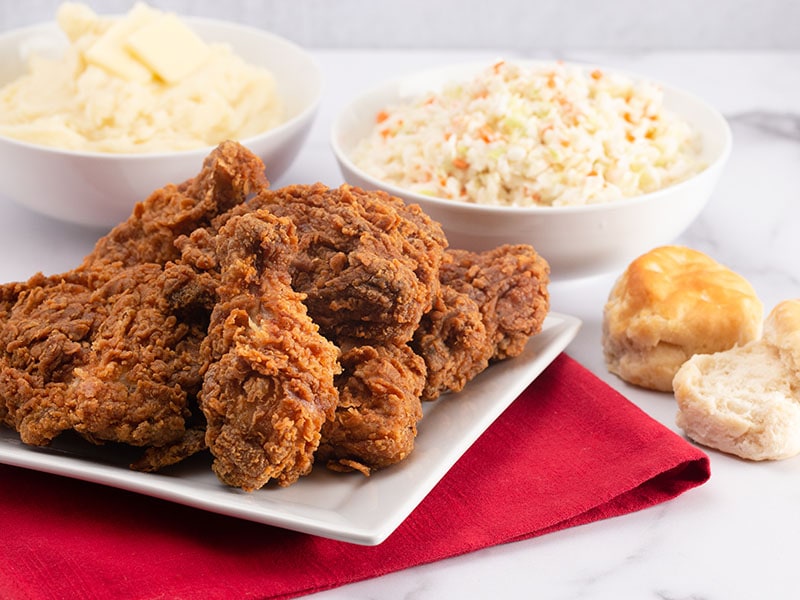 Extraordinary Side Dishes To Enjoy Alongside Fried Chicken
As the fried chicken is a meat dish, the suitable side dishes for it are often pastry or veggie-based. Having said that, almost anything goes well with this particular dish. Anyhow, here are some of the best side dish recipes to try.
Total time: 30 minutes
Jalapeno and cornbread muffins with cream cheese and bacon fillings make for a mouth-watering meal. Unlike most muffins that are plain and dry, these Jalapeno popper cornbread muffins are moist with a little bit of spiciness.
The combination of spicy heat from jalapenos, crispness from bacon, and creaminess from the cheese is a great way to stimulate your taste buds. In the unlikely event that you and your friends can't finish the whole batch, there are many creative recipes recycling leftover cornbread to try.
The recipe is pretty basic in itself. The key ingredients include cornmeal, flour, buttermilk, butter, bacon, and honey. Then you mix all of them and fill the batter into the muffins. Top them off with cream cheese, a little bit of the remaining batter, and Jalapeno. Then to the oven they go!
Total time: 15 minutes
Salad is undoubtedly one of the healthier dishes that you could eat with chicken, fried or not. The benefits of eating salad, such as providing fiber, water, cooling you down, etc., have become common knowledge, so I won't bother you with it.
This recipe requires very little to no cooking (yay!). So it's great if you are feeling lazy or in a rush. A combination of olive oil, minced parsley, and garlic makes for a tangy vinaigrette dressing that delivers just the right amount of acidity.
There are lots of variants of this salad. You can put in avocado, feta, mint, etc. However you make it, this is still a great side dish to eat with fried chicken in a hurry. But it's not limited to chicken only. You can eat it with fish, steak, pork, shrimp, or anything.
Learn how to make a refreshing and tasty serving of Corn and Tomato Salad here.
Total time: 45 minutes
Here's another side dish that has moist and buttery attributes on the inside with a crispy outer skin. One bite of these hushpuppies will leave you wanting more.
Hushpuppy is a deep-fried or baked ball with cornmeal batter and spices as ingredients. This is a traditional dish in the southern United States, so people believe that this is its origin place. People often serve hush puppies as a side dish for fried foods or seafood.
The key ingredients of this recipe are yellow cornmeal, Jalapeno, salt, sugar, Vidalia onion, and peanut or canola oil. The sweet Vidalia onions and cornmeal mixed with chopped green onion and diced Jalapeno bring this dish a flavor unlike anything else.
Total time: 10 minutes
If you ever step into the Kentucky Fried Chicken chain restaurants, chances are you've eaten their coleslaw along with the fried chicken. Everyone's favorite KFC coleslaw is easy to replicate at home. Read more to find out.
Coleslaw is an ideal suggestion for chicken wings, especially fried ones as they are sweet, tangy, and creamy. Furthermore, this recipe is one of the easiest copycats with widely available ingredients. Copycat KFC Coleslaw is ideal for a chicken dinner or BBQ meal.
The cooking steps are plain and simple, with just 10 minutes of making. You just need to whisk granulated sugar, mayonnaise, buttermilk, etc., together and store the final product in the refrigerator. A food processor comes in handy if you want to make it even more effortlessly.
You can easily recreate the KFC Style Coleslaw at home.
Total time: 1 hour 20 minutes
Brabant potato is a celebrated side dish from South Louisiana, specifically New Orleans. People also call it Louisiana Fries. Let's try making these parboiled, crisp potatoes and see what's special about them.
There are 4 simple steps in this recipe: rinsing, parboiling, frying, and seasoning. This one makes use of a Dutch oven, and you need to oil fry the potatoes at 350 degrees in this pot. Then season the drained potatoes with spices, melted butter, garlic, and parsley.
The creamy inside and the crunchy outside combination are what make it ideal to consume with fried chicken. Plus, it's buttery, garlicky, and crispy. Be careful; it might be your love at first bite with a dish.
Total time: 45 minutes
Everyone loves a good serving of Mac and Cheese. It's a classic. But did you know that this is also a good side food for fried chicken? It's rich and cheesy, adding a good flavor to any fried dish.
You can use the usual Mac and Cheese recipe, or you can try this baked version. Nonetheless, there's no surprise or fuss here. But the stunning white creamy cheese sauce and golden brown texture are never boring to eat.
The baked version has a crunchy top and is creamy without too gummy fillings underneath. One important thing to note is that you shouldn't use milk as a substitution as it will impact this recipe's sauce consistency.
Total time: 15 minutes
And now it's time for a little bit of green. If you are an okra lover and a fried chicken enthusiast, then I have very good news for you. They are good for eating together. And it's a fantastic combo to boot!
Roasting or baking these little green vegetables are the more common way of cooking them, but not the only way. You can also fry, sautée, and pickle the okra. But still, sometimes, a simple roasted recipe triumphs all else.
One thing to note is that this simple chicken starter recipe requires the use of fresh okra, as frozen ones are not the same when you cook them. All it takes is 12 minutes of baking, and you get yourself a nice serving of this green veggie.
A bite of the crispy chicken and tenderness from oven-roasted okra is quite an experience. What's more, being a green veggie, okra provides you with a ton of health benefits, from giving you vitamin A, C, K, fiber, and more!
See the tips, tricks, and know-how of roasting Okra here.
Total time: 25 minutes
You can make these buttery and soft biscuits from scratch with this recipe. All you need is just 3 easily bought ingredients and 15 minutes to bake them. Yet the result is soft and delicious goodness that is miles better than any canned or premade one.
Most other biscuit recipes use all-purpose flour, but not this one. It involves using self-rising flour made of regular flour, salt, and baking powder. As the name implies, the former has rising agents and thus will make your product tall and soft.
What's special about this dish is that you can make it ahead of time. You can make it up to 3 days in advance and store it in an airtight container in a refrigerator before use.
Total time: 50 minutes
Braised cauliflower is a nice change-of-pace side dish for fried foods. This robust yet light vegan recipe can accompany any meal, not only fried chicken. Try it once, and you will come to love this veggie-based dish even though you are not keen on fruits and vegetables yourself.
The cauliflower is the highlight here (of course, it's the name, after all). First, you cook the tangy sun-dried tomatoes which will help balance the taste. Then comes the easy braising process that squeezes all the flavor of this white veggie soaked in olive oil and garlic.
If you fancy something else, there are other variants you can try, too. With a little digging, you'll find some recipes that involve anchovies, butter, Salsa Verde Orzo, chili, coriander, etc. But braised cauliflower with tomatoes is the jam if you prefer something traditional!
Total time: 35 minutes
Another potato recipe! But this time, it's a classic. Perhaps along with coleslaw, potato fries are the food most commonly eaten with fried chicken.
When you talk about fries, you think of deep-fried potatoes. But today, I went with oven-baked sweet variants. Don't worry, all you need is just a basic knife and baking skills. You can make it through this.
First, chop the sweet potatoes into thin pieces, preferably fries-like. Then season the fries as the recipe says. Wait no more and put them into the baking tray to enter the oven.
Once finished, the final products would be golden with slightly browned edges. All that is left is to dig into them!
You can make delicious oven-baked sweet potato fries without much effort at all!
Total time: 30 minutes
Be careful while making this dish. Why? Because they are so inviting that you can't help but grab one right off the tray to put it directly into your mouth. Let's see what makes these Brussels Sprouts such an indulgent delicacy.
Simple roasted Brussels sprouts are good, but you can improve them even further by putting in a combination of honey and balsamic vinegar. This addition brings the flavor to life as the green veggies soak them up.
It's best to roast the brussels sprouts at high temperatures for better caramelization results, ideally at 425℉. You don't want to roast them over 25 minutes, or you risk overcooking and ending up with burnt or mushy Brussels.
Total time: 10 minutes
If you are feeling full or just want to focus on eating the fried chicken alone, then this is the recipe for you. Tzatziki is a famous Greek yogurt sauce that people use as a condiment for all kinds of Mediterranean foods. In short, it's a great dipping sauce.
As the name implies, Tzatziki consists of shredded cucumber, garlic, strained Greek yogurt, and herbs. The combo plays well with not only fried chicken: it is also a great side for chicken sandwich salad, rotisserie, or jerk chicken. Its creamy and flavorful taste is simply divine.
Total time: 30 minutes
Succotash is a savory and veggie-based dish containing corn, lima beans, and other vegetables. Other possible additions include zucchini, bell peppers, cranberry beans, sweet corn kernels, etc. You can find this dish across the US, but it's most well-known in the South.
This recipe calls for three main ingredients: fresh tomatoes, salted butter, and basil. The items used may be a little different from other recipes, and it's thanks to this that the Succotash has a unique flavor unlike any other.
There are two variants: meat-based and vegetarian-friendly. If you opt for the latter, then simply leave out the bacon and replace the drippings with 2 tablespoons of extra-virgin olive oil. That's all it takes to get the best Succotash ever without much effort.
Total time: 10 minutes
Beans and salad have always been good companions to fried chicken. How about combining them into one dish for the sake of it? Within just 10 minutes, anyone can get themselves a delicious serving of this salad to enjoy with the chickens.
This recipe has two main parts: the dressing and the salad. You make the former by shaking the dressing ingredients in a mason jar. Then, pour the well-shaken mixture into the salad. Give the whole thing a nice toss. And it is done!
Here is a nice crispy fried chicken sandwich with black-eyed peas salad cooking guide that anyone can follow.
Total time: 33 minutes
I'm sure this dish is no stranger to most people. Fried chicken and waffles (especially homemade ones) are true soul food delicacies that everyone loves. Chicken and waffles is an American dish that first appeared in the 1600s in Pennsylvania Dutch Country.
This combination didn't become popular until the opening of Wells Supper Club, owned by Joseph T. Wells. Musicians in Harlem, New York, 1938.
If you prefer making waffles from scratch, I got you covered. Just go to the store and buy the following ingredients: flour, baking powder, baking soda, etc.
Set 2 bowls. Whisk the eggs, buttermilk, and heavy cream into one bowl and whisk the remaining ingredients into the other one.
Then stir the "dry" and "wet" bowls together (remember to add butter while doing so). Let them rest for 15-30 minutes. Finally, cook the batter using a waffle iron, and you get the final products.
Total time: 60 minutes
This is one of the classic Southern side dishes for fried chicken that you have to try. A Casserole is a one-pot meal prepared in a Casserole dish – a deep, wide baking dish.
Squash Casserole is a staple food that you often see at meat-and-three diners across the South. This creamy but not overly cheesy dish is ideal for serving alongside fried chickens.
Squash is naturally filled with water, so it's important to make sure that it's well-drained before cooking. Or else you will end up with a watery experience, and you don't want that pairing with your fried foods, do you?
Explore the best way to make Squash Casserole here.
Total time: 45 minutes
Sweet potatoes and cornbread are both side dishes that play well with fried chicken. This recipe combines them both for a boosted flavor with the best of both worlds.
Sweet potato cornbread is a great dish for shaking things up instead of just eating plain sweet potato or cornbread on its own. Besides the fried chicken, this dish also goes well with a bowl of chili or anything BBQ.
The recipe calls for sweet potatoes that are usually orange-fleshed and commonly found in the US. Make sure to pick the small and medium-size ones as the larger sweet potatoes tend to be older.
Furthermore, put down any sweet potatoes with soft spots, wrinkles, or bruises. Those that are firm to the touch are the good ones.
Total time: 15 minutes
Besides mashed potatoes, collard greens are another well-known side dish for fried chicken. You can even make a recipe including three of them. But today, let's take a look at the collard greens only, which can make a passable side dish for popular chicken recipes during summer.
Collard, in this case, refers to the plant's large and edible leaves. They are one of the green vegetable staple foods of the South. The collard greens are available all year round but are tastier and more nutritious in the winter.
Thanks to the lemon and garlic in this recipe, the final products will have a taste of Mediterranean. Besides fried chicken, they also go well with cooked black beans and rice.
Total time: 5 hours 15 minutes
Baked beans are another prominent side food for BBQ dishes and fried chicken alike. You can't go wrong with this recipe if you want to elevate the savor even more. What's cool is that eating this duo will ensure you stay full for a while.
The smoky and sweet baked beans are a nice dose of a healthy addition to your meat-based diet. If you want something more, I advise you to add the touch of brown sugar and bacon so that the smoky flavor is enhanced even further.
Here's a quick and easy New England-style baked beans recipe.
Total time: 7 minutes
Here's another green dish that offers a healthy touch to your dining experience. When you need a side dish option that takes less than 10 minutes and needs no more than 5 ingredients to make, then stir fry asparagus with fried chicken is one worth considering.
However, asparagus is not a very well-liked vegetable by many people. If you overcook it, you'll have a soggy mess. On the other end of the spectrum, if undercooked, it turns into a tough and bitter food.
When done right, you'll have one of the best crisp-tender veggies in your life. Pair that with the tender chicken and the brightness from garlic and chili flakes. Asparagus transforms into a dish that makes you wonder why you didn't like it before.
Total time: 50 minutes
Whose heart doesn't get happy and jumpy from a fresh peach juice? Then be ready to learn a more joyful experience with this Southern peach cobbler recipe. It's the true spirit of summer in a dish. You can enjoy it all year round, though.
So what is a cobbler? Simply put, it's a fruit dessert covered in a biscuit-style topping or a batter. One possible explanation for this name is that the top part of a cobbler is not smooth and rather "cobbled."
There are two main parts: the peaches and the biscuit topping. What's more, you can do everything from scratch following this recipe. First, you cook the peach mixture, then pour the topping over the fruits and start baking right away.
Learn how to cook peach cobbler from A-Z here.
Total time: 50 minutes
Here I give you another recipe that is full of summer breath. The fried green tomatoes are easy and crispy. Everyone loves it so much that they dub it "the Southern classic", and not without good reasons.
In case you are wondering, the green tomatoes in this recipe are not unripe. It is a variant that turns green once ripe. It will be soft to the touch with vertical stripes or other variations in the coloring.
Frying is one of the best ways to enjoy these green tomatoes. Their tangy flavor pairs well with fried chicken. Try the fried chicken with this recipe yourself, and you may find yourself waiting to eat them again and again.
Total time: 1 hour 20 minutes
What's the difference between potato fries and potato wedges, you ask? For starters, they are cut radially to get a sort of triangle shape rather than sliced into strips or julienned.
Another thing that differs is that you bake them instead of frying them. Therefore, this dish is healthier and contains much less oil, making it a sought-after side for rich chicken sausage recipes, fried chicken, and similar high-protein foods.
You will also see this dish on the menu if you go to fast food joints. This is because it is just as much finger-licking-good as the fried chicken that you often eat it with. Plus, the potato wedges are healthy.
Following this recipe, you will find yourself coating the potato wedges with oil and spices instead of flour. Then bake the wedges once. 30 minutes later, use a spatula to flip them over and bake them for another 20-30 minutes.
Total time: 12 minutes
Sautéed green beans are another easy and healthy recipe that you can make all year round. Plus, it requires the use of only 5 ingredients. The dish is not classy or fancy by any means, but its simplicity is sometimes worth more than anything that goes with fried chicken.
The simple aspect of sautéed green beans shines when you don't feel like putting much effort into cooking. The key ingredients are the green beans themselves, butter, garlic, salt, and red pepper flakes.
The cooking steps mostly involve blanching the beans, adding the items one by one into the pot, and letting them all cook undisturbed until the green beans turn slightly brown.
Here's an easy-to-follow sautéed green beans recipe with the addition of garlic.
Total time: 25 minutes
If you want to opt for something lighter and more hearty, then how about pairing fried chicken with Mediterranean Orzo salad? The bell peppers, tomatoes, fresh basil, and spinach come together for a healthy combination.
Pairing this with fried chicken is a great way to reinvent the already too familiar salad and chicken combo. The Balsamic vinegar and Orzo pasta add a nice touch to the whole dish. If you don't want to feel too full, then the Mediterranean Orzo salad is worth considering.
Total time: 25 minutes
If you want extra crispness, then you can't go wrong with onion rings. These little deep-fried or, in this case, air-fried rings make a good side dish with any chicken dish. Tender on the inside yet crispy on the outside, these treats will make your meals more exciting than ever before.
The air frying method is way more fun and less hassle than the regular techniques at home. It's slightly healthier, too. You just need to do the meal prep and pop them into the air fryer. Once done, you may want to serve the onion rings with sauces for extra flavor.
The best air fryer onion rings are well within your reach with this simple cooking instruction.
Fried Chicken Is Not The Same When You Eat It With These Best Side Dishes
Almost anything makes for a good side dish with fried chicken, but some are better than others. I've covered most of the prominent options. Are there any of them that catch your eyes? If yes, then please leave a comment below to tell me and others all about it.
Reading thus far, I'm sure you now have learned a whole lot more than before. Not only now you can name at least 26 sides for fried chicken but you also have their recipes within one or two clicks away.
If this article has helped you, don't hesitate to spread the word so that more will know about these recipes. People around you can engage in a conversation with you about this topic or even get into the kitchen with you to whip them up. And you can enjoy the side dishes together.