Are you looking for the best side dishes for cod fish? There is no more searching because everything you need is here. Paring these sides with all fish-based main dishes, your dinner will be more appetizing. Plus, all the recipes are so simple to whip up for beginner cooks.
From veggies to pasta, this article is a compiled list of perfect fish side dishes you have ever tried. I'm sure these food pairings will end up becoming your family's favorites for their irresistible deliciousness. Also, many helpful cooking tips are included. Don't miss them!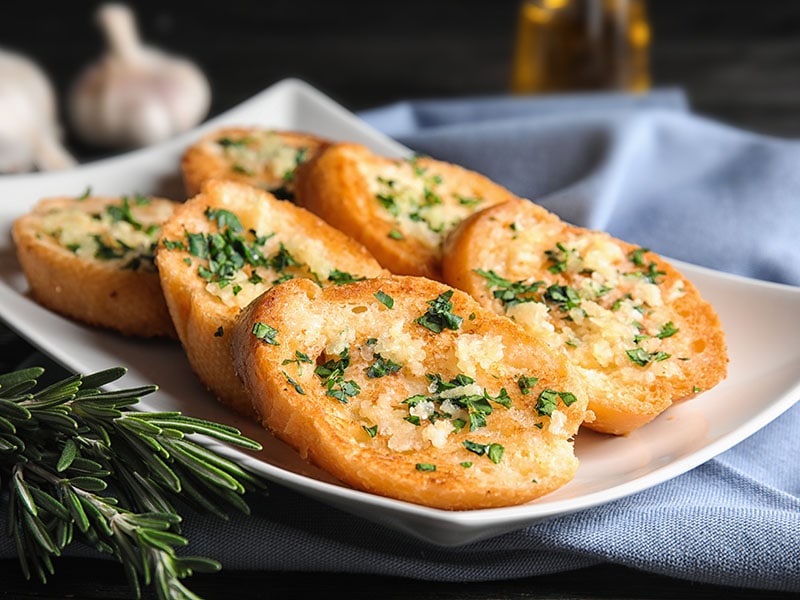 Delectable Side Dishes To Serve With Cod Fish
Not everything is good to serve with cod fish. Cod usually brings out a mild flavor, delicate texture, and flaky flesh. That's why the ideal sides for it should have a distinct flavor to complement the fish main course and elevate your dinner.
Total time: 40 minutes
Roasted cauliflower steaks can be an outstanding addition to catfish-related recipes, meat, or chicken. Loaded with garlicky, salty, and spicy flavors, it is pleasantly savory and has an eye-catching appearance.
Making yummy roasted cauliflower steaks is very easy. Start by slicing the cauliflower into one-inch-thick steaks, then seasoning them with some spices and olive oil. Before baking, brush the cauliflower with olive oil on both sides to make it tender and yummy.
You should roast the steaks for around 15 minutes on each side and top them with some fresh parsley when you're about to serve them.
Roasted cauliflower steaks are flavorful and even kid-friendly.
Total time: 17 minutes
Even if you're uncomfortable when tasting broccoli, you'll change your mind after trying pan-fried broccoli parmesan fritters. These fritters are coated with a golden brown and crispy exterior. They are flavorful with sunflower seed meal, parmesan, garlic powder, and pepper.
Instead of cooking the broccoli florets in an old-fashioned way, you can use riced broccoli to steam and combine it with other ingredients in a food processor. It'll cut down your prep time. Also, the fried fritters still taste good after 4 days when you keep them in the fridge.
This side is low in carbs, so your meal will be incredibly healthy when pairing a high-protein fish main dish with the keto-friendly broccoli fritters. You can also use this recipe to substitute broccoli with cauliflower, zucchini, and butternut squash.
Total time: 30 minutes
A crispy, cheesy, and well-marinated side dish such as baked zucchini with pecorino and basil is perfect to pair with the mild taste of cod fish. The dish's star is pecorino, a type of hard Italian cheese and has a salty, musky flavor with a light note of sourness.
To easily grate a pecorino block into fine crumbs, you can slice it into smaller chunks and blend them in a food processor. Grated pecorino cheese can last up to 2 weeks if you store it in an airtight container and keep it refrigerated.
It's perfect to slice zucchini into ⅓-inch thick pieces. Remember to keep an eye on the zucchini when baking it in the oven. You can bake them for around 18 minutes, or until they become fork tender. Garnish with some basil leaves to enhance the taste before serving.
Total time: 1 hour 10 minutes
These honey-roasted carrots offer a garlicky, buttery, and caramel-like flavor. Besides chicken, pork, and beef steaks, roasted carrots can be a great side for cod.
You'll never get bored of them and always want to serve them at every family gathering, BBQ party, or just casual dinner. If you'd like to serve a rainbow side dish to engage your kids, use tri-colored carrots.
It's even better to include purple carrots in your dish. These purple carrots are an anti-inflammatory food and can aid the immune system in your body.
Total time: 15 minutes
This crunchy and fresh apple spinach mix is a refreshing addition to your arsenal of Autumn salads to whip out this year. You may find the salad uninteresting, but it can become your go-to treat when you need a quick, easy, and refreshing side dish.
Apple spinach salad is the ideal combination of juicy apples, crunchy walnuts, soft spinach, and homemade apple cider vinaigrette. This salad recipe is versatile, so you can add as many veggies, nuts, or fruit as you like.
For the apple cider vinaigrette, you can make it by whisking all the vinaigrette ingredients in a bowl or simply placing them in a mason jar and shaking well.
Total time: 20 minutes
Your kids will soon become fans of greens after trying these decadent air-fried treats along with juicy cod. The crispness and bold flavor of this veggie side can go with the tender and firm consistency of the cod fish. Serve these two dishes together and they'll become a hit.
Besides being crunchy, the sprouts get an addictive flavor with the tangy-sweet Dijon dressing. Some of the dressing ingredients include Dijon mustard, lemon juice, vinegar, and honey. For the perfect texture, remember to use fresh brussels sprouts for this recipe.
In less than 30 minutes to make, air-fried Brussel sprouts can go with any meal.
Total time: 10 minutes
If you're a fan of Asian cuisine, don't skip the chance to create Korea's most loveable dishes the next time you're in the kitchen. Spicy Korean cucumber salad is hot, refreshing, and crunchy that can surprisingly match with any protein main dish.
Though this is a Korean-style dish, the recipe includes only easy-to-find ingredients (like cucumber, onion, sesame seed, etc.) and is simple to whip up. To achieve the same heat, you can purchase Korean chili paste and Korean pepper flakes in many Asian-theme supermarkets.
If you can't enjoy spicy food, feel free to remove the chili spices. The salad is still tasty and refreshing without the pepper. For any leftovers, simply keep them refrigerated and serve within 3 days.
Total time: 20 minutes
A classic side such as Caesar salad will never go wrong with your cod. This salad has a kick of flavor thanks to seasoned croutons, crunchy lettuce, and the amazing dressing. This recipe is for everyone because it doesn't include raw egg yolk.
You can prepare the dressing ahead of time for about 5 days. To make the dressing, blend the garlic, anchovy filets, mayo, Dijon mustard, vinegar, etc., until smooth. When you're ready to serve, toss the dressing with the salad ingredients and enjoy.
Total time: 15 minutes
These sauteed mushrooms are packed with the aromatic fragrance of garlic and shallots and the featured spiciness of Thai chili.
To make the sauteed dish, cook the mushrooms and saute them with other ingredients for around 5-7 minutes. The best mushrooms for a perfect tender result are cremini, king oyster, and oyster mushrooms
Whenever you want a spicy and quick-to-make side, easy sate sauteed mushrooms can be at the top of your list. The secret to creating the pleasant spicy flavor for this is sate, made from fresh chilies, garlic, shallots, and lemongrass.
Total time: 1 hour
Apart from crispy sides, a dish full of creaminess and cheese can also go with the cod fish course. Stovetop pumpkin mac and cheese will complete your fishy meal. This side is an upgraded version of the classic pasta side dish.
The highlight of this side dish is the pumpkin puree. It gives this mac and cheese a subtle taste and a bold flavor. To make the pumpkin puree, cut the pumpkin into cubes and steam until tender. Then blend them together with milk.
Choosing the right type of cheese is very important. You should use mozzarella and cheddar for the best results. Stay away from pre-grated cheese because its coating can have negative effects on the creamy texture of the dish.
Total time: 25 minutes
Prefer a veggie side dish bold in flavor but not requiring too many steps? With this roasted broccoli and mushrooms, tossing and roasting are everything you will do, but it's incredibly savory and full of lemon pepper flavor. This simple side is enough to evaluate your dinner.
The ingredients are no more than broccoli, mushrooms, olive oil, lemon pepper seasoning, and salt. When placing veggies on the baking sheet, remember to give them some space without overcrowding them. Cooking them for 20 minutes at 425°F is the best.
Total time: 20 minutes
Grilled eggplant is a favorite pick to go along with tuna steak or cod, in this case. Seasoned with coconut aminos, paprika, coriander, and cumin, sliced eggplants will come out with an aromatic fragrance after grilling.
Here is how you can create the charred lines on the eggplants to make them more attractive. While grilling the eggplants on a grill, press them into the grooves of the grill with a cast-iron skillet or something heavy, and keep grilling for 3 minutes on each side.
Store the leftover grilled eggplant in your fridge within 3 days. When you're about to serve, prepare a cast-iron pan and reheat the eggplant over medium heat.
You will become an eggplant lover after trying this smoky grilled eggplant.
Total time: 15 minutes
Why bring together an iconic Mexican side order with cod? The combination of coleslaw mix, grilled corn, and sour cream will shine up your protein dish. Mexican coleslaw has a colorful look and is rich in flavor as well. It's best to serve the coleslaw at a family dinner or even at parties.
What you need to do for this appetizing companion is mix coleslaw with beans, cilantro, and some spices. The next step is to prepare the mayo mixture and combine all ingredients together. Everyone can whip up this recipe without spending too much time and effort.
Total time: 18 minutes
Your main dish of cod fish will be more wholesome when you dish up this garlic bread alongside. The crunchy, garlicky, and buttery bread will pair ideally with a filet of rich and tender cod fish. No one can resist this yummy side, even the pickiest eater.
Does making this require too many ingredients? Not in this case. Use butter and olive oil to turn a load of flavorless bread into something golden brown and crispy. Also, parmesan cheese, garlic, and parsley can help your bread have an intense flavor.
As for the bread, French sticks, Italian white bread, and a baguette are recommended. Once you're done preparing the ingredients, cut the bread into 1-inch slices, make the spread, and brush it on each bread piece. Then bake for 5-8 minutes until golden brown.
Total time: 30 minutes
If you're in love with potato side dishes, I'm sure you'll soon get addicted to this finger-licking food pairing. Crispy baked sweet potato wedges are family-friendly, crispy, and perfect to accompany fish or every main dish out there.
To deal with sweet potatoes, their skins are safe to eat, so just removing the dark spots is enough. By rinsing and scrubbing the skin at the same time, you can get rid of all the dirt on the sweet potatoes. After washing, use paper towels to pat them dry.
Once you're finished cleaning the potatoes, let the wedges soak in water for 1 hour. This step will remove the excess starch from the sweet potatoes and allow them to have a crispy texture after being baked. These snacks can last for 5 days in the fridge and 3 months in the freezer.
Total time: 45 minutes
Potato fries are the old but gold side dish for every meal and everyone. If it's hard to decide what to go with your cod fish, simply choose the most popular one. These Greek fries are more alluring with their crumbled feta cheese, onion, and herb toppings.
Unlike French fries, these Greek-style snacks are sweeter in flavor and smoother on the exterior. That's why Yukon gold is the best potato type for this recipe. As for the seasoning ingredients, they are dried herbs, garlic powder, salt, pepper, etc.
Some suggestions for the dipping sauce are lemon dill sauce, Tzatziki, or whatever you have on hand.
Your family will be impressed with these appetizing Greek fries.
The Best Side Dish Will Make Your Cod Fish Dinner Stand Out
These delightsome side dishes will surely please your sense of taste and surely pair perfectly with cod fish, from frying to broiling. I believe with these easy recipes, you will be able to prepare the most delicious foods to treat your family at the dinner table.
Let's pick the recipes that you feel are the most impressive! Try them and tell me how they work in the comment section. Share this post with your friends to let them know about these amazing recipes. And don't forget that there are a bunch of interesting topics waiting for you.