When it comes to side dishes for chicken, there is virtually an endless list to put your culinary skills to the test. While your dinner mainly revolves around the chicken, it cannot be complete without the scrumptious sides that take the meat to another height.
From mashed potatoes, roasted veggies, and green beans to dinner rolls and everything in between, you'll struggle to take your pick here!
Rest assured that anything you choose will match pretty well with your juicy chicken. All you need to do is stop yourself from overcrowding the dinner table with so many of these sides (and perhaps, forget about your main dish!)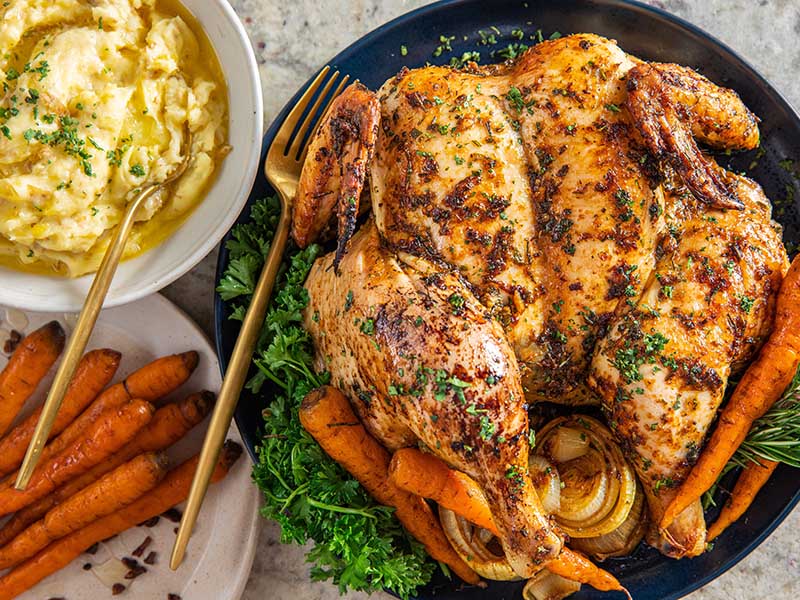 27 Irresistible Side Dishes For Chicken To Please The Crowd
Turn your chicken dinner into a feast with these tasty sides. From mainstay classics to new and exciting recipes you won't recognize, use these recipes to put together a dinner that pleases all palates.
Total time: 15 minutes
This version of roasted asparagus is low-carb, healthy, yet tasty enough to be gone in minutes. With just four key ingredients, you can put this side together in no time, toss it into the oven and wait for 10-15 minutes.
On top of that, asparagus is one of the easier veggies to cook with; trim or slice their stems by an inch at the bottom, and they are ready to cook. A drizzle of lemon juice and lemon slices adds bright and refreshing flavors to the dish, making it a perfect summer side dish.
These roasted lemon asparagus are so delicious that you want to savor them straight from the baking sheet!
Total time: 50 minutes
Roasted mushrooms and tomatoes seem like a bland and unappealing side, but it's a truly amazing dish when paired with grilled chicken.
The meaty, earthy cremini mushrooms paired well with fresh and juicy cherry tomatoes. The mixture is roasted until tender and caramelized with the addition of thyme, garlic, and balsamic vinegar for a depth of flavor.
This side is awesome to eat straight from the pan, or you can spoon them over your grilled chicken for a rounded meal. After all, adding veggies to a meaty meal is always not a bad idea!
Total time: 30 minutes
Instead of boiling or steaming, roast your green beans in plenty of Parmesan cheese. The buttery, sweet, and crisp beans will easily win the hearts of the choosiest palates.
These roasted green beans are crispy on the outside and tender on the inside, making them a perfect accompaniment to your chicken dinner. Be warned: this side dish will disappear pretty fast, and thus make a double batch so everyone can have enough of it.
Try to not overcrowd the beans to ensure the best texture and flavors at the end. The less crowded they are, the better they roast. If the veggies are stacked against each other, they will be steaming rather than roasting.
So, it's best to leave some space between them at least. I recommend using a large sheet pan as you'll have more space to avoid overcrowding the beans.
Adding garlic and Parmesan cheese is one of the best and easiest ways to cook green beans.
Total time: 25 minutes
Cream spinach is a simple dish and a great way to use up wilting spinach in your fridge. This decadent side comes together in 25 minutes with defrosted spinach, butter, onions, garlic, and a few types of cheese.
Normally, spinach elicits affections from kids and adults alike. However, I'm pretty sure that the veggie will earn more fans if cooked this way. The cheesy sauce manages to turn the typically bitter veggie into a scrumptious side that can delight the pickiest palates.
The wilted spinach leaves are simmered in a silky smooth sauce of cream cheese, Parmesan, and Mozzarella before being flavored with garlic and onions. Finally, dill, nutmeg, and pepper gives this rich side a punch of flavor.
Total time: 1 hour and 45 minutes
Potato au gratin is quite similar to scalloped potatoes. They are both incredibly luscious potato accompaniments that sit neatly in a creamy sauce. However, this recipe is a much richer and more indulging side dish thanks to the generous mixture of butter, cream, and cheese.
This French classic is incredibly suitable for make-ahead meals, which is a huge plus for those with hectic schedules. You can store the gratin in the fridge for up to 3 days but put aside an extra 15-20 minutes as the refrigerated sauce is a bit harder to bake.
Put these bubbly, golden brown potato au gratin to the table, and it will be gone in no time.
Total time: 30 minutes
Rice and other grain are also on the classic side for chicken. There might be plenty of drippings from your juicy roast chicken that will nicely soak in rice.
Despite the sophisticated and somewhat complicated look, this hearty side dish can be prepared in just one pot and take no more than half an hour to complete.
The buttery and garlicky parboiled rice mixed with sauteed mushroom will be a perfect side to any meal, especially roast chicken. You can use one type of mushroom, but the mixture of fresh and dried fungi gives more variety to the texture and flavor of the dish.
The secret here? For extra depth of flavor, use the stock that you soak the mushroom in to cook the rice. Plus, long grain rice will always work better to soak in the mushroom-y goodness as it cooks.
Total time: 35 minutes
Why settle on just one fresh veggie when you can have two? This summertime duo of broccoli and cauliflower – bound together by the creamy, herby sauce – deserves a spot at any supper.
The recipe takes very little oven time. As the veggies are par-cooked until tender, you'll need 25 minutes to cook the casserole to perfection.
The gooey cheese clings to the cauliflower and broccoli florets to create ultra-rich and savory bites. And don't forget to finish off with a crunchy topping of garlicky breadcrumb to make this all the more charming!
This casserole is also ideal for making ahead of time. You can prep the dish, refrigerate it for up to 2 days, and take it out to bake right before serving!
These crispy yet tender veggies make for a delectable casserole for your dinner.
Total time: 30 minutes
A fresh bunch of carrots roasted with garlic, brown sugar, and rosemary for a beautiful caramelized glaze. The star of the show here is definitely naturally sweet and savory carrots, yet the combo of rosemary and garlic lends the dish a herby and woodsy flavor.
This side is popular as a brilliant combo for pork tenderloin but it's also versatile to accompany other main dishes. In this case, the crunchy caramelized veggies complement pretty well the juicy and tender roast chicken.
And sometimes the best dish is the simplest! This recipe only calls for some peeling and trimming of the carrots before you can toss everything into the oven and roast.
Total time: 45 minutes
It's hard to talk about juicy chicken without mentioning potatoes. They go hand in hand, and almost any potato-based side can perfectly complement this protein. Creamy, velvety, and dreamy, this mashed potato can melt in your mouth with every bite.
Mashed potatoes are the mainstay classic for chicken, but this does not mean everyone can nail them. Yet, with this recipe, you can create truly marvelous mashed potatoes that won't leave even the slightest bit of leftovers.
The secret? Use Yukon gold potatoes instead of russets as they absorb the liquid so much better for the ultimate burst of flavor.
In addition, add butter and cream when they are still warm so that the potato chunks can soak them up easier and create a smooth texture. The last tip is not to skimp on the seasoning so that you won't end up with an unappealing, bland mash.
Total time: 25 minutes
A great way to load up on this beneficial grain – farro – is by using it with salad. Farro salad is a cheerful and vibrant blend of grains, tomatoes, cucumbers, feta cheese, and herbs tossed in cooked farro and vinaigrette. The combo is a brilliant idea for chicken tender side dishes.
The grain is the start of your dish, so you need to cook it perfectly to achieve the nutty flavors and al dente chewiness. But farro is a wheat grain with gluten. So, err on the cautious side if you're allergic to gluten.
Paired with refreshing veggies, this wholegrain is already amazing. Yet, throw in some crumbs of feta cheese to add a tantalizing tang and more richness to this chicken side.
This healthy farro salad tastes as amazing as it looks, and everyone will ask for more!
Total time: 3 hours
Many people often think of potatoes when they need a nutritious and flavorful side dish for jerk chicken or chicken parmesan. Scalloped potatoes are among the most sought-after names. They call for the same seasoning as potato casserole, yet the texture is quite different.
Each scoop comes with layers of irresistible flavors. The tenderness of perfectly-baked potatoes, the cheesy and creamy sauce, and finally, the brown, golden top really take this side to the next level.
Bake the sliced potatoes, together with the caramelized onions until tender, toss in some cheese, and continue to cook until you get a brown, bubbling coating.
Total time: 40 minutes
This lentil salad is a mix of green lentils, crunchy cucumber, zesty onions, juicy tomatoes, and simple lemon dressing. Finish with plenty of fresh mints for a burst of flavors that complement the lemony dressing nicely.
The recipe keeps the salad as light and refreshing as possible. Yet, if you crave an extra creaminess, feel free to throw in crumbles of feta cheese and any cheese of choice. The same goes with herbs for a punch of flavors or protein for a more hearty dish.
Lentil salad is so awesome that, when paired with chicken, you should expect no leftovers. However, if there's any, you can keep it in the fridge for up to 4 days.
Total time: 30 minutes
Baked zucchini is easy, healthy, and delicious. This is the perfect side dish when you don't have time for something elaborate and demanding. These baked chips are perfect for eating straight from the pan or served with either grilled or roasted chicken.
The zucchini is baked in the oven until it gets a perfectly crisp exterior. With a generous shower of finely grated Parmesan cheese on top, these baked chips will take the whole thing over the top.
Baked parmesan zucchini is so quick to make that this demonstration is not even 1-minute long.
Total time: 30 minutes
Corn salad is one of the best side dishes to welcome summer. It's full of vibrant colors, with the bright yellow of corn kernels, red of the Roma tomatoes, and some dots of purplish-red of red onions here and there. It definitely screams summertime BBQs!
This make-ahead-friendly side has the natural sweetness and crispness of fresh corn, tomatoes, onions, and herbs.
The tangy dressing from red wine vinegar, olive oil, and garlic help bind everything together and brighten the flavor. For the best flavors, allow the dressed corn salad to marinate for an hour.
Total time: 35 minutes
Fettuccine Alfredo and chicken are a match made in heaven! They work so well together that you might even come across chicken Fettuccine Alfredo as a lovely recipe for paring with scallops to add a touch of sea breeze.
This Italian pasta, made with tender pasta and a cream-based Parmesan sauce, is the ultimate comforting food on its own and with chicken.
The sauce in Fettuccine Alfredo magically comes together in the skillet, clinging and soaking into the pasta perfectly without using any flour.
In this recipe, whipping cream is simmered, and Parmesan cheese is added to thicken the sauce. Finish by adding your pasta into the mix; the sauce will gracefully embrace them for the best flavors.
Fettuccine Alfredo is not ideal for freezing. Therefore, if you have to make it ahead of time, I recommend whipping up the sauce only. Cook it with fresh pasta just right before serving.
Because this Fettuccine Alfredo only calls for 3 components, make sure you use quality ingredients.
Total time: 1 hour
If the juices and gravy from your roast chicken are nothing short of divine, don't waste even the slightest of them with these dinner rolls. Mop up the juices for your chicken stew with these rolls, and you'll never get back to how you normally enjoy the meat.
These soft and fluffy rolls of yeast only take 45 minutes to prep, while you can let the oven take charge of the rest of the cooking.
The pillowy dough is baked in the oven to perfection before being decorated with a generous brush of garlic herb butter for added flavors and flaky sea salt for a finishing touch.
Total time: 55 minutes
Bring this side dish out, and everyone will scrape the plate clean. Corn casserole is a cross between cornbread and corn pudding. Whether served hot, warm, or cold, this side is irresistibly delicious.
Without cornbread mix, this casserole is not heavy and gritty. Instead, it is brimming with naturally sweet corn and shredded Cheddar cheese with the right amount of heat.
You can make this side dish one day in advance. Yet, for the best flavor, you should bake it right before serving.
When everyone craves something classic, give them this tasty baked corn casserole!
Total time: 25 minutes
Earthy mushrooms and balsamic vinegar are an unexpectedly harmonious combination. The mushrooms have a hint of sweetness thanks to a splash of vinegar.
This side takes only 25 minutes to put together. You'll only need to toss the whole mushrooms in the sauce so they can absorb the flavor before roasting them to perfection!
If you feel these shrooms lack the "cheesy" factor, add your favorite cheese at the end. Serve them as an accompaniment with your rotisserie chicken, and you'll soon realize how amazing they are.
Total time: 10 minutes
Slightly sweet, lightly seasoned, and bursting with flavors, these snap peas are sure to be a big hit when paired with your chicken. Simple and no-fuss, this recipe should be in your back pocket for any busy weeknight meal. It only takes 10 minutes to put this side together.
When cooking with something delicious and fresh like sugar snap peas, there is not much left for you to improve them. Keep the cooking simple and just add some olive oil, salt, lemon zest, and pepper to enhance the flavor.
These sugar green peas are crisp and tender at the same time, which makes them a wonderful side to serve with chicken.
Total time: 15 minutes
If you're short on time and crave something simple and quick-to-make, this broccolini will get your back! This side dish comes together in just 10 minutes and is one of the tastiest and healthiest ways to enjoy the veggie.
Broccolini is effortless to prepare (which is why I usually prefer it over broccoli). Simply trim off the woody stalks by 1-2cm and rinse the veggie.
Then, saute it with plenty of garlic, chili, and other seasonings until tender and emerald green. Finish with a squeeze of lemon to complete the dish. This chicken side is so foolproof to put together that after making it once, you'll never have to look at the instructions again.
Total time: 35 minutes
You can't beat the classic potato leek soup when it comes to the most flavorful sides for delicious diced chicken, shredded chicken, or ground chicken. This is a comforting dish on a chilly day, whose creamy texture mixes so well with these dishes and results in a sensational mouthfeel.
Yukon gold potatoes, chopped leeks, onions, garlic, and herbs are simmered and blended for a silky-smooth texture. The heavy cream added during the last minutes of the cooking lends the soup extra creaminess and richness. The ultimate comfort food at its finest!
If you crave some chewiness in this hearty soup, don't load up all the soup into the blender. Instead, partially blend it and put aside some chunks for biting.
Dreamy and velvety in texture, this leek soup is sure to hit the right spot in a cozy dinner!
Total time: 1 hour and 10 minutes
Perfectly baked sweet potatoes have crisp skin that reveals a fluffy texture inside, which is easy to achieve with this recipe.
These individual sweet potatoes have a filling of bacon, cheese, and sour cream and are baked twice until the cheese forms a crispy crust. For this reason, the cooking time spans 1 hour, but you'll get a completely addicting side at the end.
You can use either an air fryer or oven for cooking. The baking time greatly depends on the size of your sweet potatoes, so you might want to adjust accordingly.
Total time: 1 hour and 10 minutes
Packed with amazing flavors and cheesy goodness, these crab-stuffed baked potatoes are bound to impress everyone. This recipe is not only awesome on its own as an appetizer but also a perfect pairing with grilled chicken or any meaty dish you like.
These twice-baked potatoes are crispy on the outside, whereas the inside is creamy crab filling and earthy mashed potatoes.
Crab meat makes everything better, so you don't want the cheese to overwhelm it. For this reason, shoot for a milder cheese such as cheddar to create a balanced dish. Feel free to top your potatoes with some grated Parmesan if you wish.
Total time: 55 minutes
Here is a cheesy take on the classic southern staple on the Thanksgiving menu – corn pudding. The pudding's light, fluffy, and dessert-like texture is perfect to go with baked ham, Thanksgiving turkey, roast chicken, and a host of other holiday dishes.
In this rendition, shredded sharp cheddar, Parmesan, and spicy Pepper Jack come together to make a side that should be a new family's favorite. Pepper Jack gives the pudding a touch of heat, yet swap in Monterey Jack if you're not a spicy eater.
Corn pudding can be served either straight from the oven or at room temperature. Plus, if you don't have fresh kernels in your fridge, thawed frozen corn would work just as amazing.
Total time: 10 minutes
Fattoush is one of the most savory and refreshing Middle Eastern salads you've ever tried! The bread salad combines fresh lettuce, fried pita bread, and a flavorful mix of veggies. The Sumac dressing will help brighten up the salad graciously.
Sumac is a tangy, lemony spice that gives Fattoush distinctive flavors. So, for the truest fattoush version, you should not omit this spice from your ingredient list. The spice is so good that you can even sprinkle some on top to give a touch of color.
Another star is the iconic pita bread on top. For the desirable crispy texture, toss it just right before serving. This helps avoid soaking the bread chips with the dressing.
Low-carb, healthy, tasty, and filling, this Mediterranean salad is a dream-come-true side dish.
Total time: 35 minutes
Oven-baked chicken that is crunchy on the outside and juicy inside is the perfect accompaniment for brown rice risotto. The crunch and crispiness of the skin, especially, provide a nice textural contrast to the tender rice.
Because this is one-pot rice, you'll only need to throw in everything with its order. Top this stream-lined risotto with earthy mushrooms, spring peas, aromatic herbs, and finally, a slight drizzle for a touch of lemon zest.
This rich side dish with rice is the best when served warm. The leftovers can be good for up to 4 days in the fridge, but remember to splash some soy milk or veggie broth before serving.
Total time: 15 minutes + 2 hours chilling
You can never go wrong with the classics, especially when it's a potato-based dish! The nice texture of yellow potatoes blends well with the creamy mayo sauce, with a flavorful kick of celery and dill, parsley, and onions.
There is virtually no secret to such a familiar side dish. Yet, make sure you choose potatoes of the same size so that they will cook at the same time. Plus, don't cook the potatoes too long, as they can get overly mushy and crumble as you stir in the sauce.
This salad is super tasty and matches so well with your juicy chicken that the crowd will fight for the last scoops. If there are some leftovers, you can keep them in the fridge for up to 3 days.
You're Definitely Spoiled By Choice!
So, what qualities are you looking for in a side dish for chicken? Light, refreshing, crispy, fully-loaded, or ultra-cheesy? Your search ends here as this list has everything to offer.
Experiment with these recipes, and from now on, you can get rid of the old-aged question, "what to serve with chicken?". Spruce up your dinner by combining these sides every time you have chicken as your main.
Let me know how these recipes help you out with your meal, and as always, click the like and share button if you think the information presented here is helpful for home cooks like you!
Nutrition Facts
5 servings per container
---
Amount Per ServingCalories90
% Daily Value *
Total Fat 5.9g

10

%
Sodium 62mg

3

%
Potassium 388mg

12

%
Total Carbohydrate 8.6g

3

%

Dietary Fiber 4.2g

17

%
Sugars 3.7g

Protein 4.2g

9

%
---
* The % Daily Value tells you how much a nutrient in a serving of food contributes to a daily diet. 2,000 calories a day is used for general nutrition advice.