It is not a difficult task to nail down the best shrimp appetizers you will ever have. It just takes a bit of attention to detail and some level of finesse. These shrimp bites are delicately delicious and come together in just a pinch.
Shrimps are one of those ingredients that can carry their flavor well. Shrimp appetizers are sufficiently compact to be finger foods that are delicious, either hot or cold. So spice up your next brunch with some of these wonderful recipes.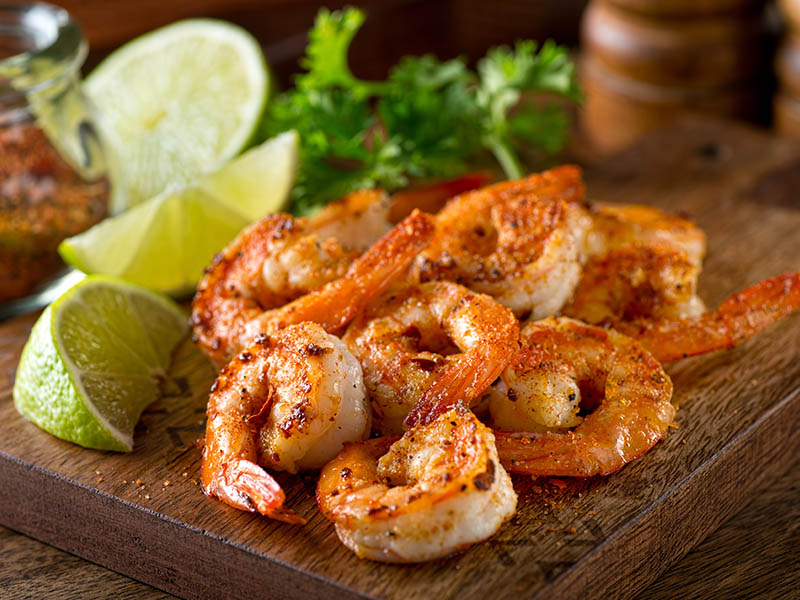 Making The Best Shrimp Appetizers: Compiled And Simplified Recipes
The first thing you serve at your party should be a killer appetizer that has both flavors and texture. Shrimp appetizers are the best candidate for this task. Shrimps is the kind of protein that is both tasty and forgiving. These small but mighty ingredients are endlessly adaptable.
Total time: 25 minutes.
I tried this recipe once at a friend's house and just had to try my hands at making these delicious shrimp toast. This recipe is a spin on the retro shrimp toasts you will often find at Chinese restaurants all over the country.
This shrimp toast is everything you are looking for in an appetizer. It is texturally satisfying with the chewiness of the shrimp, fresh crispiness from the vegetables, and the comforting crunch of the toasted bread.
You won't be able to stop yourself from wanting more of the flavors of these shrimp toast. This dish is savory, creamy, and mildly sweet without becoming too rich to spoil the main course.
Test your culinary skills with these simple but elegant baked shrimp toast.
Total time: 20 minutes.
If you are looking for a delicious cucumber-based appetizer low in carbs, you have come to the right place. What I'm about to show you is a brilliant combination of the veggie's freshness and the creamy spread and the deep spicy richness of Cajun shrimp.
This appetizer is easily an instant hit at any party with its petite size that packs a punch of flavors. My advice to you is to serve this appetizer as soon as they are plated because the avocado element of this food can easily get oxidized and become bitter.
This tasteful finger food is seriously addictive when you decide to have a summer barbeque. Assemble the cucumber, cheese, and avocado spread with freshly grilled shrimps for the best result. You can marinade the shrimps and stick them in the fridge to soak up the spices.
Total time: About 35 to 42 minutes.
Speaking of summer barbecues, you simply cannot pass over these smoky shrimp and sausages skewers. You can prep them ahead of time and make them in a snap of a finger. These easy-to-make and easy-to-eat appetizers will seem like they just fly off the plate.
Store-bought Cajun seasoning will serve its purposes beautifully. It will be much better if you have a secret family recipe for Cajun seasoning that has spicy, zesty flavors.
As for the sausages, you will want to select the best Andouille sausages because the seasoning will complement the flavors of the Cajun shrimps the best. Make sure you cut the sausages to the size of the shrimp so that they finish cooking at the same time.
Total time: 10 minutes.
One of the many delicious Spanish tapas (savory dishes served with alcohol), garlic shrimps promise lingering flavors after just one bite. They are incredibly easy and efficient to make in case you have a whole crowd to feed.
There is something about the smell of fried garlic mixing with the spicy heat that makes your mouth want to water. This garlic shrimp, also known as "Gambas al Ajillo" in Spanish, takes just a second to come together. You can make it in bulk to minimize the effort.
This dish comes together on the stove rather than on the grill or the oven. Simply melt the butter, saute the garlic, herbs, and eventually, the shrimp until fragrant. The shrimp will cook very quickly, so ensure you have everything in place before you even turn on the stove.
A quick side note that will make this dish even better is to save all the cooking liquid of the shrimp. Pick out a good baguette loaf, and you will have a combo that will impress even the top chefs.
These Spanish garlic shrimps will make you look like a pro chef.
Total time: 45 minutes.
Think of these chili-lime-baked shrimps as a different version of Mexican shrimp wonton. As interesting as it may seem, it is even more decadent to eat. This riveting recipe for lime appetizers takes a bit of planning, but your extra effort will be repaid in full.
You will need some wonton wrappers to start. You can often find wonton wrappers In Asian supermarkets and most chain grocery stores. Grab some medium to large jumbo shrimps while you are at it (It will make all the difference in the world)
Shrimp, on its own, agrees quite well with bold and zesty marinade. You can prepare the shrimp ahead of time to save you some time as well. Remember to bake the wonton cups separately to make them crispy before assembling the cup.
Total time: 44 minutes.
This Chinese Shrimp ball recipe should be the first thing that comes to mind when you think of shrimp appetizers (yes, it is that good). Deep-fried golden brown shrimp balls with classic Chinese flavors and added water chestnut for the crunchy textures, what's not to love?
The water chestnut component sets this recipe apart from other variations of shrimp balls. Though fresh water chestnuts are much harder to come by, you can rely on the quality of canned ones. Make sure to rinse the packaged chestnuts of the canning liquid.
The steps to this recipe are simplistic. Add shrimps, water chestnuts, egg, and seasonings of your choice to a food processor. Give it a good pulse until it forms a paste. You need a trusty food processor, and the balls will make themselves.
Form the paste into bite-sized balls before deep-frying them in some neutral oil. The secret to serving the best Chinese shrimp balls is the dipping sauce. You can make your version or purchase your favorite Asian dipping sauce to serve at your next gathering.
Total time: 25 minutes.
Finger foods such as this garlic shrimp crostini with avocado are arguably some of the best options for when you want to break the awkwardness in a big crowd. Let the food be the icebreaker when your guests can hold these delicious crostinis and have a chat.
There are many recipes that you can find in terms of garlic shrimps. Just the shrimps themselves are good enough as a side dish. Pair the shrimps with creamy avocados and a crunch slice of baguette, and you've got a finger food sensation.
Toasting the baguettes in some good-quality olive oil will bring out more of its flavors. The shrimps and the avocado complement each other well and tie the whole dish together. This side dish is also a great way of using up your stale baguette by giving it a second chance.
These garlic shrimps and avocado crostinis will keep all your guests coming back.
Total time: 35 minutes.
Let's say you are fascinated with the idea of a shrimp toast, but you don't want the gluten in the baguette to ruin your diet. These Cajun shrimp sweet potato bites are the answer you seek. You should use sweet potato for this recipe because it holds its shape better when baked.
The heat from the Cajun seasoning will balance out and cut through the fatty, creamy taste of the avocados like a knife. All that savory and hot flavors will also benefit from the mild sweetness naturally occurring in the sweet potatoes.
The crucial element to the success of these Cajun shrimp sweet potato bites is to bake the potatoes beforehand. You want to give the potato slices the chance to become crispy chips before stacking the avocado and shrimps.
Total time: 30 minutes.
As a timeless classic combo, bacon and shrimp fit like a puzzle. You will have to search very assiduously for a simpler recipe than this mouth-watering bacon appetizer. Still, rest assured that its charming taste will make you proud.
The name of this dish accurately depicts how this shrimp dish comes together. You simply wrap individual shrimps in thick slices of bacon. As the shrimp cooks, the shrimp will absorb all the smoky goodness from the bacon, making it tender and juicy.
And if I haven't managed to grasp your attention at the word "bacon," the "maple butter" will surely sell you on this delicious appetizer. As the maple syrup cooks in the butter, it creates a glossy sauce that tastes like rich, smoky caramel.
Bacon-wrapped shrimp is one of the most classic appetizers out there.
Total time: 10 minutes.
No, there is no vermouth in this shrimp martini recipe. Keep in mind that the term "shrimp martini" only references this shrimp appetizer's presentation in a classic martini glass. This recipe develops a savory and bright shrimp salsa that will improve your appetite.
The greatest advantage that this recipe will give you is time. Once you have incorporated every ingredient for the salsa, it will only get better the longer you let it sit. And as a cherry on top, you can buy the pre-cooked shrimp to make this salsa, saving you time and effort.
The ideal temperature to serve "shrimp martinis" is cold. The colder the salsa, the firmer the shrimp, and you want every bite of shrimp to have a good texture. Pair this delicious salsa with your favorite chips and a good bottle of wine to create the perfect pairing
Total time: 35 minutes.
This recipe is a sight for sore eyes for cheese-lovers everywhere. This shrimp appetizer dish is another finger food that fits snugly inside a baked wonton wrapper. It is crunchy, garlicky, and indulgently cheesy. You have to make it the next time your family is in town.
Unlike the recipe for "chili-lime baked shrimp cups," you do not need to bake the wonton wrappers ahead of time. You'll want to arrange the wrappers into a cupcake pan to hold the shape of a cup as it bakes.
Assembling the filling takes no time at all, plus you will get to relieve all of your pent-up party stress by dicing all the vegetables and shrimps. When you are ready for the party, just scoop the cheesy filling onto the wonton cups and bake at 350 ℉ until the cheese melts.
Total time: 20 minutes.
Out of all the items on this list, coconut shrimp is one of the most classic shrimp appetizers there is. Coconut and shrimp is not only a classic pairing but also a dish that many people have grown to adore and prefer for its simplicity.
For this shrimp appetizer, you will want to select the biggest size possible so your guests will have some sizable bites. Coat the jumbo shrimp in a mixture of coconut flakes and panko bread crumbs before deep frying them until golden brown.
The sweet and savory pineapple dipping sauce is also a thing of beauty that goes exceptionally well with the coconut flavors of the shrimp. There is something about the tropical combination of coconut and pineapple that makes you want more.
Follow these steps to make the most addictive coconut shrimp.
Total time: 25 minutes.
Shrimp and pancakes may seem like an odd combo, but believe me when I tell you that this is the way they do it in Korea. Crispy golden pancakes with bits of shrimps and scallions create the best breakfast you will ever indulge in.
These Korean shrimp pancakes belong to the jeon (battered and fried food) food category in Korean cuisine. Its Korean name is "Haemul Pajeon." This classic Korean side dish can entertain a group of people and doesn't make a mess.
The batter is quite straightforward, with only a few ingredients. The Korean cooking tip is to add cornstarch and rice flour to the batter to improve crispiness. For this recipe, you won't need big jumbo shrimp; a medium to small size will work perfectly.
Total time: 15 minutes.
Of all the wonders of the Creole cuisine, this blackened shrimp with remoulade sauce easily takes the first place. Don't be intimidated by the name "blackened shrimps." This dark color is just the rich and dark coat of seasoning.
This description is your quick guide on the star of this dish, the remoulade sauce. Remoulade sauce is a Southern dipping sauce that consists of mayonnaise, hot sauce, and other aromatics. The flavor of this sauce is out of this world, and it complements the blackened shrimp very well.
The greatest thing about this blackened shrimp recipe is that it is fully customizable to your spice tolerance. Be mindful of the paprika that you add to both the shrimp marinade and the sauce. Also, make sure you give your shrimp a good 30 minutes to absorb the marinade.
Total time: 50 minutes.
The shape of the Baby Bella mushrooms makes for a perfect cup to hold this shrimp filling. This delicious finger food takes the flavor and texture of the mushroom to elevate the shrimp and make it the star of the show.
This should be your choice of shrimp appetizer if you want something that packs all the flavor into bite-sized pieces. You can really taste how stuffing the mushrooms with shrimp filling will make all the difference in the world.
Ideally, you will need to prep the filling ahead of time so that all the flavors have time to get to know one another and become cohesive. Though this is an appetizer, these shrimp-stuffed mushrooms aren't exactly diet-friendly due to the amount of cream cheese and butter.
Total time: 25 minutes.
Thai firecracker shrimp tastes like a party with every bite. The term "firecracker" describes the crunchy sounds that you will definitely experience when biting into these delicious pieces of Thai starters.
You can use big jumbo shrimp for this recipe, considering the presentation of this dish is as important as the taste. This creative Thai treat is just a big shrimp that has been peeled and deveined, but with the tail still attached, before being rolled in spring roll wrappers and deep-fried.
The true hit of this appetizer is the Thai sweet and sour dipping sauce. The traditional sauce that accompanies the firecracker shrimp is "Prik Nam Pla." If you are a big fan of fish sauce and basil, you will most likely love this deliciously spicy and umami dipping condiment.
These firecracker shrimps will sound like fireworks in your mouth.
Total time: 10 minutes.
What qualifications define the Calabash shrimps? It has to have a light batter, and it has to go well with beer. I have got you covered with this amazing shrimp appetizer recipe. The secret ingredient to bind it all together is evaporated milk.
Calabash is a small fishing town in North Carolina. Being in that geographical condition, Calabash has developed its stunningly satisfying fried shrimp recipe. The batter uses the leavening agent in the self-rising flour to make the fried batter extra light and crispy.
The choice of shrimp is the bigger variety so that the batter has more surface to cling to. Fry the battered shrimps in neutral oil until golden brown, and whip up some of your signature sauce. Though you eat these shrimps as the main course, they also make an excellent appetizer.
Total time: 30 minutes.
If you have ever been to a Japanese restaurant, shrimp tempura will have been one of your earliest introductions to Japanese cuisine. These crispy and puffy fried shrimp are so easy to make. You will want to make extra servings because they disappear quite quickly.
The cooking technique of shrimp tempura is "hanaage," which translates to "blooming flowers." There are no blossoms involved in the batter. The name describes how the batter should puff up and expand like the batter in hot oil.
The insider's secret to the best shrimp tempura is to get the batter just right. The ingredients to make the tempura batter only consist of egg, flour, and water. But then you have to take extra care to keep the batter as cold as possible.
The temperature imbalance between the cold batter and the hot oil will make the coating puff up. This is why most authentic tempura recipes you find will not tell you to use Panko breadcrumbs.
Total time: 15 minutes.
The addition of this shrimp appetizer to any party will give the impression of class and taste. This goes to say that not only is this spicy baked shrimp so decadent to enjoy, but it is also so delicious. You will want to keep making this appetizer for your family for a while.
For an appetizer dish that only features the shrimp as the main point of focus, you will benefit from bigger shrimps. If you want a bit of a flashy presentation, don't bother removing the tail pieces of the shrimps. They will act as something for people to pick up the shrimps with.
Since the seasoning of this recipe packs quite a bit of heat and spice, you will want something refreshing to cut through all the noise. A good cocktail or tartar sauce will add just the right amount of tanginess to effectively complement your shrimps.
Total time: 36 minutes (plus 2 hours of refrigerating time).
Margarita grilled shrimp is my newest obsession when it comes to shrimp appetizers. Not only does the marinade stay true to the flavors that you love about a classic margarita, but it goes exceedingly well with an ice-cold Margarita cocktail.
The element that will really make or break your margarita grilled shrimp is the sugar. The brown sugar will not only help soften the shrimps, making them juicier but will also develop a distinctive caramelized flavor as it chars on the grill.
Make sure to always serve anything "margarita" with a wedge of lime because the bright acidity will add complexity and depth to all the existing flavors. This recipe will also work as a weekday dinner if you opt to go for bigger shrimps and bigger portions.
Total time: 30 minutes.
On the subject of Mexican-inspired shrimp appetizers, these masterfully seasoned spicy shrimp tacos are truly the crown jewel. For die-hard fans of tacos, they hit every single bullseye. Don't hesitate to make them even more delectable with a few pleasant-tasting sides for shrimp tacos.
For this recipe, you won't need the biggest shrimps you can find. You can mix and match all sizes because they will contribute to lovely tacos. The shrimps take extra well to the addition of a lime and cilantro sauce.
To assemble the tacos, you will need some taco shells of your choice (corn or flour). Toss the shrimps in their spice mix before sauteing them until they are done. Feel free to add the toppings of your choice, but I find the combination of cheese and avocado works best.
Spicy shrimp tacos are everything a shrimp-lover could dream of.
Total time: 30 minutes.
Jamaican jerk food should have more recognition because they are simply some of the most mouthwatering food that you will ever taste. These jerk shrimps are savory and spicy in just the right places to always keep you coming back for more.
The signature heart of most Jamaican jerk seasoning comes from the addition of Scotch Bonnet peppers, which are surprisingly hot for their size. If you are not a fan of capsaicin, you can make your own spice blend and use paprika to lessen the heat.
This shrimp recipe is the best with fluffy coconut rice, but you can always omit the rice component and serve the shrimp alone as an appetizer. The best part about this recipe is that you can make a whole batch in the oven with a sheet pan.
Shrimp Appetizers Will Never Go Out Of Style
Shrimp appetizers are delicious and cost-effective ways to entertain everyone at the party. Not only are shrimps readily available at most commercial grocery stores, but they also taste sublime with minimal preparation.
If you are a busy bee like I know many of you are, shrimps will be your best friend when it comes to feeding a crowd. The taste of shrimps is subtle enough that you can practically eat shrimps with everything.
The texture of shrimps is also suitable for all sorts of preparation methods, from chopping to cooking the shrimp whole. The versatility truly makes this simple ingredient stand out as the star of any social gathering and as an indicator of good taste.
If you've made it to the end of this article feeling inspired and motivated, don't hold back on hitting the like button. Leave a comment and share this article with your fellow chefs to bring more awareness to shrimps in the kitchen!