If you are searching for the best shredded chicken recipes, you have come to the right place. This post will give you cooking ideas for all types of meals, from breakfast and lunch to snacks and parties.
The best thing about these dishes is that they don't take hours or much effort to make. You can quickly put the ingredients together or even ask kids to help you, especially with simple ones like chicken taquitos and white chicken pizzas.
The article also covers multiple cuisines, such as Asia, America, and Mexico. Those excited to mix up their daily menu a bit will find the answer here.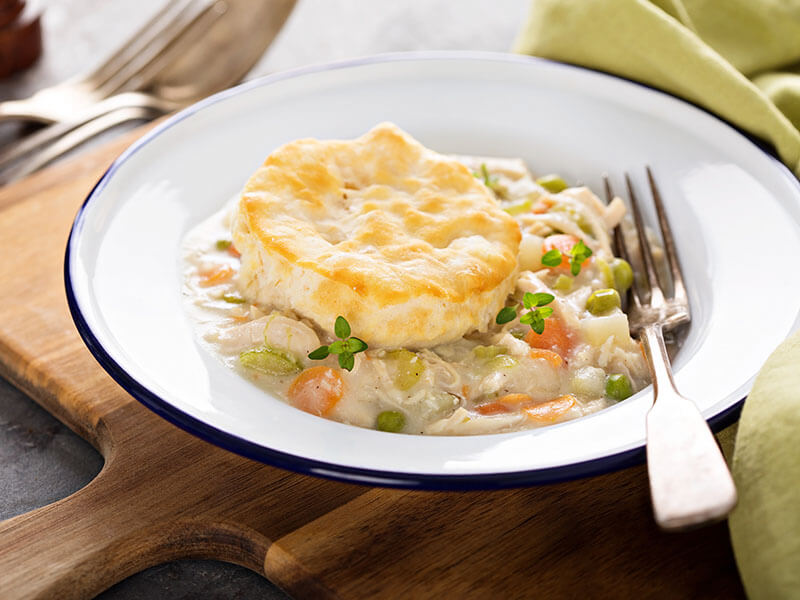 Keep These Shredded Chicken Recipes Up Your Sleeves
You can make most of the dishes I introduce in this post with fresh or frozen shredded meat. Therefore, whichever you have on hand, there must be one or more recipes to use.
Total time: 15 minutes
I usually turn to Asian cuisine when I crave a light meal, especially in the summer. Its dishes don't use many heavy ingredients like cream, cheese, and meat. For instance, this chicken salad from Vietnamese food culture is loaded with greens and only some shredded chicken.
There are also many seasonings and condiments to flavor the treat. It's not sweet or savory but features a nice tang of the vinegar and tartness of lime juice. Especially, mint leaves give the salad a mind-blowing refreshing taste.
If you want the salad to be more filling, add extra shredded chicken, depending on how you like it. The salad comes together in only 15 minutes, so you can quickly fix a bowl as soon as you get home after a tiring working day and relax on your sofa.
Total time: 45 minutes
This creamy soup delight is the opposite of the refreshing salad above. It's heart-warming, cozy, and perfect for a freezing day. It has cream, milk, and butter, but you can always sneak in vegetables apart from carrots and celery to ensure a nutritious meal for your kids.
Several veggies that make this soup healthier include peas, corn, and mushrooms. You can add onions too. If there's leftover soup, it's good in the fridge for up to three days. Make sure you put it in an air-tight container.
This soup is delectable on its own but serving it with garlic bread also results in a delicious meal.
Total time: 25 minutes
This recipe offers the best sheet pan chicken for opening a party or snacking on a game day.
It's simple, consisting of tomatoes, Mexican shredded chicken, and onions with no sauces. Therefore, you can taste each ingredient clearly, but they don't seem separate, thanks to the melted cheese. It helps stick everything together to complete the dish.
The keynote for these nachos is to use thick chips. Thin ones will collapse under the ingredients when you lift them. Also, you should shred the cheese yourself. Pre-shredded cheese saves you time, but it doesn't melt as well as self-grated cheese.
Total time: 10 minutes
A cool, effortless, healthy Pesto chicken salad sandwich is an incomparable choice for lunch on a hot summer day. This dish allows you to have a light, yummy meal. It doesn't involve any cooking, so there is no additional heat to make you more uncomfortable in the kitchen.
The filling is signature by the green hue of Pesto, fresh spinach leaves, and creamy Greek yogurt. The Italian Pesto sauce is flavorful, lumpy, and cheesy, which is the main flavoring of this sandwich. It will fill your mouth and soul with an Italian vibe instantly.
To ensure the best outcome, you must use roasted peppers. They deepen the flavors and have a soft texture that blends with the whole thing.
Those who want to tweak the Pesto chicken salad sandwich a little can refer to this recipe guide.
Total time: 30 minutes
The next recipe on this list is a Rotisserie chicken chili version that has three big advantages anyone will appreciate.
First of all, it's easy to make. It requires only a stockpot, a few steps, and half an hour to complete. The process is straightforward so that beginners can succeed on the first try.
Secondly, the dish is delectable even when you use leftover or frozen shredded chicken. The meat is tender with a rich, deep flavor. It gains a perfect flavor complex from 14 ingredients that come together in one pot over heat. Each offers its special taste.
Lastly, this delicious leftover Rotisserie chicken dish is keto-friendly. Those who wish to cut down on their carb intake will benefit from this dish.
Total time: 1 hour and 10 minutes
I love chicken Tetrazzini casserole for a weeknight dinner. It's painless to make like the other dishes in this article, but the recipe produces enough food for an entire family. Plus, while baking the casserole in the oven, I can quickly whip up some dessert to top off the meal.
It's important to bake the dish without foil for the last 20 minutes. Removing the foil lets the heat reach the cheese directly, forming a slightly crispy roasted surface for the dish. You can let it bake for 1 or 2 extra minutes if you like a more roasted color.
The last thing to remember is to wait 10 minutes before serving this chicken Tetrazzini casserole. If you serve it immediately, you may get everyone's tongue burned.
Total time: 45 minutes
King Ranch chicken is a typical dish for Texans. It's so popular that every social gathering will see at least two or three competing versions. Its name comes from one of the biggest ranches in the country, but there isn't an actual connection between the dish and the place.
While this Tex-Mex delight is also a chicken casserole like the chicken Tetrazzini casserole, it contains different flavorings and features tortilla chips instead of pasta. You can serve it with confetti corn, Mexican salad, Spanish rice, or refried beans.
My favorite thing about this recipe is that it's a freezer-friendly version. You can freeze it baked or unbaked and keep it for up to three months. If there's a little leftover casserole, it will be good in the fridge for as long as five days.
Total time: 1 hour and 15 minutes
In Spanish, Enchilada refers to a dish comprising corn tortillas rolled around a filling with a savory sauce. However, this recipe simplifies the cooking process by using tortilla chips layered at the bottom of the casserole, so you don't have to do the rolling.
This dinner dish is creamy, cheesy, thick, and full of Mexican spices. Top it with sour cream and green onions for garnish and a perfect flavor. It's a crowd pleaser, which you can serve anyone and any time you crave a Mexico-style meal. It won't let you down.
Total time: 25 minutes
With little time on hand to prepare a party, these cute BBQ chicken sliders are my go-to choice for an appetizer. They are quick to put together and offer my guests a heavenly combination of sweet Hawaiian rolls and BBQ flavor.
You can use any chicken meat for this treat, whether it is white or dark. It's also an excellent recipe to utilize canned chicken or leftover chicken. Besides, feel free to use any BBQ sauce you have on hand or make your own. It all depends on you!
I often serve BBQ chicken sliders with jalapeno popper dip, but you have more options, such as smoky chipotle salsa and caramelized onion dip.
Here's a step-by-step visual guide to making BBQ chicken sliders with shredded chicken.
Total time: 2 hours and 30 minutes (including 2 hours of chilling time)
I tried these buffalo chicken tortilla pinwheels a few years ago, and it has since been my family's favorite appetizer. It's cool and yummy. The filling is similar to the buffalo chicken dip, so you may already imagine how tasty it is.
The dish is also hassle-free to make. After beating the ingredients together, you just need to spread the mixture on the tortillas and roll them up tightly to form their shapes. Next, cover them with plastic wrap and let them sit in the fridge for at least two hours.
Refrigerating is necessary, but you can do so to decrease the waiting time if you are too hungry to wait.
Total time: 50 minutes
Soup is among the most flexible types of food. You can create any soup that suits your appetite with a stock of choice. Take this incredible leek-based dish as an example. It's based on the classic French potato leek soup, also known as "potage Parmentier".
This version is slightly different. It adds shredded chicken meat but reduces the creaminess, resulting in a lighter dish. You can easily make a bowl to eat on a chilly day, especially when you are under the weather.
When shopping for the ingredients, you can pick any type of potato you like though the instructions recommend King Edward and Pontiac potatoes.
Total time: 1 hour and 45 minutes
Avgolemono, or Greek lemon chicken soup, refers to a group of soups and sauces characterized by having egg yolks, lemon juice, and chicken meat and broth as ingredients. You will also find Avgolemono in Italian, Turkish, and Balkan cuisines.
This Avgolemono version is creamy with a bright lemon flavor. The eggs give it a lovely yellow hue, and the rice makes it a filling dish. You can use any short-grain rice you can find. I don't recommend medium and long-grain rice as the texture won't be as thick as it should be.
In case you serve vegan diners, omit the meat and the eggs. At the same time, double the amount of cornstarch to ensure the best texture for your soup.
Total time: 35 minutes
There are various versions to make quesadillas, like on a stovetop, grill, and in an oven. Among them, baking is the most effective for a crowd as you can get multiple servings ready simultaneously, and this recipe will guide you from start to end.
These chicken quesadillas are simple to prepare. It's best to serve them hot when the cheese is still soft and the tortillas are crispy. You can bring them out alongside salsa, guacamole (avocado sauce), or lime wedges.
The resulting dish is perfect as a first-rate appetizer with chicken, but it can double as a main dish, too. Make your decision depending on how you plan your meal.
If you prepare shredded chicken from scratch, this baked chicken quesadillas guide with help.
Total time: 1 hour
Biscuit chicken pot pie consists of a thick chicken mix topped with baked biscuits. While the bottom layer is savory, the top layer is sweet and soft. In this recipe, you will use the famous Pillsbury Grands biscuit. It's delicious and makes the dish so much easier.
The key to the best biscuits is to bake them partially before baking the whole thing. It will help you make sure everything is fully and evenly cooked. You will also obtain a nice golden brown surface.
It's worth noting that this flavorful canned biscuit delicacy doesn't list any vegetables; that is because anything is acceptable. You can add carrots, celery, and peas to balance the dish's nutritional values. Some thyme sprigs will also be good for the flavor and scent.
Total time: 55 minutes (including 30 minutes of rising time)
This white chicken pizza is nothing like the conventional pizza you have eaten your whole life. It stands out because of the blackberry preserves, which add a unique fruity sweetness to the dish.
Such a sweet taste is not ordinary among pizzas, but it's a rather interesting mouthfeel. Yet, remember to drizzle the sauce only when serving. Don't bake your pizza with the sauce, or it will dry out.
Feel free to make the pizza crust from scratch if you like. However, when you make white chicken pizzas at short notice, it helps to use store-bought pizza crust mix.
Total time: 1 hour and 40 minutes
Despite my eternal love for the classic meat lasagna, I sometimes crave an alternative for a fun change. Once, I had leftover shredded chicken, so I tried to fix a dish of lasagna with it, and it worked! Today, I'm so excited to introduce this yummy leftover chicken recipe to you.
This white chicken spinach lasagna has a milder flavor than the classic version due to the absence of tomato sauce. However, it still features several layers of ingredients with a lot of cheese to create a rich flavor.
Add chopped mushrooms or bell peppers if you want to sneak some veggies into this cheesy dish.
Total time: 35 minutes
Fresh or leftover, some shredded chicken breast meat can result in a delicious and fun meal. BBQ chicken sandwiches are kid-friendly. You can serve them with potato chips, pasta salad, potato wedges, or any side dish of your choice. Here's an easy guide for this recipe.
Step one, cook all the ingredients except the hamburger rolls and cheddar slices in a stockpot. Step two, place the cheddar slices on half of the rolls, then broil all of them for two to three minutes. Step three, assemble the sandwich.
Don't freak out if the chicken mixture is runny. It will get thicker when cooked, so you should not add anything to thicken it before the simmering step is done.
Total time: 40 minutes
I love how fast these shredded chicken dishes come together. This is another instant chicken dinner idea for you. Chicken ranch tacos are basically taco shells sandwiching chicken, cheese, and sour cream.
The star of the show is the ranch dressing and avocado. The ranch contributes a nice tang to the dish, while the fruit offers smoothness and a mild flavor. They help blend all parts of the tacos to deliver a complete unit in each bite.
From this recipe, you will get four to six servings. Scale up the ingredients if you have a lot of guests.
Total time: 35 minutes
The Southwest egg rolls are signature by a colorful look. This version is close to the typical egg roll. Yet, instead of frying them in hot oil, you can avoid the mess using an air fryer as this equipment allows for oil-free cooking.
Plus, the outer shell will still have a crunchy texture and a yellow, slightly burned hue. These tasty dinner treats made in an air fryer already have a lovely filling, but serving them with a dipping sauce will elevate the flavor.
This recipe is also an opportunity for you to learn to make chili powder on your own. Remove the stem and seeds from several dried peppers of your choice (the more you use, the spicier your egg rolls will be). Cut the peppers into smaller pieces and grind them until powdered.
Total time: 19 minutes
These little taquitos are among the quickest and simplest meals. It requires only four ingredients and less than 20 minutes to make. Plus, they are suitable for occasions when you want to involve your kids in the kitchen.
This recipe produces over 35 taquitos, equivalent to seven to 15 servings. It's a large amount of food, so remember to scale down if you have a small family. You can also bake the taquitos to reduce the cooking time, but the texture is not as good as frying.
The last tip I want you to note is to use a toothpick to secure the taquitos, or they may burst wide open in the pan.
This pan-fried chicken taquito guide shows you how to put the dish together properly and suggests an alternate way to serve them.
Total time: 50 minutes
Baked dishes provide many great meal options for days when I'm too tired to prepare a sophisticated meal. This chicken parmesan baked pasta is yummy to eat and hassle-free to make. It takes half an hour to bake, during which I can do other housework.
This recipe is so straightforward there's not much to note here. All you have to do is follow the instructions and enjoy a delectable, comforting meal. Feel free to increase the cheese if you want. I will do the same if I crave a super cheesy pasta dish.
Total time: 20 minutes
It's impossible to say no to such a refreshing, mouthwatering salad. Despite being loaded with meat, this dish is so nutritionally balanced. It's both low-carb and rich in protein. You can munch on the salad as much as you want without health concerns!
The salad comes with crispy bacon, tender chicken meat, soft avocado, and crunchy veggies. It's a light lunch or dinner for all. The lemon vinaigrette dressing contributes sweetness, tartness, and savory tastes to the overall flavor for a nice finishing touch.
You can add several things to this healthy salad, such as herbs, mushrooms, bell peppers, nuts, and seeds.
Don't Miss Out On These Tasty Shredded Chicken Dishes
Throughout this post, I have presented many easy recipes for you to make. You can prepare them for yourself, your family, or party guests regardless of the occasion. I hope this comprehensive list has given you what you want.
What's your favorite recipe? Did you come up with any extra tips to ensure a delicious outcome? Comment below and let me know. It will be extremely useful for other cooks, too.
One last thing, if the information in this post benefits you, don't forget to share it on your social account. Thanks to you, many more people can make good use of these recipes and create great meals in their kitchens.