The best seafood side dishes promise to elevate your nautical feast to the next level! Seafood doesn't come cheap, especially when you're not living in a coastal region. Plus, they're not always fresh (unless you pick them up at the docks).
It means that you will want your main seafood to really shine on the dinner table, so all the money and cooking efforts won't go to waste. Getting the texture and flavor of the seafood right is just half of the battle, however.
Dealing with the common obstacle about what on earth you can pair with them is the other. If you're stuck on the second battle, you've come to the right place. After all, even the biggest star needs a supporting cast!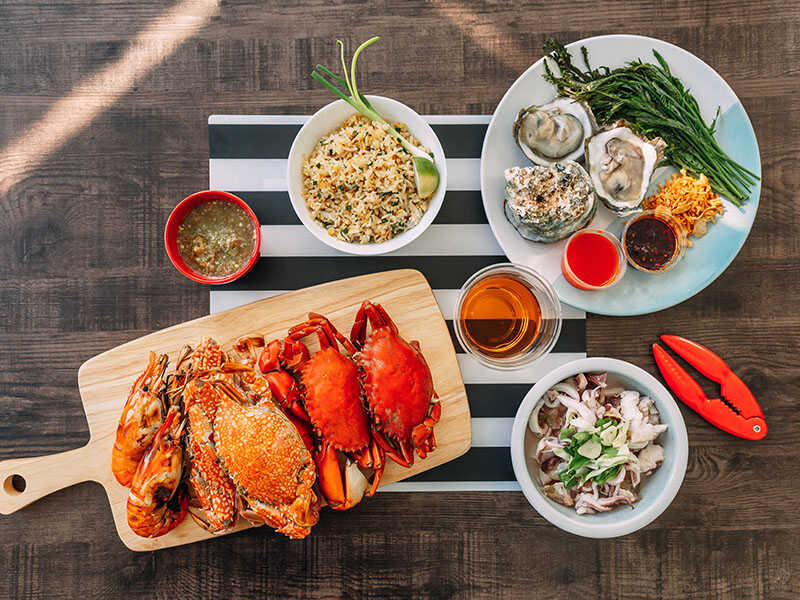 Best Seafood Side Dishes To Round Out Your Meal
If you're having a lot of seafood dinners at home, you probably know the struggle to find the right match for the main event. There is versatile seafood, and you can have many choices to pair them with.
Yet, their rest is less forgiving and picky, which will take you a bit more time to figure out what their accompaniment is. So, here are the 15 most common seafood you're likely to put on the table, plus tried-and-true pairing ideas to help your dinnertime a lot easier:
1. Side Dishes For Salmon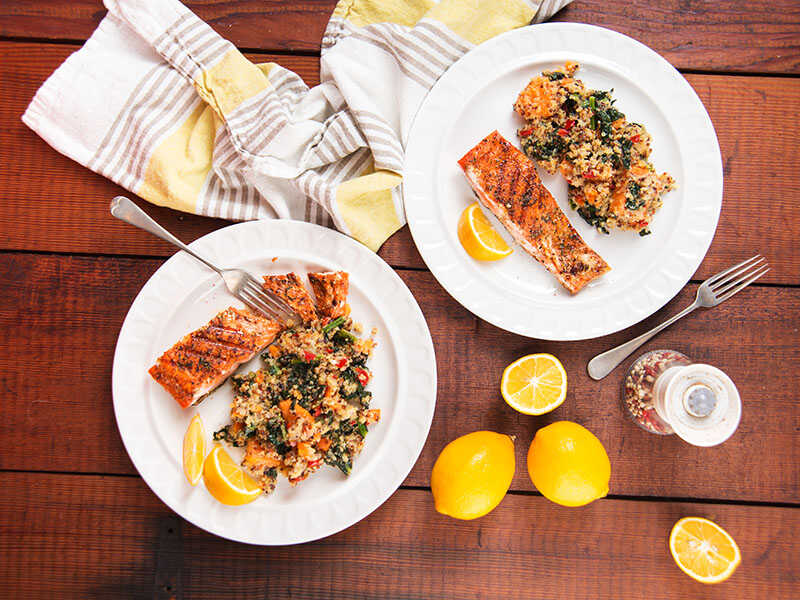 Whether it's grilled, baked, or pan-fried, salmon combined with delightful sides effortlessly becomes the spotlight of a weeknight dinner. The fish is famously rich in flavor with creamy, juicy, and buttery flesh.
Salmon is often paired with grains or hearty salads. Think about kale and quinoa salad, vegetable and barley pilaf, or spinach and rice! In addition, though salmon flavor can be slightly overwhelming for some people, you can easily tone it down by adding the starch.
Serve your main with lemon roasted potatoes, for example. It adds extra starch, and the citrusy flavor goes incredibly with the fish. Or else, lemon pasta works almost the same way; it's both refreshing and complementary.
Roasted or baked carrots are also the right side dish for salmon. Their sweet taste and crunch are a welcome addition to the tender fish.
Having salmon for tonight's dinner? Here are the best tips to nail the flavorful fish and its matching sides.
2. Side Dishes For Tilapia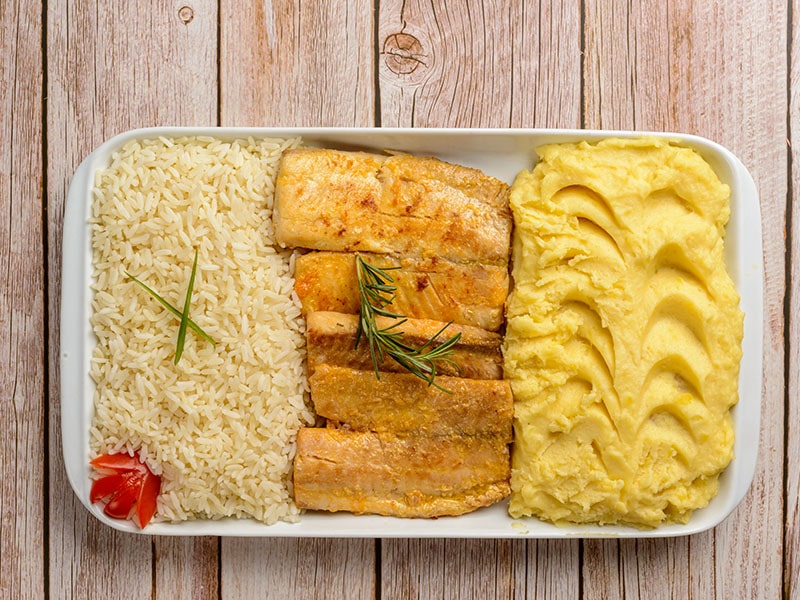 Tilapia can sometimes be found in brackish water (areas with higher salinity levels than fresh water). This popular fish has a tender, juicy, and flaky texture, with a mild, slightly sweet taste. For this reason, it gets on well with bold flavors to turn into a fantastic meal.
Plus, because tilapia is a light fish, the best pairing is something more hearty and filling for a well-rounded meal. Mashed potatoes or corn casserole with tilapia make for a nice duo. The side adds sweetness and creaminess to enhance the fish's flavor.
In the same vein, mac and cheese, which is incredibly rich and creamy, will make for a savory and filling dinner with tilapia. Blackened tilapia are well served with avocado salsa on the side. Corn and bean salads are other great options for it, too.
3. Side Dishes For Cod Fish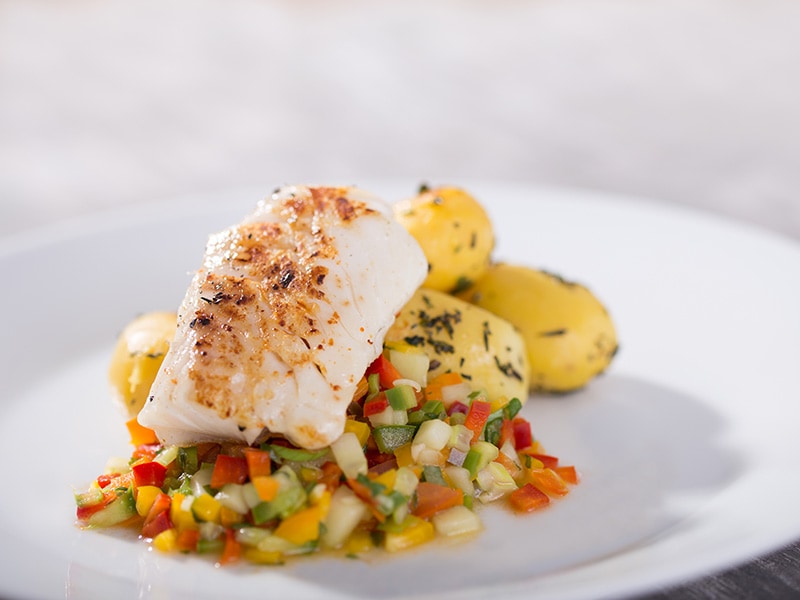 Codfish, with its flaky meat and mild taste, is a versatile protein in the kitchen. Codfish, especially the classic Southern fried version, works best when you know the list of ideal options for cod to complement its mild and juicy profile.
Because they're already coated in batter and deep-fried, they long for something light and refreshing, such as the slaws.
Chunks of roasted cod loin also go exceedingly well with baked potato wedges. You'll still get the pleasing crunch without the excess oil as you would with the deep-fried potatoes.
Fresh pea tartare is a welcomed addition here. The sauce will make this fish and chips version extra tasty and gourmet.
Lemon rice is another great option. Since cod fish isn't that filling, a starchy and hearty side like lemon rice will keep your belly happy. Infusing some zesty lemon helps make bland-tasting rice a better match for this fish.
4. Side Dishes For Tuna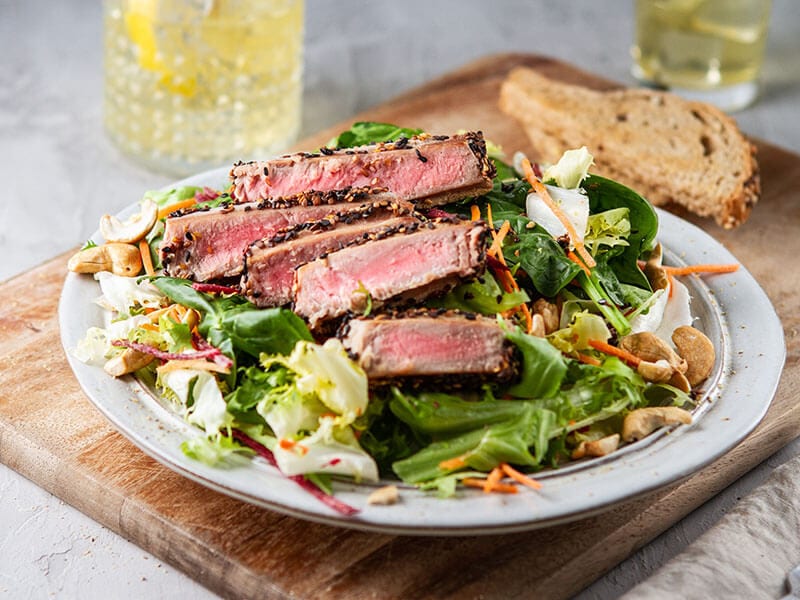 Tuna, which some people call "the steak of the sea", boasts a meaty texture and bolder flavors than other seafood. Whether baking, grilling, or searing tuna, you know this rich fish is bound to be a hearty main dish.
As tuna is rich and hearty, a light salad will help to enhance the flavor without making the meal feel heavier.
A simple side such as a creamy salad with a bright, tangy dressing makes for a perfect accompaniment for a tuna steak. A fruit-based dressing works best in this case. Fried veggies with Teriyaki sauce, sliced tomatoes, and cucumber are other great options.
You can also serve garlic fries with your tuna steak. Your main dish is healthy lean meat, which sounds like a good excuse for you to include something not-so-healthy but soul-satisfying on the side. Tuna steak is a steak, so serving them with fries is a classic choice.
These sinfully delicious garlic fries will be a nice bet for your tuna steak.
5. Side Dishes For Caviar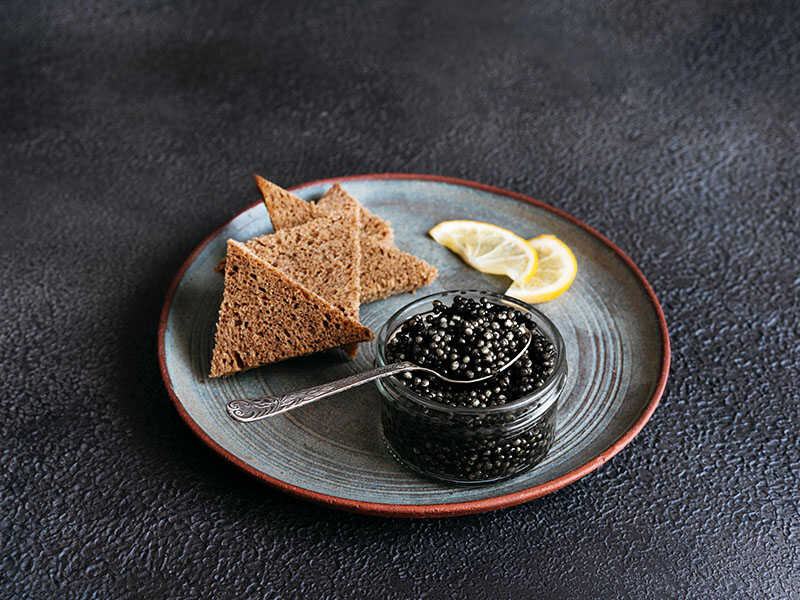 Caviar delivers briny pops of flavor in every bite, so you'll need something that won't override its flavor.
These fish eggs are best served chilled, alongside blinis (a pancake from Russian food culture made of buckwheat). The flavor of these pancakes is not so intense, which allows the caviar to shine through.
Dry toast, unsalted crackers, or white bread are also nice alternatives. They add a nice crunch without overwhelming the star of the show.
Caviar is spectacular on its own; you can enjoy them plain. However, you can add sour cream or creme fraiche, finely minced green onions, or devilled eggs for extra flavors.
6. Side Dishes For Lobsters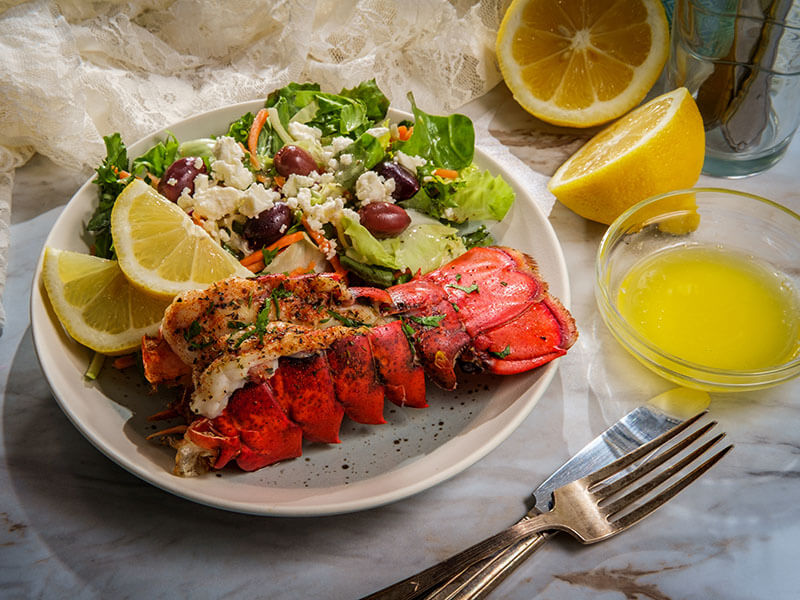 Lobsters are always considered a gourmet protein (partly due to the high price tag). This bright red crustacean can be a tasty meal in its own right. However, it more than deserves a wonderful accompaniment to make your nautical feast even fancier.
People normally serve this type of seafood alongside risotto in restaurants. However, there are actually more sides to round out a fine dining dinner at home. Compared to other seafood, lobsters are quite rich. Thus, they work well with bright, refreshing salads and vegetable-based sides.
Asparagus and broccolini tossed with a creamy-and-tangy dressing with grilled lobsters are a phenomenal combination. Or try corn salad with asparagus, grilled Caesar salad, or sweet slaws.
For heartier meals to serve the crowd, pair your lobsters with the well-beloved mac and cheese, the Mexican-inspired corn on the cob, or the simple yet incredibly filling baked sweet potatoes.
For even a simpler side, throw some biscuits on the plate with your whole lobsters or lobster tails.
7. Side Dishes For Shrimp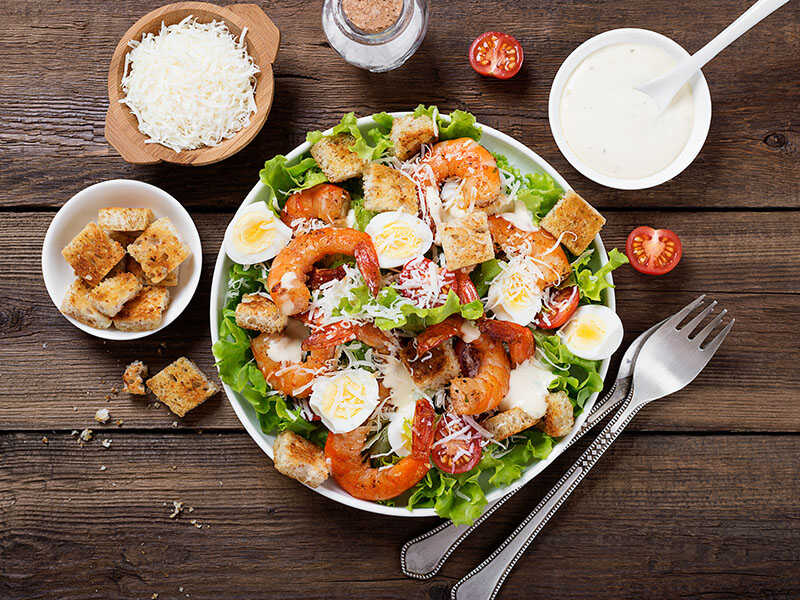 Shrimp are often described as sweet and slightly salty, with a firm, chewy texture. For that, you need sides that can complement shrimp, especially dishes with savory and rich profiles. You can serve it with macaroni salad (along with mayo dressing) to add a lovely contrast to your meal.
If you've already fired up the grill to cook your shrimp, toss in some vegetable kebabs for a complete summertime feast.
Fresh fruits and vegetables will add many flavors and textures to the main. If you still don't have any idea, try squash, peppers, or zucchini. Piling your grilled shrimp on a heaping bowl of Caesar salad or coleslaws is also a great idea.
8. Side Dishes For Scallops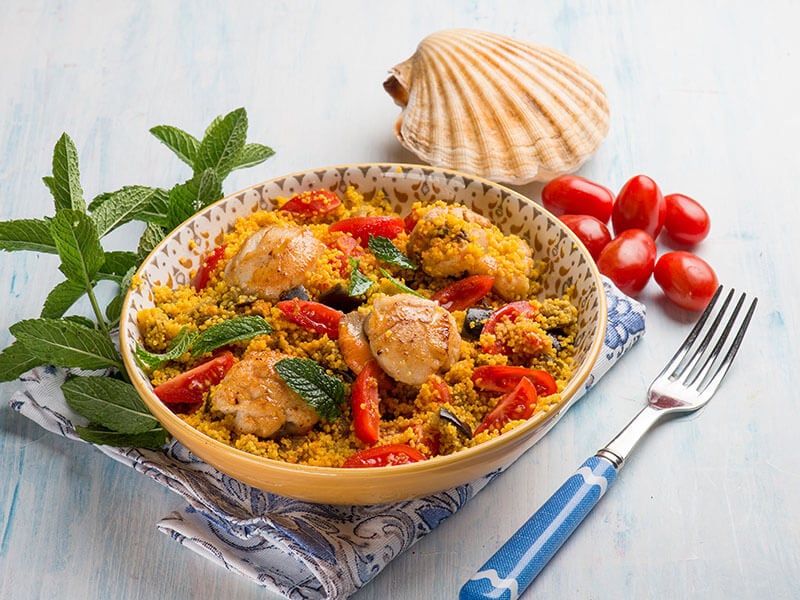 Scallops are subtly sweet, briny, and buttery. Like most seafood on this list, their flavors are not very pronounced, and the best strategy is to find recipes to have alongside scallop delicacies to enhance their overall taste.
Although not qualified as a side, bacon is worth mentioning here! Bacon-wrapped scallops, whether it's grilled or cooked on the stovetop, are the best flavor combination around. The cured meat adds a nice smoky touch to the buttery seafood.
Alternatively, toss bacon bits in an avocado and Brussels sprout salad for a terrific side dish. Scallops aren't exactly hearty, so serve them alongside Fettuccine Alfredo, couscous, succotash, rice, and quinoa to add the heartiness that the seafood always longs for.
9. Side Dishes For Fish Tacos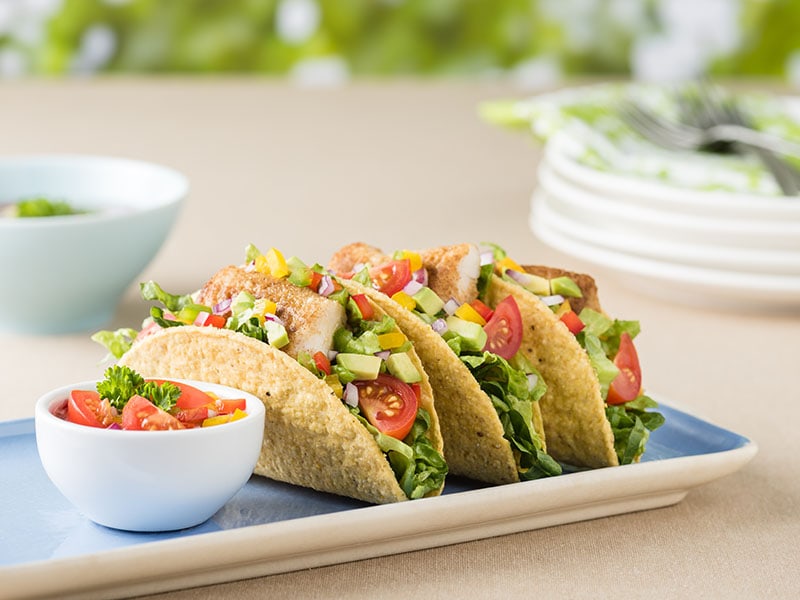 The combination of a warm tortilla, flaky fish, and creamy sauce can enliven any Tuesday taco night. However, these tacos can easily be eclipsed by intense flavors, which means that not any side will be their good friend.
The easiest way is to pair your tacos with a side of chips and salsa. Combining Mexican mains and sides is the best way to complete your Mexican-themed dinner.
Salsa goes hand in hand with any tacos; there's obviously no better match here. Meanwhile, chips add a delightful crunch to the tacos.
Other tried-and-true sides you can try are guacamole, cheesy queso fundido, Mexican rice, and pinto beans. You see the patterns: anything Mexican will work wonders to complement your fish tacos.
Whip up this restaurant-style Mexican salsa for fish tacos.
10. Side Dishes For Clam Chowder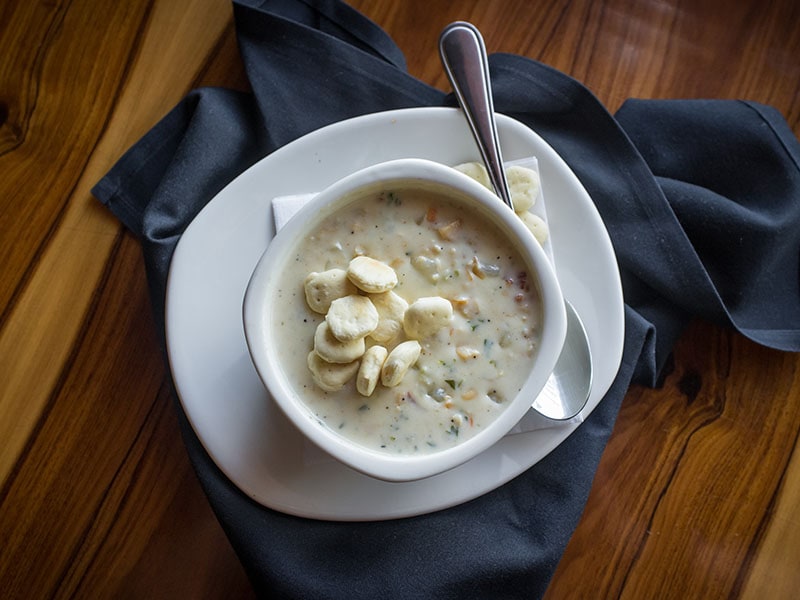 Clam chowder refers to any chowder soup cooked with clams. It comes in different variations, from Rhode Island chowder and the New York style to the New England version.
The last one is the most popular, which is a cream or milk-based chowder with a thicker consistency than other versions. While this seafood main is amazing on its own, you can use a simple side dish to turn it from good to great.
Crispy crackers bring in the crunch and crispiness the thick and tender soup needs to feel complete. Oyster crackers are the best choice for your clam chowder.
Bread rolls, fresh straight out from the oven, are another clam chowder side you can't go wrong with. Dip these buttery rolls into the clam chowder to mop up all the oceanic, creamy goodness of the soup.
Coleslaw with vinegar-based dressing or Caesar salad is the best candidate if you want to sneak in veggies and greens. The flavors and textures of these salads can complement the soft potatoes in the chowder excellently.
11. Side Dishes For Oysters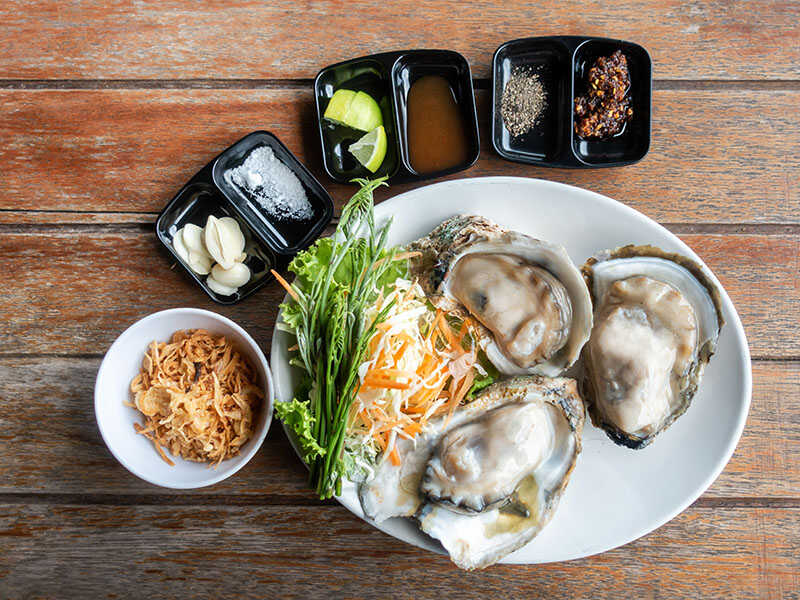 Whether raw, grilled, or fried, oysters are often eaten on their own. People also utilize them to make delicious oyster-based appetizers. Nevertheless, this doesn't mean they won't pair well with side dishes. Besides those classic sauces, you can enjoy them with several dishes for a better culinary experience.
If you want simple sides, fresh corn and potatoes are amazing options to amp up the flavors of these mollusks. Oysters can also go well with many salads and vegetable sides, such as Caesar salad, coleslaw, roasted asparagus, or broccoli.
Feeling adventurous? Then, serve your oysters with your favorite piece of meat, be it flank steak, chick, pork, or lamb. It might sound redundant as oysters are already a protein. Yet, the juicy meat goes a long way to play up the saltiness of these mollusks.
12. Side Dishes For Mussels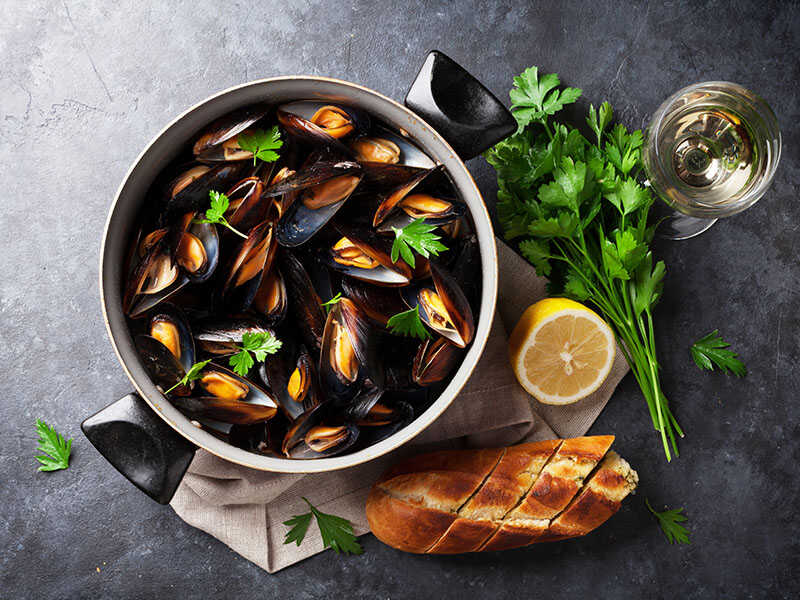 Mussels are a classy delicacy that is quick to prepare and fun to eat. This seafood is faintly sweet, slightly salty, with a bit of mushroom-like flavor.
These mollusks are often described as tasting like the ocean. Regarding side dishes, their mild flavors will go well with various flavors and spices.
You can never go wrong with the classics such as crusty bread or French fries with steamed mussels. These mollusks work with bold flavors like a charm. After steaming them with garlic, parsley, and wine, you only need crusty bread or French fries to sop up the juice.
Sweet potato fries also make a perfect match to this main dish. Alternatively, add a simple bowl of rice, such as saffron rice or creamy risotto, for a hearty meal. Pretty much similar to rice and pasta, couscous provides a good source of starch to the meal when paired with mussels.
A couscous flavored with fresh herbs, lemon juice, and spice will transform mussels into an incredible and filling meal.
13. Side Dishes For Crab Legs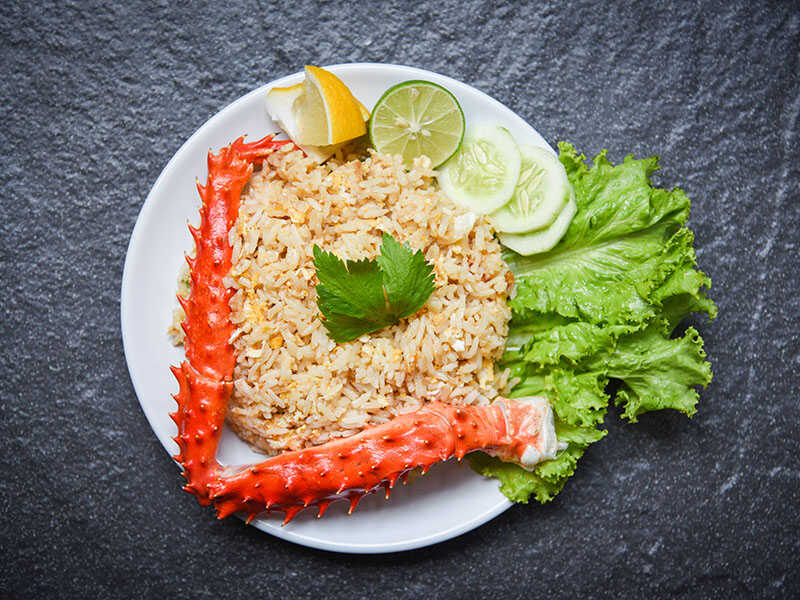 What's special about crab legs is they can be both a casual or gourmet meal (they're delicious either way).
Crab legs are ideal for dipping, so pairing them with the right sauce is key. Note: Sauce is not often considered a side, but it goes a long way to enliven your seafood here.
One of the most common choices is melted butter. The rich butter flavor blends perfectly with the sweet and succulent crab meat.
Drawn butter is normally served with crab legs in restaurants. However, if you're hosting your nautical feast at home, you may want to experiment with lemon butter, clarified butter, or Beurre Blanc, just to name a few.
Keep in mind that crab meat is very light, so throwing in carbs is essential to fill you up. Steamed white rice is the least demanding side in this case. However, risotto, baked potatoes, saffron rice, or pilaf rice are all amazing accompaniments if you're looking for more flavors.
Here's a detailed guide on how to cook the best risotto for your crab legs.
14. Side Dishes For Coconut Shrimp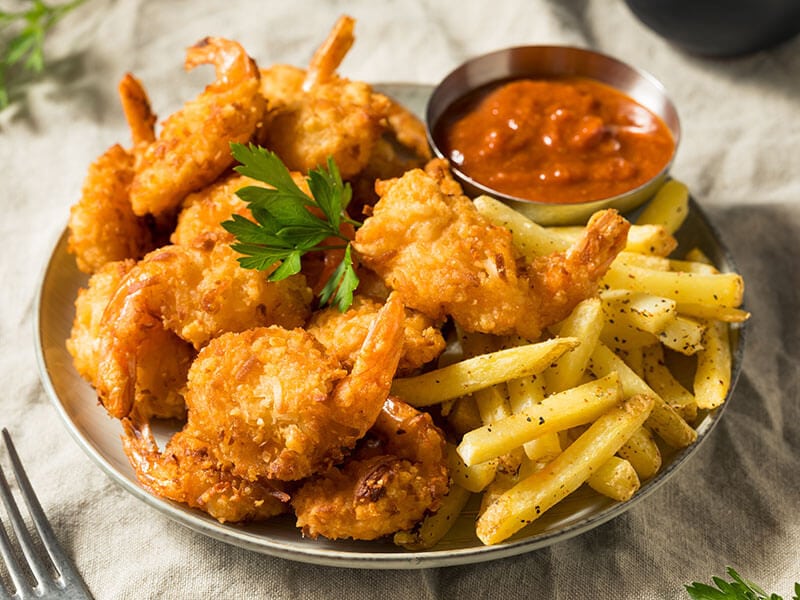 Coconut shrimp are shrimp in a batter of coconut flakes and breadcrumbs and deep-fried until golden brown. They are normally an appetizer or an entrée at restaurants.
This tropical-style dish can be served with or without side dishes. However, if you want to make your extra meal special, you should figure out the suitable picks to go with coconut crab to make your next course more wholesome and diverse than ever.
Coconut shrimp love light and refreshing sides, which can balance their richness. In this case, you can't go wrong with confetti slaw, roasted tomato salad, or cucumber salad. These salads offer the freshness to tone down the greasiness of the deep-fried shrimp.
For this main, veggie spring rolls are a surprisingly incredible side. Wrap the spring rolls with carrots, cucumber, bell pepper, and cilantro wrappers, and add a savory sauce. You'll end up with an accompanying dish that might outshine your main.
Starchy foods, such as pasta or rice, are the next choice to round out the meal. Roasted Parmesan potatoes, Fettuccine Alfredo, pineapple fried rice, or French fries perfectly complement the protein-loaded main.
On a side note, creamy sides might work with grilled shrimp, but they will overshadow your coconut shrimp.
More often than not, choosing the main dish is the easiest decision to make. Then, what goes well with the main often leaves most home cooks wondering.
There is no hard fast rule here, but you still need to follow some general guidelines to put together a good meal (where both the mains and sides leave you wanting more!).
Tip 1: Use The Food Groups As A Preference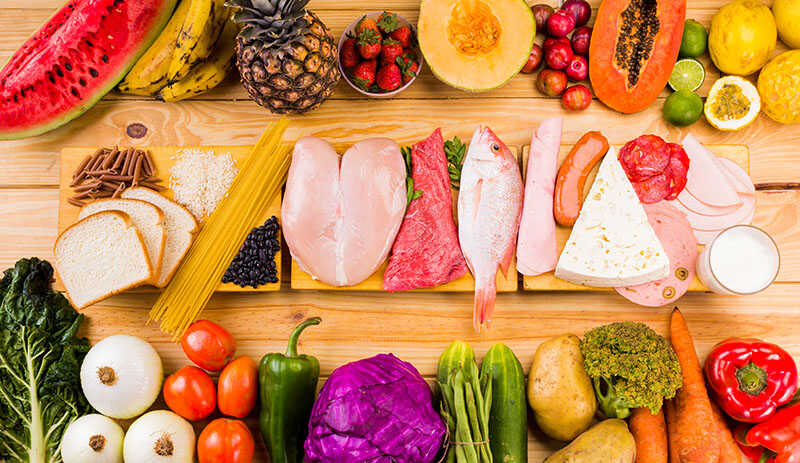 Food groups are always great to start when building your menu. The main dish is frequently protein, so fill out the table with veggies, starch, and grains. Rounding out the nutrition ensures a well-balanced meal, which is especially important when entertaining a crowd.
So, when choosing sides for your mains, look at the food groups and see what's missing. Meat, starch, vegetables, fruit, or dairy?
Of course, there's no need to include them all, but it's best to have protein, starch, and veggies for a meal. Plus, avoid including more than one dish from a food group when building your menu.
Tip 2: Balance Is Key!
The art of keeping things in balance also applies to a meal. When choosing a side, you want it to complement, not upstage, the main event. Flavors, textures, and colors are all in play here!
The Richness And Weight Of The Dish
If you have a rich and filling main course, pair it with a light side. Meanwhile, for something relatively light as a main, for example, the scallops or crab legs above, the meal needs a heavy, hearty side to fill up your belly.
This simple rule ensures that the dinner is not heavy enough to weigh down your digestive system and leave you struggling to sleep or it is so light that you have to reach for a late night snack.
The Flavor Of The Dish
You don't want your dishes to taste almost the same. For example, the main dish with a sweet taste is wonderfully served with something tangy or lemony to match the flavors. Sweet sides, in this case, simply won't do the trick.
The main course with subtle flavors, as many of the seafood on this list, can go well with various bold and savory sides.
However, when pairing a main with more intense flavors, you'll need to ensure your side won't compete or even clash with them. For instance, a spicy main often doesn't need extra heat from a spicy side.
The Texture Of The Dish
You should strive for a nice textural contrast of different dishes on the table, or at least a variety of textures. Plus, avoid adding the same texture. Serving mashed potatoes with a melt-in-mouth-tender beef roast stew? There's enough tenderness for dinner.
Let's add crunchy veggies to pique everyone's interest! Soups like clam chowder are well served with bread, crackers, or crunchy salads because everyone will look for toothsome bites here.
The Color Of The Dish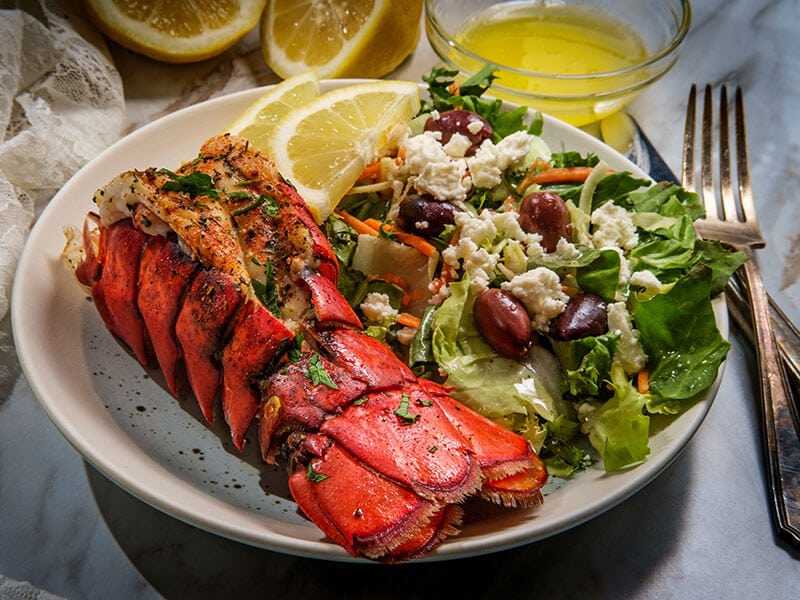 The colors of the mains and sides also matter. Avoid serving too many dishes with the same colors, as this won't look appetizing. For a pale-colored side, add a pop of color with green herbs or veggies to make it more appealing to your palates.
The contrast in color is always recommended in a meal. Bonus: A variety of hues also mean that the meal provides you with various vitamins and minerals.
Tip 3: Think About What's In Season
I normally go with the flow and use seasonal produce for side dishes. Not only can I use the freshest, tastiest veggies and fruits, but I also can celebrate the season.
Plus, the options of side dishes are narrowed down greatly, so there's no need to think long and hard about what to serve with the meat.
When asparagus is beautiful in spring, combine the veggie, broccolini, and a savory dressing to serve with your lobsters. Or pop some into the oven and roast until slightly crispy for a perfect side with honey garlic glazed salmon.
Tip 4: Time And Cooking Methods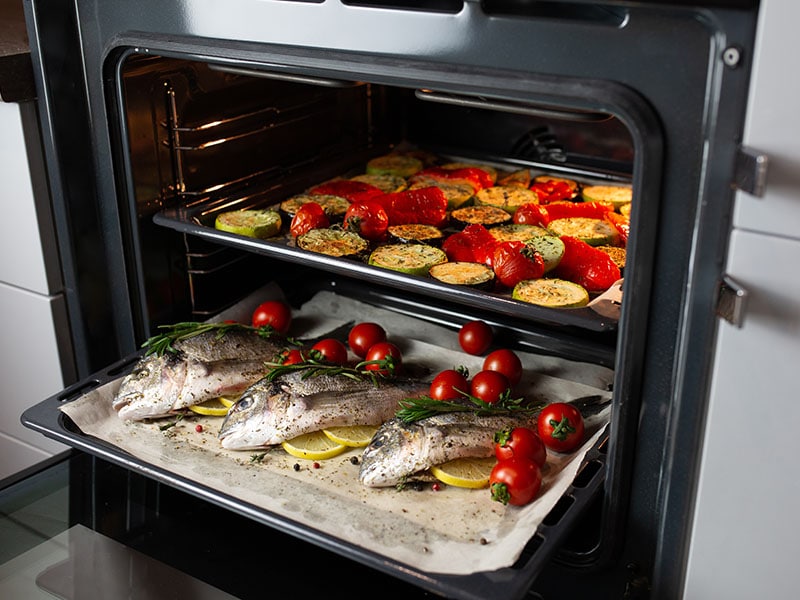 It's also essential to factor in the time and cooking methods of both your main and sides, especially when you're cooking a big meal like Thanksgiving feasts.
If a main of beef will occupy the oven for hours, choose a side dish that doesn't involve roasting. Having 2 or more dishes that must be roasted consecutively is not highly recommended unless you have time and careful planning.
Here is another useful tip. While the mains are usually cooked in the oven or stovetop, choose sides that you can make ahead. This means you can just reheat them in the microwave or pour in the dressing right before dinner.
Tip 5: Factor In Your Diners' Preferences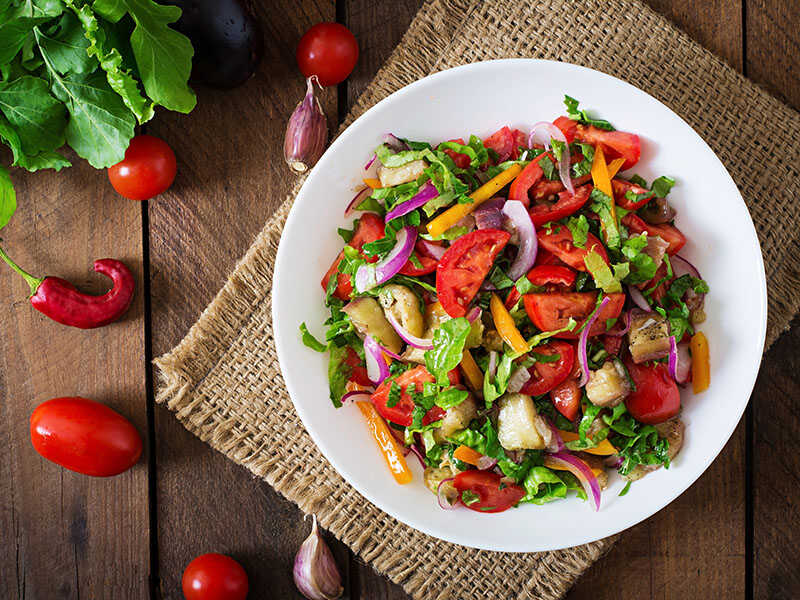 Last but not least, make sure whatever you choose will be happily enjoyed by your diners. You don't want to end up with a main or side that goes against your guest's dietary preferences.
Some people are allergic to all shellfish, whereas others only have reactions to certain kinds. There are those who are allergic to only fish. This means that you need to know their preferences to create a meal that everyone can safely and happily enjoy.
This also applies to side dishes. Does anyone on your guest list follow a gluten-free, dairy-free, or low-carb diet? Knowing their diets well will help you create a menu that is perfect for everyone.
Here is a tip: a simple green salad is always suitable. It's almost a one-size-fits-all side, as you can pair it with many kinds of mains, such as seafood, meat, pasta, veggies, and more. Go for it whenever you are in doubt about what goes well with your main dish.
Even The Biggest Star Needs A Supporting Cast!
Seafood is an amazing gift from the ocean. While you can eat them alone, more often than not, you're still looking for something extra to feel complete.
Not all seafood is created equal, however. The variety of these gourmet oceanic creatures also means you're left with a sea of options about what to serve with them.
And remember, even the most easy-going fish can't go just about anything, so finding a side that can balance things out sometimes is a daunting task.
With this basic guideline, I hope you can better understand what goes well with your chosen seafood. Whenever you feel uncertain about matching ideas for the mains and sides, refer to those tips above.
As always, leave a comment, like, and share to let me know you're interested in my content. Happy cooking!
Nutrition Facts
12 servings per container
---
Amount Per ServingCalories152
% Daily Value *
Total Fat 9.8g

16

%
Cholesterol 28mg

10

%
Sodium 864mg

36

%
Potassium 350mg

10

%
Total Carbohydrate 14.3g

5

%

Dietary Fiber 1g

4

%
Sugars 1.6g

Protein 3g

6

%
---
Calcium

45

%
Iron

1

%
Vitamin D

12

%
* The % Daily Value tells you how much a nutrient in a serving of food contributes to a daily diet. 2,000 calories a day is used for general nutrition advice.