Many people are finding the proper ways to make savory crepe recipes. I write this helpful article to meet their insights by providing a list of excellent dishes and other related information to diversify their parties' menu.
You may regret ignoring this valuable post. Therefore, stick to it and get your needed knowledge immediately. Keep reading this fantastic article as every amazing thing is waiting for you to explore in the next section.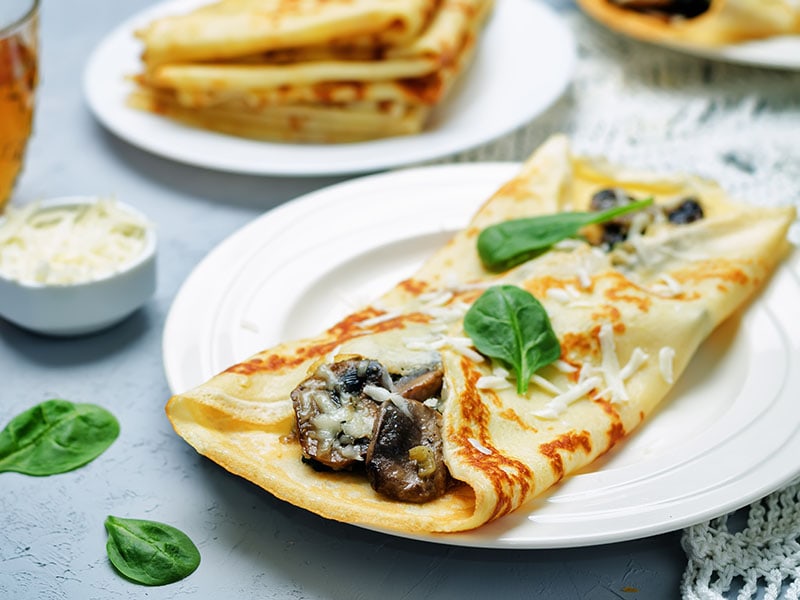 Keep These Savory Crepe Recipes In Your Cookbook Right Away
It's time to explore the proper instructions to prepare the excellent savory crepe recipes. I believe their taste can satisfy your requirements for a yummy dish.
Total time: About 35 minutes
It is a shame if you disregard this simple and versatile recipe. It is a delectable product with 2 main ingredients: crepes and shrimps. Its versatility lets you serve it on any occasion you want.
To flavor the shrimps, you need the citrus touch of lemon zest and juice. Also, heavy cream gives the shrimp filling an appealing cream flavor. When eating these crepes, you can easily feel the spiciness due to paprika and cayenne in the batter.
There are many incredible ideas to serve this crepe recipe. Fresh and yummy salads are suitable options to mix with the crepes as attractive accompaniments. In addition, this dish tastes well when served with bacon, chips, and roasted veggies.
Total time: About 30 minutes
Vietnamese crepe or Bánh Xèo is a traditional and well-known dish in Vietnam. It consists of a crunchy, golden crepe and a great filling. Typically, Vietnamese people use pork, shrimp, and veggies to make the filling of this crepe recipe.
In Vietnam, crepe batter is made from rice flour. Nevertheless, you can increase the crispiness by adding a bit of cornstarch.
These beautiful crepes are everywhere in the 3 regions of Vietnam. Local people often refer to these crepes as "Bánh Xèo". This name is derived from the characteristic sound when you pour the batter into the hot pan.
Do not ignore the correct ways to make Vietnamese crepes.
Total time: About 40 minutes
If you are looking for a low-carb lasagna, you can replace pasta with coconut flour crepes. They will be filled with cooked spinach, feta, and mozzarella cheese and topped with tasty marinara sauce (rich sauce made from tomatoes).
The first stage is to put the crepes in a pan and cook them: Mix feta cheese, spinach, and spices in a bowl. Next, let's top the crepes with sauce and cheese mix. Place another crepe on top and top it with sauce and mozzarella cheese.
Repeat these steps until you run out of crepes, sauce, filling, and mozzarella cheese. Finally, wait 15 to 20 minutes to enjoy your excellent food.
Total time: About 1 hour 40 minutes (including 1 hour for chilling)
I love this delicacy's neat and eye-catching look because the creamy scrambled egg is perfectly rolled in golden-brown crepes. Also, I choose this recipe because of its high nutritional value and friendly health.
To diversify the flavor of these fantastic egg-based treats, you should add diced green chilies, chopped tomatoes, sliced avocados, salsa, or shredded cheese, depending on your preferences. This treat is the best companion with fresh fruits and a glass of milk.
Follow these steps to get the beautiful crepes with scrambled eggs filling.
Total time: About 30 minutes
This easy-to-make bacon recipe is a culinary masterpiece with the perfect flavor and consistency. You can immerse yourself in the tender crepes, savory, cheesy filling, and the rich, buttery touch of the Hollandaise sauce.
In addition, a bit of citrus flavor from lemon juice in this sauce can stimulate your taste buds instantly. Besides spinach and bacon, the filling is packed with a meaty taste and creamy taste of mushrooms and various types of cheese.
Total time: About 40 minutes
At first sight, these yummy crepes grab my attention immediately with their dominant yellow shade. When I bite into them, it is hard to resist their great tenderness and creaminess. The yellow crepes also have an appealing aroma from herbs.
If you love the fresh taste of veggies, the red cabbage filling will meet your desires. Also, the fruity and citrus hint from raisins and fresh orange can give you a refreshing mouthfeel. And don't forget the beautiful, rich flavor of avocado sauce.
Total time: About 25 minutes
Teff flour is made from gluten-free seeds that come from North Africa. Nowadays, you can see the teff seeds in many regions worldwide. The flour is packed in protein, fiber, and many nutrients.
The crepes made from teff flour get an eye-catching dark gray color after cooking. This wonderful treat is an incredible gift for vegetarians since its creamy green filling comprises vegan ingredients. Accentuate this dish with a bit of greens on top.
Total time: About 45 minutes
If you are passionate about savory crepe recipes, smoked salmon crepes should appear in your cookbook. The soft crepes will be stuffed with smoked almond, creamy avocado, and sour cream. Hence, you can taste a crepe with a typical smoky and creamy flavor.
Furthermore, I always want to make it more delectable by adding dill, eggs, chives, and shallots on top. This fantastic treat is best for breakfast and brunch, or you can make it beforehand, keep it in the fridge, and enjoy it whenever you want.
Total time: About 1 hour 20 minutes
One of the savory crepe recipes I must mention in this article is this version with spinach and cheese filling. This combination brings a cheesy, creamy, and mildly sweet flavor to a soft and delicious crepe recipe.
The tender, thick, and golden crepes are the product of combining flour, eggs, melted butter, and milk. In terms of choosing cheese, feta and ricotta are my best-loved options.
To improve the quality and aesthetic of the dish, you should serve it with sour cream and eggs on top.
Let's mix spinach and cheese with the instructions for a delicious crepes recipe.
Total time: About 1 hour 10 minutes
You can prepare this classic French recipe by filling crepes with soft potatoes, caramelized onion, poached lemon chicken, and Gruyere cheese. The highlight of this yummy dish is the rich, citrusy lemon bechamel sauce and fresh tomatoes on top.
The fantastic sauce includes all-purpose flour, butter, milk, and lemon juice. Since it's quite simple and only requires 5 minutes, you can make it while baking the crepes.
Note that you should only add the lemon juice when the sauce has already thickened. If you pour the juice in too soon, its acidity can make the milk curdle.
Usually, I would serve this fantastic food on a gorgeous plate with bechamel sauce. Do not forget to beautify it with fresh tomatoes and chives. This excellent recipe is great to enjoy with a glass of wine or coffee.
Total time: About 55 minutes
The most effective way to take advantage of leftover turkey after Thanksgiving is to combine it with mushrooms for a crepe recipe. This tasty and savory treat goes well with salads and asparagus spears.
This delicacy comprises 3 main parts: the crepes, the sauce, and a hearty filling. You can use store-bought or homemade crepes for this treat. Then make the sauce beforehand and store it in the fridge until the meal starts.
Total time: About 40 minutes (excluding 24 hours for cooling)
I have a lot of interest in Mexican cuisine. Besides queso, tortilla chips, and quesadillas, Mexican cuisine is famous for the chicken and cheese crepes recipe. Mexicans make this shredded chicken treat with rotisserie chicken, Mexican cheese, and other components.
You'll start with mixing eggs, milk, flour, and water in a large bowl to make the crepe batter. Then, chill the batter in the fridge for about 1 hour to 1 day. After mixing rotisserie chicken, cheese, and spices, you can get a rich and savory filling.
Add the batter to a greased pan and cook it. Let it sit on a plate, fill it with the delectable filling, and fold the crepes. Serve the treat with avocado and salsa on top.
Total time: About 40 minutes
When I have leftover turkey and basil pesto, I immediately think of preparing these crepes to treat my loved ones at parties. Aside from 2 key elements, I also need tomatoes, mozzarella cheese, and others.
First, you fold the crepe in half and cover it with a layer of cheese. Add pesto over the crepe and fill it with turkey, tomatoes, and peppers. Fold and wrap the crepe in the triangle shape and serve this mouthwatering dish.
Total time: About 20 minutes
Perhaps you will be surprised by making crepes with chickpea flour, but the result will not let you down. Using this component is a brilliant idea to add a large amount of iron, protein, and fiber to your body. Even better, it is a gluten-free choice.
For the filling, this recipe works well with any sauteed veggies like mushrooms and spinach. Furthermore, when trying this excellent food, you will find the buttery and rich taste of avocado and hummus.
To finish the flavorful meal, top the crepes with tahini and fresh herbs for extra taste and charming fragrance. This food has the best flavor if you consume it after taking it out of the pan.
Let's utilize the chickpea flour in your kitchen to make crepes right now.
Total time: About 1 hour 15 minutes
I guarantee you will love this tender and tasty crepe cake right when you see the bubbling and golden appearance of the recipe. Of course, the taste of this dish will bring you to heaven from the first bite.
Moreover, the thing that makes me addicted to this incredible food is the filling. It is the perfect combination of spinach, savory ham, caramelized onions, and cheesy bechamel sauce.
This flavorsome cake combines many soft and creamy crepes. Each crepe will be topped with a rich sauce, a blend of spinach and onion, grated cheese, and chopped ham. You can fill your hungry stomach with the cheesy crepe cake after baking for about 30 minutes.
Total time: About 1 hour 50 minutes
Mushrooms are the familiar ingredient in many mouthwatering dishes, and it is also an essential and common filling in soft and tasty crepes. People often saute the mushrooms and spinach to make irresistible crepes for breakfast or brunch.
The intense umami and meaty taste from the veggies can give you a beautiful mouthfeel. Furthermore, aroma plays a critical role in the appeal of crepes, so do not miss fresh herbs, diced onions, garlic, and thyme in this treat.
Be careful when choosing mushrooms for this savory dish. You can use any mushrooms you want, like oyster, porcini, or brown crimini, but it is important to select high-quality mushrooms for the best performance.
Total time: About 40 minutes
You must make this comfort food for your next weekend party. It is a healthy, gluten-free, low-carb recipe since the crepes are made from coconut flour. With this component, your savory treat will have a distinctive coconut flavor.
I often fill the crepes with tender chicken and cooked spinach. Both fresh and frozen spinach bring the perfect taste and texture, so make your decision according to your preference.
Not only that, the deliciousness and value of this treat cannot get the maximum point without the cheesy hint of Parmesan and mozzarella cheese.
Discover the preparations of the chicken florentine crepes right now.
Total time: About 1 hour 20 minutes (including 40 minutes for chilling)
Stuffing the tender and savory steak into the crepes is a clever idea. Besides this ingredient, the fantastic filling contains a sweet and umami touch of fresh spinach and mushroom. They bring the perfect balance in taste to the dish.
This excellent food is flavored by the sweet and tangy glaze, a mix of balsamic vinegar and brown sugar. Drizzle this thick, black sauce over your crepes, and they look more beautiful than ever. You can add some fresh parsley if you want.
Total time: About 13 hours (including 12 hours for refrigerating)
It is time to bring a breath of the ocean to your meal by serving seafood crepes with shrimp and lobster. This nutritious and excellent dish with a striking yellow shade is filling enough to serve as a main dish and pretty enough to be an elegant hors d'oeuvre with lobsters.
Typically, I prepare the crepe batter ahead of time and refrigerate it for about 12 hours before gathering it in a complete crepe dish. Suppose the lobster is not available on your hand, replace it with scallops or crab meat.
When serving this unique treat, I usually drizzle a layer of melted butter on top to increase the buttery and rich taste. Also, sprinkling a bit of Parmesan cheese over the crepes can give them a cheesy touch.
I would like to receive your feedback and beautiful images of your results in the comment box. Furthermore, spend a few seconds to share this excellent post on your social media account to spread the tasty recipes to many people worldwide.
The savory crepe recipes are versatile, so you can serve them at breakfast, brunch, lunch, or dinner, depending on your choices. Also, it appears as a yummy main dish, appetizer, or snack.
Check the accuracy of the descriptions by making the dishes and tasting them. Thanks a lot!