What are the best sandwich wrap recipes that can be both quick to prepare and truly delicious? Most store-bought wraps tend to be pricey and boring. You've come to the right place. There's no need to worry about what to eat for lunch when you're having a busy day.
Do you know there is a wide range of different ingredients you can use to make sandwich wraps? A cheap and simple wrap can be as mouth-watering as a fancy meal. What's more, they can provide tons of nutrients and satisfy your cravings within a short amount of time.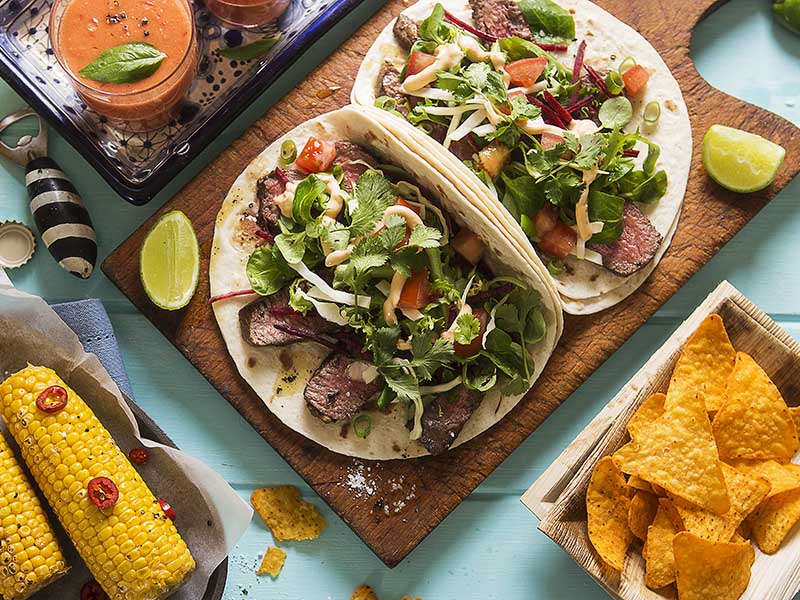 Outstandingly Yummy Sandwich Wraps For A Happy Meal
Sandwich wraps are one of the most convenient and popular foods for breakfast, lunch, or dinner. Some familiar ingredients for making these are meat, eggs, and veggies. Let's check out some easy and tempting wraps that can please your cravings!
Total time: 30 minutes.
Chicken club wraps could be the best chicken wraps for all meals ever. The classic wraps include classic flavors from tender chicken, meaty bacon, fresh lettuce, and crunchy tomatoes. Dip the wrap in the mex-ranch dressing to enhance the flavor.
To cook the bacon quickly, just put them in a non-preheated oven and bake for around 20 minutes at 400°F. It's better to spread the bacon evenly on a baking sheet in a single layer and cook it for longer if the bacon slices are thick. Now, roll up the wraps and enjoy!
Total time: 20 minutes.
It's already lunchtime, but you're not in the mood to cook anything? Easy Mediterranean chicken wraps with hummus will boost your energy with their alluring appearance and fresh, healthy flavor. I'm quite sure even your kids will crave them.
Let's check the ingredients of these multicolored wraps. They are the vivid red of cherry tomatoes, the light green of cucumbers, romaine lettuce, and artichoke hearts, and the highlighted darkness of black olives and black pepper. How colorful they are!
But the best part is the creamy hummus sauce. All the ingredients will create an eye-catching look and an irresistible taste as well.
The taste of Mediterranean chicken wraps with hummus is so compelling.
Total time: 50 minutes (including 30 minutes of marinating).
Do you wish for an upgraded version of classic chicken wraps? How about this creamy Tzatziki grilled chicken? Tzatziki is a thick and creamy sauce made of Greek yogurt, cucumber, garlic, dill, and lemon juice.
If you want your grilled chicken to have a golden color and be flavorsome, marinate the chicken breasts for 30 minutes to 24 hours in the fridge. Grill both sides of the chicken and let it rest for 5 minutes before slicing.
Total time: 40 minutes (excluding 3 hours of marinating).
There are so many types of wraps that even if you eat them for a whole week, you may not get tired of them. Coconut red curry chicken wrap with spicy peanut sauce is an example. The wraps include the red curry-coconut marinated chicken mixed with quick-pickled veggies.
Once taking the first bite, you can immediately feel the combo of the salty, sweet, spicy, nutty, and creamy flavors at the same time. To achieve the best outcome, coat the chicken in the marinade ingredients for at least 3 hours or up to 2 days.
To prepare carrots, soak thin carrot strips in the mixture of vinegar, salt, sugar, and hot water for 3 to 5 minutes. Once everything is done, fold all the tortillas in half, toast over medium heat for a few minutes if desired, and serve with peanut butter dipping.
Total time: 5 minutes.
The natural green color of spinach tortillas with the cream cheese mixture will instantly increase your appetite. Are you curious about how it tastes? Extremely good! It's the whole flavor of meaty chicken paired with sour cream, chilies, and spinach.
You only need to prepare all the required ingredients and combine the bacon, cheese, and sauce in a large bowl. Then, spread them on spinach tortillas and layer them with spinach, sprouts, and shredded chicken.
Total time: 1 hour (including 30 minutes of marinating).
What are Guacamole chicken wraps? They've simply wrapped tortillas filled with tender fried chicken and creamy green Guacamole sauce. An easy sandwich with a superb flavor for teatime or even a meaty and quick lunch.
For those who don't know about Guacamole, it's an avocado-based dip combined with some ingredients like cilantro, tomato, and red onion. This is also super easy to prepare.
Before frying the chicken, make sure you let it marinate in the mixture of cilantro, oil, and lime juice for at least 30 minutes. If you want to serve warm tortillas, place them on the stove or in the microwave.
Guacamole chicken wraps are full of meaty and nutty flavors.
Total time: 35 minutes.
Why is a honey-sesame chicken salad wrap special? That's because there is a salad in a wrap. Moreover, the highlight that creates the uniqueness of these salad wraps is the pleasantly sweet and spicy dressing.
After finishing, prepare the dressing by combining honey, mayo, Dijon mustard, vinegar, and sesame oil. Now, follow this guide to assemble these yummy wraps.
Let's spread the dressing on a tortilla, place broccoli slaw, almonds, and chicken on top, and drizzle the dressing on top of the chicken.
Total time: 10 minutes.
A lunch with something meaty, fresh, and fruity at the same time may sound strange, but it is super appetizing with these salad wraps. Chicken, cranberries, pecans, and celery seem unrelated yet cooperate amazingly with the dressing and mayo.
Also, these fresh and flavorful sandwich wraps are colorful and kid-friendly as well. All you need to do is stir the ingredients, season, and roll everything in a wrap. There you go, a perfect lunch is ready to serve. Feel free to add lettuce or spinach if you prefer.
Total time: 35 minutes.
After trying these Southern fried chicken wraps, they will certainly become one of your family's favorite dishes ever. This recipe has substituted soft chicken pieces for excellently crispy fried chicken. It's best served together with lettuce, tomatoes, and sweet mayo.
There are tips for making the tasty Southern fried chicken wraps. Because there are many toppings, you should purchase extra-large tortilla wraps to form a perfect shape. If there are only small or medium ones, just cut the bulky ingredients into smaller pieces.
When you fry the chicken, remember to use vegetable or sunflower oil instead of olive oil since it won't work well in this case. Let's shallow fry the chicken pieces over medium-high heat for 3–4 minutes on each side until they turn golden brown.
Total time: 15 minutes.
Besides the chicken, you can still use a wide range of different replacements for the filling. In this sandwich wrap recipe, it's shrimp. Garlic shrimp spinach and bacon wraps can be the show's star with the vibrant colors of shrimp and spinach.
What's more, an ideal combo of seafood, meat, and veggies enhances the taste of the wrap to the next level. This is also a fast and simple recipe, so you can always prepare a hearty meal in a short time.
Total time: 20 minutes.
Try this recipe for breakfast or whenever you're on a tight schedule. It has no more than 5 ingredients, but these sausage, cheese, and potato wraps can satisfy your cravings with a cheesy and yummy taste.
To save time and effort, you can simply use seasoned diced potatoes. As they've already been peeled and diced, you merely cook them in a heated oil pan for around 15-20 minutes until tender. After finishing, fold tortillas with the prepared ingredients and serve them warm.
Total time: 20 minutes.
Can you wrap it with steak? Definitely, yes. Your delightful sandwich rolls will get juicier and chewier with steaks added. Those steak wraps are flavor-packed because of cajun-seasoned flank steaks, crumbled blue cheese, and a light balsamic vinaigrette dressing.
How to prepare the most delicious cajun-seasoned blackened flank steak? The best type of steak here is raw trimmed flank steak. To let the steaks coat well in the seasoning, just cut them into thin strips, put them all in a Ziplock bag, and shake or massage.
Total time: 30 minutes.
With familiar ingredients such as onions, green bell peppers, and cheese-topped steak, Philly cheesesteak wraps create a savory and pleasant taste. For the filling, use a thin-cut flank, strip, or any soft steak with a good ratio of fat to meat.
Note that a thin cut will work better for Philly cheesesteak wraps. Once you're about to wrap up the filling, top with a slice of provolone cheese. You can dip the wraps in creamy BBQ sauce or your preferred sauce.
You'll fall in love with Philly cheesesteak wraps after taking the first bite.
Total time: 20 minutes (excluding 1-2 hours of the marinating).
Why do you have to go far away to buy your beloved street foods when you can make them at home within a few minutes? With this beef Shawarma wrap, you will be surprised at how an easy-to-make wrap can be this yummy. But first, let me tell you what beef Shawarma is.
Shawarma is one of the most popular global street foods, particularly in the Middle East. It simply consists of grilled beef or chicken seasoned in warm spices, vinegar, and olive oil, then cooked on a slowly-turning spit.
Don't worry, homemade beef Shawarma wraps can have the same bold flavor without any complicated steps. You can simply marinate the beef with pre-mixed beef Shawarma spices found at Mediterranean stores.
Marinate beef for 1-2 hours to tenderize it, but letting it marinate for too long will cause it to become tougher due to the acidity. It's best to buy fattier meats, neither too tender nor too tough, such as flank or sirloin steak. The cut strips should be ½ inch thick and 3-4 inches long.
Total time: 10 minutes.
Whenever you're on a busy schedule, don't skip your meal. You can always make a luscious meal in the blink of an eye. Spicy tuna wraps can satisfy your hunger with the pleasant flavor of canned tuna and fresh vegetables.
For the creaminess of the filling, use 1 ½ – 2 tablespoons of mayonnaise to mix with the tuna. Continue adding soy sauce and sriracha to taste. Some suggested veggies for the filling are carrots, avocado, and cucumber. Feel free to add more vegetables based on your desire.
Total time: 10 minutes.
This sandwich wrap will satisfy you with its tastiness and super creaminess. The wrap is a convenient choice for a light and fresh meal. What makes these wraps so outstanding? It's a combination of Greek yogurt and tuna salad.
To make this 10-minute tuna wrap, simply prepare the tuna salad by combining yogurt, celery, lemon juice, and mustard. Fold the tortillas after placing the salad on them. To prevent the wrap from being soggy, let the tuna completely drain first.
Total time: 35 minutes.
Salmon Guacamole bacon wraps are rich in flavor with tender salmon, smoky bacon, and nutty Guacamole in a tortilla. Moreover, the mix of the light pink salmon, the vivid green spinach, and Guacamole makes the dish more appetizing.
Save these tricks to prepare salmon wraps effortlessly and quickly. Buy a prepared Guacamole if you don't prefer making homemade ones. You can roast bacon on a foil-lined rimmed baking sheet and do so with the salmon.
To serve salmon wraps in warm tortillas, cover cold tortillas in a damp paper towel and microwave for around 60-90 seconds on both sides.
Total time: 35 minutes.
Most kids are huge fans of eggs, and I bet they will also fall for these fresh, crunchy, and eggy sandwich wraps. Furthermore, egg-vegetable salad wraps can be a low-calorie lunch and a light meal for your picnic.
You can use wax paper to cover each wrap and do it again with plastic wrappers. Then place the covered wraps in your insulated cooler bag with some ice packs. You can effectively keep them for 5 hours this way.
Feel free to add your favorite veggies when making egg-vegetable salad wraps.
Total time: 45 minutes (including 30 minutes of refrigerating).
Everyone always knows that tortilla wraps can be an ideal quick meal for breakfast, lunch, or even dinner. This version of tortillas wraps will astonish you with their lovable looks and rich flavors. They are dill pickle pinwheels.
These pinwheels contain cream cheese, fresh dill, ham, and pickles. For storing, you can simply place the food in a tight-lid container and keep it in the refrigerator. They can last for 3 days. If you want to serve as a regular wrap, just cut it in half instead of small slices.
Total time: 5 minutes.
A 5-minute peanut butter sandwich wrap is totally vegetarian. Guess what? You can take this portable meal to your workplace. It's much cheaper than any street food you buy.
They contain both fresh, dried fruits and whole grains. Hence, they're rich in nutrients and protein as well. Do they taste good? Extremely delicious. The flavor is a mix between sweet apple matchsticks, tart cranberries, crumbly granola, and deep caramel-like peanut butter.
This recipe is versatile, so you can freely add more of your beloved fruits or change the number of ingredients.
Total time: 50 minutes.
Whole plant-based buffalo cauliflower wraps will be a hit since they're both healthy and luscious. Apart from the slightly sweet, crunchy cauliflower, there is a mild flavor of tofu, a moderately spicy buffalo sauce, and comforting almond milk.
Here is a small note for storing the ingredients. Cut carrots, cucumbers, lettuce, and kale can last for 3 days; 2 days for the cauliflower, and 4 days for the sauce. You can prepare these veggies several days ahead to save time when making the wraps.
The ingredients in these wraps can also become a bowl of super fresh salad (remember to set aside the tortillas). Combining all the components and sprinkling the ranch dressing, your lovely salad is ready to serve.
Total time: 15 minutes.
Who says a wrap full of greens can not be tasty? They will take back their words after trying this spinach hummus wrap. Instead of buying store-bought hummus, making it at home can be easy, fresh, and creamy.
To make green hummus without food coloring, grind chickpeas, spinach, parsley, some vegetable broth, and some spices in a food processor. Then, keep blending until it's mild. Keep the finished hummus in the fridge until serving.
There are some tips if you won't serve the wrap immediately. You can use foil to cover the wraps and put them together with an ice pack. More importantly, don't add tomatoes to the ingredient list. They can cause excess liquid and ruin your wraps.
Total time: 5 minutes.
These California-style sandwich wraps are the ultimate for a healthy lunch or even an outdoor picnic. A colorful California turkey club wrap uses a lettuce leaf, slices of cheddar cheese, turkey, bacon, avocado, and tomato.
For meal prep, you can cook the bacon ahead of time and keep it refrigerated. Also, washing and chopping the lettuce ahead can save you time. Side dish suggestions include corn fritters, mashed potatoes, or whatever your heart desires.
You can use either spinach or regular tortillas for California turkey club wraps.
Total time: 40 minutes.
Spanish rice in a wrap? What a clever combination! The taste will go beyond your expectations. The fluffy cooked rice cooperates perfectly with the hot buffalo sauce and grain Tempeh. This is a flawless meal for vegan cuisine month.
Do not hesitate to add more vegan ingredients to the wrap. Lettuce or carrots can also work well in this recipe. If you want something creamier or more flavorful, simply add a generous amount of vegan mayonnaise or drizzling ranch sauce to the wrap.
Total time: 50 minutes.
Crispy tofu tortilla wraps will make your meatless lunch more fun and flavorful. The incredibly crispy fried tofu, fresh tomatoes, and bell peppers will create a super satisfying wrap for your summer meal.
Extra-firm tofu is the recommended ingredient as it doesn't contain much water. If there are only regular types, you should press the tofu to dispose of the water first. Next, cut the tofu block into smaller slices, season to taste, coat them in chickpea flour, and pan-fry until crispy.
Total time: 10 minutes.
A flatbread filled with white beans, feta cheese, and veggies is rich in nutrients and extremely flavorful. Moreover, it doesn't require any cooking, and all the ingredients are available in your local grocery stores.
This wrap is a big hit because of the unique flavor when tossing Greek salad in garlic yogurt. This marvelous sauce is a combination of Greek yogurt, garlic, and lemon juice. If you don't prefer yogurt, skip it and use garlicky hummus instead.
For storing and prepping, you can make the Greek salad first and store it in the fridge for several days. Whenever you are ready to serve, toss the salad in the sauce and assemble a wrap. Never freeze the wrap because it'll become soggy.
Total time: 10 minutes.
Craving a sweet wrap for your dessert? How about a strawberry-banana tortilla wrap? I won't lie when I tell you its flavor is super addictive. Eating strawberry-banana wrap is a great way to boost your mood on a dull day.
This is a dessert full of caramel flavor, the natural sweetness of ripe bananas, and slight acidic strawberries. The sweet wraps will be one of the easiest and tastiest treats ever. You can always make this dessert to treat your guests.
Strawberry-banana tortilla wraps are an awesome dessert and only take several minutes to make.
Don't Skip Any Meal – Let's Make A Delicious Sandwich Wrap Instead
Sandwich wraps are one of the best foods for everyone, from kids to grown-ups. Delightful wraps are ready to eat without taking too much time and effort. Also, they are affordable and convenient to carry anywhere: picnics, workplaces, or schools.
With these simple wrap recipes, you'll never be afraid of lacking ideas for a quick, healthy, and delectable meal. Let me know more creative wrap-making ideas in the comments below. And just by sharing this post, you've allowed these recipes to reach more people!