In this article, various handy and creative sandwich recipes will prove that it is never too late for a sandwich, no matter what hour it is.
You and I both grew up with excellent sandwich lunch packs packed by our parents for us to bring to school. Now is the moment to show them how much you love them by making these sandwiches from a compilation of 36 recipes that could not be easier or more delicious.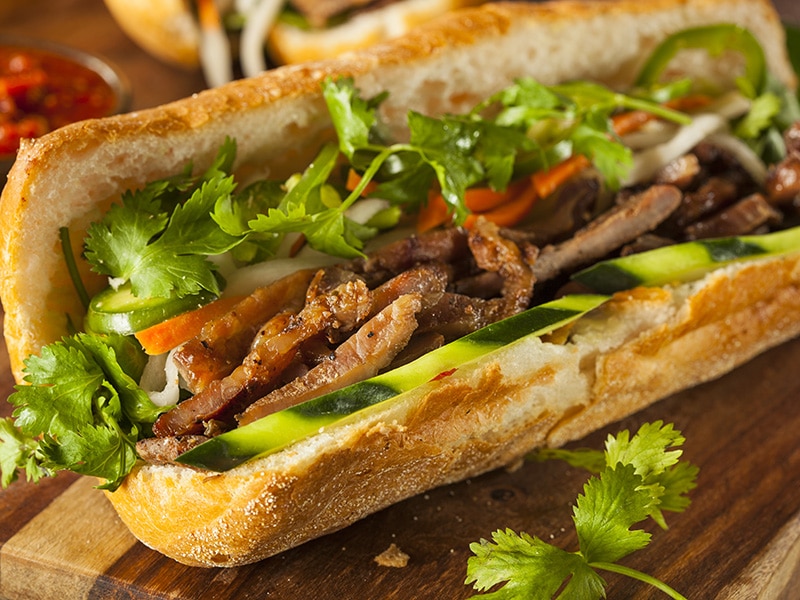 Boundless Sandwich Recipes Around The World
There are a total of 36 sandwich recipes that deserve a try. With 2 main groups: Non-vegan sandwiches and Vegetarian sandwiches, everything you want in the spectacular sandwich is right here.
Non-Vegan Sandwich Recipes
With Chicken
Chicken and Pesto Sandwiches
Chipotle Chicken Sandwiches
Apple BBQ Pulled Chicken Sandwiches with Apple Slaw
Chicken Parmesan Sandwiches
Fried Chicken Sandwiches
With Turkey
Classic Club Sandwiches
Turkey Club Sandwiches
Monte Cristo Sandwiches
Turkey Cranberry Cream Cheese Sandwiches
Hot Brown Sandwiches
With Pork
Cuban Pulled Pork Sandwiches
Root Beer Pulled Pork Sandwiches
Pork Tenderloin Sandwiches
Vietnamese-Style Sandwiches (Banh Mi)
Philly-Style Roast Pork Sandwiches
With Beef
French Dip Sandwiches
Open-Faced Roast Beef Sandwiches
Italian Steak Sandwiches
Crock Pot Italian Beef Sandwiches
Smoked Beef Sandwiches
Other Non-Vegan Choices
Shrimp Po'Boy
Leftover Lamb Sandwiches
Pulled Lamb Sandwiches
Salmon Salad Sandwiches
Fish Po Boy Sandwiches
Italian Sausage Sandwiches
Pepperoni Pizza Grilled Cheese Sandwiches
Vegetarian Sandwich Recipes
With Cheese
Garlic Bread Grilled Cheese Sandwiches
Jalapeno Popper Grilled Cheese Sandwiches
Pizza Sandwiches
Caprese Sandwiches
And More Vegetarian Choices
Vegan Cuban Sandwiches
Egg and Caramelized Onion Sandwiches
Avocado Egg Sandwiches
BBQ Tofu Sandwiches
Chickpea Salad Sandwiches
Non-Vegan Sandwich Recipes With Various Ingredients
With chicken, turkey, pork, beef, and other non-vegan components to create the best sandwiches, here are the total of 27 recipes that I am sure will take you by surprise.
Fabulous Sandwich Recipes With Lean Chicken
Let's start with chicken, the lean white meat I usually have on hand for low-cost meals. Cheese, vegetables, and sauces all play a role in making these 5 chicken sandwiches wonderful on many levels.
This sandwich can be found in many bistros because it is such a good deal to go with a cup of beer.
Indeed, bread rolls loaded with grilled chicken breast, mozzarella, tomatoes, and greens will provide you with a rich flavor, making them excellent dishes for any time of day.
Sandwiches made with chicken and pesto sauce are so good that you can make a batch to share with everyone. You can see this video to know more:
The homemade chipotle mayo sauce is the greatest part of this dish. Also, you can make the creamy, slightly spicy, and sweet sauce to drizzle on your sandwich with just a few ingredients.
Every bite of the chipotle chicken sandwich feels like heaven, thanks to other companions like bacon, cheese, chicken, and onion.
I always have a crush on BBQ sauce; that's why I'd like to introduce this fantastic recipe for your chicken sandwich. I use a slow cooker for the tender chicken to cook them with BBQ sauce for 4 hours.
Be noted that shredded chicken would be much better than a whole chunk, so use 2 folks to separate the meat before you spread it on the sandwich. Top with slaw and dressing for the best-enjoyed dish.
Your chicken parmesan sandwich, topped with mozzarella cheese and marinara, is a fantastic bargain to nibble on lunch, supper, or as a mid-day treat, or whenever you want to eat them is still a perfect moment.
Baking the chicken is also important to ensure that it remains juicy inside while being crispy on the outside. You can add some fresh basil to increase the aromatic flavor in your sandwiches.
This layered sandwich with fried chicken is not too complicated to make at home. With salty-and-sour pickles, smoky paprika, and fresh veggies, they can balance the oily fried chicken to make your dish more delicious.
The frying chicken part will decide the goodness of this sandwich, but once you nail it, you never want to spend money on another fried chicken sandwich that you usually buy from the restaurant.
Turkey Meat Lovers Must Try These Sandwich Recipes
Turkey meat is a similar leaner and healthier alternative to chicken meat. Each slice of turkey, along with the other components sandwiched between buns and pieces of bread, is unique and yummy. So let's take a look at the following 5 sandwiches to cook with turkey.
The club sandwich is a 2-layer sandwich between 3 slices of bread. In this recipe, the first layer is made up of mayo, turkey, fresh tomatoes, and cheddar cheese.
The second layer has ham, bacon, and crunchy lettuce leaves in it. Make sure the vegetables are not too moist. Otherwise, your sandwich may get soggy.
I understand that many of you are workaholics, but it is critical to look after your health. So with this recipe is a shortcut for a filling and nutritious lunch to improve your health
Turkey breast is the key ingredient with the special sauce that is made of garlic, egg, mustard and lemon juice to enhance the richness. But if you want something quicker, mayonnaise is fine.
The Monte Cristo sandwich is originally a French-inspired toast with ham and cheese. But I will add some cold meat like the turkey in this sandwich to create one of the most incredible ham-and-cheese sandwiches.
They are a perfect idea for lunch, dinner, or any meal because they are easy to make with simple ingredients. Before pan-frying, the bread will be dipped in egg and milk mixture to have the eye-catching golden crust and melted cheese in the middle.
My go-to dish for leftover turkey after Thanksgiving and Christmas is a turkey, cranberry, cream cheese sandwich. Isn't it a handy and cost-effective way to deal with leftover foods? You can even make this amazing sandwich with some bagels instead of regular bread.
Or even though there is no Thanksgiving or Christmas, with creamy cheese, mayo, turkey, and cranberry sauce on the inside and crispy golden bread on the outside, this sandwich is a great package to try.
Hot brown sandwich is the open-faced sandwich that originated in Louisville, Kentucky, in 1926. These sandwiches are such a great way to start a new day with full energy.
Roast turkey is sliced thinly and topped with some slices of tomatoes, bacon, cheese, and chopped herbs. To add some spiciness, sprinkle paprika is preferable.
Let's try this long-history sandwich with hot brown sandwiches and juicy turkey. You can see this video to know more:
Irresistible Sandwich Recipe With The Most Consumed Meat – Pork
What do you normally do on Friday night? If you just stay at home, why don't you prepare these pork sandwich recipes for the beautiful weekend treat? They are definitely a knockout for every meal.
Slow-cooked pork is an excellent filling for sandwiches since it has the best flavor after 8 hours of cooking. And in this Cuban-style pulled pork sandwich, slow-cooked pork will be cooked one more time on the stove for more crispy and brown meat.
Other popular sandwich components like pickles, cheese, ham, and mustard also create a delicious delight.
If you cannot afford a long list of ingredients to make excellent sandwiches with pork, this recipe is made for you. This root beer pulled pork sandwich is certainly a delight, with only 4 ingredients.
Also, cooking pork in a slow cooker with root beer takes a certain time. But if you have an Instant Pot in your kitchen, you can significantly cut down on cooking time.
The pork tenderloin sandwich is very famous in midwest America. To make this sandwich, pork will be dipped in flour, eggs, and crumbs first. After frying them, the crunchy and juicy pork completely steals the show.
Place them in the middle of buns, topped with pickles and onion; you have got yourself a meaty sandwich that you always crave.
Another dish made with pork tenderloin, but this time in an Asian style that you must try. This is Banh mi, a Vietnamese sandwich – one of the most special sandwiches in the world.
The grilled pork tenderloin with fresh and crunchy vegetables, including cucumber, carrot, green onions, sweet pepper, and Asian sauce, will make you fall in love from the first taste.
Now fly to Philadelphia to see how their pork sandwiches differ from others. It will require many stages to prepare this tasty hot sandwich. First, pork will be roasted in the oven at 350 F degrees. To avoid bland-tasting pork, rub them with mustard before roasting.
Veggies are also cooked with spices. Serve a sandwich with au jus, a meat liquid obtained from the roasting process, for added delectability.
Indulgent Beef Sandwich Recipes That You Might Not Know
Forget normal beef burgers and try these homemade beef sandwiches instead. They are so easy to throw together, and they have fantastic tastes that you cannot find anywhere else.
Once again, the au jus from cooked beef is used up to make an incredible dipping sauce for your sandwich. All the best-blended flavors from the meat and spices are now in the au jus by slow-cooking them. Melted cheese is also a star in this meal, so do not forget to add them.
How to make a perfect French dip sandwich is shown here.
Open-faced roast beef sandwiches are a flavorful sandwich that I am sure you will never get enough of. Put the ingredients in a slow cooker and let it do the rest to make your meat stand out with minimal effort.
To assemble the appealing sandwich, first, you will add mashed potatoes to the bread, then spread shredded beef and drizzle some au jus and cheese. Unlike other sandwiches, you can eat them with a knife and fork.
How do Italian steak sandwiches look and taste? Let's find out with this recipe. Layers of steak, grilled red peppers, pesto, and melted cheese on bread slices perfectly depict delicateness in every Italian cuisine. And if you want a medium-rare beef steak, grill them for 5 to 7 minutes is the best time range.
What to eat this weekend? This crockpot Italian beef sandwich might be the answer that you desire. In only 10 minutes to prep, let's toss beef, stock, pepperoncinis, red wine, and seasonings in the crockpot to cook overnight for up to 8 hours.
A little warning that pepperoncinis are quite spicy, so if your kids cannot eat spiciness, regulate the level or skip this ingredient.
On a cold night, nothing beats smoked beef sandwiches. You can buy chuck, sirloin, or rump for the most fabulous smoked beef sandwiches.
Another benefit of this dish is that it can be made ahead of the weekend to prepare for a busy next week, as roasted beef can be kept in the fridge for up to 3 days. For a blast of flavor, serve them with mayo and BBQ sauce.
And Other Well-loved Non-Vegan Sandwich Recipes
Sandwiches with seafood, lamb, or sausage are other excellent options. Let's see how they appear in different types of sandwiches from around the world in the below recipes.
Shrimp po'boy – a classic New Orleans sandwich that will bring you a taste of summer with marinated shrimp, veggies, hot sauces, spices, herbs, and French rolls.
The big star in this sandwich is crispy shrimp, so you should pay more attention to the frying process to make sure the shrimp is not overcooked.
Add some crispy shrimp to your sandwich with this shrimp po'boy sandwich. You can see this video to know more:
Too much leftover lamb after last night's party? Do not worry, as this sandwich recipe will transform your cooked lamb into a new and full-of-surprising dish with other main ingredients like cheese, mayonnaise, olive tapenade, and watercress.
Do not toast your bread for too long. When it just turns to brown, take them out immediately. Otherwise, burnt sandwiches will be too crispy and not good for your health.
Well, as this one will be cooked in the slow cooker, you should expect a little bit of time to prepare it. But it is worth your extra time, I promise.
Pulled lamb might need at least 5 hours to cook, but what you will get is a super juicy and soft lamb that literally melts on your tongue. With a touch of chipotle and a handful of arugula, this mouth-watering sandwich now is so flavorful.
No-fuss and no-cook sandwiches are here with salmon and veggies. You will need canned salmon to make these sandwiches. And add it with mayo, onion, celery, lettuce leaves, cucumber, and tomatoes, a fresh and healthy sandwich is ready in just 10 minutes.
Here is another version of the New Orleans po'boy sandwich with fish. Similarly, seasoned cod fillets will be fried on a pan until they turn brown. You can add more oil to prevent the fish from sticking to the pan. Serve them with toasted buns, veggies, and tartar sauce for the most enjoyable fish po'boy sandwich.
Are you planning a BBQ gathering? If yes, these grilled Italian sausage sandwiches will be the talk of the party. But if not, you can still use the gas grill on medium heat to cook sausage.
In this recipe, you will need a foil to grasp the sausage. Sliced onions and bell peppers also go well with sausage and make a wonderful filling for hoagie sandwich buns.
Pepperoni pizza grilled cheese sandwich is crunchy and buttery toasts with an impressive golden brown color on both sides.
This sandwich is stuffed with melted mozzarella cheese and pepperoni – 2 ingredients that are super easy to find in any supermarket. You can cook pepperoni in the oven for around 20 seconds before combining it with cheese.
Various Simple Recipes For Vegetarian-Friendly Sandwiches
Vegetarian-friendly ingredients are cheese, eggs, avocado, etc., will show you the definition of versatile in sandwiches. Regardless of how busy you are, they are great with nutritional components and a simple recipe to ensure that you do not run out of time to prepare them.
Cheese-Only Recipes Are Already Enough For Sandwiches To Shine
Various types of cheese may be used as vegetarian choices. And the following 4 sandwich dishes are all excellent and easy to make without requiring too many ingredients.
Do you want garlicky grilled cheese sandwiches for your pleasant lunch bag or even dinner? As easy as pie, they are an ideal solution for busy days. The garlic butter mixture will make the bread slice have a nice golden color on the outside, with runny and gooey cheese in the middle.
This variation of grilled cheese sandwiches with jalapeno peppers should be a fresh touch in your kitchen. Slightly heat of jalapeno peppers, creamy cream cheeses, crunchy crumbled tortilla chips, all different flavors, and textures, making fascinating sandwiches to enjoy after a hard day.
Grilled pizza sandwiches have always been my favorite sandwich of all time, as regardless of whether it's summer or winter, they are still perfectly fine to fill my stomach.
What else can I ask for simple ingredients and quick prep than a gooey and comforting sandwich like this? Do not forget to serve with pizza sauce on the side. It will make your sandwich taste even better.
It's hard to beat a delightful tea sandwich with fresh and ripe tomatoes, mozzarella cheese, arugula, and balsamic vinegar between 2 bread slices. Inspired by Caprese salad, this salad is ideal for a vegetarian menu with a huge amount of nutrients.
And Other Vegetarian Ideas For Sandwich
If you are not a cheese person, consider these vegetarian sandwich options. Some of them may get you busy buying the ingredients, but each one is so tasty that you will be pleasantly pleased.
Cuban sandwiches are usually with pork and cheese, but this vegan version is also good enough that even non-vegan eaters are still satisfied with it.
From a long list of ingredients, you can see there are many complex but rich flavors packed in one sandwich, making a perfect balance that is hard to describe in words.
This egg and caramelized onion sandwich is a good choice for your diet routine as they are low-calories and high-in-fiber. Also, if you need a low-budget but still tasty sandwich, go for it, and you will be surprised with the value they can bring to you in one bite.
This recipe is an easy and healthful breakfast sandwich choice for everyone. You need to prepare hard-boiled eggs, ripe avocado, a bit of lemon juice, crunchy lettuce leaves, and chopped herbs to create a thick and creamy mixture to spread on sandwiches. That's it. So effortless.
Without mayo, but these simple avocado egg sandwiches still have the creamy texture that you all desire. You can see this video to know more:
Tofu is Asians' favorite vegan ingredient. A yummy BBQ tofu sandwich is totally worth a shot by adding some Western cooking style with BBQ sauce.
Another soul of this dish is the pickles; you can easily make them with vinegar mixture and sliced veggies. For the best crispy tofu, set the oven at 375 F degrees to bake for 10 minutes.
Last but not least, a chickpea salad sandwich, which is so easy to make and high in dietary fiber, will improve both your overall health and your bowel particularly. To make the salad, mash chickpeas, and potatoes, then combine with other ingredients for flavor mixing.
This salad may be kept in the fridge for up to 5 days. Before serving, spread them on sandwiches with some greens, if preferred.
Sandwiches – The Elite Food Come In Varied Styles
Whether cooked or uncooked, sandwiches are the simple and convenient way to treat yourself with many deliciousness. And no matter if it is for a picnic, party, potluck, or just a meal at home, sandwiches offer healthy and tasty dishes that everyone, regardless of age, loves.
What I just introduced to you is a variety of sandwiches worldwide with many kinds of components, from meat to non-meat. Also, if you have a slow cooker at home, there are many options for you to choose from for the best quality and delicious sandwiches.
And if you find this list is so helpful, bookmark this link right now. And do not forget to click like and share with your family, friends, or colleague so everyone can enjoy together.