Russian foods, despite their unpopularity, are just as good as the other famous culinary cultures around the world. You can find various tasty dishes with diversified textures and tastes, from soup, stews, and desserts, to bread.
As a staple part of Russian cuisine, these traditional Russian dishes speak more about the country's cultural beauty and history. If you want to know what they are and the stories behind these delicious dishes, this post is for you.
Apart from the exciting Russian drinks, you should also walk through the miraculous journey of exploring the top Russian dishes. They are so flavorful that you may want to rush to Russia after reading this post. No further talking! Let's jump straight to the dishes.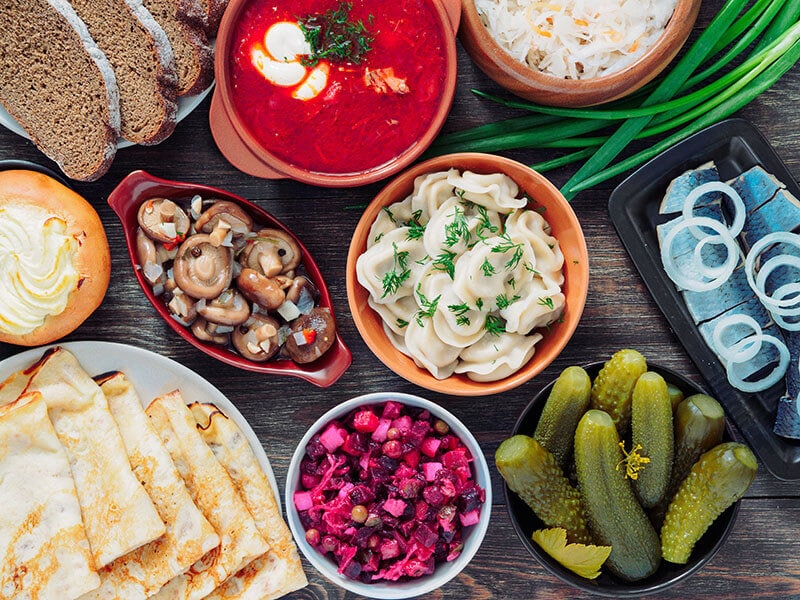 8 Classic Russian Soups To Start Your Day
Soups are an indispensable part of Russian cuisine, which is enjoyed by all classes in Russian society. Due to the year-round freezing climate in many Russian regions, soups are commonly served cold or hot with countless variations.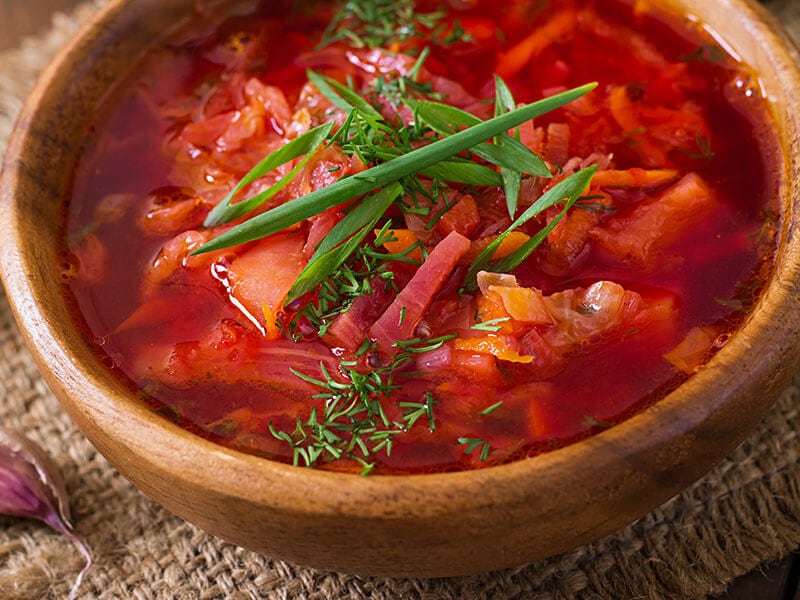 When talking about soup, no dish can surpass Borscht in terms of popularity and flavor. It is a staple dish in many Russian meals that every Russian grows up eating. The soup originated in Ukraine, consisting of cabbage, beet, and beef as the main ingredients.
An indispensable component for making Borscht is the red beetroot, giving this dish an attractive reddish color. Besides the red beetroot, you can use various veggies like tomatoes, potatoes, or carrots to diversify its flavor and nutrients.
Borscht features a heavenly taste with the fabulous scent of veggie and meaty flavor of the broth. The beauty of Borscht lies in its diversified preparation methods. People in Russia cook it in various ways and use different ingredients, but the result is always tasty and filling.
This dish can be served hot or cold and with or without meat. The Russians often serve it with Smetana, a popular sour cream in this country. Smetana gives it a creamy and luxurious consistency that adds more appetite to your meal.
Borscht is the national dish of Russia and many Slavic countries. This video will tell you how to prepare the most authentic Borscht.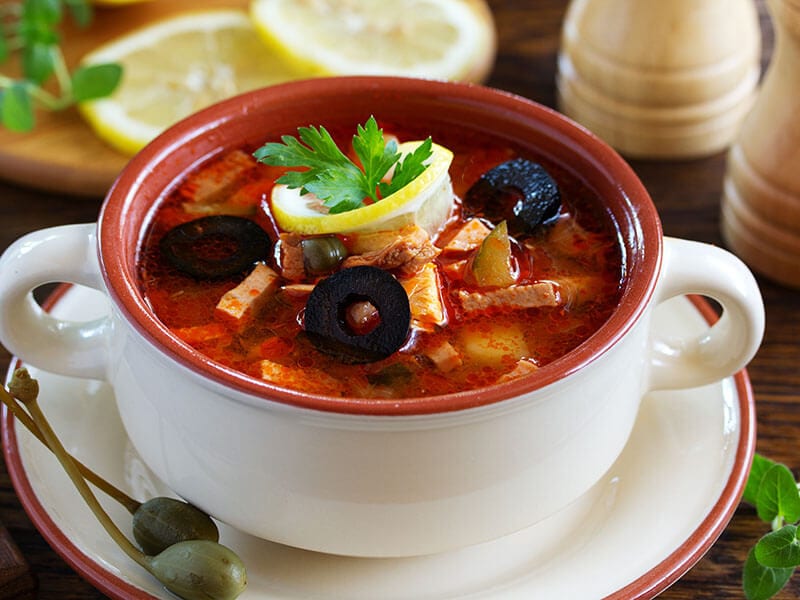 It seems like the Russian culinary culture can never run out of hearty and popular soups, and Solyanka is one of them. At first glance, you may mistake it for the famous Borscht due to the eye-catching reddish color, but its flavor is a different story.
Back in the Soviet Union era, Solyanka used to be a very popular dish in East Germany. But its origin dates back to the 15th century. Over hundreds of years, there have been countless variations of Solyanka with different cooking methods and ingredients used.
Nowadays, there are three common variations of Solyanka that use three staple ingredients: meat, fish, and mushroom. The main flavor tones of this soup are spicy and salty, combined with the iconic sourness from brines and pickled cucumbers.
Similar to Bortsch, Solyanka is also served with Smetana sour cream and fresh dill. Just dip a piece of dry bread in a hot and filling Solyanka bowl. You will have an unforgettable culinary experience.
Tyurya is quite similar to Okroshka, a traditional Russian bread soup with rye bread mixed with plain water or Kvass. The rye bread is cut into small chunks or baked into square biscuits before soaking in liquid.
Like Okroshka, Tyarya is always prepared and served cold without using heat. Besides the rye bread, the Russians also add vegetables like garlic, sauerkraut, onion, and vegetable oil to diversify its flavor.
There's not much need to use seasoning materials since the Kvass is already tasty and flavorful. This cheap and prevalent drink gives Tyurya a sweet-sour taste with a tangy undertone, combined with an appealing brown color.
Due to the cheap ingredients and simple preparation, Tyurya was a common dish eaten by Russian soldiers throughout World War II. It was also the Russian peasant and poor classes' favorite dish in the past.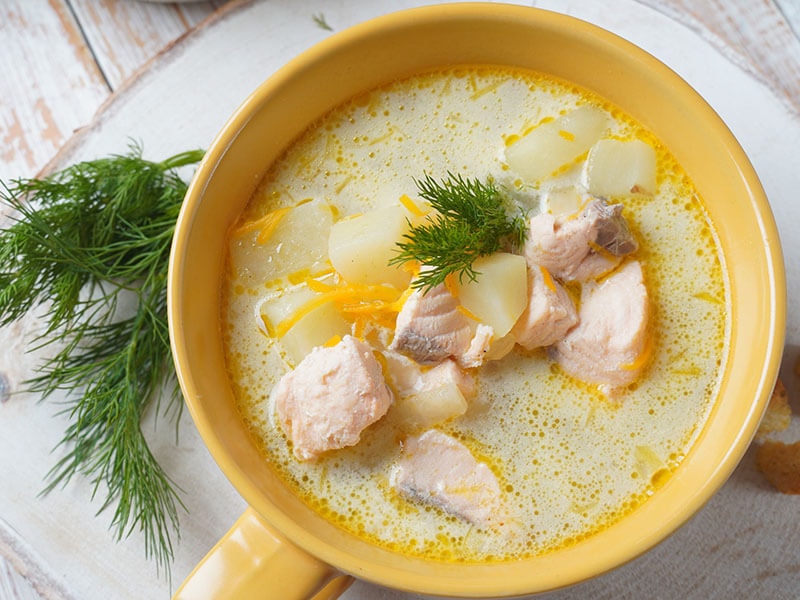 The idea of simmering fish and vegetables in soup may not sound appealing, but Ukha will change your mind. It involves the fish filets cooked to perfection mixed with root vegetables and green parsley.
Ukha is an ancient dish that became popular in the 12th century, but people often referred to this U-something food as meat broth rather than fish soup. From the 15th century, people used more fish, and the name Ukha became associated with this distinctive dish.
The fresh and finely cooked fish mixed with flavorful spices and vegetables delivers a comforting flavor. The Russians use mainly freshwater species for making Ukha since they give a better flavor than saltwater fish.
The best way to make Ukha is using fresh fish caught within the day. Meanwhile, the frozen fish bought at grocery stores are not defrosted to retain their freshness. For fish and soup lovers, Ukha is simply a gift of life.
Learn to prepare the yummy Ukha Russian fish soup through this short video!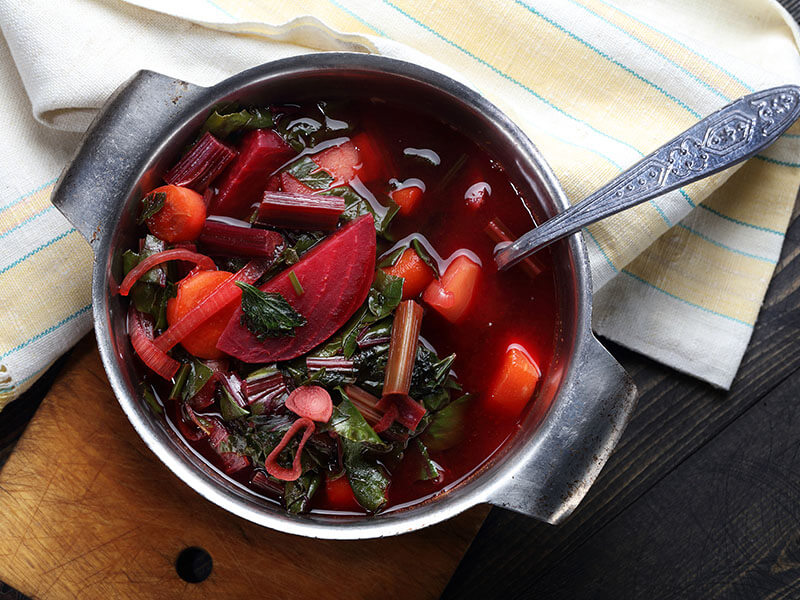 The name Botvinya comes from the ancient Slavic word "Botva," which translates to the "leafy tops" from "root vegetables." As its name suggests, Botvinya is a popular cold Russian soup with root vegetables' top like sorrel, scallions, beets, dill, and cucumbers.
These veggie components are mixed with Russian dairy products like sour cream and buttermilk. The seasoning materials like garlic or mustard are added to enhance the dish's flavor.
Originally, Botvinya was a staple food of Russian peasants. Then, various improvements were made to the dish, resulting in various Botvinya variations with more expensive ingredients. This soup gradually appeared on the dining table of the rich or royal classes in Russian society.
Nowadays, it's not easy to find the right components for making authentic Botvinya as the root vegetables are getting rarer and more expensive. Nevertheless, it's still an ideal dish for a hot summer day with a refreshing and tasty texture.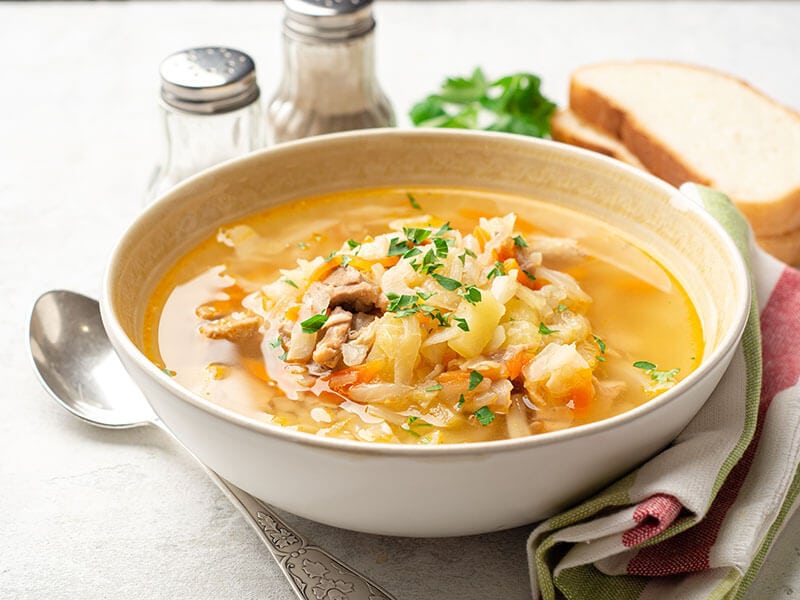 Attend any Russian restaurant, and you will see Shchi on the menu. Shchi, or Russian cabbage soup, is a national dish of this country that dates back to the 10th century. It features a hearty flavor from the veggies like cabbage, potatoes, and especially Sauerkraut.
There's a famous saying in Russia: "Щи да каша – пища наша," which means "Shchi and kasha are our staples." Depending on the variation, the Russian may use the meat for cooking Shchi or making a whole vegetarian version. Sauerkraut gives this soup an iconic sour flavor.
Though you may find it unusual, Shchi is frozen and eaten on long trips as a snack or a convenient cabbage-based treat in Russia. Shchi is among the tastiest soup with tart and filling cabbage combined with the sour flavor of Sauerkraut.
This is how you prepare the tastiest Shchi cabbage soup!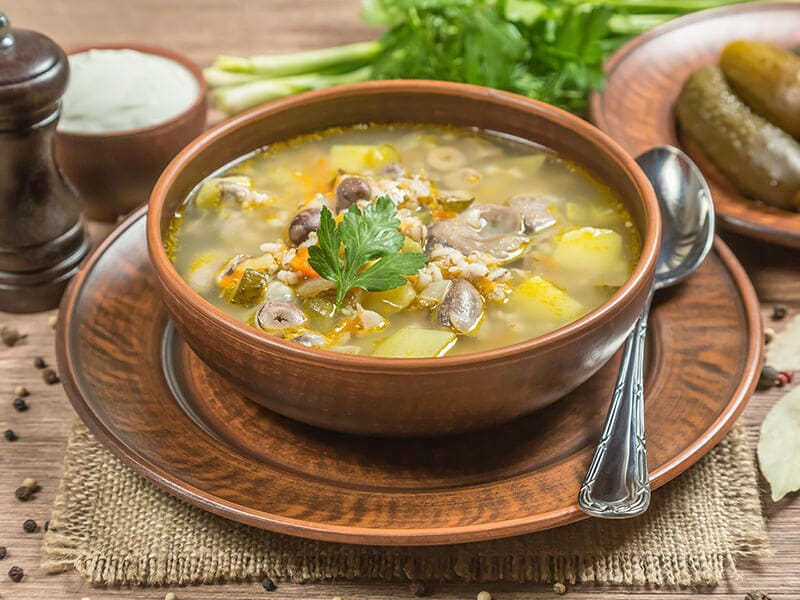 Rassonik is a traditional three-ingredient Russian soup consisting of pearl barley, pickled cucumber, and pork/beef kidneys. This dish originated in the 15th century and remained popular for hundreds of years.
Though you may think pickled soup is pretty unusual, every Russian grew up eating it. It's comforting. The sour undertone of the pickled cucumber combined with the tender and hearty beef make up an irresistible burst of flavor.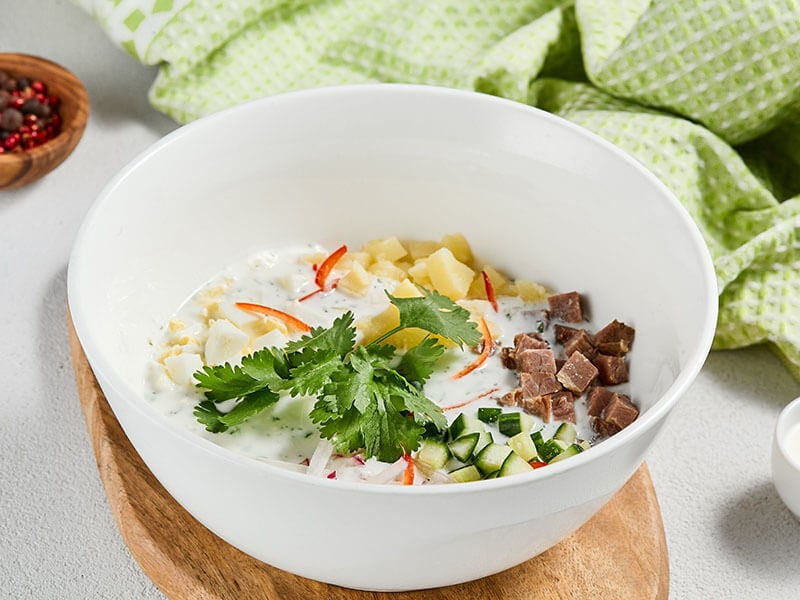 Okroshka is another popular Russian soup consisting of meat, eggs, potatoes, and raw vegetables. The unique trait of Okroshka is that it's always served cold, while the other soups come in hot textures. It's a tasty and comforting dish for the hot summer days.
Similar to Borsch or cabbage soup, Okroshka is also eaten with Smetana (sour cream). Just like how you pour milk into cereal, the Russians use diluted beer or Kvass (a popular alcoholic fermented drink in Russia) to make Okroshka.
The ingredients are chopped into tiny pieces and soaked with Kvass to retain the refreshing flavor and texture of vegetables. This delicious and refreshing soup is always served cold with added salt and sugar or even ice cubes.
You will need this super easy and simple guide for preparing the authentic Russian summer soup Okroshka!
7 Yummy Russian Appetizers, Side Dish, And Condiments You Should Try
Like Smetana to Borscht or beef Stroganoff, many famous Russian dishes must be served with a certain side dish or condiments to achieve the most satisfying flavor. The side dishes can serve as accompaniments for the main dishes or as a snack.
Their primary purpose is to complement the meal and give you a complete culinary experience. These Russian side dishes are mainly vegetables and condiments, bringing diners diversified taste and additional healthy nutrition.
Besides side dishes, there are also some Russian appetizers that you should take note of.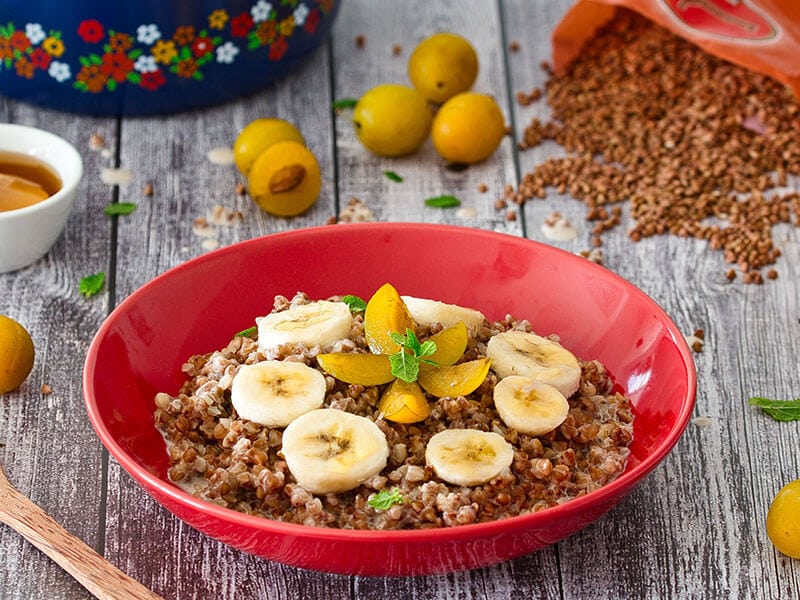 Kasha, or buckwheat porridge, is a superfood full of healthy nutrients and energy. It involves mainly grains like oats, rice, millet, and most commonly, buckwheat. The ground buckwheat is simmered with milk and added spices to enhance its flavor.
In ancient times, the Russians used Kasha as an offering to pray for a full and thriving harvest. Nowadays, Kasha is a common dish cooked and served on special holidays like Christmas or even wedding holidays in Russia.
This side dish has been a staple part of the Slavic culinary culture for centuries. Now it has spread worldwide and has become a popular dish in Europe and America. People in these countries add more spices and ingredients to create their unique version of Kasha.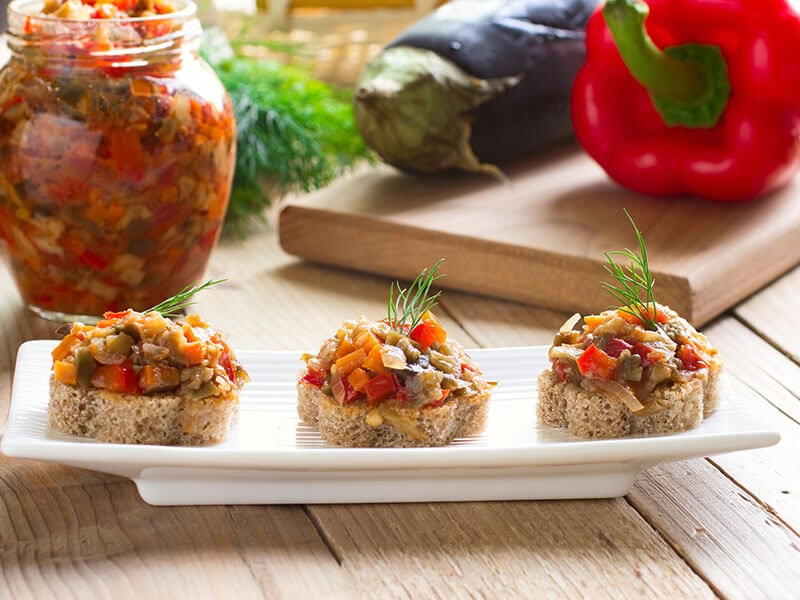 The luxurious dish with an exotic flavor and texture will appear in your mind when thinking of caviar, but Ikra is a different story. The name Ikra refers to poor man's caviar, which is a vegetable-based dish.
In the past, the poor Russians have to utilize cheap ingredients they have on hand for cooking, including Eggplant. Gradually, this appetizer grew in popularity with the name Ikra, a luxury for poor people.
Ikra involves Eggplant cooked with red peppers, onions, and garlic. When cooked at low heat, the Eggplant slowly dissolves and melts into other ingredients, creating a silky and spongy texture.
Despite its name, Ikra tastes just as good as any luxurious dish with a filling and satisfying flavor. Every Russian loves eating rye bread with eggplant caviar spread or serving it with rice and pasta as a side dish. Just give Ikra a try, and you will get addicted.
This is how the professional chef prepares the tastiest Ikra!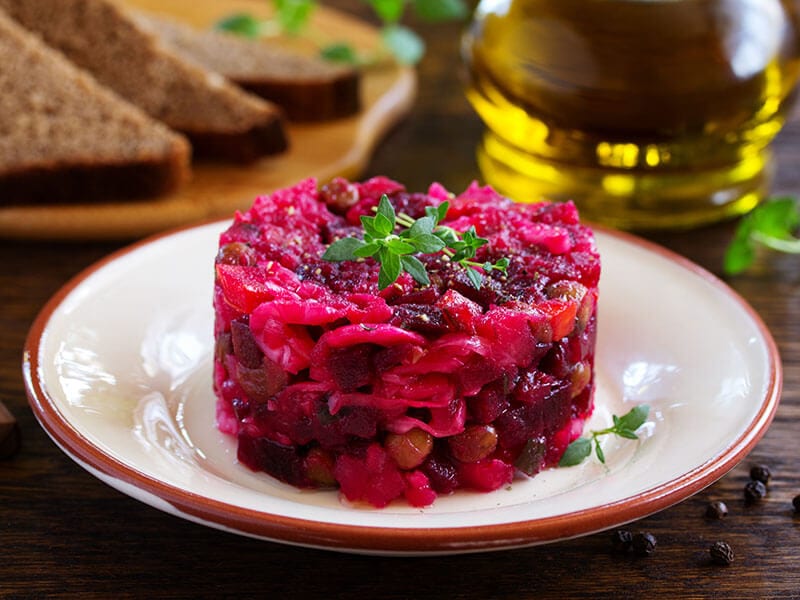 You will rarely see any salad dish with such a beautiful and vibrant reddish color as this Russian vinaigrette. It's a staple side dish in every Russian and Slavic diet, commonly consisting of veggies, onions, and Sauerkraut.
Despite its popularity in Russia, the dish actually originated in the Western European culinary culture nearly in the late 19th century. Due to its refreshing flavor, Russian vinaigrette is a popular appetizer in party and celebration meals, also known as a Zakusha.
The name vinaigrette initially referred to salad dishes with diced veggies mixed with vinegar in general. But it gradually narrowed down to salad mixed with beetroots later on. This dish is very prevalent in summer when the beetroots and veggies come in the finest quality.
If you don't like eating salad for the main meal, consider serving vinaigrette as a side dish. It combines well with any meat-based dish. Dressing vinaigrette with some olive oil and pickled cucumber is also a brilliant way to enjoy it.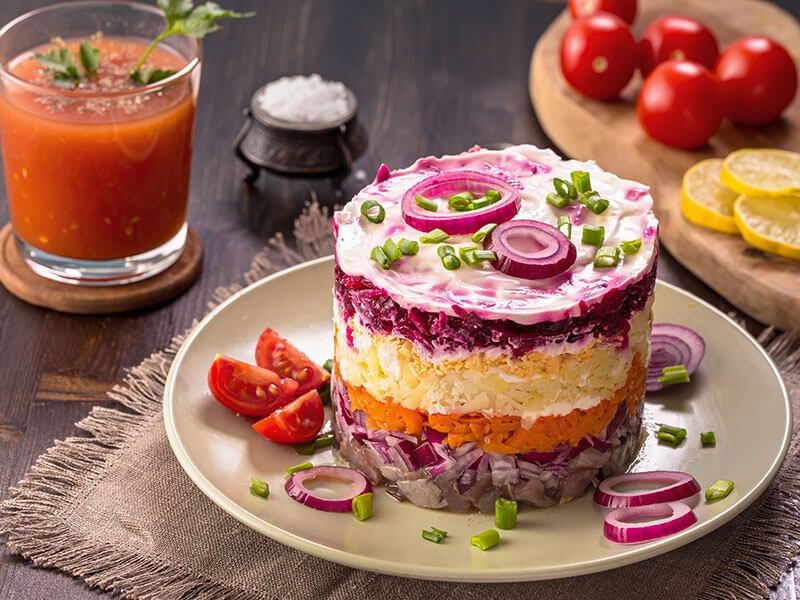 Dressed Herring or Herring under a fur coat will stun you with its impressive look and components. This dish is basically a giant salad layer topped with pickled herring, boiled eggs, onions, mayonnaise, and vegetables.
Each ingredient is chopped or grated into tiny pieces and arranged in order, creating a multi-layer salad. You will commonly see the purple layer on top of Dressed Herring, which is the boiled beetroot. Some variations even add apple dice as garnishing.
Herring under a fur coat is a common appetizer for many luxurious and traditional Russian meals. It's also a perfect dish for celebrating New Year's Eve and festive occasions. Serve this yummy salad with a glass of classy wine, and it's party time!
This chill and simple guide can help you make the yummiest Herring under a fur coat!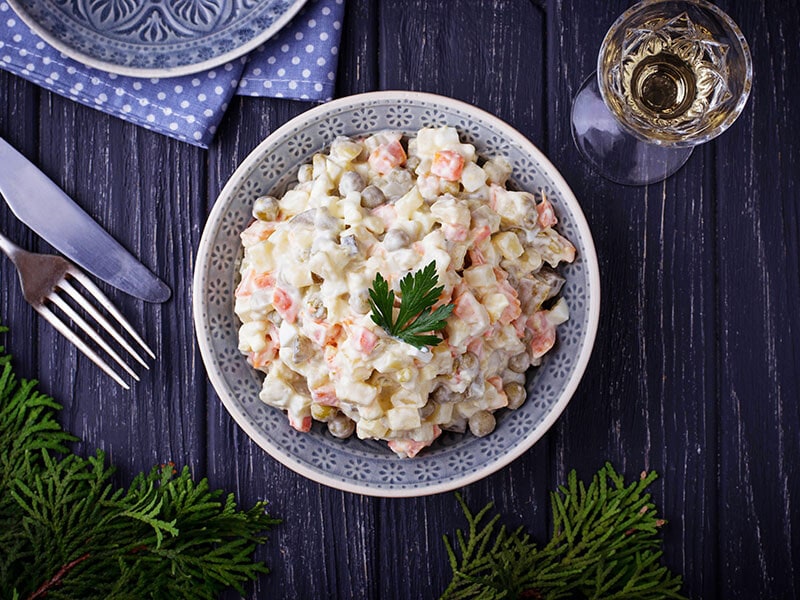 Olivier is the Russian version of the familiar potato salad you usually eat. The common ingredients for this dish are potatoes, peas, carrots, eggs, and meat. It's a common appetizer, and side dish served in many Russian restaurants and dining parties.
In the 1860s, a cook named Lucien Olivier created the first version of this salad, which gave way to its name. To prepare Olivier, the cooks pre-cook and peel the veggies before mixing them thoroughly with mayo.
The seasoning materials added are the classic salt and pepper combination. This salad may look quite simple, but it gives a super moist and creamy texture. The refreshing and addicting flavors of mayo help bring the meal to the fullest.
No wonder this dish is popular at many Russian parties and family-gathering meals. It's also served on many holidays like Easter, New Year's Eve, and Christmas in Russia. Plus, it's a popular dish in the Dominican Republic and many other countries. Olivier can last for many days in the refrigerator without losing the original yummy taste.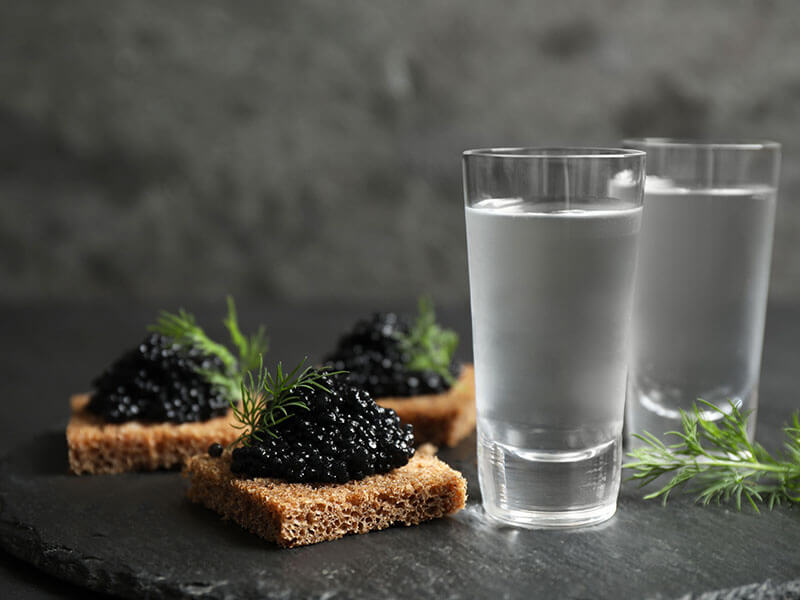 Russian cuisine is partly influenced by European culinary culture. Therefore, it doesn't surprise me when luxurious caviar appears on the menus of fancy and luxurious Russian restaurants.
Caviar has always been renowned for its classy appearance and expensive cost, symbolizing wealth and luxury. Meanwhile, Russia is the origin of the most expensive caviars worldwide, such as the Beluga caviar in the North region.
Besides its rare nature, caviar has to be preserved at a suitable cold temperature to retain its texture and flavor. Despite its origin, caviar doesn't taste so fishy or give an unpleasant odor. It delivers a mild savory flavor like ocean water with a refreshing undertone.
However, the taste also depends on the type and quality of caviar. If you can afford it, why not go for a plate of caviar in a luxurious Russian restaurant. I'm sure that it will be the culinary experience of a lifetime.
This video demonstrates how the professionals cultivate and cook Russian Beluga caviar.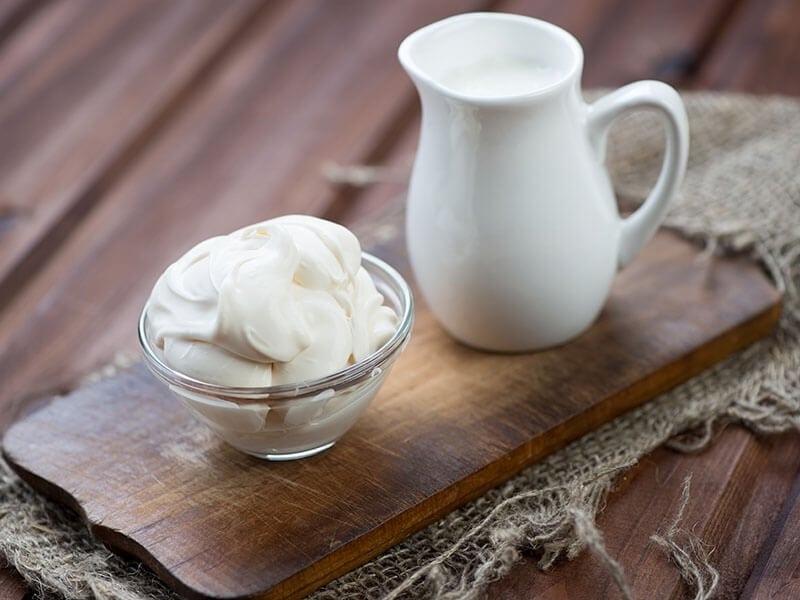 Did you notice that I kept mentioning Smetana throughout this list? The fact that Smetana is served with various national Russian dishes like Borscht, Blini, or Solyanka is evidence of its popularity in this country.
Smetana refers to a popular sour cream in Russia with a fat content of 9% to 42%. It is a staple ingredient for many cooking recipes, including soups, desserts, and main courses. People also serve Smetana with salads and appetizers as garnishing or filling.
The great thing about Smetana lies in its ability to withstand high heat in cooking due to its high-fat content. This sour cream doesn't melt or clump when cooked at high temperatures for many hours, which is perfect for stews and meat dishes.
Cow milk is a traditional ingredient for making Smetana as people decant it to separate the fat. It possesses an airy and creamy white texture and a quite similar taste to regular sour cream. But the higher fat content makes it an ideal ingredient for cooking and baking.
Making Smetana is a real art! This guide will show you why.
6 Traditional Russian Main Dishes For A Full And Hearty Meal
These dishes come with exotic flavors, using the indigenous ingredients and spices that will drive you addicted. Each dish features a different cooking method, thus bringing a distinct texture and flavor that you can never get fed up with.
In addition, the traditional Russian dishes are rich in nutrients and energy, which is perfect for an energetic day. I'm sure that they will make you mouth-watering at first glance. Now let me present to you the most appetizing traditional Russian foods.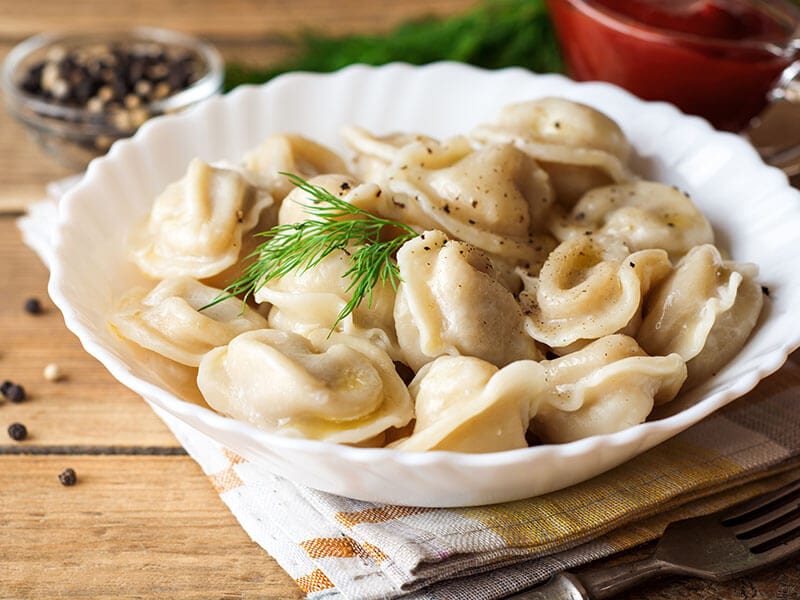 Pelmeni is another delicious meat-based Russian dish that no one should skip. Pelmeni, or Russian dumplings, originated in the Siberian region of Russia. It consists of a soft and filling crust surrounding the tasty stuffings.
The original name of this dish is Pelnyan, and the name Pelmeni only appeared when it became popular in Russia. Similar to the other types of dumplings, powder, flour, egg, and meat are indispensable ingredients for Pelmeni.
As a national dish of Russia, Pelmeni is served in various cafes, restaurants, and households. Pelmeni can be frozen and last for days without losing its tasty flavor, making it an ideal on-the-go dish for long hunting trips in Russia.
Imagine the tender boil crust coming in contact with your mouth, giving a burst of tasty grounded meat and onion. You are so lucky to have a plate of filling hot Pelmeni on a cold winter morning.
Learn how to prepare the delicious Pelmeni through this exciting guide!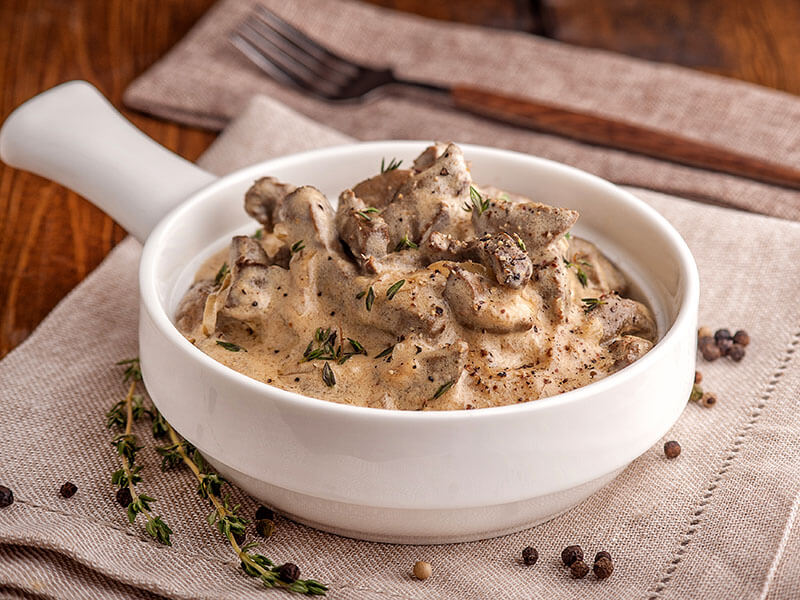 Beef Stroganoff is an indigenous Russian dish invented by a French chef working for the aristocratic Stroganov family. However, some say it's a refined version of the ancient dishes. The original recipe consists of beef cubes marinated with allspice, salt, and butter.
For hundreds of years, beef Stroganoff has spread all over the world and become one of the most popular Russian dishes with countless variations. There are various ways to prepare beef Stroganoff based on how the meat is cut and the spices used.
Nowadays, the beef filets are mixed with spices and vegetables like onions, mushrooms, and Smetana (sour cream). Stroganoff is often served with twisted egg noodles or white rice and shoe-string potatoes. It gives a creamy texture with a meaty and spice-rich flavor.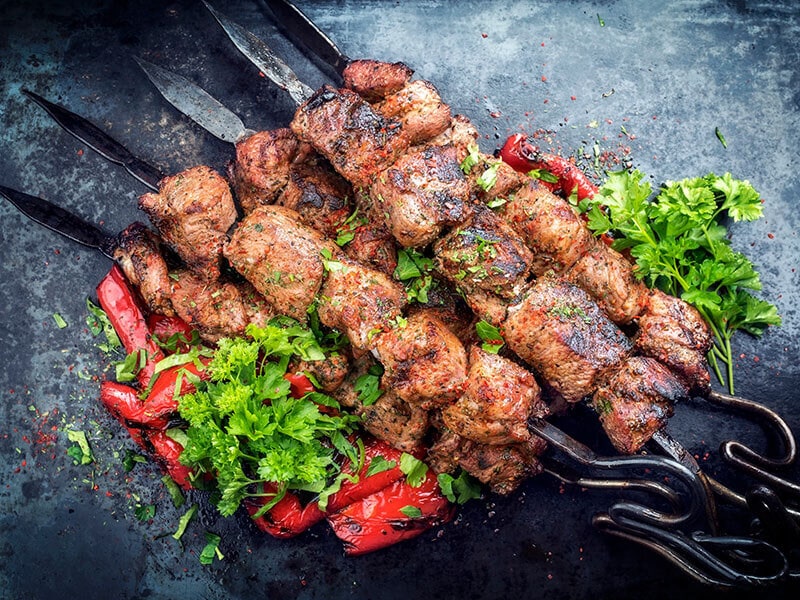 Shashlyk (шашлык) is a grilled dish consisting of marinated meat cubes with a tender and moist texture. It is believed that Shashlyk was invented by the Eurasian nomads living in central Asia.
As this nomadic group traveled across the continent, Shashlyk gradually became a staple and popular dish in many regions. The Russian Shashlyk version uses narrow bbq skews called mangals, and the most authentic Shashlyk has to be grilled on charcoal.
You can use various types of red meat for Shashlyk, but lamb will deliver the tastiest and most authentic texture. Depending on the regions and preferences, Shashlyk may contain only meat or alternate between meat, vegetables, and fat.
Whatever the ingredients used, the Shashlyk kebab gives a meaty and rich flavor. The finely grilled meat cubes combined with mushrooms and onions deliver an irresistible scent and appearance. It's a perfect dish for bbq parties or welcoming guests in Russia.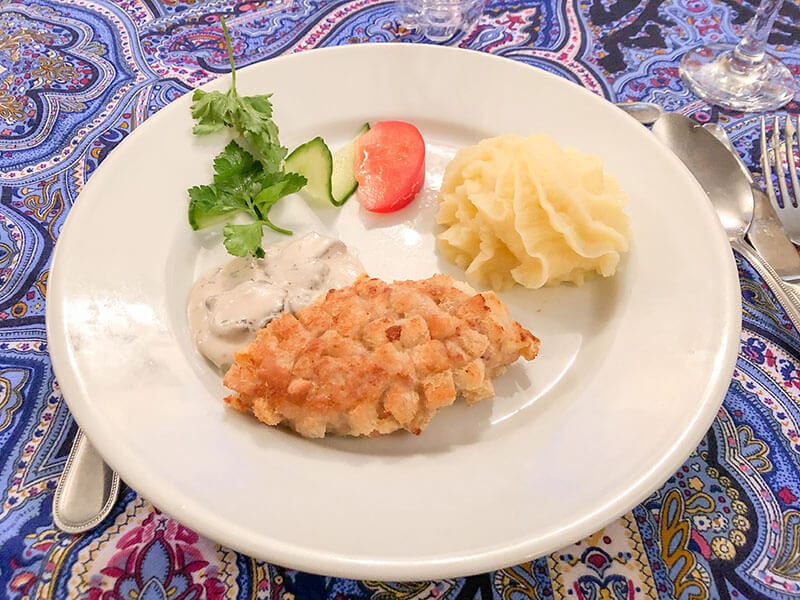 Pozharskaya Kotleta or Pojarski is a traditional recipe using chicken cutlets from Russian cuisine. Like other classic Russian dishes, Pozharskaya Kotleta originated in the 19th century and became popular in many culinary cultures.
Kotleta means cutler, which refers to the ground meat slices or patties. This fried minced meat gives a crispy crust on the inside with a moist and juicy inner texture. The Kotleta batter commonly involves meat, cheese, onions, and butter.
Each bite brings a burst of flavors, from the juicy butter to the mildly sweet sauteed onions. Before blending the components, the bread is soaked with sour cream or milk. Then the combined batter is carefully shaped into thin slices or patties.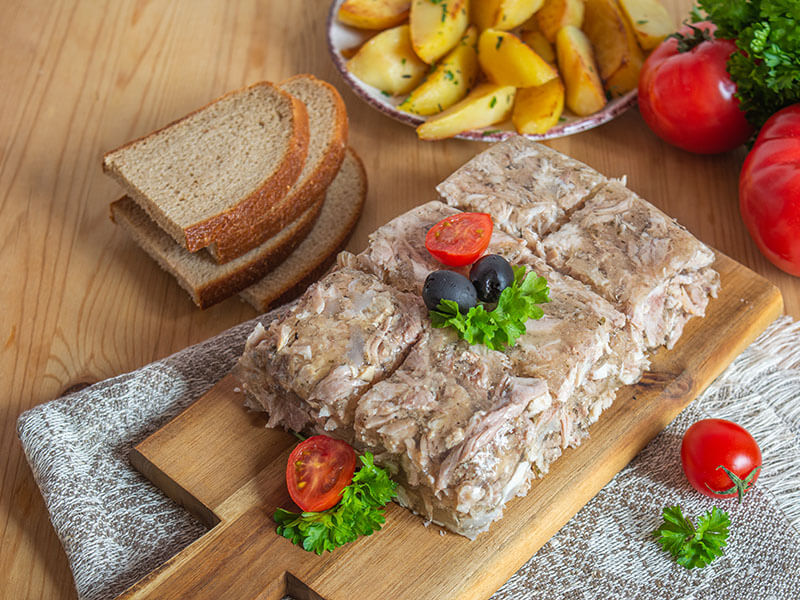 Aspic (студень) means jelly or jellied meat in Russian. As its name suggests, Aspic, or Kholodets is a clear jelly of simmered meat like pork, chicken, or beef bones. When refrigerated, the natural gelatin in this simmered texture dissolves and congeal Aspic.
The simmered liquid stock is a mix of meat, egg, seafood, and vegetables. The main purposes of Aspic are to keep the food safe from bacteria in the air and enhance its flavor. This texture is colorless and may be molded into any shape and size.
Aspic tastes like traditional soups, except that it is gelatinous. This dish contains a lot of glutamine, or amino acid, which can help treat digestive disorders and inflammatory bowel diseases.
Did the interesting shape and texture of Aspic catch your attention? Learn to prepare this dish through this simple guide!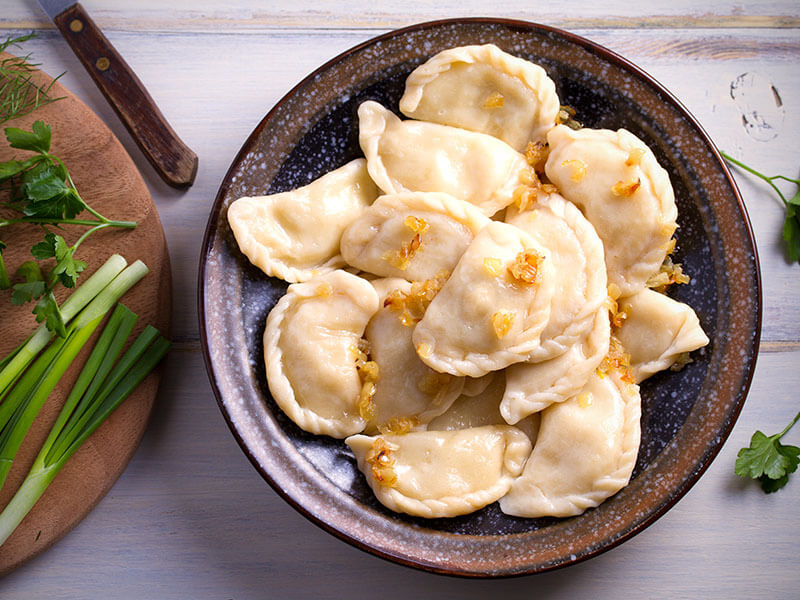 Due to their pretty similar appearances, Vareniki is commonly mistaken for Pelmeni, another popular Russian dumpling. In fact, Vareniki is the vegetarian variation of Pelmeni. Instead of meat-based stuffing, its filling commonly involves cherries, fruit, and cottage cheese.
These are the ingredients for the vegetarian Vareniki version, which is usually served as a dessert. There's another savory Vareniki variation that uses potatoes, cheese, cottages, meat, and fish for the dumplings' stuffing.
The most prevalent shape of Vareniki is semicircular ravioli with raised and sealed edges. It's a traditional dish used to celebrate special occasions like Christmas or New Year's Eve in Russia.
The best way to eat Vareniki is to serve it with Smetana sour cream, onion garnishing, and butter. While the savory version delivers a meaty and fatty flavor, the Vareniki dessert features a pleasant and filling sweetness. They are both delicious dishes you should try!
These 5 Delicious Russian Desserts Will Bring Your Meal To The Fullest
Like other culinary cultures, Russian cuisine doesn't lack sweet and filling desserts or pastries. From fried fritters to stuffed buns, these tasty Russian desserts are a perfect way to finish your meal.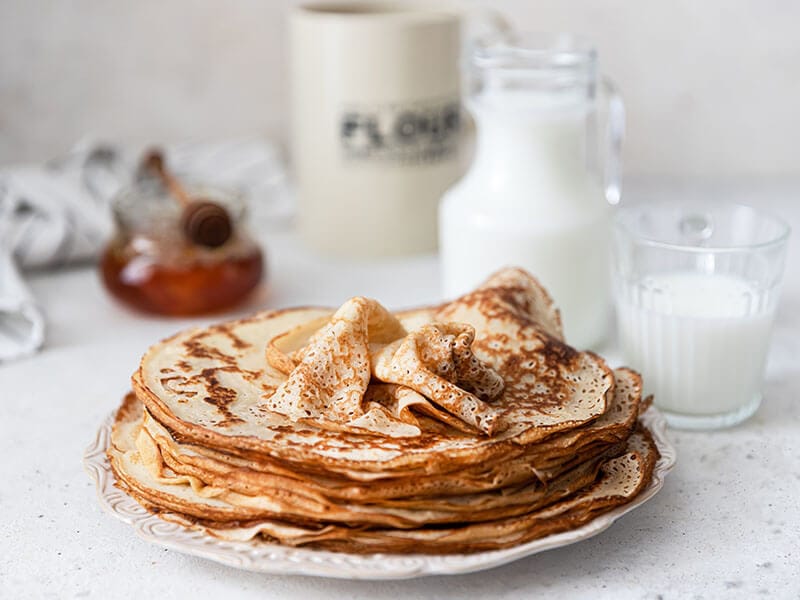 Blini, or Bliny, is a special pancake you can find in the food culture of Montenegro, Russia, and other South and West Slavic countries. You might find it under different names, such as Palacinka, Nalysnyk, etc. Each nation also has different ways to enjoy this delicacy.
In Russia, it typically involves buckwheat or wheat as the staple ingredients and is garnished with caviar, butter, tvorog (Russian cottage cheese), and smetana sour cream.
Unlike regular crepes, Russian pancakes are commonly larger and thinner (about the size of a rounded pan). There are various Blini variations in Russia, but the most popular recipe uses cottage cheese and is served with Smetana sour cream.
Based on the ingredients used, Blini will deliver a distinct and diversified taste. The flavor notes can be described as creamy, nutty, and filling. You can spread a spoon of jam or honey to enhance its flavor.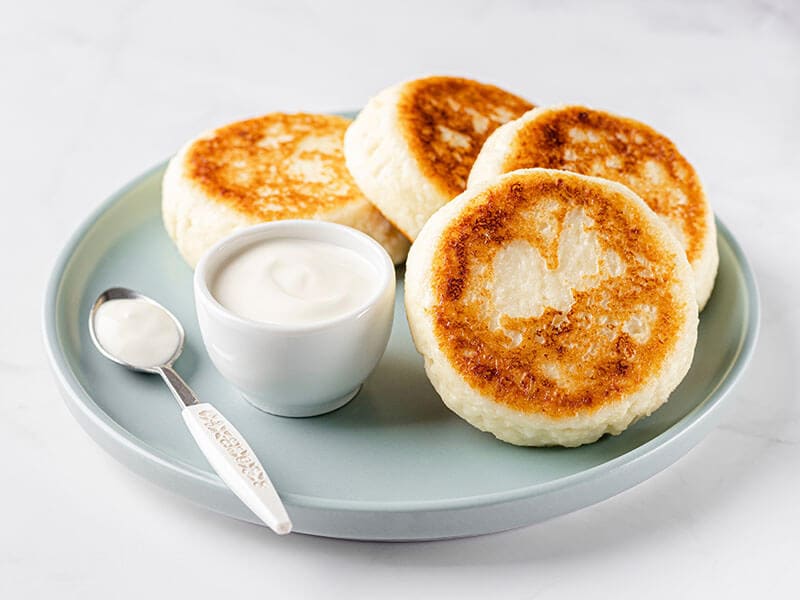 Here comes the long-waited Russian dessert for your sweet tooth! Syrniki or Syrniki is the curd cheese pancake, a very popular sweet treat in Russia and the Slavic region – farmer cheese. They deliver a simple and slightly sweet flavor that tastes better than any pancake worldwide.
The Syrniki batter is typically thicker than the traditional dough, which involves a creamy quark (curd cheese) mixed with eggs, flour, and sugar. The authentic Syrniki uses pot cheese. After making the dough, the cooks shape it into small pancakes and fry them in a hot pan.
Syria possesses an irresistible appearance with a creamy mild yellow texture topped with Russian sour cream and blueberry sauce. Inside the pillow-soft and fluffy pancakes is the cheesy goodness that will melt softly in your mouth. It's a real pleasure for tread lovers.
Ever heard of the filling Russian Syrniki before? This video will show why it is among the most delicious treats in the world!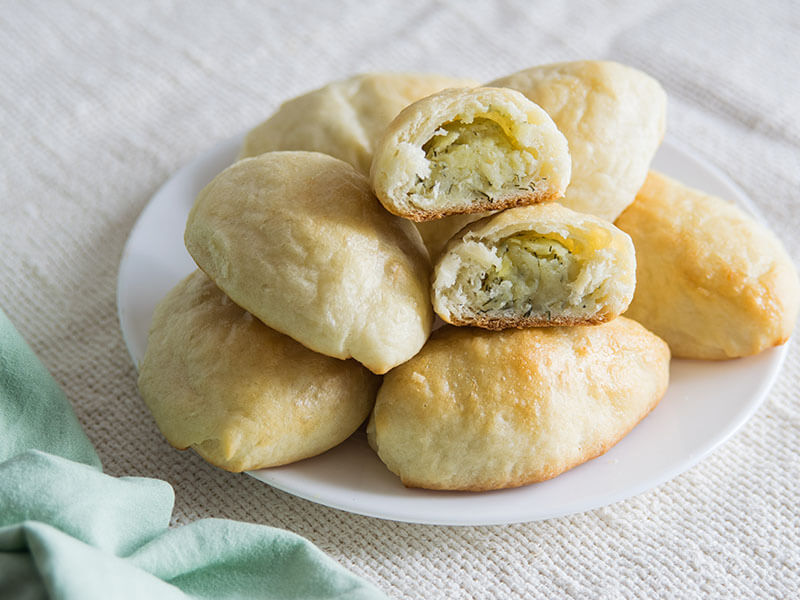 Pirozhki (пирожки́) are popular Russian small hand pies consisting of savory or sweet yeast dough. Pirozhki usually comes in medium size (about the size of your palm) that takes only two to three bites to finish.
For making Pirozhki, the buttery batter is either baked or fried, both making a fluffy and appealing pie texture. The Pirozhki dough is a blend of common ingredients like flour, sugar, salt, and yeast. Its crust has a beautiful golden color and buttery, aromatic scent.
The soft Pirozhki crust completely covers the filling, which comes in sweet or savory variations. For the sweet version, the filling consists of fruit (apple, apricots, lemon, cheery) and jam, while the savory version involves ground meat, potato, eggs, and mushroom.
Pirozhki is familiar street food and snack in Russia. I recommend you try out both flavors since they are all tasty and filling. There's also a smaller-sized Pirozhki version eaten with soups.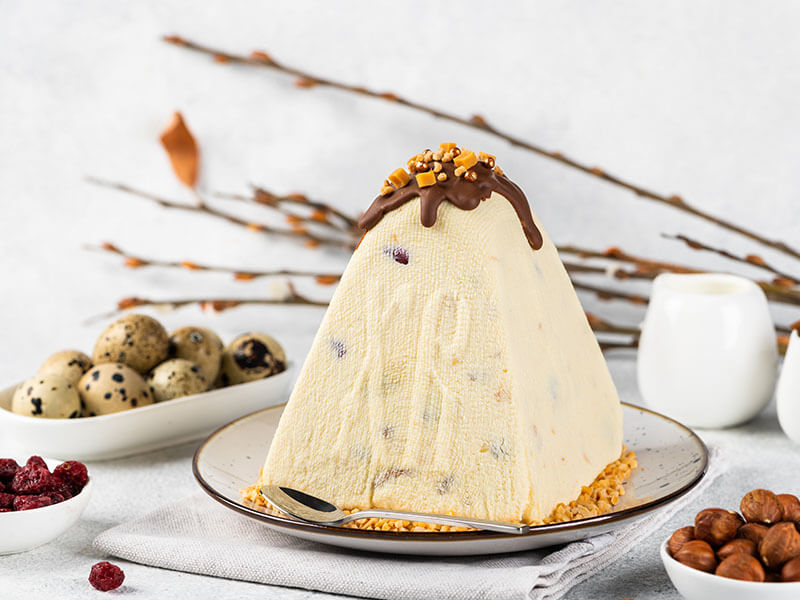 Paskha, or cheesecake, is a popular Russian dessert prepared and served during Easter. The interesting thing about Paskha lies in its peculiar shape, which resembles a four-sided pyramid. Some Paskha variations look like a mini tomb with small details and decorations.
Paskha is also the name of the Easter celebration in Eastern Orthodox. The cheesecake batter consists of sour cream, butter, vanilla, and raisins. Chocolate and candies are also a great addition to this dish.
Besides the cheesy and creamy texture, the beautiful symbolic symbols and attractive appearance of Paskha give a memorable culinary experience. It's not a common dish that is served every day.
So if you are lucky enough to visit Russia during Easter, don't forget to try out Paskha. Its crust is more like bread than a soft cake with a cheesy and chewy texture. Paskha delivers a mild sweet taste complimented with the yummy icing glaze.
Not everyone can prepare such a beautiful and delicious Paskha dessert like this.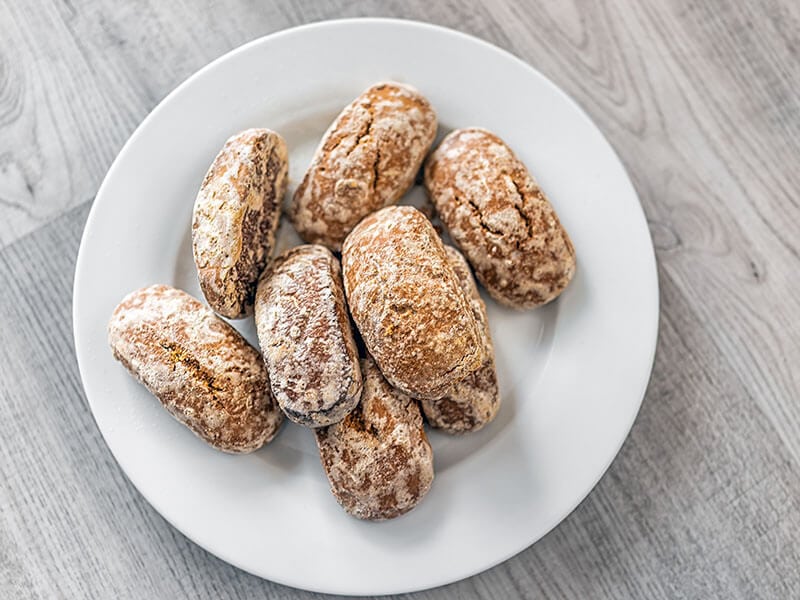 Don't let the humble appearance of these splendid Russian honey spice cookies fool you. They are among the most famous and tastiest sweet treads in Russia, and are available in any dessert store and restaurant.
Pryaniki is a familiar Russian dish served with tea on special occasions like Christmas, but it's also enjoyed all year round. Also known as honey bread, the main ingredients for Pryaniki batter are rye flour, berry juice, and honey.
The earliest variation of Pryaniki appeared in the 9th century. People started adding more natural spices (clover, ginger, or mint) to the dish a few centuries later. This dish reflects the cultural beauty of Russia, and it's making has become a popular craft.
The adept Pryaniki makers who prepare the most authentic and delicious spice cookies have to keep their recipe a secret and pass it down to the younger generations. Besides Christmas, Pryaniki is prepared to celebrate births, weddings, and festivals in Russia.
If you want to enjoy Pryaniki to the fullest, just serve it with a cup of hot tea on a cold Russian morning. To enrich its flavor, you can drizzle the honey bread with chocolate icing, jam, and even fruits.
What Are Your Favorite Russian Dishes On This List?
It is not hard to realize that there's a connection between Russian foods and European culinary culture. From the main dishes, bread, and pancake to desserts, the Russian dishes feature a classy appearance and flavorful European taste.
The country's cuisine is also a blend of Middle Eastern and Asian cuisines, giving the Russian dishes diversified flavors and textures. Imagine having a traditional Russian meal served with a classy glass of champagne in the freezing cold weather in Russia.
The coziness and appetition the food brings are just sheer pleasure, making you forget about all the sorrows in life. That's the meal of my dream, and what about you? If you have a chance to visit Russia, which dish will you try out first?
I'm eager to hear your thoughts. If there's a delicious Russian dish that I have not mentioned, feel free to comment and share with me your favorite dish. Last but not least, please share the post if you enjoy reading it!
Thank you for your time!