Do you not have any ricotta cheese recipes that are impressive and delicious enough to make? Or do you seek some easy yet hearty ricotta dishes to treat your family to the upcoming dinner? My sharing will fit with any of your requirements and expectations.
Through the article, you will gain so many recipes to make a hearty ricotta feast for the whole family if desired. Besides, you will get some secret tips to prevent cooking failure.
So what is there to delay more? Let's follow and figure it out now!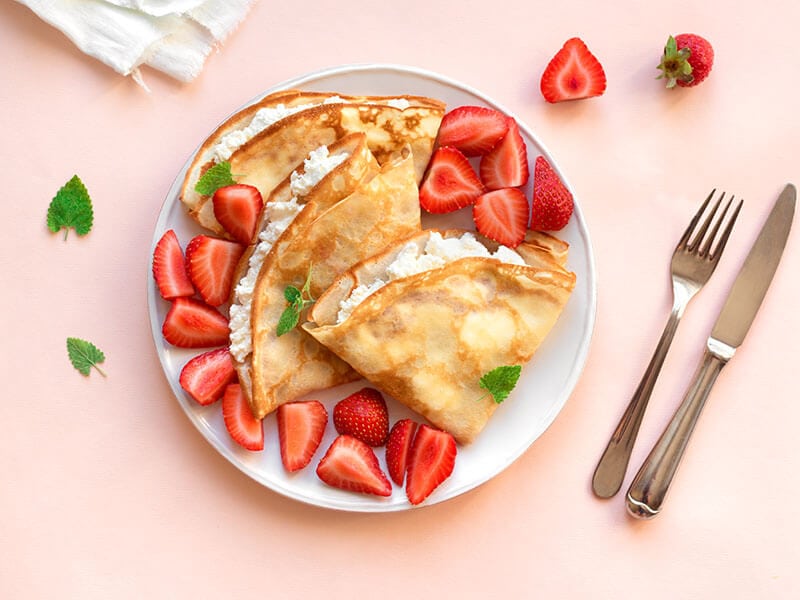 Top 27 Best Dishes Made From Ricotta Cheese
Ricotta is a healthy cheese you may know but never cook. Although you can treat ricotta like regular cheese, it is beyond that. The following list of 27 ricotta cheese recipes will guide you to these special and fancy ones. Just keep reading!
Total Time: 40 minutes
Ricotta and mozzarella cheese stuffed shells are a finger food version of pasta. Thus, you can serve them as a toothsome pasta appetizer for any gathering. The tender pasta stuffed with creamy cheese and covered in rich tomato sauce will make you crave it every time.
To make this special pasta, cook pasta until al dente. Meanwhile, make a mixture of ricotta, mozzarella, and some spices. Once noodles are cooked, fill the ricotta mixture in each shell and place them in a prepared container with marinara sauce.
Finally, coat with marinara sauce and top with parmesan cheese before baking. Your final stuffed shell should be cheesy and flavorful with a creamy and somewhat tender texture.
Total Time: 20 minutes
Baked ricotta cheese is a gorgeous dip appetizer to make on hand. This mix-and-bake dip has a creamy texture with a hint of lemon and heat from cayenne and red pepper flakes. Serve on the sandwiches with meat or vegetables, and your dip twists into a fabulous meal.
To make this ricotta recipe ahead, stir everything (except olive oil) and refrigerate until ready to serve. When the time comes, add the olive oil and bake the mixture as soon as your guests arrive. Your appetizer will be freshly delicious and beautiful without any over-thickness.
Check out how to make baked ricotta cheese in just minutes with a few handy ingredients!
Total Time: 45 minutes
Pasta and cheese is a perfect partnership that no one can deny. But with ricotta cheese sauce, your pasta will be lighter and healthier to feed your family, thanks to the cheese's less salt and fat content.
To make this hearty pasta sauce, combine mashed roasted garlic, lemon zest, ricotta, and pepper. Meanwhile, boil and drain pasta as package directed, but keep 2 cups of pasta water for later. Then stir the ricotta into the mix with a 2:1 ratio of ricotta and pasta water.
Keep stirring ricotta with pasta water on low heat until the mixture is thick and smooth. When done, divide pasta into individual servings, top each with pasta sauce, and garnish with lemon zest, basil, and pepper flakes to serve.
Total Time: 25 minutes
Not made from potatoes, this gnocchi recipe is a ricotta cheese version instead. With the addition of parmesan, flour, and egg yolks, your innovative gnocchi still retains its chewiness but is full of cheesy flavor.
Mix moderately all ingredients until they turn a bit sticky, roll the mixture into a thick log, and cut. Then cook these cut gnocchi in boiling water to achieve the glossy Italian dumplings. After that, you can soak them with your favorite sauce to serve immediately or in cold water for future use.
Although this recipe calls for store-bought ricotta cheese, you can feel free to use your homemade one. But remember to whisk and smooth any lumps before making the dough. Your carefulness will keep your gnocchi from being lumpy.
Let's follow a professional chef to make ricotta gnocchi from scratch!
Total Time: 45 minutes
If you seek an impressive main dish, chicken stuffed with ricotta cheese should be the one. It contains creamy cheese and sweet spinach inside chicken breasts baked with fresh marinara sauce.
Place the golden brown chicken filled with melted cheese next to pasta and broccoli, and you have a fabulous, restaurant-quality dish at your dining table. Besides, this chicken delicacy is a perfect partner with a fresh tomato salad or zucchini casserole.
Total Time: 49 minutes
For all the pasta lovers, farfalle (bowtie) pasta with spinach and ricotta will light up your day with hot pasta and cheesy sauce. The delicious farfalle delight is creamy in every bite. It tastes warm, sweet, fatty, and has a mint hint from fresh basil. All present a pleasant aroma and flavor.
And you'll have a delicious plate of pasta only by stirring in all the ingredients. Notably, this recipe is vegetarian-friendly with only some dairy and veggies. So your vegetarian friends can also enjoy it without fear.
But if you love any protein addition, toss in some cooked chicken. The umami and meaty chicken will add some flavors to your dish. Plus, sun-dried tomatoes or toasted pine nuts are also a great compliment.
Total Time: 45 minutes
You never go wrong with baked spaghetti. It is a quick and easy recipe that even your kids can help you. The recipe asks for ground beef, marinara, cheese, and spaghetti noodles, but with the presence of ricotta, your family dinner will be a lot healthier.
You only need to prepare noodles and meat sauce, then assemble them into layers before baking. Once finished, your baked spaghetti has a cheesy cover filled with creamy pasta and tasty beef. And it has a balanced flavor with meatiness, umami, and sweetness, all so good for a daily meal.
With a short list of ingredients, this baked food is somewhat versatile. You can swap spaghetti for spaghetti squash to have a lower-carb meal. Meanwhile, add green bell pepper, button mushrooms, and red pepper for more greeny flavors.
Total Time: 1 hour 4 minutes
Can you make cheesecake without cream cheese? The answer is this Italian ricotta cheesecake. It is a soft and ultra moist cake that emits an orange aroma during cooking and serving. When eating, you also find some blueberry chunks inside.
Indeed, this cheesecake does not have cream cheese. Instead, ricotta is the key contributor to the overall texture. Thus, your cheesecake will slightly differ from what you are used to, yet still be sweet and cheesy enough to enjoy.
A small tip to gain the best texture is mixing ricotta, eggs, and sugar excellently blended. When done, your mixture should be fluffy and light. But when blending the mixture with dry ingredients, remember to mix just enough to keep your cake fluffy and soft.
You will go crazy with this fuss-free Italian ricotta and blueberries cheesecake!
Total Time: 1 hour (including 10 minutes of resting time)
Lemon ricotta cookies are silky soft lemon sweet delights to treat your family. Most of their flavor comes from fresh lemon zest and lemon juice. Thus, you will love these cookies' slightly sweet and lemony flavor.
While the ricotta also presents a light flavor to the cookies, you will not be able to taste its full flavor. But that does not mean ricotta cheese is useless in this recipe. Indeed, it helps with the moist and soft texture of your cookies, making them satisfying enough to eat.
Best of all, these cookies can be stored well in the freezer and best without the glaze. To serve them, thaw them a night before serving. Or just let them out at room temperature for sooner use. Once defrosted, add the glaze to cookies and treat your guests.
Total Time: 40 minutes
With fried ricotta cheese, different greens, and sauteed mushrooms, your dish will switch to a fancy salad plate to impress people. The delicacy is fresh and earthy, followed by a savory flavor of your favorite dressing. Then comes a cheesy and fatty feeling when biting with fried ricotta.
Besides, this salad is also super effortless to cook. First, make a ricotta cheese mixture with panko crumbs, egg, and parmesan, and freeze it. Then saute mushrooms, and fry the ricotta balls. Once fried, combine all onto a plate, drizzle dressing, and serve.
One thing to call to mind is draining your ricotta with a cheesecloth. This technique will reduce the excess moisture of ricotta, which helps your cheese balls easily hold their shape. So do not skip this step! A little effort will award you a successful meal.
Total Time: 40 minutes
Ricotta-filled crepes will be a new favorite recipe in your home. They are tender and moist, stuffed with creamy ricotta cheese. And when topped with fresh berries and powdered sugar, these crepes become an extra special dish for breakfast.
Not stopping from that, this recipe is a healthy crepe. Its batter requires simple and whole food ingredients, such as whole wheat flour. Meanwhile, the filling contains only one-third cup of sugar, which you can reduce more if preferred. But there is still some sweet retain.
Compared to pancakes, this crepe needs less effort, and clean-up is a breeze. There is no need for multiple bowls to handle things, only two for the batter and the ricotta mix. To start, blend crepe ingredients until smooth and let the mixture sit for minutes to get the most delicate result.
Once done, pour batter into a hot pan and swirl around to form your crepe. Until the edges are golden, fill your crepe with a moderate amount of ricotta mixture, fold, and let your kids do the garnish with some berries and sugar.
Total Time: 65 minutes
Spinach and cheese are an out-of-this-world combo. Once having both in your flaky pastry, you will love their harmonious flavors. The light, sweet spinach is a great partner with a melt-in-your-mouth and creamy cheese.
Even more, this hearty pastry recipe is customizable in shape. Depending on your serving purpose, you can cut it into any size, like bite-size for appetizers and snacks or a loaf for the main meal. Whichever, your rolls will be yummy and appealing to your family.
Let's impress the crowd with these delightful spinach puff pastry rolls with feta and ricotta!
Total Time: 1 hour 30 minutes (including 10 minutes of resting time)
This lasagna is one of the most loved pasta casseroles with an explosive flavor owing to three kinds of cheese and two types of meat. While the cheese brings creamy and rich flavors, ground beef and Italian sausage are umami, licorice-like, and earthy.
Notably, this easy lasagna recipe needs no pre-boiled noodles. Your pasta will come out perfect after baking in the oven with the liquid from the sauce. You can add a half cup of water to the pan for more moisture.
Moreover, remember to cover this delight with foil so the heat and liquids can soften your pasta. In some cases, your cheese may stick to the foil. Just spray one side of foil with cooking spray and lay that side on top of your lasagna. And no more waste cheese!
Total Time: 15 minutes
Ricotta cheesecake fluff is comfort food with a pleasantly soft and creamy texture, thanks to the ricotta cheese. Besides, this fluff is also trouble-free with just three ingredients and two simple steps to make. So whenever you need a quick dessert or snacks to treat guests, do this!
You only need to mix and stir all the ingredients until desired texture. Your final dish will be a smooth fluff rich in flavor. For more taste, swap sugar-free pudding mix for a flavored one and pick up full-fat ricotta cheese instead. But remember that the changes can increase the calorie content.
Total Time: 5 minutes
All the spreads will give up when honey-whipped ricotta comes into place. This spread is a creamy and sweet treat with few requirements. With only honey and ricotta, you are halfway done doing this dish.
Now you only have to place ricotta and honey in a food processor or bowl. Then whip them up with a whisk until incorporated and fluffy. After that, check for sweetness and season with salt and pepper. Finally, grab your favorite bread, spread the dip, and serve with a honey drizzle.
Your toast should be cheesy and sweet with a salty and spicy flavor from salt and pepper. It will taste much better when served with pita chips as a welcome appetizer.
Total Time: 1 hour 40 minutes
Ricotta pie is the star of Easter with its gorgeous appearance and flavorful taste. It features creamy ricotta fusing with lemon and almond hints in a sweet and tender crust.
This hearty pie takes three main steps to complete: making Pasta Frolla (Italian shortcut pastry), preparing the ricotta filling, and assembling two for baking. But before making, straining ricotta is a crucial advance to eliminate the liquids, especially when buying lower-quality ones.
This additional step will prevent a watering filling. Besides, it also reduces the grainy texture of ricotta cheese, making your pie more pleasant to enjoy.
If you have no free time on weekdays, feel free to make it ahead on weekends. The baked pie should be good for up to three days in the refrigerator and best when served closer to room temperature.
Let's discover an Italian lemon ricotta cake to complete your dinner night!
Total Time: 1 hour 25 minutes (including 1 hour of warming up the dough)
This pizza has a super filling crust with tons of cheese in every bite. The creamy and mild cheese combined with flavorful herbs spices up your pizza to the next level.
With this detailed recipe, you can make your pizza from scratch in just about a couple of hours. Begin by handling the pizza dough with olive oil and let it sit. Meanwhile, make the ricotta mixture with red pepper flakes, garlic, and salt. Once prepared, it is time to assemble things.
Place the mozzarella cheese, ricotta mix, basil leaves, and a drizzle of olive oil on the pizza dough and bake. When golden brown, remove your pizza from the oven, slice it into individual slices, and serve. Your delight may look simple but hearty enough on the table!
Total Time: 30 minutes
Italian ricotta cheese fritters are crispy, toothsome snacks made of ricotta, eggs, grated cheese, and breadcrumbs. The making process is simple with mixing and frying but produces top-notch food to serve both hot and cold.
For the main course, accompany these cheese fritters with any salad bowl, and your guests will be pleased. Or, you can cook them with tomato sauce as a meatball alternative for your vegetarian friends. No matter how you serve, your patties are always full of cheesy flavor.
Total Time: 10 minutes
This scrambled egg recipe is a light and creamy combination of eggs and ricotta. The two key ingredients create a beautiful ivory white color. With added chives, your fluffy delicacy is more flavorful with an onion-like taste and a slight garlicky note.
This egg dish can't be easier. You only need to whisk egg, ricotta cheese, chopped chives, salt, and pepper until well combined. Melt the butter, and stir the egg mixture into it. After finishing, serve hot with chopped chives on top.
Total Time: 45 minutes
Whipped ricotta with roasted kabocha pumpkin will be a hit dish using chestnuts for your fall dinner. The earthy sweetness and chestnut hints blended with cheese provide a creamy texture and a cozy taste.
Untroublesome and convenient are two words to describe this decadent. Roast kabocha with oil and seasonings in the oven. When it's cooked, blend the kabocha, milk, and ricotta with salt and pepper until smooth.
Finally, spoon onto the plate, top with a drizzle of salt, pepper, olive oil, and optional shichimi togarashi, then serve with toast. If you want to prepare this dish in advance, make and store it (without toppings) in the fridge until needed.
Total Time: 20 minutes
Sourdough lemon ricotta pancakes are an upgraded version of a traditional pancake. Instead of over sweetness, this delicacy has a hint of sourdough flavor: sour and tangy. Thus, your family may find this pancake more appealing than the regular and crave more than just a bite.
And since the recipe requires no overnight rise time, you can treat it as a quick breakfast, brunch, or dessert when lacking time. Mix dry and wet ingredients until they combine. Then heat butter or oil in a pan and pour batter to make pancakes.
When they're brown on both sides, serve your pancakes warm with fresh berries, maple syrup drizzle, and whipped cream. If you are looking for the best presentation, make a tower of pancakes with some gorgeous melting-down syrup and colorful berries.
Here are the detailed instructions for your fabulous lemon ricotta pancake!
Total Time: 25 minutes
Gourmet Italian grilled cheese with pesto will attract any cheese lover. When biting into this delicacy, you find the buttery, crispy sandwiches, followed by a gooey cheese melting from the sides with rich, herby, salty, and sweet flavors exploding all at once.
Serve your grilled cheese with some veggies to balance the rich flavor. Some best suggestions are a green salad with citrus vinaigrette, creamy tomato soup, and roasted Brussels sprouts. These sides will add the missing greeny and smokey flavor to the food for your hearty meal.
Even more, you can twist up the flavor with some additional toppings if desired. Caramelized onions, sauteed mushrooms, and avocado should work well. Also, a spread of marinara sauce, chutney, or bacon jam can be a spotlight for the dish.
Total Time: 2 hours 7 minutes (including 1 hour of refrigerating time)
Italian ricotta cookies are a sweet treat in any gathering. Its cheesy flavor and sweet white frosting should be great to present on Christmas days. Or you can flexibly change their color to make them festive food for any time of the year.
Since it's easy to make, having a batch for your next party is a good idea. First, form a dough by beating sugar, butter, ricotta, vanilla, eggs, and dry ingredients. Once combined, put the mixture in the refrigerator for at least 1 hour. Meanwhile, prepare your sweet glaze.
After that, scoop the batter into small cookies on the baking sheet and bake. When cookies are cool, dip glaze, add sprinkles and let them cool to serve.
For the Christmas version, sprinkle some red or green sugar crystals to garnish your cookies. And if you ask for more flavors, feel free to add any flavor extract to spice up your delicacy. It can be a well-known almond flavor or any of your favorite ones.
Total Time: 1 hour 20 minutes (including 15 minutes of soaking time)
Ricotta cheese kunafa is a spin-off of classic cheese kunafa, a traditional Middle Eastern recipe. Instead of sticky mozzarella, this sweet treat contains creamy ricotta inside golden kunafa strands, all soaked with sugar syrup.
For that reason, ricotta cheese kunafa has all you expect in a dessert: crunchy crust, creamy filling, sweet syrup, and tangy cheese. Notice that you'll mix the ricotta with Arabic-style clotted cream, making your filling extra creamy.
Besides, cardamom and cinnamon-flavored sugar syrup also generate a herby warm and a slight citrusy note to your kunafa. Even a subtle flavor is enough to please your guests' taste buds.
Total Time: 1 hour 25 minutes
This pound cake recipe is a delightful summer dish. That's because it has many fresh flavors: the lemony sourness, the sweet and floral taste of blueberry, and the creamy ricotta. All are in a delicate crumb for the lovely dessert.
There are a lot of tips for making this cake. First, you should prepare ingredients at room temperature to help things blend more evenly. Also, watch out for your baking powder since the old one tends to go flat in the recipe and affect your pound cake texture.
Besides, coating your blueberries with a small amount of flour can keep them from sinking in the batter. Instead, your blueberries will fill evenly in a cake. That ensures each bite you have boasted of juicy and sweet flavors.
Figure out this quick and easy lemon blueberry ricotta pound cake recipe!
Total Time: 1 hour 5 minutes
Summer zucchini ricotta quiche is a beautiful and toothsome dish for your brunch or dinner. Nothing is better than the ultra-creamy texture with a sweet grassiness of fresh zucchini and nutty walnut crumbles. Altogether, they provide the real taste of summer.
If you do not have zucchini on hand, you can make other variations of this quiche. Just alter zucchini to cauliflower rice, broccoli, and roasted red peppers for new flavors. Or, swap for sauteed kale and spinach for the almost same taste.
A noticeable advantage of this summer delicacy is that you can prepare it ahead. The food can hold up for days and months in the fridge and freezer in plastic wrap. When ready to serve, place your quiche in the microwave or oven for reheating.
Total Time: 40 minutes
Ricotta is a stunning addition to your dull meatballs. Besides a tender texture, the cheese also brings a cheesy flavor to your meaty dish. Then soaked with the sweet and sour marinara sauce, your meatballs generate tons of flavors on just one plate.
To handle meatballs, stir milk, eggs, breadcrumbs, and cheese until combined. After that, add beef and salt, and mix all ingredients gently by hand. Then form and brown these meatballs in the pan. Once done, simmer these fried balls with a marinara sauce for 15 minutes to finish.
While waiting, it is time to make a yummy salad bowl for your beef ricotta meatballs. Just toss arugula with olive oil, lemon juice, and parmesan cheese. And place some meatballs on top before serving on the dining table.
Ricotta Cheese Is A Wholesome Ingredient To Cook
Not just a cheese, ricotta is a wholesome ingredient in any recipe, from appetizers to main dishes and desserts. Once you understand how it transforms into a meal, you can let your creativity fly and put it into any recipe you like. Ricotta will never let you down!
So do you feel impressed by any plate on the list? Or do you have any new ideas? Leave your thoughts below to let me know. I would love to read all your words.
Also, if my post is helpful to you and your community, like and share it on your feed to keep the information. So whenever you need to recall the ricotta recipes, you can find them there. Stay well, and see you in the upcoming sharing!