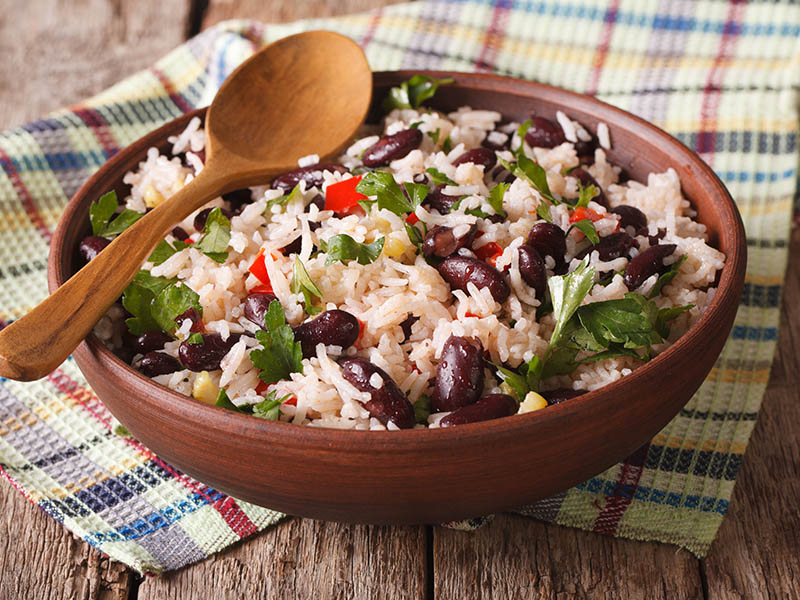 Are you looking for delicious rice side dishes to enrich the flavor of your main course? I've made a list of the greatest rice side dish recipes that are simple to prepare but have the same rich flavor as those in high-end restaurants.
In this list, you can find countless styles from across the world. Various side dishes greatly accompany many main courses. Meanwhile, some recipes have many helpful hints to make your rice perfect. Don't skip them!
Super Tasty But Easy Rice Side Dishes For Your Flavorful Meal
Rice seems to be a legendary ingredient in Asian cuisines, such as Japan, China, Korea, India, and Southeast Asia. This compiled list of side dishes from the rice will absolutely go well with a wide range of heavy and hearty main courses.
Total time: 28 minutes.
If you're a newcomer to rice side dishes, I highly recommend the classic and delicious rice pilaf. In most cases, classic rice pilaf is a fish-related recipe's top serving for creating a healthy course. Besides, the ingredients are also extremely common.
A small bowl of warm, classic rice pilaf doesn't offer a strong flavor but it brings a refreshing feeling of summer side delicacies in one spoon. You can feel the tenderness and fluffiness of perfectly cooked rice. Adding some parsley and bay leaves can enhance the dish's fragrance.
There are simply a few steps to making classic rice pilaf.
Total time: 25 minutes.
Cilantro lime rice, full of fresh lime flavor, can wake up all your taste buds in the blink of an eye. If you're still wondering which side dish option is Tamales' ideal partner, cilantro lime rice will be an ideal fit.
Let's begin by stirring washed rice, lime juice, and zest in salted boiling water. Simmer the rice for 20 minutes or until it absorbs water and becomes tender. To make the rice cook evenly, reduce the heat to low and cover the lid tightly. Now, garnish with herbs and serve.
Total time: 25 minutes
Cooking rice with coconut milk may sound odd, but the result will create a wow experience. Instead of water, coconut milk will change the original taste of rice into something creamier with a deep coconut flavor.
This is how to make coconut rice fluffy and tender. Add water, coconut milk, and rice to a saucepan with a tight-fitting lid over high heat. When the rice boils, reduce the heat to low and let the rice simmer until small holes start to appear on the surface.
Total time: 35 minutes.
If you're expecting another version of coconut rice that is more colorful and interesting, try coconut rice with papaya. I'm sure by only adding sweet chopped papaya, your rice side dish will bring out more than a strong tropical vibe.
This recipe is likely to be the same as that for coconut rice. Once you've finished the coconut rice, chop the papaya and prepare shelled pistachios to stir with it. This side dish will instantly make kids want to try it right away.
Total time: 35 minutes.
Thai curry, one of the famous dishes in Thai cuisine, is well-known for its spicy flavor and red-colored appearance. How about combining Thai curry and fried rice? Certainly, Thai coconut curry and rice will become your favorite side dish in no time.
Let's imagine having this terrific Thai dish for dinner. It is not only visually appealing but also likely to explode with satisfying flavors in your mouth. What a perfect combination of fluffy rice and the crispy flavor of vegetables!
Thai coconut curry rice has a comforting flavor.
Total time: 55 minutes.
Here is an out-of-this-world vegetable side dish filled with the aroma of basmati rice. Native to India, basmati rice is a long-grained variety with an extremely nutty flavor. It is one of some recommended rice varieties for cooking rice pilaf.
Dried fruits, nuts, and mild rice create the perfect combination for delicious rice pilaf. You can add cinnamon, turmeric, and dried basil to flavor the dish. It's advisable to use ground pepper, lime, or lemon juice to stimulate your taste buds.
Total time: 20 minutes.
Sesame is a type of oil-rich seed that has appeared in human civilization for a very long time. That's why sesame seeds have become a famous ingredient in side dishes, main courses, or desserts. You can easily find sesame seeds at any grocery store.
By merely adding sesame, you can totally change the rice's taste. Sesame seeds offer a slightly sweet and nutty flavor as well as a satisfying crunch when eaten whole. Seasoning with a little salt and pepper will make sesame rice more toothsome.
Total time: 55 minutes.
If there are some leftover mushrooms in your fridge and you prefer to cook them with rice, here's the right recipe. This simple, appetizing, and healthful side dish to go with pulled pork, roast pork, and the like only takes a few steps and some simple ingredients.
Saute mushrooms in a pan over medium heat for 15 minutes, and add garlic and thyme to taste. Add rice, pour the broth, and bring to a boil. Let the rice simmer for another 15 minutes over low heat until it becomes tender. Now, garnish with parsley and enjoy!
Total time: 33 minutes.
Spanish red rice, Mexican rice, or Arroz Rojo, is a wise choice to serve alongside roasted chicken, grilled steaks, etc. Spanish red rice is flavorful but only needs some very basic ingredients such as onions, tomato paste, garlic, chicken stock, and rice.
If you find cooking rice on the stovetop challenging, feel free to make this recipe using a rice cooker. Keep in mind that each type of rice requires a different amount of liquid to cook perfectly. So, you should check the instructions on the package to adjust the right liquid ratio.
Spanish red rice is a simple, healthy, and delicious rice dish.
Total time: 30 minutes.
Tomatoes and rice are no longer an unfamiliar combination. But are you sure you know how to make it loaded with flavors? Because it's easy to overcook the rice, you should always pay attention to this step.
About tomatoes, I suggest using fresh tomatoes but do not drain them. Let's spend 5 to 10 minutes cooking chopped tomatoes with some garlic before adding the broth and rice. If you don't prefer bacon grease, use bacon and ham flavored seasonings as a replacement.
Total time: 35 minutes.
Need an unforgettable side for ham-filled dishes or similar meaty delicacies? Green spinach and cheesy parmesan are all you need for a tasty and healthy choice! Brown rice with spinach and parmesan cheese is quick, simple, and flavorful with the basic ingredient combination.
This is a brief recipe for the dish: Coat onions, garlic, brown rice, and salt in olive oil over medium heat. Stir well, pour in chicken broth, and bring to a boil. Then, reduce the heat and wait until the rice absorbs the liquid. Add chopped spinach and put some cheese on top.
Total time: 30 minutes.
This creamy and cheesy rice side dish will never disappoint your expectations. I bet the first time you taste cheesy green chile rice, you will fall for it immediately. Believe it or not, it only takes 5 minutes to prepare. The rest of the work is in the oven.
Your ingredient list consists of pre-cooked rice, sour cream, shredded cheddar, corn, seasonings, and, of course, green chilies. There you go! Let's mix all the ingredients in a large bowl, spread them on a baking sheet, sprinkle cheese on top, and bake for 25 minutes.
Total time: 1 hour.
Is there a natural and colorful salad suitable for a fall meal? I suggest a Southwest sweet potato, black bean, and wild rice salad. This is not only rich in nutrients but also tasty and easy to make. You can freely add more or substitute some ingredients to meet your taste.
Let's begin by cooking rice and roasting sweet potatoes first. Let them stay cool and mix them with green onions, corn, cilantro, pepper, and toasted pumpkin seeds. Add the vinaigrette ingredients to a jar and shake well. Then, toss the salad in the mixed vinaigrette.
Total time: 11 minutes.
Three bean salad with rice is really the last piece of the puzzle for a perfect family picnic. The nutty flavors of black beans, kidney beans, and cannellini beans pair well with the tenderness of fluffy white rice.
The ingredients needed for a dressing that has a bold and intensive flavor include red wine vinegar, olive oil, Dijon mustard, sugar, pepper, and salt. If you would like to use different beans for the salad, they can be soybeans, chickpeas, navy beans, etc.
Total time: 1 hour.
Your dinner will become wholesome with this wild rice salad. In particular, you can make this a vegetarian side dish for any main course you prefer. Wide rice salad can be the favorite dish of your family on holiday.
The things that make this so special are the ingredients. The key components for the salad include wild rice mix, dried cranberries, pecans, apples, green onion, and parsley. The dish is delicious because of the mix of the crunchy flavors of fruit and the tenderness of wild rice.
Wide rice salad is an explosion of taste.
Total time: 25 minutes.
Seek a quick side dish for lunch? Turmeric rice can be your first choice on busy days. For those who do not know about turmeric, it is a flowering plant that belongs to the ginger family. Turmeric has a variety of health advantages.
To achieve the best result, you can use jasmine rice (a long-grain variety) that offers a nutty and sweet flavor. Let's cook rice together with turmeric until the rice is tender. After removing the rice from the heat, let it sit for 5 minutes and serve.
Total time: 25 minutes.
As its name suggests, Hawaiian Luau rice is a rice side dish that brings a tropical vibe to cool off scorching summer days. This is an easy homemade side dish with the same level of luxury as in top restaurants. Hawaiian Luau rice creates a remarkable taste in your mouth.
That's the sweet and slightly sour flavor of pineapple, the strong aroma of coconut oil, and the nutty and floral taste of basmati rice. Trust me, Hawaiian Luau rice will spice up many main dishes, from salmon, chicken, or even beef.
Total time: 30 minutes.
Check out another new recipe using familiar ingredients! Saffron rice with asparagus is a gluten-free delight for any holiday or family gathering. Though an absolutely vegan side dish, it will steal the heart of meat-eating foodies as well.
Let me show you why this side dish can be a star. The key ingredients include saffron threads, turmeric, asparagus, pine nuts, etc. However, to achieve the best outcome, you should cook asparagus and pine nuts before combining them with the rice.
Total time: 1 hour 10 minutes.
I can say a stick of butter rice is the proof of a famous quote, "Don't judge a book by its cover". This side dish may look colorless, but its amazing taste will surprise you. Stick of butter rice is rich in buttery and nutty flavors.
It only takes four components to complete: white rice, French onion soup, beef broth, and butter. After preheating your oven at 425°F, mixing and stirring white rice, onion soup, and broth, add some sliced butter on top and bake for 1 hour.
Total time: 40 minutes.
Even if you're not a fan of rice, you'll consider giving pesto rice a try at first sight. Pesto rice brings a light green color and a stunning look. Whether in summer or winter, for home gatherings or outdoor picnics, pesto rice can be a fitting accompaniment.
To prepare the pesto, you can quickly scan these instructions. Chop basil leaves, pine nuts, and garlic coarsely. Blend with olive oil, parmesan cheese, salt, and pepper. It'll be easier when doing this in a food processor. Stir the pesto and cooked rice together and adjust the seasoning.
Pesto rice is flavorsome and easy to cook within a few steps.
Total time: 40 minutes.
Here's a convenient instant pot recipe for breakfast. This may be helpful because not everyone can succeed in cooking rice on the stovetop in one go. Using an instant pot can make your brown rice fluffy enough and save you time as well.
This is how to cook fluffy brown rice in an instant pot. After rinsing the rice, pour it into the pot with water and salt. Cover the lid and make sure the pressure valve is in the "sealing" setting. Cook rice for 22 minutes, release all pressure and steam, then turn off the heat.
Total time: 40 minutes.
If you're not in the mood to cook, a simple recipe such as brown lentil and mushroom rice can inspire you. Not only does it spice up a wide range of main courses, but brown lentil and mushroom rice are also flavorsome dishes for a light meal.
Besides some components like rice, mushrooms, and brown lentils, you can look for some of the following secret ingredients to get the most taste out of your food. They are avocado oil, Himalayan salt, dry white wine, fresh rosemary leaves, parsley, etc.
Total time: 55 minutes.
The side dishes made from rice may be more varied than you thought. With a few ingredients, you can turn them into countless toothsome dishes. Butternut squash risotto is a rice-based side dish that can greatly match your personal taste.
I'll give you tips for making butternut squash risotto as creamy and tasty as you wish. It's advisable to choose arborio rice (a short-grain rice variety) due to its high level of starch. Using vegetable broth instead of milk can give the dish a slightly salty taste.
Total time: 35 minutes.
Spring greens, leek, pea, and pesto risotto could be one of the ultimate recipes in my list of rice side dishes. You'd be unable to say no to something as cheesy, creamy, and garlicky as spring greens, leek, pea, and pesto risotto.
Let's scan some of the primary ingredients here for the best soft texture and flavorful taste. You can prepare arborio risotto rice, vegetable stock, frozen peas, spring greens, or kale for the risotto; choose vegan parmesan for a perfect vegan rice side dish.
Total time: 55 minutes.
Your list of rice-based side dishes can not miss something loaded with flavors like zucchini rice casserole. You'll never get bored of the zesty, bubby, and dreamy taste of zucchini rice casserole. This is an ideal option for any outdoor picnic or even holiday meal.
Casserole tends to be difficult to make, doesn't it? Not in this case. Starting with cooking the rice first, you can use leftover cooked rice (if any). Then saute the zucchini and squash, prepare the cheese sauce, combine all ingredients, and bake.
Zucchini rice casserole can be your new favorite rice side dish from now on.
All Are Available – It's Your Turn Now
Those who thought side dishes from rice were limited, I think they're changing their mind now. Cooking is a form of art, and there's no boundary to creativity. With all of the suggested recipes above, you can confidently treat your family to hundreds of meals full of flavors.
If you know of other tips for cooking fluffy rice, let others know in the comment section. Besides, I'm always happy and looking forward to your results. By simply sharing this post, you may help these recipes gain popularity in other households.