There are numerous easy rice cooker recipes, but not many know. Usually, people only cook white or brown rice for daily feed. I used to be like that, too, until I found these amazing recipes below.
They have a simple way of cooking and only require some handy kitchen tools to make. Better yet, rice is also a straightforward companion to coconut shrimp. Therefore, if you have little equipment, cooking experience, or time in the kitchen, these rice cooker recipes can help.
So everything is available for you to explore. Keep scrolling and broaden your knowledge!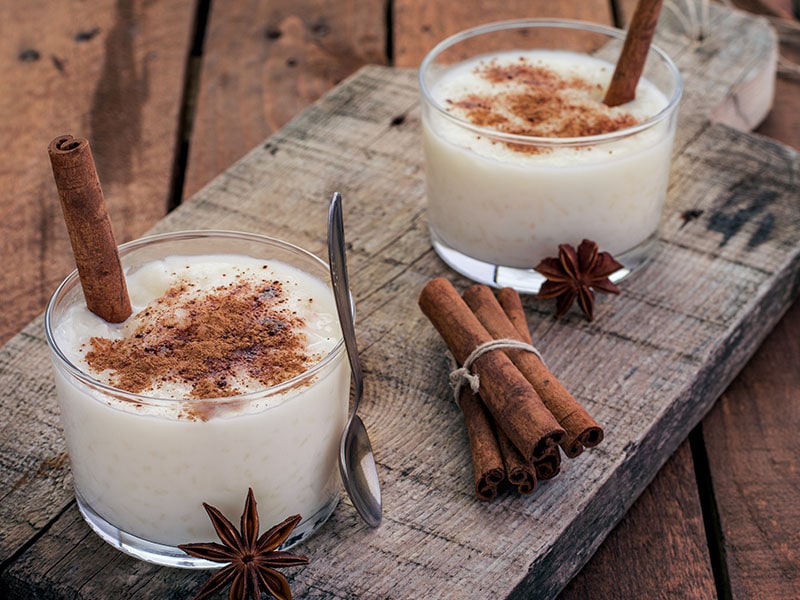 23 Easiest And Delicious Dishes Made By Rice Cooker
Welcome to the list! Here are up to 23 fuss-free and toothsome rice cooker recipes to discover. You will go around the world to see how people use their cooker, from Asia to Europe and America. So let's be ready and go for more!
Total Time: 25 minutes (including 5 minutes of cooling time)
Oh yes! You will not need a fancy slow cooker to cook pasta because here is a rice cooker version. The combination of pasta, green lentils, and cashew parmesan cheese will surprise you. Together, they create a robust, nutty, and somewhat peppery vegan pasta.
And needless to say, making this delicacy is a breeze. You only need to stir ingredients in the rice cooker pot thoroughly until they are uniform. Then cover with the lid and cook. Once done, open it and let your dish cool before seasoning. Finally, serve it with vegan cheese and basil.
Total Time: 1 hour 5 minutes
Lo Ma Gai is a famous breakfast or brunch in China. It features sweet and pleasantly aromatic glutinous rice with dried mushrooms, chicken, and lap cheong (Chinese sausage). But since this recipe calls for the halal version (no pork), the char siu chicken is in place of lap cheong.
To make this delightful Chinese dish, fry dried shrimps and minced meat with sauteed spices until almost cooked. Then stir in seasoning sauce and the remaining ingredients and cook until incorporated. After that, put the rice and pan-fried ingredients in the rice cooker, stir evenly, and cook.
Once finished, garnish some chives and serve your Chinese-style rice. For visuals, press the rice into the bowl tightly, then flip it over on the plate. Your dish will have a spherical, fabulous, and delicious look!
Let's use a rice cooker for cooking delightful Chinese glutinous rice – Lo Ma Gai!
Total Time: 20 minutes
Oatmeal with apples and cinnamon is the ultimate breakfast in every American family. It is both delicious and nutritious with excellent nutrient content. But sometimes, busyness prevents your family from having that healthy and warm breakfast.
Rest assured, there will be no more when you have this oatmeal rice cooker recipe. You only need to toss oats, cinnamon, apples, and brown sugar in the rice cooker pot.
Then press the porridge or steam/cook button (or rice setting). Once you hear the "beep" sound, your cozy breakfast is ready for everyone.
A great thing about this recipe is the aroma emitted from your rice cooker. The spiciness and sweetness of cinnamon and oats will motivate everyone in the house to wake up for a new day without calls.
Total Time: 13 minutes
Budget-friendly and gluten-free, this cilantro lime rice is one of the most common picks to enjoy with burritos, tacos, and many Mexican foods. It only requires eight ingredients and one rice cooker to make but ends with delicate and citrusy rice, thanks to lime juice and fresh herbs.
Put all the ingredients (except lime juice and cilantro) in the rice cooker, close the lid, and cook it. Once your rice is done, remove bay leaves, squeeze lime juice, add cilantro, and stir. To serve immediately, spoon rice into bowls and garnish with cilantro and lime wedges.
If your family cannot finish the rice, store it in an airtight container and refrigerate it. It will keep the flavor for up to four days. When you need, reheat your rice in the microwave or stovetop with extra water. And feel free to add a bit of olive oil if your reheated rice is still dry.
Total Time: 25 minutes
Instead of cooking rice and chicken separately, why not try cooking them in the same pot? That is also the idea of this Hainanese chicken rice: fast, compact, and, importantly, delicious.
When cooked together in the rice cooker, the juicy and moist chicken will let its fats melt in the rice. And with spices and stock, your rice will be sweet and flavorful in every bite with a reasonable oiliness.
A highlight of the dish is pandan leaves. Though they are optional, they do add a kick of grassy vanilla flavor. Also, you can smell their subtle fragrance emitting when you open the lid. So win-win situation, guys!
Total Time: 1 hour 5 minutes
This rice cooker sausage Jambalaya is a brilliantly toothsome dish made of andouille sausage (smoked pork sausage), white rice, red bell peppers, and Creole seasoning. That's why your food has an attractive golden color and incredibly flavorful herbiness.
To cook this hearty dish, saute sausages and vegetables in a skillet with butter. Once the veggies are softened, add them and the rest of the ingredients to a rice cooker and cook to complete.
When everyone is ready to eat, stir in parsley and green onions. Together, they are up for a flavorful meal.
Total Time: 45 minutes
If you like Chinese flavors, you cannot miss this fragrant yam rice. It is fluffy, aromatic, and flavorful with dried shrimps, pork, rice, and vegetables all in one rice cooker. After cooking, you can serve it with any of your favorite Chinese main dishes and soup. Yam rice is the top partner!
Since earthy yam is the specialty of this dish, you should put your heart and soul into it. Wash and peel yam, then remove carefully bruised spots on yam before cutting into cubes to cook.
In the case of peeled yam, you should wash it quickly to prevent the slippery condition. That way, your peeled yam is easy to prepare and cut.
If you have a big batch, store the leftovers in the chiller. Just keep it in an airtight container to retain its quality. Then reheat it by microwaving or steaming it until hot.
Yam rice with a rice cooker is so quick and easy that you can hardly believe it!
Total Time: 4 hours (including 1 hour of refrigerating time)
You may think rice pudding is strange. But trust me, it is addictive from the first spoon. The nutty and aromatic flavor of rice, sweet milk, and a perfect finishing touch of vanilla hint make this unique dessert. And if you want to balance out its sweetness, a few raisins are perfect.
For making the delight, cook rice and milk in the cooker with porridge mode. When the pot switches to the warm setting, stir in the sugar and vanilla and cook a second time (porridge mode). Stir every 15-20 minutes until desired texture.
Add more milk if your pudding is too thick. Once done, serve warm immediately. If you want to save it later, chill the rice pudding for at least 1 hour in the fridge. Then cover it with plastic wrap. This way, it should stay well for up to 4 days.
Total Time: 35 minutes
Basmati is dry long-grain rice. Interestingly, the dish is a beloved option for enjoying along with meatballs as the grain can absorb the flavorful sauce. The grains present a golden yellow fluffiness and pleasant fragrance when cooked with turmeric, onion, and chicken broth.
Regarding the taste, each ingredient in the recipe contributes a different flavor: earthy and peppery turmeric and a subtle minty hint of bay leaves. Besides, the rice itself is also full of nutty and floral taste. Thus, every spoonful of basmati is inviting and flavorful.
For the best result, you should always rinse your rice (three times are ideal). This preparatory step will wash away the debris and dirt and ensure you have clean and full-quality rice before cooking.
Total Time: 20 minutes
This recipe offers you an outstanding way to utilize your leftover chicken. You only need to cook rice with chicken stock, leftover meat, and some seasonings in a rice cooker. In several minutes, your dinner comes out with an attractive aroma.
For the best quality, you should peel off the chicken skin beforehand. I highly recommend you crisp it up in the oven instead of handling it in a rice cooker. That way, your chicken skin can retain its initial crunchy goodness.
For the presentation, spoon the rice on a plate and place shredded chicken on it. Then finish with a top of crispy skin, furikake, and chili flakes. Your leftover chicken meat will be fresh as new, and the overall taste of dinner will be a hit on that night.
Total Time: 46 minutes
This risotto recipe is a well-loved Italian dish with the spotlight belonging to Arborio rice, which is short-grained and high in starch. Thus, the cooked Arborio is chewier than other rice. Together, combined with a gooey mixture of cheese and milk, create a creaminess of the whole dish.
To prepare this risotto, cook a soup mixture of vegetable broth, onion, and white wine, add the rice, and cook until absorbed. Then stir in vegetables (and broth if needed) and let them steam. After that, place the remaining ingredients and cook for 20-25 minutes, stirring halfway through.
Once ready, your rice will be tender and somewhat soupy. To serve, garnish with parsley, then add a pinch of salt and pepper for seasoning. Perfect the rice with the addition of vegan parmesan, and your meal looks fabulous.
How to cook Italian mushroom risotto properly with a rice cooker? Here is the deal!
Total Time: 25 minutes
Caribbean rice and beans are a yummy dish with a short list of ingredients. These include brown rice, beans, turmeric powder, tomatoes, and some simple seasonings. All highlight sweet, savory, earthy rice and creamy red beans.
The instructions for this delicacy are brief. Simply prepare the onion on the skillet for aroma and cook all the ingredients in the rice cooker till done. While waiting, listen to some music, and your rice will be ready in no time.
Though this recipe is vegan, you can swap it into your daily diet if desired. Add cooked chicken or your favorite broth in a rice cooker with other ingredients. After a few minutes, you will have a hearty meal packed with needed nutrients.
Total Time: 1 hour
Ginger chicken and rice are ideal for serving on cold winter days. The umami chicken meat with chicken bouillon and a warm bite of ginger will warm and fill your stomach.
Besides, coconut milk also intensifies the taste of the delectable rice bowl. It adds a floral sweetness to your dish and imbues richness in every grain of rice. Thus, this delight's flavor is truly out of this world, even though its pale white appearance seems flavorless.
To recreate this delightful rice, you only need to dissolve the bouillon cube first, then arrange all ingredients into the rice cooker pot, and cook. When your cooker turns off, you should wait for 5 minutes to achieve optimum texture. Once done, fluff it up and serve.
Total Time: 45 minutes
Unlike original tomato rice in India, this refreshing Malaysian-style dish is not heavy in the flavor of spices. Instead, it simplifies the recipe with only four main spices: cinnamon, cardamom, star anise, and garlic. Though lesser, they are still enough to enhance a complex spiced flavor to the food.
To prepare the rice, rinse and soak it for an hour before draining. Meanwhile, make the tomato mixture with sauteed spices, tomato paste, and diced tomatoes. The last step is to cook rice, tomato mixture, and pandan leaves together in the rice cooker until done.
Then top with chopped coriander, roasted cashews, and shallots to serve. A balanced flavor of sweetness and sourness will be present in your finished dish.
Total Time: 25 minutes
Coconut rice is a famous delicacy in Thai or Indian restaurants. Its pleasant taste makes it a fine addition to the kabob pairing list for your next outdoor party. Usually, people pair it with curries and seafood for mains or fruits for desserts.
There are two methods to make coconut rice: rice cooker and stovetop. But for ease, a rice cooker is better. Just place all ingredients in a rice cooker and let it do the job. Then your rice will come out excellently.
The jasmine rice and coconut milk work perfectly together and feature a fluffy yet creamy texture with a sweet tone and floral aftertaste. Stir in fresh parsley or cilantro, or optionally put some shredded coconut if you like. They will add more flavor to your rice.
Follow a chef to learn the healthy coconut rice in a rice cooker with coconut milk!
Total Time: 1 hour 15 minutes
Taco soup is the liquid version of big-name tacos. It contains similar ingredients to the tacos filling, including ground beef, beans, onion, and tomatoes. Though a few changes in this recipe, rest assured that your soup retains the taco taste.
To begin the cooking process, brown your onion and garlic in the hot rice cooker with oil. Meanwhile, dice your chicken and add it to the pot. Once your chicken is browned, add the remaining ingredients and cook them in brown rice mode.
If your rice cooker does not have that setting, just let it heat for 45 minutes to 1 hour. It will produce the same result as a warm and sweet soup with tender chicken and fluffy rice.
Total Time: 1 hour 15 minutes
Not the old-style pancakes, this Japanese-inspired breakfast recipe is giant and rice cooker-friendly. You do not need any flip-flopping but still get beautifully fluffy pancakes. Mixing, pouring, and cooking batter are all it asks.
However, to get the perfect cake out of the cooker pot is another story. You should spray the pot with cooking oil before pouring the batter. This extra step will help you take your cake out nicely without destroying its shape.
A handy tip for quick cake removal is to use a small plate that fits inside the pot. Place it upturned on top of the pancake and flip your pot upside down. Be sure you use both hands to handle: one holds the container, and the other holds the plate to catch the pancake falling out.
Once you pop the pancake out, slice it into individual servings and top with whatever satisfies you. Whipped cream, fruits, or simple syrup is enough to enjoy this tasty dessert.
Total Time: 1 hour 5 minutes
Must there be a fire to make roasted chicken? This easy roasted chicken dish is an exception. It is a quick and dorm-friendly recipe that uses a rice cooker.
The food calls for several accessible seasonings. These include sweet garlic, pungent rosemary with a pinewood scent, and a spicy touch of chili powder and pepper. Just rub these seasonings under the chicken skin, and your dish is full of flavors.
A secret to the recipe is to sear your chicken in the skillet. Under medium-high heat, cook your chicken for about 5-8 minutes on each side. This technique not only ends in crispy and golden brown skin but also keeps all the juices and flavors in.
Total Time: 45 minutes
Sushi is the pride of Japanese cuisine. Although you can find sushi in many forms, the key to sushi lies in its rice part. Indeed, sushi has earned its name from the prominent flavor: sour-tasting, which comes from vinegar.
For the perfect sushi rice, you need to pick a suitable variety of rice. Koshihikari is short-grain rice adapted to every requirement. Its strong stickiness is the key to keeping the sushi shape. Just avoid any long-grain rice since they are too dry to make sushi.
And do not forget the notable sushi vinegar. Though it's made simply from rice vinegar, sugar, and salt, it's the reason for flavorful and sticky sushi rice.
As soon as you've scooped the rice out, pour the vinegar mixture over it. Then use the spatula to mix the rice evenly. In the meantime, fan the rice so it can absorb the vinegar mixture and reach an overall glossy look.
Learn how to make and process the sushi rice in the rice cooker the most proper way.
Total Time: 1 hour 20 minutes
If you are tired of white rice, you should try to cook scallops with it. The tender scallops turn your bland rice into slightly sweet and buttery food. With extra butter and chives, you'll get a glossy and fabulous main dish.
Though the cooking is quite simple with only layering ingredients and cooking them, you need some preparation. Salt the scallops on both sides and chill in the refrigerator for 15 minutes. The salt helps impart flavors deeply inside and retain the scallops' moisture.
In the meantime, wash the rice and combine it with soy sauce, water, and sake. Soaking rice will infuse seasoning and speed up your cooking time. Once well prepared, pat dry scallops, layer them in the pot (without stirring), and cook. Your dish will be ready to go after an hour.
Total Time: 1 hour
Red curry is a famous Thai dish for its sweet and savory flavor. Its taste mostly comes from the complex layers of ingredients in the spicy red curry paste. When fused with coconut milk and fish sauce, your curry is the best dinner to dig in.
Moreover, the bell peppers and bamboo shoots increase your eating experience with a perfect crunch. On the other hand, the pillowy tofu soaked with flavorful sauce will explode in your mouth every time you bite one.
If you love chicken or seafood in the dish, feel free to add them. These will work the same with extra nutrients. And if you want a kick flavor for the curry, Thai bird chilis is the best. But be aware that they are super spicy, so just put it little by little into the soup until enough.
Total Time: 45 minutes
Thrifty is the right word to talk about this recipe. It doesn't require much time, money, and effort. Besides the cooking, the clean-up is also a breeze. Just dump all the ingredients into the dough, divide it into several pieces, and cook in the rice cooker to get a vegan delicacy.
In the recipe, bread flour, instant yeast, oat milk, and vegan butter make this bread delicious inside out. While flour and yeast form a bread shape, the butter and milk add moisture and flavors.
In the end, the vegan dish features a soft and fluffy texture accompanied by a buttery flavor. But if you want more flavors, customize bread with your favorite add-ins. Maple pecans or raisin walnut are two popular combinations to try.
Total Time: 2 hours 25 minutes
Xoi Dau Phong is a popular breakfast or snack in Vietnam. It is glutinous rice working with fresh peanuts to make this inviting dish. Besides crunchy peanuts and sesame, your Vietnamese-style delicacy is flavorful with a touch of salt and sweetness.
To make the sticky rice, you need to pre-cook the unshelled peanuts first until tender, then drain them and mix with the glutinous rice. Cook together in the rice cooker with salt and water. Once completed, use chopsticks to stir the sticky rice.
While waiting, it is time to make the fancy topping. Just process roasted peanuts in the food processor for a few seconds. Then add sugar, salt, and sesame seeds and pulse once again to finish. Transfer to a bowl, place next to your sticky rice, and your snack is ready.
Let's get Vietnamese peanut sticky rice in just minutes with a rice cooker and this fuss-free recipe!
Many Delightful Recipes Start From Only The Rice Cooker
There are many easy rice cooker recipes to explore. As you have read, they vary from main dishes to desserts and snacks. Moreover, the article also provides various recipes from different cuisines to diversify your taste experience.
So save my sharing and turn on your rice cooker whenever you need quick and effortless food to serve. If you are successful in cooking one, give me some feedback. Your sharing will help the community in recipe conquest.
Of course, do not forget to like and share my post with others. Your encouragement is crucial to motivating me and nurturing our community to grow. Thank you, and have a nice meal!
Nutrition Facts
4 servings per container
---
Amount Per ServingCalories197
% Daily Value *
Total Fat 3.5g

6

%
Sodium 238mg

10

%
Potassium 21mg

1

%
Total Carbohydrate 37.5g

13

%

Dietary Fiber 2.2g

9

%
Sugars 0.5g

Protein 3.2g

7

%
---
* The % Daily Value tells you how much a nutrient in a serving of food contributes to a daily diet. 2,000 calories a day is used for general nutrition advice.