Based on hearty rice with a plethora of tasty toppings and mix-ins, these rice bowl recipes are just perfect for menu rotation. They all are so simple yet very filling and satisfying that they could please everyone's taste buds.
What's more, these rice bowl recipes are super family-friendly, and you can make them with minimal effort. The kids devour them, the family loves them, and the guests, even the pickiest ones, enjoy them.
This article covers the best rice bowl recipes out there. Whether it's an all-in-one bowl packed with protein and nutrition or a quick and meal prep friendly for busy days, there are always some good recipes that fit your needs below.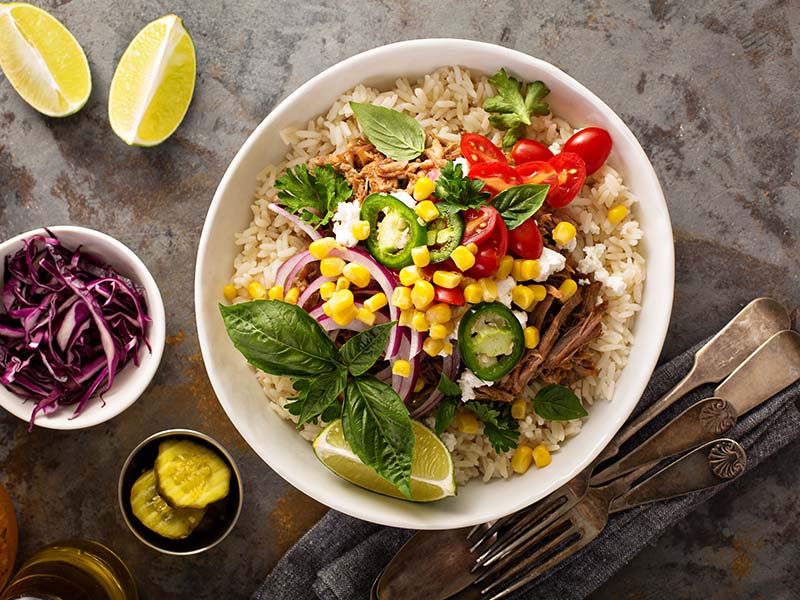 Best Rice Bowl Recipes With Eggs
Not only does this nutrient-rich food mix well with other ingredients, but it also has a lot of health benefits. Thus, it is no surprise that many good dishes include eggs as one of the main ingredients. One of which is egg rice bowls.
Total time: 1 hour 10 minutes
If you are looking for some good recipes for lazy days, a wholesome Korean rice bowl, Bibimbap, is perfect for you. Bibimbap refers to a bowl of warm rice topped with a variety of sautéed and seasoned vegetables or kimchi alongside gochujang sauce (chili pepper paste).
A classic Korean rice bowl features raw or fried eggs and marinated beef. In this recipe, I use soybean sprouts, spinach, cucumbers, and carrots.
To create this dish, you need to cook every component separately. Start with the Bibimbap sauce, then the marinated beef. While waiting for the beef to absorb the flavor, you cook the vegetables.
To assemble, place cooked rice in the bowl, then add each component on top and serve with a sunny-side-up egg. When stirred together, it gives a crunchy and luscious taste with spicy and sweet notes.
How to make authentic Korean bibimbap at home.
Total time: 5 minutes
Are you looking for a fast, trouble-free breakfast recipe for busy mornings? A hot bowl of Tamago Kake Gohan- Japanese-style rice with raw eggs on top – is at your service.
As its name implies, this wholesome 5-minute Japanese breakfast dish consists of two main ingredients: steamed rice and a raw egg. You only need to crack and whip an egg vigorously into a warm rice bowl with a chopstick until it turns into a creamy, pale yellow mixture.
To make the bowl more savory and colorful, add some vegetables like sliced scallions and bonito flakes to Tamago Kake Gohan and eat with soy sauce.
Total Time: 10 minutes
Now, I want to introduce my favorite go-to recipe for lazy days: a fried egg and avocado rice bowl. This combination of rice, fried eggs, and avocado is a hit because it is effortless to make, nutrient-rich, and offers such a hearty taste.
You need cooked rice, eggs, avocado, and scallions in this particular recipe. For the rice, I prepare brown rice rather than white rice since it is higher in fiber and more nutritious.
The cooking process is also simple. Mix cooked rice, chopped scallions, vinegar, pepper, and salt well in a bowl. Then, put fried eggs and sliced avocado on top with hot sauce, and there you go!
Total time: 10 minutes
Back to Japanese rice bowl recipes, the flavorful, luscious Omurice is a must-cook. Omurice is an iconic home-cooked Japanese-style omelet rice inspired by Western cuisine that food lovers across the globe enjoy.
The secret to this fusion dish is the scrambled eggs with a soft and fluffy texture placed on top of fried rice. When cut from tip to tip, the aromatic, custardy omelet beautifully oozes out over the plate, wrapping the rice filling below.
Altogether, the rice and the egg blend perfectly with ketchup atop, giving off a sweet and savory flavor. Uncomplicated and delicious, Japanese Omurice is the ultimate comfort food worth adding to your list of rice bowl recipes with eggs for weekdays.
Total time: 40 minutes
It is agreeable that Japan has many appealing rice bowls with eggs. From Tamago Kake Gohan to Omurice, the country is also well-known for the Katsudon, a special Japanese cutlet and eggs rice bowl that gives you a burst of crispy and fluffy flavor in every bite.
Katsudon is from two Japanese words: tonkatsu (pork cutlet) and donburi (rice bowl dish). Common ingredients in this satisfying dish include panko-breaded pork and eggs, paired with a broth of dashi, soy sauce, and onions.
To recreate Katsudon, dip the pork in flour, egg, and panko, respectively. Then, fry it in boiling oil and cut it into strips. After that, put the strips and pour eggs into a prepared mixture of soy sauce and sliced onions. Place it on a bowl of rice, and your Katsudon is ready!
Yummy Rice Bowl Recipes With Beef
Beef is among the most common foods in many cuisines. There are loads of delicious dishes that include this protein and iron-rich type of meat in their ingredients. And it goes especially well with rice bowls.
Total time: 40 minutes
Gyudon is a traditional Japanese rice dish with thinly sliced beef cooked in a savory-sweet solution of soy sauce, mirin, and dashi stock. The Japanese word gyu stands for beef, and don means rice bowl.
Like many Japanese cuisines, Gyudon never fails to impress. What makes this dish so special is the perfectly-cooked beef's fatty notes and the beautiful combination of sweetness and saltiness.
If you are bored of cooking those regular meals over and over, a wholesome bowl of Japanese beef rice can be an ideal alternative. It's simple, tasty, and also affordable.
This is a step-by-step tutorial to make a perfect Japanese Gyudon.
Total time: 20 minutes
If you are looking for a simple yet unique dish for a weeknight dinner, a bowl of traditional Korean ground beef and rice may be a great option. It's juicy, savory, and, most importantly, easy to cook.
In this specific Korean rice bowl recipe, beef is the heart of the dish. Instead of the often sliced steak, this dish features ground beef soaked in a solution of soy sauce, brown sugar, ginger, sesame oil, and gochujang sauce (chili pepper paste).
When cooked, this perfect-in-the-mouth beef texture matches well with steamed rice, creating a delightful, hearty rice bowl that can satisfy even the picky eaters.
Total time: 30 minutes (excluding the marinating time)
As many of you may know, Korean BBQ beef is a well-known type of Korean cuisine that many locals and people outside the country enjoy. But have you ever eaten this mouth-drooling beef dish with aromatic, garlic-scent rice? It hits even better.
A bowl of Korean BBQ beef and rice includes rice topped with bulgogi beef (marinated sliced beef grilled on a barbecue) and healthy ingredients such as cucumber, carrot salad, and an egg. These components perfectly harmonize and bring out smoky and tender notes.
This Korean BBQ beef and rice bowl is always my go-to recipe for dinner because it is versatile, protein-rich, and has tons of flavors. It's just so good that you must try it for dinner once!
Tasty Rice Bowl Recipes With Chicken
If you are a big fan of chicken and looking for some tasty rice bowl recipes with this protein-rich meat, you have come to the right place! The below chicken rice bowl recipes just never fail to satisfy the taste.
Total time: 25 minutes
In the category of BBQ bowl, alongside the Korean rice bowl recipe with BBQ beef, BBQ chicken rice bowl is also a must-cook recipe. This wholesome dish hits with a beautiful combination of tasty chicken and fresh flavor from corn, black beans, and pico de gallo.
The BBQ chicken burrito bowl counts cooked rice as the base. Its main attraction is the chicken breasts mixed with BBQ sauce. To make the sauce, stir the ingredients for the sauce in a pan over medium heat. When it bubbles, lower the heat and let it simmer for 5 minutes.
To assemble, start with the rice and place the shredded chicken on top. Then add the desired amount of vegetables to the bowl. I prefer corn, beans, romaine lettuce, and pico de gallo because they pair well with the dish.
Total time: 45 minutes (excluding marinating time)
In the mood for a fast and healthy dinner? With a balance of protein, fiber, and carbohydrates, a trouble-free homemade Teriyaki chicken rice bowl is perfect to kickstart the week.
This flavor-loaded Asian rice bowl features sliced chicken breasts and Teriyaki sauce – the dish's spirit. You can make this sweet and tangy sauce by mixing soy sauce, rice vinegar, maple syrup, ginger, and other spices together, then boiling until it thickens.
For the chicken, pour marinade over the breast and leave it in the fridge for at least 30 minutes. After that, grill it to perfectly brown, then slice and top over rice alongside peppers, edamame, and pineapples. Finally, layer them with Teriyaki sauce.
Easy tutorial on how to make quick Teriyaki chicken rice bowls.
Total time: 45 minutes
If you are looking for a quick recipe for your daily meal, a Greek-style chicken rice bowl is the perfect comfort food to make. The dish provides a balanced-nutrient profile with tons of flavorful and healthy ingredients.
The Greek chicken rice bowl features crispy sliced chicken breasts and cooked rice. In this recipe, I prefer brown rice, but you can use whatever. It commonly comes with condiments such as greens, olives, hummus, and tzatziki.
To assemble this wholesome bowl, start with the rice. Then, place the pan-sear chicken and cooked ingredients on top, and add Greek dressing for the moisture. Stir them all together to eat. You can meal prep and customize these ingredients to your liking.
Total time: 20 minutes
In need of a fast and effortless weeknight dinner? Then it's time to try this 20-minute Southwest-style chicken rice bowl recipe. It's straightforward and requires no hard work.
To recreate this tasty dish, prepare some fresh chicken breasts or chicken thighs, corn, onion, and canned foods like roasted tomatoes, black beans, and chilies. For the rice, either white or brown rice is fine.
Also, a balanced and healthy bowl of Southwest chicken and rice cannot be perfect without toppings. To enhance the flavor, fresh lime juice, cilantro, avocado, sour cream, and grated cheese are essential. Once you have had them all together, stir it, and your dish is ready to go.
Total time: 40 minutes
If you want something more exciting to your meal rotation, you cannot miss out on this ultimate sesame chicken meatball rice bowl. It's cheap, trouble-free to cook, yet so appetizing.
The signature of this dish is the chicken meatballs, whose secret is super simple. First, mix all the ingredients for the meatballs together. After that, add the ground chicken to this sweet, garlic-scent mixture and form it into balls before cooking.
Once you cook the chicken meatballs, present them on top of a warm rice bowl and drizzle them with sesame sauce. And boom, your dish is ready to go. If you are itching for some additions, roasted broccoli would be tasty.
Mouth-Watering Rice Bowl Recipes With Salmon
Not only is salmon also delicious and nutrition-rich, but they also are effortless to prepare. For those suckers for seafood like me, I have a whole collection of the best rice bowl recipes with salmon that give a burst of flavor to every bite.
Total time: 35 minutes
The first one in this entry is definitely a comfort bowl of Teriyaki salmon rice bowl. Like the Teriyaki chicken rice bowl, the heart of the dish remains the savory Teriyaki sauce. But what makes this dish exceptionally mesmerizing is the perfect blend of flavor.
This ultimate comfort dish stands out with divinely soft and fluffy jasmine rice topped with sweet yet tangy Teriyaki salmon. For the toppings, it features sliced avocado, sesame cucumber, ribboned carrots, peanuts, and sriracha mayo.
Altogether, they harmonize beautifully in creating a perfect dish for meal rotation. This Teriyaki salmon rice bowl has everything, from protein and carbohydrates to fiber, and is a wonderful family-friendly dinner.
Quick and easy tutorial on making the perfect Teriyaki salmon rice bowl.
Total time: 20 minutes
If you would like some fast recipe for hectic days, an avocado salmon rice bowl would be nice. This is a must-cook for a healthy lunch or light dinner with a refreshing touch of juicy salmon atop fluffy rice blended well with creamy avocado.
The secret to this recipe is a gentle mixture of soy sauce, lemon zest, and juice for the salmon. To make the best salmon, coat the salmon filets with the mixture. Meanwhile, slice the avocado into pieces and prepare broccoli and cucumbers.
Cook the rice following pack instructions and add it to a bowl. Then place other ingredients atop. The dish, when finished, will come with sweet, citrusy notes. If you are itching for some tweaking, feel free to add some herbs and pickled vegetables.
Total time: 5 minutes
A spicy canned salmon rice bowl is a part of my childhood food. My mom was often busy, so she didn't have much time to prepare those fancy meals. Made of healthy and nutrition-rich ingredients, this dish is her go-to because it's convenient, budget-friendly, and delicious.
A wholesome bowl of spicy canned salmon rice includes rice, salmon, light mayo, sriracha, and scallions. For more convenience, I usually opt for canned wild salmon at the store.
It only takes 5 minutes to make this dish from the fridge to the table. First, mix the mayo and sriracha together to make the sauce. Then add the salmon, chopped scallions, and a pinch of salt and mix well. Top them over rice, and you're ready to eat.
Total time: 31 minutes
Southwest salmon rice bowl is one of my favorite go-to for a weeknight dinner. Not only is it quick and simple to make, but it is also very filling and satisfying. If you love meal prep like me, this dish is a must!
To make this comfort bowl of Southwest-inspired healthy salmon dish, I prefer brown rice, skin-on salmon, mango black bean salsa, and guacamole. In this particular recipe, you need to season salmon with earthy Mexican spices before grilling.
When cooked, the salmon comes with a perfect melt-in-the-mouth texture to go with perfectly-prepared brown rice and toppings, bringing tons of flavor to the dish. It also makes great leftovers and is safe to keep in the fridge for several days.
Total time: 15 minutes
I stumbled across Emily Mariko's salmon rice bowl recipe on TikTok and was curious enough to try recreating it. Exceeding my expectations, this viral salmon rice bowl is such a perfect blend of ease, flavor, and nutrition!
The recipe grabs people's attention with the rice warming method with ice. In particular, the TikToker flakes out the salmon and adds the rice. Then put an ice cube on top, cover it with parchment paper, and microwave it.
While the ice cube helps steam the cooked rice better, what keeps people interested is it does seem to melt. For the toppings, I use mayo, rice vinegar, cavolo nero (Tuscan kale), and spring onion. That way, it can be more affordable and accessible but still offers a satisfying taste.
Step-by-step guide to making the viral TikTok salmon rice bowls.
Delicious Rice Bowl Recipes With Shrimp
Alongside salmon, shrimp are among the top types of seafood that go well with a comfort bowl of rice. Not to mention, there are many delicious rice bowl recipes with shrimp that can satisfy every taste.
Total time: 32 minutes
The first recipe I want to introduce is the iconic shrimp puttanesca rice bowl. When needing a quick dinner recipe, I always opt for this savory Italian-inspired dish.
The main attraction is the puttanesca sauce simmered with perfectly-cooked shrimp. To make this sauce, cook the olive oil, garlic, anchovies, and red pepper flakes. Add canned diced tomatoes, capers, and kalamata olives to the mixture and wait until it simmers.
Add shrimp to the sauce, let it cook, and top it over a bowl of freshly steamed rice. The beauty of this flavorful dish is that it is hard to mess up. Also, you can customize it to your liking.
Total time: 30 minutes
Almost everybody loves honey garlic shrimp, but have you ever tried it with rice? The flavor of fluffy rice just beautifully harmonizes with the sweet-savory shrimp, creating a much better flavor with honey and garlic notes.
To recreate this shrimp rice bowl, you need three main ingredients: rice, shrimp, and honey garlic sauce. Cook the cleaned, peeled, and deveined shrimp with honey garlic sauce and top them over rice.
To make the dish more exciting, add some veggies such as broccoli, snow peas, and red bell pepper. Zucchini would also be delicious.
Total time: 30 minutes
If you are looking for an easy yet tasty dinner to please a big crowd, congratulations, this hibachi shrimp rice bowl is all you need. And most importantly, it can satisfy even the world's pickiest eaters.
I recreate this wholesome bowl of hibachi-style shrimp and rice, taking inspiration from American Japanese steakhouse restaurants. Among other rice bowls, this dish is famous for the sautéed shrimp and vegetables topped with divinely creamy yum yum sauce.
With a touch of richness and tenderness, this family-friendly hibachi shrimp rice bowl is such a hit. It is among my go-to recipes for crowd-pleasing dinner and also my favorite midweek meal to cook for the family.
Total time: 23 minutes
If you are looking for a new, exciting recipe for your daily meal, this Mexican-inspired fiesta lime shrimp bowl is a treat for your taste bud. Loaded with tons of flavor, this balanced bowl offers a delightful and refreshing experience.
A comfort bowl of fiesta lime shrimp bowl consists of marinated shrimp, fluffy rice, lime juice, earthy spices, fresh veggies, and creamy cilantro sauce. Make sure to peel and devein the shrimp before the cooking process.
This Mexican-inspired, meal prep-friendly rice bowl can be a wholesome dish for dinner or lunch. Not only does it taste good in the mouth, but it also is healthy and safe for those with celiac because it's gluten-free and dairy-free.
Effortless guide to making the perfect dinner recipe for homemade lime-cilantro shrimp.
Top Plant-Based Rice Bowl Recipes
Before jumping into the particular recipes, I would like to have a few words. The dishes below are actually no sweat to make. Even if you are not a good cook, you can still make these plant-based bowls of rice within a short time.
Total time: 50 minutes
For those who aren't similar to the concept, the Buddha bowl refers to a small and balanced vegetarian dish of grain, protein, healthy fats, fresh veggies, and dressing served cold. Essentially, it is about the art of using and displaying foods in one bowl.
A Buddha bowl can have different variations. In this recipe, I use brown rice as grain base, chickpeas for the protein source, and miso sauce as dressing. For the vegetables, roasted butternut squash, sautéed kale, red cabbage, and avocado are the main ingredients.
To assemble, just layer rice, chickpeas, and veggies in a bowl and drizzle miso soup on top. As it is more delicious when it's cold, this dish is not only nutrient-rich but also perfect for meal prep. You can also prepare all the ingredients beforehand in batches.
Total time: 1 hour
A hearty green bowl of kale detox salad is ideal for a delicious meal that helps with the detoxifying process in your body. Among other vegetables, kale is great for your body and responsible for supporting your body in removing toxins and harmful substances.
This salad bowl emphasizes lacinato kale and brown rice. To make it more exciting, I add some chickpeas, roasted potatoes, and carrots and drizzle it with green pesto. The roasted veggies and kale combo works well together, creating a drooling salad bowl.
This nutrient-packed rice bowl recipe requires no hard work and is very healthy. It's also perfect for meal prep and makes a quick dinner when you just need to throw some leftovers together with kale and brown rice.
Total time: 30 minutes
An aromatic Thai pineapple fried rice is a unique and delicious twist to your regular meal. Unlike those Korean, Japanese, or Chinese fried rice prepared with long-grain rice, this Thai dish stands out with its local jasmine rice served in a hollowed-out pineapple.
To recreate it, you need jasmine rice for the fried rice, chopped bell pepper, cashews, and pineapple for the toppings, and soy sauce and honey for condiments. When it comes to fried rice recipes, it's best to use the rice cooked the day before for better flavor.
With a touch of sweet and savory notes, this Thai pineapple fried rice works beautifully with tofu. It is a perfect vegan dish for a weeknight dinner or breakfast.
Total time: 30 minutes
If you are looking for a light and fresh yet filling bowl for regular meal rotation, this vegan burrito bowl is the perfect option. What do I love about this plant-based recipe? It's healthy, flavorful, safe for gluten-free eaters, and great to adapt.
The main ingredients in this burrito bowl recipe include cilantro-lime rice, black beans, corn, and earthy spices. For the toppings, I prefer pico de gallo. But there are many ingredients to choose from, such as guacamole, cashew sour cream, and tortilla strips.
When assembled, this dish looks attractive with vibrant colors and a satisfying taste. Just tons of flavor and deliciousness in one bowl recipe.
Total time: 25 minute
Regardless of its great health benefits, I've always been squeamish about tofu until I accidentally tried this wholesome bowl. If you are like me, you should definitely give this enticing Teriyaki tofu rice bowl a shot.
To recreate this dish, you need firm tofu, cornstarch, Teriyaki sauce, and rice. Cut the firm tofu into 1-inch cubes and coat them with cornstarch, then fry these pieces. Once it turns beautifully golden, toss it with Teriyaki sauce and serve over freshly steamed rice.
Altogether, the marinated tofu harmonizes beautifully with the warm bowl of fluffy rice, making a flavorful dish that explodes with comfort. If you desire some additions, garlic broccoli and toasted sesame would be perfect matches.
How to make a perfect restaurant-style Teriyaki tofu bowl at home.
Total time: 25 minutes
This unique coconut ginger rice recipe is always my favorite dish for a perfect weeknight dinner. With a heavenly smell, divinely soft flavor, and citrusy creamy notes, it's light, fast to make, yet so filling and satisfying.
This recipe's ingredients are simple: long grain rice, coconut oil, coconut milk, ginger, garlic, and lime juice. To make, saute garlic and ginger. Pour the rice, lime juice, coconut milk, and salt into the mixture and bring to a simmer.
When the rice absorbs the liquid, remove the ginger and let it rest for 5-10 minutes. To make the perfectly-cooked rice, cover the rice with a towel while it rests. The towel will absorb the excess moisture and helps bring a more tasty dish to the table.
Rice Bowl Recipes Are Always Ideal For Meal Rotation
"Always opt for rice bowls when you don't know what to make." That's what my mom often told me when I was a little girl helping her prepare dinner for the family. Now that I am an adult and have my own family, I find that advice especially true.
Not only do these rice bowl recipes taste good, but they are also crazy versatile, easy to tweak for other meals, and appealing to the eyes. If you want something fun and pleasing to add to your menu rotation, don't hesitate to try them!
As always, if you appreciate the content and find it helpful, support me by hitting the like button and commenting below. Also, share this post so those in need might see these tasty rice bowl recipes! Thank you, and have a fun cooking time!