Easy recipes with half-and-half are the best way to make use of this ingredient before it goes bad. Half-and-half is great at creating delicious dishes, but it is sometimes left forgotten in the fridge.
To prevent that situation, finding simple recipes to get the most out of half-and-half is always a priority. If you think half-and-half recipes stop at coffee or cream, there is so much you have yet to know about.
A ton of tasty dishes with half-and-half as the main ingredient, such as french toast, flan, Alfredo sauce, or soup, are all on the list below. So stick around to see if they're worth a try on your next meal.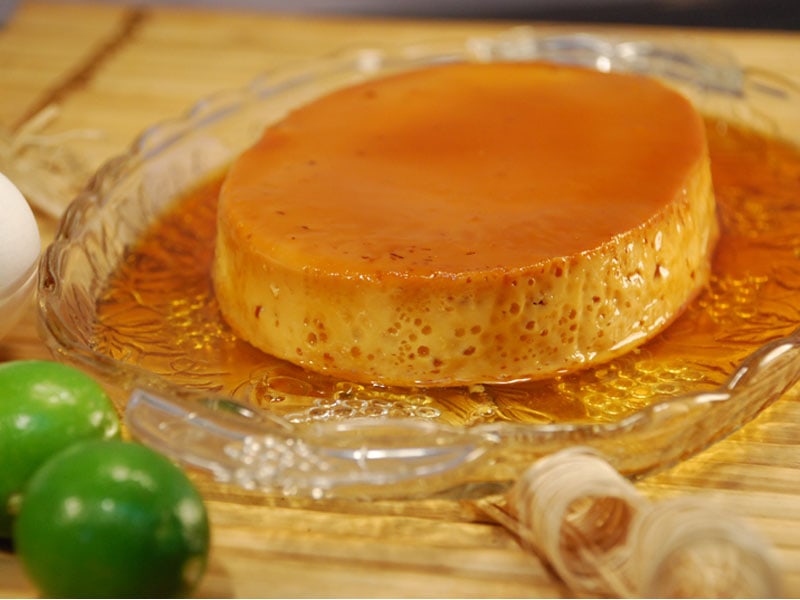 Spice Up Common Recipes With Half-And-Half!
Whether old or new, these dishes are both luscious and easy to make. You are sure to find your next favorite recipes to make again and again in the collection below.
Total Time: 25 minutes
What better use of half-and-half than creamy and rich Alfredo cream? This condiment is usually made from Parmesan cheese, heavy cream, butter, and salt. However, if heavy cream is not available, half-and-half is a good alternative.
This sauce gives you a rich, creamy, and cheesy taste with a hint of black pepper. Parmesan cheese almost dominates the recipe with its strongly nutty and fruity flavors. This is a classic sauce that you can pair with innumerable kinds of pasta, such as fettuccine.
You can make thick and smooth Alfredo sauce with half-and-half and no flour.
Total Time: 1 hour 30 minutes
This recipe is a copycat version of a classic ham and cheese sandwich, but it is heartier and more diverse in taste.
This dish takes more time than the classic sandwich, but the result feels totally worth it. It is rich and creamy thanks to the eggs and half-and-half, with a spicy kick of Dijon mustard and hot sauce.
Then there is the savory taste of bacon mixed with crispy bread to balance all the flavors. This recipe is suitable for Thanksgiving or family meals when everyone gets together and shares this luscious treat.
You can totally pre-make this bread pudding. When serving, just add fresh thyme, caramelized onions, and your favorite cheeses.
Total Time: 3 hours 35 minutes (including 3 hours of chilling time)
Why not enjoy the best macaron with a creamy filling inside? You can turn all your leftover half-and-half into this gorgeous dessert that appeals to every crowd at any party.
You can serve it with a glass of cocktail or wine. I am sure everyone will praise the beauty and tastiness of this combo.
A layer of chocolate with a slightly bitter taste covers the golden and crusty macarons. Inside is the creamy and aromatic yellow custard cream. Garnish by sprinkling some gold sanding sugar to make a contrast with the dark brown chocolate coating.
Total Time: 1 hour
In America, people often call this dish flan. However, in different countries, it goes by other names like purin or creme caramel. Either way, it is a silky, creamy, and appetizing treat for dinner or a relaxed family meal.
More than that, the caramel layer, with an excellent golden brown color, adds to this recipe a striking sweetness and a hint of bitterness. That wonderful flavor isn't difficult to achieve; you just need to pay attention to a few notes.
For example, do not stir while you're making the caramel. Next, you need to create this sweet treat using a ramekin to contain the mixture. As for the custard, keep the half-and-half and sugar mixture slightly hot and steamy but not boiling.
Then, you should strain it through a sieve to achieve a smooth, lump-free consistency. For extra flavor, use some vanilla beans or vanilla extract.
Total Time: 1 hour 5 minutes
If you need a dish to remind you of your childhood of spending time with your grandma in the kitchen, this old-fashioned coconut cream pie is a good idea. Flaked coconut on top compliments the flavor of the center filling, giving the whole a delightful sweetness.
Crust-making is a time-consuming task, so feel free to use a store-bought one. However, its aroma and crispness are not comparable to those of a freshly baked one. For the best texture, ensure both the crust and custard are cool enough before assembling.
In case you hate the coarse texture of coconut flakes, my piece of advice is to handle them in a food processor. The finest pieces should ensure your tropical taste is spread finely in cream without stalking and making you cough.
Total Time: 4 hours 15 minutes
It will be a big disadvantage if you do not have a warm, cozy soup to keep you warm. This easy corn chowder should be your choice to start along with Tamales for an authentic Mexican meal. You only need to toss in a few simple ingredients, and the slow cooker takes care of the rest.
Corn, potatoes, and cream are the chief ingredients to create a sweet flavor and creamy texture. The bacon adds an invitingly salty note to balance the richness. But if you plan to cook for vegetarians, a bit of salt can be in place instead.
Do not worry if there are any leftovers. You can keep them in the freezer until the next meal is ready.
Total Time: 45 minutes
You will probably find that preparing slow cooker chowder is so simple. Let's challenge yourself with a more difficult and satisfying recipe that you will happily enjoy to the last spoon.
I like to use thick-sliced bacon because it doesn't become dried up and wrinkled after frying. When these crispy and savory bacon pieces are sprinkled on top, they provide a more satisfying sensation to enjoy.
In addition, you can garnish it with fresh minty thyme and enhance the umami by serving it with shrimp. The color of this dish is quite different from the chowder recipe above.
Instead of a slow cooker, you need an immersion blender for this recipe. Puree the mixture of chicken stock, corn, and half-and-half until finely smooth to create a beautiful, creamy yellow color.
Total Time: 45 minutes
If you haven't made your own mac and cheese, it is time to do yourself a favor. This is among the insanely tasty dishes suitable for serving with catfish or any spicy main courses you have in mind. You'll be doing it over and over, whether it's for the main meal or a side dish.
It is a divine combination of three types of cheese. A very sharp cheddar flavor combines with mild Velveeta, plus the tangy flavor profile of Monterey Jack cheese to complete the triad.
In addition, cooking elbow macaroni properly also makes this recipe perfect. Since you also bake the pasta e with the cheese, egg, and half-and-half mixture in the oven, you only need to cook it until just tender at first.
By following these guidelines, you can make this extremely creamy and cheesy macaroni and cheese for Thanksgiving night.
Total Time: 30 minutes
My upcoming recipe can help if you have leftover chicken in the fridge. Instead of giving your family the same dry chicken, why don't you use the creamy broth in this gnocchi soup to moisten yesterday's meat?
Aside from aromatics and herbs with Italian flavors, white wine and Parmesan cheese are the secrets behind the deliciousness of this creamy bowl. While the former adds a light fruity note, the latter is sincere to any fatty lover.
For chewy bites, potato gnocchi is the best option. However, the potato starch may cause your soup to thicken. So if you want a light liquid, serve immediately after removing it from the heat.
Total Time: 5 minutes
A big party is coming, and you have prepared almost everything except drinks. However, your budget is somewhat narrowed down. No worries! My homemade version of Irish cream liquor will give your guests a whale of a time.
This beverage takes the idea of combining two flavors: bitterness and sweetness. While the former is a result of coffee and chocolate, the latter comes from cream and condensed milk.
However, the taste does not end there. The fruity and vanilla notes of Irish whiskey also help elevate the flavor of this drink.
You should make this liquor as a gift to your beloved on special occasions. Alternatively, you can just recreate the taste for yourself. It can stay good in the refrigerator for up to two months.
Total Time: 5 minutes
Believe it or not, all of your folks will sing hallelujah if you make them these divine yet simple martinis. You only need to place half-and-half with a few other ingredients into your shaker and, of course, shake until they are well blended.
The rum is the key flavor decision, but the quality of the half-and-half is important to create a cream base for your drink. With a finishing touch of vanilla, you will fill your drink with tropical and floral scents.
For the presentation, you decorate the rim of the glass with honey and shredded coconut. The result is elegant enough to be a treat on any special holiday.
Total Time: 20 minutes
You can use half-and-half in place of regular milk and light cream in this garlic cream sauce to take it to the next level. It has the perfect creaminess to make this sauce more appealing than average sauces.
Of course, this easy-to-make garlic sauce pairs well with pasta like fettuccine. But it can also be a base for any other dish, like bakes and casseroles.
The flavor is a blend of rich, creamy, and garlicky goodness. But you should choose fresh garlic as it has a spicy, earthy, and strong taste. Neither garlic powder nor pre-cut garlic can give you the same outstanding result.
A bit of delicate fresh parsley deserves to be the finishing touch to this sauce. But chives, Italian spices, and rosemary are also good as garnish.
Total Time: 6 hours 10 minutes
There is just nothing more tempting than the aroma of a big soup pot in the kitchen after a long day. This is a luscious Mexican dish with a fresh and spicy taste, made from green enchilada sauce. It adds the richness of the cheeses, chicken broth, and, of course, half-and-half.
Green enchiladas chicken soup is an unbeatable recipe that doesn't require much to make. You can use a stovetop, slow cooker, or instant pot to make the keto-friendly dish.
In this hearty, creamy soup, you can taste both the zesty and creamy flavors. It doesn't have much heat, but if you're a fan of spicy food, feel free to boost the amount of green hot sauce or green salsa.
You can cook it in a large pot and freeze it for 3 months (at most). Just defrost in the fridge and reheat on low heat, then you've got a cozy dinner for these busy nights.
Total Time: 1 hour 35 minutes
If you want to savor an Asian drink, let's learn to make this classic milk tea recipe right away. Countless young people in many countries love this toothsome and creamy drink with a characteristic tea flavor.
Coming from Taiwan, classic milk tea includes black tea, sweetener, and milk creamer. It is an outstandingly refreshing thirst quencher. To increase the texture, you can make black tapioca balls, also known as pearls or boba.
They are chewy and full of sweetness, thanks to white sugar, brown sugar, and honey. Brown sugar is the deciding factor in the overall taste of the pearls. It offers deep, toffee-like, and caramelized flavors that give all the distinctive aromas.
However, cooked boba does not preserve well because it hardens and becomes overly sweet when soaked in syrup. You can only enjoy its best version within 6 hours of cooking while it is still fresh.
Total Time: 1 hour
Unlike the Italian meatballs, this lovely version from Sweden is spicier due to seasonings like nutmeg and allspice. With this at-home recipe, you can easily make and warm an empty stomach on chilly weeknights.
Each meatball, cooked in creamy gravy, is placed attractively on mashed potatoes, pasta, or egg noodles. This recipe includes a combination of ground beef and pork, making the meatballs more succulent.
Fry the meatballs until crispy and golden. Then, you can immerse them in a savory-sweet and creamy gravy. This gravy is a wonderful blend of beef broth, half-and-half, and flour. So, it has an inviting light yellow and a pleasantly thick consistency.
Total Time: 35 minutes
You may need to grab a big spoon since you will want to devour this hearty soup as quickly as possible. The beer cheese soup traditionally includes a roux base of butter and flour.
Plus, it comes with main ingredients like beer, cheddar, and chicken stock. The soup base derives a tangy and savory taste from Worcestershire sauce.
Vegetables like carrots and onions are perfect for bringing out the natural sweetness that any soup recipe calls for. Also, when preparing cheese sauce, you can increase the creaminess with half-and-half.
In addition, the saltiness and crunchy texture of croutons and popcorn will give you an enjoyable feeling. Don't hesitate to serve the soup with crispy and nice brown crumbled bacon.
This festive German beer cheese soup makes you want to cook it again and again.
Total Time: 1 hour
This recipe brings out the summer flavors from the freshest vegetables. Corn and zucchini chowder is a healthy side dish filled with vegetables like sweet corn, grassy-tasting zucchini, and crisp cauliflower.
If the traditional chowder is too rich, then half-and-half is a perfect choice. It offers a less creamy and milder flavor. You can see plenty of colors, like yellow, green, and orange, from a variety of vegetables.
But let's add some more by garnishing with some shredded cheese, Tabasco sauce, or cayenne pepper. You may enjoy this chowder with buttery bread and salad for a perfect main meal.
Total Time: 15 minutes
Imagine how much the heat of summer parties will drop when you treat your guests with this ice cream. Whether adults or children, this recipe is enough to appeal to them.
This budget-friendly version of ice cream only needs 15 minutes to concoct. The slightly creamy half-and-half, sweet, and strong vanilla flavor makes you no longer crave store-bought ice cream.
If the milky white looks too ordinary, do not hesitate to add a few drops of food coloring. Alternatively, garnish it with chocolate chips, sprinkles, and your favorite fruit on top.
Total Time: 15 minutes
Crunchy bread toast is the perfect way to use up leftover half-and-half. It takes just a few minutes to prepare and gives you an all-age-friendly breakfast. This is a simple, time-saving meal that can even be prepared the night before.
Don't forget to spice it up with cinnamon. This flavoring has a woody and slight citrus aroma with a warm taste that is unmistakable. The combination of cornflake-crusted French toast, your favorite fresh fruit, and maple syrup is heavenly.
The deliciousness of this recipe depends on the type of bread. You should use thick slices of challah bread and dip them in the egg mixture to prevent them from getting soggy.
Why don't you upgrade your breakfast with this quick and easy French toast recipe?
Total Time: 56 minutes
If you love both zucchini and cheese sauce, this recipe now belongs to you. This mouthwatering scallop zucchini is a perfect accompaniment to grilled or baked meats and seafood.
You can use either zucchini or summer squash in this recipe. Both have similar flavors and become more buttery when cooked.
After that, enrich the veggies with a cooked mixture that includes Monterey, Parmesan, and half-and-half. When you sprinkle everything with shredded Parmesan cheese and black pepper, it is also your time to enjoy the creamy and smooth dish.
Total Time: 50 minutes
Using frozen pie crust is an ideal way to save time while creating this luscious food. You can make the filling creamier with Swiss cheese, cheddar cheese, and savory ham. The first one is very important if you love your quiche to have a sweet, buttery, and nutty flavor.
This recipe is more enjoyable in that you can serve it warm or cold. Also, you can have ham and cheese quiche for breakfast, lunch, or dinner, preferably after Easter. Don't forget it when you want to use up the leftover half-and-half and also ham in your fridge.
This quick and simple ham cheddar quiche dish is perfect with its light and fluffy texture.
Total Time: 1 hour
This Hawaiian poke cake differs from your everyday treats using canned pineapple. The technique of poking holes gives your spongy treat an extra flavorful bite in every scoop.
The smooth cream layer on top melts right away when you put it in your mouth. Yet, the special thing lies in the tropical scent of coconut and pineapple, which cut through the creaminess with sweet and sour tones.
For a delightful aroma, shredded coconut is not to be missed. Moreover, you should also sprinkle some toasted macadamia nuts on top if you desire an additional sweet buttery flavor.
Half-And-Half Recipes Are More Diverse Than You Think
Most people forget the presence of half-and-half in their refrigerator. Why waste it when it is incredibly versatile in recipes, ranging from savory to sweet?
With minimal effort, you can prepare many delicious dishes made from this creamy mixture. You can use it to take all recipes, such as sauces, drinks, or soups, to the next level.
Diversify your menu with the recipes above and tell people about other suggestions that you know via comments. It would be even better if you shared this article so that no one has to regret throwing away expired half-and-half anymore.