Try serving these raspberry desserts to your family, and these dishes will disappear without you even noticing because they are so delicious and rich in nutrients. With raspberry taking the spotlight, there are hundreds of possibilities for savory desserts.
Other types of berry, namely strawberry, blackberry, or blueberry, all add a zip of flavor to the dishes they accompany. However, what makes raspberry special is its sweet and sour taste with the floral undertone that will entice your taste sense.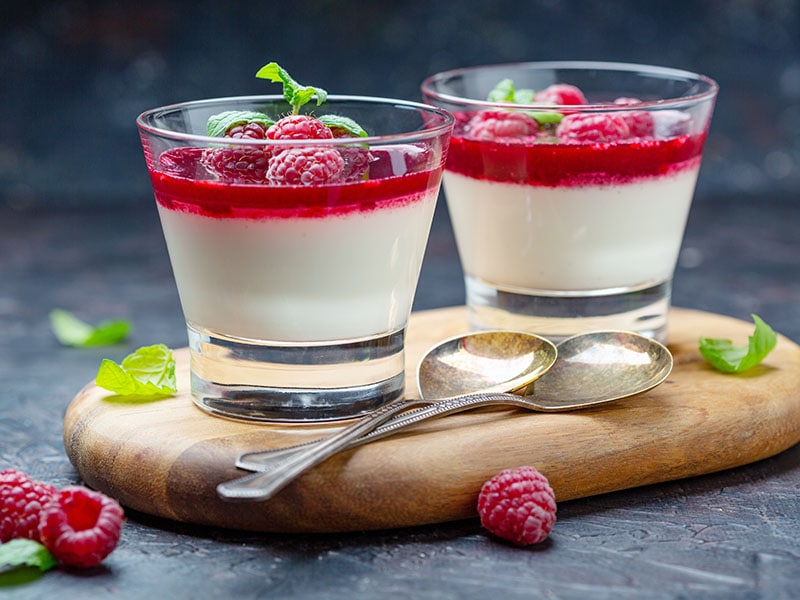 Raspberry Dessert Are Waiting For You To Give Them A Shot
I believe these raspberry mousses, cheesecakes, cookies, and many more will go straight to the top of your to-bake list. Continue reading to find out.
Total time: 2 hours 35 minutes (including 2 hours of chilling time)
Who doesn't love a stunning mousse with a silky smooth mouthfeel? Raspberry sauce, white chocolate, and fresh raspberry garnish come together in this creamy dessert. This amazing sweet delicacy is a perfect dish to finish your feast.
When it comes to mousse, the ganache is inseparable. The ganache is straightforward to recreate; you have to mix white chocolate and heavy cream, then microwave the mixture. You can add some fresh raspberries to the ganache for the extra flavor, but that is optional.
For the raspberry sauce, you do not want it to be super sweet. Half of a lemon juice teaspoon will work wonders in balancing the sweetness of fresh raspberry and granulated sugar. This specialty will need a couple of hours in the fridge before you can serve it.
Total time: 35 minutes
Souffle is a famous classic dessert originating in France. When turned into a delicious fruit-based dessert like this recipe, its fluffy texture will pair nicely with the sweet and tangy notes of raspberry puree. Do you want a romantic Valentine's gift idea? This is your guy!
First, you need to saute the raspberry with melted butter, sugar, cornflour, water, and orange juice. Let the mixture chill and start beating the egg white. The perfect beaten egg white will allow the batter to have that beautiful rising effect.
Many people think making a souffle is challenging, but with this foolproof recipe, you will not break a sweat recreating this delight. You know that you are succeeding in preparing this goodie when you see the souffle puffs up, and its top is golden.
Raspberry souffle is so delicious with this recipe.
Total time: 22 minutes
The next entry I want to introduce is the raspberry cheesecake thumbprint cookies. These cookies are extremely delicious and come together easily with five simple ingredients. Take a mouthful of these cookies and feel their cheesy textures melt in your mouth.
Once you finish making the base cookies, mix the pastry ingredients with softened cream cheese. Use your thumb to press in the center of each cookie to make room for the raspberry jam. You can replace raspberry jam with whatever jam makes you happy.
The key to this recipe is timing. The dough needs some time to rest in the fridge before baking. Bake the dough until the edges start to turn golden; at this moment, the cookies remain soft on top, but the bottom base has a crispy feeling.
Total time: 12 minutes
Are you tired of baking desserts? No problem! Because a blender is the only appliance, this recipe requires. This raspberry fool has a gorgeous pink color thanks to the fusion of red raspberry and heavy white cream.
The rich, creamy whipped cream goes well with the fresh raspberry puree. A little lemon juice helps the two components blend perfectly. It also brings out the best flavor of raspberry and whipped cream.
It will be a shortcoming if there are no fresh raspberries on these astonishing whipped cream treats. Not only do fresh raspberries emphasize the sweet and tangy taste, but they also add a crunchy mouthfeel to this dish.
Total time: 1 hour 30 minutes
Strawberries and chocolate have been an iconic duo for a while, but a twist like chocolate and raspberry is something worth a shot. The best part about this delicacy is the combination of the chocolate tart crust, chocolate ganache, and raspberry filling.
Chocolate pâte sablée is the name of this tart's crust, which is biscuit-like and crunchier than a regular tart. The raspberry coulis and chocolate ganache will fill up this tart. Make sure the coulis sit in the tart before adding the chocolate ganache.
Once the three components settle, it's time to decorate with the raspberry domes on top. This tart will make your mouth water with its fancy appealing presentation. Besides, you will explore the sweet and sour flavor with a distinct hint of rich chocolate taste.
With this detailed and informative video, you can easily recreate this chocolate raspberry tart.
Total time: 1 hour 25 minutes
Galette is strikingly beautiful, and this raspberry galette cake shows it off well. The star of this dish is the raspberry galette's sweetness and tanginess, plus the gorgeously dusted sugar on top.
The pie crust also plays an important role in bringing out the best flavor of raspberry. It is super easy to create this crust; you have to pulse a mixture of butter, sugar, salt, flour, and water in a food processor. The key to a flaky crust lies in the cold butter and water.
One bite of this galette will give you the tangy richness you expect. For the topping, you can go for a scoop of vanilla ice cream or whipped cream. It will slowly melt in the warm pastry and take this galette to the next level.
Total time: 8 hours 45 minutes (including 7 hours of chilling time)
Raspberry as toppings is simply insufficient in cheesecake recipes. Swirling raspberry puree into this rich, robust chocolate filling will help you satisfy your craving. Only a small slice of this dark chocolate raspberry cheesecake will please your palate.
This gorgeous cheesecake consists of Oreo crust, raspberry cheesecake, and chocolate ganache. The essence of flavor comes from the cheesecake's complex flavors of raspberry, dark chocolate, espresso powder, and cocoa powder.
This cake has an elegant and sleek look that is so tempting, thanks to the chocolate ganache. This cake is not too sweet; it is extremely comforting with the bitterness of dark chocolate and tanginess of raspberry, creating an explosive aftertaste.
Total time: 1 hour 10 minutes
The gorgeous and delicious bread is made using a recipe with two amazing ingredients. This delectable loaf will steal the spotlight at afternoon tea. This dish's raspberry glaze coating gives it a beautiful pastel pink color.
The fusion of lemon zest and fresh raspberries give this dish a refreshing taste. The lemons' acid wonderfully balances the raspberries' inherent sweetness. A delicious punch of lemon-raspberry flavor pairs perfectly with the soft, moist mouthfeel of the loaf.
You can customize the loaf according to your preference; switching from fresh raspberry to frozen will not affect the flavor much. Moreover, blueberries, blackberries, or strawberries will work wonders.
This beautiful loaf can stay good in the fridge for up to three days and up to one month in the freezer.
Total time: 45 minutes
If you are looking for a lively and nutrient-rich dessert, then look no more because this raspberry crumble bars recipe meets all the standards. These raspberry crumble bars are an ideal combination of nutty oatmeal crumbles and fresh raspberries.
Two layers of oatmeal crumbles surround the fresh raspberry filling to create a wonderful, soothing treat. You can choose between fresh and frozen raspberries. For the frozen ones, you will need more sugar and defrost them in advance.
These bars are the best for delicious breakfast or afternoon treats. You can make a few changes to this recipe to make these bars vegan or gluten-free. I guarantee that each bite will blow your mind.
Follow this tutorial for delicious and easy raspberry crumble bars.
Total time: 4 hours 8 minutes (including 3 hours of freezing time)
These chocolate raspberry sandwich cookies will steal the show at your next Valentine's Day. These cookies are amazing with a luscious raspberry icing embraced by the two layers of gooey chocolate cookie. People with sweet tooth may be addicted to them.
The cookies require basic pastry ingredients and cocoa powder to create that chocolatey taste. On the other hand, the filling is sweet and soothing with a perfect ratio of butter and cream cheese. You can notice a hint of tangy cream cheese nestled in the filling.
For this recipe, the cookie dough needs to be chilled. It's advised to keep the dough in the refrigerator overnight. If you do not have too much time, substitute fresh raspberries with raspberry preserves or jam to skip the puree process.
Total time: 25 minutes
This brilliant vegan dessert idea is something you don't have to feel guilty about. Made of nutritious ingredients, the cheesecake bars are suitable for various diets. Apart from that, their presentation is strikingly appealing, with raspberry swirls all over the surface.
These cheesecake bars are one of the perfect healthy options that you can opt for breakfast or snacks. This is because of the use of wholesome ingredients in the base crust and the cheesecake filling.
The base crust will be a bit nutty in terms of flavor due to the walnuts and oats with a caramel-like taste from the Medjool dates. The filling is more complex with a touch of sourness of the lemon to balance out the coconut taste and sweetness.
Total time: 50 minutes
A delicious punch of raspberry lemon taste will brighten all your days. Let me introduce this raspberry lemon cake recipe that is so easy to make and delicious. This cake is perfect for birthday parties and summer cookouts.
The cake is not overly sweet; its mouthfeel is extremely soft and moist with a sweet note of raspberry. The bursting of sourness comes from the lemon buttercream owing to the lemon zest and lots of lemon juice.
This cake's secret is using Greek yogurt for extra flavor and tender texture. What's more, I suggest using frozen raspberries for this recipe because they don't break up easily. Before assembling this cake, ensure the layers have some time to chill.
You are ready to serve your family this raspberry lemon cake by following this tutorial.
Total time: 45 minutes
This raspberry blondies specialty is a rockstar recipe that deserves a spot in your baking rotation. In this recipe, white chocolate, raspberries, and almonds come together to create nutritious bars that make you ask for more.
These bad boys are a great combination of flavors. They have a distinct hint of almond flavor that goes hand in hand with the raspberry goodness and the white chocolate's buttery richness. These bars melt in your mouth, but they also have that crunchiness of almonds.
With all the flavors and nutrients these bars carry, they are perfect treats for a decadent snack. These treats are also fit for breakfast or brunch. You can store them in airtight containers for up to 7 days at room temperature.
Total time: 15 minutes
Here comes another chocolate raspberry combo. These chocolate raspberry bites are super tiny and are ideal for serving as finger food at cookouts or parties. Lovely raspberries are beautifully wrapped in melted dark chocolate.
You only need two ingredients for this small cute delectable: coarsely chopped chocolate or chocolate chips and fresh, dried raspberries. First, you need to melt the chocolate and scoop them into muffin tins with the raspberries. Let it chill in the fridge for at least one hour.
And voila, tiny and cute chocolate raspberry bites are ready. Make these if you are short on time for a proper dessert or want to pamper yourself with chocolate.
Total time: 1 hour 5 minutes
The startling beauty of raspberry is perfectly displayed in these raspberry ganache brownies. A decadent raspberry white chocolate ganache meets phenomenal brownies in this astonishing recipe.
The ganache is super simple with chopped white chocolate baked with heavy cream whipped together. The color of white chocolate ganache is not very appealing, so both the food coloring and the red raspberry powder aid in giving it an adorable pastel pink color.
Semisweet chocolate is suggested for the brownie as the sweetness of the white chocolate from the ganache is more than enough. The sour raspberries, hearty dark chocolate, and a hint of smoothness from the white chocolate come together to make a delicious treat.
This guideline makes raspberry ganache brownies so appealing and simple.
Total time: 4 hours 5 minutes (including 4 hours of freezing time)
There is nothing more enjoyable than a popsicle on a hot summer day. These gorgeous-looking popsicles are so easy that it only takes you less than 10 minutes to pull off. Try these healthy popsicles if you are bored with orange or strawberry ones.
It will take lemon juice, frozen raspberries, stevia, and some water to complete this summer dessert. You need to chop the frozen raspberries first. Then, mix the ingredients and pour the mixture into the popsicle molds.
What makes this recipe special is stevia, it is sweeter than sugar, and there is no substitution for it. This recipe is also notable for its color; the color of the popsicles comes naturally from the raspberry, and there is no use of artificial colors.
Total time: 30 minutes
The dessert that I am about to recommend will make tart enthusiasts salivate. This white chocolate raspberry tart is filled with fresh raspberries and the luxurious, velvety mouthfeel of white chocolate, not to mention the buttery biscuit crust.
What distinguishes this tart from others is the raspberry filling; it is not too rich but is full of flavor and a soothing mouthfeel. The white chocolate's sweetness complements the tanginess of raspberries nicely.
This lovely dessert will become the main star of summer cookouts and parties. You can store it in the fridge for 3 days, and in the freezer for up to 3 months. It is essential to let it chill in a refrigerator overnight before serving.
Total time: 30 minutes
Dark chocolate and raspberry are match-made in heaven. They take on the form of truffle fungus in this dish, which explains how it got its name. You need these little guys if you are craving some chocolate and raspberry.
Dark chocolate and raspberry jam come together easily with the help of cocoa powder and heavy whipping cream. They combine and result in delicious ganache. The best part? There is no baking required in this recipe.
These charming finger treats are perfect for Christmas or Valentine's Day. Don't hesitate to try making them; they are so simple and quick for a tasty dessert. You can make them ahead of time as they remain quality in the fridge with an airtight container and freezer for 3 months.
Make these lovely dark chocolate raspberry truffles for your loved one on Valentine's Day.
Total time: 3 hours 22 minutes (including 3 hours of chilling time)
This recipe puts raspberries into good use. If you are a big fan of pretzels, you should not miss out on this specialty. Not only is this 3-layer salad tempting with a crimson raspberry jello top, but it is also a perfect combination of sweet and salty tastes.
Pretzel crust, cream cheese filling, and raspberry jello topping all work together to yield a masterpiece. What is special about this dessert is the saltiness of the salted pretzel helps balance other flavors flawlessly.
Suppose you are not into salty desserts; go for graham crackers; they are a perfect choice for your sweet tooth. You should prepare this treat in advance, so it has time to set up nicely; a night before is highly recommended.
Total time: 1 hour 38 minutes (including 30 minutes of chilling time)
What would be better than a raspberry-filled cupcake and a cup of coffee or tea? This cupcake recipe lets raspberry take the central stage. In addition to the glamourous presentation of this dish, it is also healthful and very low in calories.
Raspberry cupcake, raspberry jam, and raspberry cream cheese frosting combine to create such a delightsome treat packed with refreshing raspberry flavor. Moreover, the texture of these cupcakes is extremely moist and fluffy.
Not to mention the frosting garnish takes the presentation over the top. The frosting with a pastel pink color topped with a fresh raspberry goes well with the cupcakes. These treats are what you need to finish your meals wonderfully.
Total time: 2 hours
Your days will be better if you have just one bite of delightful raspberry and lemon flavor. This recipe's lovely macaron shells are filled with refreshing raspberry and lemon filling. Serve these macarons to your family, and they will disappear so fast.
Macarons have a bad reputation for being difficult to make because their crispy yet supple shells are a challenge to achieve. However, they make this type of confection stand out, so stick with the recipe if you wish to create the best result for this finger-licking lemon-flavored dessert.
The raspberry lemon filling gives these macarons a bursting sweet and sour flavor. It pairs wonderfully with the light, mild taste of the shells. Apart from that, these macarons have a chewy center that gives an extra experience to the mouthfeel.
Total time: 6 hours 15 minutes (including 6 hours of chilling time)
Don't miss out on this recipe if you are a panna cotta lover. Put those delicious raspberries into good use with this raspberry panna cotta recipe. There is baking involved in this recipe, and what's more, this dessert is super healthy.
The mouthfeel of this delicacy is creamy and silky, just like how regular panna cotta is. Take a spoonful, and it will instantly melt in your mouth. The sour raspberry and nutty coconut flavor will stimulate your taste buds.
Panna cotta is so easy to make with this recipe. Keep in mind that gelling gelatin is essential in this recipe as it sets up the structure of panna cotta. You can make a batch in advance and store it in the fridge for up to 4 days, but ensure it is covered.
Raspberry panna cotta is refreshing and perfect for any festive occasion.
Total time: 50 minutes
You will wow a crowd with this chocolate raspberry trifle dessert. This rich and creamy trifle has many layers of chocolate, whipped cream, fudge sauce, and fresh raspberries. This festive dish is a must-try dessert for your next potluck or BBQ.
The layers of this trifle may sound complicated, but when it comes to ingredients, you will need no more than regular pastry components and fresh raspberries. The main flavors of this sweet and sour raspberry go hand in hand with the robust, hearty chocolate taste.
This trifle is not only packed with flavors from various ingredients, but it also has a stunning appearance with vibrant colors of the different layers. Some chocolate shavings for garnish on top will complete this magical dessert.
Total time: 1 hour 45 minutes
This top-notch chocolate delight is another layered cake that I want to introduce. It is the very definition of extravagance, with layers of dark chocolate pastry, velvety chocolate frosting, and a piquant raspberry filling.
An elegant and sleek chocolate ganache coats this cake nicely – a perfect touch to such a decadent treat. Magically dusted powdered sugar for garnish is a must for this cake. A touch of some fresh raspberries finishes this dessert perfectly.
The rich chocolate cake is a sensation accompanied by the richness of the raspberry filling and the fudgy ganache frosting. This cake is what you need for any special occasions or cookout parties.
This layered raspberry cake brings out the best flavor of raspberries and chocolate.
Total time: 25 minutes
The famous Cranachan dessert originated in Scotland. It was first created as a harvest celebration after the June raspberry harvest. It is made from berries and cream, as simple as that. Make these so you can make good use of your raspberries.
One special thing about this specialty is that you will need Scott whiskey to complete it. You can replace whiskey with rum, and it will not affect the result much. The other ingredients are relatively familiar: honey, oatmeals, raspberries, and whipped cream.
This delicacy will have the sweetness and tanginess of honey and raspberries. Besides, the nutty oatmeals, the rich whipped cream, and finally, a hint of whiskey blend superbly in this Cranachan. You can eat it immediately or store it in the fridge for later use.
Total time: 15 minutes (excluding 3 hours of freezing time)
One spoon of this fruity, refreshing raspberry sorbet on a hot summer day will make all your dreams come true. This raspberry sorbet sugar recipe is ultra healthy as it is extremely low in calories and consists of all-natural ingredients.
You will simply need fresh raspberries, lemon juice, honey, and warm water. By looking at the ingredients, you know this dessert will be fresh and healthy. Once you have gathered all the ingredients, blend everything until smooth.
You can eat it right away if you are into soft desserts or store it in the freezer for 3 to 4 hours so it can firm up.
Raspberry Desserts Deserve A Spot In Your Baking Rotation
Even though raspberries are not as popular as strawberries, blackberries, or blueberries, there's no denying that raspberries are special in their way. Raspberries are going to steal the spotlight and become the favorite fruit for sweet and tart desserts.
There are so many choices for raspberry, ranging from tart to cheesecake or crumble bars to popsicles. Raspberries' goodnesses elevate every dish they accompany. What is your first pick from this list of raspberry dessert recipes?
Have you tried making any of them yet? Please let me know in the comments below, and don't forget to share the article if you find these recipes useful. Your happiness is what motivates me to produce better content. Thank you, and good luck!
Nutrition Facts
6 servings per container
---
Amount Per ServingCalories349
% Daily Value *
Total Fat 24.4g

38

%
Cholesterol 82mg

28

%
Sodium 80mg

4

%
Potassium 53mg

2

%
Total Carbohydrate 26.7g

9

%

Dietary Fiber 2.4g

10

%
Sugars 20.4g

Protein 2.1g

5

%
---
* The % Daily Value tells you how much a nutrient in a serving of food contributes to a daily diet. 2,000 calories a day is used for general nutrition advice.