Many simple quesadilla recipes are waiting for you to recreate in the kitchen. Whether you're looking for new sparks to cook quesadilla or simply want an easy recipe, this article provides them all. All you have to do is sit back and pick your favorites.
No matter what you pick, I'm sure you will be happy with your creation. The idea of a quesadilla is to be creative with your fillings, so I hope you get some valuable inspiration for the next quesadilla. Without further ado, let's dive into the exciting world of quesadilla.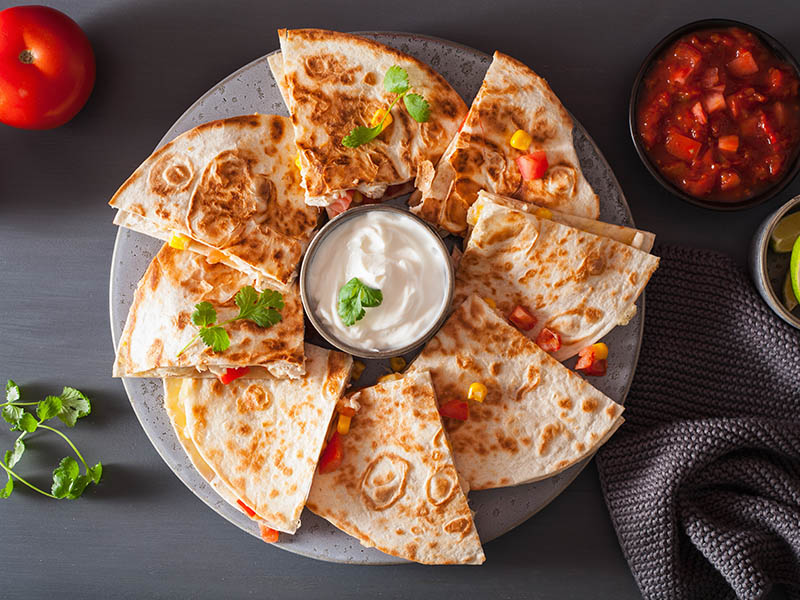 Fascinating Quesadilla Recipes To Whip Up At Home
Whether you want to create a Mexican-themed meal or are simply searching for a hearty snack, this compilation of quesadilla recipes will meet your demand. These Mexican-inspired delicacies take less than 30 minutes to make in the kitchen.
Total time: 15 minutes.
Let's kickstart the list with a classic chicken quesadilla recipe. The dish is simple to make as you only require some basic ingredients. Chicken quesadilla is also a good dish to use your leftover rotisserie chicken.
Of course, you want to use tortillas as your base for the shredded chicken, cheese, and black beans. Preferably, you should quickly combine the elements on a heated pan or griddle to avoid burning the tortilla.
Simply fry one side of the tortilla until golden brown and flip to repeat the same process. For the final touch, slide in a couple of avocado slices to provide an extra creamy taste. You will soon have a warm crunchy chicken quesadilla in your hands.
Learn the easy steps to recreate a classic chicken quesadilla.
Total time: 3 minutes.
Another form of enjoying quesadillas is to fill the tortilla with pure cheese. The dish serves as a Mexican-themed starting course or a quick snack, yet the creamy cheese keeps everyone returning for more. The best part is that you can make this recipe with only three elements.
The cheese quesadilla is hand down as one of the simplest dishes you've whipped up in the kitchen. Apply the pan with a little bit of oil and toss in the tortilla. Place the cheese in the middle of the tortilla and wait for it to melt completely.
Remember, the recipe works great with whatever type of cheese. Once you get a crispy tortilla crust, kill the heat and serve up your cheesy creation.
Total time: 35 minutes.
This quesadilla is always one of the most popular specialties with ground beef. The meat adds a decent source of nutritious protein with flavorful seasonings. Furthermore, including cheese helps create an irresistible ooey-gooey experience in the dish.
Instead of adding beef directly to the tortilla, you must first saute the minced meat with a combination of chili powder, oregano, and cumin. The beef should have a nice brown color before killing off the heat.
Then, pour tomato paste for a beautiful red color with a sweet and sour flavor. Next, you want to place the beef over a cheese bed and sprinkle it with extra cheese. Fold the tortilla and cook until both sides are golden brown.
Ground beef quesadilla is best to enjoy with guacamole (avocado sauce) or sour cream to increase the creaminess.
Total time: 10 minutes.
If you're fed up with cattle or poultry meat filling for your quesadilla, let me suggest tuna as an alternative pick. Like people often say, tuna is the chicken of the sea because of its tender meat texture. Better yet, tuna also provides various nutrients to your diet.
Better yet, this meal works under 10 minutes by using canned tuna to save time on preparation steps. Grab a tuna can and drain it from excess moisture. Incorporate the tuna meat with cream cheese, spinach, and basil for the filling.
Toast the tortilla with the tuna filling and cheese to wrap up your cooking process. The tuna makes for a new option if you want to experiment with new quesadilla ideas.
Tuna quesadilla is excellent for utilizing leftover canned tuna.
Total time: 10 minutes.
When it comes to a quesadilla, the first spark in your head must be the savory filling with an incredible cheesy experience. However, I want you to give sweet quesadilla a shot. The idea is to replace the savory filling with fruits and various sweeteners.
You only need to spread the tortilla with peanut butter while frying it using a pan. Quickly add sliced bananas, strawberries, and a pinch of sprinkled cinnamon at this step. Now you have a decadent Mexican sweet treat with a harmonious mix of fruity, sweet, and sour flavors.
Furthermore, I suggest throwing a couple of chocolate pieces to take the recipe to another notch. The melted chocolate adds another layer of flavor profile to the fruit filling. Sweet quesadilla is ideal to surprise everyone as a snack or dessert.
Total time: 15 minutes.
Commonly, you tend to see avocado as an additive to a quesadilla filling. But with a few tweaks, you can turn avocado into the main focus of quesadilla. It is perfect for a vegan-friendly meal and still provides you with a sufficient amount of energy.
Aside from the avocado, I recommend incorporating corns, beans, and onion to improve the overall textures. Mix the elements with lime juice until you get a creamy filling. Transfer all the filling to a tortilla and cook until golden brown on both sides.
After one bite into the avocado quesadilla, you will immediately experience a decadent creamy flavor with small pops of sweet corn kernels.
Total time: 20 minutes.
It's morning, and you want a quick and easy breakfast with a Mexican theme. Don't worry because I got your back with this breakfast quesadilla. It takes little effort to prepare, and you can even store the quesadilla in the refrigerator from the night before.
The main highlight of this quesadilla lies in the fluffy eggs. Commonly, you want to combine the egg with bacon bits and cheese to make up the filling. Next, cook the quesadilla until you get a crispy texture on the tortilla.
Breakfast quesadilla is excellent at delivering a decent energy source for starting your amazing day. So next time, make you whip out this recipe for a hearty morning meal.
Start your morning with this beautiful three-way breakfast quesadilla.
Total time: 15 minutes.
If you're looking for a healthy filling for your tortilla, I have the perfect appetizer with spinach and artichoke. These two vegetables contain valuable minerals and vitamins to maintain a healthy diet.
After cooking the spinach and artichoke, don't forget to use a towel to extract any excess moisture from the spinach. The quesadilla may become soggy if you don't squeeze out the water. In addition, I recommend throwing in chicken for an additional protein source.
Besides the mozzarella cheese, you should add a dollop of sour cream to the tortilla to elevate the creaminess and flavors. Make sure you leave some remaining cheese to cover the filling. Overall, the artichoke adds an intriguing bitter taste to the quesadilla filling.
Total time: 1 hour 5 minutes (including 30 minutes of resting the dough).
Typically, people only lightly toast the tortilla to make a quesadilla, but what if you can deep fry the dish? The result is a super crunchy creation with impeccable filling flavors. In addition, you get to play with the dough since this recipe calls for making the tortilla from scratch.
It's simple as you only knead a combination of corn flour with all-purpose flour, salt, and water. Let the dough rest for around 30 minutes before adding your favorite filling.
Instead of folding the dough in half, you want to seal it to avoid spilling out the inner content while frying. It should take around 6-7 minutes to cook the quesadilla thoroughly.
To serve up the fried quesadilla, take a sharp knife and make an incision to reveal its filling. Drizzle the dish with some guacamole sauce, and you're good to dig in the quesadilla.
Total time: 15 minutes.
Shrimp is a fan-favorite seafood option to turn into a quesadilla filling. The fried shrimp are tender and possess a certain bounce to their meaty texture. In Mexico, people also adopt shrimp into quesadillas with a splash of lemon juice for a refreshing taste.
For starters, you need to handle the shrimps by stir-frying them with lime zest, taco seasoning, and garlic. In addition, you can sautee the vegetable mixture of onion and sweet pepper at the same time.
Divide the shrimp and vegetables evenly into the tortillas to cook the outside crust. Ideally, you should cook each side for around 1 – 2 minutes. When the cheese melts completely, it's time to enjoy a shrimpy quesadilla creation.
Shrimp is a must-try filling for a quesadilla recipe.
Total time: 14 minutes.
Are you having some leftover ham and tortillas in your refrigerator? If so, you must whip up a ham and gouda cheese quesadilla for a quick snack. The dish comes together quickly; you only need to gather around seven ingredients to work.
To enhance the quesadilla flavor, I suggest spreading the tortilla with mustard before putting ham, pickles, and Gouda cheese. Adding Gouda cheese provides a rich, nutty, and caramelly taste to the quesadilla.
Don't forget to prepare some red onion to make the filling burst with a wonderful flavor. Furthermore, sour cream is one of the suitable accompaniments for your quesadilla, so put it on the side. Finally, cut the quesadilla into pieces and serve up your tasty snack.
Total time: 1 hour.
What happens when you want to serve many people with a quesadilla recipe? Simple, you just have to whip out a sheet pan quesadilla to treat everyone. The idea is to create a giant quesadilla so you can have many servings.
You should have a big sheet pan to house all the ingredients. Place a couple of tortillas on the sheet pan until they completely cover it. As for the ground beef, brown it with some seasonings like cumin and smoked paprika.
Transfer the minced meat with onion, cheese, and pepper to the tortilla sheet pan. Now, you should gently fold the excess tortilla side to the middle. Place another sheet pan over the tortilla to lock in the shape.
Once the baking process is complete, cut the quesadilla into rectangular shapes for serving. This sheet pan version is perfect whenever you plan to have a party with many people.
Total time: 25 minutes.
Steak quesadillas are a straightforward appetizer using steak that will please everyone at the dinner table. This steak delicacy comes together quickly and allows the whole family to enjoy a hearty meal. For the best result, you should pick the top sirloin section.
For seasoning, you may use taco seasoning to cut out some slacks. I prefer to enjoy the steak in thin slices as they soak up more goodness from the spices. On average, it takes 1 – 2 minutes to cook both sides of the steak.
Finally, assemble the quesadilla by placing the steak and cheese in the middle of the tortilla. Hold the tortilla down using a spatula to keep its shape until you see the cheese beginning to ooze out. Serve the steak quesadilla with a drizzle of oil.
Steak is full of nutrients to make a power-packed quesadilla.
Total time: 30 minutes.
If you think I'm recommending the same recipe twice, think again because this quesadilla is for anyone looking to maintain a healthy keto diet. No matter how strict your low-carb diet may be, this keto quesadilla will still meet the demand and pack a flavorful punch.
Instead of using conventional wheat or corn flour tortilla, I suggest relying on a low-carb variety. Commonly, low-carb tortillas utilize almond flour as the main ingredient. These wraps tend to have a softer texture and are easier to manipulate.
The rest of the filling consists of high-protein chicken breast with pungent cheddar cheese and a slight kick of heat from the Jalapeno (Mexican green chilies). In addition, people throw in a couple of avocado slices to add an extra layer of creamy texture.
Total time: 10 minutes.
Turkey and cranberry may not be the first option for many people, but it's a unique experience you should try. This strange filling combination is also ideal for cleaning out leftover turkey and cranberry sauce after a long Thanksgiving holiday.
To make the filling, you want to spread the turkey with Havarti cheese on one side of the tortilla and cook until it becomes brown. Fold the tortilla in half and heat the quesadilla's other side. The addition of Havarti cheese helps infuse the turkey with a buttery flavor.
As for the cranberry sauce, it's a type of spicy salsa (Mexican tomato sauce) with fragrant herb scents and incredible tartness.
Total time: 20 minutes.
Another filling that you can whip up is BBQ chicken with gooey sauce. It's a fun twist on the classic chicken quesadilla. This BBQ chicken filling can give any other meals a run for their money when served.
Instead of using only chicken breast, I suggest mixing in BBQ sauce for a smoky and savory flavor. Furthermore, the filling also calls for corn kernels and onion for extra textures. The rest of the cooking procedure is relatively the same as other quesadillas.
Why not incorporate BBQ chicken into your tortilla?
Total time: 20 minutes.
Chorizo is an ideal choice for an authentic Mexican experience of quesadilla. This sausage is a type of fermented meat which usually has a deep brick-red color and a smoky flavor. Many people suggest Chorizo originates from the Iberian Peninsula in Spain and Portugal.
In your skillet, cook the Chorizo for around 3 minutes before mixing it with beans and salsa. While grilling the tortilla, transfer the Chorizo mixture over the quesadilla crust. It takes about 5 – 6 minutes to cook the dish thoroughly.
When served, you may want to cut the dish into bite-sized pieces to dip with salsa or sour cream. I enjoy the smoky Chorizo filling with an extra sprinkle of cheese.
Total time: 30 minutes.
Here's another vegetable stuffed quesadilla for you to experiment with at home. The filling is full of healthy vegetables with cheesy flavor to make up an addicting combination. It's a perfect light snack for your family members.
The filling takes zucchini and spinach as the primary focus to provide you with a low-calorie option. I recommend combining green and yellow zucchini to make the dish more appealing with colorful filling. The zucchini and spinach should have a soft texture after cooking in the pan.
As for the cheese, you want to sprinkle it over the filling. Pan-fry the tortilla until the cheese has melted before serving up the zucchini spinach quesadilla.
Total time: 25 minutes.
Black beans usually appear as an optional additive to a quesadilla filling. However, it's possible to turn black beans into the dish's centerpiece by combining them with sweet potato for the best effect.
I like this recipe because it uses simple ingredients to make a decadent vegetarian quesadilla. People stir-fry the sweet potato first until tender, so it's easier to work the black beans, salsa, and seasoning into the mixture.
I suggest picking vegetarian cheddar for the cheese if you want to make this a completely vegetarian dish. Repeat the standard steps of toasting the tortilla and add the fillings to wrap up the cooking process on the black bean and sweet potato quesadilla.
Black bean and sweet potato make an outstanding combination of quesadilla filling.
Total time: 20 minutes.
Did you know mushrooms are perfect for substituting meat in many cooking recipes? Therefore, I'd like to introduce you to a cheesy filling with mushrooms for the quesadilla. The result you get is nothing short in comparison to regular meat options.
Depending on your liking, this recipe even works with a microwave. First thing first, you need to saute mushrooms with simple seasonings. Allow the mushrooms to release their moisture or until they are tender before moving to the next step.
In a pan, sprinkle a generous amount of cheese over the tortilla so you can lay the mushrooms over it. Top off the filling with another turn of grated cheese. Fold the tortilla in half and wait for the cheese to melt completely.
Total time: 20 minutes.
Since I have mentioned so many chicken or ground beef quesadillas, it's easy to guess that you can also utilize pulled pork in the filling. The tenderness and savory flavors of the meat are the main selling point of this recipe.
This quesadilla is a wonderful dish to make with the leftover pulled pork from yesterday's party. You need to stir-fry onion with brown sugar, balsamic vinegar, and butter to create an irresistible caramelized mixture.
Bring the pulled pork and onion blend together to create the filling. Assemble the quesadilla by placing the filling over the tortilla with cheese. Toast the tortilla for about 1 – 2 minutes on each side before serving.
Total time: 30 minutes.
Have you ever been to Taco Bell and wondered why they have such a great quesadilla mix? If so, let's unravel the secret to creating a perfect copy of the famous Taco Bell quesadilla right at home.
You need to cook the chicken breast first to prepare the filling. The key to a decadent quesadilla lies in the sauce, a combination of mayo with minced pickled Jalapeno, cumin, and paprika. Nailing the sauce is the secret to achieving the authentic Taco Bell flavor.
Finally, assemble the quesadilla with cheese and chicken on one side of the tortilla as the main filling. Spread the mayo sauce mixture on the other side of the tortilla and fold it in half. Wait for the cheese to bubble before cutting the quesadilla into bite-sized pieces for serving.
Which Quesadilla Tingle Your Taste Buds The Most?
Feel free to experiment with all sorts of quesadilla fillings to figure out your favorite option. In addition, you can always be creative to come up with your desired filling.
If you like this post, let everyone know more about your experience making quesadillas in the comment below. Furthermore, you should send this article to friends and family members who want a little Mexican flavor in their meals.
Nutrition Facts
4 servings per container
---
Amount Per ServingCalories528
% Daily Value *
Total Fat 22.7g

35

%
Cholesterol 102mg

34

%
Sodium 322mg

14

%
Potassium 937mg

27

%
Total Carbohydrate 43.6g

15

%

Dietary Fiber 9.4g

38

%
Sugars 2.1g

Protein 39.7g

80

%
---
Calcium

316

%
Iron

4

%
Vitamin D

4

%
* The % Daily Value tells you how much a nutrient in a serving of food contributes to a daily diet. 2,000 calories a day is used for general nutrition advice.