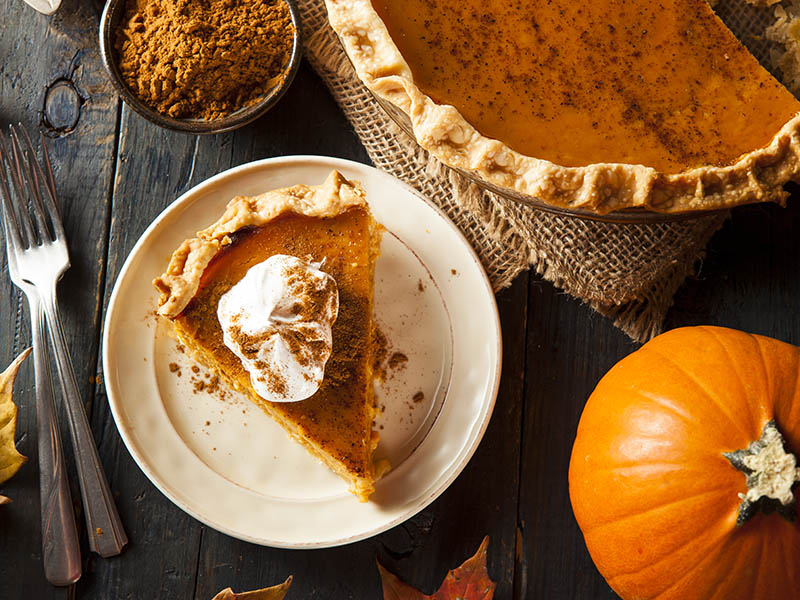 The list of best pumpkin desserts is pretty diverse. You can refer to this amazing post to get wonderful treats to refresh your taste buds after each meal. Your job is to follow the instructions and create amazing desserts to treat your guests.
After reading this useful article, you can learn many helpful tricks to prepare delicious desserts with pumpkin. Nevertheless, pay close attention, or you can miss some essential notes. Keep reading to the end of the article!
Let's Refresh Your Taste Buds With Yummy Pumpkin Desserts!
Pumpkin is a popular ingredient in making wonderful desserts. Let's learn how to turn this ingredient into mouthwatering desserts right away!
Total time: About 1 hour 35 minutes.
It is a pity if you do not make pumpkin cream cheese rolls for your loved ones on special occasions. The pumpkin roll filled with cream cheese inside will bring an indescribable feeling when you eat it.
All that remains in my mind are the pumpkin's sweetness and the cheesy touch of cream cheese. Moreover, its softness and smoothness are also unforgettable. Its appearance is a harmonious interweaving of dark yellow and white rings.
After mixing the ingredients and rolling the cake, you need to wrap it with plastic wrap and chill it in the fridge for about 1 hour before using it. Do not forget to sprinkle powdered sugar on the cake to beautify it.
Make pumpkin cream cheese roll with these directions right now.
Total time: About 50 minutes.
You will have an appetizing dessert to refresh your taste buds after each meal with canned pumpkin. This pumpkin swirl brownie recipe is the ideal choice to leave a profound impression on your diners.
It's hard to resist the tenderness and alluring flavor of this treat. Enjoying this food, you'll feel a bit of warmth from cinnamon and nutmeg.
For the best dessert, you must prepare the filling with cream cheese, canned pumpkin, warm spices, and an egg. Brownie is the next part you have to make. In the end, you mix both mixtures and bake for about 40 minutes to get your products.
Total time: About 30 minutes.
I'm sure your kids will be satisfied with the delectable pumpkin whoopie pies on holidays. In addition, you can put them in lovely boxes and give them to your loved ones on special occasions.
It looks so eye-catching and appealing with the dark brown pie and white color of creamy cheese filling. Diners can immerse themselves in the buttery flavor and soft texture of the pies and the cheesy touch of the filling.
It is an outstanding experience to consume sweet whoopie pies with a cup of coffee or tea. To beautify the recipe, please sprinkle powdered sugar on top before serving.
Find out the preparation to create yummy pumpkin whoopie pies.
Total time: Around 35 minutes.
Cornbread is a popular dessert in household meals. Making cornbread with pumpkin is a fantastic idea to diversify the dessert menu for parties. This delight dish will steal your heart when consumed in winter or autumn.
Its golden brown shade matches the sad and nostalgic atmosphere of autumn and winter days. Plus, you'll have memorable moments with your loved ones when enjoying this sweet and soft dessert with a cup of warm coffee or tea.
You won't forget the passionate and seductive taste of this treat which is embellished with an earthy and warm hint of cinnamon and nutmeg.
For serving, you can serve it as an accompaniment with soups or BBQ meat. Also, it acts as a delicious dessert after each meal with many heavy dishes. You can eat it warm with honey, molasses, or butter.
Total time: About 4 hours 5 minutes.
Do you love cheesecake? I am about to teach you how to make a fantastic and yummy cheesecake from pumpkin. Also, it is a perfect alternative to pumpkin pie at any party.
The softness and smoothness of this dessert will make you unable to stop eating it. Even better, it gets a beautiful appearance with 2 distinct color layers. Please, do not forget to serve it with whipped cream on top.
Although you must wait more than 4 hours to enjoy this sweet dish, the results will not disappoint you. For the best taste of the sweet dessert, you should chill it in the fridge for about 3 hours or overnight before serving.
Total time: 1 hour 27 minutes.
Do you know how to make an appetizing cookie with a pumpkin? It's time to experiment with making Kahlua pumpkin gingersnap cookies for dessert after each meal.
These cookies are unique with their perfect round shape and lovely brown color. A bit of granulated sugar topping will adorn the dessert.
It's nice to enjoy these sweet, soft, and crispy cookies after eating heavy main courses. Furthermore, a little warmth and mild spicy touch from ginger will leave an indelible impression in your mind. In fact, they pair well with a massive glass of milk.
A secret trick to remember when making cookies is to chill the batter in the refrigerator for a few hours before shaping the cookies. To flatten the balls, you can use the bottom of a glass.
Total time: About 10 minutes.
Nothing is better than enjoying a mouthwatering, sweet pumpkin pie milkshake on hot summer days. This is a simple and effective way to cool down your body since you only need 10 minutes and a few easy-to-find components.
It is like a smoothie with an eye-catching pale yellow shade. This creamy and silky dessert is made with vanilla ice cream, milk, and pumpkin puree. Of course, you can break the monotony with cinnamon and whipped cream on top.
All you need is a blender and the essential ingredients. This impressive dessert is a great vitamin C, A, calcium, and potassium source.
The instruction to make a pumpkin pie milkshake will help you whenever you want a pumpkin dessert.
Total time: Around 1 hour 20 minutes.
This insane dessert includes pumpkin, yellow cake mix, pumpkin pie spice, and some condiments. It'll taste better and more appealing with some nuts on top. If you are a fan of pumpkin taste, I guarantee you'll love this yummy and moist treat.
There are many ways to bring a new twist to this delicacy. You can add caramel drizzle or toffee bits for a variety of flavors. Also, try replacing the yellow cake mix with pumpkin spice cake mix to change its taste.
Typically, I see people eating this treat with vanilla ice cream. For storing, it doesn't matter if you put leftover pumpkin cobblers in the fridge or freezer for later uses.
Total time: About 2 hours 15 minutes.
Peanut butter and pumpkin seem to be made for each other. And the combination of these 2 ingredients in peanut butter pumpkin fudge creates an immortal masterpiece in cuisine. If you still have doubts about this mix, why don't you give this recipe a try?
The buttery flavor of peanut butter blends well with the earthy touch and soft texture of pumpkin puree. You should use no-stir peanut butter to achieve the best performance. Also, some white chocolate chips will help the fudge set up better.
You must wait a few hours for the fudge to fully harden before using it. If you use the right ingredients, but the fudge is still not hard, you have to chill it for a few more hours or put it in the freezer.
Total time: About 15 minutes.
It is hard to say no to pumpkin creme brulee's intense appeal. This recipe is a beautiful combination of the warm flavor of pumpkin, the sweetness of sugar, and the creamy taste of whipping cream.
Diners will be captivated by the distinctive and beautiful golden color. Also, the crunchy caramelized sugar on top creates a highlight for the sweet dish. Plus, your mouth feels good when you eat this silky dessert.
In case you have ever tried vanilla bean creme brulee, the consistency of pumpkin creme brulee will be less smooth. This is the result of using pumpkin. In addition, when you bite this treat, it melts in your mouth gradually.
Go to the kitchen to make this excellent pumpkin creme brulee now.
Total time: About 24 minutes.
It is incredible to finish the gatherings with tender and sweet pumpkin cookies. The highlight of this wonderful dessert is the tangy and sweet cream cheese frosting. It will give you a pleasant mouthfeel while eating this dish.
To make this food, you must prepare butter, egg, pumpkin puree, flour, and cream cheese. Make sure to use canned pumpkin puree instead of pumpkin pie mix. Also, add some cinnamon to the frosting for diversifying flavor.
There are many ways to store these cookies, but I usually put them in an air-tight container and keep them in the refrigerator. Furthermore, you can make a vegan version using vegan butter and gluten-free baking flour.
Total time: About 1 hour 15 minutes.
There are numerous sweet desserts for autumn, but butterscotch gingerbread pumpkin trifle is still my priority. It won my heart thanks to the complex flavor and the harmonious combination of components to make a perfect whole.
Crumbled gingerbread cookies, whipped topping, creamy pumpkin pie, and butterscotch pudding are arranged in separate layers for an alluring look. Plus, it looks more beautiful when served in a glass.
You must start making cookies with molasses, eggs, warm spices, and flour. You next need to create a smooth pudding by mixing butterscotch pudding, canned pumpkin, and cream cheese. You'll have an ideal dessert once you assemble these parts.
Total time: Around 1 hour 10 minutes.
Your guests will be satisfied with a fluffy and moist pumpkin blondie. The striking golden brown color of these blondies makes you want to jump in and eat them immediately to satisfy your sweet tooth.
It is loaded with the pumpkin flavor, the sweet taste of chocolate chips, and warm touch or buttery hint of cinnamon or butterscotch chips. Even better, the ground cloves, cinnamon, and nutmeg stimulate your taste buds with their earthy and spicy touch.
To enhance the aesthetic of the meal, I usually cut the blondies into cubes to serve. Alternatively, you can raise the quality of this food by drizzling caramel sauce on top.
Check the proper ways to create delicious pumpkin blondies.
Total time: About 8 minutes.
Pumpkin mug cake is one of the best desserts I have ever tried. The food comes in a mug that makes serving easier and faster. In addition, this mug cake also brings elegance to the party.
You'll be able to enjoy this hearty and bright dessert with just a little effort. It's made with inexpensive and easy-to-find ingredients like canned pure pumpkin, flour, egg, and more, but its flavor and texture drive you crazy.
The distinctive earthy taste of pumpkin and the sweetness of this treat make you want to enjoy it immediately. You may be left speechless while eating the mug cake due to its smoothness and softness. Also, its enchanting aroma awakens your sense of smell.
You can use whole milk when you run out of heavy cream. Milk or lower-fat milk are other suitable options you can try. Also, you must use fresh baking powder for the best performance.
Total time: About 30 minutes.
Cupcakes have become a global dessert when loved by many people. Pumpkin pie cupcakes are no exception. These cupcakes will catch your eyes instantly with their beautiful shape and charming dark yellow shade.
The smooth and sweet pumpkin pie will mix well with the creamy and cool taste of whipped cream to bring diners a pleasant and comfortable feeling. And, you'll remember this delicacy forever with a hint of warm cinnamon on top.
First, prepare the blend with pumpkin puree, eggs, milk, and vanilla. Next, blend this wet mixture with dry elements like flour, baking powder, pumpkin pie spices, and more. Pour the mix into muffin cups and bake for about 20 minutes.
Total time: Around 1 hour 15 minutes.
Suppose you have pumpkin puree, melted chocolate, and fall spices on hand, let's try turning them into a delectable pumpkin chocolate swirl bundt cake for dessert. This simple dish is ideal for holidays and special occasions.
You can easily recognize it, thanks to the characteristic brown color. Its shape resembles a sponge cake with a hole in the middle. Warm spices will flavor this dense, soft, and moist pumpkin cake. Also, the sexy fragrance can make your mouth water.
For variations, you'll get a healthy cake after replacing all-purpose flour with wheat pastry flour and adding whole grains to the recipe. To make a plain pumpkin spice cake, try omitting the chocolate chips and brown sugar.
Total time: Around 2 hours 10 minutes.
This recipe is a great addition to your list of excellent vegan desserts made from pumpkin. Besides pumpkin, this wonderful dish cannot lack cornstarch, brown sugar, pumpkin pie spice, and non-dairy milk.
This simple recipe has an enchanting sweetness and silky texture. Also, it becomes even better when served with whipped cream. Its softness makes it disappear quickly as soon as you eat it.
If you cannot buy cornstarch, you can use arrowroot starch as an alternative. In addition, coconut sugar is a reasonable fallback to brown sugar. And I will make this vegan pudding without tofu.
Pudding skin is an issue everyone wants to avoid when making pudding since it affects the texture of the dish. Nonetheless, you can wrap a layer of plastic wrap on top of the pudding before placing it in the fridge to prevent this undesirable situation.
Total time: Around 1 hour.
It is complicated to escape the allure of pumpkin spice sticky buns. Their eye-catching appearance makes you unable to take your eyes off them. Also, you can dive into the soft and gooey buns with pumpkin pie filling and sweet sauce.
Your mouth won't be able to stop chewing as you enjoy this incredible dessert with this well-balanced flavor. People often consume warm buns to get the best experience. Nevertheless, you can also enjoy them cold.
Explore the tutorials to prepare amazing pumpkin sticky buns.
Total time: About 25 minutes.
Pumpkin doughnuts will be a big hit at your party. This dessert with the strong touch of pumpkin and the hint of vanilla and warm spices will mesmerize the senses of the most demanding guests at the gathering.
Moreover, they will be completely knocked down with the addition of smooth and creamy glaze. You'll feel like you are walking in heaven when biting these soft and moist donuts. Their sweetness can make you love them in no time.
Apart from being a delectable dessert after each meal, these beautiful brown rings are the perfect option to enjoy with a cup of coffee in the morning or afternoon.
Total time: Around 2 hours 10 minutes.
Today, many people prioritize making low-carb desserts to protect their health. Keto pumpkin mousse is a suitable choice for a safe and healthy meal. This sweet treat is pretty simple since you only need to prepare 5 ingredients.
Whipping cream, pumpkin puree, cream cheese, pumpkin spice, and stevia sweetener are all you need to make this yummy dessert. In addition, it takes about 2 hours 10 minutes to finish this incredible dish with 2 hours for chilling.
This healthy recipe contains no sugar and carbs. Furthermore, whipping cream adds vitamin D and protein to your body. They effectively improve the health of the immune system.
You should save these tips to have the best pumpkin mousse. Cold whipping cream is the best option for this recipe. You must use cream cheese and pumpkin puree at room temperature. Also, it is bad to skip the refrigeration stage.
Follow the guidelines to prepare outstanding pumpkin mousse.
Total time: About 6 hours 45 minutes.
If you are looking for a sweet dessert recipe for Christmas, you can check out pumpkin cheesecake pops. After dipping pumpkin cheesecake in melted chocolate or butterscotch, you'll have this delectable treat.
Typically, I usually dip half of the cheesecake in butterscotch and the other half in melted chocolate for a unique look and great taste. You can refer to this tip to bring a new breeze to the meal.
You won't need to spend as much time rolling or forming the cheesecake as you would with cake pops. You just dice it into cubes and attach it to the sticks.
It's easy to get lost in the creamy, light flavor of pumpkin cheesecake and the buttery, slightly bitter taste of butterscotch and chocolate.
Total time: About 30 minutes.
Waffles are a well-known dessert recipe all over the world. It is made from leavened dough or batter. In particular, it is pretty thin since it is cooked between 2 plates. In fact, this cooking method has been around since ancient Greece.
There are different versions of waffles made with various ingredients, and making waffles with pumpkin is an incredible idea. Pumpkin will give the dish an eye-catching golden-brown shade and an enchanting scent.
I fell in love with this recipe right when taking the first bite. It has a perfect crunch on the outside and tenderness and porosity on the inside. Moreover, the earthy sweetness of pumpkin puree will make you fall in love with this dish.
To elevate the food, you should enjoy it with maple syrup. In addition, do not forget to add a bit of whipped cream and cinnamon for a variety of flavors.
Making yummy pumpkin spiced waffles will be more accessible with these directions.
Total time: 4 hours 15 minutes.
Chiffon pie was born in 1926. Monroe Boston Strause is the inventor of this beautiful dessert. Pumpkin chiffon pie is a version made from pumpkin puree, heavy cream, and pumpkin pie spices.
This food is an excellent dessert for Thanksgiving dinners. The reasonable combination of ingredients creates a smooth and soft texture recipe. Also, its red-gold color will grab your attention immediately.
You will not need to bake this dessert in the oven. Your mission is to place it in the fridge and wait a few hours to enjoy the delicious food. Of course, do not forget to top this treat with whipped cream.
If you would like to change your taste, there are many ideal ways to apply. Searching for a suitable graham cracker, gingersnap, Oreo, or Bischoff to sprinkle on top is what you can do.
Save the directions to make insane pumpkin chiffon pie.
Total time: About 1 hour 35 minutes.
Pumpkin pie is a familiar dessert on the dining tables of many households, especially during the holidays. It looks like the moon with its round shape and characteristic golden-brown shade. Also, its flavor is beyond dispute.
It gives an enchanting and seductive taste with sweet and earthy pumpkin. Plus, the addition of cinnamon, ginger, cloves, and nutmeg will awaken your taste buds. Of course, you will love the soft texture in no time.
When baking, you should not overbake it because the pie may crack. You should end the baking process when the center of the pie wobbles.
Total time: About 40 minutes.
At first sight, the unique and eye-catching appearance of this dessert will impress you. It looks like a round flower. The bright yellow pineapple slices look outstanding on the golden-brown pumpkin cake.
The small red maraschino cherries in the center of fresh pineapple slices accentuate the cake. You can't stop eating this sweet, spongy, and soft cake once you've tried it. Plus, a slight tartness of pineapple makes the treat better.
To bring the best experiences for your guests, it is necessary to wait for the cake to cool before serving. Also, you can dice it into small slices to enhance the aesthetic.
Total time: Around 10 minutes (Excluding 5 hours of refrigerating).
Only 10 minutes for an excellent dessert! Too convenient, right? Let's try it now! The pumpkin icebox cake tastes sweet and creamy. Also, it is loaded with pumpkin and cinnamon flavors. You'll have a wonderful fall party with this cake.
The first step to get a delicious dessert is to create a smooth mix of cream, pumpkin puree, and cinnamon. Place whipping cream and crushed cookies in alternating layers in a baking dish. You can eat this treat after about 5 hours of refrigeration.
Do You Like These Pumpkin Desserts?
Do you love the insane pumpkin-based desserts I have introduced in this article? Please tell me your feelings about the suggestions in the comment part. In addition, let's share this post to spread helpful information to others.
The best pumpkin desserts play an essential role in the success of a party. Your dessert menu will be more diverse with these sweet treats made from pumpkin. Hence, try making them to taste immediately. Thanks for your time!