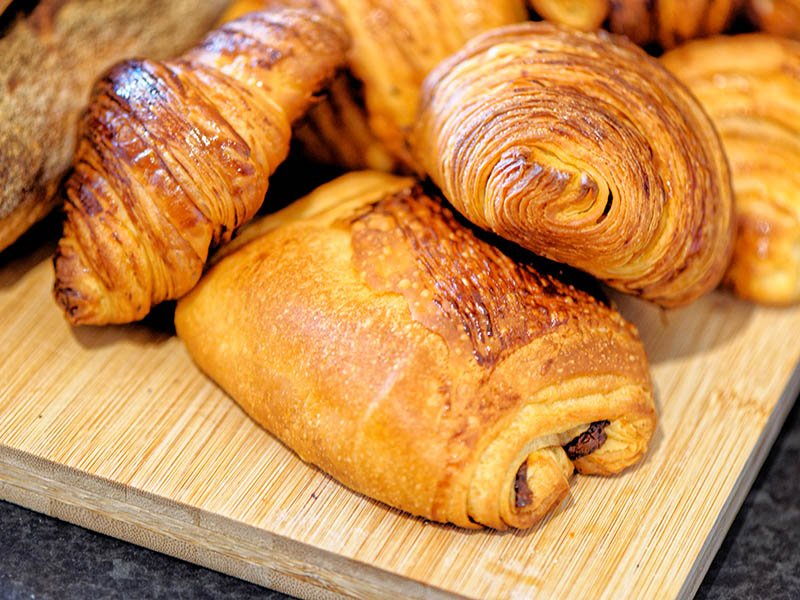 Finding the best puff pastry desserts to enjoy with a cup of tea at the brunch buffet is not my only dream. Although good puff pastry sweets are easy to find at any bakery, nothing will be more satisfying than you can make these beloved treats on your own.
Homemade choux pastry is not hard to make, but the pastry dough could be a challenge. Yet if you are a beginner, there is no need to worry and go for a safer choice with ready-made puff pastry (which appears multiple times in this list).
From French classic cream horns and new variations of fruit tarts to croissants, there are a lot of dessert ideas waiting for you to find out. Are you ready?
Are You Ready To Unfold These Pastry Dessert Recipes?
The puff pastry dough is versatile because it can go well with different fillings and turn into multiple shapes. Below are my 24 recipes of puff pastry desserts for you to try at home.
Total time: 1 hour and 45 minutes.
Let's warm up with these buttery puff pastry cannoncini! How can you pass the crispy, aromatic crust with greasy custard filling?
For this recipe, you'll use frozen puff pastry. After adding more crunchiness by sprinkling some sugar on the counter, roll your pastry. Use a large knight to cut strips and roll them on a horn mold.
Then, fill the cake with cream and add a sprinkle of sweet with powdered sugar over the horn as the finishing touch. The mild vanilla taste and the sweetness of the cream will linger on your hands and in your mouth for a while.
Making Italian Cream Stuffed Cannoncinis is never this easy. Check out now!
Total time: 1 hour and 10 minutes.
This peaches and cream puff pastry tart is for my vegan readers. With this recipe, feel free to enjoy this delicious sweet without worrying about its ingredients.
Next, the most crucial flavor for the perfect filling lies in the fresh fruits. Nevertheless, if peaches are not available, be flexible. Choose other fruits depending on your preference.
Apples, pears, or sliced plums are possible. Plus, feel free to customize any berries you like. Most noteworthy, if you use frozen juice, remember to avoid excessive liquid during the defrosting.
Total time: 49 minutes.
Chocolate eclair puffs will be a perfect treat for any occasion. They are simple to make, elegant, and decadent. On top of their crisp crust is the white vanilla filling and a drizzle of chocolate sauce.
You will use whip cream for many parts. Except for the frozen puff pastry, everything is made from scratch. The homemade whipped cream includes whipping cream, vanilla extract, and powdered sugar. Whereas the chocolate glaze class for whip cream and chocolate chips.
The mild taste of vanilla pudding will not bore you when it combines with the unmistakable chocolate glaze. Not to mention, the crisp shell will bring a fantastic experience to your mouth.
Total time: 15 minutes.
It is agreeable that fruit tarts are best in summer when you can add tons of your favorite fruit. Having said that, why don't you give this cream cheese berry tart a try? Feel free to add extra pop of color with strawberries, blueberries, and raspberries.
What makes this cream cheese berry tart stand out from other tart on this list is its total time. The fruity dessert is ready in about 15 minutes from start to finish, saving you more time than going to a bakery store.
After baking, let the pasty rest for a few minutes and top them with cream filling and sliced berries. Enjoy the tart immediately, or store it in the fridge for later serving.
Total time: 53 minutes.
Nothing can go wrong with the classic strawberry napoleons. The grand old dessert never disappoints fans with layers of puff pastry, dense cream, and fresh strawberries.
Start by mixing sugar, cornstarch, and milk on a hot pan, then gently add milk and egg yolks and whisk later. Cook until the mixture thickens. Finally, pour in some more butter and vanilla. Your pastry cream is now ready.
There are countless rumors about how the pastry got its famous name, but one thing you can be sure about is its flavor. You cannot resist the sweetness of vanilla milk and a kiss of fruity tartness from the fresh strawberries.
Try to make the famous French dessert, strawberry napoleon, and see how it will turn out.
Total time: 55 minutes.
The honey-glazed fruit tart is truly a scene-stealer everywhere it goes. The bite-size tart features a buttery crust, rich vanilla bean custard filling, fresh summer fruits, and a sweet layer of honey.
Frozen puff pastry is a must, whereas you will make the custard filling from scratch. The positive side is that the cream flavor is mild, so it can go great with any fruit. Be flexible with your favorite fruit!
Enjoy these decadent desserts with a cup of hot tea in a brunch buffet, or surprise your friends with a sweet tooth at the next summer dinner table.
Total time: 50 minutes (including 10 minutes of resting time in the freezer).
Enjoy this semi-homemade toaster strudel with ready-made puff pastry, brie cheese and red pepper jelly jam. These site-bite treats are life-savers when your stomach is grumbling. You can store them in the freezer for a long time so they are always available as snacks.
From the classic cream cheese and jam toaster strudel, there is no fixed combo for this lovely treat. Add more diversity to your favorite pastry with more variation, such as, cheddar and apple slices, Nutella and raspberry jam, or cream cheese and cinnamon.
It's worth remembering that cream cheese is not sweet. Thus, if you plan to use it, you can either whisk the cheese with sugar before putting it into the freezer, or top the pastry with icing to balance the flavor.
Total time: 40 minutes.
Chocolate raspberry puff pastry will add a colorful touch to your table. The base is a pastry crust base with a layer of Nutella, fluffy whip cream, and a raspberry finish.
This recipe calls for frozen puff pastry, which is available in the frozen section in any store. Bake the cake sheet for 18 to 20 minutes until they turn golden brown and fluffy. Likewise, prepare the chocolate filling with Nutella, cream cheese, and cool whip.
Wait for the puff pastry to completely cool down and spread a layer of chocolate mixture on top. Then, add another layer of cool whip to cover it. Allow the silky Nutella to show up around the edge. And the last touch is placing your favorite raspberries on top.
Total time: 2 hours (including 30-40 minutes of rising time).
Say hello to another friend from France, Kouign Amann. But you will add a creative twist to the traditional version by adding the salty taste. This classic French dish appears to be a croissant-like recipe when you will fold butter and sugar in between the layers of pastry.
Kouign Amann is usually made from laminated dough, which could be a tricky task for baking beginners. Therefore, the frozen puff pastry really paves a shortcut for those newbies. The final results will be the same with buttery, sugary, and caramel-y rolls.
The bonus point is that you can adjust the salt amount according to your liking. And you only need 4 ingredients to put them all together. Simple enough? Don't forget to let the pastry cool down before enjoying it.
Total time: 2 hours and 5 minutes.
Decorate your dessert table with these vibrant strawberry and custard mille-feuille. And you will keep things as simple as possible with frozen pastry puff and raspberry jam.
Interestingly enough, mille-feuille means thousand leaves in French due to the many layers of the puff pastry. This strawberry and custard pastry includes milk, bean, egg yolks, and many more ingredients. They come together perfectly and produce a delicious cream.
You can apply another texture to this recipe with the raspberry jam and cream. The sweet and sour raspberry jam and fresh strawberries will complement the mild sweet of the custard. Be creative with your decoration or simply follow the instructions.
Total time: 15 minutes.
A baked buttery and crunchy churro with an unmistakable scent of cinnamon and sugar will taste just as yum as your beloved fried churro.
Your pastry will be ready in 15 minutes or less and with only four ingredients. Thankfully, no need to make homemade dough due to the magic of ready-made frozen puff pastry sheets. Other suggestions for the dough base are biscuit dough, pie crust, and pizza dough.
Baked churros are ready in about 8 to 10 minutes or after taking on a nice golden brown color. Be careful when placing the strips of dough on the tray. Remember to leave an inch of space between them to prevent the dough from sticking together after puffing up.
Are baked churros better than the fried ones? Find out here.
Total times: 15 minutes.
Sad to hear, but your kids might say no to the traditional cinnamon twist, so why don't you offer them these raspberry jam puff pastry straws? The colors stand out immediately, and the flavor is likable – promised!
Put puff pastry, jam, and brown sugar in your cart, and you're good to go. Without realizing it, your pastry straws will be ready in a snap, thanks to the convenience of store-bought puff pastry. The jam is the show's star, so make sure to choose the best one.
The hardest part, I must say, is the twisting. But it doesn't matter if you create some messy scenes. In addition, when the strips are out of the oven, calm yourself and allow them to rest for a few minutes before serving, as the jam will be super hot.
Total time: 4 hours 30 minutes (including 2 hour 30 minutes of refrigerating and rising time).
I love all the recipes on this list, but I still have a special affection for chocolate croissants. The pain au chocolat never goes out of style with delicate layers and a creamy chocolate filling.
If you use frozen pastry, remember to do some thawing before using it. Besides, to infuse the croissant with the chocolate, cut the sheets into triangle shapes, place two squares of the chocolate across the width, and roll it up.
The chocolate filling will melt while baking into the dough, creating a buttery chocolate masterpiece. These little croissants can be a light dessert or a special breakfast treat for your family.
Total time: 33 minutes.
Are you craving a sweet roll but are short of time on hand? Puff pastry cinnamon rolls with a maple glaze on top will be your answer in such a case. It only takes about 30 minutes, and your buttery and flaky sweets are ready to roll.
Moreover, making the glaze is simple enough with powdered sugar, maple flavor, and heavy cream. Change the amount of milk to adjust the consistency of the sauce. Keep stirring until it reaches the texture of a drizzle.
For the record, the cinnamon rolls are best to enjoy fresh off the oven. Therefore, I don't encourage you to prepare them as a make-ahead meal. However, if there are leftovers, seal them in an airtight container and let them sit at room temperature.
Add more diversity to your Christmas breakfast with these puff pastry cinnamon rolls.
Total time: 40 minutes.
Strawberries, cream cheese, and puff pastry are perfect companions. And there's no way you can turn this combo down in these strawberry cream cheese turnovers. Try this sweet recipe that doubles as breakfast and dessert.
As I mentioned a few times, use a shortcut to reduce the prep time with the frozen puff pastry. Then comes the filling, a combination of strawberries, a little sugar, and cornstarch. 2 tablespoons of sugar will be enough in this recipe.
However, if your strawberries are in the season, feel free to reduce the amount of sugar to 1 tablespoon. Also, don't treat cornstarch as optional. It is integral to thicken the filling and prevent the pastry from going soggy.
Total time: 42 minutes.
The salted caramel puff pastry will get you under its spell with its unique sweet and salty flavor. Prepare to whip off the buttery crust with caramel sauce and creamy whip cream.
Remember to add salt after you remove the caramel sauce from the heat. And spread about one tablespoon of the brown sauce per serving.
You just need to spend less than one hour to have a perfect snack with simple ingredients. To save time, make the salted caramel sauce a day or two in advance and store the pastry in the refrigerator. Re-warm it in the microwave or saucepan before serving.
Total time: 1 hour and 10 minutes.
In truth, making homemade croissants is complicated and takes up a lot of time. Nevertheless, a quick almond croissant with puff pastry can be an ideal option to save you more time.
Of course, the croissant from puff pastry can't reach the level of the French classics, but the taste is also phenomenal. Specifically, when you bite into the inside, the pre-made almond paste will melt as soon as it hits your tongue.
It is best to enjoy the warm croissant shortly after it comes out of the oven. Nevertheless, suppose there are leftovers, or you want to save them for later serving, just reheat them in the microwave.
Total time: 45 minutes.
Turn your home kitchen into a French patisserie by making these Pain Aux Raisins. The excellent France breakfast is full of vanilla flavor from the creamy custard, and its sweet scent will bring a smile to your face.
In case you haven't known, Pain Aux Raisins, also known as escargot or pain russe, is a famous pastry that often appears at breakfast tables in France. Its name also means "raisin bread". These treats are available in any bakery in France.
For an extra twist, feel free to garnish cherry or other candied fruit after finishing baking. The same goes for icing.
Total time: 1 hour and 5 minutes.
Forget the bakery. I believe you can make glazed puff pastry apple roses on your own at home. Every bite of the pastry will fill your mouth with bursting apple flavor. Your elegant rose-shaped pastry with maple glaze is mouth-wateringly delicious.
What I love most about this recipe is the apple-maze glaze, a mixture of apple juice, and a few drops of maple syrup. Brush them on the pastry as the last touch before baking. The dazzling glaze not only makes your tart glow but also adds an extra layer of flavor.
Whatever the reason, if you plan to make ahead pastries, go ahead. Cover them in an airtight container and leave the sweets on the counter. They can maintain quality for 2 days. Just reheat it between 10 and 15 minutes, and your sweet tart is table ready.
Follow this easy instruction, and you can make these beautiful apple roses in no time.
Total time: 20 minutes.
Let me introduce you to the Nutella puff pastry. The combination of banana and Nutella is certainly the best that a sweet treat lover can ask for.
This Nutella puff pastry is stuffed with fresh sweet bananas and baked until crisp and golden brown. For added flavor, end with a shower of powdered sugar or a drizzle of Nutella before serving. Additionally, you can brush the pastry with egg wash to make them extra shiny.
Moreover, be flexible with your ingredients on hand. You can choose sliced strawberries or diced apples instead of bananas or substitute Nutella with peanut butter. Anyway, use potato chips for a good boost of a salty-sweet flavor.
Total time: 40 minutes.
When the apples are in season, it's time to make an apple danish. The flaky pastry, hot apple filling, and crisp crumble will fuel your breakfast or lunch.
Apples are the spotlight stealer of these recipes, so choose them carefully. I suggest you go for the classic Granny Smith, a safe choice for baking. Then, cook the apple slices on the stovetop with brown sugar, cinnamon, and cornstarch until the mixture thickens.
Make a 3/4″ line on the edge of the pastry and place the apple in the center. The incision will help keep the apples from spilling out. Remember to drain any excess liquid from the apples before placing them on the dough. Add the crumble, and you can get them in the oven.
Apart from the apple slicer, prepare yourself a pastry cutter, Silpat, and basking sheet for this recipe.
Total time: 50 minutes.
Cheesecake with puff pastry? It is not possible until you know about this creamy sopapilla cheesecake recipe. It has a different texture and appearance from New York-style cheesecake but is close to flavor when served warmly.
Sopapillas are one of the top desserts in Mexican cuisine, made from fried dough with a small air pocket within the pastry. It shares similarities in flavor and dough with cheesecake, making the two a perfect combo. People often cover sweet sopapillas with honey or chocolate.
About the garnish, treat this sweet the same with traditional sopapillas and cheesecakes. Syrups, sprinkles, or jams will work well in this case. Plus, it welcomes a broader selection of fresh fruits like peaches, strawberries, and other berries.
Total time: 55 minutes.
Have you ever tried puff pastry blueberry galette? If not, this is your calling. The fruity filling of fresh blueberries with lemon juice and zest will somewhat bring unexpected joy to your palate with each bite.
This recipe calls for fresh blueberries. However, opt for frozen ones if those are more convenient to use. Besides, other berries and stone fruits such as cherries, peaches, or plums will also work amazingly.
On a related note, preparing the fruit filling and baked galette one to two hours in advance is acceptable. But notice that the pastry will lose its crispness over time because of the juice from the fruit. It may be wise to enjoy it when warm, about 30 minutes after baking.
Total time: 22 minutes.
Let's put a beautiful end with another French dessert, palmier cookies. Funny enough, you may know this famous treat under the name "elephant ears" due to its unique shape.
It appears that Palmier cookies will take a million steps to finish. In contrast, you only need three ingredients and less than 30 minutes to get them table-ready.
All you need to do is grab your store-bought puff pastry, dust sugar and spread butter on the surface, and form them into the classic heart shape. As a result, the sugar will melt and cover the cookie with an eye-catching caramel layer.
Furthermore, pour an additional teaspoon of cinnamon into sugar to bring more depth to the flavors of your cookies. Remember to flip them so that both sides can be nice and crispy.
If you have a sweet tooth, you can not miss this tutorial for the famous French palmier.
Be Sweet To Your Loved Ones With This Collection Of Desserts!
Pastries are always the ultimate weapon to boost your mood. A fruit tart or a croissant with an afternoon tea is the perfect combo for a beautiful day. And there is nothing better than sharing your sweet treats with friends and family.
The pastries from the list above can be elegant desserts or breakfast treats to start a new day. As you have already seen, they are so simple that there is no need to master baking techniques to make these sweet treats.
Please come back here and let me know your results. Also, don't forget to share these recipes if you've tried them successfully. Thank you in advance, and see you in the following article!