Puff pastry appetizers can be the cream of the crop in the starter world. People make this dough so that it has several dozens of layers. Once baked, it becomes light and flaky. In this state, you can use them for sweet and savory recipes.
Appetizers made with puff pastry are perfect for a New Year's Eve party or Super Bowl celebration (every year). They are a party pleaser with golden brown and crunchy textures. What's special about these recipes is that they are easy and quick to make.
With just some store-bought or homemade puff pastry, anyone can make delicious starters in all shapes and sizes. Don't hesitate to scroll down to learn more about Puff Pastry Appetizers that will capture not only yours but also your friends and family's hearts.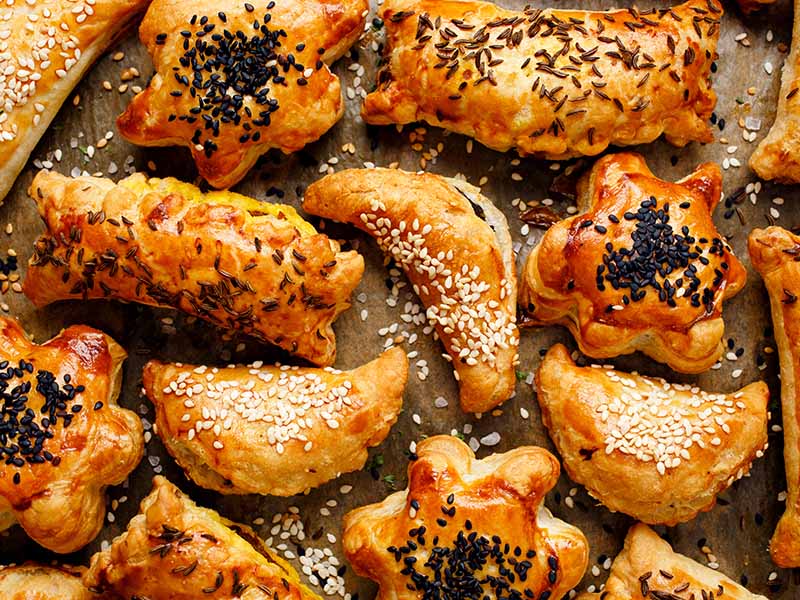 The Best Puff Pastry Appetizers That Is An Instant Hit
There's no shortage of uses and combinations for making an extraordinary puff pastry starter to start your day, munch on at any time of the day, or share with friends over a chat. What's more, most of the recipes are quick and easy to fix.
Total time: 50 minutes
Most puff pastry dishes are easy to bake, and sausage rolls are no exception. They are one of the most convenient foods you can enjoy at any meal of the day. But the best idea is to turn them into a classic appetizer full of savory sausage.
The best way to describe sausage rolls is that they are puff pastry with sausage as filling baked to golden perfection. This appetizer goes well with dipping sauces, especially honey mustard.
You can use a rough puff or flaky pastry for this recipe, but for the right texture, I recommend you use puff pastry. The store-bought pastry is fine, but if you want the best experience, how about trying the homemade ones?
Total time: 35 minutes for a serving of 10
Do you want something that is more in line with the holiday spirit? Then pistachio puff pastry twist is the recipe for you. Its crunchy texture and sweet flavor can make you feel festive munching these sticks.
In this food, puff pastry and pistachio are the two main ingredients. The whole cooking process is simple, too.
You spread the pastry sheets, then put black cherry preserves, pistachio, and cinnamon over them. Then fold the other half end of the pastry over the top, cut into strips, and twist them. The final touch is baking and serving them, that's all.
Originally, this pistachio puff recipe was meant to be served with drinks for a St. Patrick's day celebration in the 60s. What's magical about these twists is that they disappear the moment you finish making them (into your stomach, of course).
Just so you know, you can even make a cheese version of puff pastry twist, learn how to do it here.
Total time: 90 minutes maximum
Here's another St. Patrick's Day-themed dish. Like the pistachio puff pastry twist, the ingredients list is fairly short: puff pastry (of course), pesto, and an egg. The unique characteristic of these shamrocks is their appearance.
To shape the dish into the desired look, simply cut the puff pastry into strips and fold them into a heart-like shape. Brush them with egg and stick 3 of those "hearts" together, and you get a shamrock. This is the perfect fun little appetizer on the Irish's celebration day.
Total time: 1 hour
As you may have already guessed, this dish's name stems from its large ear-like shape. Palmier means "palm tree" in French. Due to the French-related name, some people believe it originated in this country in the 19th century.
For this recipe, you need to use puff pastry. The other items on the list are granulated sugar and Parchment paper (or Silpat baking mat). That's it, that's everything you need to whip up these delicious elephant ears, at least in a traditional way.
Thanks to its sweet taste and crunchy texture, people enjoy this dish as an appetizer, dessert, or breakfast, often with tea, coffee, and other drinks.
Total time: 23 minutes
Who would have thought salmon and puff pastry could make for a nice appetizer? Yet they do, and here is a recipe for this combination. This dish is not your average appetizer, it's a fancy appetizer you want to serve guests or friends who come into your house.
You can use store-bought or leftover smoked salmon, there's no restriction about it. Furthermore, it's possible to replace the salmon with finely chopped bite-sized crab meat or shrimp. If you don't want the dish to be too dry, spread the cream cheese onto the top.
Do you want to make an impression at a dinner where you are a host? Learn to cook smoked salmon Profiteroles now!
Total time: 1 hour 5 minutes for a yield of 6 apple roses.
If you want to impress your friends and family, then there's no puff pastry appetizer more fitting than this one. Apple roses are not only gorgeous but also make for a mouth-watering brunch dessert. It's fun, delicious, and nice-looking all in one package.
They look more sophisticated than your average pie tart, so making them must be a pain, right? Totally not, they are very easy to make.
To shape the apples and puff pastry into roses, remove the core and cut them into thin slices. Then place several apple slices onto the top half of the puff pastry strips and fold the bottom half over the apple slices. Now roll them up, and you have one apple rose.
When done, you can store the final products in an airtight container at room temperature for two days. Remember to reheat them for 10-15 minutes before serving.
Total time: 45 minutes or more for 30+ servings.
As its name implies, this dish is a bite-size puff pastry filled with chicken salad. It can come in small or medium sizes, and you can easily make it disappear within one or two bites.
The great thing about this recipe is that you can prepare the chicken salad and puff pastry the night before (don't forget to keep them in a sealed container). When it's time to dazzle your friends or family members, simply assemble these two into an amazing chicken appetizer.
It looks like a sandwich with puff pastry as buns while the chicken salad as a filling. This recipe calls for little decorative toothpicks to secure the buns and the fillings together.
Total time: 55 minute
Quiche is a french-style tart usually with a bottom crust. It is savory and made from dough, cheese, meat, or vegetables. The good news here is that you don't have to make a crust since it's a puff pastry quiche!
This easy-to-make recipe is also delicious, melting your whole mouth with every bite. What's more, the cooking procedure is pretty fool-proof. Just put the puff pastry dough onto a pie plate, then top it off with quiche filling, and start baking.
Bam! Now you can taste a delicious serving of ham and cheese puff pastry quiche with less than 1 hour of cooking and preparation time. You can serve it either hot or cold.
Follow this guide, and you can recreate the ham and cheese puff pastry quiche.
Total time: 23 minutes
This appealing appetizer filled with spinach goodness will be a terrific idea if you want something more unique than the ones I've covered so far. Baby spinach and artichoke make for the perfect duo that will leave you warning for more!
The highlight here is definitely the cheeses! Little cups of puff pastry filled with spinach, artichokes, and cheese are baked to crisp perfection, doesn't that sound good? In this recipe, you buy the already-made puff pastry cups, saving you more time and effort.
Total time: 30 minutes (Excluding the thawing time)
This recipe is a great way to introduce your kids to healthy eating choices. It also goes well with any dish and looks like a 5-star meal at a fancy restaurant. What's not to love about these prosciutto asparagus spirals?
Remember to discard the woody end of asparagus and clean the green veggies with water before committing any cooking. Oh, another thing. You should thaw the frozen puff pastry. But don't let it stay out in the open for too long, about 30-40 minutes at room temperature is ideal.
Ta-da! After 15-20 minutes of baking, you got yourself a nice springtime treat for entertainment! Now you can either serve immediately or let the final product cool for one minute or two before serving.
Explore the best way to make asparagus spirals with this guideline.
Total time: 40 minutes
A buttery, flaky, golden puff pastry filled with spinach and ricotta will make your day. If you crave a meat-free quick meal, then why not try making (or eating, for that matter) these rolls? You can also add more ingredients like mushrooms to the fillings.
Similar to other foods on the list, spinach and ricotta rolls are versatile. They make for a nice appetizer for guests, great for keeping in the freezer to eat as snacks later, and suitable as a side dish with salad. Start making them now and experience the magic yourself!
Total time: 45 minutes
Simple, quick, and easy are the terms I would use to describe this recipe. If you want to entertain about 10-15 guests with something that is not messy to make, then five to seven of these puff pastry croutons are sufficient.
This recipe is more refined than your average croutons, which are a little too crunchy. You can make the basic recipe which requires puff pastry, salt, or pepper.
If you want to venture into new grounds, then try to experiment with herbs, lemon juice, Parmesan cheese, etc. The best way to enjoy these puff pastry croutons is to eat them alongside soups or salad. It's ok to eat them on their own, too.
Total time: 40 minutes (Excluding 40 minutes of thawing time)
Do you want something more fun and creative, like a succulent skewer appetizer you can munch on at your leisure? Then start baking with this citrus salmon lollipuffs recipe now. It features a mini ball of salmon wrapped in puff pastry that is both delicious and visually striking.
Like other recipes that use pastry as a wrap, you first unfold the pastry sheets onto a surface and cut them into strips. The next step is to place the two strips so that they form a cross shape. Lastly, put the seafood into the center and fold it over.
Now comes the baking part, where you turn the pastries seam-side down on the tray and put everything into an oven. Wait patiently for 20 minutes, or until they turn golden brown. You can serve it on 3-inches skewers and dip the whole thing into the marmalade mixture.
Total time: 50 minutes for a serving of 12
The "homemade" quality is what makes this recipe endearing, as you only need ingredients that can be found in every household's kitchen. The main items include frozen puff pastry sheets, brie cheese, egg, and jam of your choice.
What's more, homemade toaster strudel is also highly versatile and customizable. Don't have fruit jam to make fillings? Then you can substitute that with pie fillings such as apple pies. You can use any kind of jam you prefer, just make sure it's not too runny.
The dish is at its best when you serve it warm. On another note, remember to thaw the frozen puff pastry sheets.
You can do that by either leaving them in the refrigerator for 4 hours or on your kitchen countertop for 45 minutes. You can also thaw them in a paper towel in a microwave for 15 seconds when in a pinch.
Let's try making Pillsbury-inspired toaster strudel at home.
Total time: 1 hour 3 minutes
Pizza is often made with all-purpose flour, but using puff pastry is a great way to twist the usual mix. Maybe it will become your favorite way of consuming pizza from now on, who knows?
Whenever anybody talks about puff pastry pizza recipes, it's often more about the base. Instead of a flour base, you use a puff pastry base with the usual pizza toppings. However, you can use any kind of toppings you want, meat or veggies. Pizza-like or not, there's no restriction.
If you want interesting topping ideas for this popular recipe for pizza appetizers, I have some for you. If you are a meat lover, try putting on bacon, mozzarella cheese, etc. As for those who are vegetarian, you can use red onions, baby spinach, chestnut mushrooms, etc.
Total time: 35 minutes
What an adorable name for a party appetizer, isn't it? In this case, the "pig" refers to the sausage (made from pork), and the "blanket" is a piece of pastry warping around it, hence the name. The combination of savory pork meat and buttery, flaky pastry makes for a good time.
You can change the ingredients to your liking. The "blanket" could be crescent dough or pancake. In this recipe, the "pig" part includes bacon, jalapeno peppers, and cocktail wieners.
Besides the main ingredients, you can top salt onto the dish before baking. When eating, many people prefer to consume Pigs In A Blanket with some dips, especially grainy mustard. Baked beans are another good choice for eating along with this dish.
Explore how different Pigs In A Blanket are in each of these cooks' hands.
Total time: 1 hour 40 minutes
Spinach Calzone, or Spanakopita as the Greeks call it, is a sort of pizza crust surrounding the fillings instead of being put underneath them. You could say it's a pizza in a folded form.
The mini version is easier on the stomach, thanks to its smaller size. Nonetheless, the mini-calzones still retain their signature savory and delicious taste. You can't go wrong with making some of these as a holiday treat on Christmas or New Year.
Total time: 35 minutes
What does not go well with blueberries? The answer is maybe none. This puff pastry blueberry turnover attests to that.
To sum it up, this dish is a buttery puff pastry filled with savory blueberry filling, then you top it off with a glaze. This recipe calls for frozen blueberries, but you can use fresh ones also.
To choose the best fresh blueberries, make sure to choose ones that are dark dusky blue with no spots of red. They should be firm to the touch with no dents. Picking up the freshest blueberries is an essential step in making juicy and delicious turnovers, after all.
Still don't believe me that blueberry and puff pastry is a good duo? A picture, or in this case – a recipe, is worth a thousand words. Why don't you try making these puff pastry blueberry turnovers and see for yourself?
See how to make a serving of blackberry turnover without breaking a sweat here.
Total time: 1 hour (Including the 30 minutes cooling time)
Maybe you have already seen those adorable Brie cheese dishes but don't know what to make of them. You can eat them as-is to taste the rich and buttery flavor. But how about turning this French-originated cheese into Brie en Croûte for a more fun experience?
The best description of this dish is Brie cheese baked with puff pastry to the crispy perfection. A good Brie en Croûte is one where the cheese is gooey while the pastry is golden brown. Most simpler versions call for Brie cheese, puff pastry, and brown sugar.
But that doesn't end there. You can find many recipes which use honey, dried cherries, rosemary, cranberry sauce, thyme, etc. It's also possible to use any kind of sauce. Apricot jam and orange marmalade are good substitutes if you have no sauce.
Total time: 45 minutes (Excluding 2 hours of puff pastry thawing time)
Now I get to something that originated from Asia, or more specifically, from Vietnam. Pâté Chaud, or bánh patê sô as the Vietnamese call it, is a flakey, buttery, and savory puff pastry filled with pâté.
You can trace back its origin to French colonialism. Some say that the Vietnamese take inspiration from Pâté Feuillie and create this dish on their own. Despite its French-like name, Pâté Chaud is a dish full of Vietnam's classic flavors.
It is a perfect on-the-go appetizer that pairs well with a cup of coffee, especially Vietnamese coffees. You can grab one of these and eat them on the way if you're in a hurry. Or you can make a large batch and enjoy them with everyone.
Total time: 1 hour 40 minutes
I'm sure everyone knows the man the dish is named after, but what about the dish itself? The Napoleon pastry is, by definition, a dessert consisting of puff pastry crisp layers and topped with cream filling.
The reason why this dish is named after the French emperor remains a mystery. Some say that the Italian chef who created this recipe named it after his city, "Napoletano".
Another theory is that a Danish chef first served it on the occasion of a state visit between Emperor Napoleon and the King of Denmark in the 1800s.
Nonetheless, the deliciousness of the Napoleons is an open truth. The portobello mushroom Napoleon recipe requires you to use butter, zucchini, fresh basil leaves, etc. With a little patience, you can make a delicious appetizer in no time!
Total time: 60 minutes
Vol-Au-Vent literally means "flying in the wind" or "windblown" in French. The dish is so light that people call it by that novel name. By definition, it is a baked shell of puff pastry filled with chicken, game, or fish in a cream sauce.
There are millions of recipes for making a Vol-Au-Vent. Typically, it is a puff pastry shell with a hollow space inside where you can put in any fillings to your liking, like shrimp, cranberry, brie, etc.
Unsurprisingly, this mesmerizing mushroom starter idea revolves around the veggie-like fungus. But besides mushrooms, you should put in milk, butter, garlic, etc. Next comes that part of making the shells, which you won't find difficult at all after some practice.
Explore how to recreate mushroom Vol-Au-Vent from a chef today.
Total time: 60 minutes
This recipe is for those who don't have a sweet tooth and prefer something more savory. The name is a pretty mouthful but also tells it all. This dish is caramelized onions on buttery pastry rounds topped with sprinklings of Gorgonzola, Brie cheese, and tarragon.
It's ideal for an appetizer at a get-together social event with your close friends! The combination of caramelized onions and Gorgonzola cheese is hard to resist and will make you wonder why the whole thing disappears so quickly while you still want to eat more.
Total time: 60 minute
When you fancy a simple tart with something more, then you should think of this zucchini puff pastry tart. It can be a great appetizer party or even served at the start of a great meal.
The vibrant flavors of the zucchini are on the next level, with hints of subtle taste from thyme leaves, cheese, and extra virgin olive oil. The green color of the zucchini blends well with the yellow of the cheese and egg mixture, proposing an appealing appearance.
Total time: 40 minutes
Puff pastry really comes with endless possibilities. Mushroom puffs are one of the delicious possible dishes that you can make as a bite-size appetizer. And it's tasty, to boost!
The list of ingredients is short, and you are likely to already have your hands on all of them. Besides the puff pastry and mushroom, you need salted butter, onion, garlic, chilly powder, etc.
The results are a rather satisfying flaky outside with a crispy inside. I believe the mushroom puffs will be an instant hit with your family, so remember to make lots of them beforehand.
Learn how to make mushroom puffs for your whole family here.
Total time: 1 hour 10 minutes
Seafood and cheesecake is a surprising yet welcoming duo. This recipe is an adult taste that will surely satisfy the pickiest eaters. In this unique dish, you'll find peeled and deveined shrimp, garlic, eggs, butter, and cream cheese.
The puff pastry forms a cup/shell that you use to hold the fillings. It's very easy to make while remaining fulfilling to the core. First, cook the shrimp with butter and garlic. Then make a mixture of cream cheese and shrimp. Lastly, just pour the fillings into the cups and start baking.
Total time: 25 minutes
The classic lobster Newburg is a definition of a vintage 80s dish. What is it? This dish is tender lobster chunks cooked in a mixture of egg, butter, half and half, etc., and you serve it in a puff pastry shell.
You can trace its origin back to Ben Wenberg, a sea captain in the fruit trade. He first presented this finger-licking lobster-based appetizer at Delmonico's Restaurant in New York City in 1876.
The elegant and fancy look will impress any guest with the lobster meat sitting on top of puff pastry shells. Anyone can pop one or two bites into their mouth or eat them with toast points to appreciate the taste.
There Are Many Puff Pastry Appetizers That You Don't Want To Miss
Puff pastry-based dishes can be a fun party pleaser without much effort and preparation needed. It's a good thing because they sure disappear fast into the bellies of everyone.
I'm sure reading this far, you've known more than enough about the best puff pastry appetizers and what they entail. You've learned how to whip up puff pastry appetizers and the time it takes to do so.
They are fast to make and fast to eat while remaining tasty. That's the beauty of these puff pastry appetizers! So don't forget to share this article and leave a comment below to tell everyone and me which of the recipes are your favorites and whether you succeed in making them.